From hidden coves to picturesque villages and endless adventure opportunities, the Costa Brava is a region that enchants both locals and travellers and a well-worth escape north from the Catalan capital.
While the coast is home to some of Spain's best beaches and fisherman villages, the beautiful countryside boasts family-run wineries, medieval towns, and mouthwatering local restaurants. So, whether you're an adrenaline seeker, a foodie, or a history buff, there's something here for you!
After many years of exploring this region, here's our list of 15 cherry-picked things to do and see in this stunning corner of Spain.
Hike the Camí de Ronda
This amazing trail takes you along the Mediterranean coastline, offering stunning views of the Mediterranean sea and surrounding mountains. You'll also get to explore some of the area's most beautiful villages and towns as you make your way along this incredible hiking route.
The Camí de Ronda trail starts in Portbou, a small village bordering France. It follows the Catalan coast, finishing in Ulldecona, a town bordering Valencia. Of its 31 stages, 12 take place in the Costa Brava, connecting all the coastal villages. We've written about one of the stages, the one from Calella to Palamós, and more guides about the other sections will follow soon!
We can't recommend enough to hike at least one section of this trail. It's an excellent way to discover hidden coves and beautiful corners and marvel at the contrast of the green of the pines with the blue of the sea.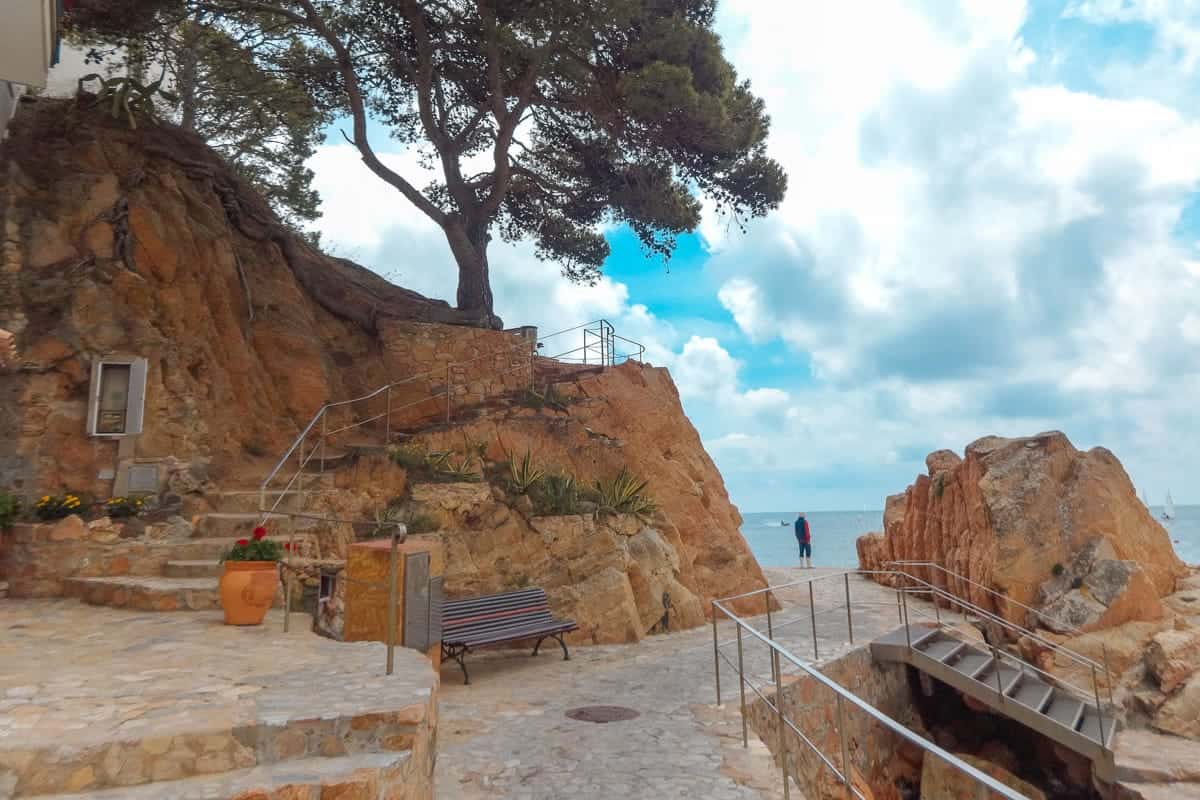 ⚠️ IMPORTANT!
During July and August, we recommend starting early in the morning if you plan a hike. Although you can find some pine shadow to rest under, some long stretches without a single shadow can be intense under the hot summer sun. This is why spring, autumn, and winter are excellent months to enjoy this hike! Anyway, don't forget to bring plenty of water and sunscreen!
Find a hidden cove
If we're talking about the Costa Brava, we must mention its idyllic coves!
During the peak months, from June to August, this means one thing: lots of people there. The most popular beaches become rammed quite early, making it difficult to find a spot to leave your towel while going for a refreshing swim.
But we have some good news. Along Costa Brava's 214 km stretch of coastline, there are enough beaches and coves that even in summer, it's feasible to find a secluded cove where you're alone.
You can check our guide "Seven beaches in the province of Girona that aren't packed during summer" to find one. Spoiler: none of them are reachable by car, and the further you walk, the lonelier you'll be!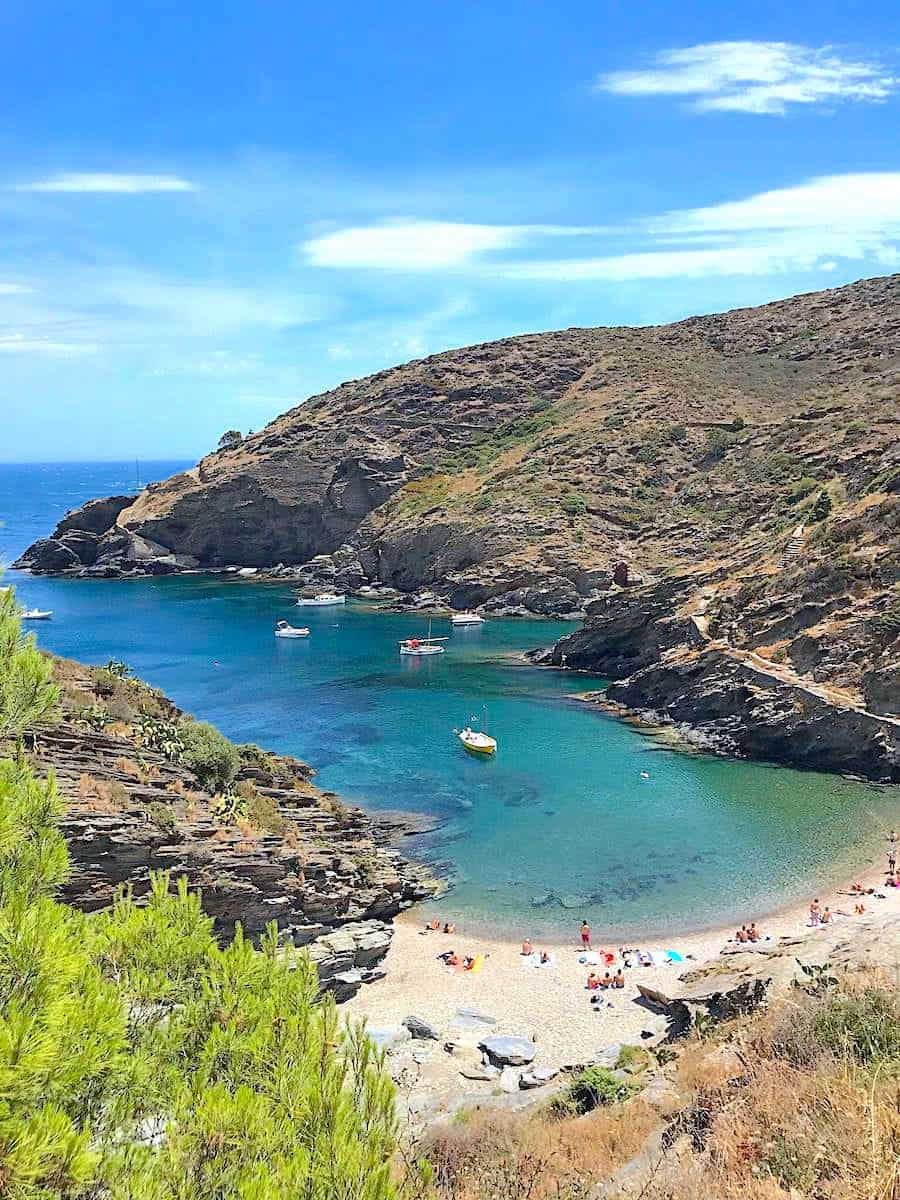 Explore picturesque villages
Besides its crystal-clear coves, another highlight of the Costa Brava is its charming villages.
Some suggestions include Tossa de Mar, famous for its medieval old town; Port de la Selva, with its white houses; Cadaqués, the village where Dalí lived; Calella de Palafrugell, with its narrow streets; and Begur, home to an impressive castle.
Those are coastal villages, but if you venture inland, you'll also discover hidden gems. Our favourites are Pals, a medieval village with a lot of history; Peratallada, with its narrow cobblestone streets; Monells, with its magnificent square; and Palau-Sator, a tiny medieval village with a nice tower.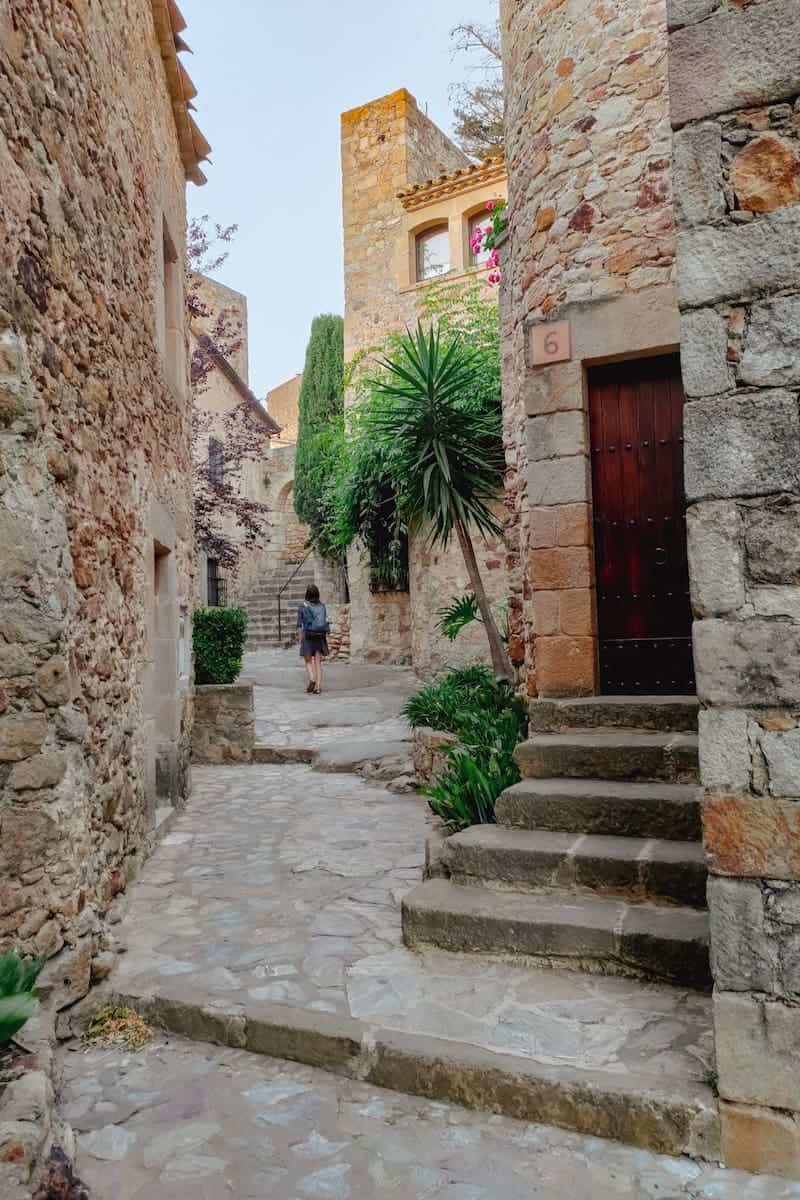 Stroll around the narrow streets of Costa Brava's capital: Girona
Girona is worth at least some hours of your time to discover its rich history and culture. Highlights of the city include the well-preserved 12th century Jewish quarter, the impressive cathedral, the medieval walls surrounding the city centre, and the colourful houses lining the Onyar river.
The city became popular some years ago as it was one of the filming locations of Game of Thrones. But whether you're a fan of this show or not, we're sure you'll love the city's architecture, vibe, and exquisite food!
Check out what to do there, where to eat, and when it's the best time to go in our Girona guide.
🌼 A great time to visit Girona
If you're planning a trip to Girona and can make it in May, we can't recommend it enough! It's when Temps de Flors takes place, a festival that dresses the city with beautiful flowers and transforms it into a spectacular floral display.
👉🏼 Looking to explore the city with a local?
Whenever we go to a new city, we always like to join a guided tour to learn more about its history, curiosities, and how life is there.
We recommend this guided walking tour if you'd like to discover Girona with a local. It lasts 3 hours, and you'll visit Girona's most important monuments, learn about its history and legends, and learn more about Girona's Jewish heritage.
Are you a GoT nerd? Then, go for this Game of Thrones tour, which you'll enjoy no matter if you're a Lannister or Stark fan! The walk lasts 2 hours and takes you to the sites where the 6th season of the show was filmed.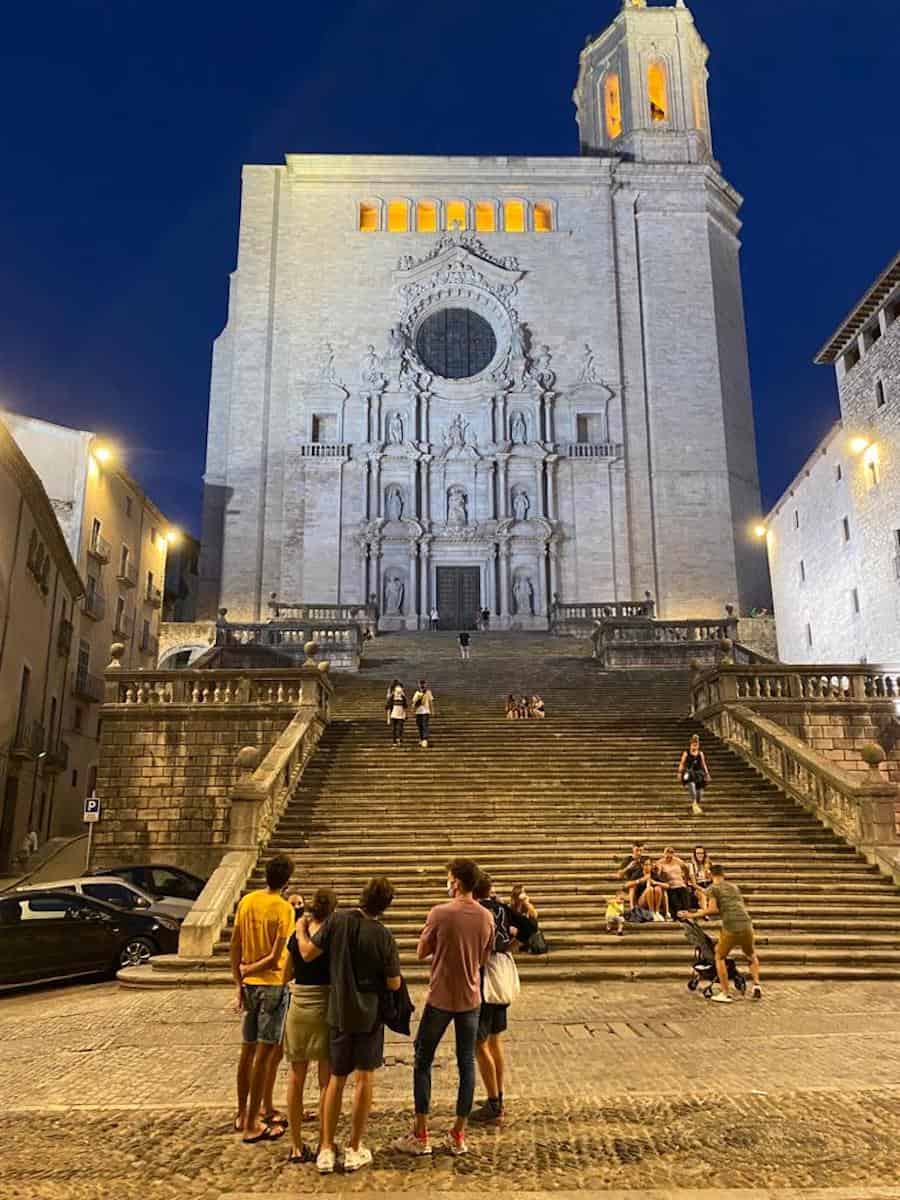 Sample local cuisine: tapas and fresh seafood
The Costa Brava is a paradise for foodies and we're sure it will please even the pickiest of eaters!
The region's cuisine is renowned for being vibrant and diverse, featuring a delicious array of traditional dishes and unique flavours, from the freshest seafood to the sweetest treats.
And nothing beats eating them on a terrace overlooking the sea.
Check out this guide to discover some of the most mouth-watering dishes you can try on your trip to the Costa Brava. They will probably be some of the most delicious you've ever tasted!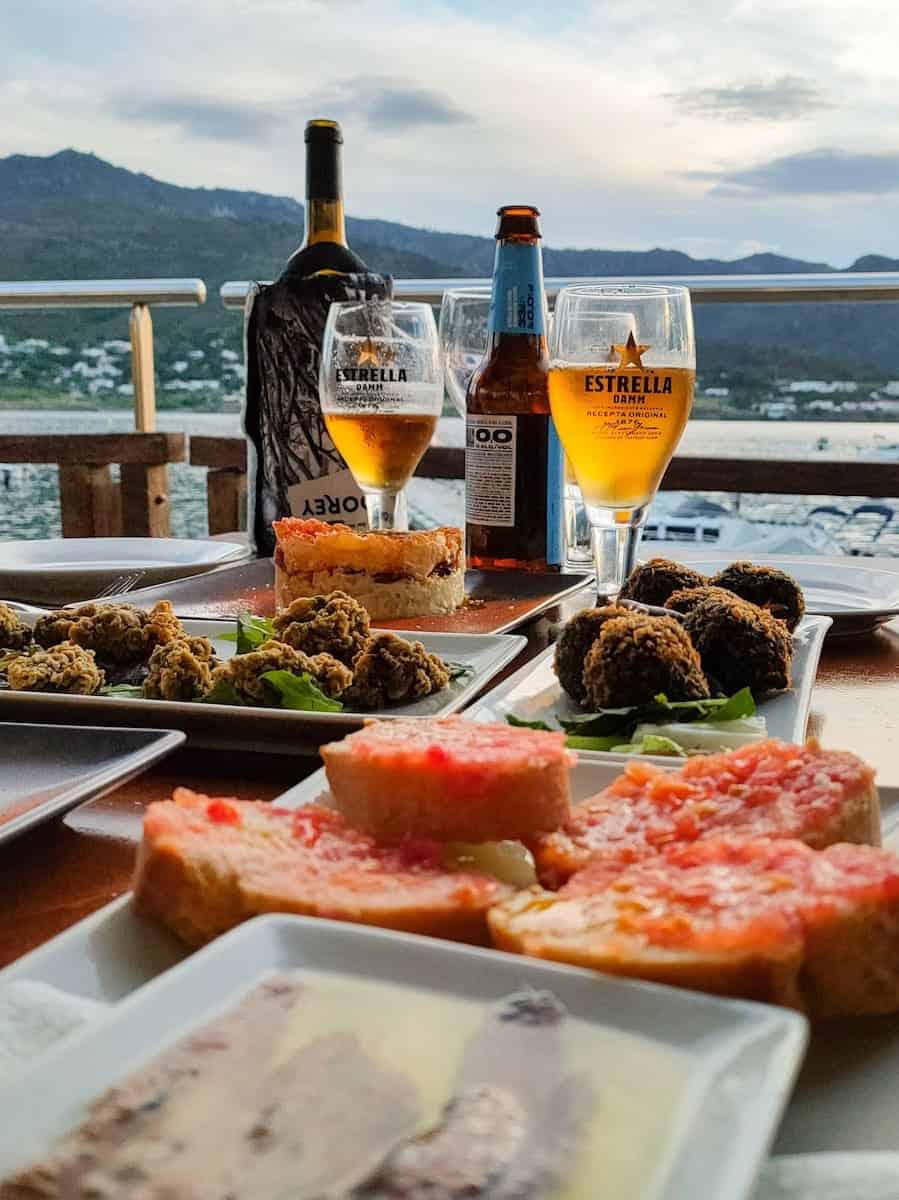 Discover underwater treasures
Although the water is chillier than in Barcelona and southern Catalonia, that's no excuse to strap a pair of goggles, grab a snorkel, and explore Costa Brava's seabed.
Most caves are great snorkelling spots, especially where the rocks are. Look for colourful fish, sea anemones, and starfish…and see if you can spot any octopus!
If your thing is diving, you're sorted. Costa Brava's 200 km-long coast has more than 30 dive centres, offering a great variety of dives for all levels: well-preserved wrecks (like Boreas in Palamós), underwater tunnels (like in the Medes Islands), and thriving marine life (like in the Cap de Creus). Check this guide to discover beautiful dives in the Costa Brava.
👉🏼 Looking for guided scuba diving tours for beginners?
If you're a beginner and would like to join a guided tour that includes explanations plus the equipment rental, we've got you covered! Here are some options: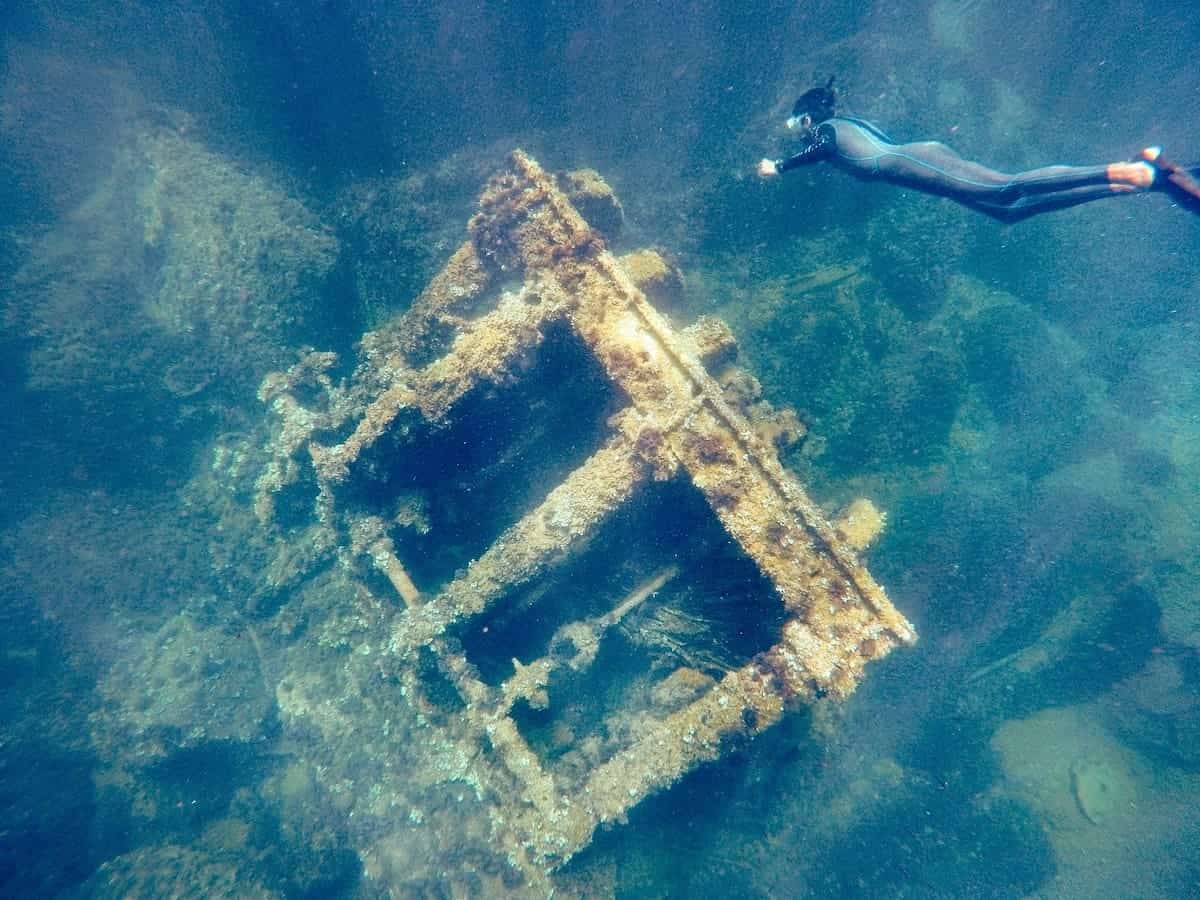 Watch the sunrise over the Mediterranean sea
Yes, we're asking you to wake up early… but for a good reason! On the Catalan coast, the sun rises over the sea, creating a natural show you shouldn't miss. Check the sunrise time, put the alarm, and start your day with an absolute blast!
We know that waking up when it is dark can be tricky, but for this reason, we can assure you that you won't regret it.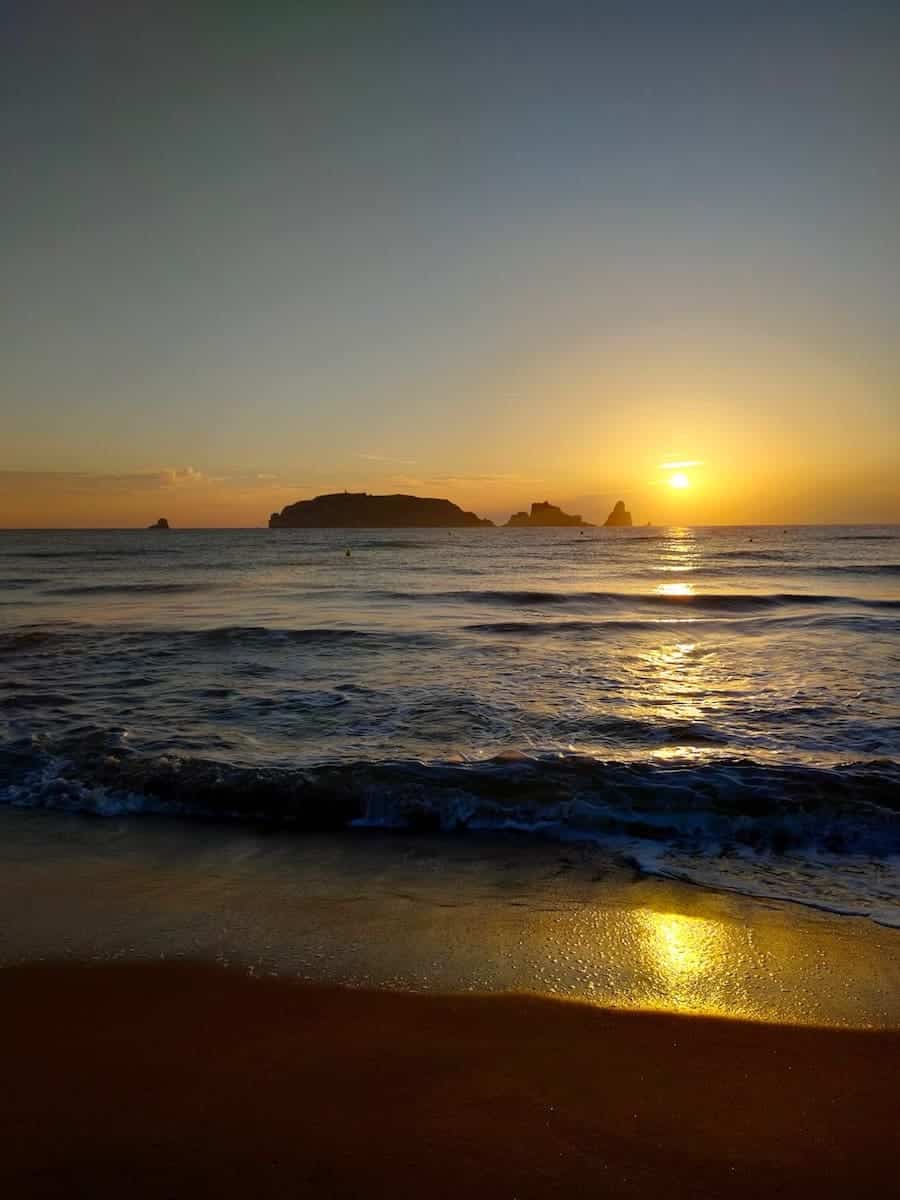 Enjoy sea views from the heights
If you're looking for an adrenaline rush and excellent panoramic views of the Costa Brava, you're in for a treat!
The via ferrata Cala del Molí is the only via ferrata on Europe's coast and it's 100% suitable for beginners. The route is 480 meters long in total and can go as high as 20 metres, offering an impressive views over the Mediterranean Sea.
So, if you love going to the beach but can't stand laying on a towel for hours, this is definitely a great plan to move your body while enjoying the beach vibes!
If you already have experience in climbing via ferratas you can do it on your own. If it's your first time or you feel more secure with a guide, we recommend joining a guided small group tour.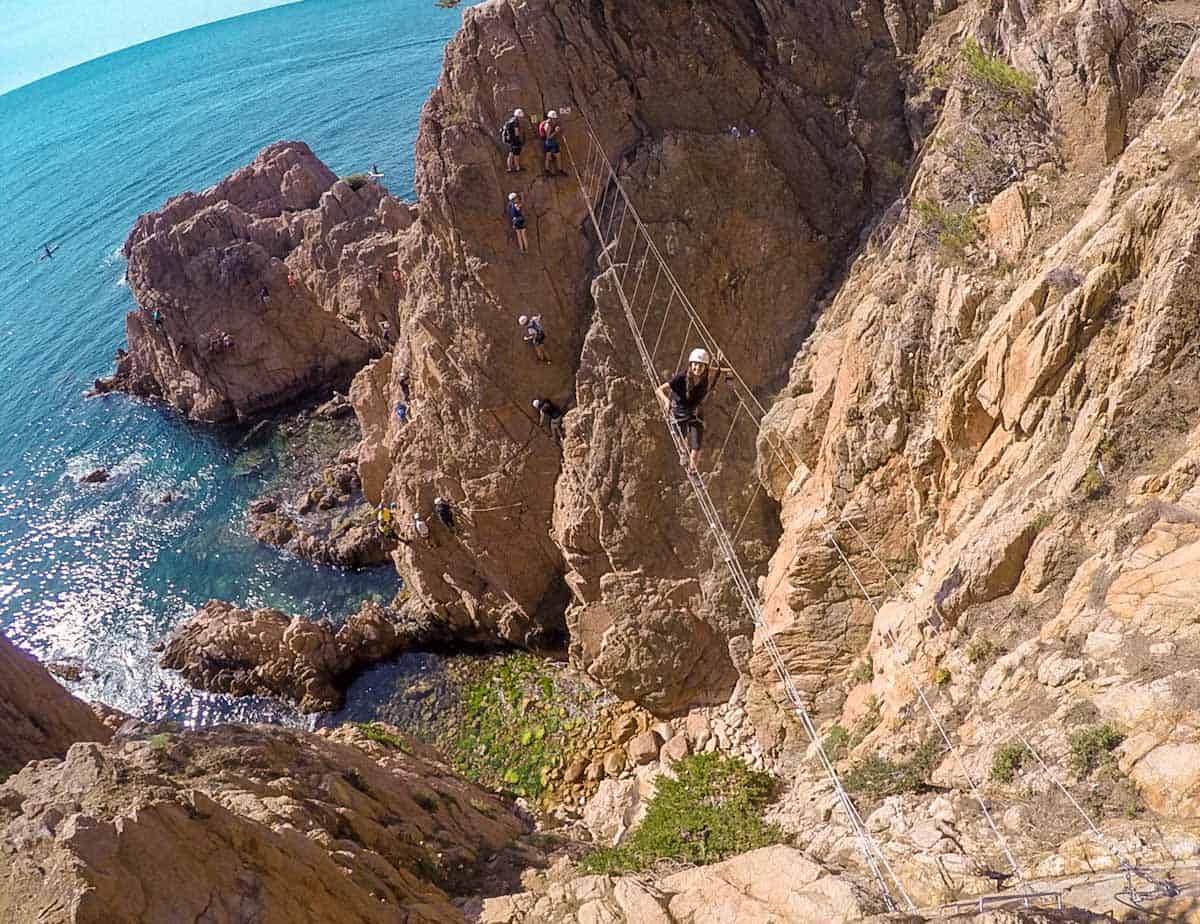 Learn about Dalí's life in the Costa Brava
Costa Brava was for a long time the home of surrealist artist Salvador Dalí, so no trip here would be complete without seeing some of his work.
Head to the Dalí Theatre-Museum in Figueres to admire one of the world's best museums dedicated to the artist. Well, you don't need to enter the museum to see some art; the museum itself is a piece of art! It's a quirky pink castle-like building with giant eggs on the rooftop, known as the world's largest surrealistic object.
Another stop in the Costa Brava related to Dalí is his house in the small village of Portlligat, right north of Cadaqués. The artist lived there from 1930 to 1982 and turned what used to be a fisherman's hut into a surrealist house. We'd never seen a home quite like this one! Pink lips sofa in the garden, egg sculptures on the rooftop, quirky sculptures in the interior… You get the idea!
And last but not least, there is the Castell Gala Dalí, located in the village of Púbol. It's the most unknown of the three sites mentioned, yet a great place to immerse into Dalí's universe. The artist offered this castle to his all-time love, partner and muse, Gala. The inside is full of incredible details, and the outside stands out for its "secret garden" with giant elephant sculptures.
👉🏼 Looking for a guided Dalí-themed tour?
This guided tour is the most comfortable and relaxed option to take a day trip from Barcelona and explore the Dalí Museum and his house. It lasts 11 hours and you don't need to worry about transportation or tickets.
If you're in Girona, there is also a guided tour to visit the Dalí Museum, Cadaqués, and the beautiful Cap de Creus Natural Park.
Paddle along the coast on a kayak or SUP
One of the best ways to explore the coastal areas and discover hidden corners is by kayak or SUP. Costa Brava is full of bays, inlets, and caves that can only be accessed from the sea.
If you're up for a kayaking or SUP adventure, don't forget to take a snorkel and a pair of goggles with you! Whenever you find a nice spot, are tired, or want to refresh, jump into the clear waters and explore Costa Brava's marine life.
One of our favourite adventures is to kayak from L'Estartit to the Medes Islands and snorkel there to explore this marine reserve.
You can hire kayaks and SUP on beaches and cities along the coast.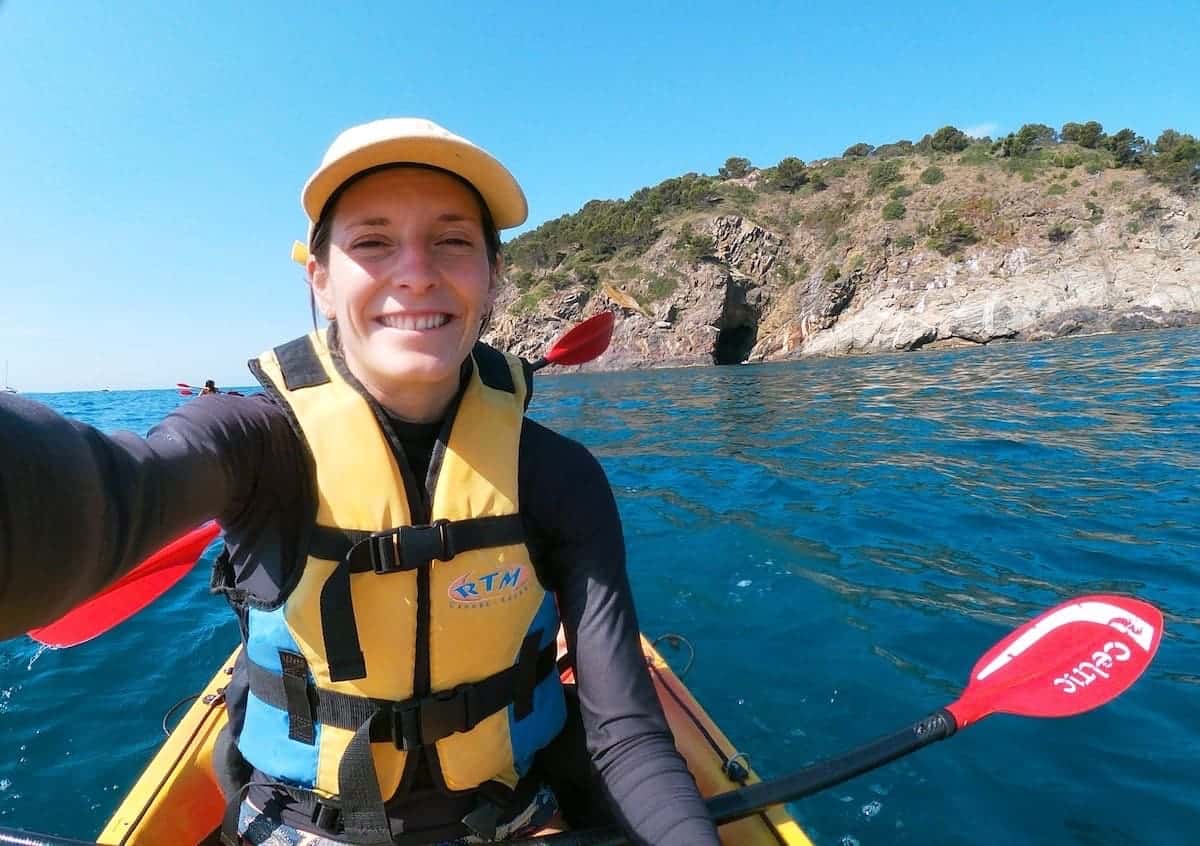 Go wine tasting
When it comes to wine, Costa Brava is not the first region that can come to your mind but believe us it's a hot destination for wine lovers.
Known as the Empordà wine region, this wine region is home to more than 400 wine growers, and about 50 DO Empordà wineries, which together produce almost 4 million bottles of wine a year!
So, where do you start?
We recommend following the Empordà Wine Route, a wine tourism route that includes winery visits, meals in the vineyards, wine tastings, and even bicycle and kayak tours with winery stops en route.
⚠️ Important!
Most of the small local wineries in the region discourage sudden turn-ups, so booking wine tastings and experiences in advance is highly recommended!
Discover Cap de Creus Natural Park
Cap de Creus is the first maritime-terrestrial natural park in Catalonia and an area of outstanding beauty. It's a peninsula located in the northern part of the Costa Brava, between Roses and Port de la Selva, and known for its secluded rocky coves, imposing cliffs, and forests touching the sea.
If you love hiking, swimming, and getting away from the crowds, you'll love it there.
For fantastic sunrise and sunset views, head to the Cap de Creus lighthouse, which stands on the most easterly point of the Iberian peninsula. Don't forget to bring a windproof jacket as it's usually pretty windy up there!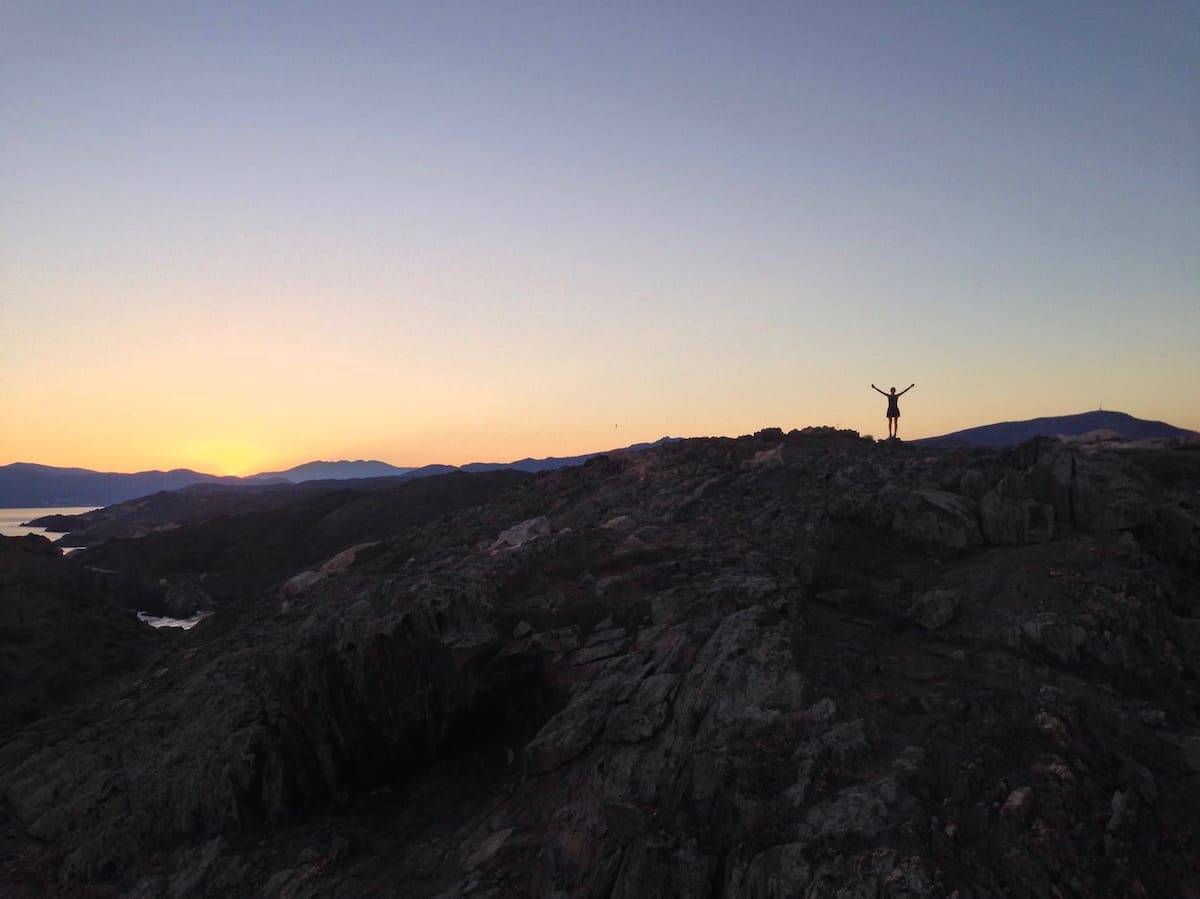 Go on a foraging adventure
Have you ever wondered which of the wild plants around you can eat? Are you curious about foraging? Then, we've got the perfect adventure for you.
Evarist, from Naturalwalks, runs several unique foraging experiences in the Costa Brava. He's a biologist in botany and an expert on using plants, algae and edible fungi in gastronomy. How cool! In fact, he's the gastrobotanist of the Celler de Can Roca, a worldwide renowned three-star Michelin restaurant.
Imagine picking some plants and flowers to make your own wild cocktail or getting on board a boat to taste first-hand wild ingredients of the coast.
We did the Marina tapas in kayak experience, and it was incredible! We learnt a lot, exercised, tried wild plants and algae, and cracked some laughs.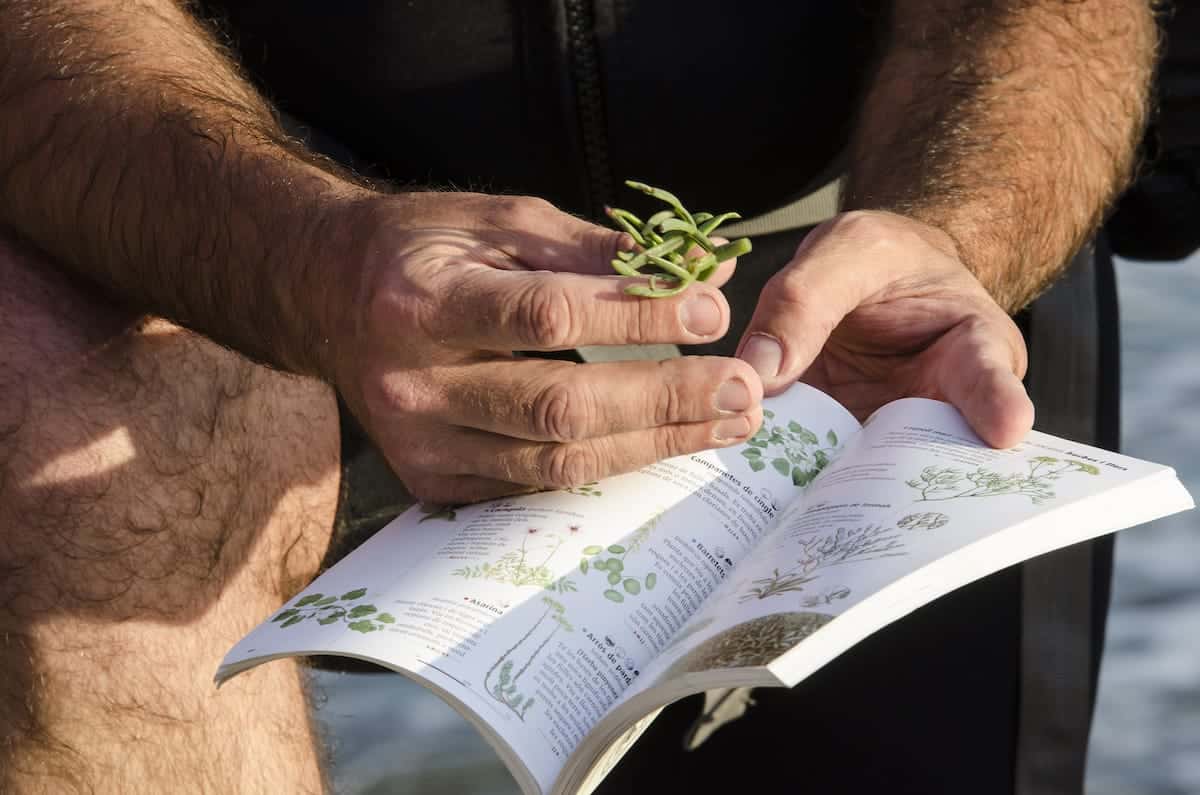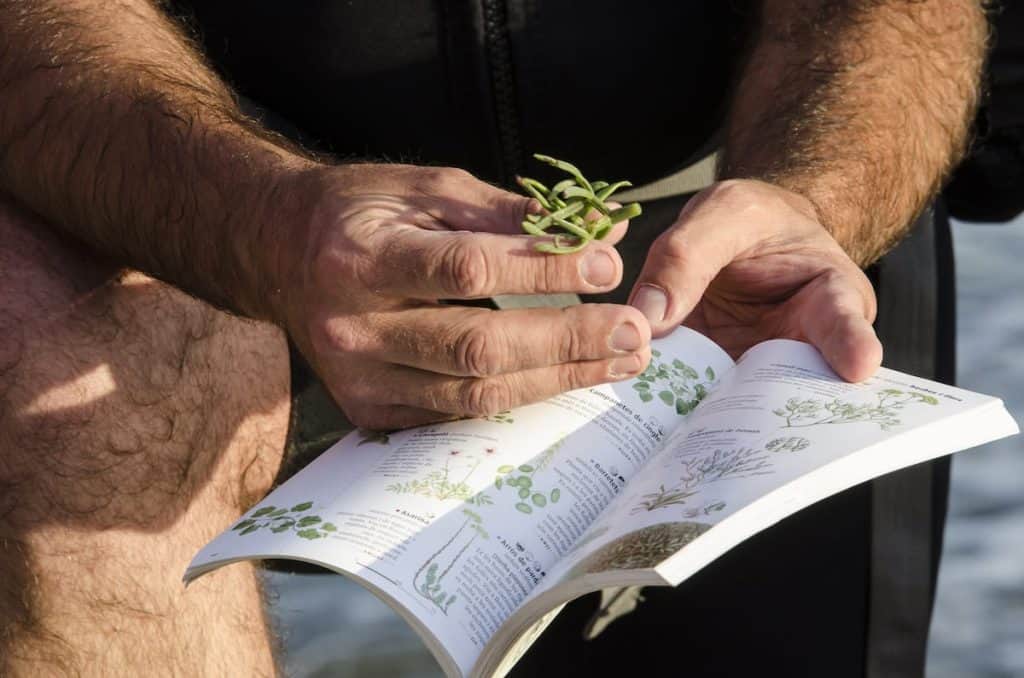 Enjoy impressive views of the coast from a castle
Located on a hilltop in Torroella de Montgrí, the Castell de Montgrí offers some breathtaking views of the Catalan coast from the top of one of its four defence towers.
But not only the views are worth the hike to the castle. This 13th-century castle is actually really well-preserved, making you feel you've travelled back to a time when knights and battles were a thing.
An easy hour hike, suitable for most people, is the only way to get to the castle. The track is sometimes steep but not too long, making it a perfect activity for half a day in the Costa Brava.
If you're up for a magical experience, go there at sunrise or sunset. We guarantee incredible views, and you'll mostly have the place all for yourself!
Learn to freedive in a beautiful setting
One of our favourite and unique experiences in the Costa Brava has been learning to freedive in the gorgeous Cap the Creus.
Lassdive, a pioneer freediving centre in the Costa Brava, was the first in the Iberian Peninsula to teach this sport. So believe us, you're in good hands if you're starting your freediving journey there!
We did the SSI Level 1 certification with the centre's founder, Miquel, and we couldn't have gotten anyone better! We loved his friendly vibe and his professionalism. He ensured we felt safe the whole time and gave us personalised advice and attention so we could learn at our own pace.
If you aren't sure about doing the whole course and want to try freediving once before committing to it, the centre also offers an activity called Freediving Introduction. It lasts one hour, and it's done in a swimming pool.
If you're already a freediving enthusiast, the centre offers several training sessions to practise this sport around the Costa Brava.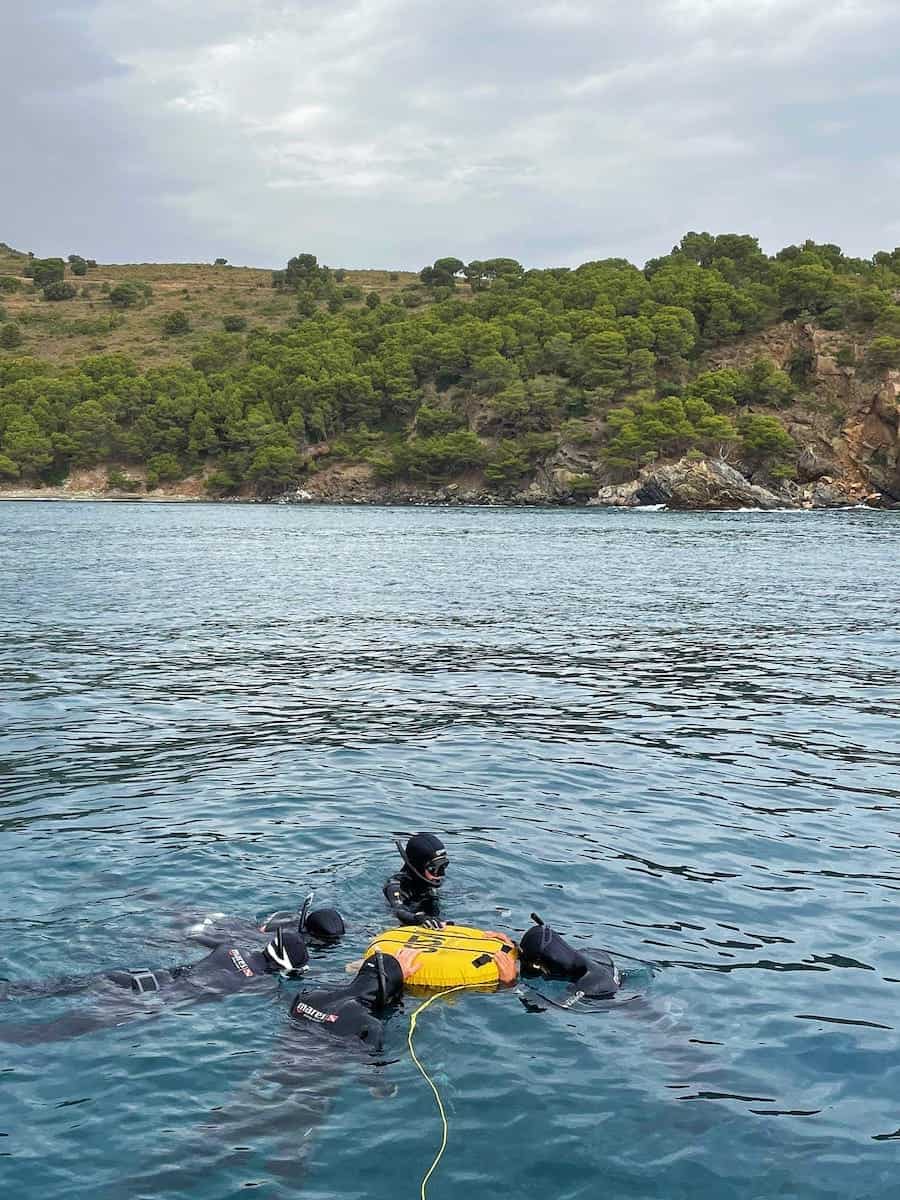 And that's a wrap! We hope this list of top 15 things to do and see in Costa Brava has inspired you to plan your next adventure in this beautiful corner of Spain. Enjoy!