Located in the heart of Costa Brava, Begur is a treasure. There, you'll find a historic town with medieval and colonial charm surrounded by mountains that hide some of the most crystal-clear coves in the Costa Brava.
The town of Begur sits not too far from the sea, around 2 km from the coastline. On the emerald coves, you can spend the day exploring the seabed, sunbathing, hiking the coastal paths in the area, or kayaking to hidden caves. Back on dry land, you'll find exquisite food, lovely boutiques, and Begur's impressive medieval castle.
Begur is located more or less in the centre of the Costa Brava, making it a perfect base to easily explore the rest of the region from here. Also, if you're travelling to Barcelona, Begur is an easy day trip or an ideal weekend away.
Ready to discover things to do, places to stay, and gastronomic delights in this charming village and its surroundings? Keep scrolling!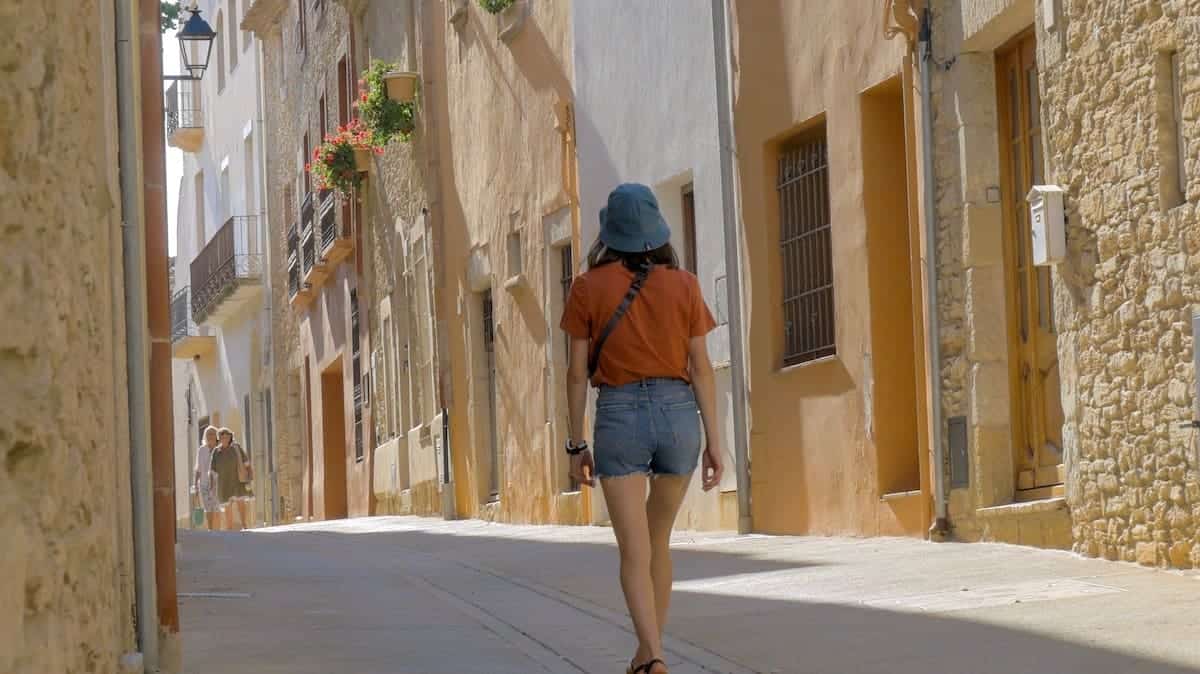 Things to do in Begur, Costa Brava
Hike the Camí de Ronda and snorkel at the coves
Follow the various coastal footpaths, known as Camí de Ronda, in Begur and walk through pinewoods to find beautiful emerald coves and lookouts with breathtaking panorama views.
Aiguablava – Sa Tuna – Aiguafreda
↔️ Distance: 7.2 km
⬆️ Elevation gain: 412 m
🔃 Circular? No
The path from Aiguablava to Aiguafreda unwinds through the cliffs characterising Begur's coast. So, expect some steep hills!
After leaving Aiguablava, you'll find two small coves: Cala Maralet and Platja de Fornells. The second one is in the beautiful fishing district Fornells, which has a small port.
Keep walking next to the sea and under the pine trees until you stumble upon the 50 stairs you need to descend to get to Platja Fonda. This pretty beach surrounded by cliffs is a good spot for a break, a dip in the emerald waters, or a snack.
From here on, the path climbs through housing estates until the track's highest point, a hill known as Puig de sa Guàrdia. The views from here are incredible!
The next interesting point is El Semàfor de Begur, a lighthouse from 1891 currently disused. The building itself isn't wowing, but what's impressive are the views from here. You can spot the Medes Islands and the Cap de Creus from here! Also, don't forget to go through the cave you'll see. The panoramic views once you get out are amazing.
Time to leave the lighthouse behind and enter a pine forest. Here, the slope becomes more abrupt, so it's time for the legs to work out a little! But the effort is worth it. Not long after the lighthouse, you'll find this path's treasure, Sa Tuna.
The blue of the water and the colourful houses make this cove iconic. If you have your goggles and snorkel tube, don't forget to explore the sea bed! The cove's right side is rocky and has many caves where it's easy to spot marine life.
Also, it's worth spending some minutes exploring Sa Tuna's narrow streets and marvelling at all the beautiful houses!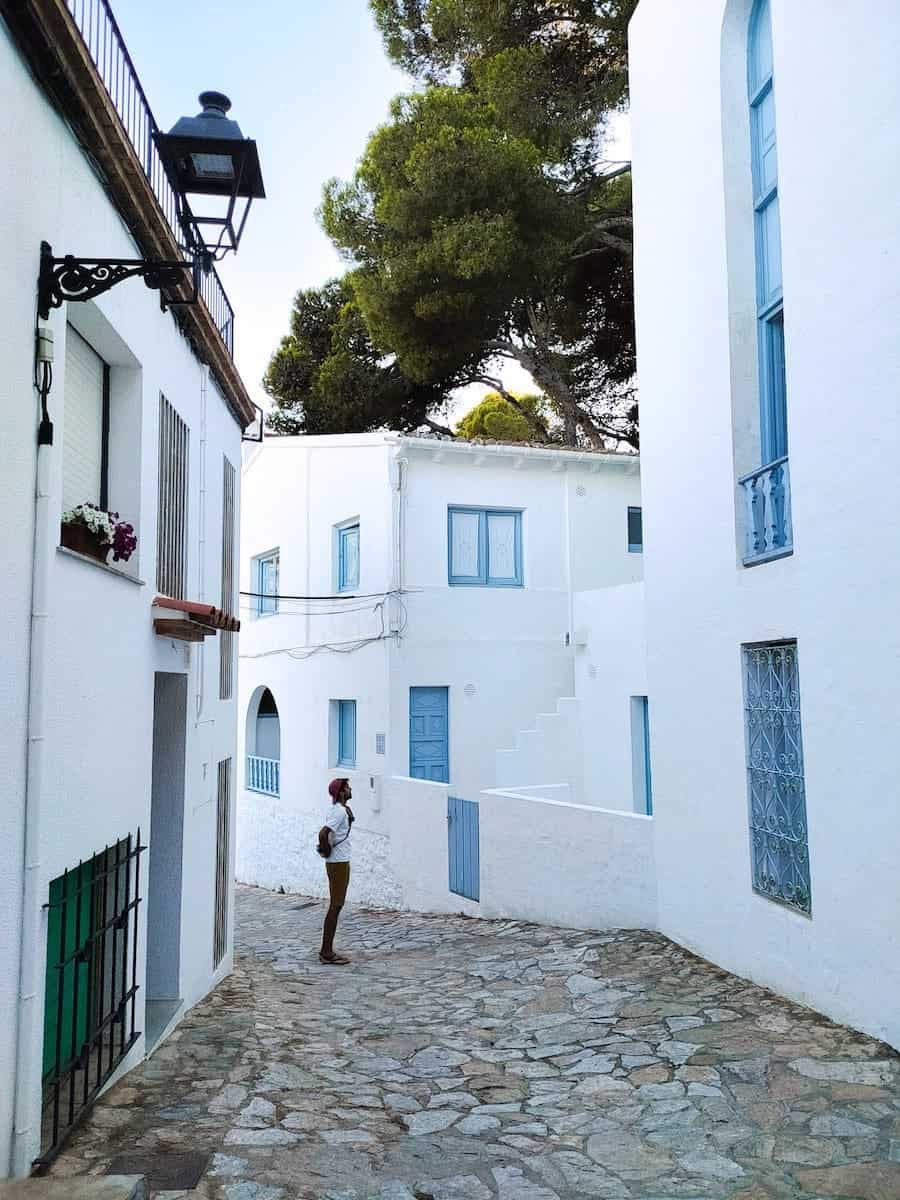 The last part of the path passes by one more cove, cala Ses Vaques, until finally reaching Aiguafreda.
As this hike is not circular, you'll have to get back following the same path. If you're staying in Begur, you can also take the shuttle bus from Sa Tuna back to the village.
When we arrived in Begur, we stopped to enjoy ice cream. It wouldn't be a real recommendation from us without an ice cream suggestion! We loved the selection at L'Enxaneta, nearby the castle.
🧭 Wikiloc track
In our Wikiloc profile, you can find the Wikiloc track of this hike to use it as a guide.
Punta de la Creu – Sa Riera – Platja del Racó
↔️ Distance: 3 km
⬆️ Elevation gain: 110 m
🔃 Circular? No.
If the other hike was more about cliffs and secluded coves, this one is more about sandy beaches.
It starts in Punta de la Creu, a cliff area with beautiful views protected as a marine reserve. The path unwinds through pine forests, going up and down the cliffs until reaching Cala s'Antiga. This secluded sandy cove is the perfect spot for a dip and a break.
Time to climb some stairs, walk a hundred more metres, and you'll find Begur's biggest beach, Platja de Sa Riera.
The next jewel on this hike is Platja de l'Illa Roja. You'll first pass it from above, and once you get to a crossroad, you'll have to take the path that descends to the beach to get there. We highly recommend it!
L'Illa Roja, translated as Red Island, gets its name from the red rocky island on the sand. A cool thing is that depending on the tide, you can find both Illa Roja attached to the land or isolated, almost "floating" near the beach.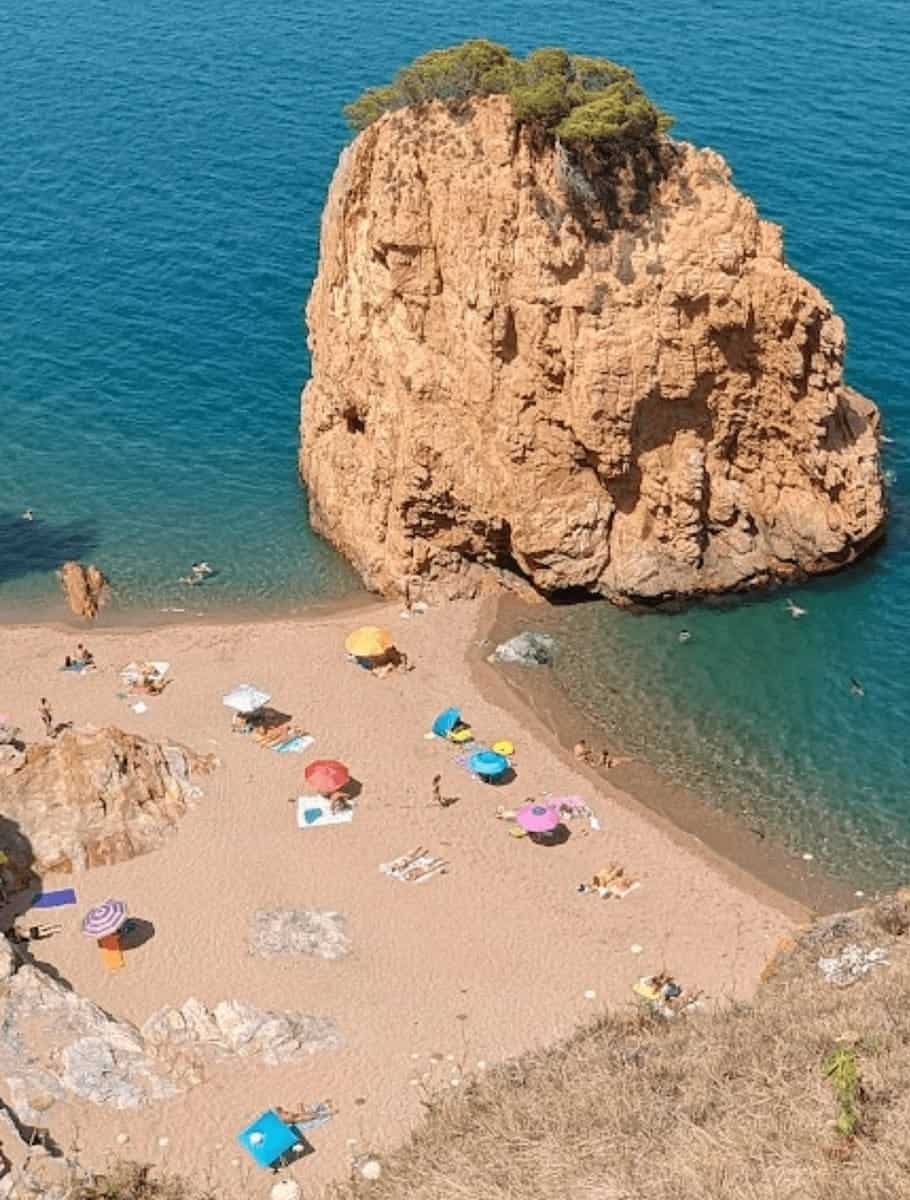 The beach is surrounded by high cliffs and scenic rock formations; it's one of our favourites in Costa Brava! Keep in mind that it is nudist-friendly, especially the area towards the end of it.
Only 200 m from this beach is the destination of the hike, Platja del Racó. You'll see a long sandy beach in front of your eyes, extending all the way to L'Estartit! In fact, this is the second most extensive beach here in Costa Brava.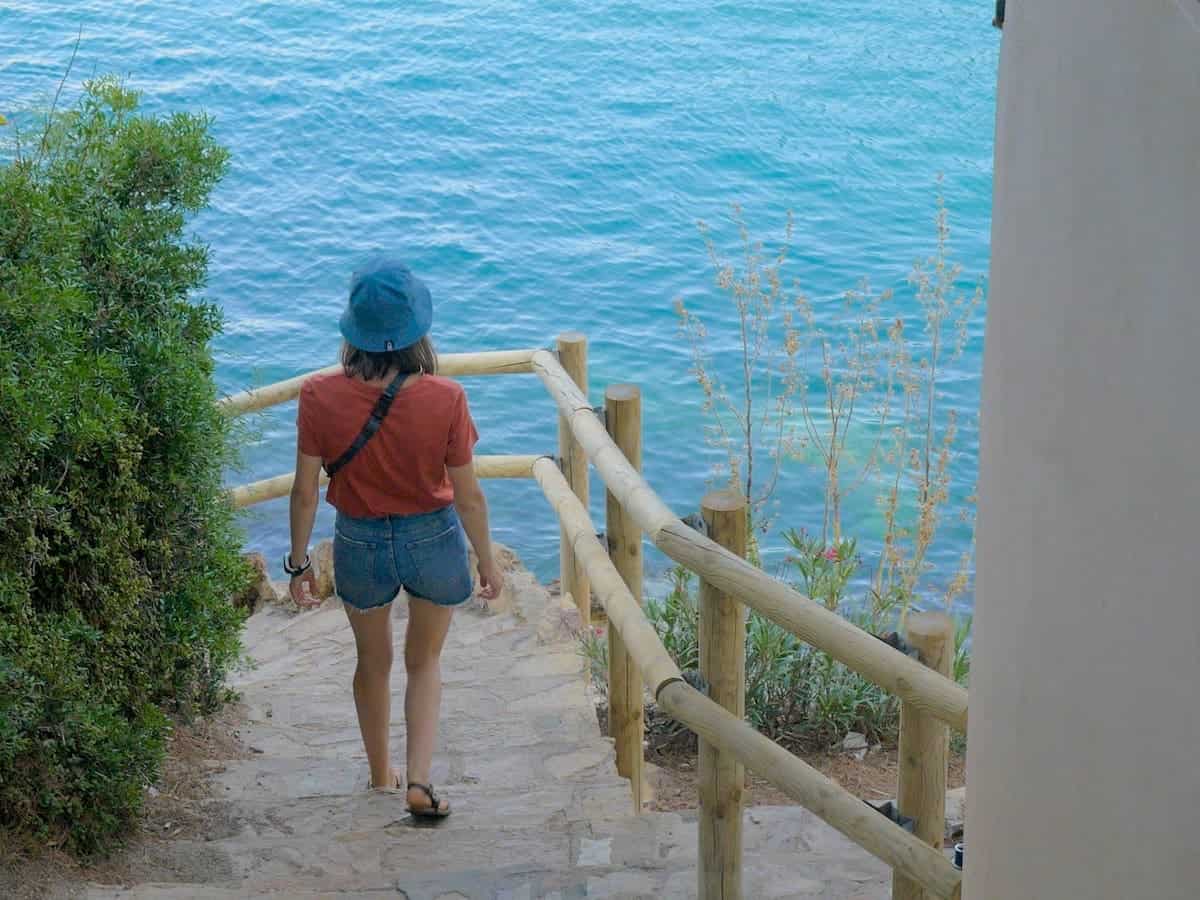 Wander through the streets of the historic centre
If you're in Begur, don't head only to the beach and forget to visit the village. Begur's historic centre is a maze of narrow streets with stone houses, local shops, and medieval charm.
The coastal village has cultural links to Cuba, as many Begurencs (people from Begur) emigrated to Cuba during the 19th century. Those who made a considerable fortune came back and built ostentatious colonial-style homes in Begur's centre, so you'll feel and see the colonial influence when walking around.
Here's a list of the colonial houses you can find in Begur. If you're up for a unique experience, you can spend the night in one of them! Hotel Aiguaclara is a stylish hotel set in a colonial-style mansion from 1866, and La Indiana de Begur is a boutique hotel also in a colonial house. We haven't stayed in any of them yet, but after reading the reviews and seeing the building's facade, we can't wait to go!
The bond is so strong with Cuba that, every September, people in Begur celebrate the Fira d'Indians. It's a 3-day festival where overseas products, Caribbean-style rhythms, and Habaneras are the main protagonists.
Other historical landmarks to see while walking in the centre are the 16th-century defensive towers, built by locals to protect themselves against pirate attacks, and the church of Sant Pere, built in the Gothic style.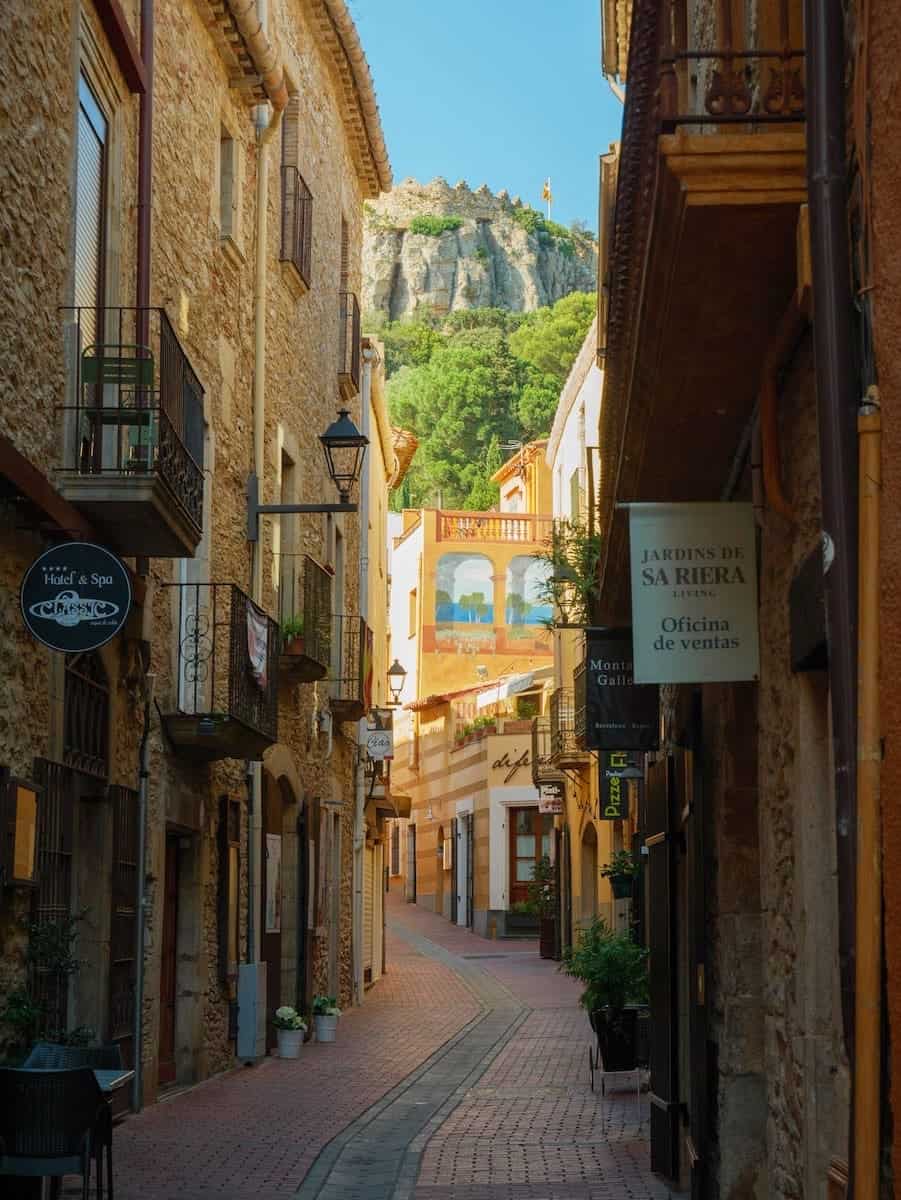 Explore the incredible seabed
Begur area has around 20 km of coast and 8 beautiful coves that are very different from one to another. This means…plenty of marine life and seabed to discover!
For snorkelling, you can either explore the rocky sections of the coves on your own or join a guide. Maui from Anemone Tours is a local that knows the coast of Begur like the palm of his hand, so if you're up for discovering great snorkelling spots, you can't go wrong with him!
You can sign up for a guided dive with Sa Barraca Water House if you prefer diving. The diving centre is located nearby Ses Negres, a protected marine reserve that is a breeding area for many marine species.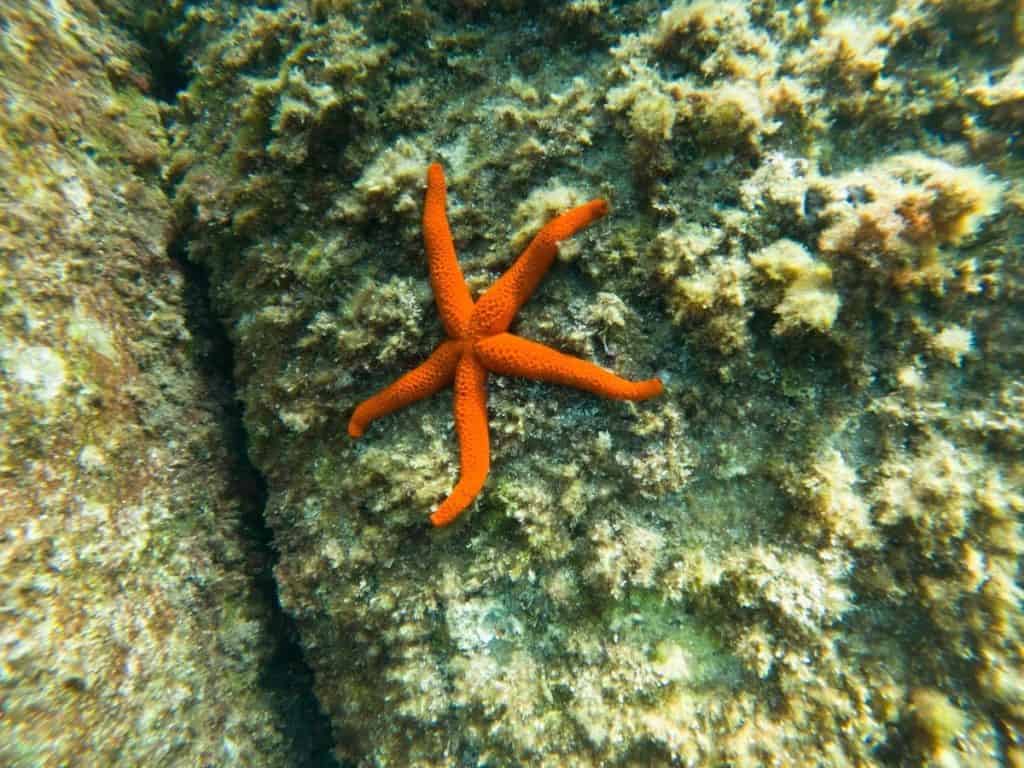 Soak up the views from Begur's medieval castle
Begur is protected by a medieval castle, which stands proudly on a hill. It was built in the 11th century, and these days it consists only of the remains of its outer walls. However, it makes for a nice hike, and the views are amazing!
You can spot the Medes Islands, the Cap de Creus, Costa Brava's countryside, and even the Pyrenees from there!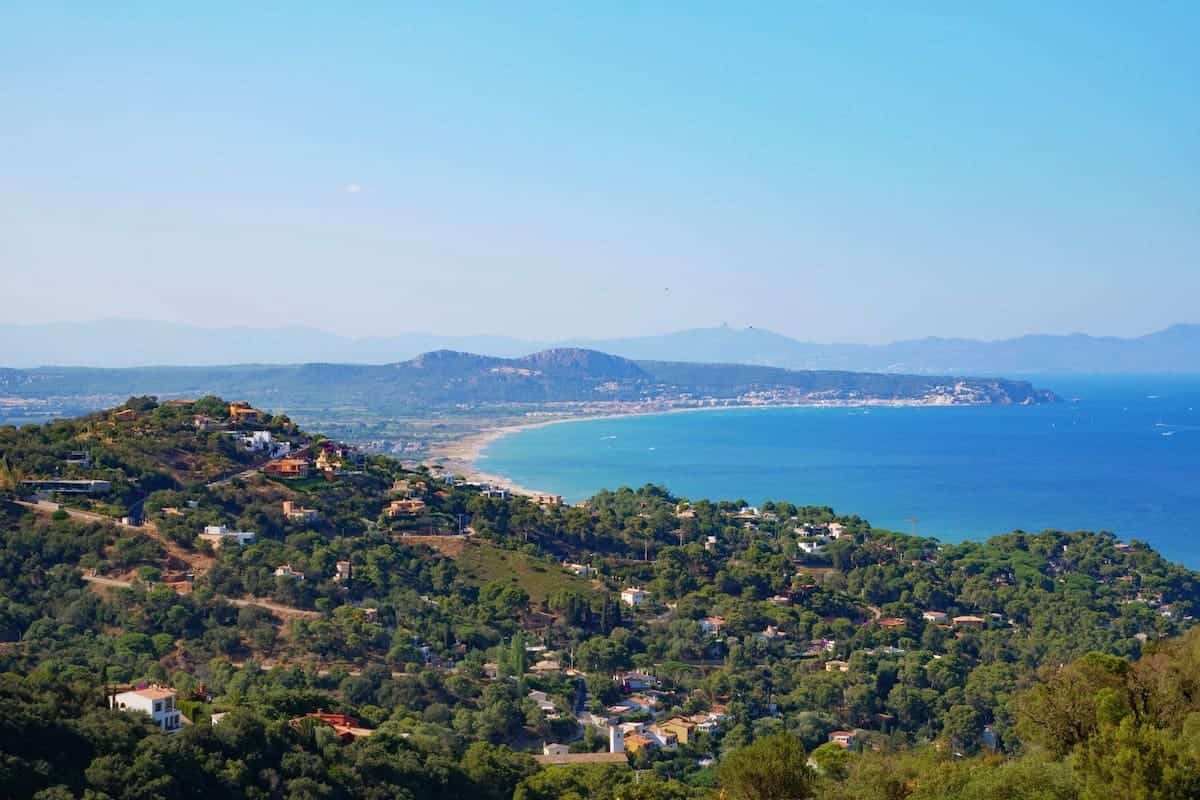 Enjoy music at Begur Music Festival
If you're in Begur at the end of July or the beginning of August, you can enjoy several open-air concerts in the village. The music played in the Festival de Begur is diverse, from alternative rock artists to pop ones, passing by folk and jazz musicians, thus making it an interesting stop for any kind of music lover!
Kayak, paddle, or sail Begur's coastline
If you love the beach but can't stand laying in a towel for several hours, this one is for you!
Rent a SUP at Sa Barraca or a kayak at Sa Blava and discover Begur from a different perspective. Stop whenever you please for a dip at sea and keep paddling to explore the many caves and coves in Begur. We always use Wikiloc to browse for routes and choose the one that's more adequate to our level and the distance we want to paddle.
Another option is to rent a boat or join a boat tour. Aiguablava Boats rents boats with and without a license and offers boat excursions with professional skippers. Ready to discover hidden caves along the coast and chill on the boat's deck?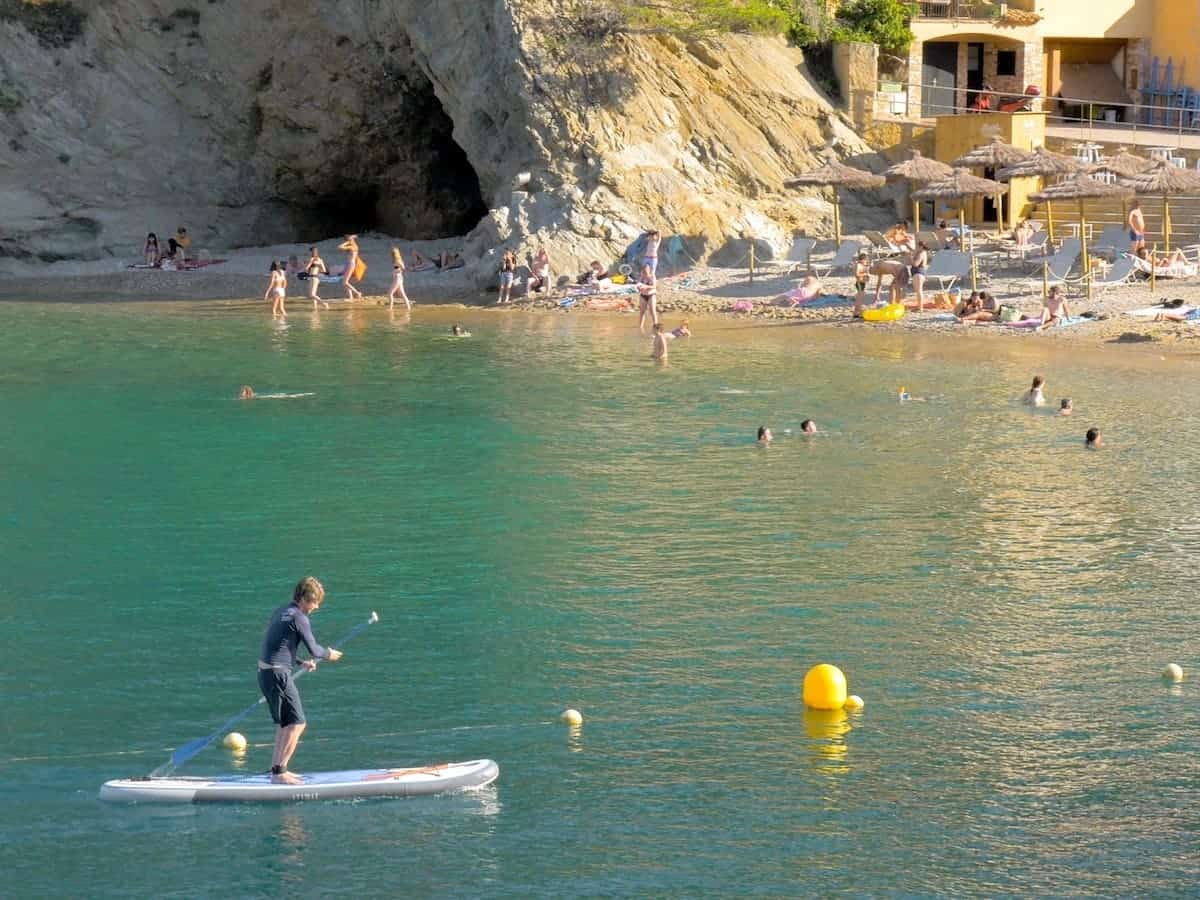 Experience sunrise over one of Begur's coves
Want to start your day with an absolute blast? Set the alarm early and watch the sunrise from the sea.
We know that waking up early can be hard, but for this reason, we can assure you that you won't regret it. It's a show of nature not to be missed!
Where to eat in Begur: A guide to the best food finds
Although Begur isn't a big town, there's no shortage of incredible places to eat.
When we were there, we had a fantastic dinner at Casa Juanita. The place is a culinary haven for seafood enthusiasts! They serve fresh Mediterranean fish and seafood prepared at the bbq, with tomatoes, onions, and potatoes. Besides the wood-fired fish, the octopus and the fried sand eels are to die for!
If you fancy a brunch or speciality coffee, head to Fitzroy Café. There, you'll find all kinds of coffee, kombuchas, sandwiches, sweets, and delicious banana pancakes.
Taverna Son Molas is a great place for a romantic night out or a dinner with friends when you want to get fancy. You'll enjoy creative tapas and little plates with beautiful views of Begur's castle.
Hungry after a morning at the beach and looking for an informal meal? You have plenty of options depending on what you're craving for! Those are our favourites:
Where to sleep in Begur
The accommodation options in Begur are far from short! This coastal city offers plenty of options, both in the city centre and the beautiful coves.
La Bionda Hotel and Hostalet de Begur are two wonderful options if you travel with your partner and look for an adult-only place. These two boutique hotels are located in the city centre.
Rather stay nearby the beach than in the city centre? Hotel Sa Tuna and Hotel Aigua Blava are two hotels in Begur's most beautiful coves. Because of its location, these hotels are pricier than the ones in the city centre, especially in high season.
If you're looking for excellent value for money, the family-run Hostalet dels Indians or the beach hotel Hostal Sa Rascassa are great choices.
Travelling with your family or friends, and you'd rather stay in an apartment? You can't go wrong by choosing Cap Sa Sal – Sa Roca 2 (located in Aiguafreda cove, up to 4 people), Sa Riera Beach (located in Sa Riera cove, up to 5 people), or Noor Apartamento (located in the city centre, up to 4 people).
For bigger groups (up to 8 people), two incredible options are Casa Alegria Costa Brava in the city centre and Sa Tuna Villa CEMA near Sa Tuna cove.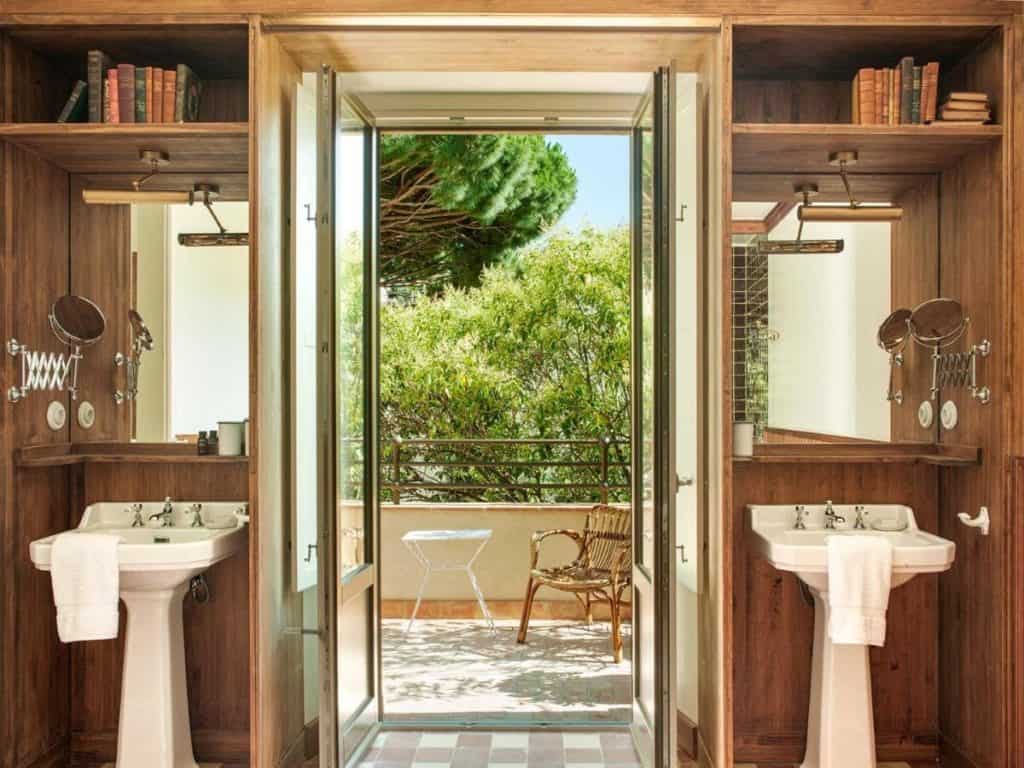 When is the best time to go to Begur
During the summer months, the city of Begur comes alive. People swim at the beach, eat and drink on the terraces, and walk around the historic streets. That's why May to September is a great time to come here.
However, good weather also means more crowds. If possible, we recommend avoiding August as it's the most crowded month, and it might even be too hot during the day to take a walk.
To us, May, June, and September are the best months as it's a bit quieter and not that hot.
If you're coming mainly for hiking the Camí de Ronda, you can do so all year round. We'd avoid July and August, as it's too hot to hike. Lean more towards spring and autumn when temperatures are pleasant, and you could even swim. If you come in the low season, you'll find lower accommodation rates and more tranquility.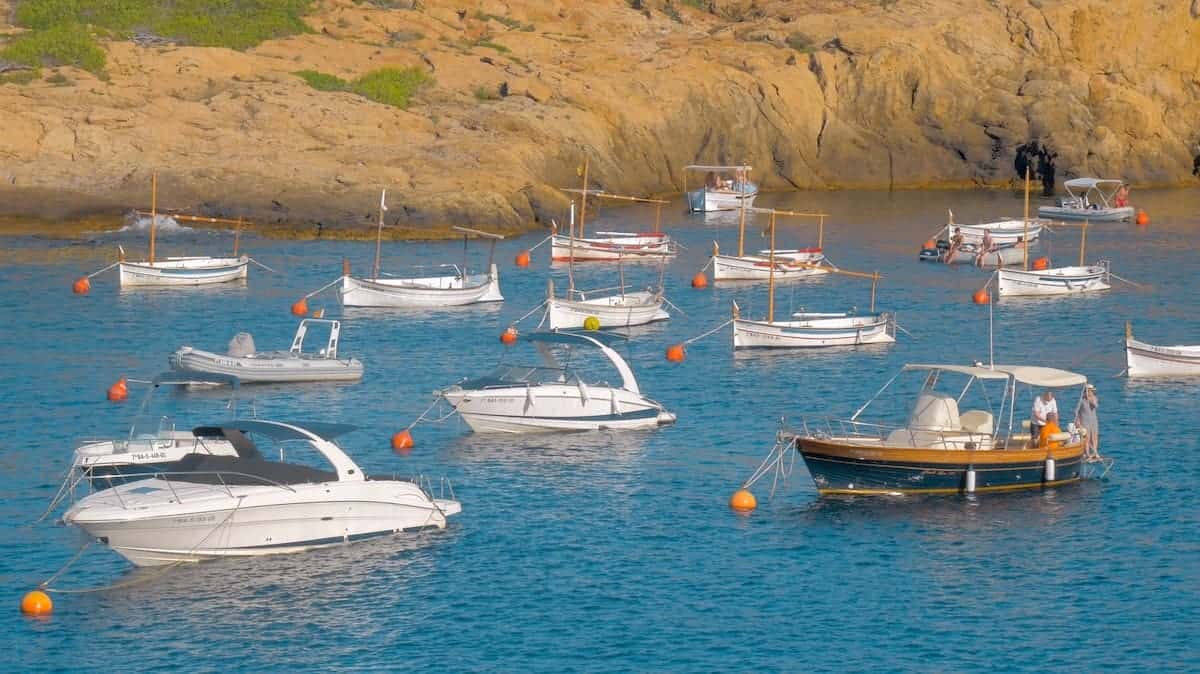 How to move around Begur
If you're there with a car, there are several parking lots both in Begur and on the beaches.
However, the parking lots on the beaches are small, get really busy (especially in high season), and are pretty expensive (3€ for 1 h!!!). Instead, we recommend taking the shuttle bus from Begur to the coves. You'll save money (it only costs 1€), headaches, and time.
The service runs throughout the day, operated by a bus, which covers the three main beach areas: Sa Riera, Sa Tuna, and Aiguablava.
If you don't have a car, walking from the town centre to the coves is an option, although it's quite far and the path is very hilly. We recommend taking the bus mentioned before.
How to get to Begur from Barcelona
Begur is 133 km away from Barcelona, making it a good destination for either a day trip or a weekend trip if you want to escape the hustle and bustle of the capital.
So, how can you get there?
🚗 By car
The fastest way is by car. From Barcelona, you need to drive 1 h 30 min to get to Begur. The village has several established parking lots, some free and some paid.
🚎 By bus
If you don't have a car, no worries! Public transport runs from Barcelona to Begur.
A direct bus from Estació del Nord (Barcelona) takes 2 h 20 mins to get to Begur, making it the easiest and fastest option to reach this village from the Catalan capital.
In summer, this bus departs every 2 hours and costs around 22 € one way. In winter, the frequency drops to 2 or 3 buses per day.
🚊 By train
Another option, although less comfortable and slower than the bus, is to go by train.
The train doesn't reach Begur, so you'll have to stop in Girona. The high-speed train takes 38 min to get to Girona from Barcelona. Once there, you can take a bus to Begur. There's only one bus a day, in the afternoon.
The total travel time is 2 h and 48 min.
🚐 Join a guided tour
If you only want to do a day trip to Costa Brava, joining a guided tour is one of the most comfy and stress-free options. We suggest a tour with a local guide to discover 3 beautiful villages in Costa Brava (Calella de Palafrugell, Begur, and Pals).
The tour starts in Girona, so you'll have to get the high-speed train from Sants station in Barcelona (total travel time: 38 min).
How to get to Begur from Girona
🚗 By car
The fastest way is by car. It only takes 53 min to drive from Girona to Begur. The village has several established parking lots, some free and some paid.
🚎 By bus
If you don't have a car, no worries! Public transport runs from Girona to Begur.
Several buses a day link the two locations, although only one is direct and leaves Girona at 5:15 pm. Take a look at the bus combinations and schedules here. The journey takes between 1 h 20 min to 1 h 50 min.
🚐 Join a guided tour
If you're in Girona and only want to do a day trip to Costa Brava, joining a guided tour is the most comfy and stress-free option.
The tour we suggest will allow you to discover 3 beautiful villages in Costa Brava (Calella de Palafrugell, Begur, and Pals) with a local guide, making it an ideal option to discover this coastal region without having to plan anything!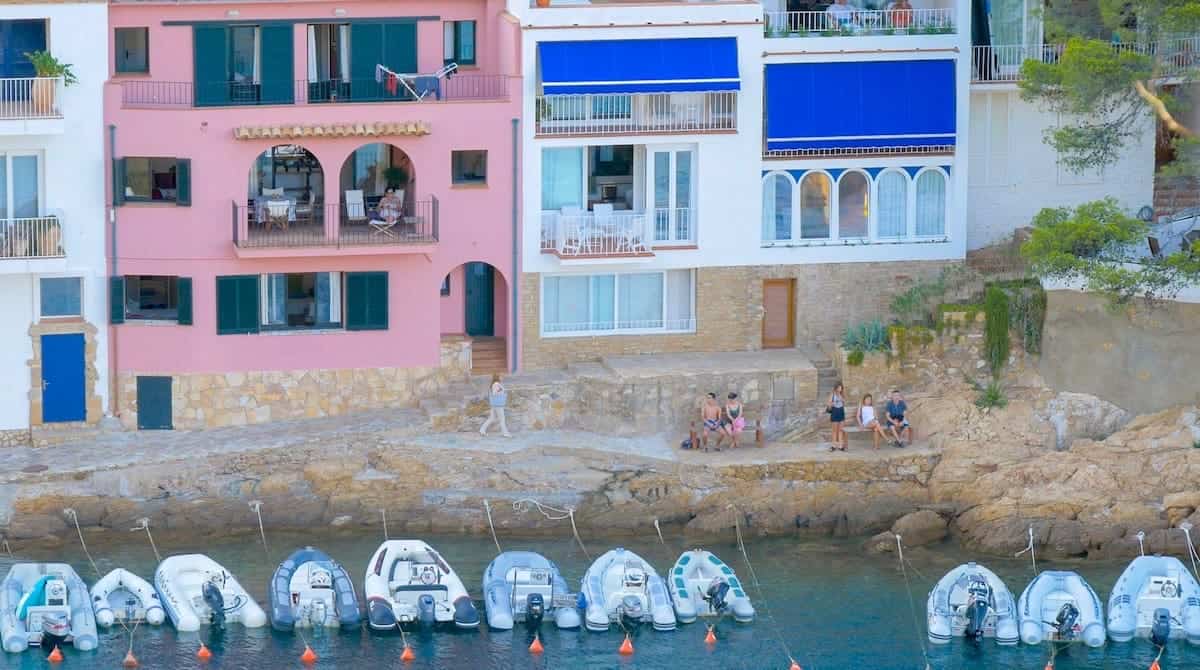 We hope that with this guide, we've encouraged you to discover Begur and its beautiful beaches. If you end up going, tell us which ones was your favourite!
---
More things to do in the Costa Brava
We've written several posts with adventures to do in the area. Here are some suggestions: