Once a year, during the spring season, the city of Girona transforms into a spectacular floral display.
For nine days in May (13th to 21st in 2023), Girona celebrates its acclaimed Temps de Flors, a festival that dresses the city with beautiful flowers, striking colours, and penetrating aromas.
Girona's historic centre's monuments, courtyards and urban locations turn into floral creations and ornamental gardens. All flower shows are free of charge, and it's a unique opportunity to access monuments and buildings usually not opened to the public.
We've been to Temps de Flors thrice and put together a guide with some tips and tricks to make the most out of this amazing event.
Sounds good this far? Keep scrolling to discover more!
What is Temps de Flors
Temps de Flors (translated as Flower's Time) is a flower exhibition celebrated annually in Girona since 1954.
During the nine days that the festival lasts, Girona is most colourful than ever! Throughout the city, and especially in the historic district, you can find monuments, streets, and courtyards decorated with superb floral arrangements. There are actually more than a hundred floral displays around.
Everything revolves around flowers: associations prepare flower exhibitions, citizens adorn their balconies, and shopkeepers decorate shop windows. Even restaurants offer floral menus!
Also, concerts, workshops, art expositions, and dance performances are organised throughout the city during the festival.
🗺 Map of the displays (2023)
Check out this map to see all the floral exhibitions displayed at Temps de Flors.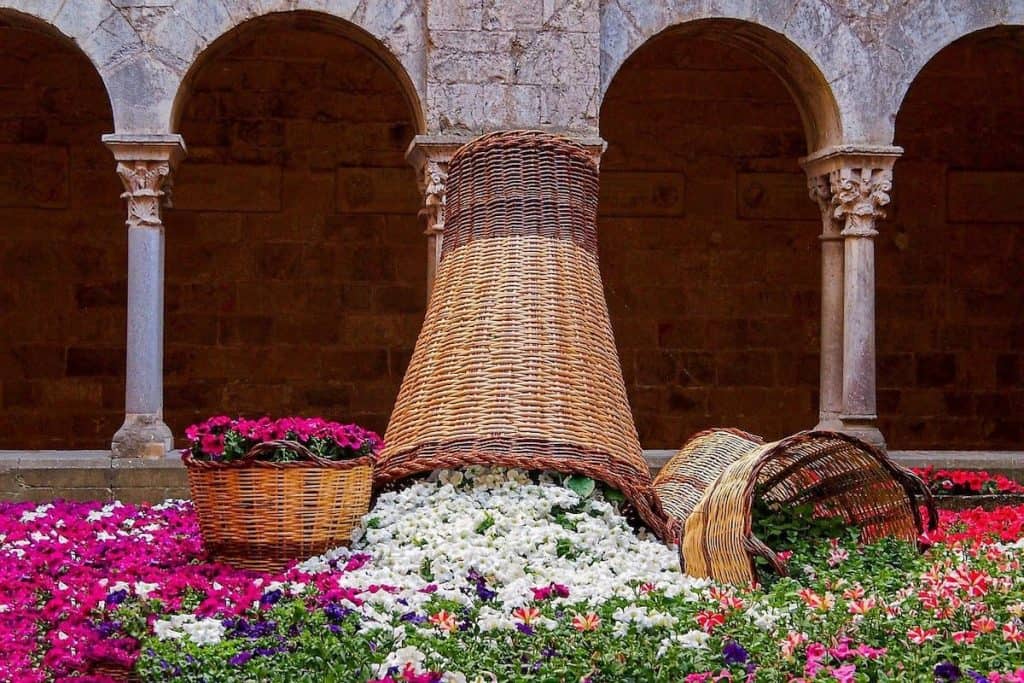 Practical info about Temps de Flors
When is the festival
The festival takes place from the 13th until the 21st of May 2023.
⚠️ Important!
Even if you've already visited Temps de Flors another year, don't let this stop you from going again! The floral designs are renewed every edition, so each Temps de Flors festival is unrepeatable and unique.
We've been there three times, and each one has been drastically different from the others.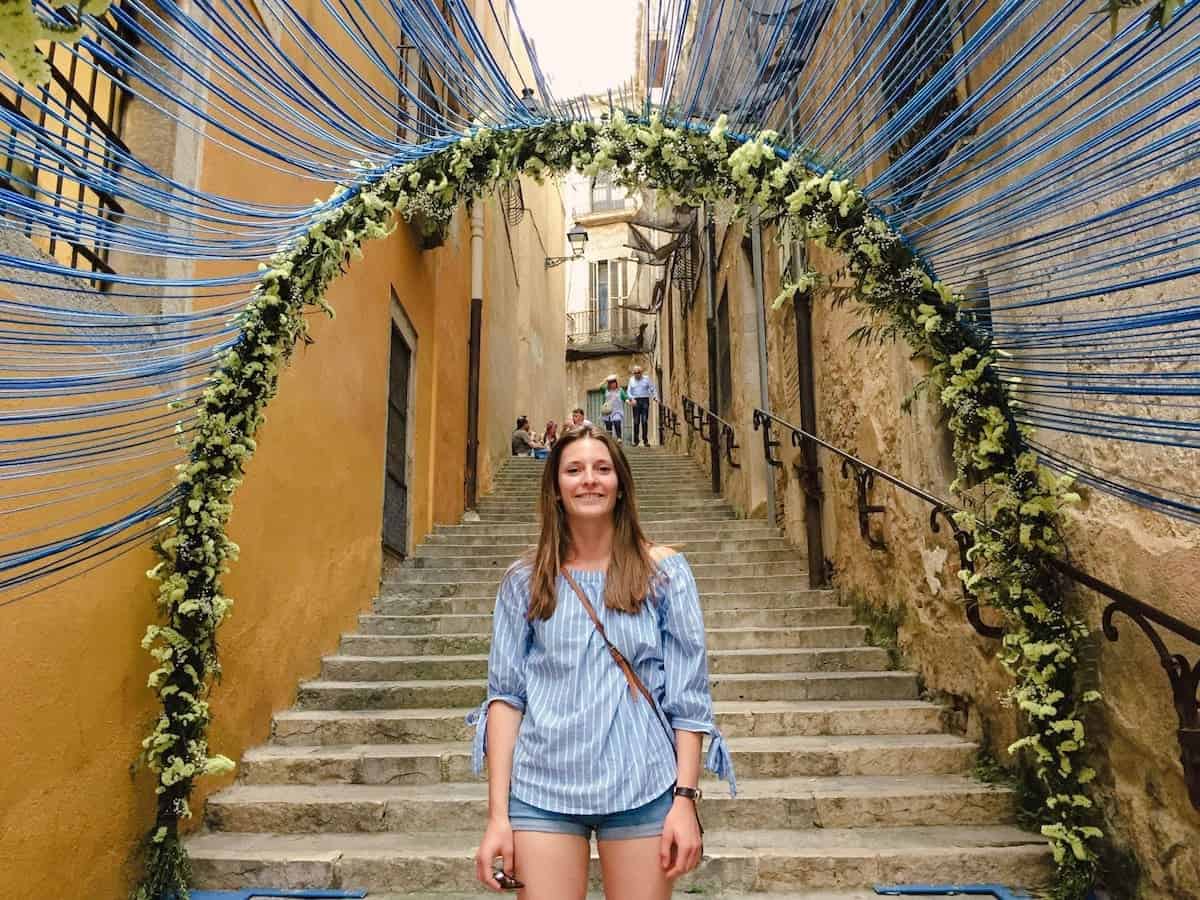 Where does the festival take place
Temps de Flors is held yearly in Girona's historic city centre and the medieval Jewish quarter known as El Call.
The most impressive floral displays include the Arab baths, the Cathedral steps, the Capella de Sant Nicolau, and Les Sarraïnes.
There are over a hundred exhibits, some in patios, monuments and other spaces that aren't usually open to the public. So, it's an excellent opportunity to visit spots of the city you wouldn't otherwise be able to see.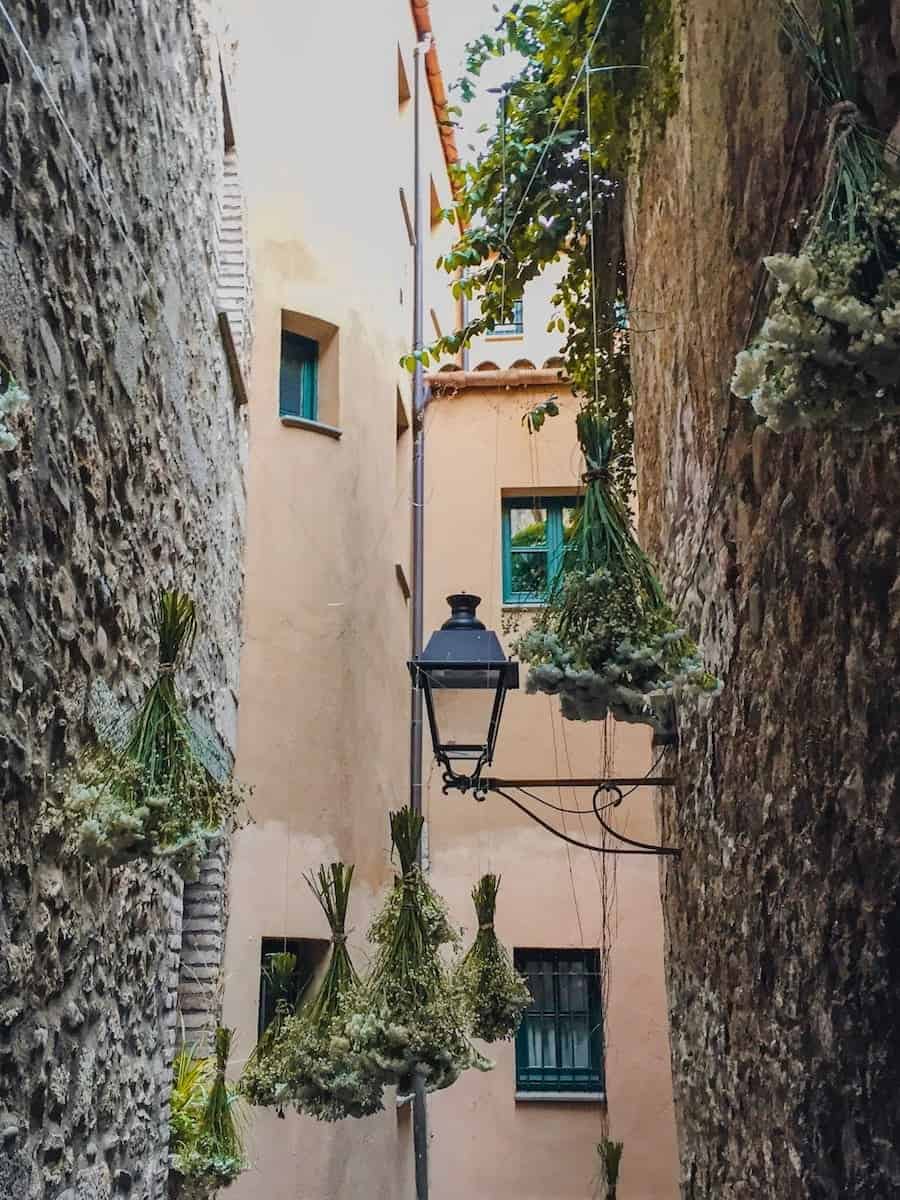 Tips for making your Temps de Flors visit smoother
1. Avoid the weekends if possible
If you can visit the festival on a weekday, we can't recommend it enough!
Temps de Flors is very popular with locals, who usually go there on weekends. That means the narrow streets of Girona's historic centre get pretty crowded!
If you visit on a weekend, be patient. Typically, you queue up to see the most popular displays, especially on Sunday mornings.
But don't get frustrated! The queues don't take that long, and the worst you can find is around 15 minutes.
2. Be patient
This follows from tip number 1 and is especially relevant again on weekends.
On Friday, Saturday, and Sunday, restaurants get very crowded, especially at lunchtime (from 1 to 3 pm), and service may be slower than usual. So, the best thing you can do is to book in advance or be patient, relax, and enjoy the floral displays while queuing to get some food.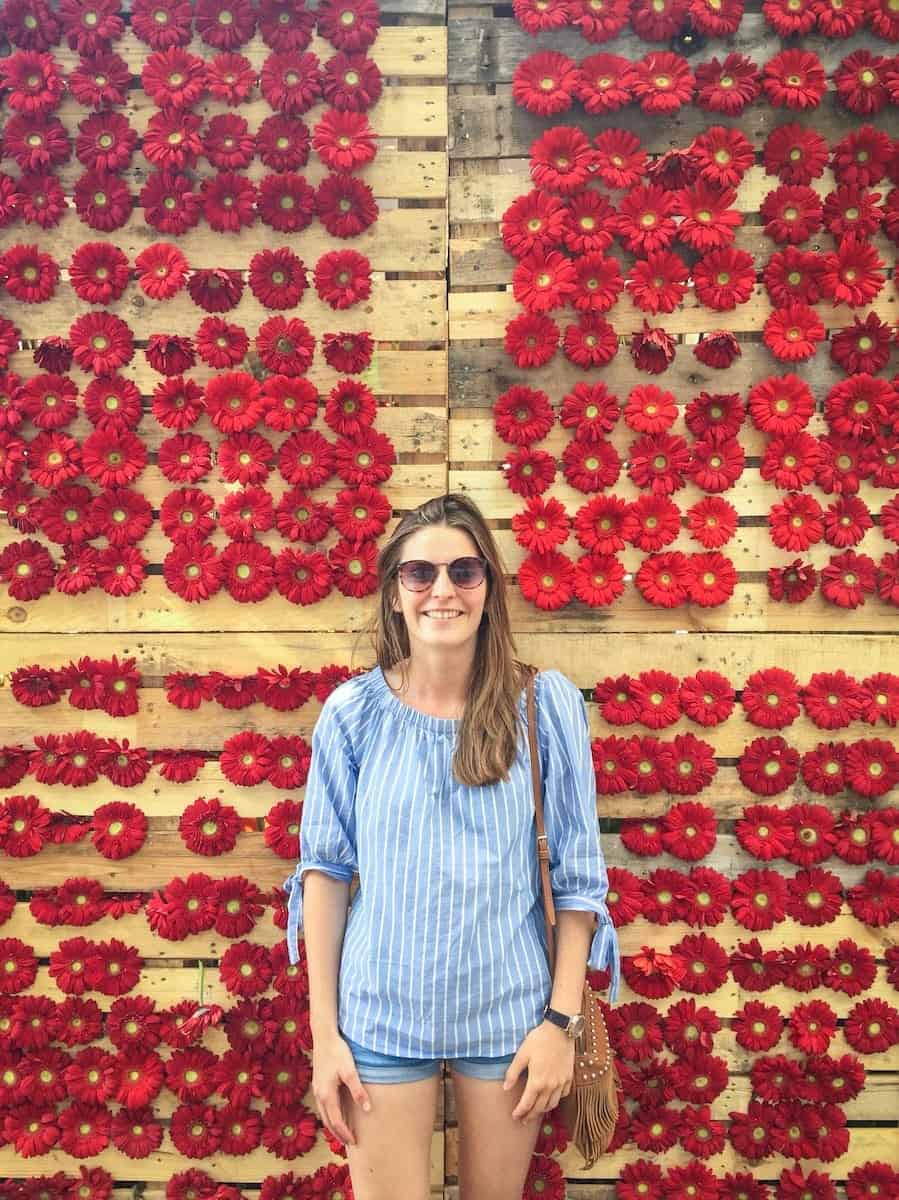 3. Take advantage of the festival to discover monuments for free
Temps de Flors is a great excuse to explore the city and discover locations you otherwise couldn't or should pay to see.
Sites such as the Banys Àrabs or the Girona History Museum, which you usually have to pay to visit, are free during Temps de Flors.
4. Stay overnight (and book in advance!)
Temps de Flors make a fabulous day trip from Barcelona, and the festival can actually be seen (more or less) in one day. But we think spending at least a night in Girona is something you should definitely consider!
An extra day will allow you to enjoy the festival at a slower pace, soak up the atmosphere, and visit Girona and its main highlights without rushing from one place to another. Also, you'll see the floral displays on the River Onyar lit up at night, which is when they're most beautiful!
⚠️ Important!
On the weekends of the festival, hotels in the city centre book up 2 to 3 months in advance. Yes, you heard that right! So, either book early or be prepared to stay in a less central location.
How to get to Girona from Barcelona
If you visit Temps de Flors without staying overnight, we highly recommend you travel by public transport.
It isn't easy to park in Girona during the Temps de Flors festival, and even less during the weekends. So, we advise you not to go by car.
The train station is only 20 minutes from the historic centre, where you'll find the festival and the best things to do in Girona.
You can get to Girona from Barcelona by taking the high-speed AVE train from Estació de Sants in Barcelona. The train has a journey time of just 35 minutes!
The other option is to take a public bus from the bus station Estació del Nord.
How to move around Girona during Temps de Flors
Girona is a middle-sized city, which makes it ideal for exploring on foot or by bike. You can rent a public bike for just 2€ a day.
During the festival, you can use one of the three suggested itineraries to move around the city and see the floral exhibitions. You can pick up a map with the itineraries at the tourist office and from volunteers along the route.
If you decide to move by bike, check the tourism board's suggested cycling route to discover the festival.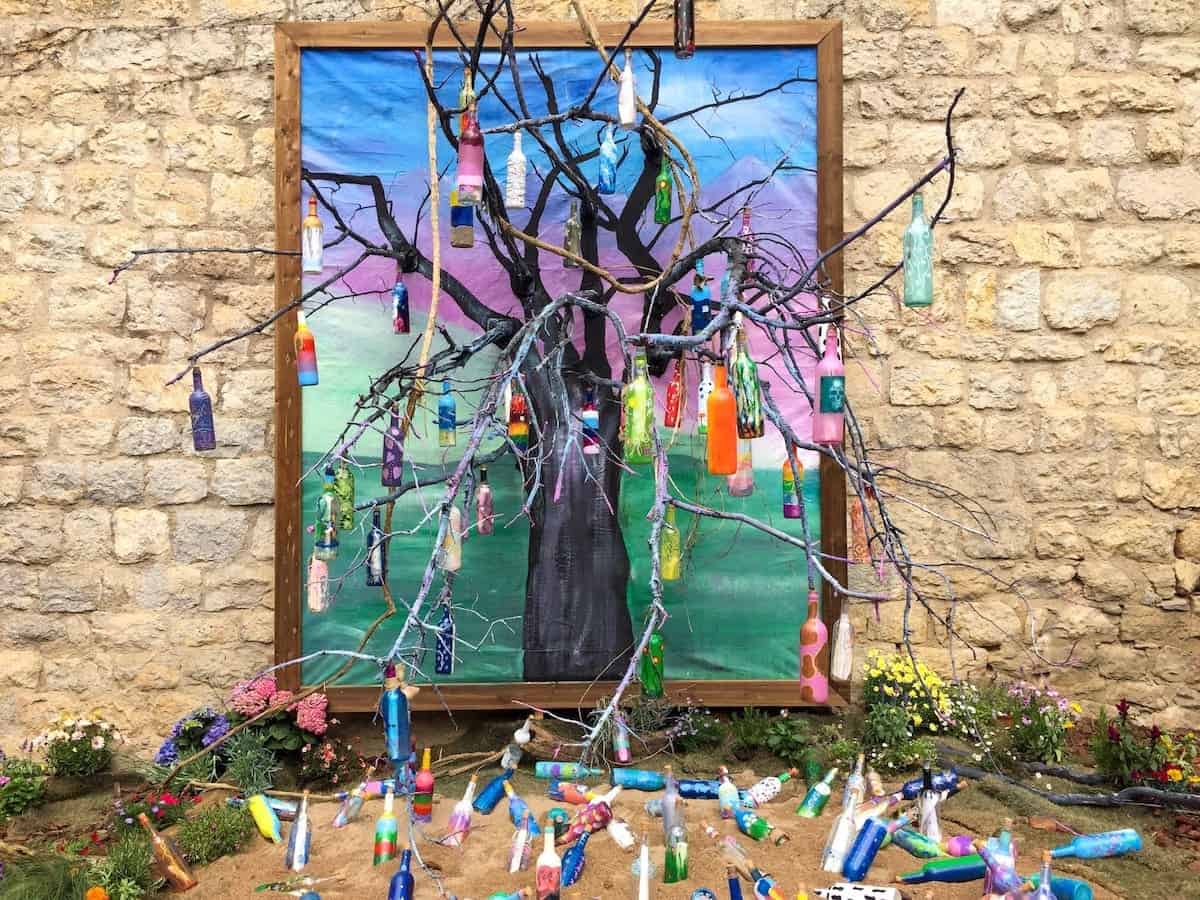 While you're in Girona…
🏰 Are you a fan of GoT? Join this Game of Thrones tour, which you'll enjoy no matter if you're a Lannister or Stark fan! The walk lasts 2 hours and takes you to the sites where the 6th season of the show was filmed.
🚶🏼We recommend this guided walking tour if you'd like to discover Girona with a local. It lasts 3 hours, and you'll visit Girona's most important monuments, learn about its history and legends, and learn more about Girona's Jewish heritage.
🍸 Looking for the best things to do and see in Girona while you're there? From sipping vermouth to soaking up the views from the medieval walls, you'll find the best experiences in our guide.