Have you ever wondered which of the wild plants around can you eat? Are you curious about edible plants and algae? Then, Herbocaiac is the adventure you're looking for. It involves kayaking along the coast of Palamós, in the Costa Brava, with a botanist explaining which algae and plants are suitable for foraging and how they can be eaten and cooked. Learning and fun are granted!
Marc chose Herbocaiac as a gift for Marina's 29th birthday, so we'll explain to you how the experience was and the nuts and bolts of the activity. Ready for a delicious adventure?
All the details you need to know about Herbocaiac
For those unfamiliar with it, foraging means gathering wild food for free. Although it may look like an old-school way to get your food, there're still a lot of people out there doing it. Foraging gained far greater popularity in recent years, especially to connect with nature and learn about it. Also, you'll be proud of getting your own food without the need for a supermarket!
Herbocaiac (which means herbal kayak in Catalan) is an activity run by Naturalwalks. It takes place during summer in the coastal town of Palamós and Lloret de Mar, and it lasts about 4 hours. The total price of the experience is 40 € per person, including the kayak rental and the guide. You just need to bring a swimsuit, a snorkel mask, and a breathing tube.
This experience is an excellent choice if you want to spend a different morning in the Costa Brava, learn about the flora and do some exercise in the meantime.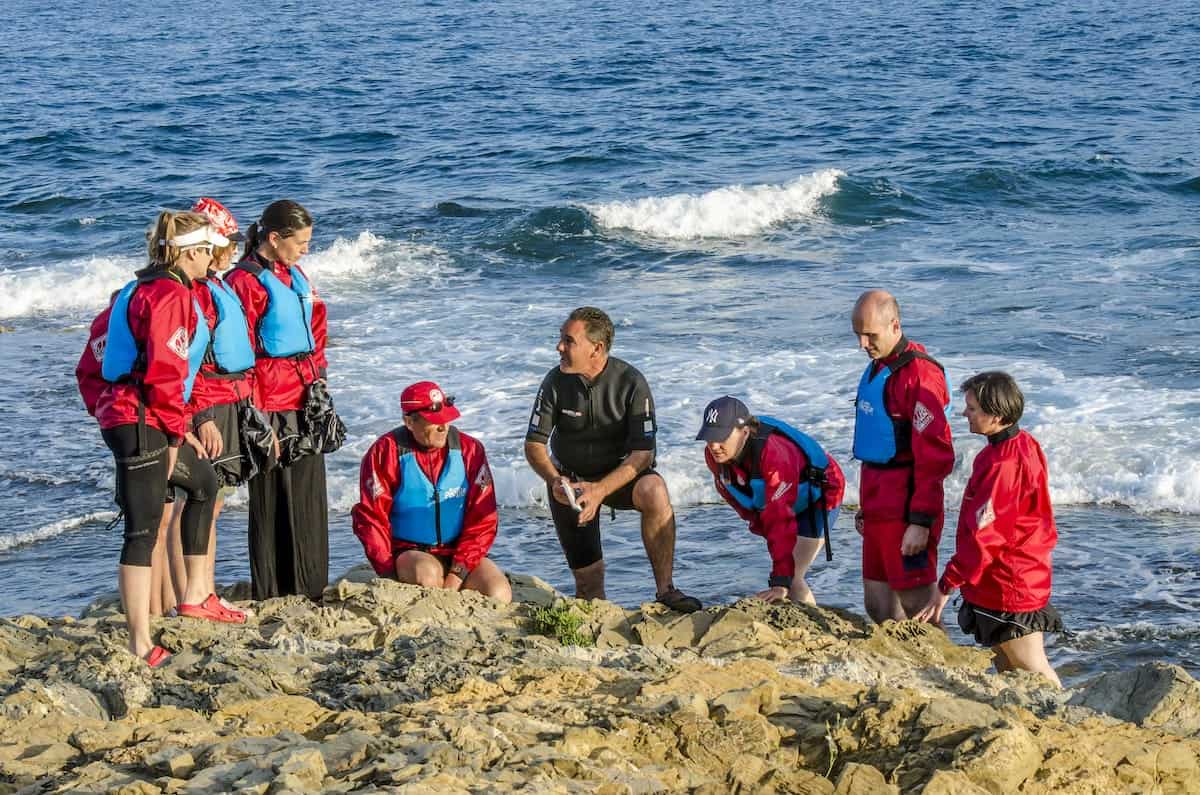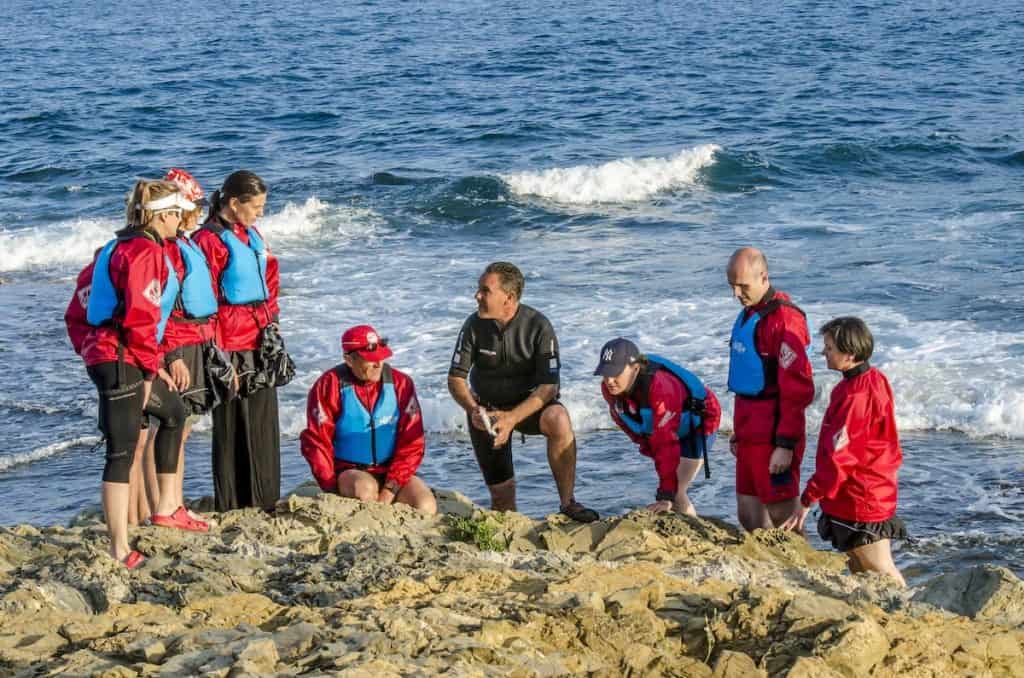 That's how the Herbocaiac adventure is
Kayaking
Once you get to the meeting point, which in our case was Palamós' harbour, Evarist will be waiting for you. He's a biologist in botany and an expert on using plants, algae and edible fungi in gastronomy. How cool! He's also very friendly and his explanations are super interesting.
It's time to equip yourself with the kayak life vest and the paddle and jump into your kayak. When we did the activity, we were only six people (three couples), and we used three tandem kayaks. Evarist guides, so there's no need to worry about navigation; just enjoy the landscape!
The first kayaking stretch is about one kilometre and goes from the Morro del Vedell cove to the S'Alguer cove. While kayaking, Evarist stops and explains different things about the algae in the Mediterranean. He'll make you notice some of the algae colours, their location and their shape. You can also take time to enjoy the breathtaking views of the coastal cliffs and their vegetation. Keep your eyes open; you never know what you can spot! In our case, we were lucky enough to see the little own, a beautiful brown and white owl inhabiting the warmer parts of Europe.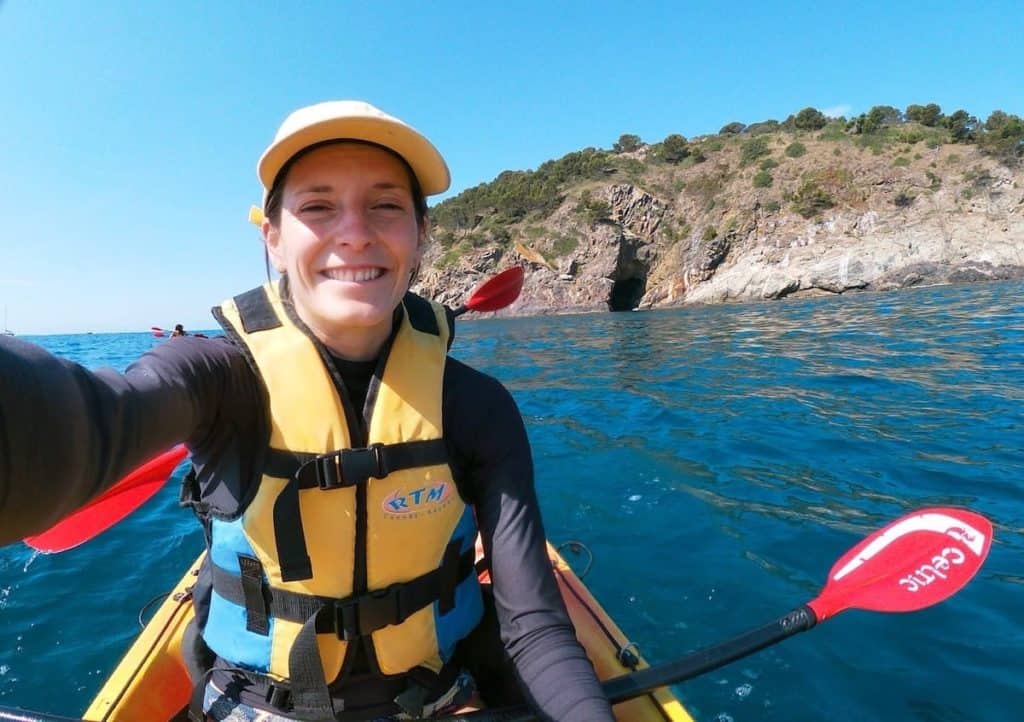 Walking
Once you arrive at S'Alguer cove, it's time to leave the kayaks and get ready to explore the coast. S'Alguer is a small traditional fishing village that still preserves the old white fisherman's huts. The doorways are painted in different colours, creating a picturesque scene. The Camí de Ronda that goes from Palamós to Calella passes through S'Alguer, and you will walk a part of it while making some stops to talk about various coastal plants.
One thing that shocked us was that most of the plants on the coast aren't indigenous but have been imported from other countries. For example, the cactus and the aloe vera. The one indigenous plant is the pine tree, characteristic of the Costa Brava.
Besides learning about the different plants and where they come from, you also get to know their uses and if they're edible. And here comes the funniest part: collecting the plants and eating them! We tried sea fennel, sea carrot (the flowers are delicious!) and Hottentot-fig (named patates fregides in Catalan, which means fried potatoes), amongst others. It was hilarious to see the faces of people walking who stopped and looked at us like are they really eating these plants?!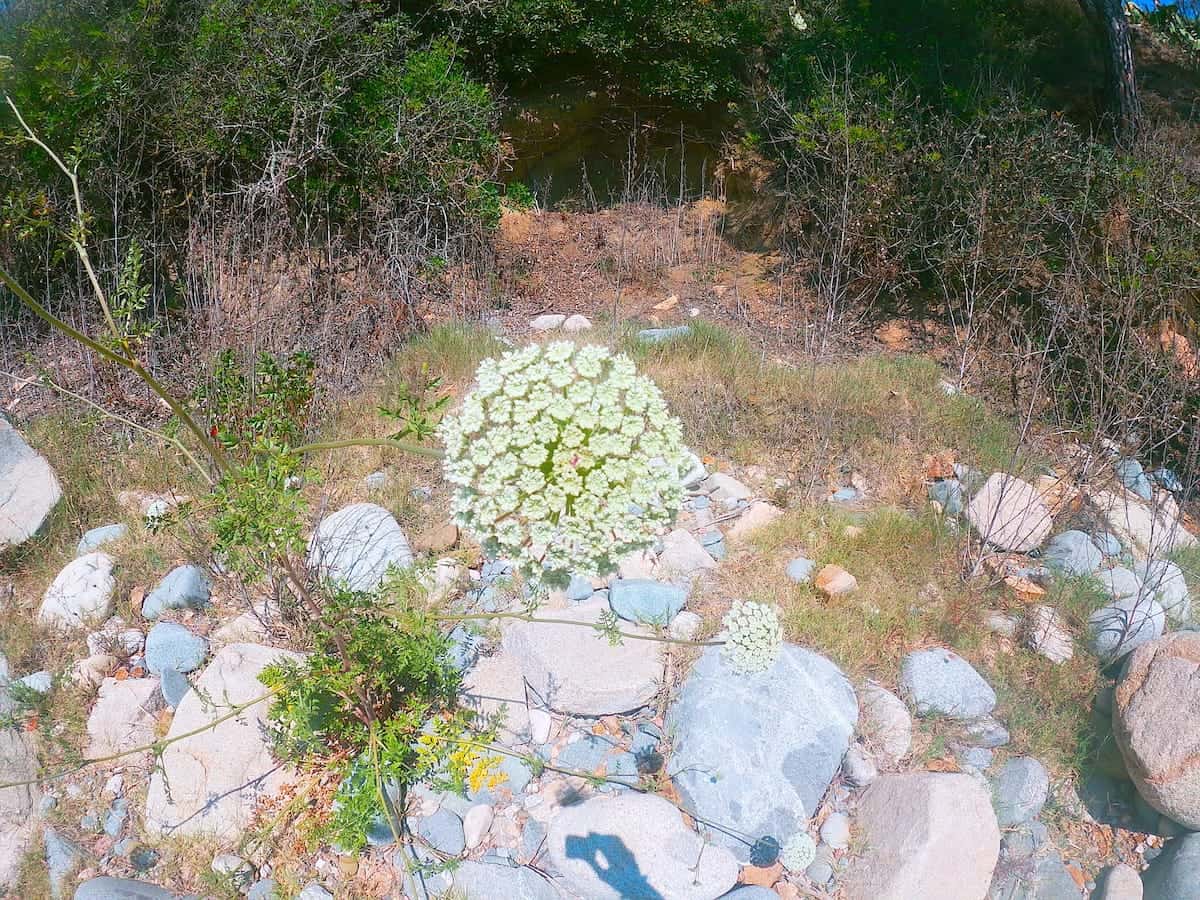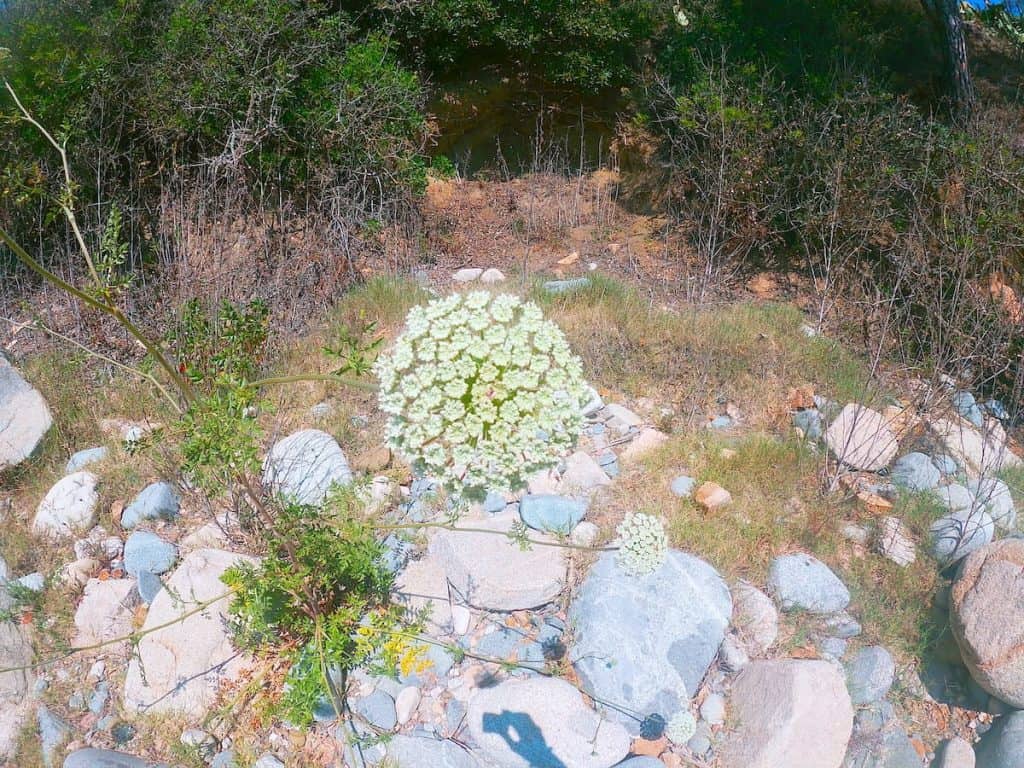 Snorkelling
Now that you know the plants on the land, the next part of the activity is in the sea. Time to discover the algae in the Mediterranean sea. Equipped with the snorkel gear, you swim on the s'Alguer cove while Evarist points out different types of algae and collects them. Then, he explains more about each kind, and you get to try them. Some are delicious, and others have a weird flavour, but all have a strong seawater taste. We loved the Codium vermilara, a green algae also known in Catalan as "perruquetes", which means small wigs. The sea lettuce and the Rissoella verruculosa were also delicious.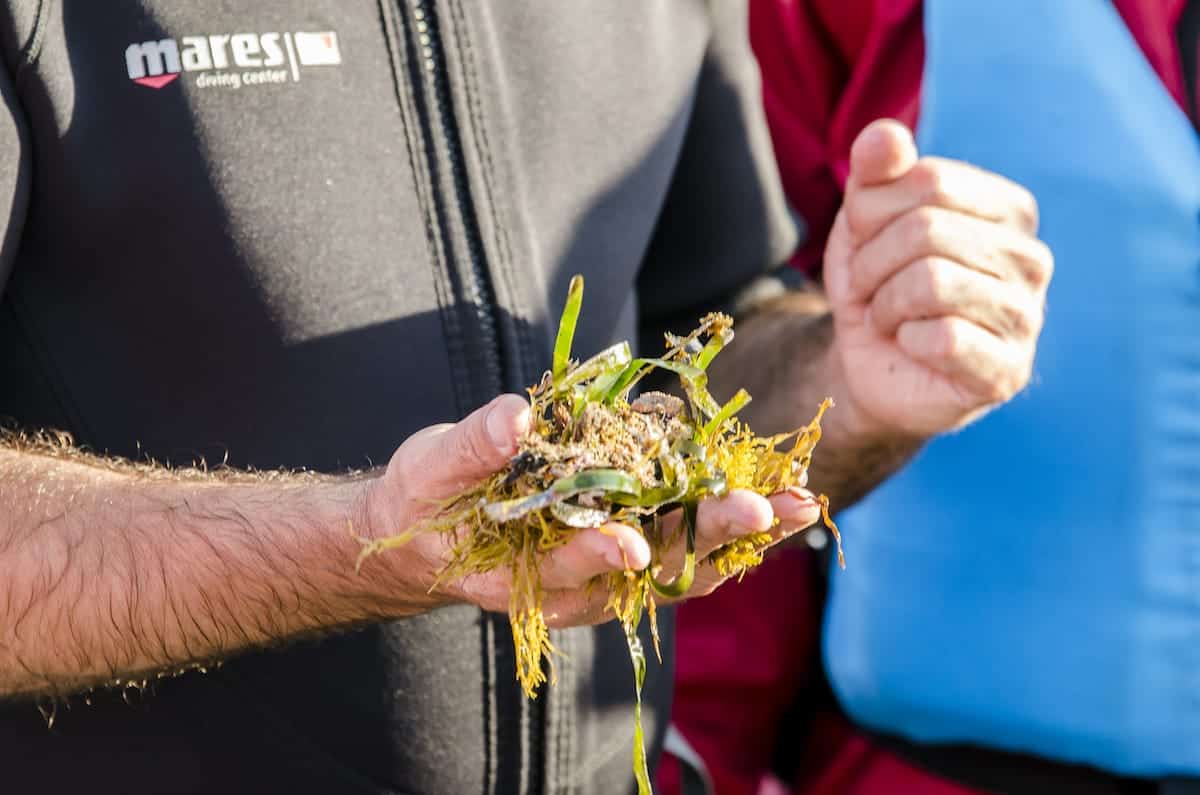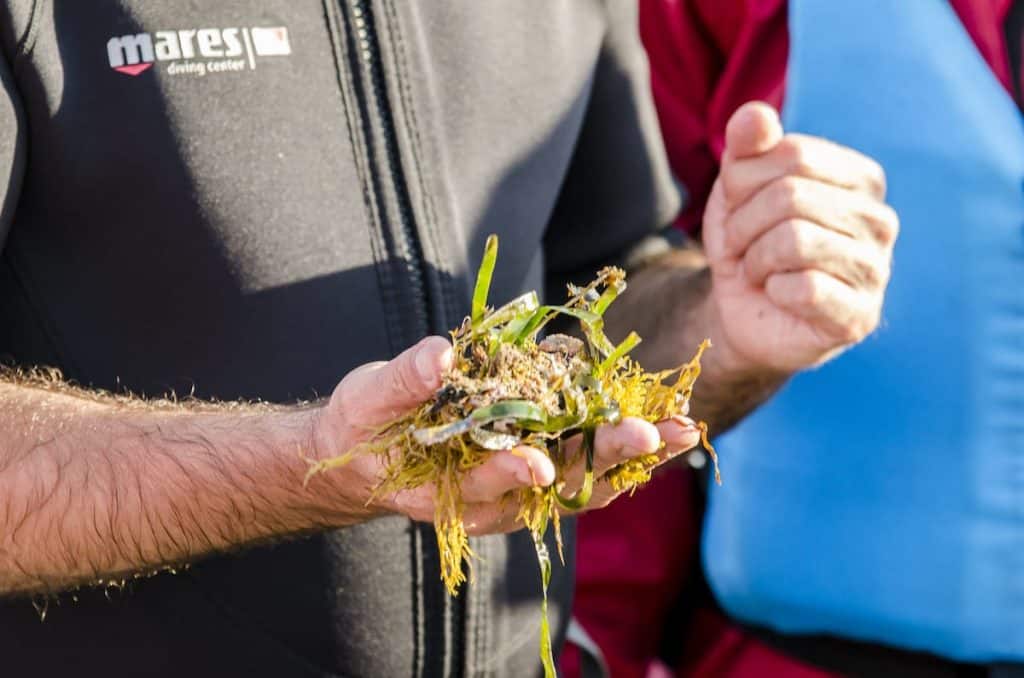 With your stomach full and still getting used to the new flavours you've just discovered, it's time to head back to Palamós with the kayak and end the activity. We really appreciated that Evarist sent us a list with the names of the algae and plants, so we can remember and forage them next time we're in Palamós.
After this adventure, we'll guarantee you'll see nature around with different eyes. Where before you saw just a walking path with some plants on each side, now you'll see a pantry of food ready to be eaten!
---
More things to do in the Costa Brava
We've written several posts with adventures to do in the area. Here are some suggestions: