Home to beautiful coves with endless snorkelling possibilities, many terraces to enjoy dinners alfresco, and beautiful hikes through a natural park, Port de la Selva is one of Costa Brava's treasures. This charming fishing village will enchant you with its white houses, harbour, and magical sunsets.
Ready to explore this beautiful coastal village and its surroundings? Keep scrolling!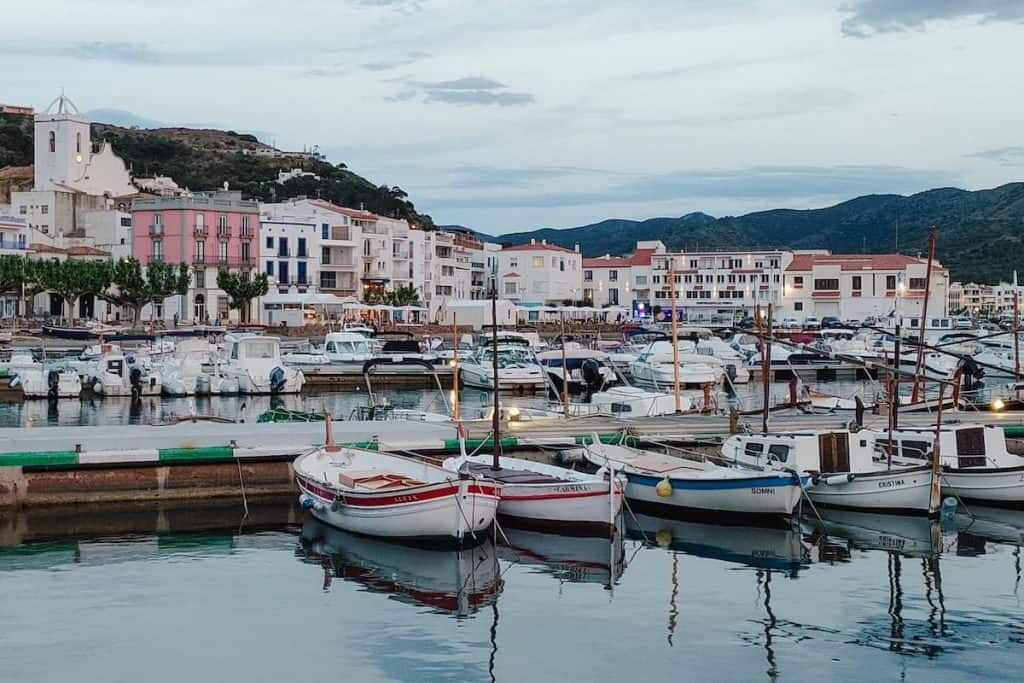 What to do in Port de la Selva
Hike along the coast and snorkel at the coves
Follow one of the many hiking trails from Port de la Selva to leave the coastal village behind and reach beautiful crystal-clear coves and breathtaking viewpoints. We'll explain some of our favourite hikes below, but check this map to see all the hiking routes starting/passing by Port de la Selva.
You can do those hikes all year round. But, if you do them from May to September, we recommend hiking early in the morning or late in the evening. The scorching summer sun will make the hike more arduous, and the shaded areas and water points are non-existent along the route.
💡 A brilliant idea!
If you're thinking about spending the day hiking, snorkelling, and chilling at the beach, take a picnic with you for when your stomach starts growling! You can buy it at the supermarket, but we have a better option: La Karmayola. In this shop, you'll find homemade food to take away, such as fideuà, salads, truita de patates (potato omelette), etc.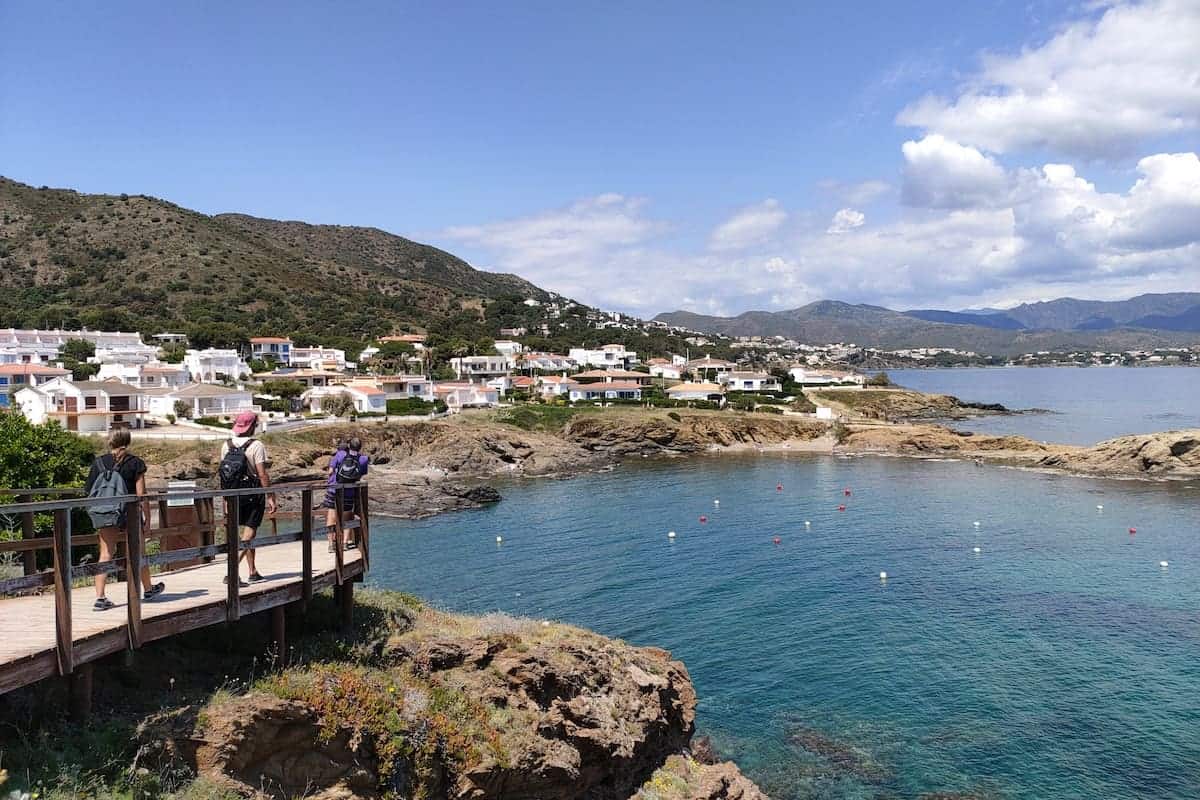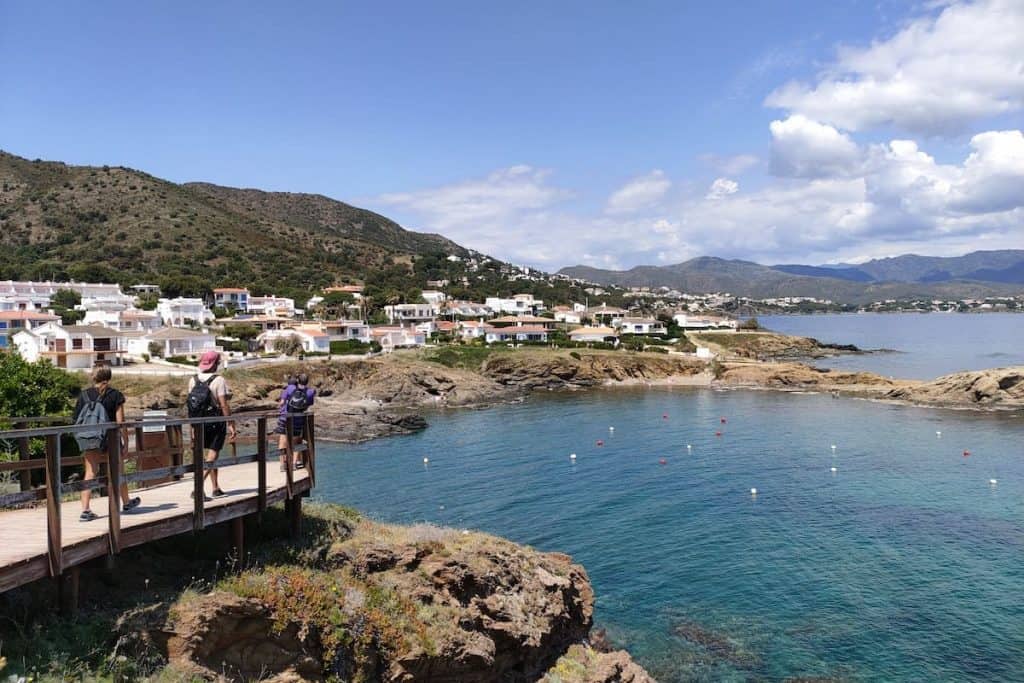 Camí de Ronda hike (GR92, northern direction)
This is a 6-km hike along the coast, passing through crystal-clear coves, charming white houses, and fresh pine forests.
The route starts in the village, from where you'll walk along the main beach north, passing by the Arola campsite. After the campsite, take the path to the right, and you'll start finding beach after beach.
Right after the first beach (Platja del Bell Repòs), the first interesting spot appears: the rock formations known as Banyeres dels monjos, which translates to Monks' baths. They get this name because the legend says that the monks who lived in the monastery bathed there. Besides bathing, we suggest you grab your snorkel goggles and go exploring because where there are rocks, there's life!
The next cove, Platja d'en Taita, appears right after the rocks. It's usually quite crowded, especially in summer. Still, it's a great place to lay on the sand and get a bit tanned (reef-safe sun cream highly recommended!).
After a few minutes of walking, there's a viewpoint with wonderful views of the Port de la Selva village. After soaking in the views of the white houses and the mountains behind, it's time to keep walking!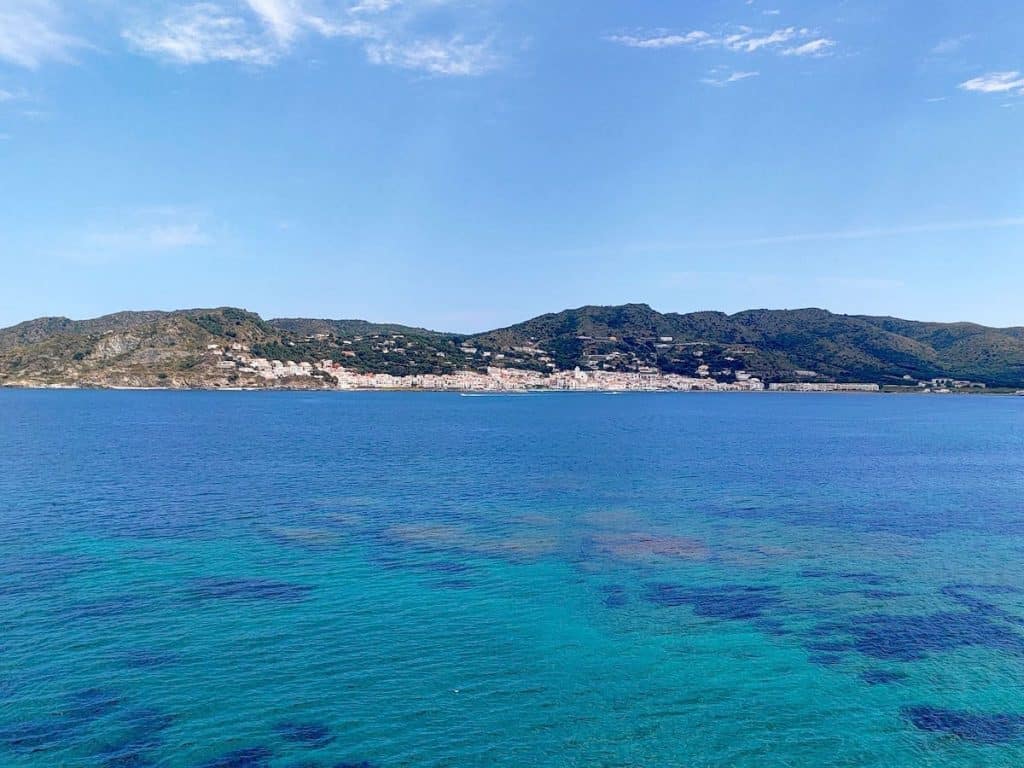 The next treasure is not far from the viewpoint. If you love snorkelling, stop at the Platja d'en Pere Esteve, a little cove located in a mini-peninsula. The cove is surrounded by rocks, which beg to be explored!
A few meters after, the beach Platja del Port de la Vall appeared. This one is a pebble beach with crystal blue water, and it's the biggest one so far. Although having a campsite next to it, it's not usually packed. It's also a great spot to rest and chill if you're hiking with your dog, as the beach is dog-friendly.
The last stop on our hike was the Far de s'Arenella. It's a lighthouse inaugurated in 1913, which served as an inspiration to build other lighthouses, like the one in Tossa de Mar. It's located 3 km far from Port de la Selva. We decided to stop here, but if you're up for hiking further, go ahead! The path continues along the coast through pine forests and passing by several beaches, until getting to Llançà, another beautiful coastal village. The hike from Port de la Selva to Llança is 7 km one way.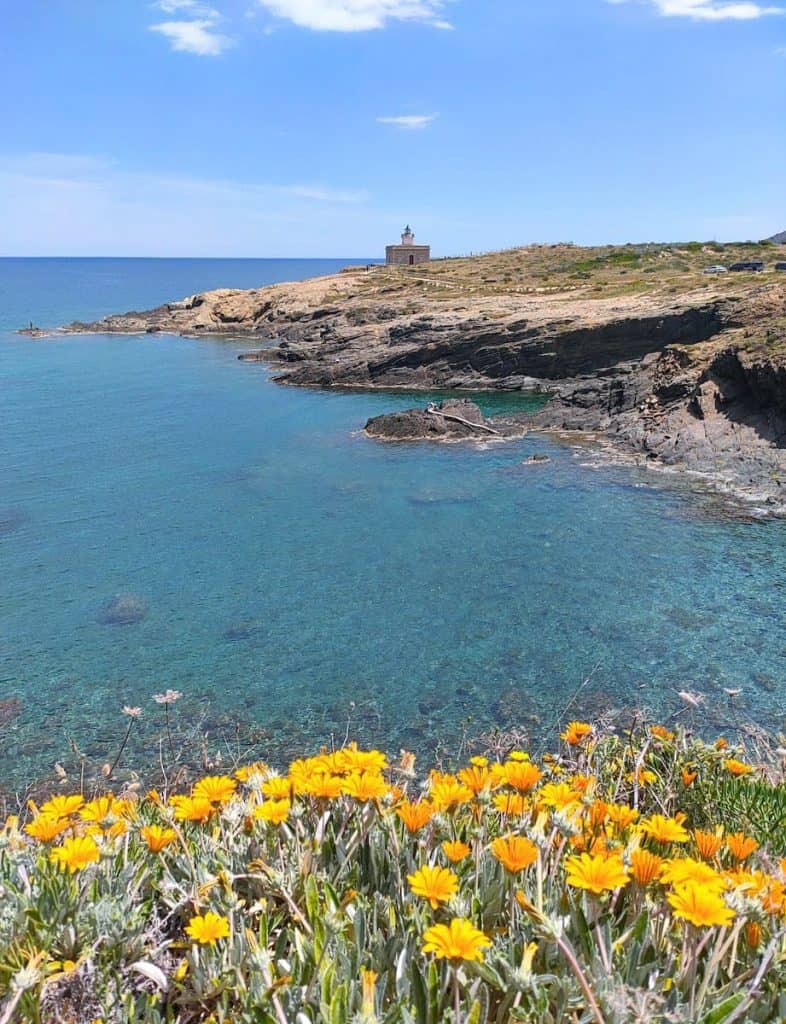 We headed back to Port de la Selva through the same path. When we arrived, we stopped to enjoy ice cream. It wouldn't be a genuine recommendation from us without an ice cream suggestion! We loved the selection at the family-run Gelats Artesans Galiana, just in front of the main beach.
🧭 Wikiloc track
In our Wikiloc profile, you can find the Wikiloc track of this hike so you can use it as a guide.
Cala Fornells hike
This is an 8-km hike along the coast of the Cap de Creus natural park, the first maritime-terrestrial natural park in Catalonia and an area of outstanding beauty. The trail passes through stunning mountainous landscape and crystal-clear coves, perfect for a stop to snorkel.
Starting from the main beach of Port de la Selva, this time head south instead of north. After passing by the harbour, you'll find the first two little beaches just outside the village. Keep walking, and you'll reach a viewpoint. From there, the views of the village's white houses and the lighthouse are lovely.
The hike continues along the coast, with views of the Mediterranean sea on the left side and views of stunning houses on the right. Once the houses finish, it's time to step into the wilderness! Here starts the Cap de Creus natural park.
The first cove you'll spot from the walking path is Cala Tamariua. Take a moment to enjoy the combination of colours: the water's turquoise, the mountain's dark greens, and the sand's bright brown. What a wonderful postcard!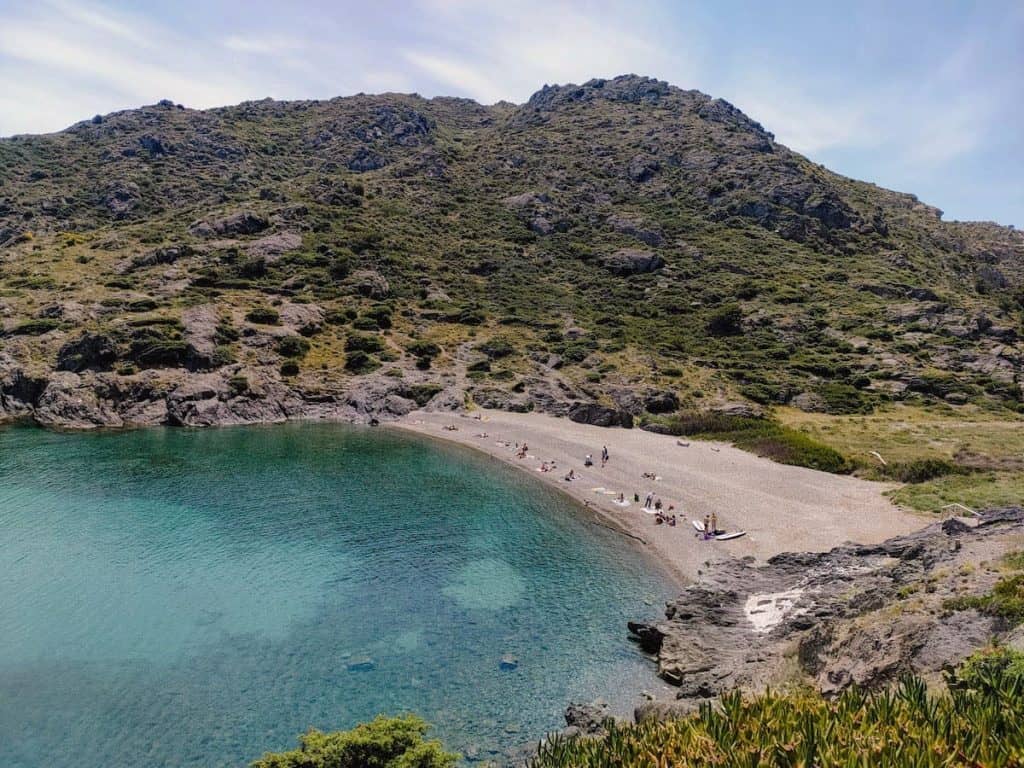 After this cove, the track unwinds through the mountain, going up and down along the coast. The views are spectacular all along. The water was so clear when we were there that we could even spot an octopus from the trail!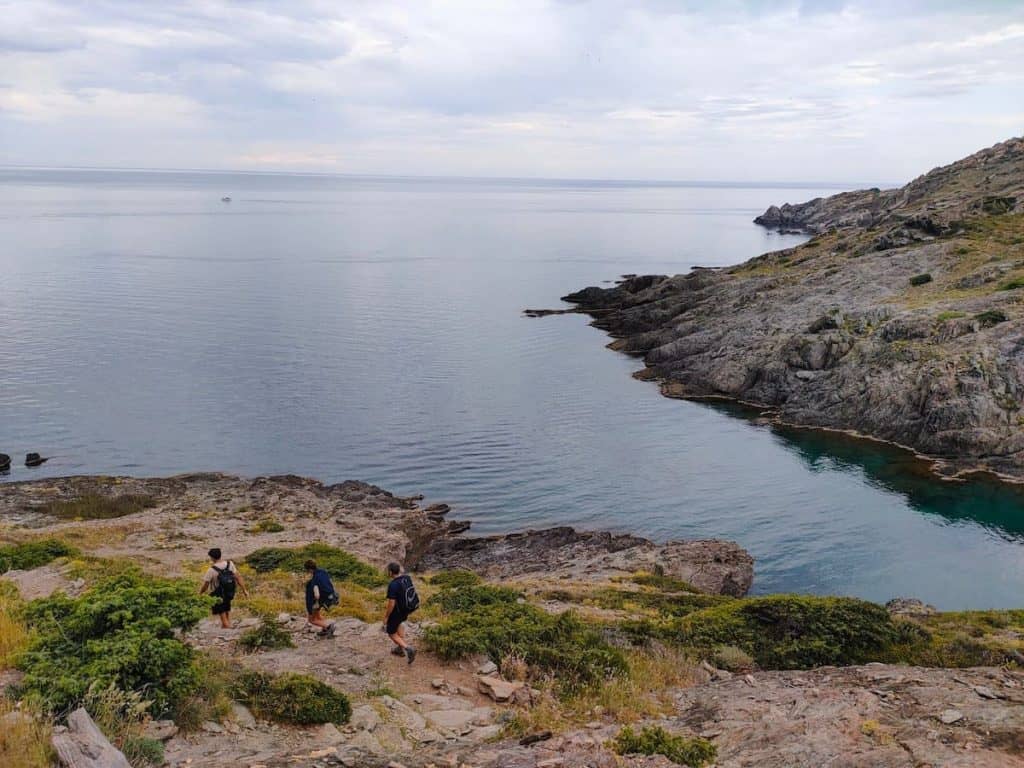 One km after the first cove, you'll stumble upon the second one: Cala Cativa. This is a small rocky cave with emerald waters and surrounded by mountains. No showers, no xiringuito, no music… the feeling of wilderness here is noticeable!
The last stop from the hike is not far, one more km hiking. The cove Cala Fornells is bigger than Cala Cativa, and it's a beautiful spot for resting, eating a picnic, and snorkelling. You can look for fish, octopus, and starfish, usually found on the rocks. Sadly, the day we were there, we couldn't enjoy a swim here as the rain started pouring all over us 10 mins after reaching the beach!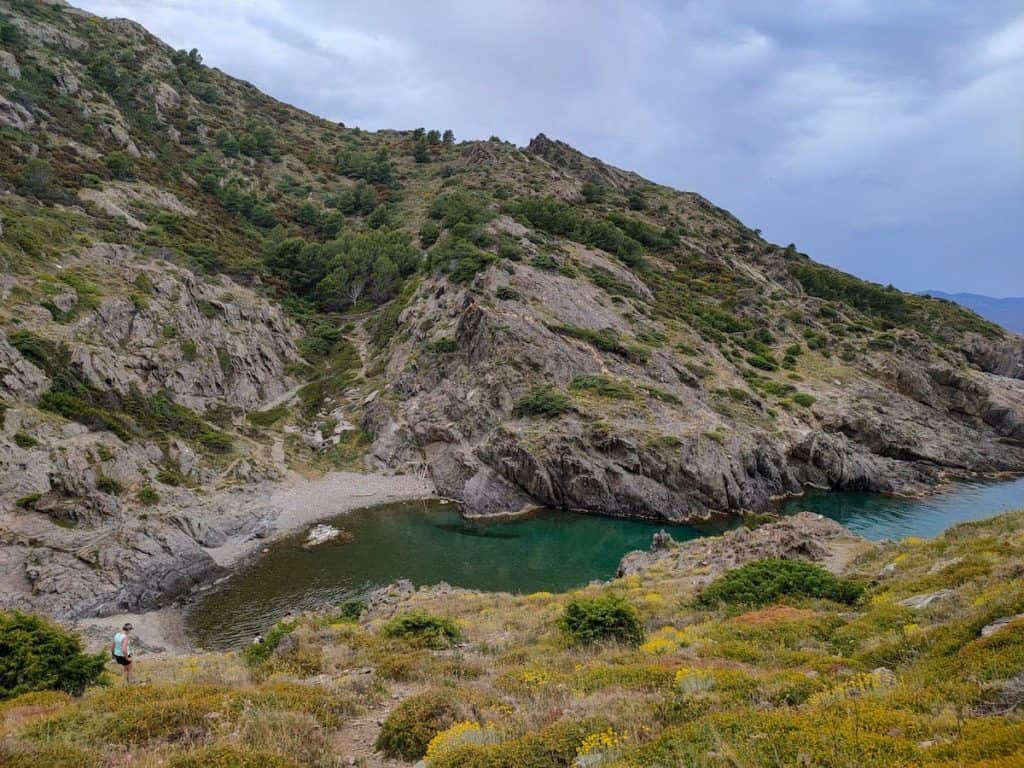 Luckily, the rain didn't last long. On the way back, which follows the same path, we stopped at Cala Tamariua for a refreshing swim before heading back to civilisation.
🧭 Wikiloc track
In our Wikiloc profile, you can find the Wikiloc track of this hike so you can use it as a guide.
Visit the Sant Pere de Rodes monastery
In the mountains behind Port de la Selva, at around 520 m of altitude, lies an impressive Romanesque monastery whose origin remains a secret nowadays. The first news we got from it is from the year 878. Back then, it was just a humble monastic cell, far from what it is nowadays. The monastery underwent several reformations throughout its history until it was finally abandoned in 1835 due to pillage and confiscation.
You can reach the monastery by car, on foot, or on a bike. If you decide to hike to the monastery (which is a great option!), you can do so by taking the GR11 trail from Port de la Selva (5 km).
Once at the Sant Pere de Rodes monastery, make sure to check out the breathtaking views from the Port de la Selva bay and the Mediterranean sea.
The entrance cost is 6 €, except on the weekend of the 9th and 10th of October, which is free for everyone. Another great occasion to visit is when the Sant Pere de Rodes music festival takes place in July and August. Then, you can enjoy classical music concerts in a truly unique setting!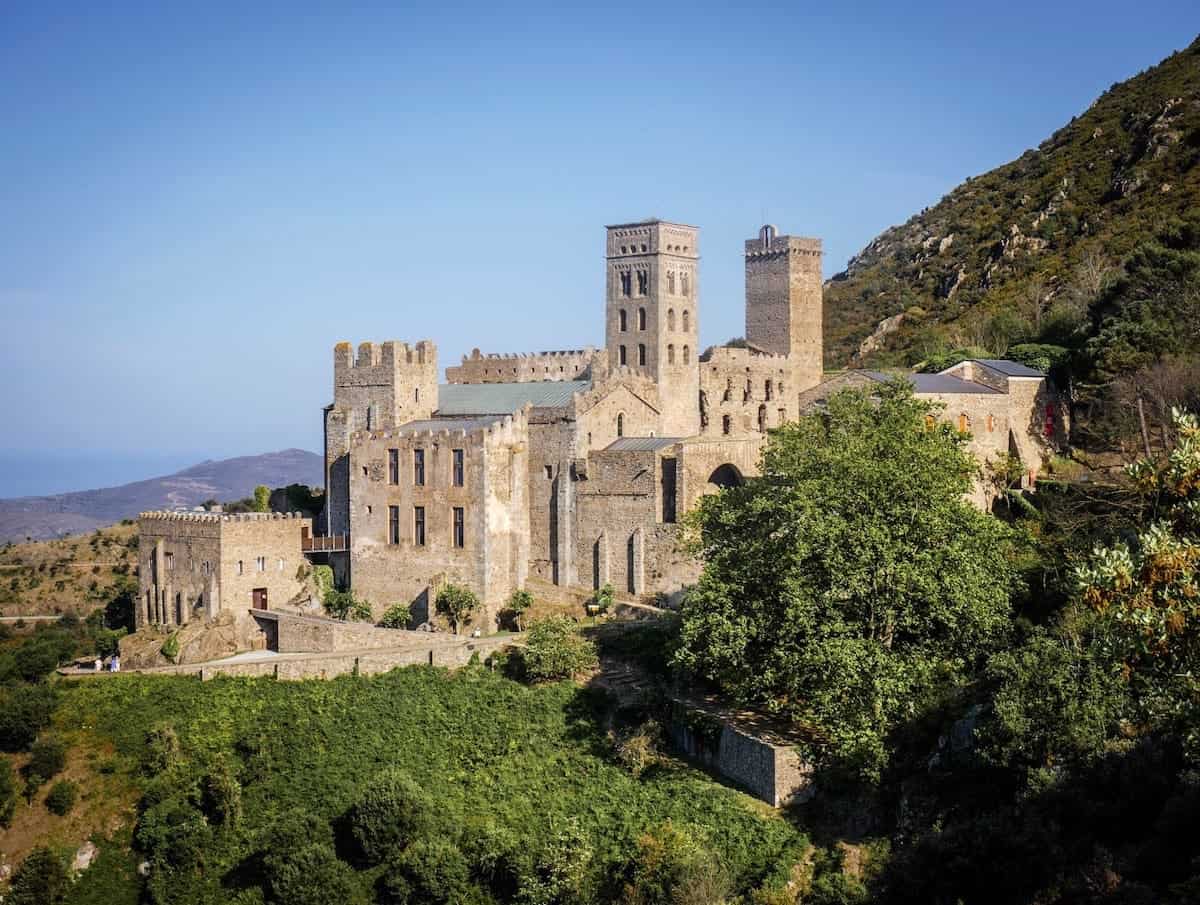 Eat tapas, paella, and fideuà
Port de la Selva isn't short on places to enjoy a great meal.
One of our favourites is Cal Pepitu, which serves original and tasty tapas and has a beautiful terrace overlooking the harbour. It's open every day except Mondays.
If you go there, we recommend you to try:
Ortigues de mar: fried Mediterranean snakelocks sea anemone
Croquetes de canana: southern shortfin squid croquettes
"Ensaladilla" de pop del Cap de Creus: a salad made with potato and octopus
Patates braves: fried potatoes served with a spicy sauce
Anxoves de la Costa Brava amb pa amb tomàquet: anchovies served with bread rubbed with tomato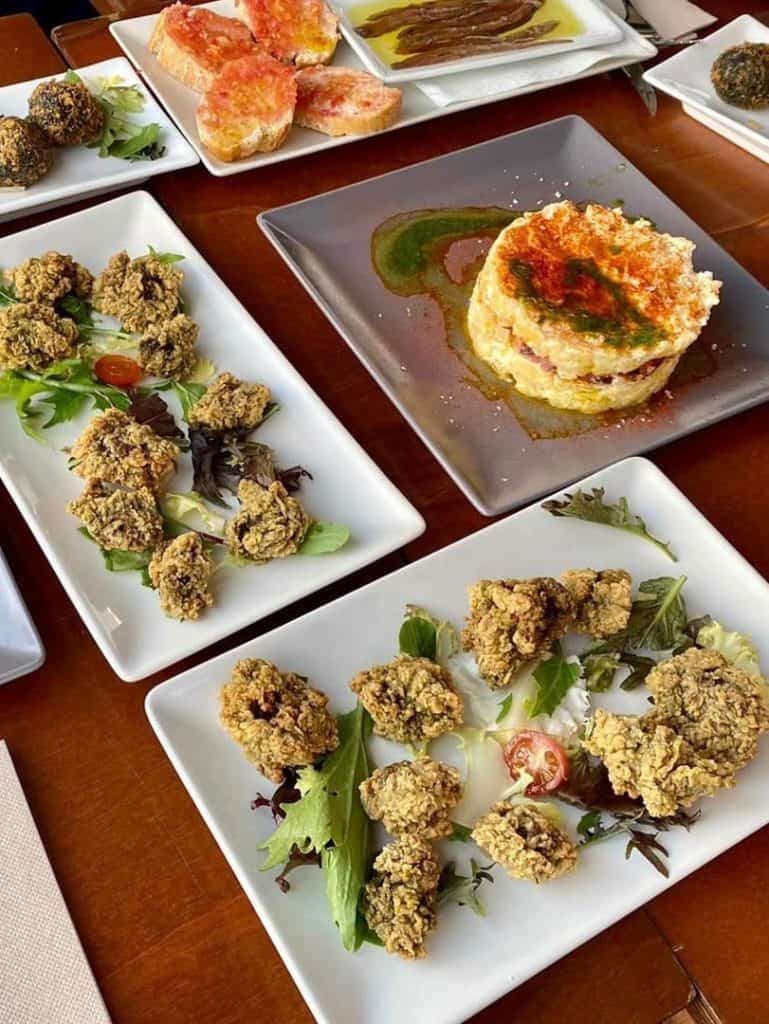 👌🏼 Our tip
When you eat tapas, you always order a variety of them and share them with your friends, family, or partner. Then you don't get to eat only one dish, but you try as many as possible!
To eat paella, fideuà, or arròs negre, we'll give you two options:
Cal Mariner: Beautiful restaurant with a big terrace. We loved the pastís de peix de roca (a kind of paté made with rockfish) and the fideuà.
El Celler: Restaurant serving delicious Mediterranean food. We recommend the chupito de patates braves, carpaccio d'emperador (swordfish carpaccio), and the arròs negre de calamar (rice with squid ink). The staff is very friendly and professional.
If you're looking for fresh fish, we can't recommend Restaurant l'Askata enough. The fish dishes are excellent. The fish is super fresh as they get it straight from the fishing boats mooring at the quay. As a bonus, you'll enjoy dinner over fantastic views of the harbour!
⚠️ Important!
We always suggest booking in advance, especially during high-season (summer). We don't want you to miss eating at one of those wonderful places!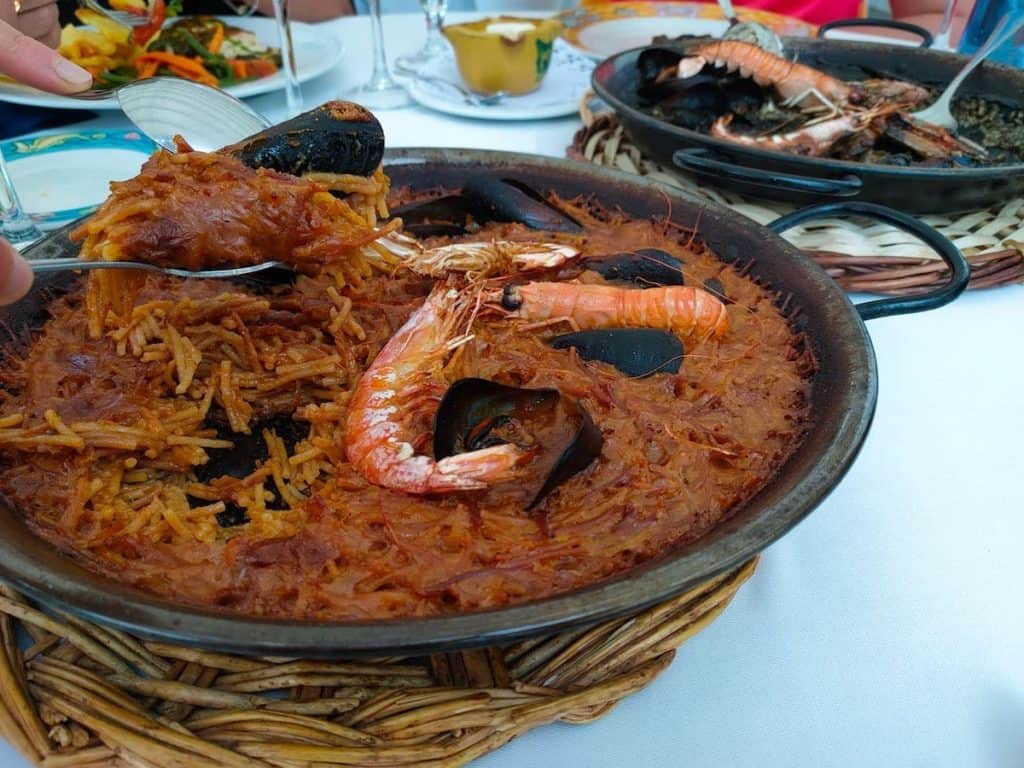 Experience sunrise over one of Port de la Selva's coves
We know that waking up early can be hard, but for this reason, we can assure you that you won't regret it. On the Catalan coast, the sun rises over the sea, creating a natural show not to be missed. Check the sunrise time, put the alarm, and start your day with an absolute blast!
Wander through the harbour
Take a much-needed shower after a day exploring coves, say goodbye to the salty hair, and get ready for dinner. Once your belly is satisfied, an evening walk along the harbour with an ice cream in hand might be the best way to end a summer (or even winter!) day.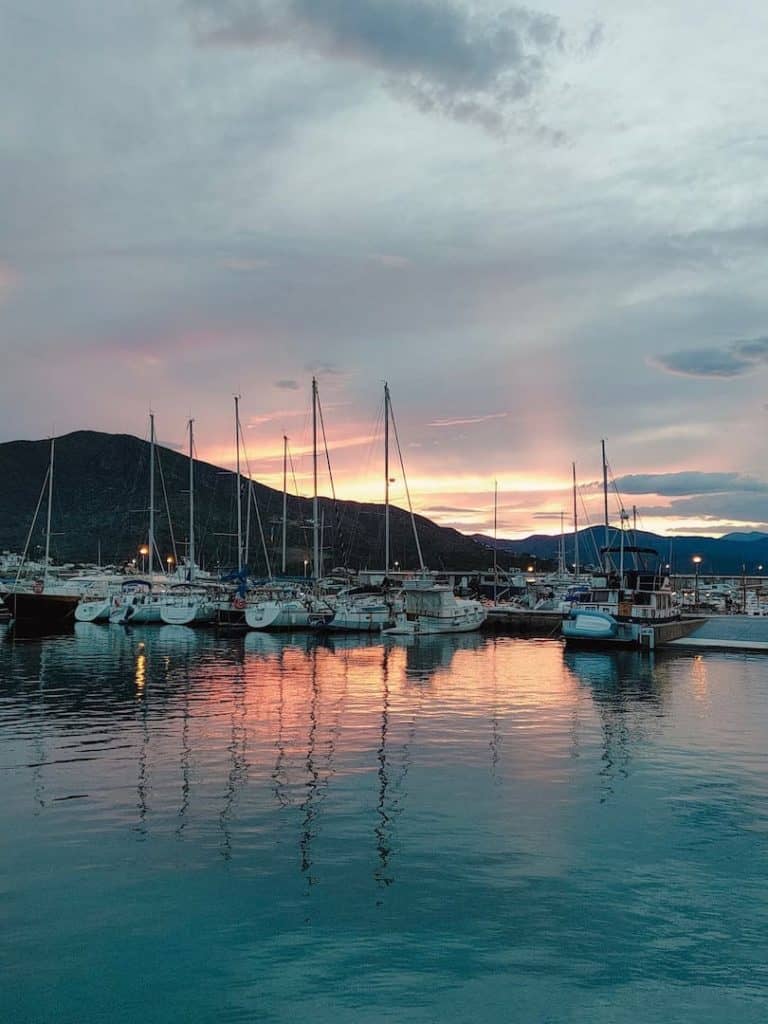 Where to sleep in Port de la Selva
The choice of accommodations in Port de la Selva isn't huge, so it's always a good idea to book in advance.
We stayed in the Hotel Spa Porto Cristo, a restored winery which still preserves its facade. The rooms are good, the beds are comfy, and a delicious breakfast buffet is included with the price. A great thing about this accommodation is the location; it's conveniently located less than a block from the main village's sandy beach.
If you're looking for a unique stay, you might want to take a look at the Sunflower house. It's a stunning architecturally designed villa, which stands out for its quirky design in the shape of cubes. There, you'll enjoy uninterrupted views out to the Mediterranean from almost all rooms and an incredible infinity pool. The house accommodates up to 10 people, so it's the perfect getaway for families travelling together or groups of friends.
When is the best time to go to Port de la Selva
During the summer months, Port de la Selva comes alive. You will find people swimming at the coves, enjoying dinners al fresco on the terraces, and eating ice creams while taking a stroll around the harbour. In our opinion, June and September are excellent times to come here, as it's a bit quieter and not that hot.
We were there at the end of May and, although the water was a bit cold, we could take a swim. The temperature was perfect for hiking, the restaurants were open, and we could see many pretty wildflowers along the coast!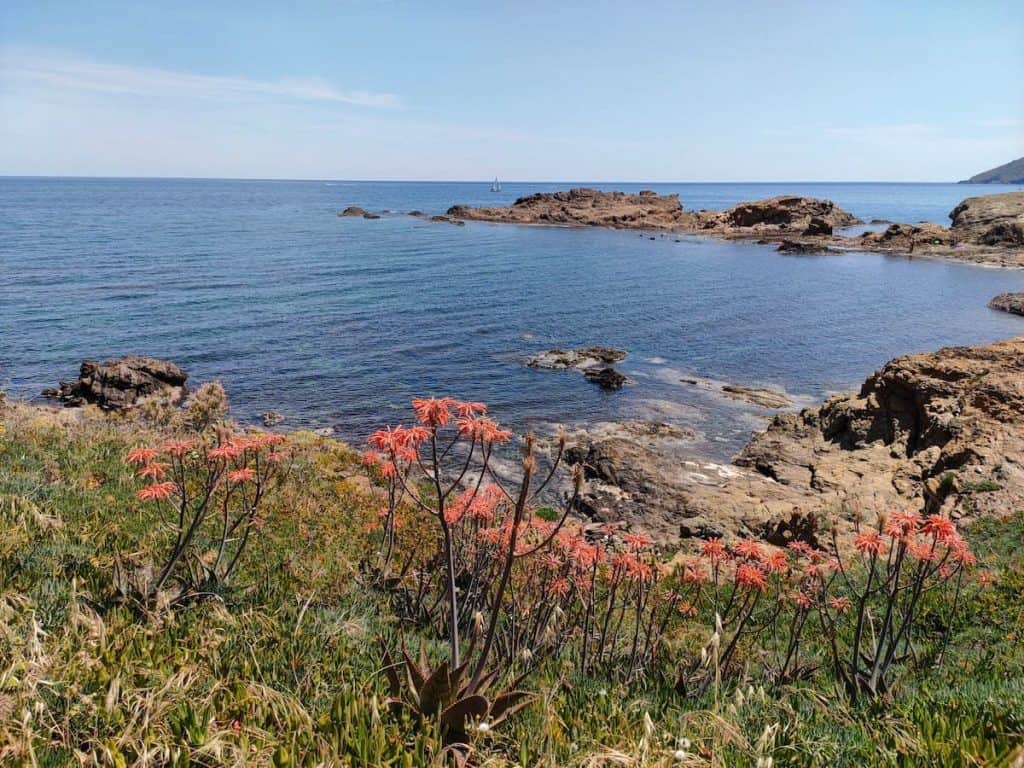 How to get to Port de la Selva
Port de la Selva is really close to Girona and not far from Barcelona. How can you get there?
By car: Port de la Selva is located 2 hours driving from Barcelona and 1 hour from Girona. This makes it ideal for a weekend trip if you want to escape the hustle and bustle of the big cities. Before reaching the village, the last part of the road is a bit windy because of the mountains surrounding Port de la Selva. Regarding where to park, you can do it at this parking lot.
We hope that with this guide you can explore Port de la Selva like a local. If you end up going, we'd love to hear about your trip in the comments!
---
More things to do in the Costa Brava
We've written several posts with adventures to do in the Costa Brava region. Here are some suggestions: