Ready to discover thriving marine life, underwater tunnels and caves, and wrecks with a lot of history?
Costa Brava, expanding from Blanes to Portbou, is one of the best diving destinations in the Mediterranean region, with more than 36 professional scuba diving centres along the coast!
You'll often find excellent visibility, relatively good water temperatures, rugged rocky coasts and many islands here.
Can't wait? We've put together a guide, based on our experience, about all you need to know to scuba dive in Costa Brava. We're talking about the most thrilling spots, the best time to dive, and the required certifications. Keep reading to find out more!
Things to know to scuba dive in Costa Brava
The best time to go scuba diving in Costa Brava
The best time to dive in Costa Brava is from May to October. All centres in the area are working in full swing on those months. Also, the water and air temperatures are pleasant, so you won't be shivering after getting out of the water!
However, even in summer, you'll need a full-body swimsuit. When we did the Advanced Open Water course in Palamós, the water temperature was 17 ºC in summer!🥶
July and August are peak season, and therefore it's when the diving centres are busiest. We highly recommend booking in advance if you plan to dive during those months.
If you're thinking about diving in Costa Brava in winter, you'll definitely need a dry suit as water temperature is between 11 and 15 ºC. Also, you'll need to make sure that the diving centre of choice is open, as many dive shops take a few months off in winter, when the temperatures get a bit cooler.
Certifications needed to scuba dive in Costa Brava
You need a license to dive in Costa Brava unless you want to try diving for the first time or take the Open Water course. All the centres will ask you to show them the license before the immersion, so it's good to keep a digital copy of it in your phone.
Also, in Spain, as in most European countries, a dive medical certificate is legally required for any certified diver or person enrolling in a course that leads to a certification.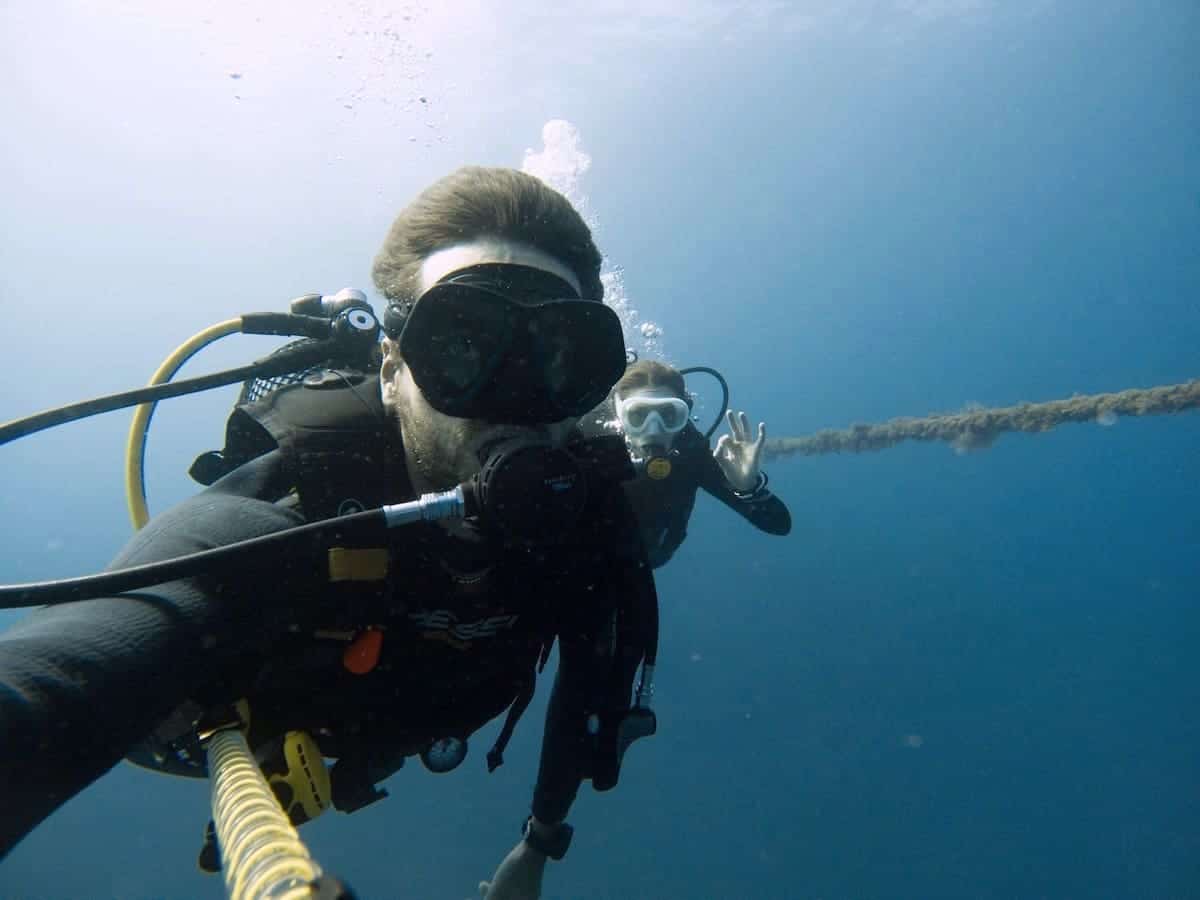 Price of scuba diving Costa Brava
The price of scuba diving in Costa Brava varies depending on the place, the diving centre, and the need of a boat to reach the diving spot.
A dive costs usually between 30 and 50 € for a guided dive. If you need to rent the equipment, then the price is higher.
Planning on doing more than one dive? Then ask the dive centre about the offers! Most diving centres offer a second dive at a reduced price.
What marine life can you spot in Costa Brava?
There's no shortage of fauna in Costa Brava! You'll admire molluscs, star fish, sea urchins, and crustaceans, but also large fish banks. There are several sites, especially in the Medes Islands, where you can spot big groupers.
It's not unusual to see nudibranchia, with their fascinating array of colours and shapes, and even seahorses and red and white gorgonians.
Besides this, you'll also find larger animals, being the most frequent ones octopus and conger and moray eels.
As for the marine flora, Costa Brava's has many beautiful Neptune grass meadows, that contrast with the sandy seabed.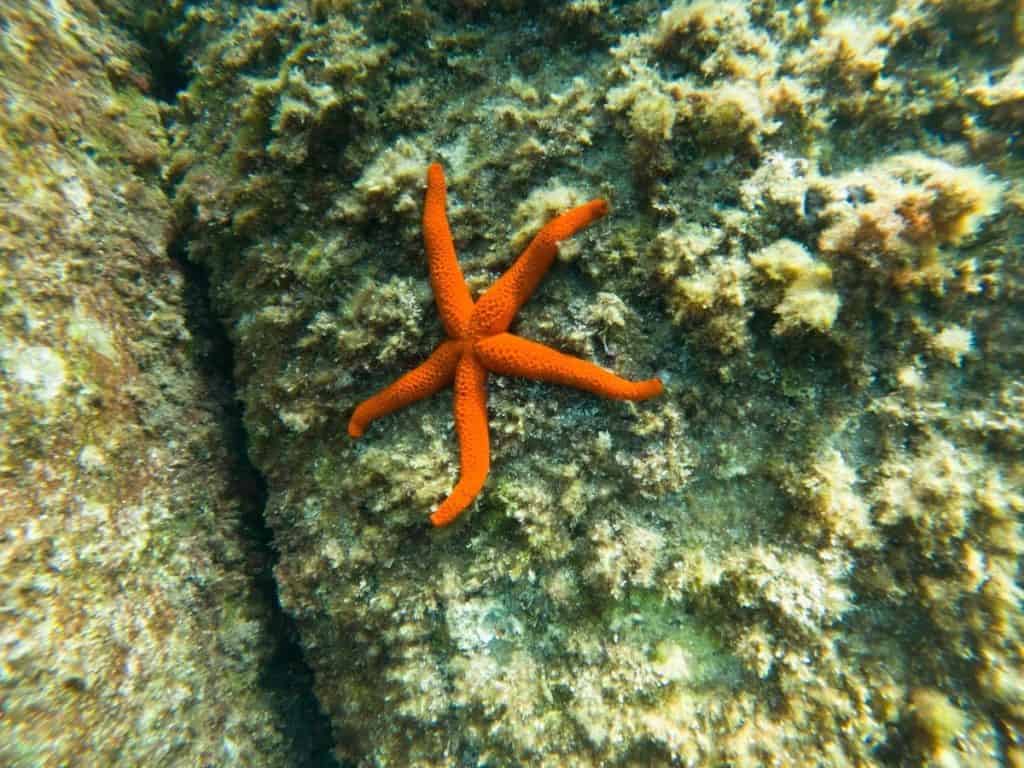 Top scuba diving sites in Costa Brava
Here are 10 best diving spots in the region, sorted out from south to north:
Roca Muladera
📍 Accessible from: Blanes, Lloret de Mar and Tossa de Mar
🏅 Minimum certification needed: Open Water
Lloret de Mar is a city in the Costa Brava known mainly as a party mecca. However, locals frequent it for another reason: diving. There are several diving sites you can explore on Lloret de Mar's coast, but the favourite is Roca Muladera, also known as Roca del Moro.
The site is home to two seamounts with a channel running between them, where you can spot a great variety of underwater life. We're talking lobsters, moray eels, conger eels, schools of spits, and opisthobranchs. It's also a good spot for seeing groupers.
Besides admiring local fauna, the highlight of this dive is the beautiful landscape. The light that goes through the channel is spectacular!
And as a bonus point, the depths here range from 0 m to 25 m, making this an excellent choice for divers of all levels.
This dive site can also be reached by boat from Blanes, and the beautiful medieval town of Tossa de Mar.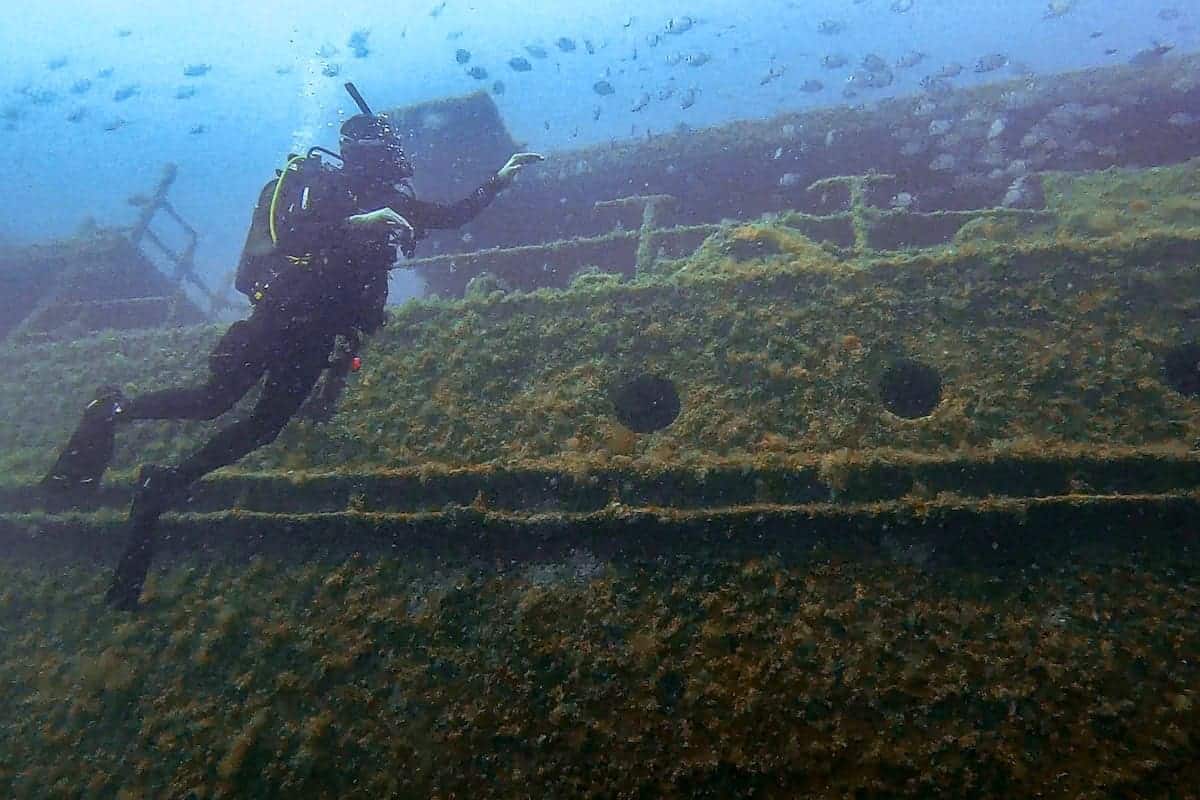 Boreas
📍 Accessible from: Palamós
🏅 Minimum certification needed: Advanced Open Water
The Boreas was a tugboat built in 1938 that navigated the Mediterranean Sea for several years until it was confiscated by Spanish customs officials. Turns out, its captain and crew were charged with drug trafficking.
In the 1980s, the ship was sunk so scuba divers like you and we could enjoy it. The wreck lies 30 m underwater, with its top reaching 18 m. That's why this dive is only reserved for advanced divers.
We dived the Boreas as part of our Advanced Open Water certification with the guys from Medusadive, and it was such a blast! It was our first time diving in a wreck and were so impressed.
We could clearly see its different structures, like the corridors, the chimney, and the steering wheel because the wreck is well-preserved.
We could also spot many beautiful fish banks, especially the hull and bow, moray and conger eels and prawns.
Book a night dive to Boreas if you want to make your dive spookier!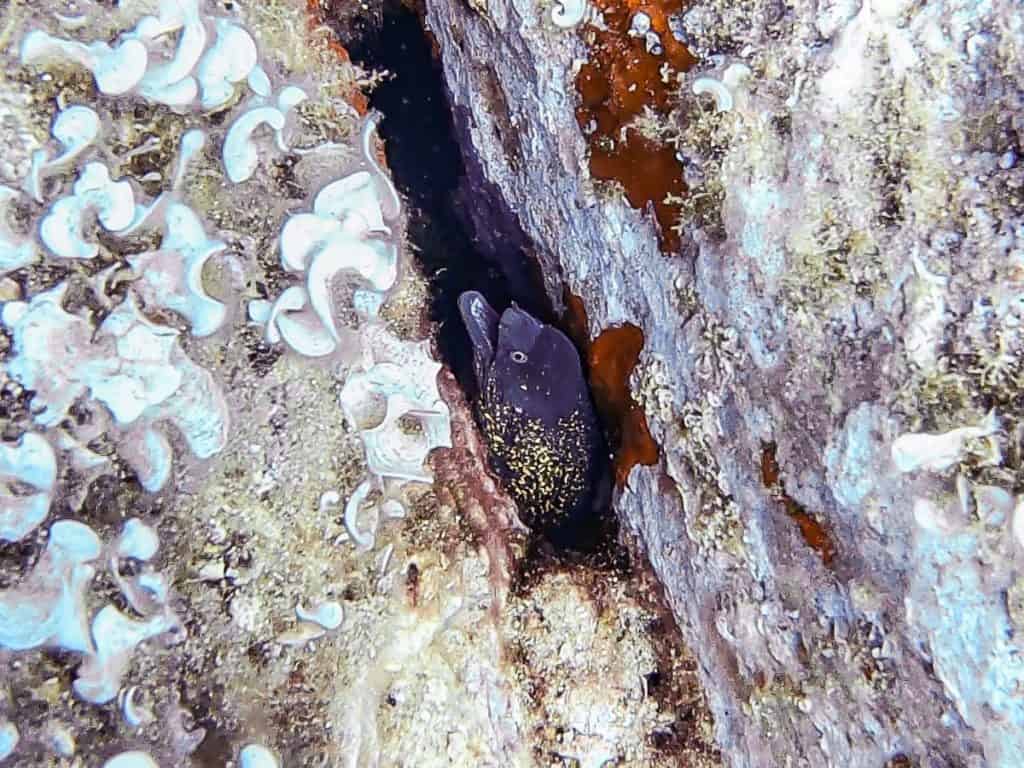 Illes Formigues
📍 Accessible from: Palamós, Calella de Palafrugell, Llafranc, and Tamariu
🏅 Minimum certification needed: Open Water
What looks like a small rock tip with a lighthouse, is in fact an underwater paradise with plenty to explore! The Illes Formigues (translated as Ant Islands) are 16 islets where marine flora and fauna thrive. It's a good spot to see moray eels, various nudibranchs, octopus, and red and white gorgonians.
It's also an excellent spot for underwater photography. We got hypnotised by the way the light played around the walls of the canyons. It was so beautiful and relaxing.
In this dive, you'll also have the chance to admire the Posidonea fields, a plant typical of the Mediterranean sea. With the movement of the water, the green plants dance from side to side, creating a mesmerising show to admire.
Also, there are a considerable number of holes, canyons, and cracks in and between the islands. Make sure to keep your eyes open and explore there!
Ullastres
📍 Accessible from: Palamós, Calella de Palafrugell, Llafranc, Tamariu, and Begur
🏅 Minimum certification needed: Open Water
We haven't done scuba diving in this spot yet, but several friends have highly recommended it!
The Ullastres are three underwater pinnacles full of life located just offshore. The pinnacles are numbered consecutively from one to three as we move away from the coast, so the third is the outermost.
Ullastres I, the closest to the coast, is the most leisurely dive, starting at 10 m and descending to 30 m.
The pinnacle in the middle, Ullastres II, starts at 8 m and descends to a depth of 35 m, with beautiful caves and narrow passages.
Ullastres III starts 9 m below the surface and on the outer part goes as deep as 55 m. On this outer side, which overlooks the open sea, the rock becomes more colourful because of the abundance of red and green sea fans.
On most of the Ullastres walls, you can admire a large quantity of beautiful bright red gorgonians that, together with the channels and tunnels between the pinnacles, make this site an underwater photographer's dream.
Besides, you'll be able to spot the typical fauna of the area, like sardines, conger eels, and passing banks of barracudas.
Furió Fitó
📍 Accessible from: Calella de Palafrugell, Llafranc, Tamariu, and Begur
🏅 Minimum certification needed: Advanced Open Water
Hidden underwater on the coast of Begur, there's a massive underwater rock formation where you can admire all sorts of Mediterranean fauna. The spectacular rock, named Furió Fitó, is home to lobsters, octopus, moray and conger eels, so make sure to check the cracks to find them!
Furió Fitó's walls are completely covered in red gorgonians, sea sponges, and other invertebrates, turning the rock into a giant colourful underwater mountain.
The rock's base is at 56 m underwater, and its top is at -14 m. This makes it an ideal dive spot for advanced divers.
Canons de Tamariu
📍 Accessible from: Palamós, Calella de Palafrugell, Llafranc, Tamariu, Begur
🏅 Minimum certification needed: Open Water
Canons de Tamariu are three close parallel rocky bars forming two large canyons between them. As you dive along the canyons, you'll admire the colourful walls covered in gorgonians and tree sponges.
But the landscape isn't the only impressive thing! The sea life between the rocks is diverse, and it's common to see lobsters, groupers, and barracudas. If you're lucky, you could even spot a ray or sunfish!
Also, the visibility in this spot is usually top-notch.
Illes Medes (Medes Islands)
📍 Accessible from: L'Estartit
🏅 Minimum certification needed: Depends on the dive, but there are dives suitable for all leves
The Medes Islands are often considered one of the best areas to go scuba diving in Spain, and we're lucky to have them so close to Barcelona!
They are an archipelago comprising two main islands and five little islets, protected as a marine park since 1983. So, you can imagine that after 40 years of protection and the prohibition of fishing on the islands, marine life is thriving there!
The Medes Islands are one of the few spots in the Mediterranean where you can see red coral. Oh, and they are also a superb spot to see large groupers. We haven't had the chance to dive there (we can't wait!), but we have snorkelled, and we can assure you the groupers are huge!
The islands have around fourteen dive sites, including El Dofí and La Vaca, the most famous ones. El Dofí is a series of amazing underwater tunnels with a small dolphin statue, which gives the site its name (dolphin is dofí in Catalan). La Vaca is another underwater tunnel on the largest island, known for its dramatic lighting.
⚠️ Important!
If you're thinking about doing a sea baptism or a try dive during your time in Costa Brava, keep in mind that you can NOT do so in the Medes Islands. Diving there is regulated to protect and conserve the sea bed, and try dives for beginners are not allowed.
Still, if you're in the area, we can't recommend enough to book a snorkelling experience so you can discover this fantastic marine reserve!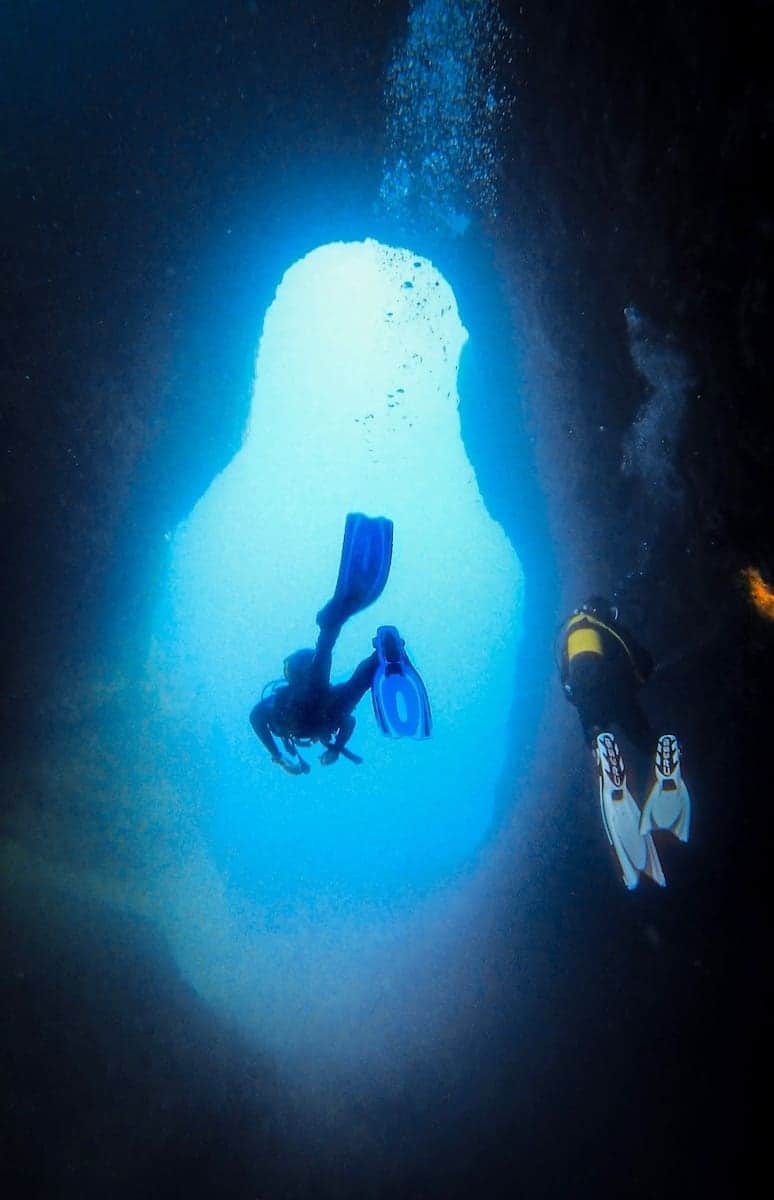 Montgrí Coast
📍 Accessible from: L'Estartit and L'Escala
🏅 Minimum certification needed: Depends on the dive, but there are dives suitable for all leves
Besides the Medes islands, the Montgrí coast (north of l'Estartit and south of l'Escala) is also an excellent place for diving.
Cool dives in the Montgrí coast are the Regio Messina, a 122-m long wreck where you can spot barracuda banks, nudibranchs, and congers; the Illa Ferriola, an island with a 25-m long underwater tunnel that crosses it; and the Illa Pedrosa, another island with an underwater tunnel, although this one is 60-m long!
We've been to the dive site El Catifoll, where we passed through a huge arch (named Arc del Dui) created by the erosion of the sea. It was impressive! We saw nudibranchs, a lobster, small red coral, and fish banks.
We did a dive with OceanSub Estartit and couldn't be happier. Turns out the owner, Gemma, used to live two streets apart from where I grew up! The instructors were super friendly and showed us many things during the guided dive, and all the equipment was in mint condition. Also, Gemma's partner, David, is an excellent photographer. Check the dive centre's website for his photos and get inspired for your next diving adventure!
El Marmoler
📍 Accessible from: L'Estartit and L'Escala
🏅 Minimum certification needed: Deep Diver (only for expert divers)
Although this wreck is located on the Montgrí Coast, we thought it deserved its own section.
Years ago, this ship, whose original name was Diana Prima, transported marble along the Mediterranean waters. In 1971, during one of its trips, the ship crashed on the Montgrí Coast due to the awful weather and sank.
Now, divers can see the marble cargo it carried, as it is still inside the ship.
Resting at a depth of 42 m, El Marmoler is a dive reserved only for experienced divers.
Cap de Creus
📍 Accessible from: Roses, Cadaqués, and El Port de La Selva
🏅 Minimum certification needed: Depends on the dive, but there are dives suitable for all leves
The Cap de Creus is one of the only virgin sections in the Costa Brava. It's a beautifully terrain-maritime natural park with hidden coves and steep cliffs that plunge into the sea. And this means plenty of adventures to seek above and below the surface!
So, what can you expect? Coloured walls of gorgonians, coral, sponges, fish, crustaceans and nudibranchs.
And the best is yet to come. The encounter with dentex, huge groupers, banks of barracudas, and bream is assured to a greater or lesser extent in all dives!
Although we haven't explored this area diving, we've done so freediving! We got our Level 1 freediving certification there and can tell you that the area is beautiful.
There are various diving spots, being the most incredible ones Es Gat (all levels, excellent to see red gorgonians), and Massa d'Or (one of the spots with most fauna in Costa Brava, but also the most difficult and wild dive in the region).
Our advice? Let the diving centre recommend the best for your level and sea conditions.
Tips for scuba diving in Costa Brava
Before the dive
📄 Before catching the plane, train, or car, make sure you have your diving license, medical certification, and diving insurance. This last one is optional as you can rent daily insurance in the diving centre you're doing the dive.
🤿 Bring your own computer and mask if you have them. The rest of the material can be rented in the diving centre, but we think it's better if those two items are yours.
💊 If you're prone to sea sickness and are planning a boat dive, buy some anti-nausea medicine! Although it usually goes away once you jump in the water, the feeling of nausea in the boat while putting on your tank and fins isn't fun at all (I've been there!).
During the dive
❌ Never ever go scuba diving alone.
🦞 Respect the local fauna and flora. Don't get too close to aquatic animals, corals, or flora (even if it's for taking a picture!!). In the end, we're just mere visitants in the sea and want marine life to thrive!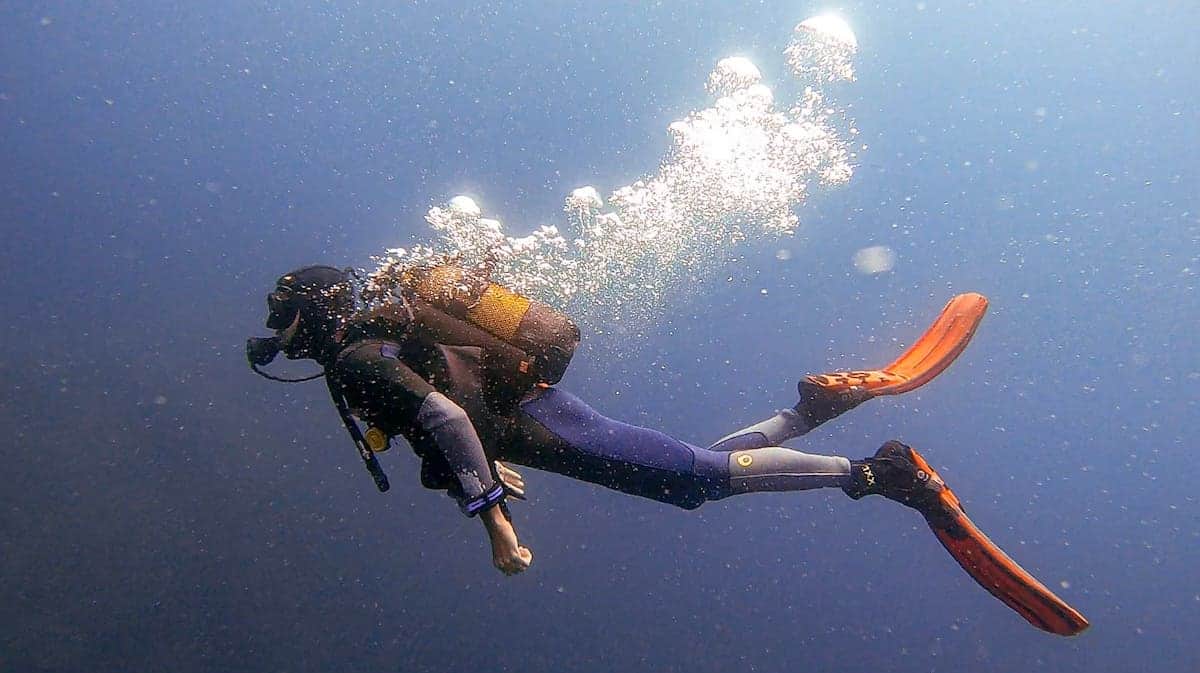 And that's a wrap! We hope you can't wait to jump into the waters of the Costa Brava and start exploring. Do you know any other dives in the area?