Located less than 2 km off the coast in front of L'Estartit beach, in the beautiful region of the Costa Brava, sit the Medes Islands (Illes Medes in Catalan). Made by 7 inhabited craggy islets, this archipelago is one of the most beautiful marine reserves in the western Mediterranean and a heaven for sea enthusiasts.
The islands have been protected as a marine park since 1983. So, you can imagine that after 40 years of protection and the prohibition of fishing on the islands, marine life is thriving there!
There are plenty of opportunities to enjoy the islands' underwater wonders, from splashing around in the shallows with a snorkel, diving a little deeper, or exploring with a kayak.
Keep scrolling to discover more!
How to explore the Medes Islands
⚠️ Important!
If you choose to do an activity on your own, make sure it complies with the regulations that have enabled the preservation of this natural space for years.
Diving
When we got to the small beach town of L'Estartit for the first time, we could tell this was a diving mecca! From almost every hotel balcony, wet suits were hanging out to dry. Truck beds full of dive tanks were making their way to and from boats, preparing to take the next divers to the islands.
The Medes Islands are often considered one of the best areas to go scuba diving in Spain, and we're lucky to have them so close to Barcelona.
They're one of the few spots in the Mediterranean where you can see red coral. Oh, and they are also a superb spot to see large groupers. We haven't had the chance to dive there (we can't wait!), but we have snorkelled, and we can assure you the groupers are huge!
The islands have around fourteen dive sites, including El Dofí and La Vaca, the most famous ones. El Dofí is a series of amazing underwater tunnels with a small dolphin statue, which gives the site its name (dolphin is dofí in Catalan). La Vaca is another underwater tunnel on the largest island, known for its dramatic lighting.
There are many diving centres in L'Estartit that organise guided dives to the islands. We absolutely loved OceanSub Estartit. We did a dive with them on the coast, not the islands, and couldn't be happier. The instructors were super friendly, and all the equipment was in mint condition.
We've also dived with Lassdive, which has several centres around Catalonia, and one of them is in L'Estartit. The crew is fantastic and very professional; we assure you you'll have a great time!
Other diving centres with great reviews are El Rei del Mar, Xaloc Diving Center, and Costa Brava Divers.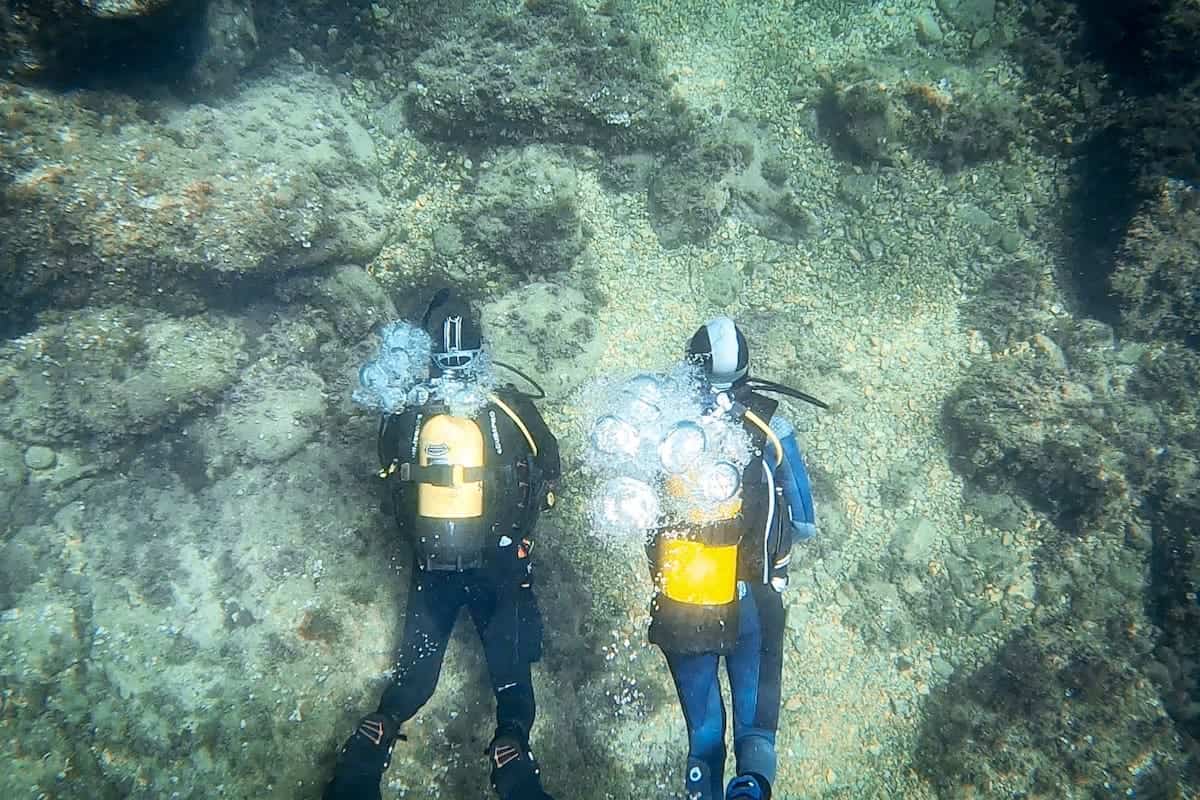 Snorkelling
If you don't have a diving certification or aren't ready to explore the depths of the sea, you can enjoy marine life closer to the sea surface. You need a mask, fins, a snorkel tube, and a wetsuit (in the colder months). And you're ready to go!
The easiest option for snorkelling around the Medes is to take a boat trip from L'Estartit, which you can book from one of the diving centres in town. We recommend Costa Brava Divers, Lassdive, Xaloc Diving Centre, and Dive Paradis as they have the best reviews. They will take care of the equipment and the boat ride and guide you once in the water.
When we snorkelled there, we swam in the middle of hundreds of fish. We even spotted a couple of giant dusky groupers (yay!), one of the species the Medes Islands are famous for.
Sawing the green Posidonia meadows move hypnotically from side to side was another highlight of the experience.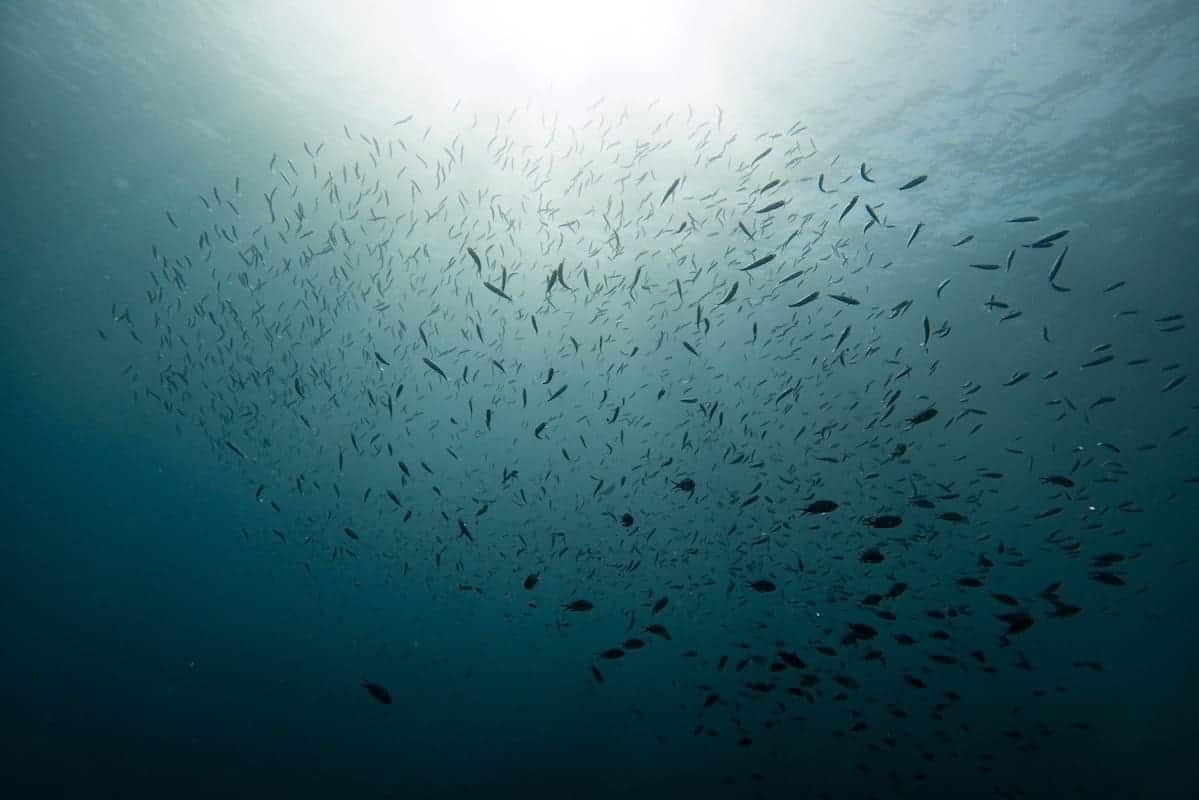 Kayaking / SUP
This is the most adventurous way of reaching the Medes Islands, and our favourite one! Instead of arriving there by boat, rent a SUP or kayak and row all the way to the islands. Once there, stop at one of the designated buoys and jump into the water to explore the seabed.
We kayaked to the islands in September 2022, and it was so fun! We rented a double kayak for 2 h with the Club Nàutic Estartit, and we had enough time to row to the islands (just reaching them, not going around) and do some snorkelling.
If you prefer going with a guide, the Club Nàutic Estartit organises guided kayak tours.
Sailing
Not keen on diving, snorkelling, or kayaking but still want to enjoy the beautiful landscape around the Medes Islands and the Montgrí coast? Then your options are joining a boat trip or renting your own boat!
Several companies run boat trips from L'Estartit to the Medes Islands various times a day, especially in summer. Most of the boats you'll find are those big ones that can accommodate up to 150 or 250 people. But we're not really into those kinds of experiences.
We prefer to support smaller local companies and have a more private experience.
That's why we recommend booking your trip with Barca Núria o El Fadrí. Both are old charming fisherman boats (instead of those massive ones with several floors) and can accommodate only 20 people, making the trip more enjoyable and definitely more sustainable! Also, they have a glass bottom, so you can observe the seabed while sailing.
These boat trips last 1 h 45 min, and the route will take you first to the impressive cliffs and unspoilt bays of the Montgrí coast and later to the Medes Islands.
Keen on going on your own? Then you can rent a boat and explore the islands at your own pace. You can choose from several boat options, depending on whether you hold a navigation license.
⚠️ Important!
Landing on the islands is not permitted. Boats can anchor only in designated areas, so please ask about them when renting. If you wanna snorkel or swim, you'll enter the water directly from the boat.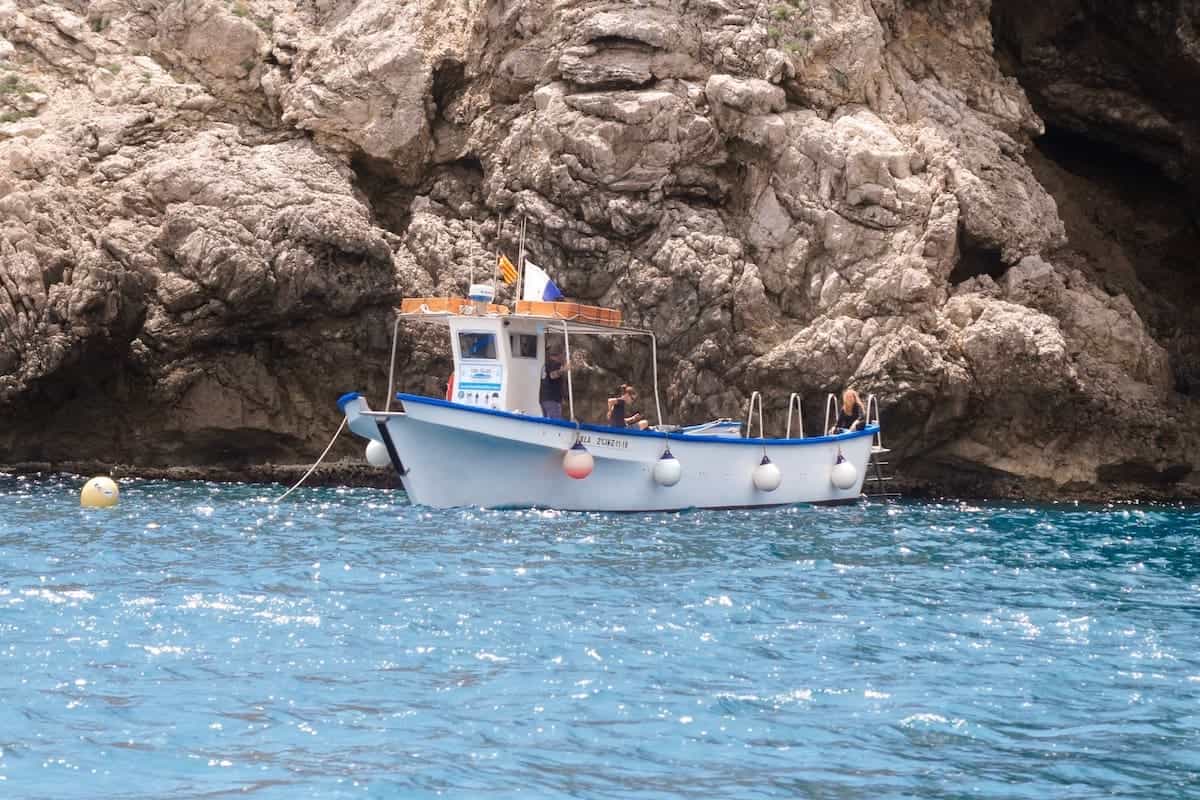 Fauna and flora in the Medes Islands
Although what attracts most people is their underwater life, these rocky islands are also home to other animals, especially birds. The king of the islands, and the most common animal there, is the seagull.
But you can also find other types of birds, such as egrets and herons (the second largest colony of this kind in Catalonia!), peregrine falcons, swifts, shags, and the beautiful blue rock thrush.
And when it comes to underwater life, what can you expect to see in the Medes Islands? Lots! We're talking octopus, eels, coral, 200 species of fish and even dolphins!
What about the vegetation? The plants that grow on the island are used to dry climates. It's scorching in summer in the Costa Brava, and there are long periods of drought, making it hard for most plants to survive there. For those reasons, the Medes Islands are home to prickly pears and the restharrows, which contain water reserves and can thrive in the driest places.
If this wasn't enough, plants must also be resistant to salt to survive in the Medes Islands. The prevailing wind carries drops of salt seawater to the islands, so plants need to eliminate excess salt through their leaves. That's why shrubby sea-blite and rock samphire love it there.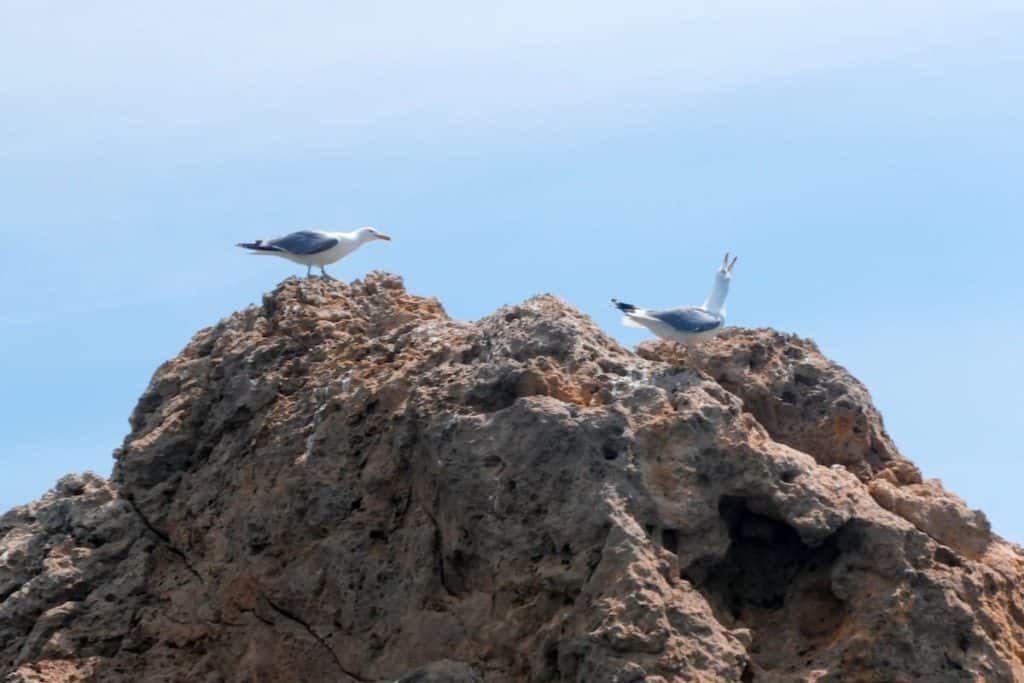 From pirates to being untenanted: The history of the Medes Islands
When pirates were not something straight from a book, the Medes Islands were used as a base to launch raids along the coast. Pirates based themselves on the big island, attacking coastal cities and bringing back their loot and kidnapped victims.
Piracy was so huge in the history of L'Estartit that locals still remembered it today, celebrating the Fira de Pirates i Corsaris every September. People dress as pirates and enjoy fireworks, concerts, parades, and shows.
But pirates weren't the only ones in history to stay on the islands. In the 15th century, the Knights of the Holy Sepulchre, a Catholic order, built a fortification on the biggest island and stayed there for several decades.
In the 18th century, the remains of this fortification were used as a prison and accommodated military troops until 1890.
The last inhabitants abandoned the archipelago forever in 1934, and no one has lived there since then. Currently, on the islands' 21 ha of surface, you can only spot one building! It's the 1868 lighthouse on the Meda Gran, the biggest island.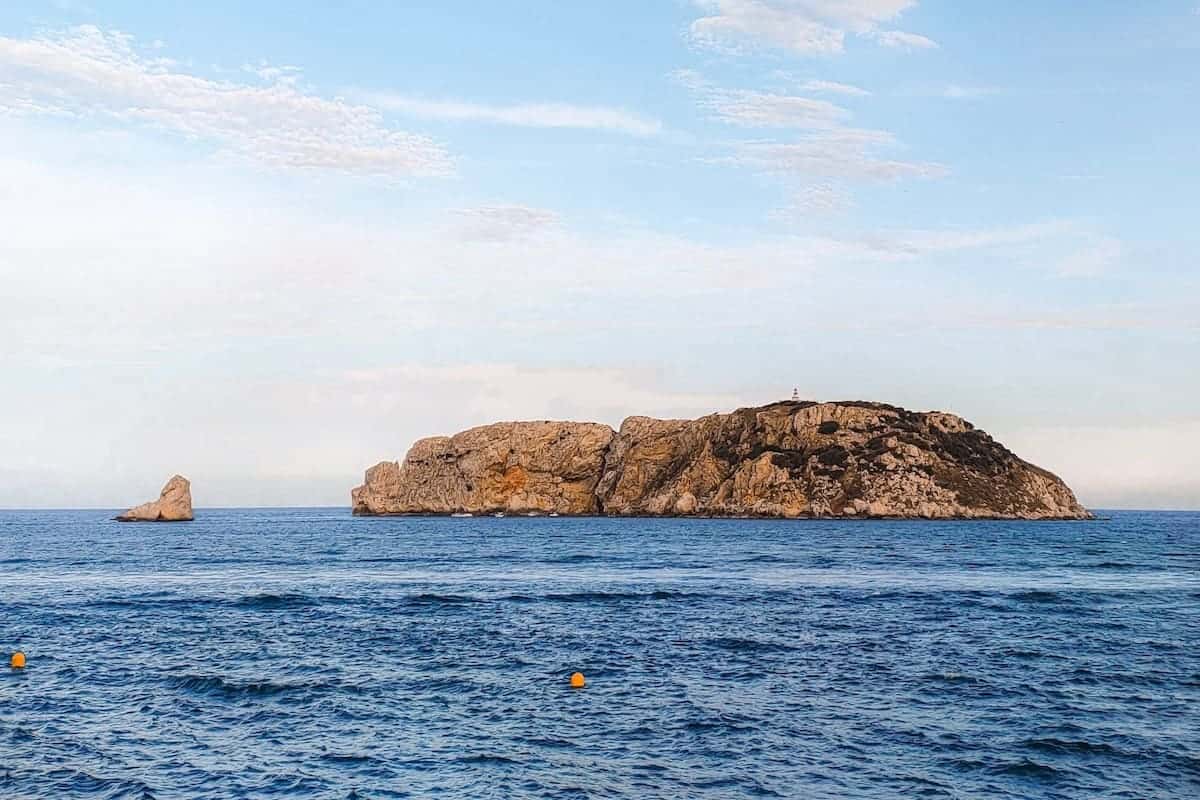 How to get to the Medes Islands
As mentioned earlier, the Medes Islands are less than 2 km from L'Estartit.
The fastest way to reach L'Estartit from Barcelona is driving, which will take 1h and 45 min.
By public transport, you can catch the bus from Barcelona Airport or Estació del Nord to Torroella de Montgrí. Once in Torroella de Montgrí, you'll need to take another bus to L'Estartit.
Another option is to take the high-speed train from Barcelona to Girona and then a bus from Girona to L'Estartit.
If you have the chance and are not visiting Barcelona, we recommend flying to Girona's airport. This airport is closer to L'Estartit than Barcelona and has better public transport connections.
If you need a taxi during your stay, here is a list of taxis in the L'Estartit area.
Where to stay when visiting the Medes Islands
L'Estartit has accommodation for all budgets and tastes both in the city centre and the surroundings.
If you're looking for a hotel in the city centre (within walking distance of the beach), you can check Malva Hostel or the Hotel Santa Anna. Although there are plenty other options in the city.
If you are looking for an apartment where you can cook, check Apartamento L'Estartit (up to 6 people), Estartit Delta 4C (up to 5 people), or Apartamento Islas Medas (up to 2 people).
If you have a car, we can't recommend you enough to stay at Mas Ramades. It's a beautiful rustic house turned into a countryside hotel. We're talking stone walls and wooden beams that make you travel back in time. Guests can enjoy the swimming pool, a spacious shared kitchen (handy if you're travelling on a budget and want to prepare your own meals), and a delicious buffet breakfast. Mas Ramades is 3 km away from l'Estartit (40 min walking, 4 min by car).
There are also several campsites in the area for those who love to pitch a tent or a motorhome. Our favourite? Camping Empordà. We've been there three times already and love it! It's a small familiar campsite, with a swimming pool and beach volleyball court. After a day at the sea, chilling at the camp with beautiful sunset views is priceless!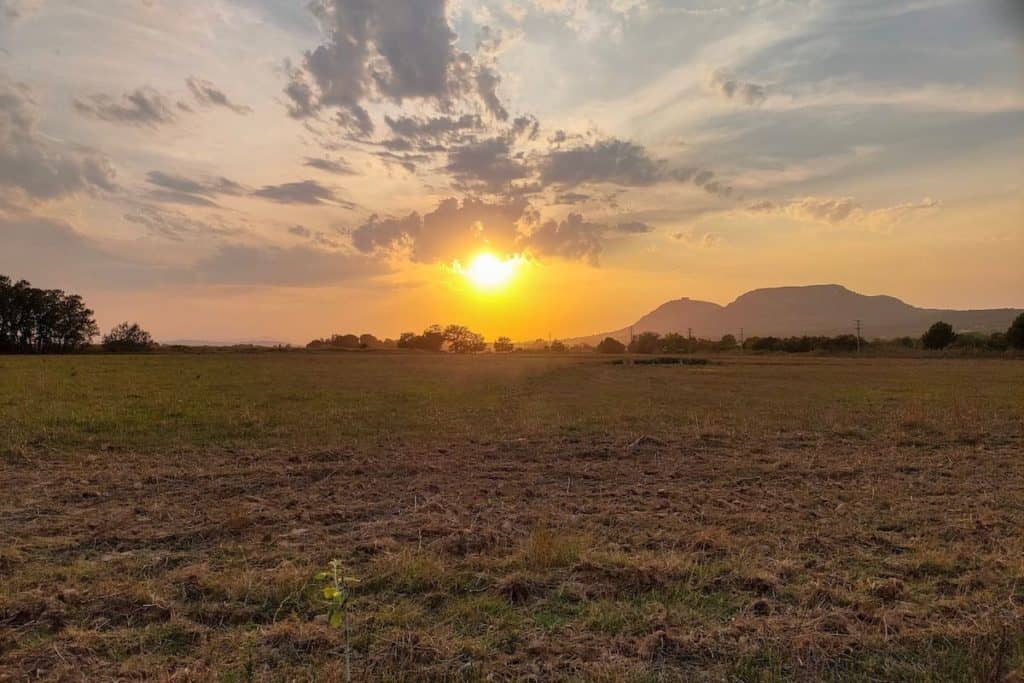 Things to know before visiting the Medes Islands
🌞 The area gets busy in summer. Summer is the high season in the Costa Brava region, which attracts thousands of travellers looking for nice weather and beach vibes. If you can visit L'Estartit in May, June, September, and October, we highly recommend it. It's less crowded, and the weather is perfect for water activities.
🐟 It's a protected marine reserve. Therefore, it goes without saying that feeding, touching, or disturbing wildlife is forbidden. Most food is so delicious that you might as well eat it yourself and not give it to wild animals! If you're diving or snorkelling, avoid touching the sea walls and bed, home to fragile species such as coralline and Posidonia.
🗑 Trash is not welcomed on the islands. Pack everything that you brought in and bring it out with you.
⚓️ There are designated spaces to anchor the boats, kayaks, and SUP. The seabed surrounding the Medes Islands is full of seagrass meadows, one of the richest ecosystems in the Mediterranean. You don't want to end up anchoring a boat there and destroying it! Ask the staff from the boat rental to point you to the designated places to anchor on a map.
🧴 This last one is not something you need to know but a tip. Sunscreens, bug sprays, and lotions can wash off in rivers, lakes, and oceans when we swim, damaging plants and animals, especially coral reefs. But there's an option to avoid that: When buying sunscreen, choose an eco-friendly one. They are often advertised as "reef-safe" and typically use minerals (zinc oxide and titanium dioxide) instead of chemicals to protect skin from the sun. It's a win-win!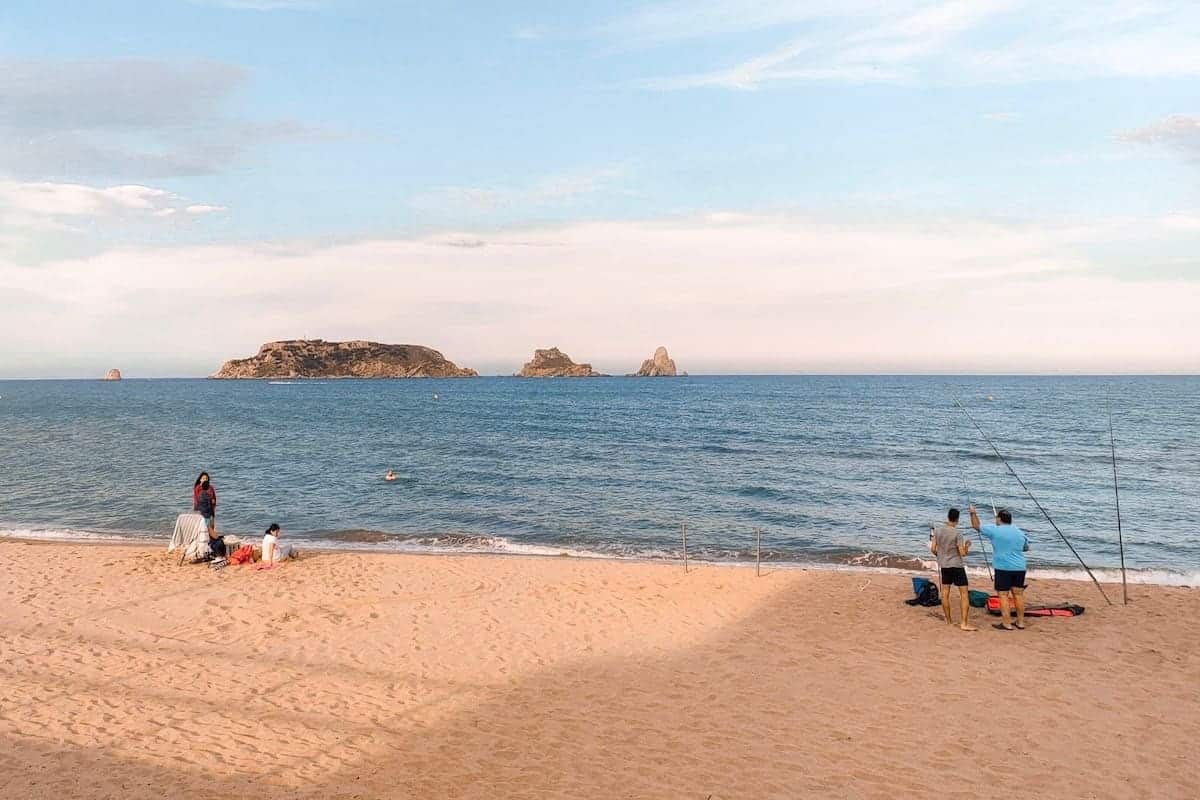 We hope this guide helps you plan your next escape to explore the Medes Islands' beautiful landscape and rich wildlife. If you do so, let us know if you see any huge grouper!
---
Planning an escape to the Costa Brava?
If you're planning a trip to the Costa Brava region, we've written a guide that can save you hours of research! Check it out here.