Standing proudly on the north coast of Catalonia (in Spain), the historic city of Tossa de Mar is a treasure. The town offers panoramic views across the Mediterranean Sea and is famous for its sandy beaches, lighthouse and, of course, historic fortified medieval village.
But Tossa de Mar is much more than just a medieval city. It's home to beautiful coves with endless snorkelling possibilities and hiking trails that wander through green pine forests.
Also, as a cool fact, Tossa de Mar was the first place in the world to declare itself an Anti-Bullfighting City in 1989.
So get ready, all you adventurous travellers out there; in this post, we'll be sharing awesome things to do in this charming village and its surroundings.
* Post written for the first time in September 2017 and updated in August 2023.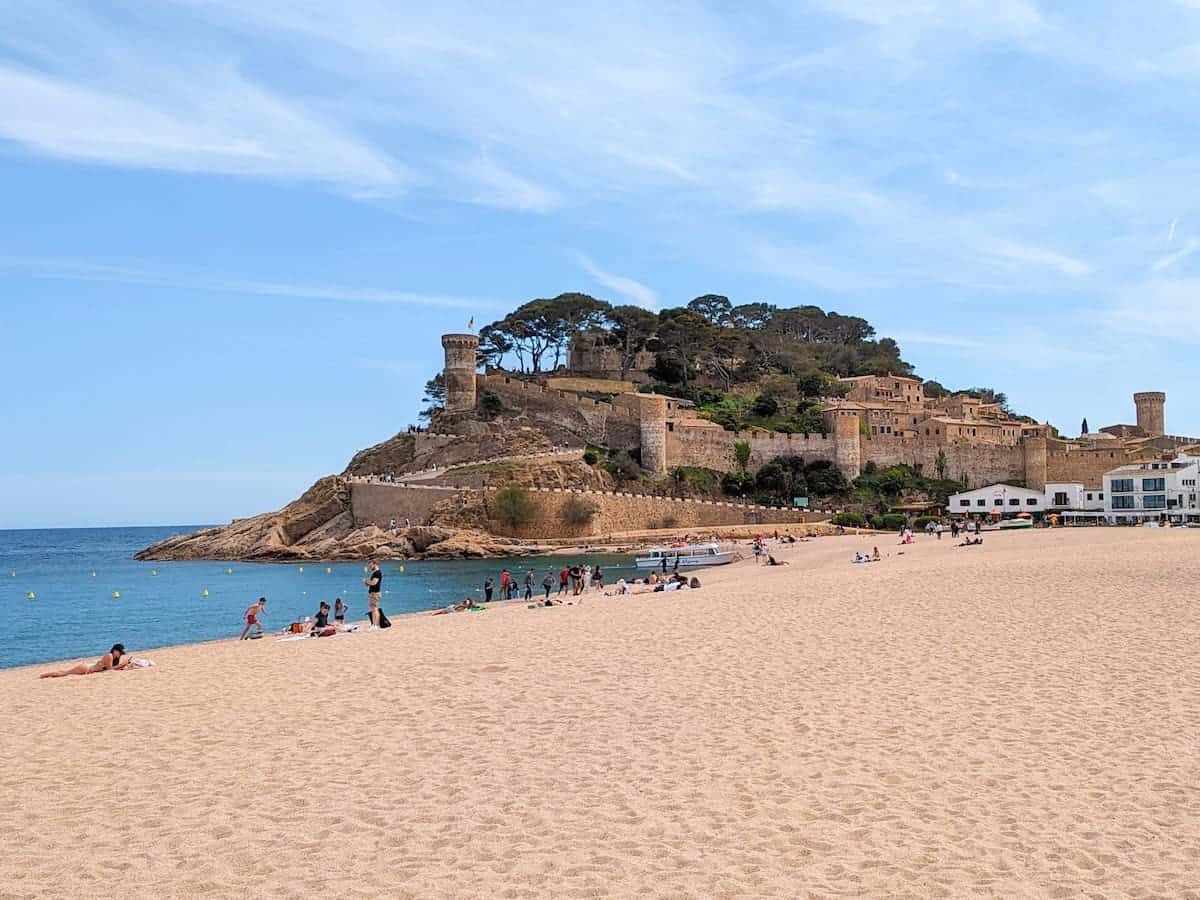 Things to do in Tossa de Mar, Costa Brava
Hike the Camí de Ronda and snorkel at the coves
Follow Camí de Ronda (Ronda's footpath) north and south from Tossa de Mar and walk through impressive pinewoods to reach beautiful hidden crystal-clear coves.
The Northern part of the Camí de Ronda
Walking north from Tossa de Mar, follow the red and white signs that will guide you through this path. In this direction, the footpath presents some steep hills, but the fragrance of pine trees, rosemary and thyme will make you not think about them.
After 3 km, Cala Bona (Good cove) appears. When we got there, we first jumped directly into the sea to fight the intense summer heat. If you like snorkelling, you'll love to explore the seabed of this cove and swim with all kinds of Mediterranean fishes.
It's a good place for a break and eating something before continuing to search for new coves. There's even a restaurant in the cove, but come on! It's the holidays! Why not do a good old-fashioned picnic to enjoy nature at its most?
The next treasure is not far from Cala Bona. Only after a 1-km walk Cala Pola appears. This one is a sandy cove with crystal blue water, bigger than Cala Bona. It's usually quite crowded (especially in summer) because there's a campsite nearby.
Anyway, it's a great place to lay on the sand, get a bit tanned (sun cream highly recommended!) and play a beach tennis match.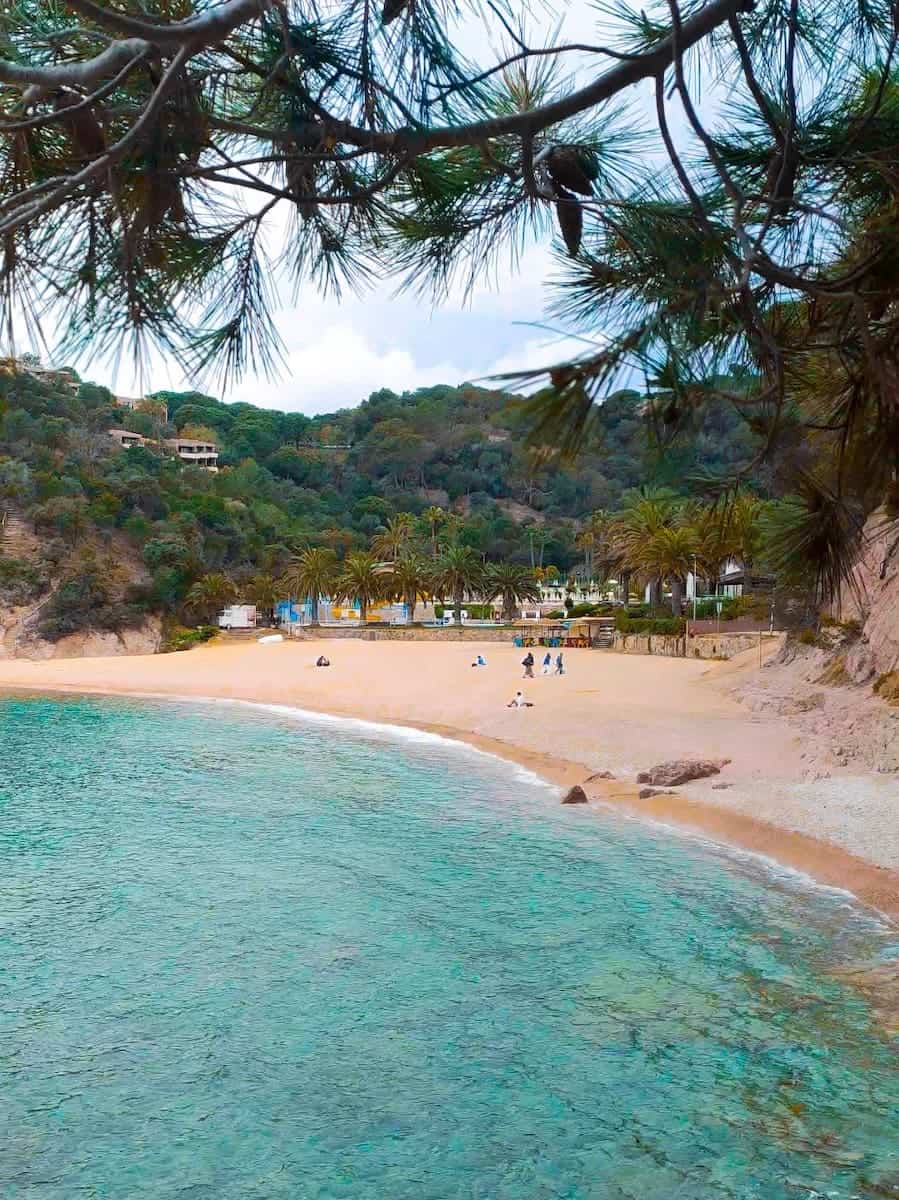 The last cove we visited on our hike was Cala Giverola. It's 5 km from Tossa de Mar (only 1 km after the previous cove). It's the biggest one, and the boats anchored in the bay make it the best in terms of views. Also, the bigger the cove, the larger the seabed to explore!
You make your way back to Tossa through the same path. When we arrived in the city, we stopped to enjoy ice cream. It wouldn't be a real recommendation from us without an ice cream suggestion! We loved the selection at BlauBlanc Gelato&Lounge, just in front of the main beach.
🧭 Wikiloc track
In our Wikiloc profile, you can find the Wikiloc track of this hike to use it as a guide.
The Southern part of the Camí de Ronda
Starting from Tossa de Mar again, head south instead of north.
Walk for 3.5 km until you get to Llorell beaches, two beaches (Llevant and Garbí) that are configured as only one long beach. This natural area begs to be explored, and the region is a magnet for water sports addicts. There's a wide variety of sports you can practise there such as scuba diving, kayaking, waterskiing or windsurfing.
There are two more coves on the way to Llorell beaches (Cala d'en Carlos and Cala es Llevador), but we didn't stop in any of them.
However, on our way back, 3 km before arriving at Tossa de Mar, we discovered the cove Cala Figuera (Cala d'es Rajols). The abundant vegetation surrounding this cove makes it very special. Also, it's usually not as crowded as the other coves in this area. Be aware that nudism is a common practice there.
Experience sunrise over one of Tossa de Mar's coves
If you want to start your day with an absolute blast, wake up early and watch the sunrise from the sea.
We know that waking up early can be hard, but for this reason, we can assure you that you won't regret it. It's a show of nature not to be missed!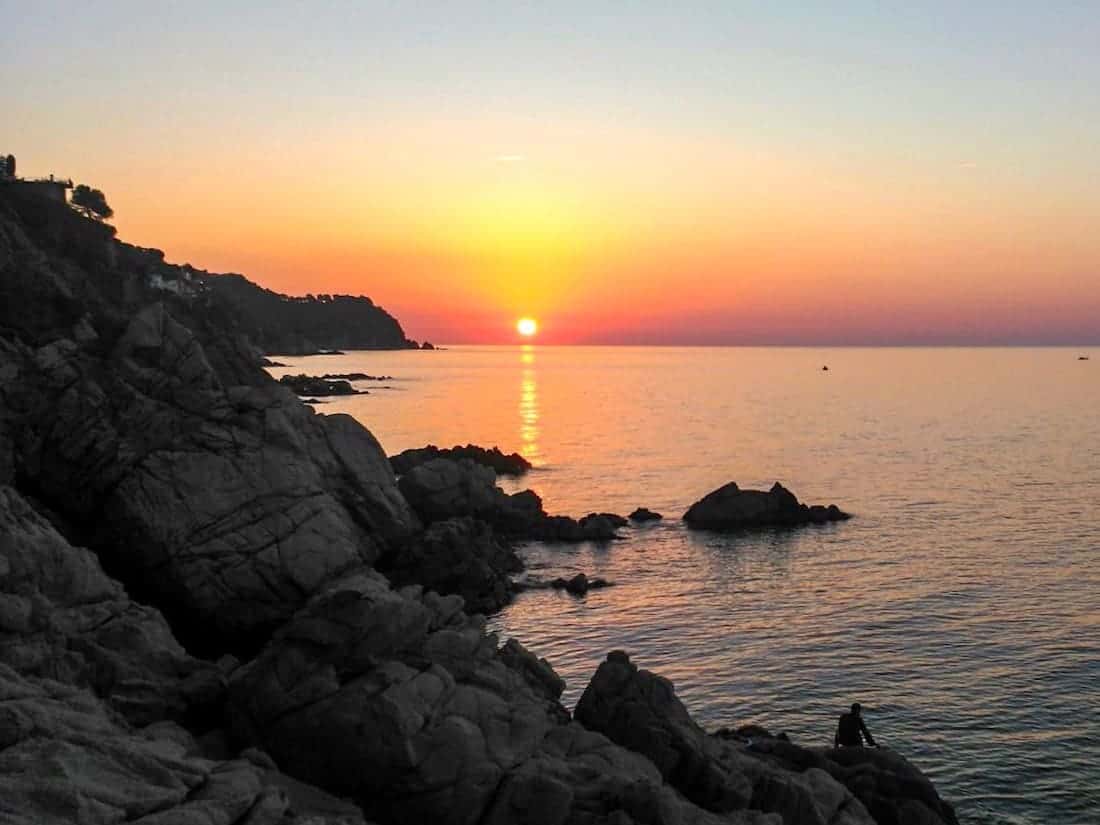 Wander through the streets of the Old Town
If you're in Tossa de Mar, don't forget to visit the Old Town. This majestic medieval part of the city is full of history and is the only example of a fortified medieval town still standing on the Catalan coast.
With its narrow cobblestoned streets and seven towers, it seems time has stopped in the Old Town. It's like having travelled back in time to middle age.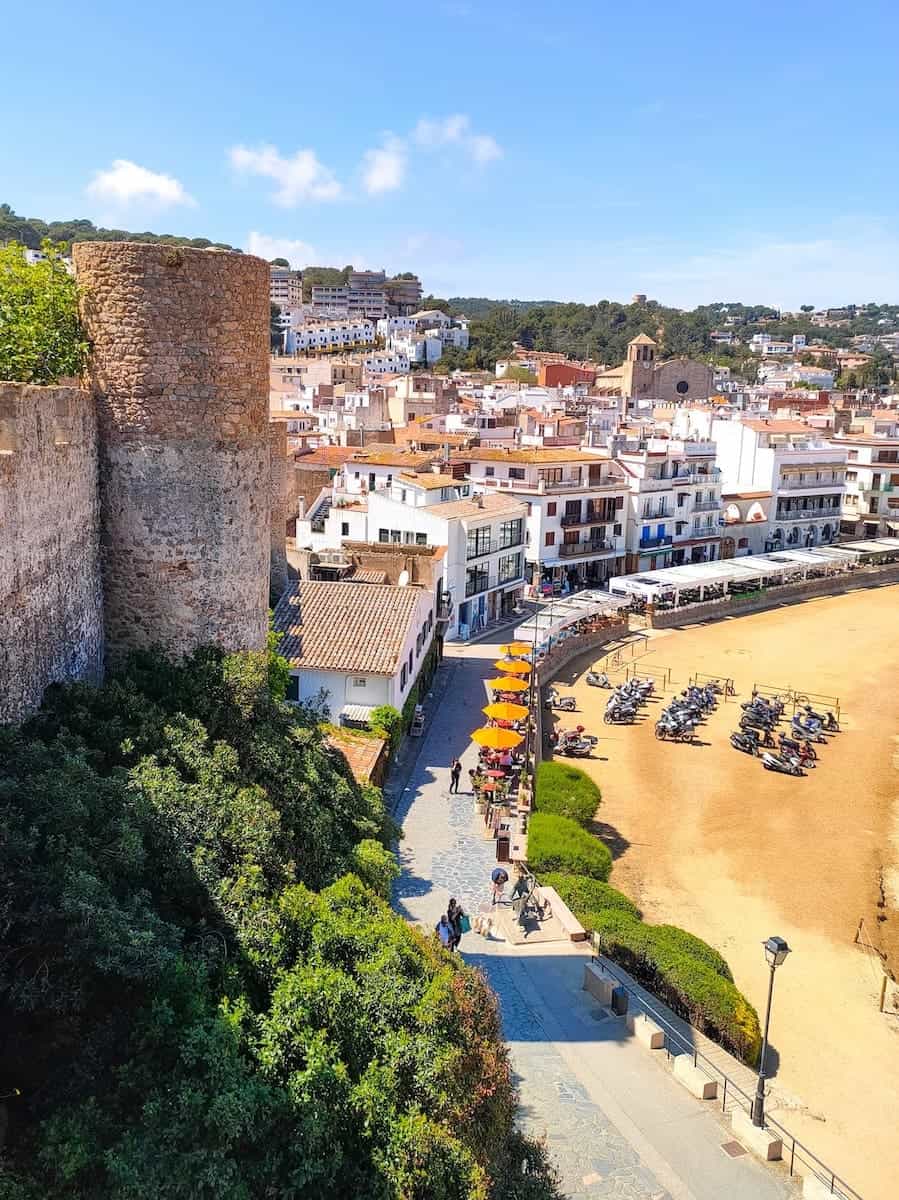 👌🏼 Our tip
If you're going to spend just one day in Tossa de Mar, we recommend you to walk the Southern path of the Camí de Ronda and visit the Old Town.
Soak up the views from the lighthouse
We can't recommend enough walking to the lighthouse at the highest point of the Old Town for excellent views!
In the 12th century, Tossa de Mar was a medieval town walled off with a castle on the city's highest point. Years later, this castle was replaced by a windmill, which was replaced by a lighthouse. The lighthouse is still operational, and the site has been declared a national historical monument.
Eat tapas
One of the places we like the most to eat is a restaurant called La lluna, which means "The moon". They specialised in tapas, a variety of dishes typical of Spain. When you eat tapas, you always order a variety of them and share them with your friends, family, or partner. Then you don't get to eat only one dish, but you try as many as possible!
If you go there we recommend you to try:
Another place we love in Tossa is Santa Marta. It's a lovely place in a narrow street in the historic centre. The food is off-the-scale excellent, and the terrace is picture-perfect!
We recommend sharing some tapas as a starter and then eating a main dish. The "fideuà" (similar to paella but with pasta instead of rice) was to die for!
Desserts were also homemade and top-notch. Go for the crema catalana if you want to try something typical from Catalonia.
Other restaurant recommendations to eat in Tossa de Mar are Capri (Mediterranean creative cuisine), El Petit Bahia (delicious tapas), and La Cuina de Can Simón (excellent for fish dishes and seafood).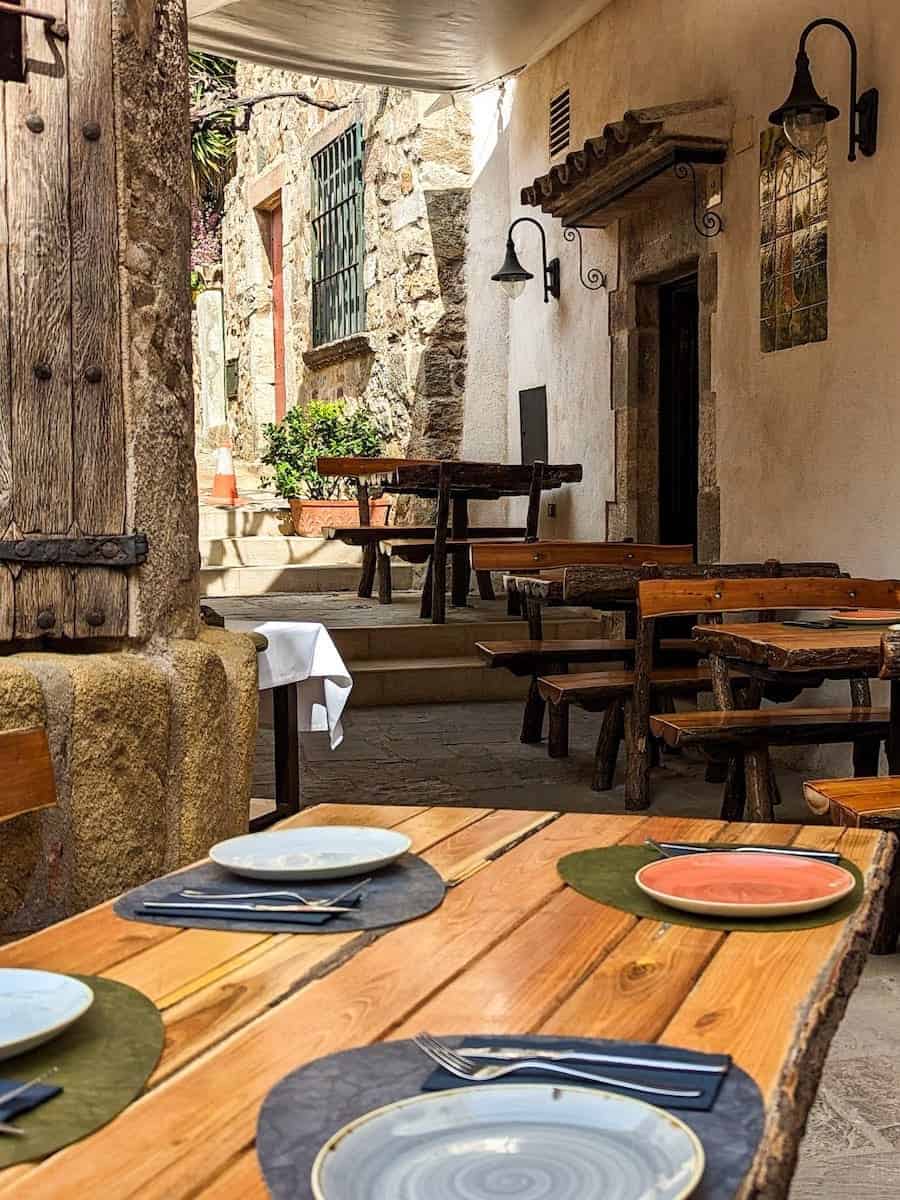 Paddle to unexplored coves
Up for discovering Tossa de Mar and its surroundings while doing some exercise? We've got the perfect activity for you! Join a SUP guided tour and paddle along the coast to discover hidden sea coves, rocky cliffs, and sandy beaches.
This tour lasts 2.5 hours and includes the material and the guide. During the experience, you'll also have time to swim and refresh on your way back to Tossa de Mar's main beach.
Scuba dive and discover underwater life
Tossa de Mar is a well-known spot by locals for diving as the waters are crystal-clear, and you can easily spot marine fauna, such as moray eels, lobsters, and colourful opisthobranchs.
If you'd like to try scuba diving during your time in Tossa de Mar, we recommend joining this 3-hour guided adventure. You'll learn the basics of scuba diving, get comfortable with the equipment, and then go for a 50-min dive at a maximum depth of 12 m!
If you already hold a diving certification, you can contact one of the many diving centres in town and sign up for a dive. The most famous dive spot around Tossa de Mar is Roca Muladera. It is home to two seamounts with a channel running between them, where you can spot a great variety of underwater life.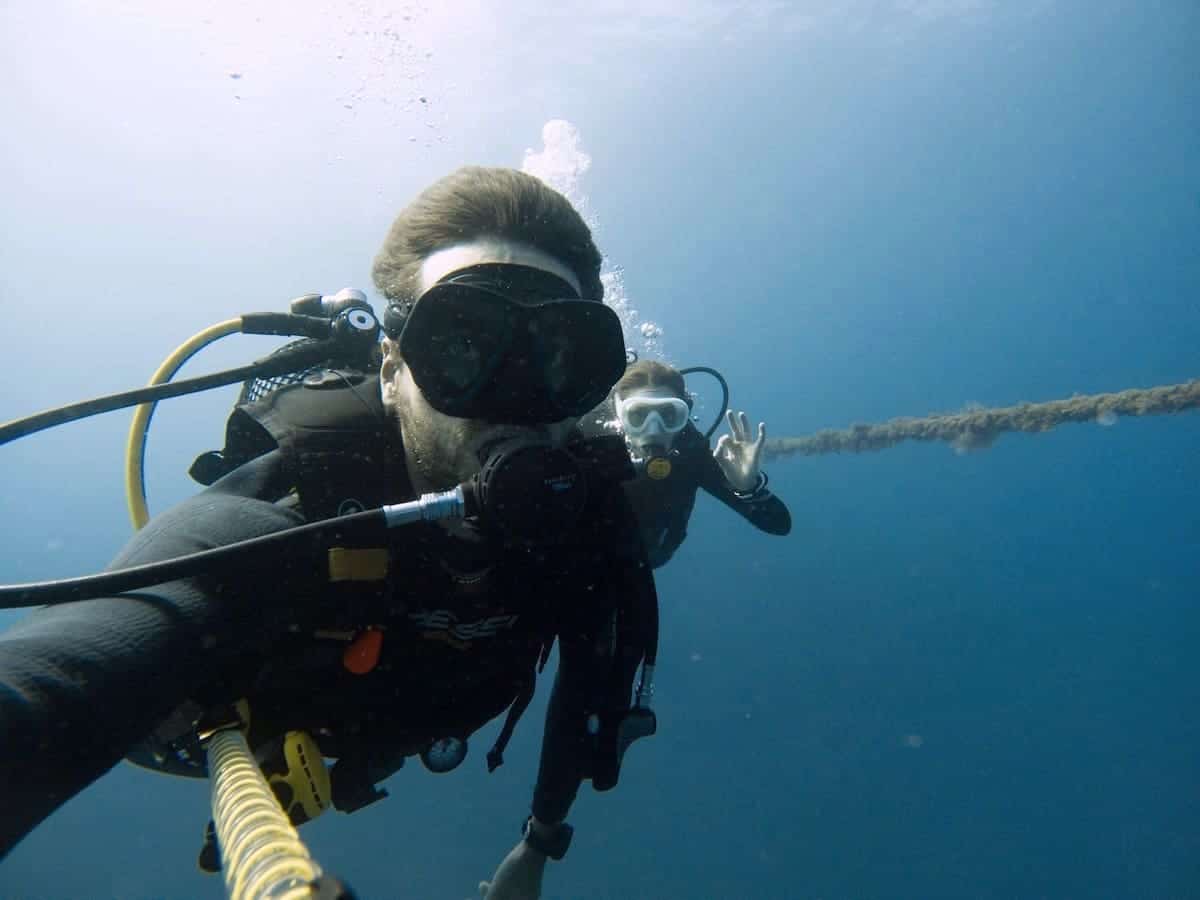 Where to sleep in Tossa de Mar
As we wanted to be close to a cove to watch the sunrise over the sea, we spent the night at Camping Pola, just next to Cala Pola. The camping has 2 bars, 2 restaurants, a supermarket, and a swimming pool. We brought our tent and rented the pitch, but you can also get a bungalow or a cool glamping tent.
If you're looking for a hotel, there're plenty of options in Tossa de Mar. Mamma Mia, Casa Granados, and Hotel Diana are three wonderful boutique hotels with perfect locations.
If you're looking for excellent value for money, the family-run Tarull is a wonderful option.
Travelling with your family or friends, and you'd rather stay in an apartment? You can't go wrong by choosing El Mirador de Tossa de Mar (up to 4 people), Can Senio 2 (up to 6 people), Villa Reymar (up to 6 people), or this apartment at the seafront (up to 8 people).
When is the best time to go to Tossa
During the summer months, Tossa de Mar comes alive. People are swimming at the beach, eating and drinking on the restaurants' terraces, and walking around the city centre. That's why May to September is an excellent time to come here.
If possible, avoid August as it's the most crowded month, and it might even be too hot during the day to take a walk. To us, May, June and September are the best months as it's a bit quieter and not that hot.
How to get to Tossa de Mar from Barcelona
Tossa de Mar is not far from Barcelona, making it an ideal destination for either a day trip or a weekend trip if you want to escape the hustle and bustle of the capital.
In fact, if you're in Barcelona and want to escape to the Costa Brava for one day only, Tossa de Mar is your best bet, as is one of Costa Brava's beaches closest to Barcelona.
So, how can you get there?
🚗 By car
The easiest way is by car. From Barcelona, you need to drive 1 h 30 min to be in Tossa de Mar. Once there, you can park at the large car park next to the main beach (Platja Gran).
🚎 By bus
If you don't have a car, no worries! Public transport runs from Barcelona to Tossa de Mar.
There is a direct bus from Estació del Nord (Barcelona), which takes 1 h 20 mins. In summer, this bus departs more or less each hour and costs around 13 € one way. In winter, the frequency drops to 2 or 3 buses per day.
🚊 By train
Another option, although we don't recommend it, is to go by train.
The train doesn't reach Tossa de Mar, so you'll have to stop in Blanes. The Renfe R1 train line follows the coast and takes 1 h and 30 min to get to Blanes from Barcelona. Once there, you can take a bus from the train station to Tossa de Mar, which takes approximately 40 min.
If you choose this option, you can purchase a combined ticket at the train stations in Barcelona, which is slightly cheaper than buying tickets separately.
How to get to Tossa de Mar from Girona
Tossa de Mar is not far from Girona either. So if you're staying in Girona and plan a day trip, Tossa de Mar can be a great candidate to discover Costa Brava.
🚗 By car
The easiest way is by car. From Girona, you need to drive only 50 min to be in Tossa de Mar. Once there, you can park at the large car park next to the main beach (Platja Gran).
🚎 By bus
Public transport runs from Girona to Tossa de Mar. The bus is not the most straightforward way to reach Tossa de Mar, but it's duable.
There's no direct bus to Tossa de Mar, so you must take a bus to Lloret de Mar and then change to another one that goes to Tossa de Mar. It will take in total about 1 h and 20 min.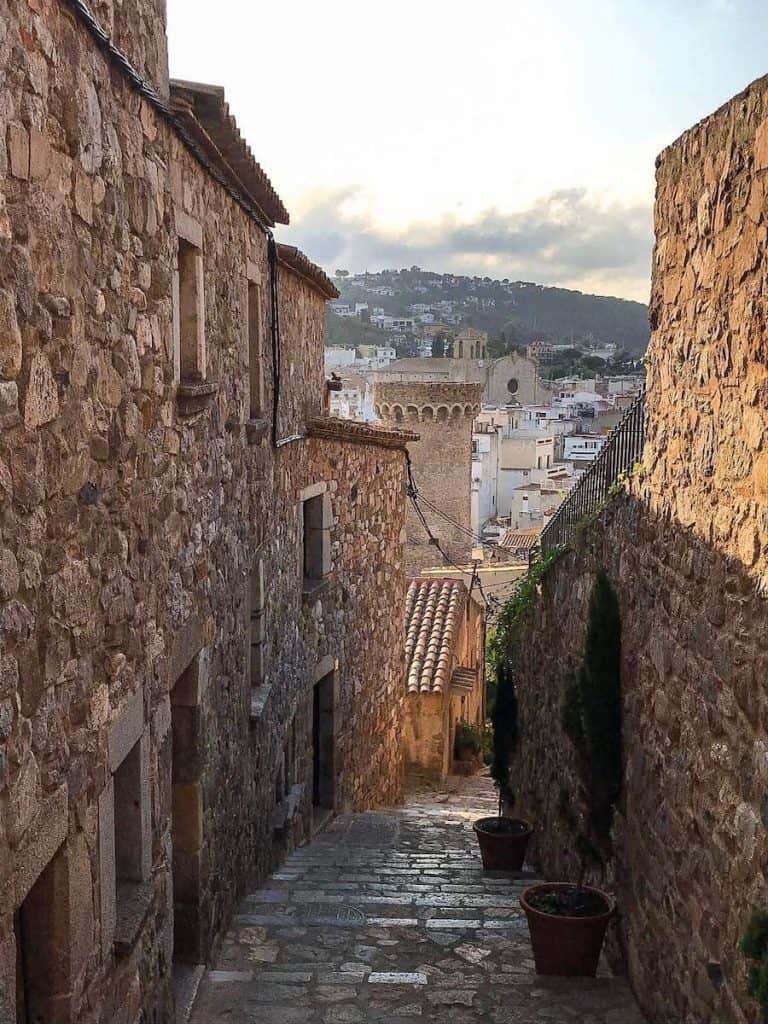 We hope that with this guide, we've encouraged you to discover Tossa de Mar. If you end up going, tell us: were you enchanted by its mix of history and nature?
---
More things to do in the Costa Brava
We've written several posts with adventures to do in the area. Here are some suggestions: