The coast of Girona's province, also known as Costa Brava, is one of Catalonia's spots attracting more visitors during summer. Both locals and travellers alike love it because of its pretty villages, crystal-clear coves and green trails. Also, it offers excellent hiking, snorkelling, diving and cycling opportunities along its 5,885 square km.
During the peak months, usually from June to August, this means one thing: lots of people there! The most popular beaches become rammed quite early, making it difficult to find a spot to leave your towel while going for a refreshing swim.
But we have some good news, there are enough beaches and coves for everyone! You don't need to be packed like sardines in a can.
In this post, we'll share the coves and beaches in the Costa Brava that are usually quite empty.
Why are they uncrowded? Is it because they aren't stunning? Not at all! It's just because you have to walk to get to them. For some more, and for some less, but none of them is reachable by car. And what for some might be a pain in the ass, for others is just awesome. You'll get to do some hiking along the coast surrounded by pine forests, so the swim will feel even more refreshing!
Remember always that the routes to the following beaches are proper hikes. We recommend you wearing hiking shoes as some downhills can be slippery, and you can find rocks along the way. Also, most of those beaches are so virgin that they don't even have bins, so please, take your waste with you!
Ready to discover the spots we're talking about? Here we go!
Seven quiet beaches in Girona province
Cala Cap de Planes
In the Camí de Ronda between Palamós and Calella de Palafrugell, you'll find this beautiful sandy cove. It's 175 meters long, and it's a nudist beach. The views from the cove are outstanding, as you can see the archipelago named Illes Formigues on the left side. If you plan on going there, it's an 800 meters swim.
You won't find any service on Cala Cap de Planes. No restaurants, no toilets,… Only wilderness and quietness. You'll also find great snorkelling opportunities because the sea bed is very rocky. On one side of the cove, there's a little fishing hut with a porch, which is often used by hikers to make a stop and enjoy some shadow. The shed also has a boat launch ramp, which is private property.
How to get to Cala Cap de Planes
You can't get to this cove by car; the only way to access it is to hike either from Palamós or Calella de Palafrugell. Follow the Camí de Ronda (GR-92), a coastal path that links both cities, and you'll get there! From Palamós, it's more or less a 6.7 km hike, and from Calella de Palafrugell, it's a 4.8 km hike.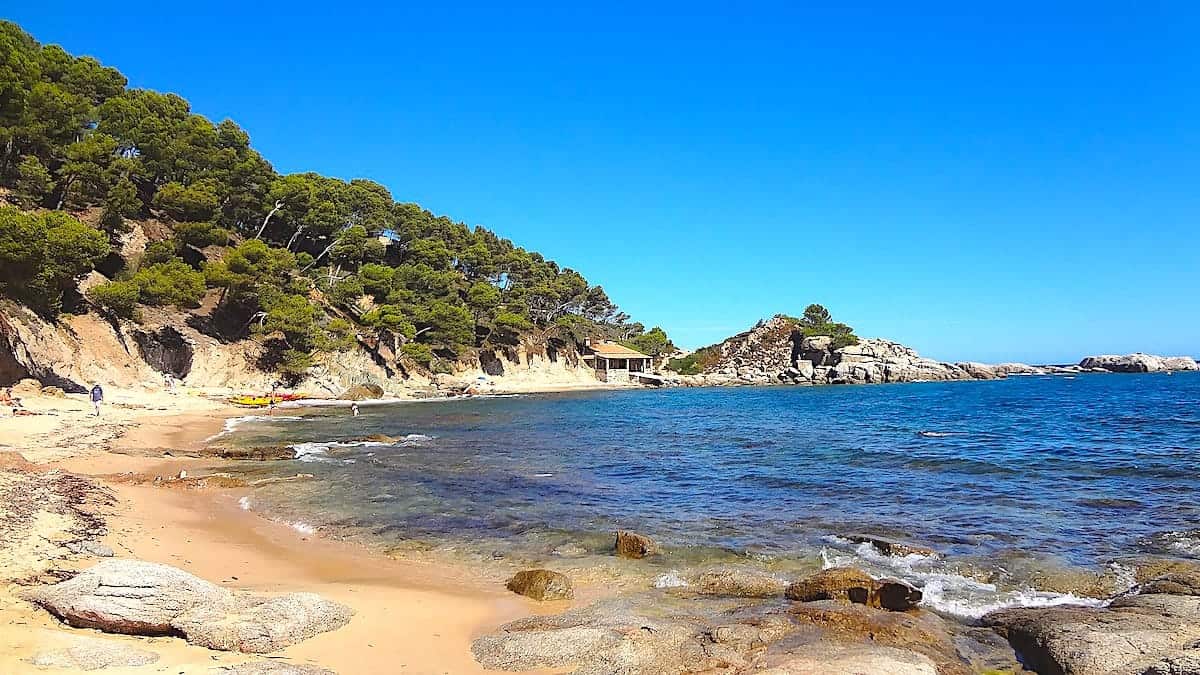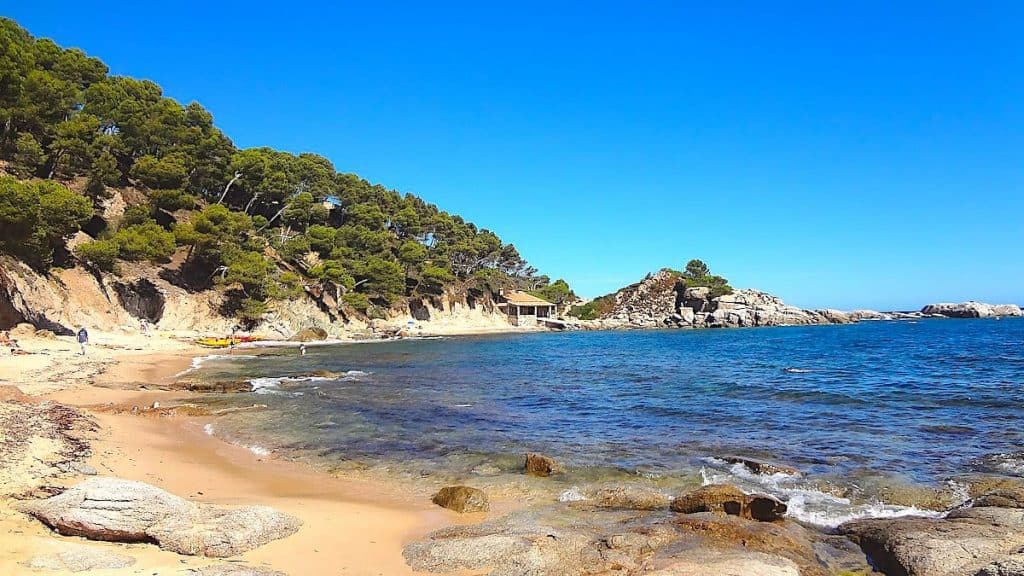 Cala Ferriol
It's a secluded cove tucked between rock formations and pine forest, located between l'Escala and l'Estartit. It's the last rocky and virgin cove of l'Estartit. The type of sand on this cove is pebbled, and just in front of the cove, the are two islets known as Illots de Cala Ferriol.
Same as the one before, there're no services on this cove. Just nature. You'll have to bring your own water and snacks.
For snorkel lovers, this is a fantastic place to practise! Its proximity to a nature park makes it a spot rich in wildlife. The ecosystem of this cove is similar to the one of the Medes Islands, one of the most important marine fauna and flora reserves in the western Mediterranean. You can spot
We recommend you to go there early as you can find some kayaks, divers and boats later on the day.
How to get to Cala Ferriol
Cala Ferriol is only accessible on foot or by boat. If you go there from l'Estartit, you have to follow the Camí de Ronda (GR-92), and it takes around 1h 30 min (8 km). You can also get to this cove from l'Escala, and it's a 6-km hike.
Cala Fornells
If you're looking for a wild beach inside a natural park, this is it! Cala Fornells is a rocky beach located in the Cap de Creus Natural Park. There are many hiking trails around, both following the coast and on the mountains inside the natural park.
If you go during the summer months, keep in mind that there's not much shadow on the cove during midday, so it's good to take a hat and sunscreen with you.
How to get to Cala Fornells
The route to get to this cove starts in the beautiful village of Port de La Selva. If you're going by car, there's a car park next to Cala Tamariua, from where the Camí de Ronda path starts. Bear in mind that the car park is super small and probably full during the summer months. We recommend you to park in the village and walk to the beginning of the path from there. It's a pleasant and lovely walk along the coast. From the village, it's a 4.5-km hike to get to Cala Fornells.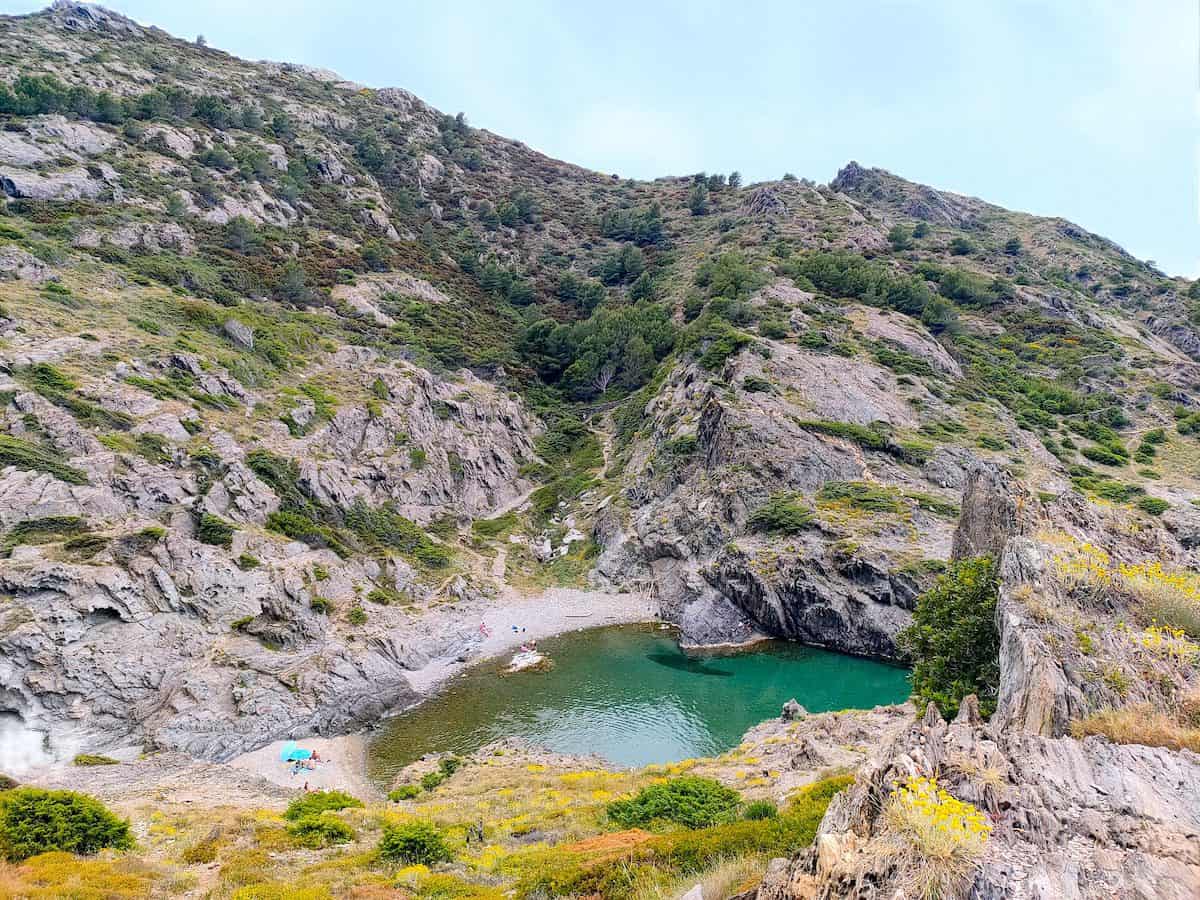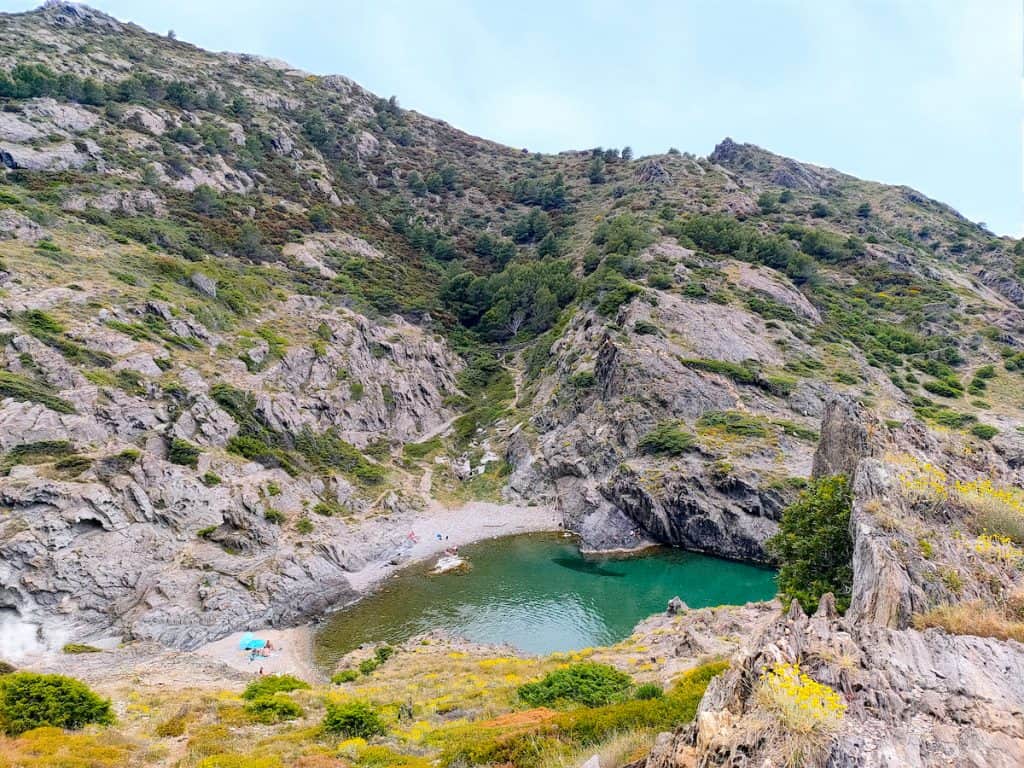 Cala Murtra
This unspoiled beach is surrounded by lush and beautiful vegetation, and it's an excellent choice for those of you who are looking for nature, quietness and solitude. It's located in the municipality of Roses, inside the Cap de Creus natural park.
Cala Murtra's waters are turquoise and almost transparent, and we're not the only ones saying it! Since 2009, this cove has the European EMAS environmental certificate and the international ISO 14.001 environmental management certificate, so the quality of its waters and surroundings are assured. The seabed combines sand, pebbles and rock and it's full of marine life, making it an ideal spot for snorkel.
The cliffs with pine forests surrounding the cove are stunning but, because the cove is oriented slightly to the north, they don't offer much shelter during the days that Tramontane winds are strong. It's good to check it in advance as Tramontane happens quite often in this region.
Nudism is often practised at Cala Murtra.
How to get to Cala Murtra
The hike from Roses city to Cala Murtra is more or less 7 km. If you have a car, another option is to take the road from Roses to the Cala Montjoi. At the km 7, you'll find a sign indicating the descend to Cala Murtra. Stay tuned or you'll miss it! You'll have to park there, in an unpaved space on the edge of the road. The truth is the descend to the cove isn't well-conditioned, and there aren't any marks, but you can use the cove as a visual reference. The trail doesn't have a lot of slopes, it's not dangerous, and in about 15-20 min you'll be enjoying a refreshing swim.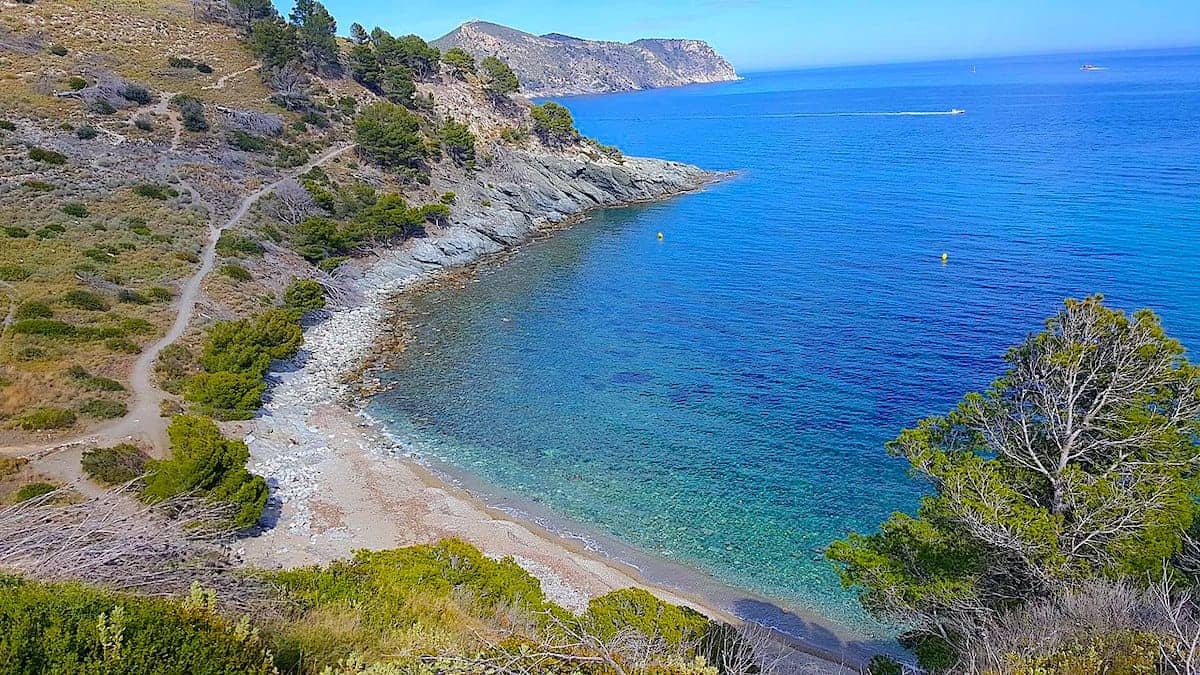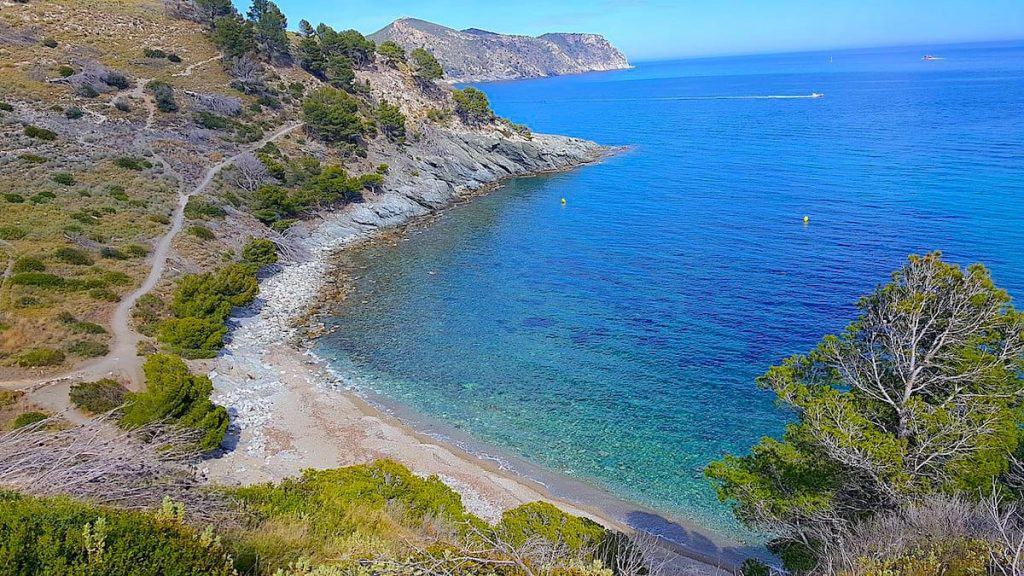 Cala Sa Sabolla
Located south of the famous village Cadaqués, this little wild cove is worth a visit if you're in the area. It's not a sandy one; it has pebbles, gravel and slate rocks. But believe us, it won't matter. The clean and refreshing waters and the beautiful underwater seabed will be much more attractive than lying in the sun. The seabed is covered with Posidonia, a seagrass species that is native to the Mediterranean Sea.
Nudism is a common practice on Cala Sa Sabolla. And, same as the other coves in the area, you won't find any services around.
How to get to Cala Sa Sabolla
The cove can only be accessed by foot, boat, kayak or SUP. From Cadaqués, it's a 3.7-km walk, which offers excellent panoramic views of Cadaqués' bay. It starts with the heavy hill on d'es Quers' houses, and then it follows the direction of Cala Nans lighthouse (far in Catalan) and the Sa Conca beach. The only tough stretch is at the beginning, and then the path becomes flat and without any complications. To get to the cove from the main track. You have to descend some stairs with a steep slope.
Along the walk, you'll see the lighthouse Cala Nans, which is the only lighthouse in Catalonia that doesn't have access by road. The lighthouse is uninhabited, but it still works, and it's active for the boaters.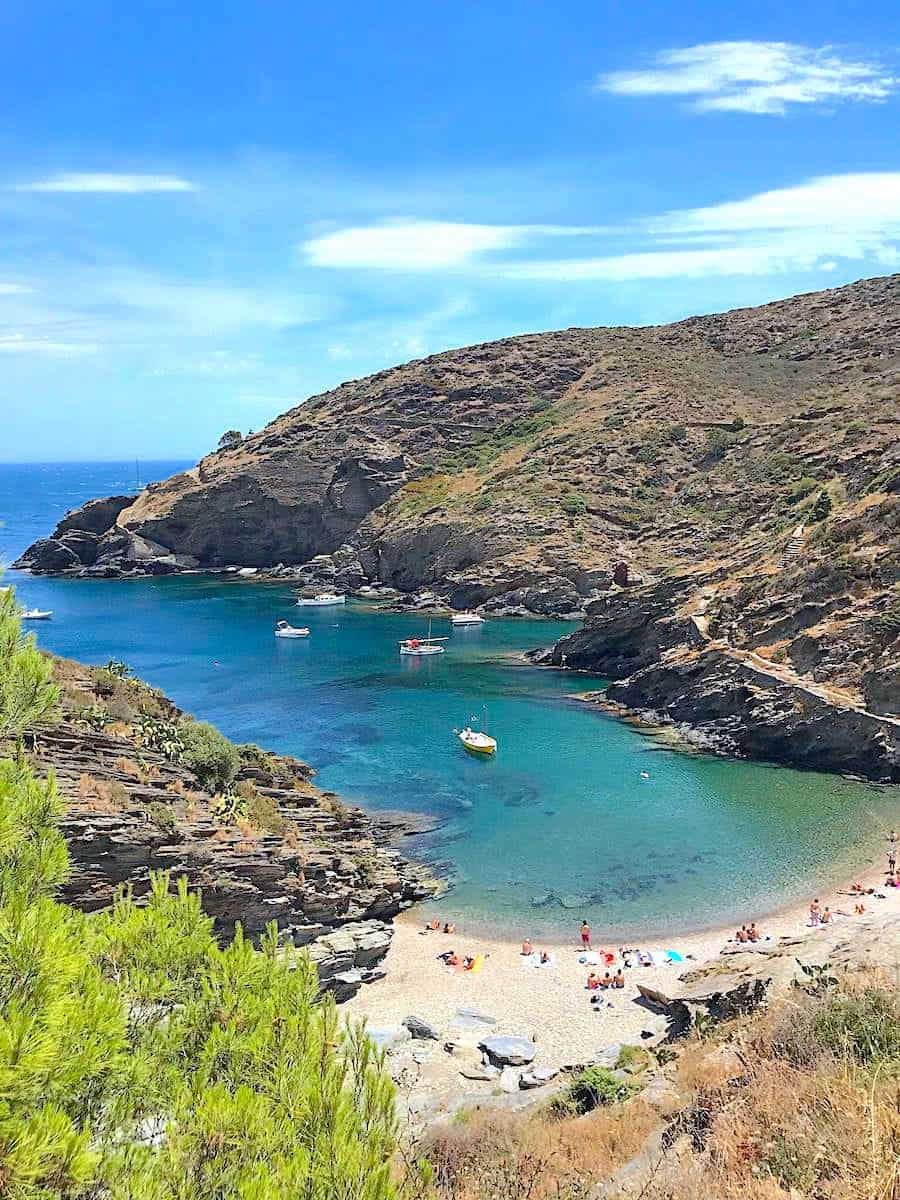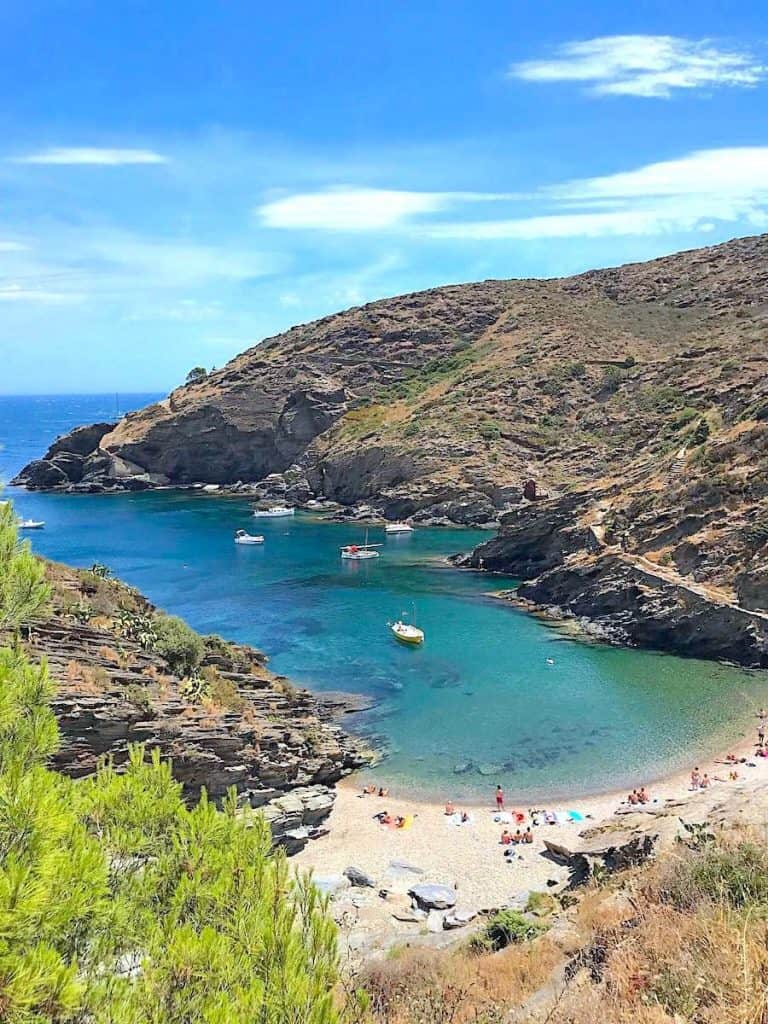 Cala Tavallera
In the heart of the Cap de Creus natural park, the sea enters the land forming this beautiful and remote cove. It's secluded by grey and black mountains with green vegetation that contrasts with the emerald blue waters. A perfect spot for swimming and snorkelling, as the waters are shallow. The seabed is incredible and has a wide range of marine creatures living on it.
You can only get there after a two-hour hike. Of course, such an isolated cove doesn't have any services at all. Because of its access, the cove is practically deserted in summer and winter. At the height of summer, many small boats anchor there, but at other times, it's infrequent to find anybody else there. It's just a paradise if you're looking to disconnect and find quietness surrounded by nature. Keep in mind that some people practise nudism in this cove.
Cala Tavallera is one of the ends of the GR-11, also known as Senda Pirenaica. This trail goes from the Mediterranean sea to the Atlantic ocean, crossing all the Pyrenees range from east to west.
There's a shelter on the cove for spending the night. If you want to do so, it's a good idea to call the local council to make sure the shelter is available and in proper condition. Be sure to set the alarm and wake up in time to witness the dawn and the sunrise from the sea. You won't want to miss it!
How to get to Cala Tavallera
To only way to arrive in such a virgin and remote cove is a two-hour hike from Port de La Selva or Cadaqués. The shortest trail is from Port de La Selva, following the GR-11, with a total distance of 2 km. The route is marked with the signs "Cala Taballera" and "Sant Baldiri". Actually, you can follow two paths from El Port de La Selva to get to Cala Tavallera. One is inside the natural park, and the other follows the coast. An excellent excursion can be doing the loop, reaching the cove following the coast and returning to Port de La Selva following the natural park path.
From Cadaqués, it's an 8-km hike to get to Cala Tavallera. Take into account that there're no fountains along the route, so bring plenty of water. Also, if you plan on hiking this track during the summer months, grab a hat and sunscreen. There aren't almost any trees along the route.
Some blogs and guides insist that the cove can be reached by 4WD, but we don't really recommend it. The safest way is either walking or by boat.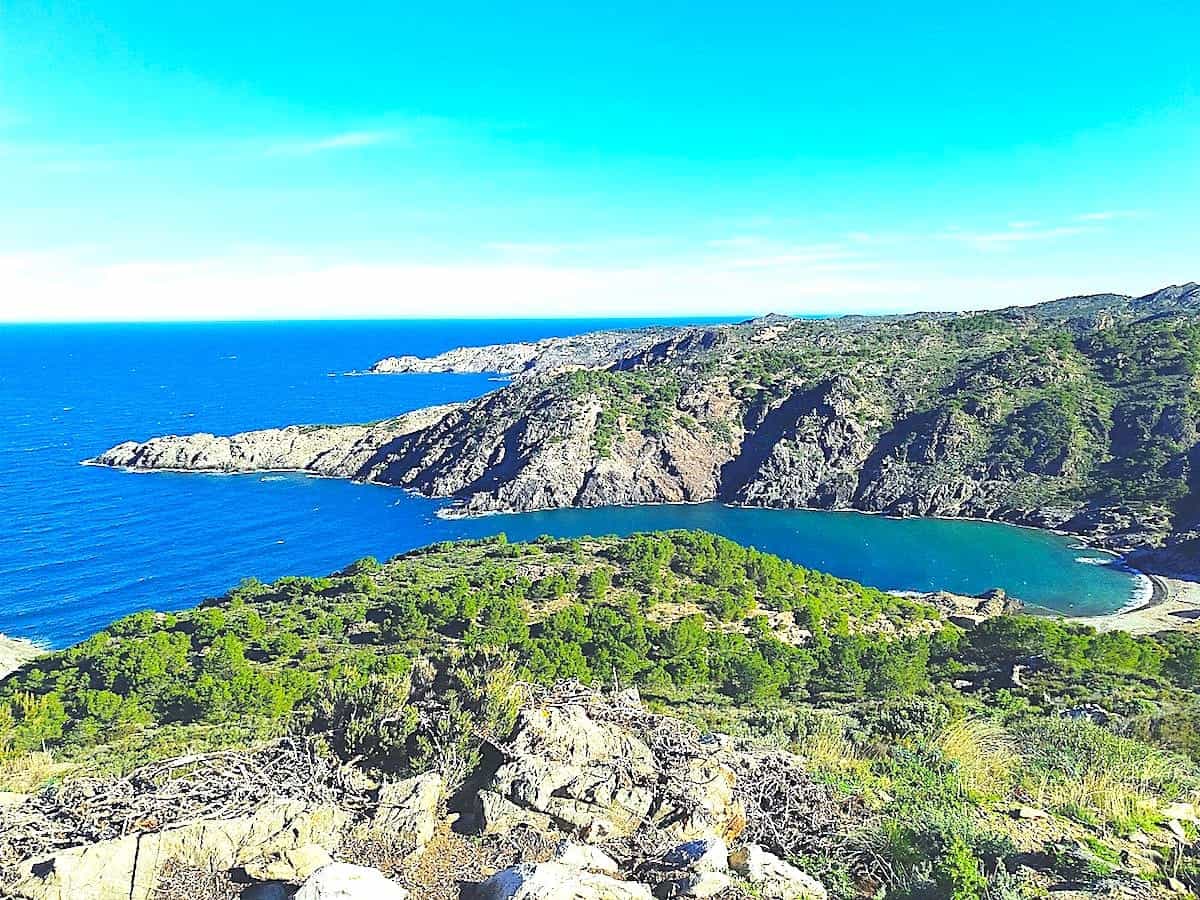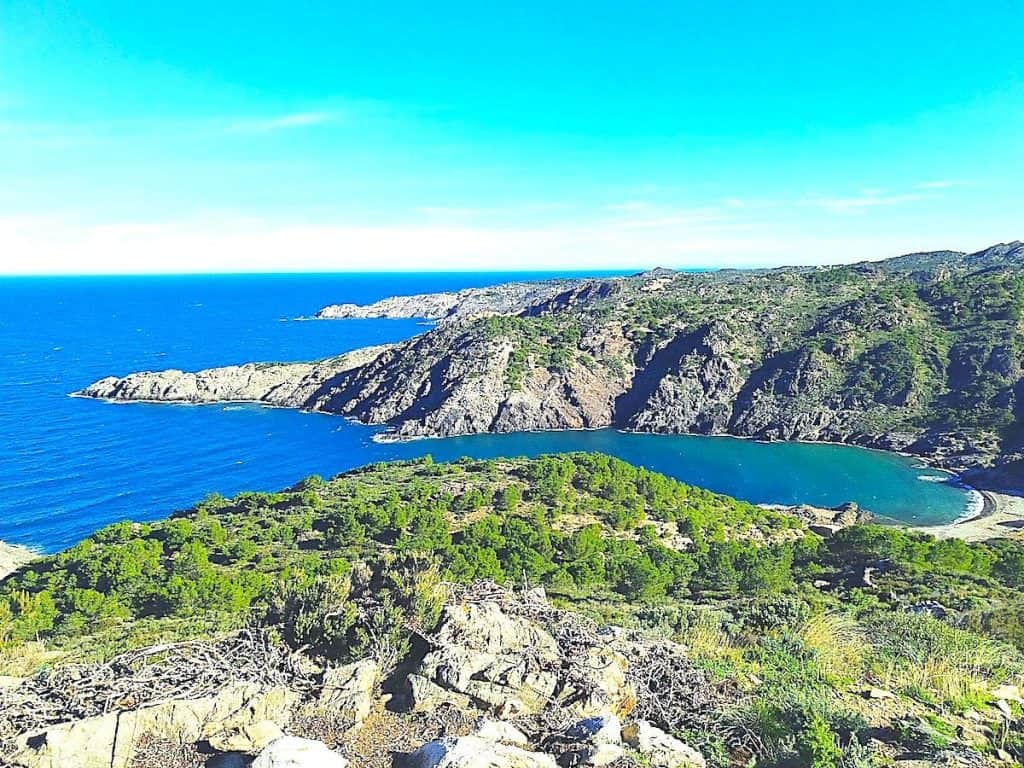 Cala de Vallpresona
This beach belongs to Santa Cristina d'Aro, but it's located far from this town. You'll find it between Sant Feliu de Guíxols and Tossa de Mar. As it's away from any urban centre, it's a great place if you're looking to be alone and enjoy the incredible underwater life. Nudism is a common practice there.
The beach has stones both in the land and the seabed. We recommend you wear booties as the rocks are covered with algae, and it's easy to slip.
How to get to Cala de Vallpersona
To get to this cove, follow the road GIV-682, which links Tossa de Mar and Sant Feliu de Guíxols. Stop at the km 34, where you'll see a sign indicating "Platja de Vallpersona". You can park the car at the same spot where the sign is. Once there, you'll have to descend through a lush forest for 15 min until getting to the cove.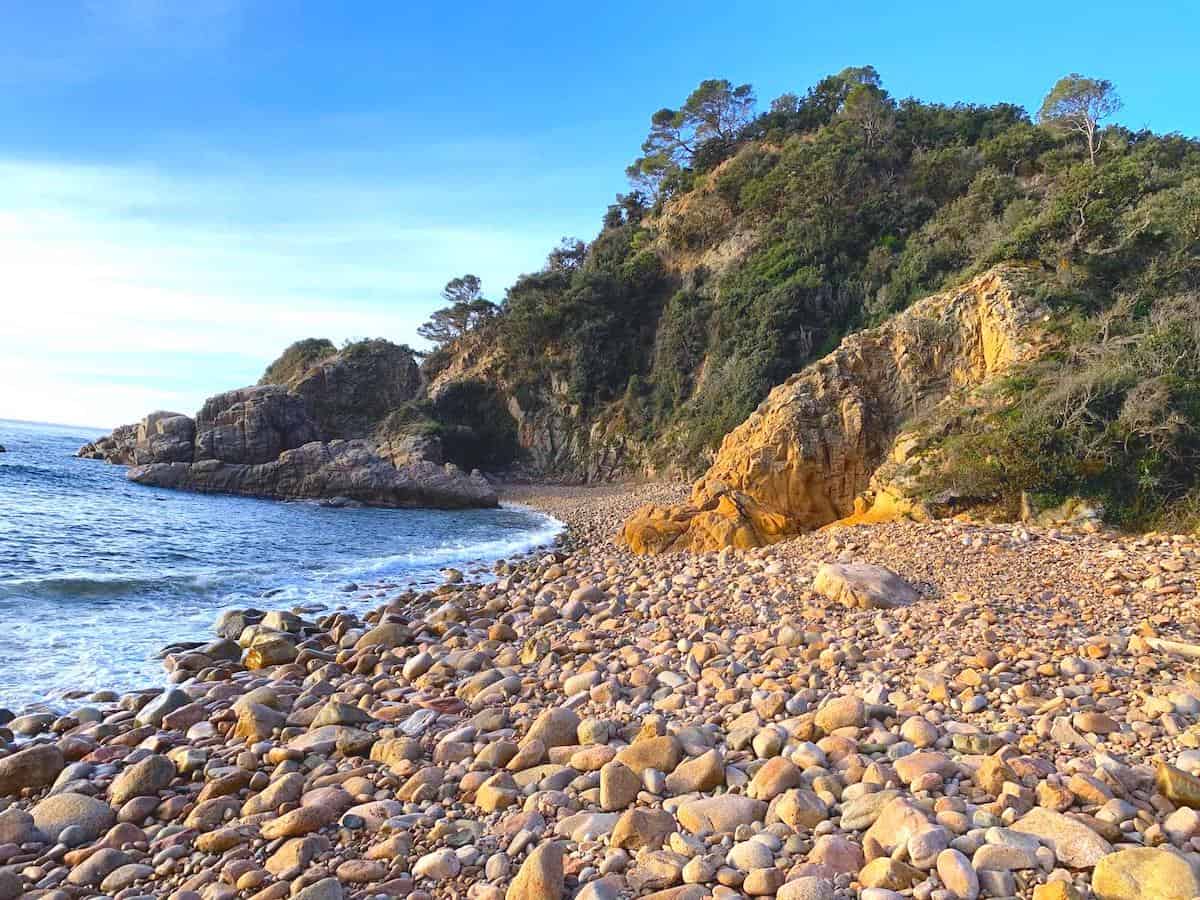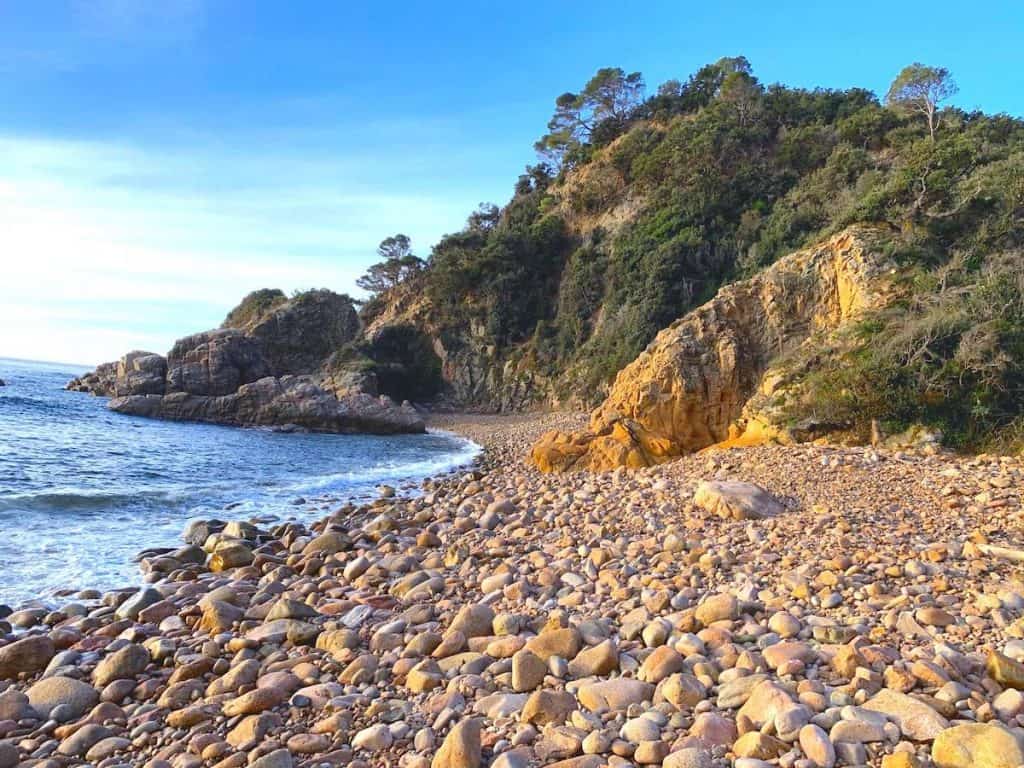 We've marked the different coves on this map (in green), so it's easier for you to locate them:
We're sure some other coves are also quite empty during the peak months, especially in the area of El Cap de Creus. Also, most of the coves we've mentioned have similar ones nearby, which you can access following the Camí de Ronda. Do you know any other deserted beaches in the Costa Brava?
---
More things to do in the Costa Brava
We've written several posts with adventures to do in the area. Here are some suggestions: