Perched on a hilltop stands the little village of Pals, which has kept its medieval look so well that a trip there is like travelling back in time!
Pals is home to beautiful medieval architecture, terraces to enjoy dinners alfresco, and endless hiking and cycling opportunities with both mountain and sea views. We're sure this little piece of the Costa Brava will captivate you with its stone houses, rice fields, and relaxed vibe.
Here, we'll tell you when it's the best time to visit it (spoiler: not summer!), where you can eat, and what you can do to explore Pals like a local. Ready to discover this charming village and its surroundings? Keep scrolling!
What to do in Pals
Explore the medieval streets of Pals
You don't need any map to walk around Pals because getting lost is the best way to discover this little village! Strolling around the medieval centre of Pals means discovering surprising details and architectural features in unexpected places. Maybe you find a door smiling at you on your next turn or a pretty corner decorated with plants hanging from a stone wall.
One thing that surprised us is how well-preserved this village is. It makes you feel like you've travelled back in time, with its buildings made from stone, picturesque arches, and castle towers.
We later learned that the reason why Pals is so well-preserved is thanks to a local doctor. After the village had been neglected during the Catalan Civil War, he took the lead in its restoration, making it shine again!
Pals' historical buildings
To understand the history of Pals, we must travel back to the 9th century. The first mention of this little village dates back to then. Its thought that its name comes from the Latin 'Palus' (which means marshy ground) because the village was surrounded by ponds and marshes.
In that century, the oldest building still standing was built: the Església de Sant Pere. Yes, you heard it right. This church is more than 1.000 years old (!), yet surprisingly well-preserved. Because it was built and rebuilt over a long period, it mixes several styles, such as the Gothic and the Baroque.
Later, between the 11th and 13th centuries, a castle was built on the top of the mountain where Pals is located. The castle was demolished during the Catalan Civil War. However, one of its towers still stands: the Torre de les Hores (Hours Tower). This is a 15 m tower and one of the village's most scenic buildings.
With the remaining stones of the demolished castled, a fortress wall (muralla) was built around the village in the 14th century. You'll still be able to see 4 towers along the fortress surrounding the historic centre of Pals.
And to finish our journey through history, we must mention that in 1973, Pals was declared a Site of Historical Interest. You'll understand why once you get there!
👌🏼 Our tip
Before starting your walk around the historic centre of Pals, head to Can Malirach and get ice cream! They have curious flavours, such as gazpacho or anchovy, if you dare to try something out of the ordinary. We tried the thyme (farigola) flavour when we were there, and it was surprisingly delicious!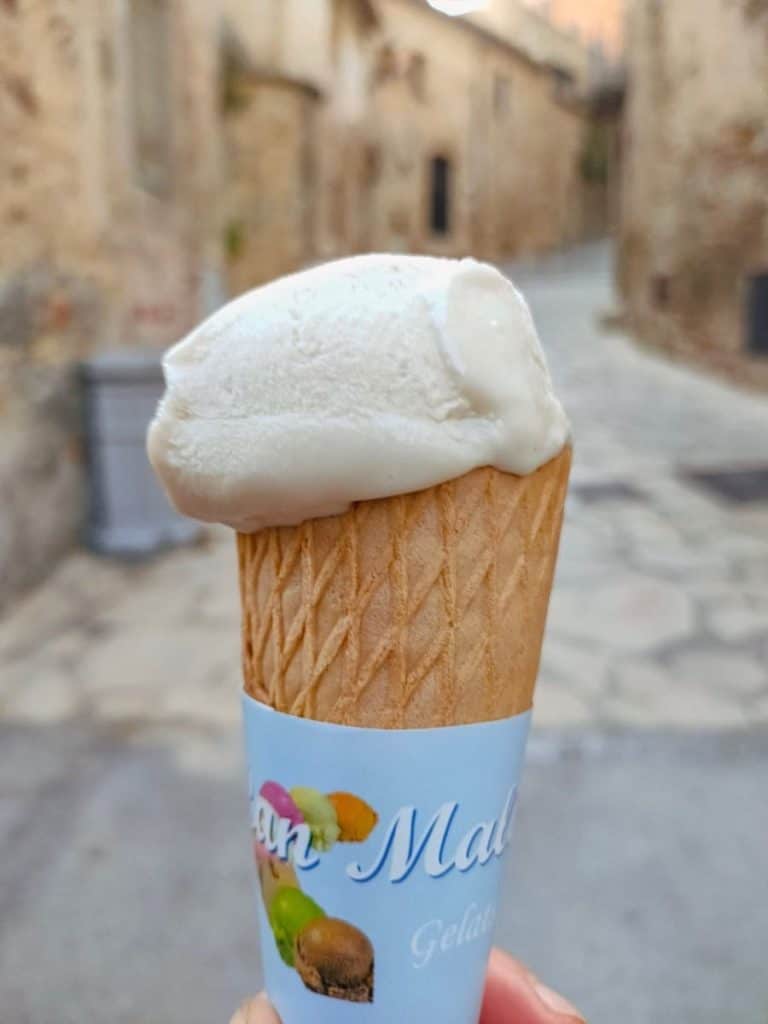 Eat rice!
Rice is the traditional food par excellence of Pals. Farmers have been producing it for almost five centuries and it's considered a top-quality rice – you'll understand when you'll try it!
Traditional rice dishes from the area include the Arròs de Pals a la cassola (the most typical one), a brothy rice served with meat and seafood; and Arròs negre (black rice), cooked with seafood and squid ink.
Getting hungry already? Write the name of those local places down for your next visit:
Vicus:A real Catalonian experience with many ingredients local to the area. They serve Catalan dishes with an innovative twist, and we recommend sharing the plates so you can try everything! The price per person is around 50-70 €.
El Pedró: Right in the heart of the medieval village, you'll find this rustic family-run restaurant. It serves absolutely delicious food presented like a piece of art. The cuisine is local, with dishes traditional from the area, such as rice dishes, meats, and fish. The price per person is around 30-50 €.
Antic Casino Restaurant: Located in the old casino of Pals, this restaurant focuses on Catalan cuisine. They serve top-quality fresh food: vegetables from their garden, local meat, and fish from the market. The price per person is around 30-50 €.
If you're looking for a cheaper (yet great!) meal, head to La Vermuteria de Can Tanet. This is a truly local bar (nothing fancy) with fun and friendly stuff. There, you can enjoy delicious tapes (mussels, fried squid, monkfish, anchovies, etc.) and wines.
⚠️ Important!
If you're staying in Pal during peak season (July and August), make reservations!
Cycle or walk through rice fields
Talking about rice, a great activity to do in Pals is to discover the rice fields surrounding the village. Hop on a bike or strap you walking shoes and explore the trails that take you right through the rice fields. In summer, the fields display an intense green colour, which contrasts with the imposing Montgrí mountain in the background.
You can contact Aliveness Cycling to rent a bike or ask about it in your accommodation.
🧭 Wikiloc track
We suggest two cycling routes depending on the distance you'd like to ride: 50 km or 20 km. If you prefer walking instead of cycling, we recommend following the yellow route on this map.
👌🏼 Our advice
Hungry after a ride? Sit in the peaceful and beautiful yard of Grava Pals and order some tapes to share, burgers, or homemade pizzas. It's an off-the-grid bike cafe, so cyclists are more than welcome! During the year, they organise various events, such as yoga classes or sunset gravel bike rides (info on those on their Instagram).
Enjoy the pleasure of walking in nature
The surroundings of Pals are an excellent area for hiking enthusiasts.
On one side, you can explore the mountain landscape of the Massís del Quermany, a wooded area with a hill that offers fantastic views over Pals, tie rice fields, the Mediterranean sea, and even the Pyrenees! You can find the Wikiloc route here.
On the other side, you can head to the coast and enjoy coastal paths that will take you through crystal-clear coves and lush pine forests. We loved the hike from Pals to Begur and highly recommend it. If you're a snorkelling fan, grab a pair of goggles to explore the seabed!
Soak up beautiful mountain and see views
At the highest point of Pals, you'll find the Josep Pla lookout, named after the famous Catalan writer who described Pals like this: "Pals is good not for one but a hundred visits".
Expect panoramic views of various mountain ranges, the Mediterranean sea, and the Medes Islands. For an even more unique experience, grab an ice cream or a picnic and head there at sunset.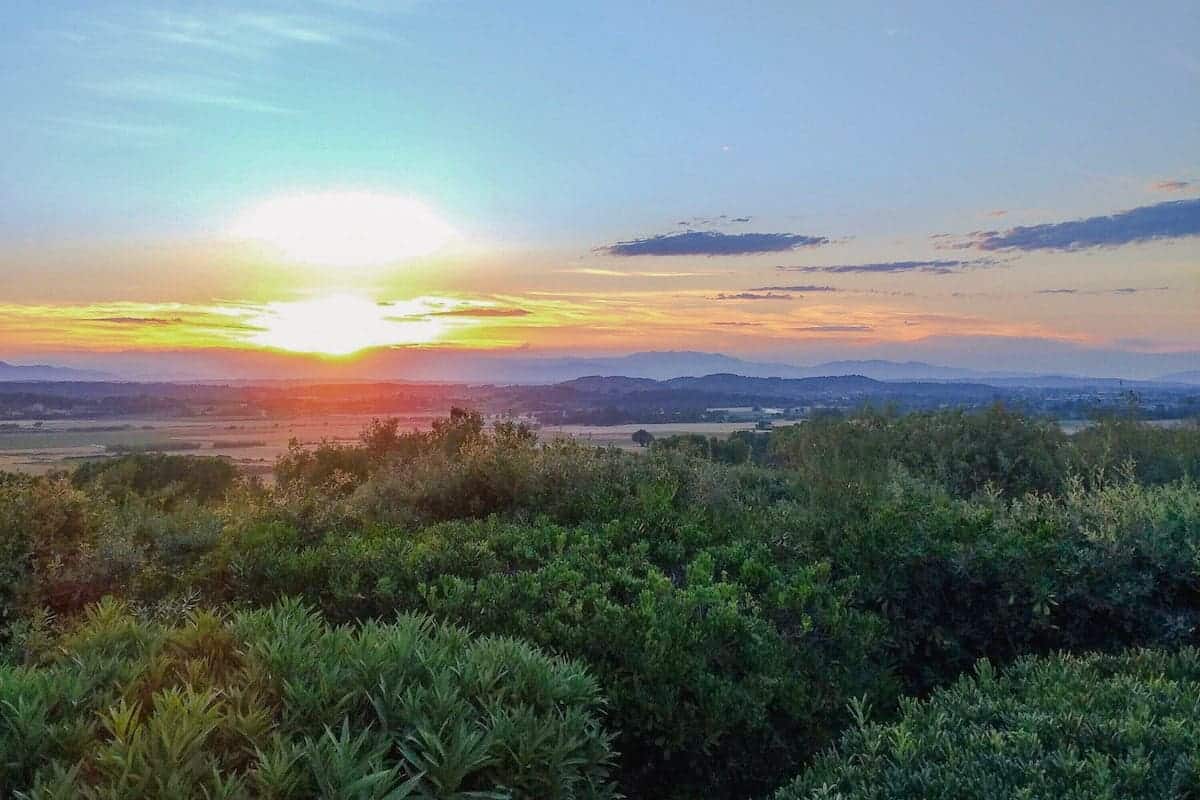 Go to the beach
Although Pals is not a beach town, the closest beach is just 3 km from the village. Bonus points of this beach? It's sandy, unlike many of the rocky coves in the Costa Brava, and it's one of the longest in the region!
Grab your towel and sunscreen (always reef-friendly!) and head to the Platja de Pals to sunbathe, chill, and enjoy the views.
Not a fan of lying under the sun? Neither are we! A great thing to do instead is to go for a walk. This beach is part of a natural park, making it a great spot to walk along protected dunes, wetlands and rice fields.
Take a look at the local market
If you happen to be in Pals on a Tuesday morning, you can take a walk around the market from 8 am to 1 pm. There, you can find products from our gastronomy, such as local cheeses, olive oil, or vegetables. Vendors also sell plants, clothes, and other accessories.
There is also a flea market in the village centre on Saturdays.
Things to know before visiting Pals
The village isn't huge
You can visit Pals in less than 2 hours. This is why many tourists make Pals a stop in their Costa Brava trip for just a morning and then leave. But we believe that Pals is perfect for those who love travelling at a slower pace, soaking up the beauty of a region and exploring it in depth.
Even though you can explore the medieval centre of the village in just one morning, you can't soak up all this village has to offer in such a short time. The best way to experience life in Pals is by sitting on a terrace with a cold beer, enjoying some tapes, hiking or cycling around, and eating a delicious dinner al fresco.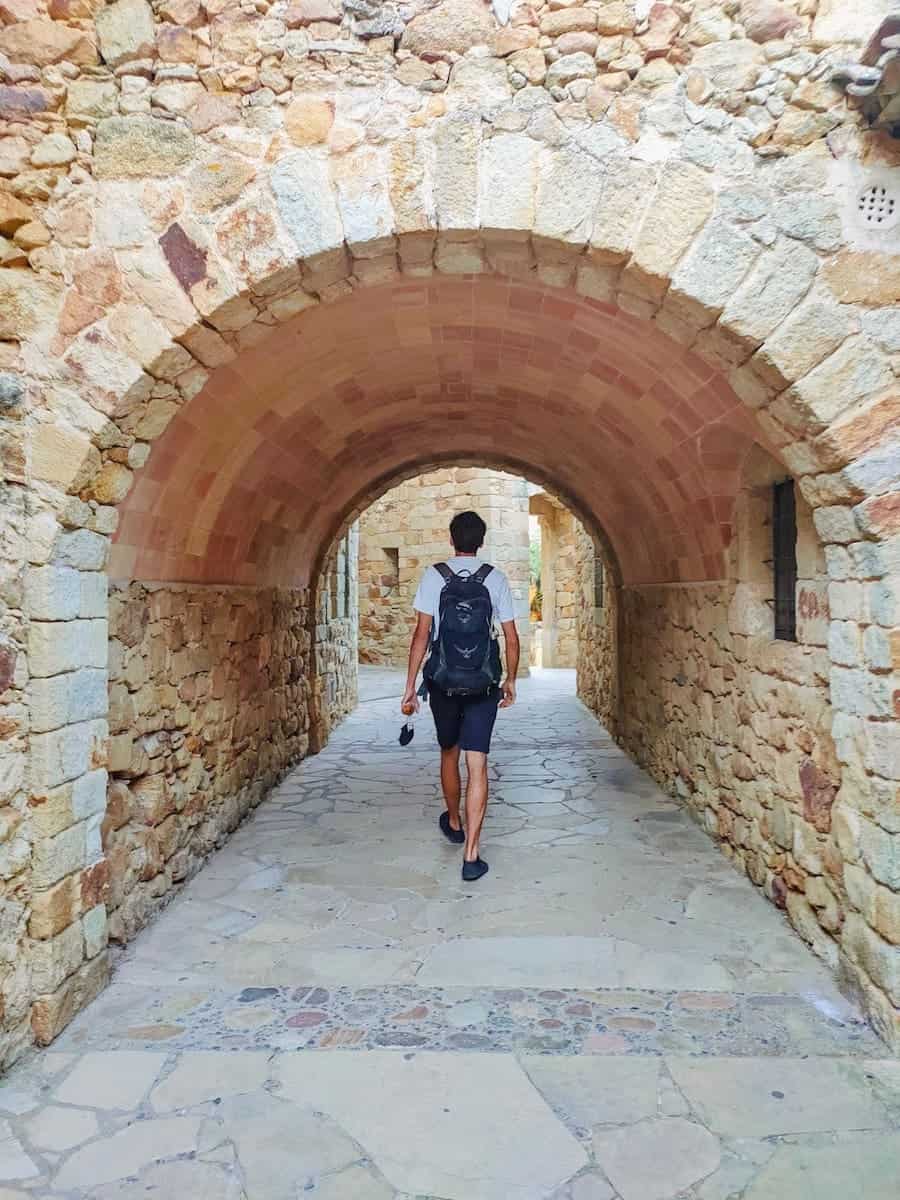 It gets busy in summer
We're sure you know that Costa Brava is a popular destination in summer, and Pals is no exception. Locals looking to escape the city and enjoy the coast head there, as well as travellers looking for sun, good food, and beautiful landscapes. In short, this means crowded beaches and villages.
We can't recommend it enough if you can go there outside the peak season. Pals become much quieter, and you'll be able to experience the local's life without the tourist crowds running around. Also, booking hotels and restaurants won't be as stressful as in the summer months, and you won't need to do it months in advance.
It was home to a radio station run by the CIA
That's not something you strictly need to know before visiting Pals, but we found it so fascinating that we had to share it!
For years, when you visited the beach of Pals, you'd see several large red and white radio antennas. Those were part of the skyline of the Costa Brava for a long time, from 1959 to 2005, and its history is quite surprising.
The radio station, known as Radio Liberty, was built at the height of the Cold War to broadcast content from the US to communist countries. Financed by the CIA, it was the most powerful radio station in the world for a long time!
With the fall of the Iron Curtain, the Amercians didn't need the station anymore. However, it continued to operate until May 2001. In 2006, the symbolic towers were finally dynamited, and the rest of the buildings were abandoned.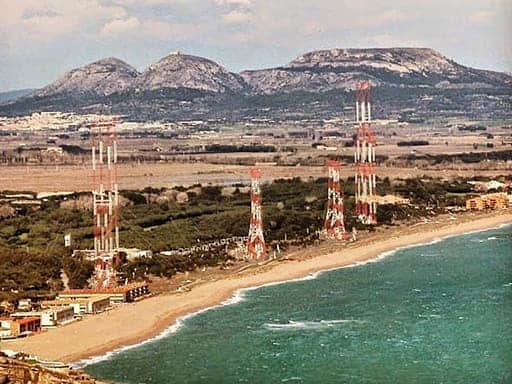 The only cool thing that has happened in this area since the demolishment of the towerd was the painting of an incredible mural on the rooftop of the abandoned radio station by a famous Spanish urban artist, Marina Capdevila. A true piece of art!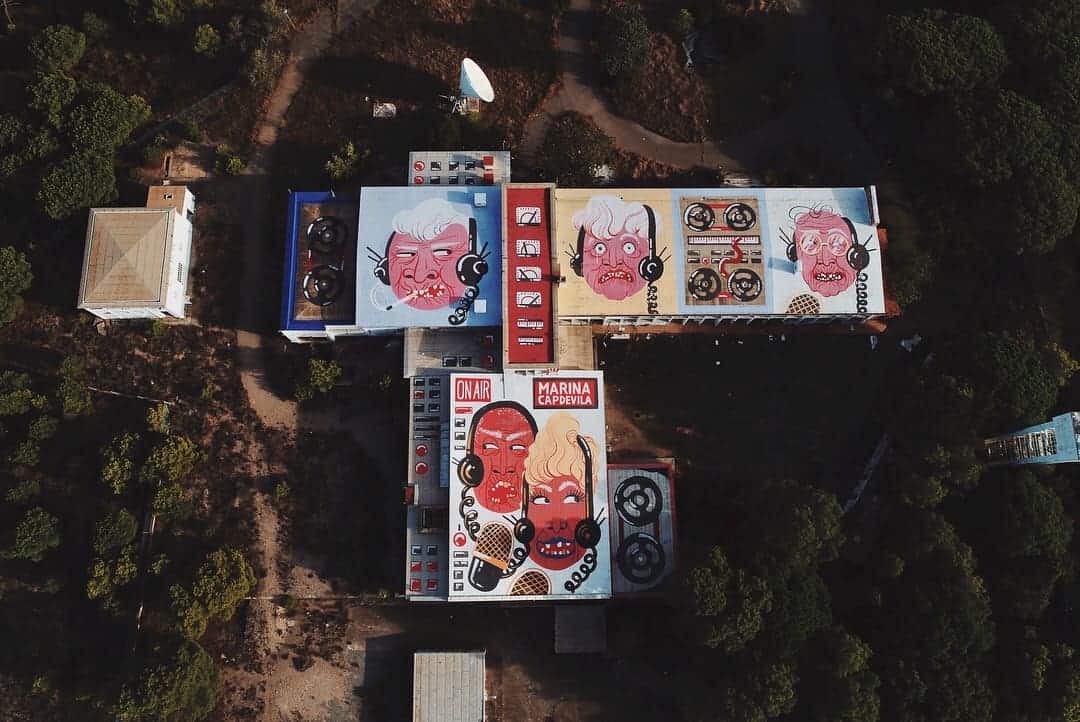 Where to sleep in Pals
Pals offer a wide range of accommodations, both in the medieval village centre and on the village's outskirts.
If you're looking to stay in the centre, you won't get wrong with Arkhé Hotel Boutique. It's a lovely hotel boutique with an outstanding décor and perfectly located. Their plant-based breakfasts, prepared by a conscious nutritionist, are from another world!
On the outskirts, Mas Ferran is a restored adults-only old house with an outdoor pool and offering bike rental. Another option is Ses Garites, a traditional stone house set on the foothills of a mountain range. It also has an outdoor pool and offers bike rental.
Travelling with your family or a group and prefer staying in an apartment? Can Zoilo can accommodate up to 6 adults and you'll find it tucked between medieval streets.
Another option is the beautiful La Pallissa, which has room for 9 people and features a garden and a patio.
Walking distance from the medieval centre of Pals, you can find the Masia Rural Can Poch, a rural house with an outdoor pool surrounded by gardens.
When is the best time to go to Pals
As we mentioned, July and August are the busiest and hottest months, so we recommend avoiding them. Temperatures rarely go below the 24 ºC between 12 pm and 6 pm, so you'll surely be sweating buckets if you're up for a ride or a hike!
Instead, May, June, and September are lovely months. You can enjoy a swim at the beach and visit everything without the crowds.
If you're there for hiking or cycling, spring and autumn are great times because temperatures rarely go below 11 ºC.
Winter is also a nice time to visit as it is much quieter (and warmer than many places!). However, check in advance if restaurants and accommodations are open because some take January and February as time off.
Events in Pals
Plantada tradicional de l'arròs (Rice sowing)
Pals has a long tradition of rice cultivation, and you can get a sneak peek of it in June during the rice sowing. The local farmers show how people in Pals used to plant rice before the invention of machinery, with their feet submerged in the water and backs bent.
This demonstration is followed by a local breakfast and several activities focussing on rice farming and rural life .
Nit de les Espelmes (The Night of the Candles)
If Pals is already a magic place, imagine how it would be with all the lights turned off and the streets illuminated only by candlelight. Well, that's exactly what happens in the Nit de les Espelmes in July!
More than 20.000 candles are lit to transform Pals into a village straight out of a fairytale. As a bonus, artists come from all over the world to add a soundtrack to this unique event.
White Summer Festival
Do you like pop-up markets, food trucks, and live music? Cause this is precisely what the White Summer Festival is about.
Imagine a rural house located 5 km from Pals that, during August, transforms into a summer festival for people of any age to enjoy. You'll find local artisan brands, night concerts, entertainment for kids, and various gastronomic options to spend a unique and different evening.
As you can imagine, this festival is quite popular and gets pretty crowded, especially at weekends. So, if you can go mid-week, we bet you'll enjoy it better!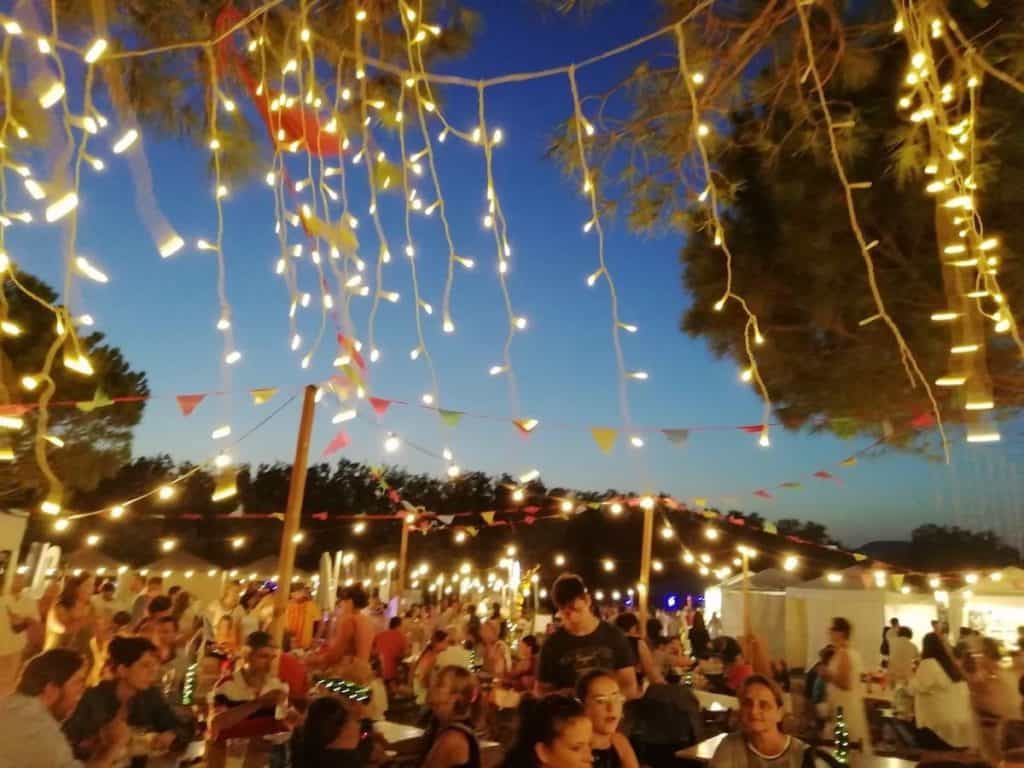 Fira de Vins i Caves de Catalunya (Catalonia's wine and cava fair)
The White Summer Festival isn't the only thing happening in August in Pals. If you're there at the end of the month, you'll be able to enjoy an excellent gastronomic event: a wine, cava, and cheese tasting. Sounds delicious, huh?!
This fair takes place in the courtyard of the Ca La Pruna building, where you can discover and taste local wines and artisan cheeses from the area.
How to get to Pals
🚗 By car
The easiest and fastest way to reach Pals from Barcelona is by car. It takes 1 h and 36 min. From Girona, it takes only 50 min.
If you're considering visiting only the Costa Brava during your trip, you can check if there are flights to the airport in Girona instead of the one in Barcelona.
🚎 By bus
Three daily buses run from the Estació del Nord (Barcelona) to Pals. The journey takes 2 h and 35 min and costs around 22 € per person. To check the schedule and buy the tickets, select Pals Marquesina as a destination.
There are also two buses from the Barcelona airport (both terminals T1 and T2) to Pals daily. Same as before, to check the schedule and buy the tickets, select Pals Marquesina as a destination.
From Girona, there is one bus a day going to Pals.
🚆 By train
The village of Pals doesn't have a train, making it the most tedious option. Still, you can catch the train from Barcelona to Girona and then take the bus we mentioned above from Girona to Pals.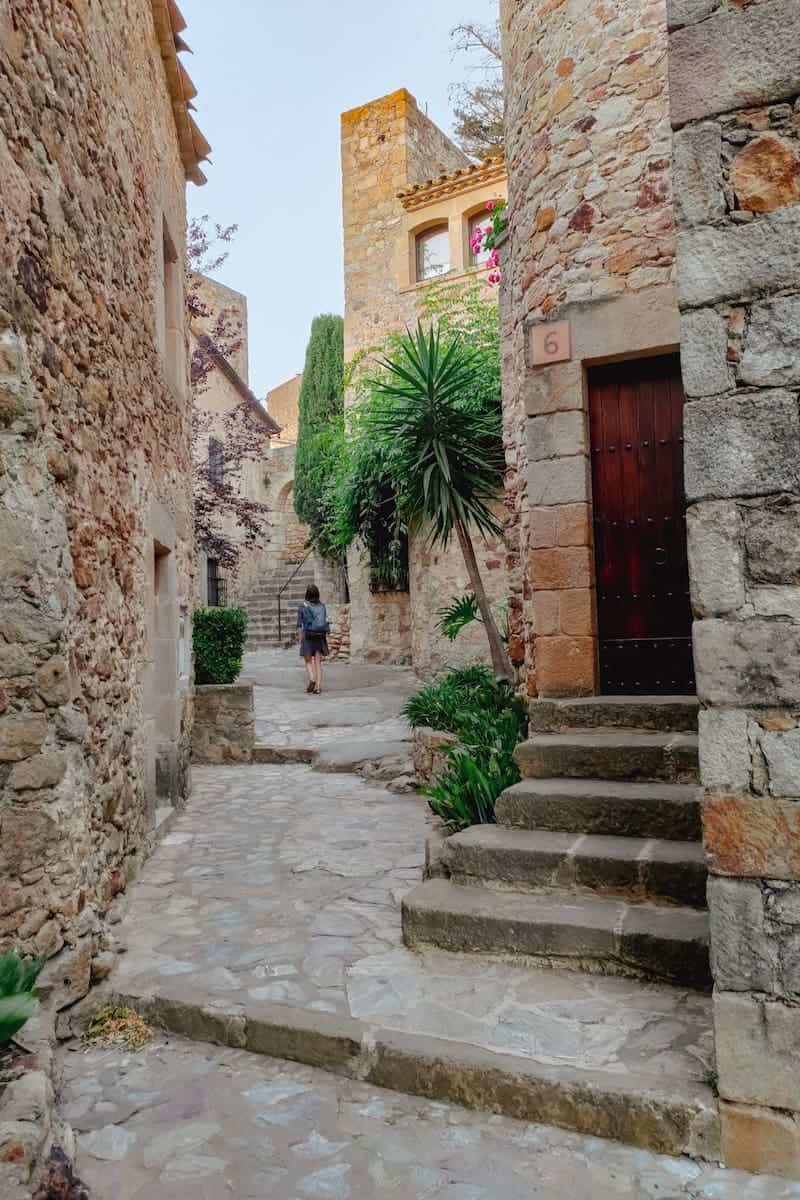 We hope that with this guide you can explore Pals like a local. If you end up going, we'd love to hear about your trip in the comments!
---
Visiting the Costa Brava?
Then, read our "Things to know before visiting the Costa Brava" guide! We explain everything you need to know to plan your next visit to this beautiful region and our tips to explore it like a local.