July is all about living life outdoors! It's the time to enjoy drinks on a terrace, listen to live music outside, hike in the mountains, and hit the beach.
Temperatures are hot, days are long, and the Mediterranean Sea is warm. Overall, it's an excellent month for water sports and outdoor adventures.
The only downside is that the fantastic weather is a magnet for visitors from all over the world, so you'll likely find big crowds at most of the famous tourist landmarks. Also, the hotel and flight fares are higher.
But don't let this stop you from coming! A lot is happening in the country in July, from an outdoor cinema in a castle to a unique international firework competition.
Ready to discover more? Here's a rundown of plans to do in Catalonia in July.
The weather in Catalonia in July
Together with August, July is the hottest month in Catalonia. This means plenty of sunshine, high temperatures, and the need to look for shade when the heat becomes unbearable!
It's this time of the year when even nights get sticky (especially on the coast), so be sure to book accommodation with a fan or air-con.
🌡 Temperatures
The temperatures vary depending on the area of Catalonia you're visiting.
On the coast, the average high in July is approx. 29ºC (84ºF), although temperatures can rise as high as 35°C (95ºF)! As you can imagine, you'll be looking for shade or the sea to cool down.
We recommend avoiding high-intensity activities from 12 to 3 pm when the sun hits hard. The best time to do them is early morning or late afternoon.
Take plenty of water and sunscreen when you head out to explore!
Day temperatures are even hotter in the west and centre of Catalonia, with an average of 31ºC (87ºF). However, they lower more drastically at nighttime.
If you want to escape the heat, your best bet is to head to the Pyrenees or the picturesque Val d'Aran. In the mountains, temperatures are slightly lower, especially at night when the average low is around 12ºC (53ºF).
You can check the weather on your phone's app (we usually use Google Weather) or Accuweather.
🌊 Sea temperature
July is an ideal month to practise all kinds of water sports as the sea's temperature is a pleasant 23ºC (73ºF).
This can change if you go to Costa Brava, where the sea temperature is usually slightly colder but still nice and pleasant (especially with the 30ºC / 86ºF outside!).
🌦 Weather
Sun, sun, and…more sun! We're lucky sunny days are the norm in most parts of Catalonia in July.
☔️ Rain
There are, on average, two rainy days in July on the coast and the centre and west of Catalonia. So the chances of rain ruining your vacation are extremely low!
In the mountains, the average gets up to 7 days, so rainfall could be on the cards. We highly recommend carrying your rain gear with you during your trip, so you can keep exploring without getting soaked!
☀️ Hours of light
There are 15 hours of light a day in Catalonia in July, meaning plenty of time for outdoor activities and exploring around!
Sunrise happens around 6:20 am at the beginning of the month and 6:40 am at the end. If you're staying at the coast and want to catch a beautiful sunrise over the sea, you better set your alarm early!
Sunset, on the other hand, happens after 9:15 pm. Yes, it's that wonderful time of the year when you can enjoy dinners outside, and it's still bright.
What to pack for a trip to Catalonia in July
The first thing you should throw in your suitcase is some factor 50 (reef-friendly please!).
👙 Clothing
Expect to go around in a T-shirt and shorts and wear your swimsuit a lot. You'll need very little in the way of long sleeves and trousers, although a thin jacket might come in handy if it gets fresher than expected in the evening.
If you're going to the mountains, don't forget a water/windproof jacket and at least one warm top layer. We also advise you to pack a pair of trousers at least, not only shorts.
🩴 Footwear
Regarding shoes, you'll spend most of the day in your sandals. Water shoes might come in handy if you plan to explore the coast.
If you include hiking in your trip's plans, don't forget to have a pair of hiking shoes that are breathable and not too warm.
Always remember to bring comfy shoes!
What's on in Catalonia in July
European Balloon Festival (6th to 9th July)
Do you have in mind the photos of Cappadocia with tens of hot air balloons?
Well, you can experience something similar an hour from Barcelona!
From the 5th to the 9th of July, the largest international balloon meeting in Spain takes place in Igualada. This festival has been around for quite a while, since 1997, and it has become a renowned competition at the European level.
Throughout the festival, you can admire over 50 balloons flying, take a balloon flight, and enjoy concerts and the festive atmosphere.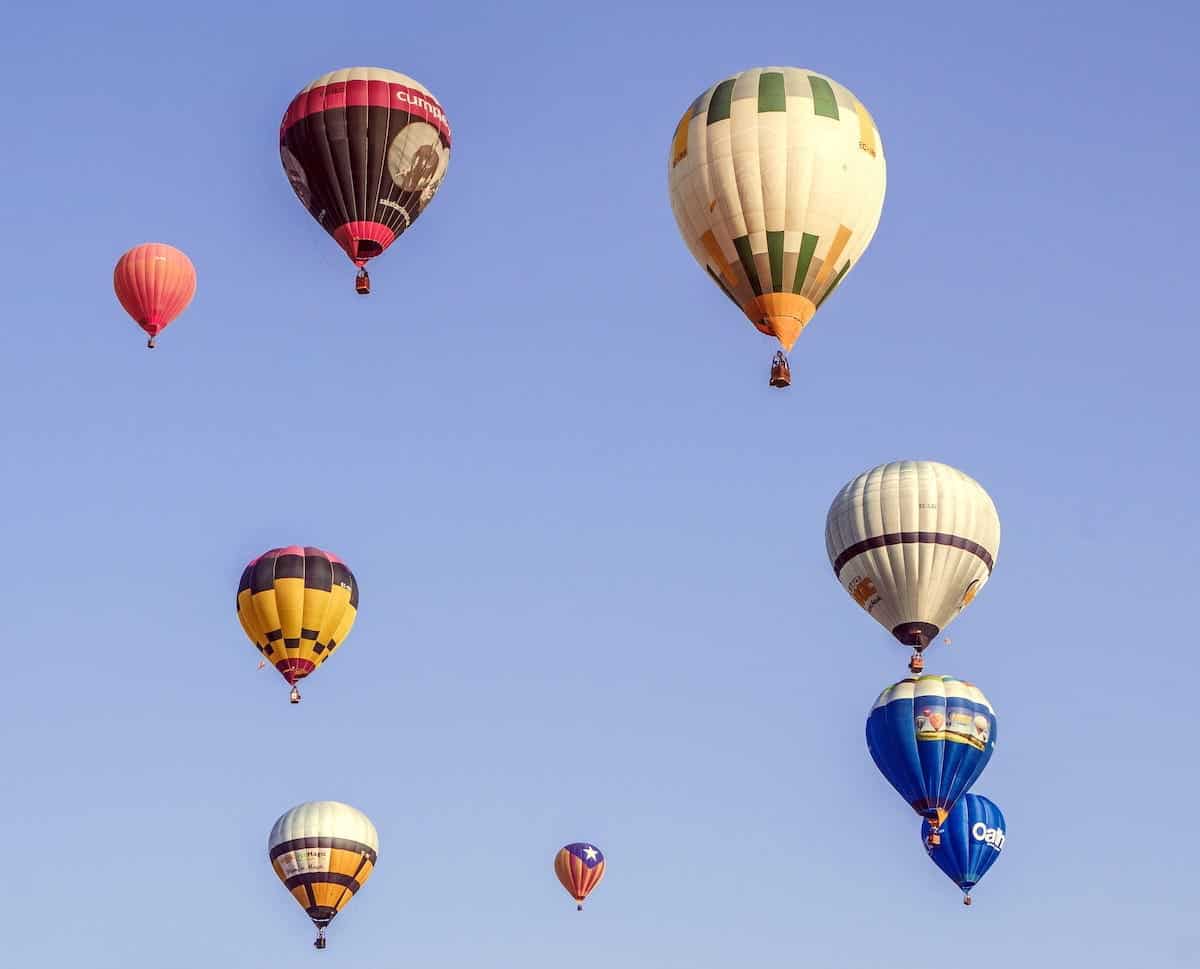 Listen to live music in a traditional house (11th to 20th July)
If you happen to be in Barcelona on the 11th, 13th, 18th, or 20th of July, you are lucky because Vespres de la UB takes place on those dates!
It's a series of live music concerts in one of Barcelona's most beautiful and lesser-known locations: Finca Agustí Pedro i Pons. It's a traditional house from the 15th century, surrounded by gardens and impressive city views.
The ticket only costs 5 € and includes a drink.
Run the toughest marathon in the Pyrenees (15th July)
Up for a challenge? If trail running and marathons are your jam, we're sure you'll enjoy the Trail Vielha Molieres 3010.
42 km across the picturesque Val d'Aran region, during which you'll climb a 3010 m high peak, run through alpine meadows, and pass by stunning lakes and waterfalls.
And why is this race the toughest? For starters, it has a vertical km during the first 6 km of the race. Then, the whole race takes place above 2000 m of altitude. And if this wasn't enough, the elevation gain is 4200 m!!
We ran it in 2019, and although we suffered a lot, we keep a remarkable memory of the race. The landscapes are mind-blowing, the atmosphere is great, and it's an excellent excuse to visit one of Catalonia's most beautiful (and less explored) regions.
If you're thinking about it but not 100% sure, check our experience here 👇🏻
Listen to music by candlelight (15th July)
The village of Pals organises a special night in mid-July known as the Nit d'Espelmes (Candle Night). As its name implies, the occasion involves a lot of candles, precisely more than 10.000!
All the lights in the villages are turned off and replaced by candlelight, giving the architectural beauty of Pals a magical atmosphere. And to make it all more memorable, you only need to add the sound of the music that artists from all over will be performing on the streets.
Dance all night at a music festival
July is one of the biggest months of outdoor music events in Spain, and Barcelona and Catalonia are no different. The country's agenda is packed with different festivals for every taste, style, and budget. The most important ones are:
Festival Cruïlla (Barcelona, 5th to 8th July)
Cruïlla is the perfect plan to party in the capital during early July. This renowned music festival goes over four summer days, with artists playing everything from world music to electronic — it's actually the festival with the broadest appeal in the city.
Get ready to rock out to international artists in the Parc del Forum, a concrete arena facing the sea with great connections to the city centre.
Alt-J, Franz Ferdinand and Parov Stelar are just three of the headliners for this year.
ALMA Festival Jardins de Pedrables (Barcelona, 11th to 27th July)
If you're not into seeing drunk kids and standing up all night, you'll be happy to know there's a more refined festival in Barcelona this month.
Festival de Pedralbes is an evening concert series spanning throughout the month rather than an actual festival. It features many local and internationally known artists, like LP, Bastille, Balkan Paradise Orchestra, and the local Guitarricadelafuente.
The festival has a new location for this year's edition: Poble Espanyol.
Cap Roig Festival (Costa Brava, 14th July to 19th Aug)
The setting for this festival is unbeatable: an open-air stage in the Cap Roig castle and botanical gardens, one of the most renowned botanical gardens in the Mediterranean. If that wasn't enough, the botanical gardens are in front of the sea!
So, if you spend some days in the Costa Brava, the Cap Roig Festival is a great plan. It takes place during July and August, with one concert on each date.
The music is diverse, featuring international artists like Mika and Damien Rice and local musicians such as Lola Índigo and Stay Homas.
Festival de Cambrils (Costa Daurada, 28th July to 6th Aug)
Festival de Cambrils takes place in the beautiful coastal town of Cambrils, located in Costa Daurada.
If you're up for discovering great local musicians, this is the place! We recommend Stay Homas, three roommates that created a group as a result of the lockdown (their music is so uplifting!); Els Amics de les Arts, a much-beloved Catalan group; or Miki Nuñez if you're more into romantic music.
Enjoy a concert in one of Gaudí's buildings
This is a unique plan for summer nights! If you're visiting Barcelona in July, we couldn't recommend you enough to book tickets to enjoy a concert on a rooftop while the sun sets in the background. And if this doesn't sound appealing enough, let us tell you that the rooftops are in the Casa Batlló and La Pedrera, two of Gaudí's architectural jewels!
In Casa Batlló, the experience starts with a visit, where you'll get to know the history of Gaudí and all the details of the building (it's the same as the day visit). You'll be given headsets (to hear the explanations) and can go at your own pace. The visit finishes at the rooftop, where you'll get a drink and enjoy the concert of choice that night. There are concerts every day at 9 pm.
In La Pedrera, you don't visit the whole building, only the attic. Although this might seem like a downside, the good thing is that tickets are much cheaper. After the visit, it's time to enjoy the jazz concert of choice on the rooftop. The concerts are on Thursdays and Fridays at 8 pm.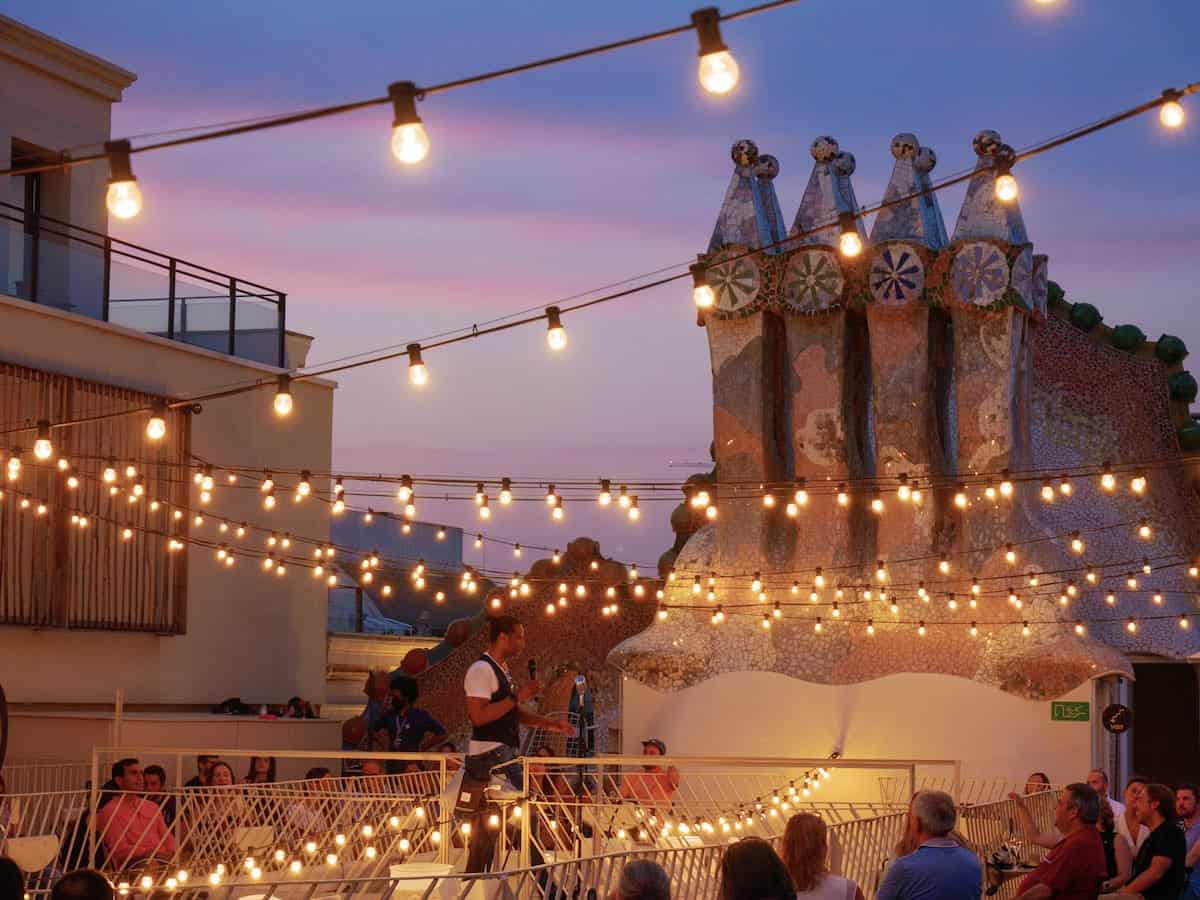 Admire a firework display (21st, 22nd, and 24th-26th July)
How does sitting at the beach and eating a picnic while watching fireworks sound? Well, it's not difficult to make it happen!
Each July, you can admire an International Fireworks Competition in the coastal city of Blanes (Costa Brava). This year's one is the 51st edition and, as usual, comes with five incredible firework displays happening on the 21st, 22nd, 24th, 25th, and 26th of July at 10:30 pm.
Also, the firework competition occurs at the same time as the Festa Major de Blanes. This street party includes open-air concerts and correfocs (fire runs).
It's usually pretty crowded, so we recommend going to Blanes by train, not by car. There's a direct train from Barcelona that takes 1 h 20 min.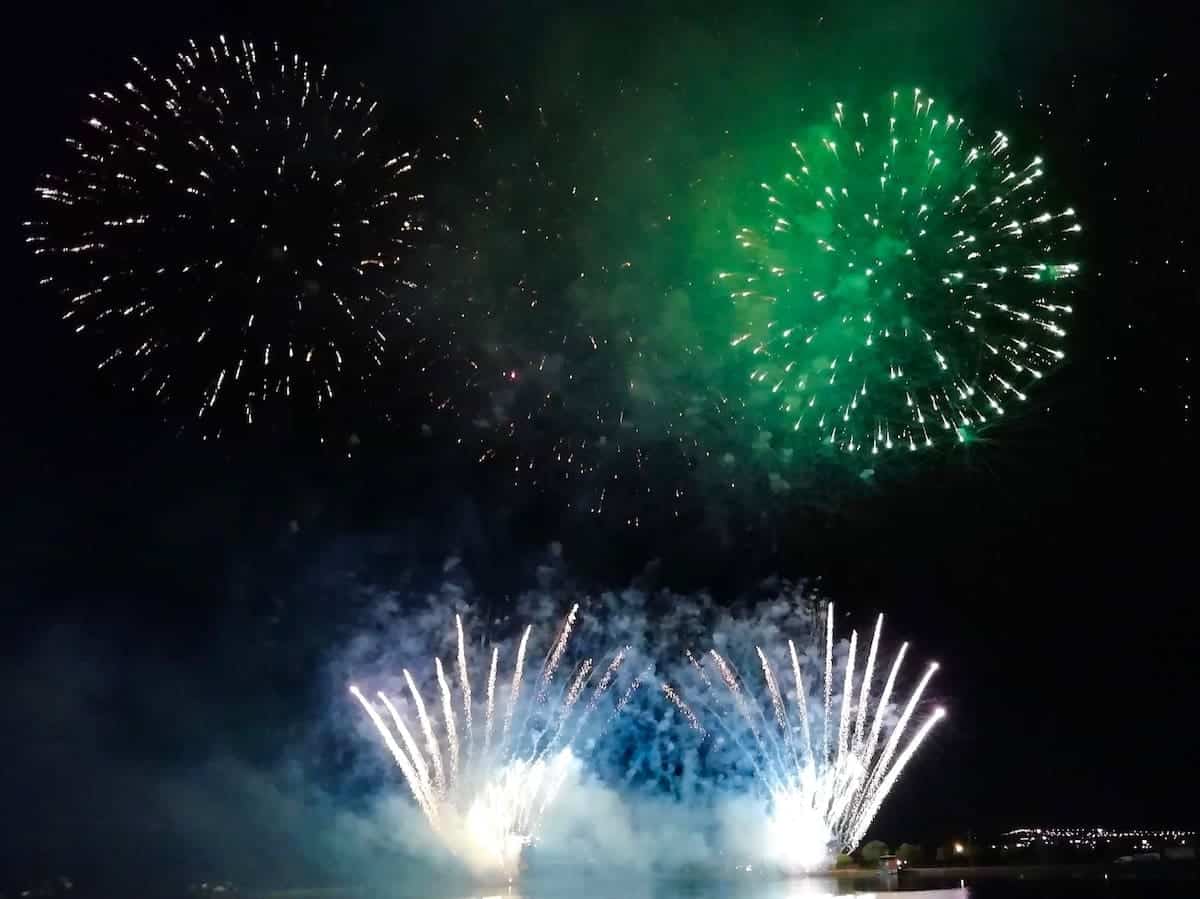 Lay back and soak up a movie in Montjuïc castle's garden (30th June to 4th Aug)
And while we're talking about cinemas, here's another cinema experience! This one is for summer nights only and includes a picnic, live music, and a movie under the stars.
Sala Montjuïc is an open-air cinema that sets up camp every July and August in an incredible setting, within the walls of the 17th century famous Monjuïc Castle. The program tends to keep things pretty current, so expect to see big releases from the past year or two. All movies are in original version with Spanish subtitles. Also, there's a small concert on the stage before the movie starts.
When it comes to food, you are welcome to bring your own. Get as creative as you want; the sky is the limit! Think about crackers, dips, a fruit platter, or cava to celebrate the occasion! If you don't feel like going to the supermarket, you can pick something up from one of the food stalls.
Tickets tend to sell out, so make sure you check early on for your travel dates to see if you can snag any.
👌🏼 Our tip
It gets pretty chilly and windy at night at Montjuïc, so we recommend you bring a jacket or blanket.
Have dinner under the stars
Eating out is always nice. But eating out in a space observatory? Wow, that is a thousand times nicer!
During the summer, the Fabra Observatory organises a gourmet dinner experience combining food and astronomy.
It starts with a dinner made with locally-sourced ingredients served at dusk on the observatory's terrace. Later, you enter the observatory for a guided visit. Under the dome, you can observe far stars, planets, and constellations through one of Europe's largest and oldest telescopes.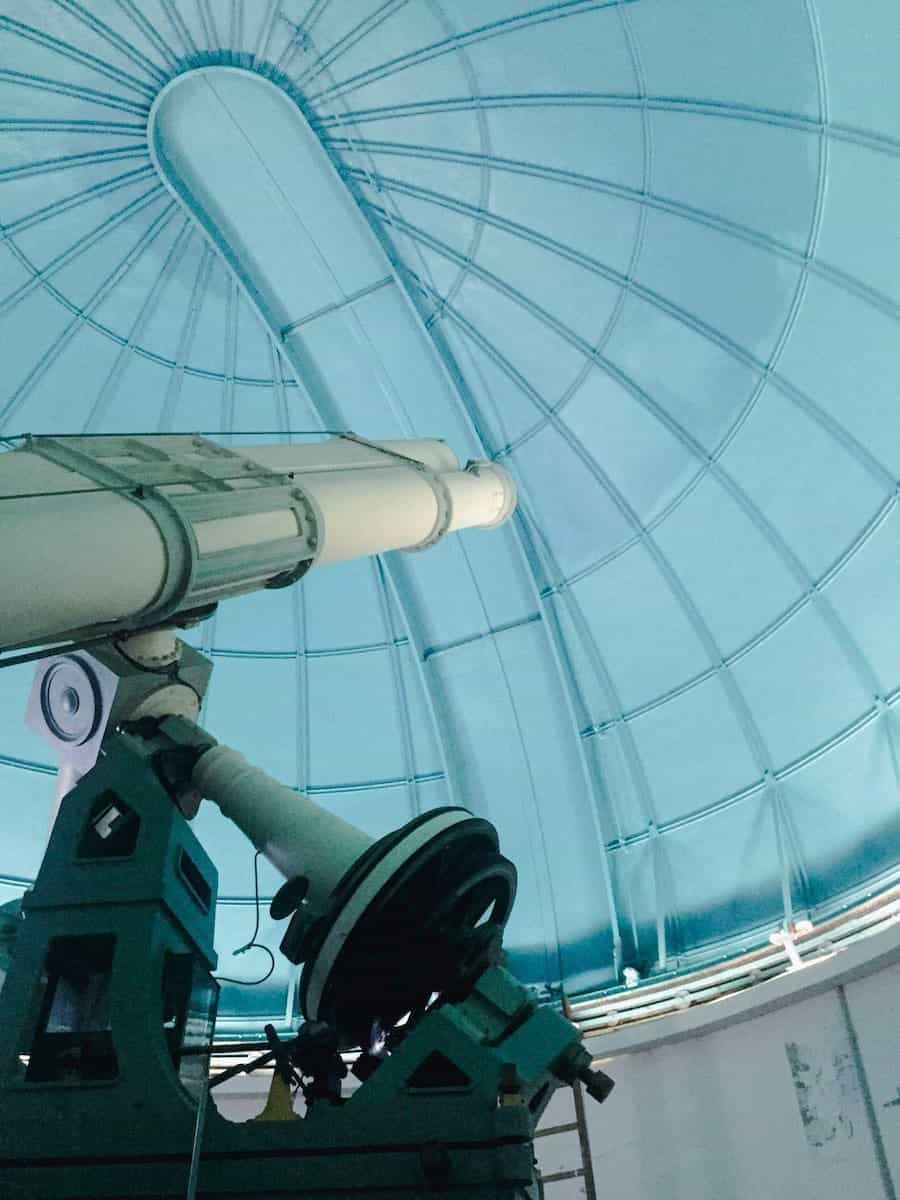 Scuba dive and explore Catalonia's seabed
Warm temperatures mean it's time to jump into the sea!
If you're up for a diving adventure, Catalonia is home to some of the best diving spots in the Mediterranean. An example is the famous Medes Islands, where you can spot giant groupers and red coral.
On the Catalan coast, you'll often find excellent visibility and relatively good water temperatures, and you'll discover thriving marine life, underwater tunnels and caves, and wrecks with a lot of history.
If you want to discover more diving spots nearby Barcelona, check out this guide. If you're spending your holidays in the Costa Brava and would like to go for a dive, we've also written a guide covering the top spots in the area.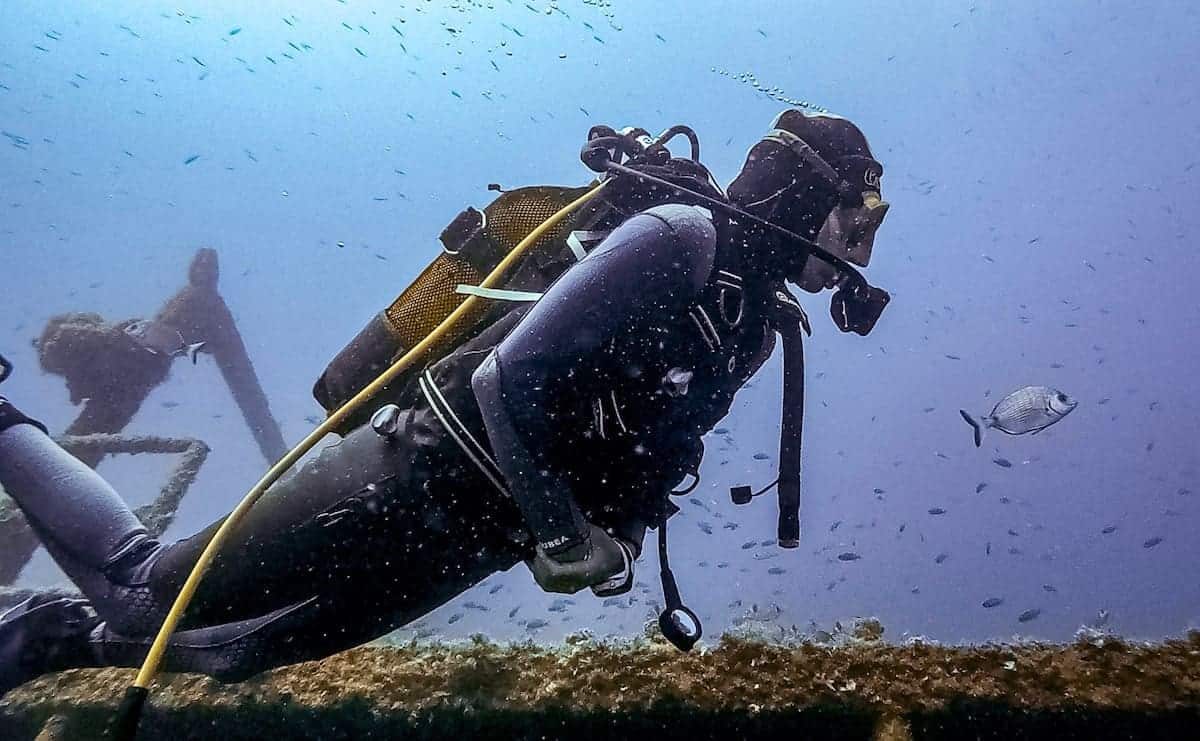 Go hut-to-hut hiking in the Pyrenees
July is an ideal month to go hiking in the Pyrenees: the temperatures are warm, the landscape is green, and the huts are not as crowded as in August. All in all, you're set to have a wonderful time exploring the mountains!
Luckily, we have a vast network of mountain huts in the Pyrenees, with several routes linking them. Each year, we try one of them, and we always end up surprised about the stunning landscapes in the Pyrenees and how much they vary in a few km distances.
Check out our hut-to-hut hiking guide to find the one that better suits your fitness level, taste, and needs.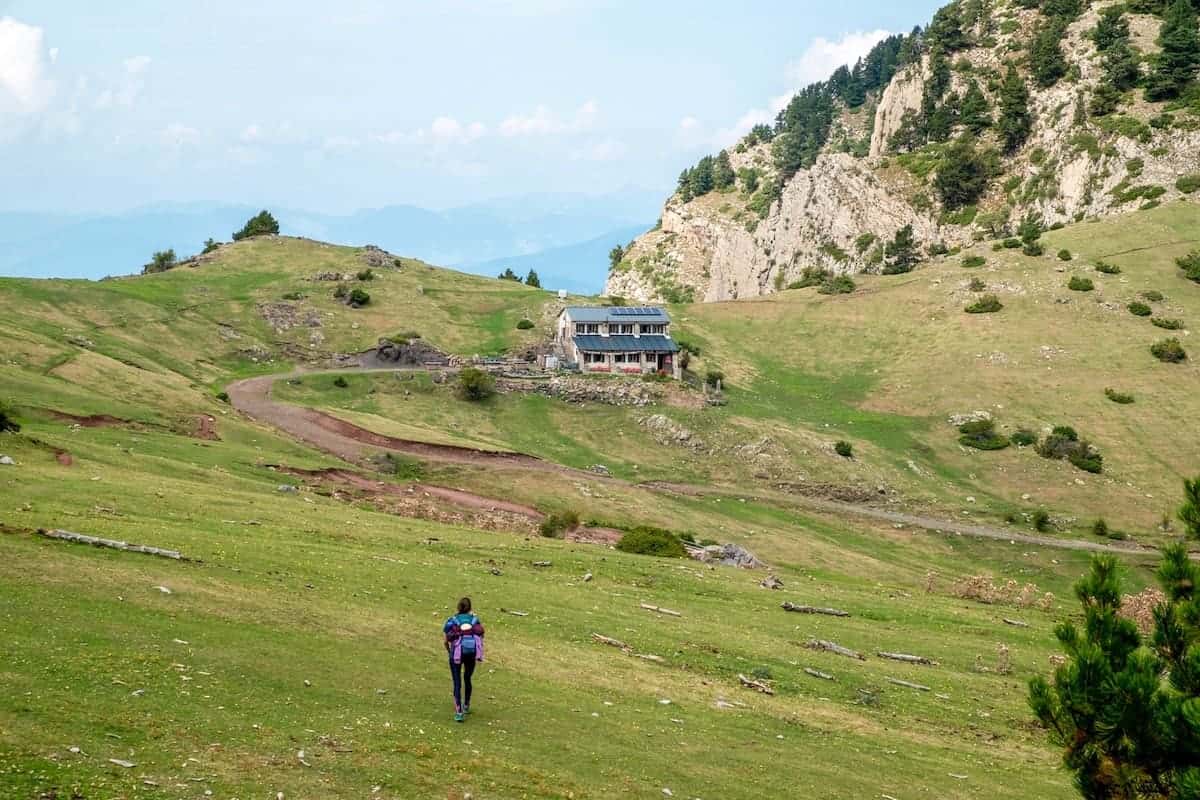 Other cool plans to do in Catalonia in July
Looking for more ideas for your trip? Here you have some suggestions:
And if you're spending some days in Barcelona, no matter the season, don't miss out on our list of unusual and cool things to do at any time of the year.
Have you ever visited Catalonia in July? If so, we would love to hear about your experience!