All the guides will tell you to stop in Salou. It's a perfect definition of what some foreigners think Spanish life is about, siesta and fiesta, but the worst place to experience Costa Daurada like a local.
It has sun all year, long golden beaches, and beautiful sunset views. But the last time we were there, we didn't last more than half a day. The reality is too many tourists, and we left the menus with paella pictures and the souvenir shops behind as quickly as we could.
If you're up for immersing yourself in the local reality, venture outside Salou. You'll find hundreds of km of coast, populated mainly by locals on vacation, and mountains less than an hour away from the sea.
Olive tree fields, wineries, and mountains that any adventurer will love dominate the landscape of the interior. While the coast is home to old fishing villages, crystal-clear coves, and endless snorkel opportunities.
Up for discovering this Costa Daurada? Let's go!
Costa Daurada mountains: Adventurers paradise
The postcards of Costa Daurada all depict the sea, yet a vast part of the territory is mountainous. It has a curious effect because this is not the typical image of the Catalan coast. But above all, because less than 1-hour drive is enough to go from a swimsuit to a sweatshirt.
Muntanyes de Prades
Muntanyes de Prades is the first mountain massif we encounter coming from Barcelona. A place with hidden coves and large, rounded rocky peaks that hikers and adventurers will undoubtedly love to explore!
A great stop in those mountains is the village of Capafonts for a hike to the Cova de Les Gralles. To get to this cave, you must go up and down a rocky path, passing by emerald-green ponds. The cave entrance is a rock hole you must pass by, like a door taking you to a different world. And once you emerge on the other side, the vast cave appears before you, leaving you thinking how something so big is so well hidden!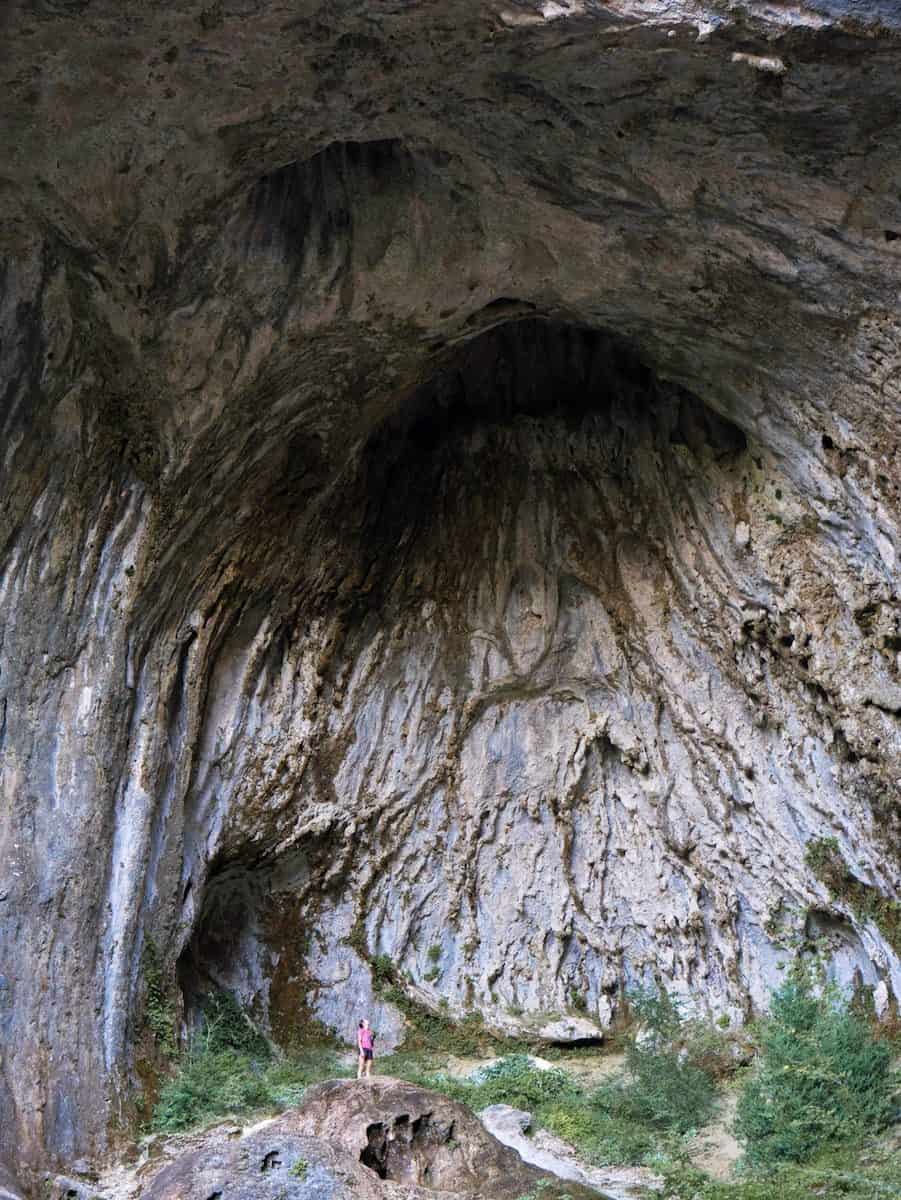 Two other highlights of Muntanyes de Prades are the Gorgs de la Febró and Avencs de la Febró. The first is a large cold pool in the middle of the forest, ideal for jumping, swimming, and enjoying a picnic. Keep following the river, and you'll be rewarded with more secluded pools. The second is an open crack in a cliff with a cave inside, used long ago as a hiding place by smugglers.
A hike to the Gorgs de la Febró and Avencs de la Febró is highly recommended, but only if you're there on a weekday. At weekends, and especially in summer, the place is too crowded and loses all its magic.
Climbers will delight at the iconic limestone walls of Siurana, a mecca for climbers from all over the world. After climbing, this little charming village surrounded by cliffs is the perfect place to slow down and soak up the beauty of its streets and surroundings.
If you're an adrenaline seeker, there are two impressive via ferrata in the area: Venes de Rojalons and Patacons. Both are challenging (K4) and offer vast, spectacular views as far as the Mediterranean Sea.
Serra del Montsant
The mountains continue towards the west, where we find the natural park Serra de Montsant. Rocky peaks, cliffs, and gorges await you there.
Highlights of the area are Congost de Fraguerau, a beautiful gorge with rocky walls; Roca Corbatera, a 1.163 m high peak with incredible views of the surrounding mountains; and Cartoixa d'Escaladei, the first Carthusian monastery on the Spanish peninsula.
If you're a rock climbing fan, you can't miss Margalef, an internationally renowned climbing spot with more than 400 routes.
Also, the via ferrata Morera de Montsant is great for a morning or an afternoon of adventure. It's a moderately difficult (K3) via ferrata with a Tibetan bridge and beautiful views.
The coast beyond Salou
Costa Daurada's coast is renowned for its large sandy beaches, sun-kissed year-round.
They are perfect for a walk, a round or two of ultimate frisbee, or a beach tennis match.
But not only sports enthusiasts will love them. Kids are gonna be entertained for a long time building sand castles. And sun lovers can lay on their towel and get vitamin D for hours – never forget the (reef-friendly) sunscreen!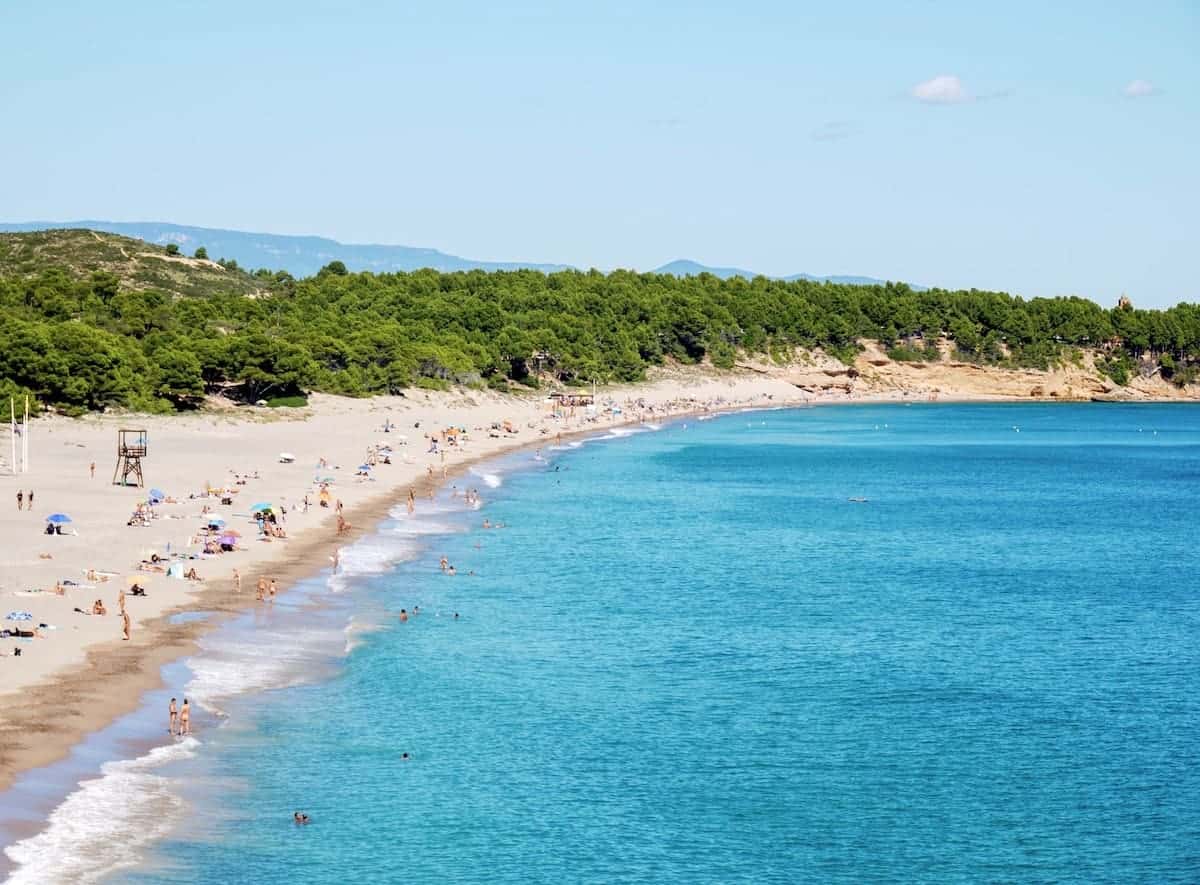 However, to us, the best beaches of Costa Daurada aren't the long sandy ones but the little hidden coves that remind you of Catalonia's northern coast, Costa Brava. You can find them nearby Tamarit, Miami Platja, and Calafat.
If you go there, don't forget your snorkel tube and mask! Many fish, octopuses, and other sea creatures inhabit those waters, which you can admire by snorkelling nearby the rocks. You'll also have the chance to get mesmerised by the Posidonia meadows hypnotically dancing from side to side.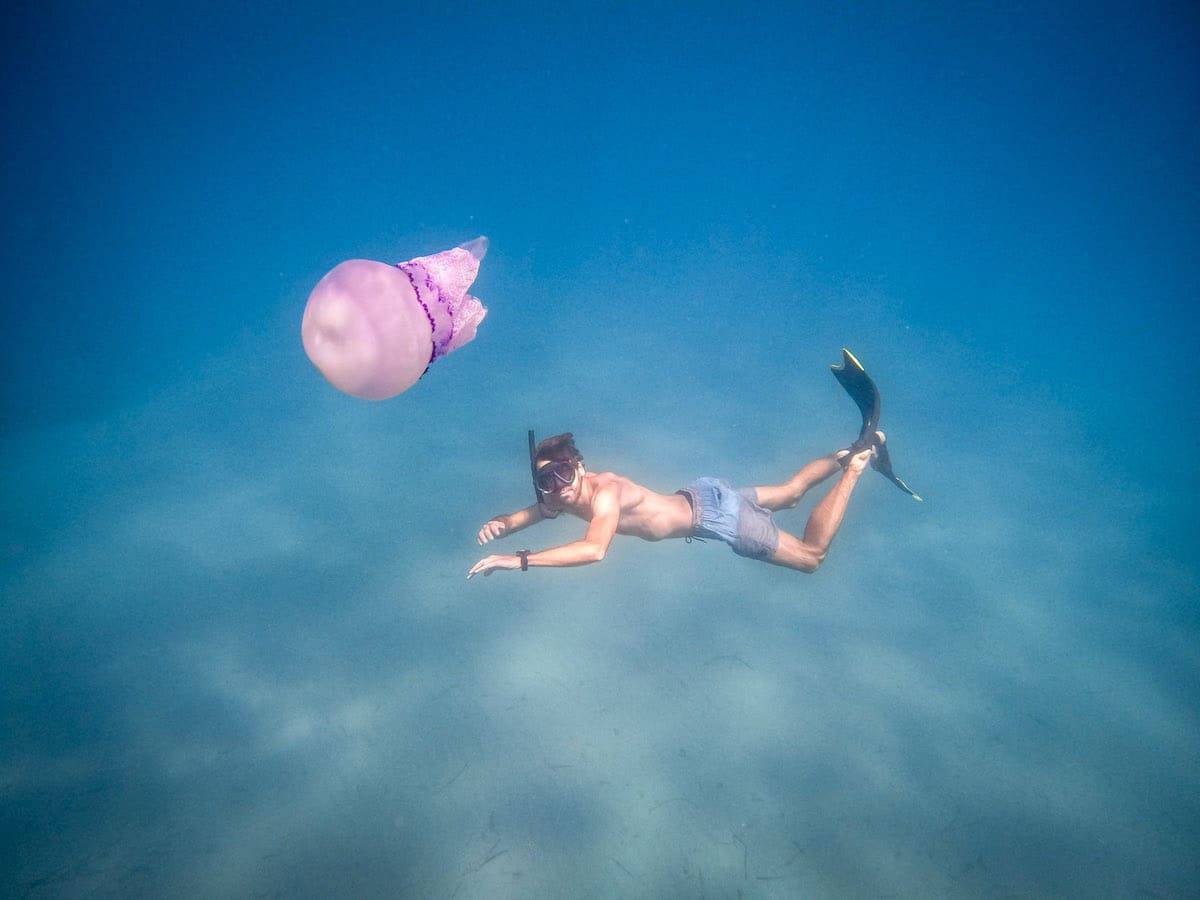 Venturing inland: The real agricultural Costa Daurada
If we leave the coast and venture inland, the landscape changes from big towns, resorts, and campsites with all the imaginable amenities to vast olive tree fields, vineyards, and villages where time seems to have stopped.
Priorat wines
For many wine lovers, Priorat is still a relatively unknown wine region, despite being one of the two Denominació d'Origen Qualificada (DOQ) areas in Spain.
Wine here has been grown since the Middle Ages. Still, production stopped in the 19th century when a plague of lice destroyed the vines in this isolated area of eastern Spain.
It wasn't until 1980 that a group of young winemakers began investing in this wine region again. Then, wine production in Priorat developed again. Those who taste these wines and visit the region's wineries fall in love with them, just like with the rest of the unknown Costa Daurada.
Vermut
For Catalans, vermut is not only a drink we love but also a moment (usually before lunch) to sit with friends and enjoy this drink with chips and olives.
And if we're talking about vermut, we have to mention Reus. It's the capital par excellence of this aromatised fortified wine flavoured with botanicals.
At the end of the 19th century, more than 30 factories produced vermut in Reus and its surroundings! Since then, this city in Costa Daurada continues to be a world reference for this peculiar drink.
If you're up for getting to know more about vermut and tasting some excellent ones, we can't recommend enough a visit to Casa Padró. This family-run winery is located in a small village named Bràfim and runs tastings daily in English. We've been drinking vermouth for a long time now, and we can assure you that the flavour of Can Padró's ones was so unique!
Olive oil
If we're talking about typical Catalan food, you probably know that olive oil is on top of the list! The region of el Baix Camp, located 20 min from Tarragona, produces one of the most famous olive oil under the DOP Siurana.
The landscape in this area is strongly dominated by the cultivation of olive trees. Along the rural villages, you can find cooperatives, mills, farm shops, museums and interpretation centres to learn more about olive oil, its history, and its production.
The best thing? You can discover this beautiful region of Costa Daurada on two wheels!
Cities from the Romans: Tarragona
Tarragona is a place essential to Mediterranean history, especially when it became the capital of the Roman Empire. It was a flourishing city under the Roman dominion and still today hosts archaeological areas and museums that will make you travel back in time.
The most famous is the amphitheatre, which still stands from nearly two millennia ago. The Romans had great taste because they built it overlooking the Mediterranean Sea!
It's also worth checking the Roman walls and porticoes surrounding the Old Town.
But it's not just relics from Caesar's time, though! This medium-sized city is a beautiful place to stroll through narrow streets, sit on a terrace to enjoy a drink, and admire its wonderful Gothic cathedral.
When your belly starts rumbling, it's time to head to a restaurant. Great options are the Restaurant Sadoll, El Cup Vell, El Racó de l'Abat, and Filosofia. They all serve high-quality Catalan food and are run by locals.
If you're craving seafood, you can head to the fishing neighbourhood of El Serrallo. Great restaurants there are La Xarxa, Taberna Romero, El Crank, and El Taller.
Tales from the past: The abandoned villages of Costa Daurada
The interior of Costa Daurada is a region with a significant territory, populated only by less than 80.000 inhabitants. Abandonment has been a reality for many years, as many emigrated to the coastal areas in search of better job opportunities and continue to emigrate even today.
The number of abandoned villages in the hinterland proves it. Selmella, Mascabrers, or Els Cogullons are some ghost villages that no longer count any inhabitants.
There's something nostalgic and somewhat mystical about visiting those places. They have survived the passage of time and remind you that nothing lasts forever.
Up for exploring these fascinating places?
In Muntanyes de Prades, you'll find La Mussara, an abandoned village linked to paranormal events. The melancholy beauty of this place and its many legends attract curious locals willing to explore its ruins and enjoy the breathtaking views.
Not far from there, there's another ghost village: Gallicant. The harsh post-war conditions made life there impossible, and currently, you'll only find what remains of the village's eight houses.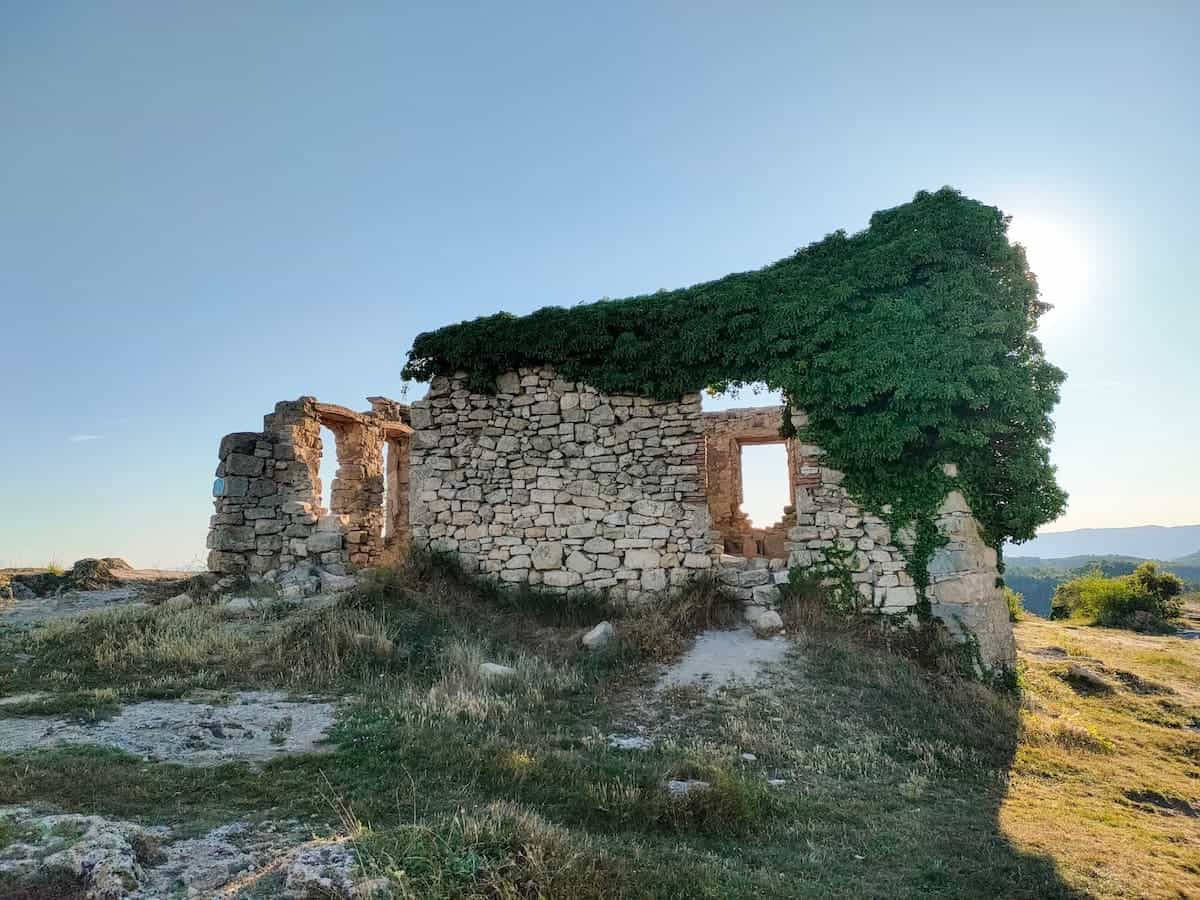 Costa Daurada's impressive Cistercian monasteries
Besides mountains, beaches, and agricultural land, Costa Daurada is also home to another treasure: Catalonia's three greatest Cistercian monasteries.
Poblet monastery is the largest inhabited monastery in Europe. It was built over six centuries and has been a UNESCO World Heritage Site since 1991.
Santes Creus monastery is the only of the three we've visited, and we really enjoyed learning about the place's history. It's an impressive building from the 12th century, where you can admire several royal tombs and a prison where nuns who broke the rules were punished.
If you happen to be around Santes Creus at lunchtime, we can't recommend enough to stop at Bar del Mig. Nothing fancy, just great local food with a cup of Priorat wine.
Last is the Vallbona de les Monges monastery, the most important female Cistercian monastery in Catalonia.
One of the most incredible ways to get to know these architectural gems while exploring the area in depth is the Ruta del Cister (GR-175). It's a five-day hiking route linking the three monasteries. But that's not the only enticement. Medieval villages, breathtaking lookouts, and modernist wineries are begging to be explored along the 104 km route.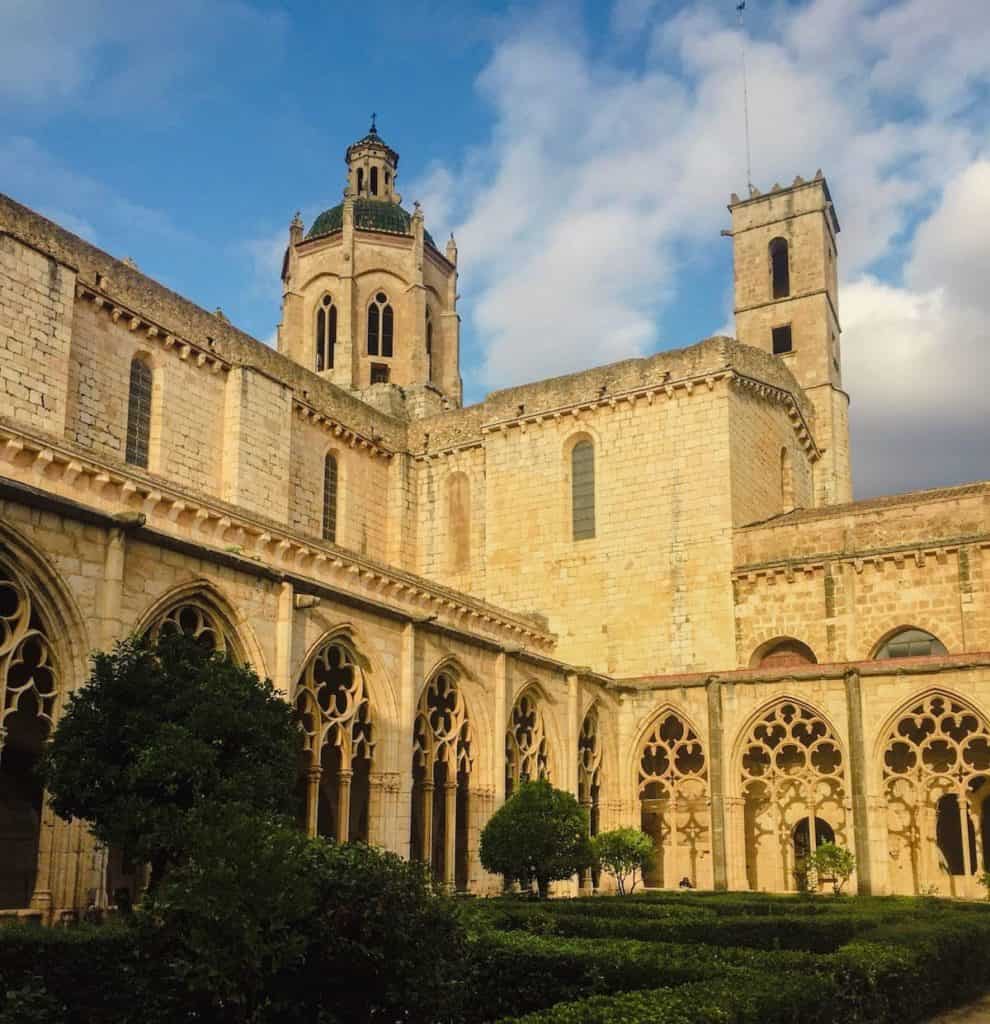 Cambrils
In this coastal city, tourism is dictated by the law of return, which in summer and during the holidays brings locals scattered throughout Catalonia and the world back.
In summer, everything here comes alive after five in the afternoon, as soon as the sun begins to go down. Then, the shops reopen, and people pour into the street. On the Passeig de les Palmeres, some walk, some go by bike, and some eat a delicious Mucca Da Latte cone.
For a meal, there is Al Punt, offering traditional seafood dishes; ROCE, for incredible unique rice dishes; and Can Bosch, for a fine-dining experience.
We hope this guide helps you discover a different side of Costa Daurada. One far from the crazy parties and the mass tourism. We hope it helps you discover the kind of Costa Daurada that we, locals, love.