Looking for Costa Brava day trips from Barcelona?
Squeezing a day outside Barcelona from your trip and venturing to Costa Brava is one of the best things you can do! There, you'll discover medieval villages, fisherman towns, crystal-clear beaches, and many adventure opportunities (both on land and sea).
Keep scrolling for seven cherry-picked Costa Brava day trips from Barcelona!
Stunning Costa Brava day trips from Barcelona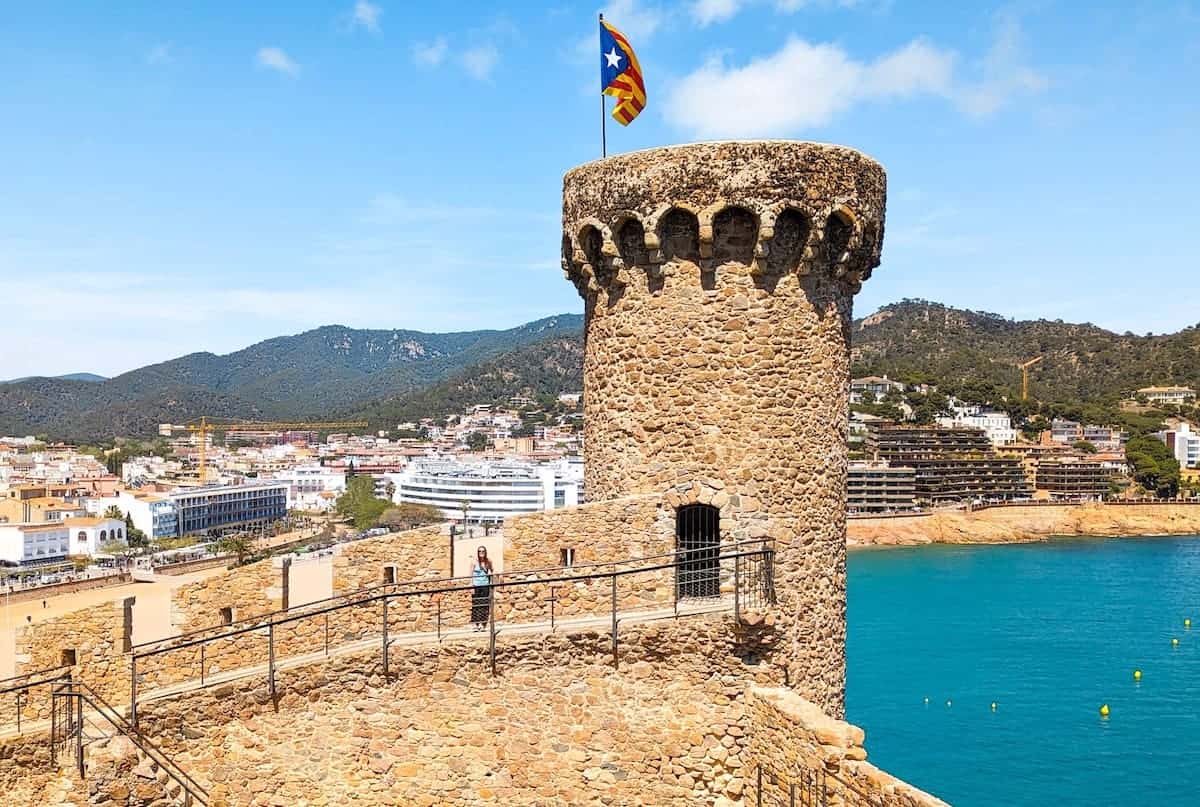 Tossa de Mar
Tossa de Mar is a beautiful coastal town and one of Costa Brava's villages closest to Barcelona. It offers panoramic views across the Mediterranean Sea and is famous for its sandy beaches, lighthouse and, of course, historic fortified medieval village, the only example of a fortified medieval town still standing on the Catalan coast!
You can get to Tossa de Mar on your own or join a trip from Barcelona with transportation, food, and activities included.
There are several guided trips we recommend in Tossa de Mar depending on what you like to do:
Kayaking and snorkelling trip: Excellent option if you want to combine some exercise with a visit to Tossa de Mar Old Town. This trip lasts 12 hours and includes kayaking, snorkelling, eating in a traditional restaurant, and exploring the beautiful medieval town.
Scuba diving trip: Looking to try out scuba diving during your time in the Costa Brava? Then this day trip is for you! It lasts 10 hours and includes a beginner's dive (with all the necessary equipment and guide), lunch in a local restaurant, and time to explore the Old Town of Tossa de Mar.
Sightseeing and hiking trip: Join a local guide and explore Tossa de Mar and its surroundings in this 9-hour trip. It's a great way to get to know the city's history and hike to the nearby coves (level easy). The trip includes transportation and guiding, and you can either bring your lunch or book a local restaurant.
If you'd prefer to go on your own, you can get to Tossa de Mar by bus from Barcelona. The journey takes 1 h 15 min, and there are many buses daily.
And what can you do once there? Check our Tossa de Mar guide for everything you can do, from hiking and scuba diving to chilling at the nearby coves or wandering around the medieval street. In the guide, you'll also find restaurant recommendations where you can try authentic local foods from the area, like fideuà, arròs negre, or tapas.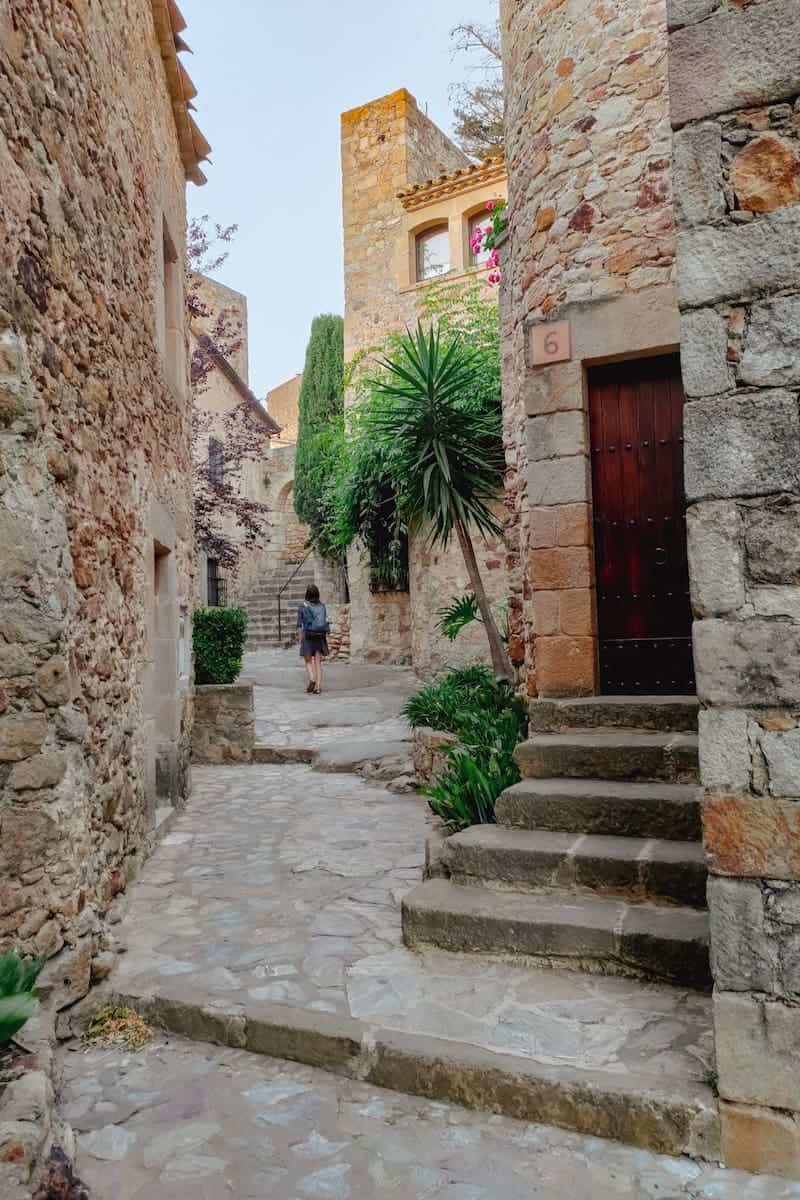 Cycling trip through medieval villages
Besides crystal-clear coves and fisherman towns, Costa Brava is also home to many charming and well-preserved medieval villages. Up for discovering them on two wheels?
Get the bus from Barcelona Estació del Nord to Palafrugell, which takes 2 h 15 min. Once in Palafrugell, head to BikeOn (20 min walk), a bike rental service with super friendly staff and great bikes (gravel, road, and e-bikes).
They have designed several routes to explore the area, and we recommend this cycling route that will allow you to discover Pals, Gualta, and Peratallada, three of the most beautiful medieval villages in the area.
If you find yourself more comfortable with a guide than a self-guided tour, BikeOn also offers a guiding service.
If you opt for this trip, we wouldn't recommend doing it in July and August as the temperatures are scorching during the day. Also, it's when the villages are most crowded. May, June, September, and October are excellent months for this cycling adventure.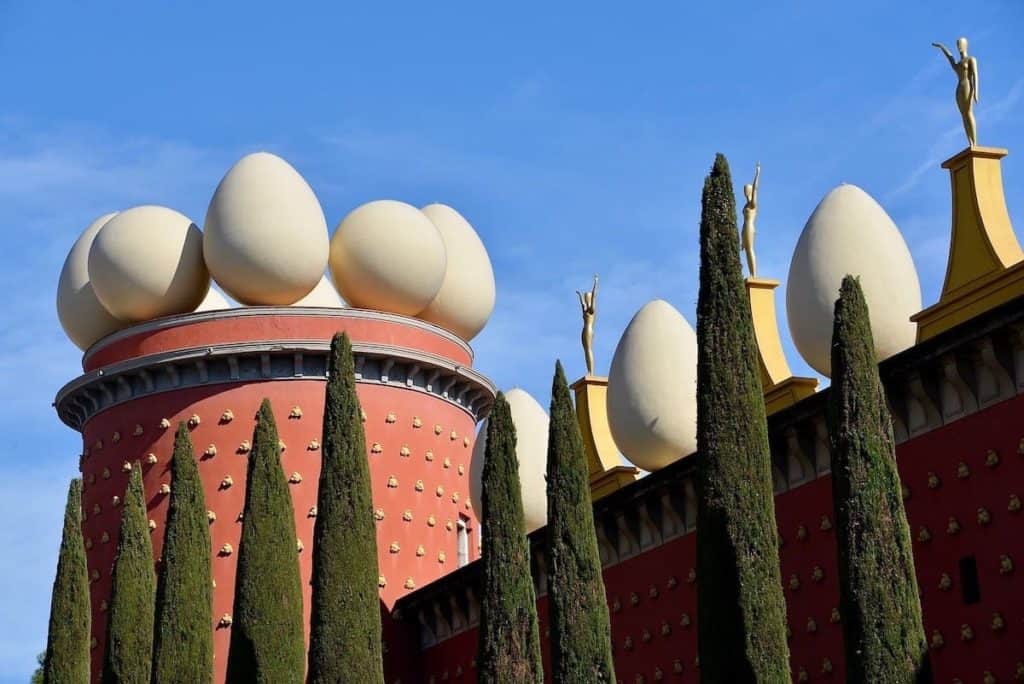 Dalí-themed trip
As you might know, Costa Brava is where famous surrealist artist Salvador Dalí was born and lived for a long time. Also, the region's landscape inspired him and can be observed in his paintings.
If you want to know more about this excentric surrealist painter, you can't miss the Dalí Theatre Museum in Figueres and his house in Port Lligat.
The first is one of the world's best museums dedicated to the artist. The inside is full of works from Dalí, but the building is also a piece of art! It's a quirky pink castle-like building with giant eggs on the rooftop, known as the world's largest surrealistic object.
The second is a house in the little village of Portlligat, north of Cadaqués, where Dalí lived from 1930 to 1982. During that time, he turned what used to be a fisherman's hut into a surrealist house! Pink lips sofa in the garden, egg sculptures on the rooftop, quirky sculptures in the interior… You get the idea!
To take this day trip, you have two options: join a guided tour or do it on your own. The first option is more comfortable and relaxed, as you don't need to worry about transportation or tickets. And, of course, going by van is much faster than by bus.
However, if you prefer the second one, you'll have to take the train from Barcelona to Figueres (approx. 2 h journey), spend the morning in the museum, and later take the bus to Cadaqués (1 h 15 min journey and only 4 buses a day!). Dalí's house in Portlligat is 15 minutes (walking) from the centre of Cadaqués. To get back to Barcelona, you can take a bus from Cadaqués (approx. 3 h).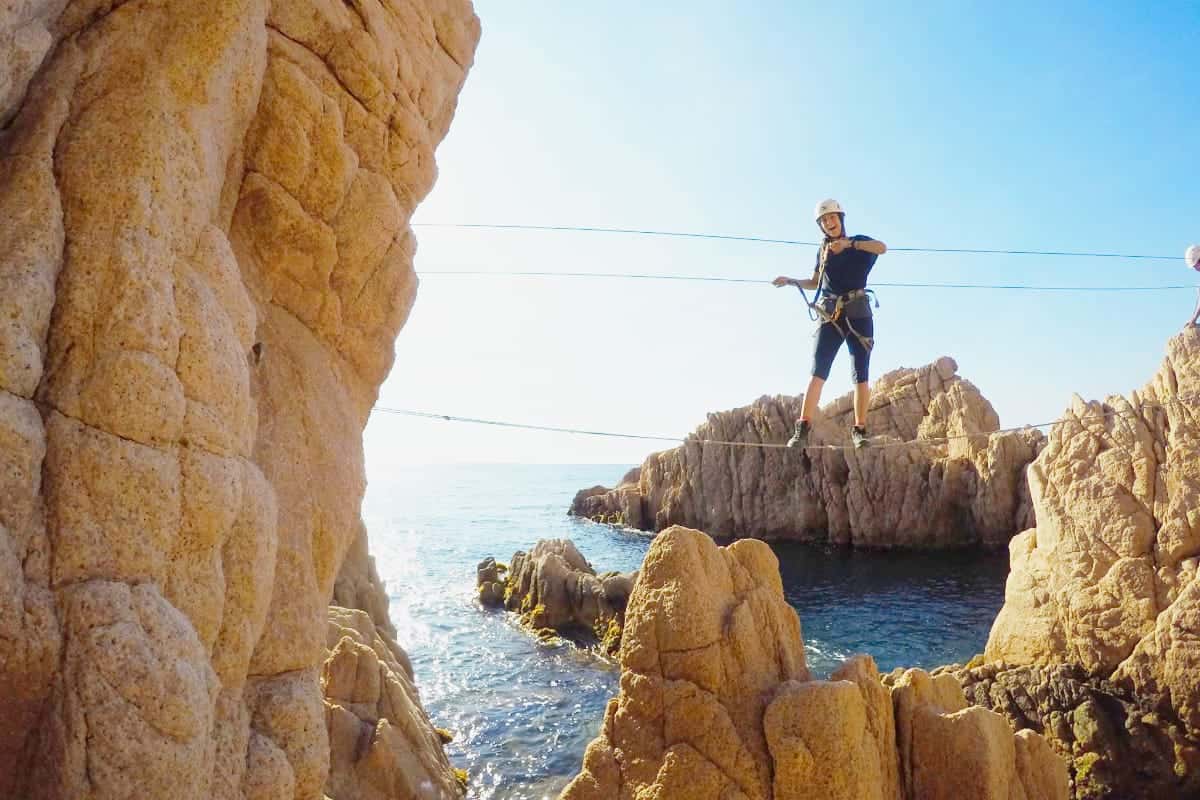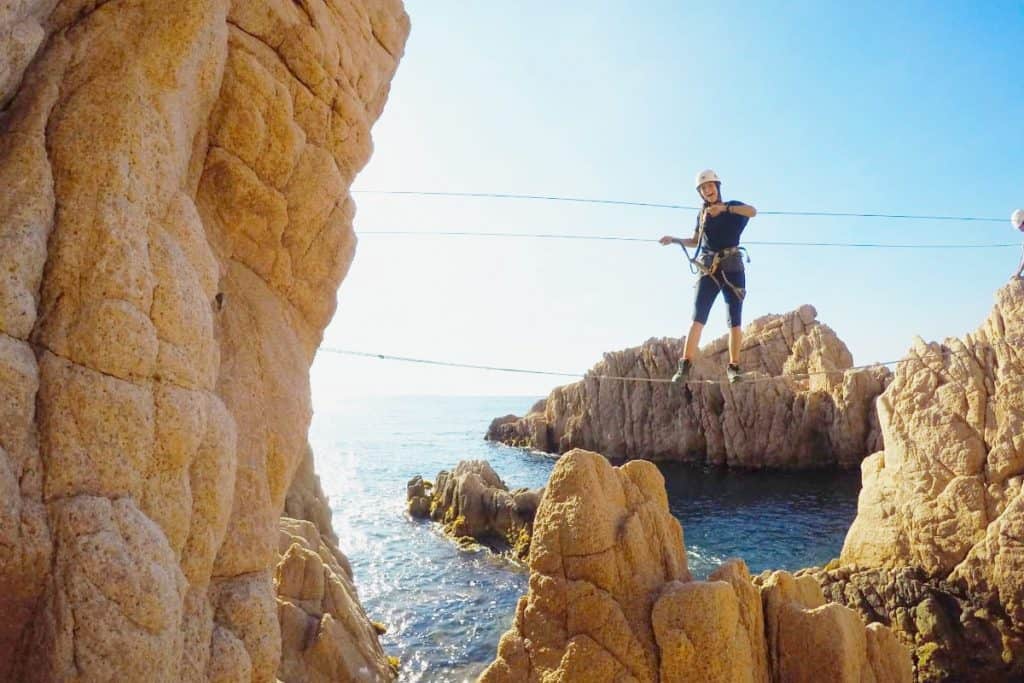 Adrenaline trip to Sant Feliu de Guíxols
If you're looking for an adrenaline rush and excellent panoramic views of the Costa Brava, you're in for a treat!
In Sant Feliu de Guíxols, you'll find the only via ferrata on Europe's coast The route is 480 meters long and can go as high as 20 metres, offering impressive views of the Mediterranean Sea.
This activity is 100% suitable for beginners. However, we highly recommend going with a guide if you've never done a via ferrata before or feel more secure with an instructor. For more info on this via ferrata, check our "Via ferrata Cala del Molí guide".
To get to Sant Feliu de Guíxols, you can take a bus from Estació del Nord in Barcelona, and you'll be there in 1 h 30 min. The buses run approximately every two hours, costing around 15 € one way.
⚠️ Important!
We recommend doing the via ferrata early in the morning or late in the afternoon to avoid the midday high temperatures.
To complete your day trip, you can get lunch at one of the many delicious restaurants in the city centre. Great ones are El Pícaro (tapas), 220 sushi (Japanese food), La Baleada (Honduran food), and Taverna La Cava (Catalan food).
You can also grab some takeaway food at Orgànic (healthy food like poke bowls, quiche, and smoothies) or Supreme Artesanas de la Cocina (typical Moroccan food) and eat it at the main beach.
If you're up for a challenging hike, you can walk to Tossa de Mar following the Camí de Ronda (it takes around 6 hours!) and take the bus back to Barcelona from there.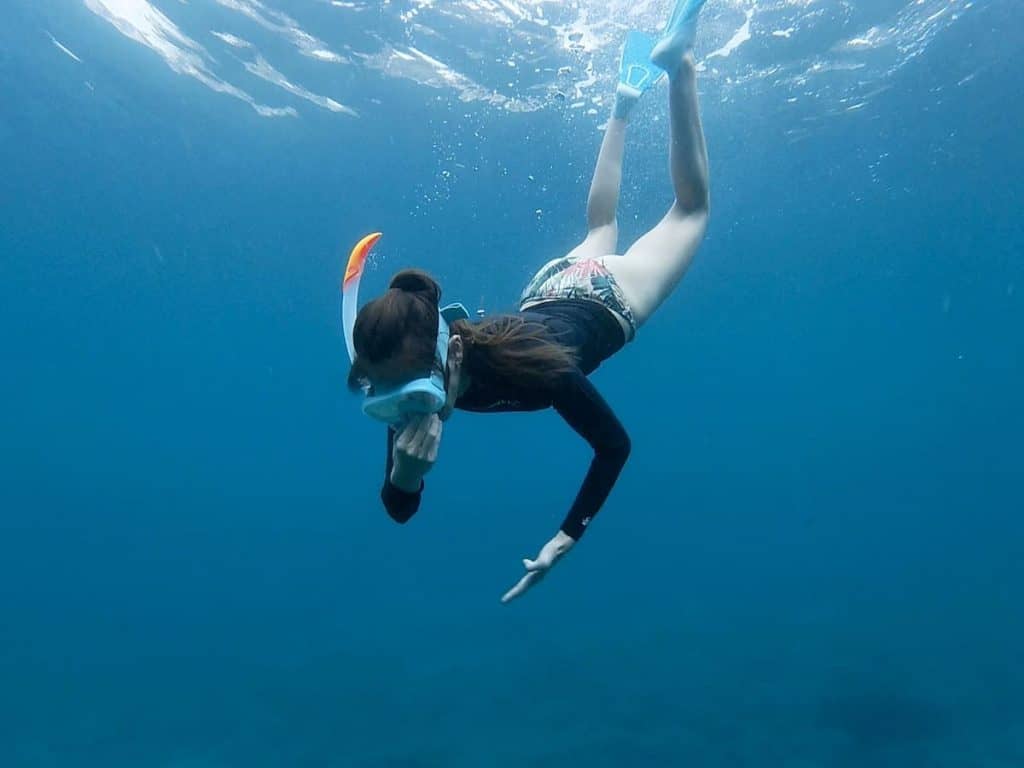 Multi-adventure trip
Can't decide if you want to hike, snorkel, kayak, or cliff jump? Why not do everything?!
We bring you two activity-packed day trips to explore the Costa Brava in an adventurous way.
The first trip includes hiking the beautiful coastal path known as Camí de Ronda and sea kayaking in Sant Pol de s'Agaró crystalline waters. Don't forget to jump from the kayak with your snorkel and explore the seabed! This trip lasts 9 hours, and you don't need to worry about equipment or transportation; it's all included.
If you don't fancy kayaking, here's our second option. This trip also includes hiking the Camí de Ronda, but instead of kayaking, you'll make a stop for snorkelling and cliff jumping! Lunch in a local restaurant, transportation and snorkel gear are included.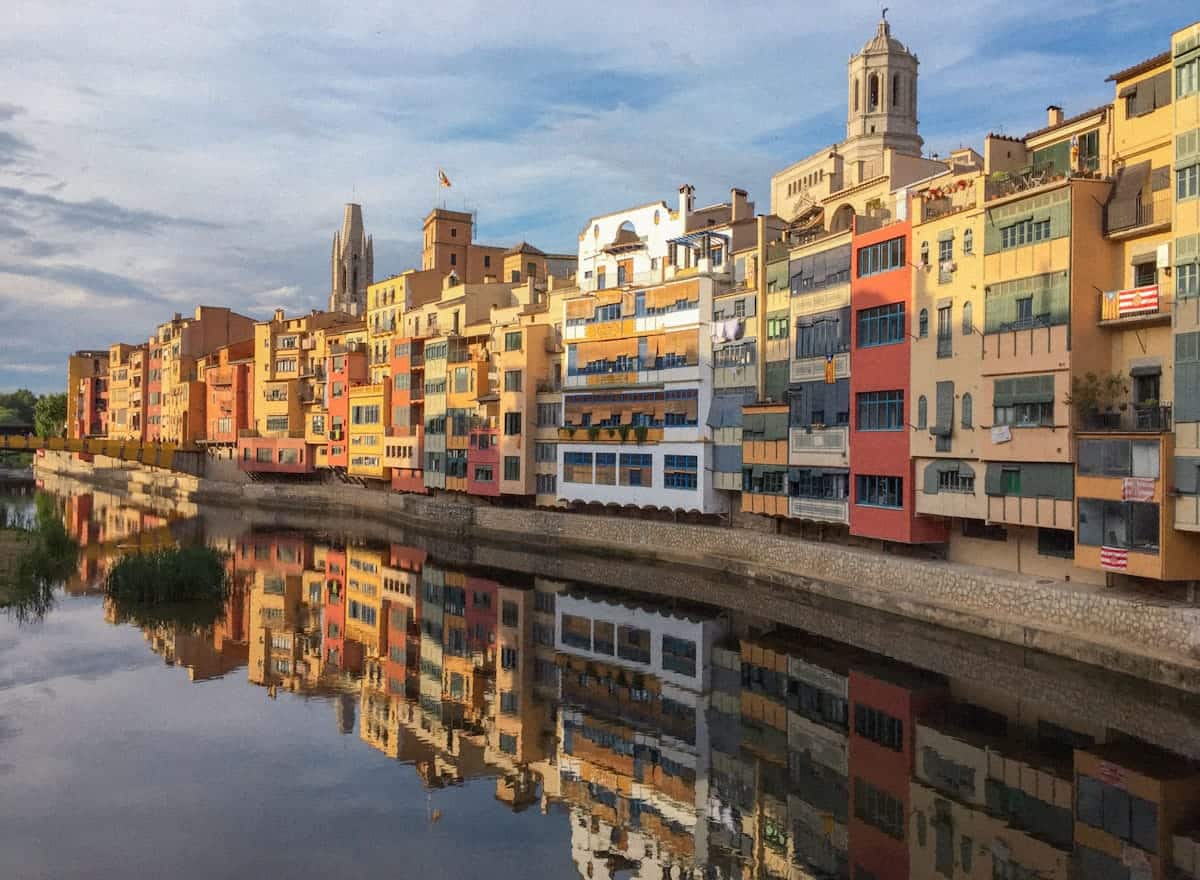 Girona and Costa Brava trip
Costa Brava's capital, Girona, is a gorgeous city with an incredible historical centre and a vibrant atmosphere. Also, it was one of the popular Game of Thrones filming locations!
But the best is yet to come. Girona is strategically located between the sea and the mountains and is close to many Costa Brava villages. So, if you only have one day to escape Barcelona and venture to the Costa Brava, you can mix a trip to Girona with a coastal town and experience both.
The easiest way to do so is to join a guided tour. We recommend this small-group 9-hour tour with a local guide and transportation to and from Barcelona. In the morning, you'll spend time in the coastal area of Costa Brava, moving then to Girona to discover the city.
If you'd rather discover Girona and Costa Brava on your own, you have many options. Many buses link Barcelona with several coastal towns, so you can spend the morning exploring the beaches and coastal paths. After lunch, you can take a bus to Girona and discover the city in the afternoon/evening. Check our Girona guide for our favourite things to do there.
To get back to Barcelona, hop on the high-speed train from Girona station, and you'll reach the capital in less than 1 hour! It will be an intense daty, but 100% worth it!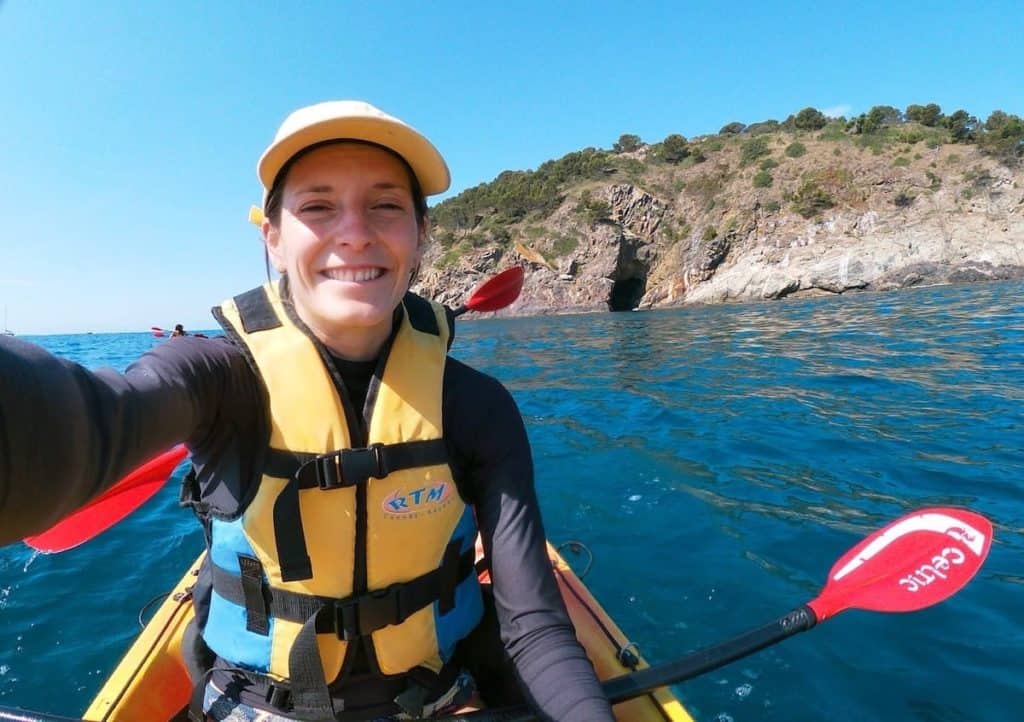 Foraging and kayaking trip
Are you curious about edible plants and algae? Do you want to discover the Costa Brava in a unique way? Then, hop on a bus from Estació del Nord to Palamós and sign up for a Marine tapas in kayak adventure.
This guided tour involves kayaking along the coast of Palamós, snorkelling, and hiking the Camí de Ronda with an expert botanist. During the experience, he explains which algae and plants are suitable for foraging and how they can be eaten and cooked.
Actually, you won't be doing this activity with any botanist; you'll be doing it with the gastro botanist of the Celler de Can Roca, a famous 3-star Michelin restaurant in Catalonia!
For more info on this activity and to know our experience, check our "Herbocaiac, a foraging and kayaking adventure in the Costa Brava" guide.
After paddling and swimming, we're sure you'll be pretty hungry! Nice options for lunch are La Cala Taverna (sophisticated tapas and rice dishes), Arrels gastro taverna (gastro bar with delicious tapas), and Kaos Palamós (innovative tapas and rice dishes).
Is Costa Brava worth visiting?
Absolutely yes! It's a wonderful area with charming villages, hidden emerald coves, and plenty of adventure opportunities. Also, the food is delicious there, and it's sunny all year round!
Although we recommend spending more than one day in Costa Brava to fully live the Mediterranean life, we understand that not all travellers have the time. Therefore, day trips to the Costa Brava from Barcelona are an excellent option to get a taste of this coastal region.
Costa Brava travel tips
💬 Language
The primary language spoken in Costa Brava is Catalan. However, all locals speak Spanish, and due to its popularity as a tourist destination, many people also speak English.
🌞 Weather
Costa Brava enjoys sun all-year round. Temperatures are pleasant in spring, autumn, and winter, whereas in summer it gets pretty hot. We're talking 30-38 ºC.
📅 Best time to visit
It depends on your preferences and activities.
Summer (June to August) offers great temperatures for water sports like scuba diving, kayaking, and swimming. However, it's when you'll find more crowds and you need to book everything way in advance.
Fall (September to November) and spring (March to May) provide pleasant temperatures for cycling, hiking, and sightseeing with fewer crowds. To us, April, May, June, September, and October are the best times to go.
Winter (December to February) is the lowest season. No crowds at all and pleasant temperatures. However, you might find some restaurants and accommodations closed.
👟 Footware
Don't forget to wear comfortable shoes, such as sneakers or hiking sandals, as there will be a lot of walking and hiking on most of the Costa Brava day trips from Barcelona we've mentioned before.
The Camí de Ronda is a hiking path, so we don't recommend doing it in flip-flops.
💸 Tipping
If you're eating out, it's good to know that tipping is not mandatory in Spain. If you'd love the food and service, then by all means tip! It will be greatly appreciated.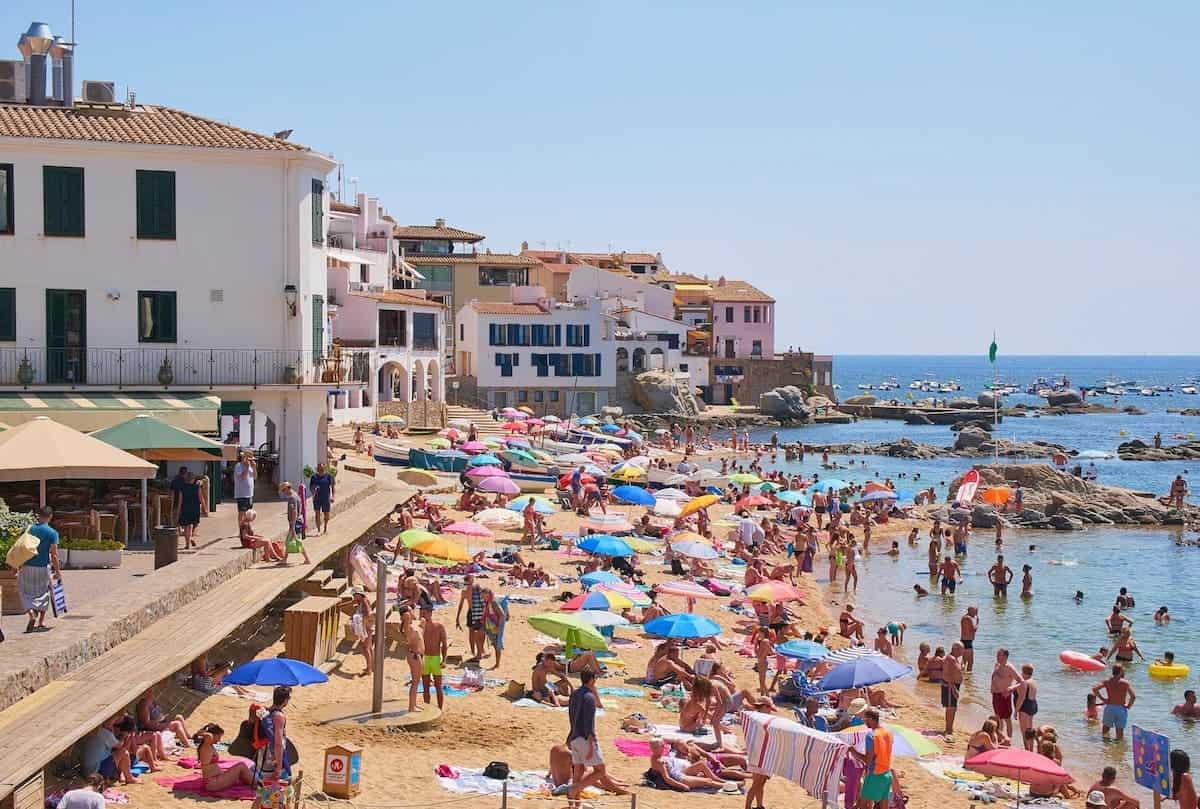 We hope this post makes you want to squeeze a day outside Barcelona and discover the beautiful Costa Brava region! We'll assure you won't regret it. If you think about any other day trips to the Costa Brava from Barcelona, let us know in the comments! 🙂