Looking for alternative and original things to do in Barcelona to spice up your trip? We've got you covered! We've compiled a list of some of our favourite ideas as city dwellers.
As you'll see, we include unique experiences and thrilling activities, but also more mundane things to do – small moments to rest from the frenetic pace of the trip and enjoy different parts of the capital. There's plenty to do in a city as mysterious and magical as Barcelona!
So there we go. Here you have 22 original plans to experience Barcelona as you live there.
Original things to do in Barcelona
1. Visit Catalonia's oldest and most emblematic prison: La Model
Inaugurated in 1904, La Model was a prison with revolutionary architecture that pretended to be an exemplary penitentiary centre. When it was created, it was located at the outskirts of Barcelona, but as the city grew, the prison ended up in one of the most centric districts, l'Eixample.
Executions, riots, and escapes are some of the things that happened in that prison, which finally closed its doors in 2017. Now, you can visit the building for free every first Sunday of the month, from 10 am to 2 pm. Also, you can decide to add this plan to your trip last minute, as bookings aren't needed.
👌🏼 Our tip
After the tour, you can go for a vermut, one of Catalan's favourite weekend pastime before lunch. If you don't know what we're talking about, a vermut just means sitting in a bar enjoying a vermouth, some olives, and chips. Good places nearby the prison are Senyor Vermut and La Mala Vermut & Tapas. For lunch, Restaurant O Retorniño is a great option! If you go there, you can't miss their pop a la gallega.
2. Enjoy a picnic in Montjuïc
Montjuïc is a hill in Barcelona much loved by locals. Especially in the evenings and weekends, you'll find people jogging or walking around, playing sports at any of the facilities located there, or queuing for the next concert at the Sant Jordi music venue.
Montjuïc is also home to several gardens, such as the Botanical Gardens and the Mossèn Costa i Llobera Gardens. If the weather is nice, choose a garden or a green spot on the hill, and go for a picnic. It's the perfect way to forget about the hustle and bustle of the city and relax under the trees.
👌🏼 Our tip
After eating, head to the lookout located in the Plaça de Carlos Ibáñez, where you'll have impressive views over the city. From there, you can spot the Sagrada Família, the cathedral, and the Agbar tower, amongst other famous buildings. You'll also have beautiful views of the Mediterranean sea and the mountains surrounding Barcelona.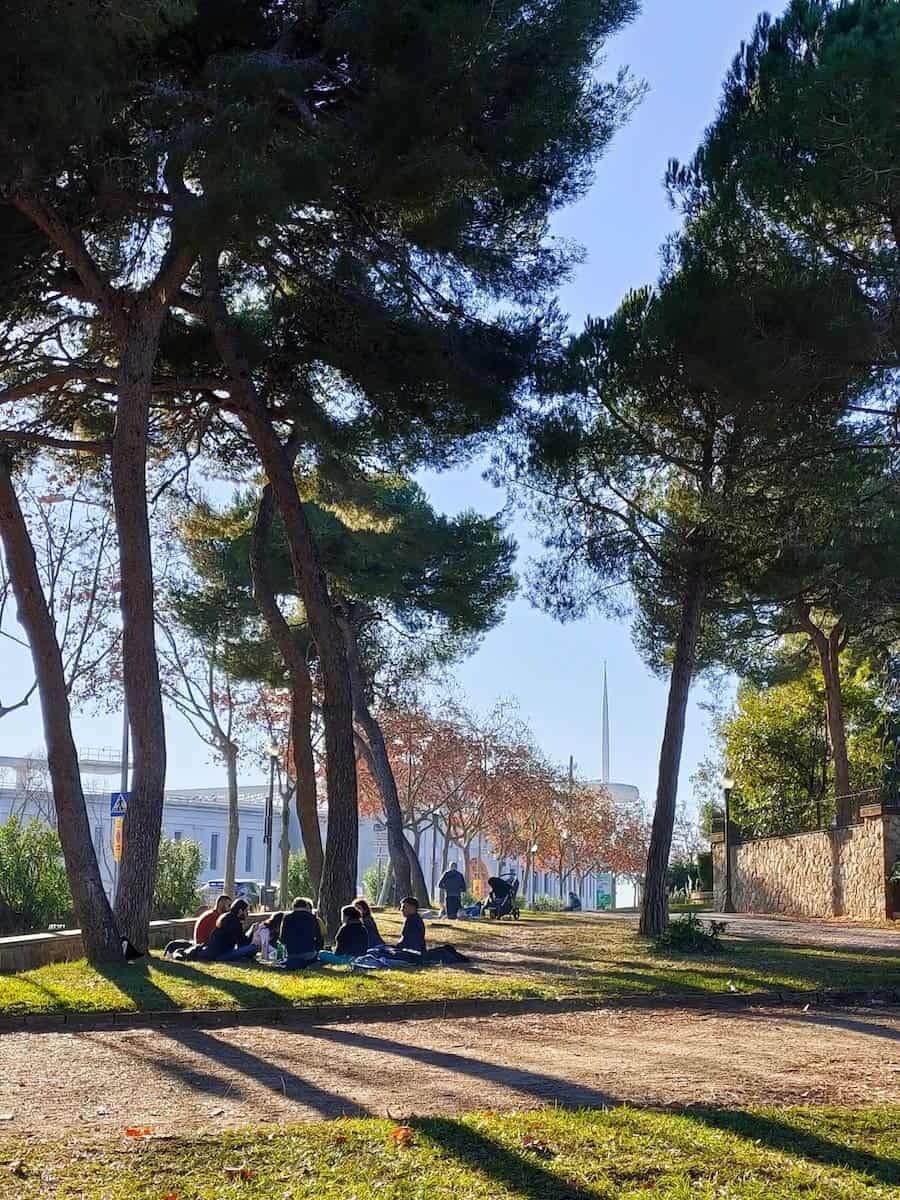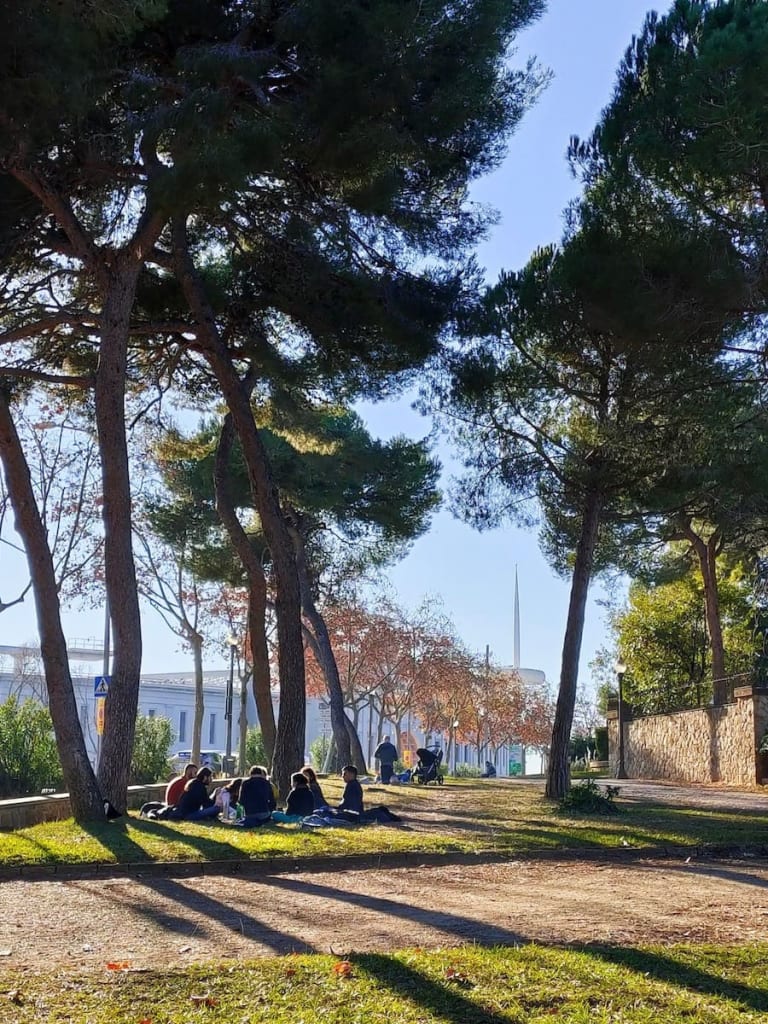 3. Explore Barcelona's historic bomb shelters
During the Civil War, one of the bloodiest episodes of Barcelona's history, more than 2.750 people died, 7.000 were injured, and more than 300 buildings were destroyed. Barcelona wasn't ready for the bombings, and its defence wasn't strong. More than 1.400 air-raid shelters were dug during the bombing to shelter the population. Most of the shelters were destroyed, but a few remain nowadays, and it's possible to visit them.
One of them is the "Refugi 307", located in Poble Sec. The shelter can be visited with a tour that takes place every Sunday at 10:30 h (in English). The tour only costs 3.5 €, and we highly recommend it to understand a part of Barcelona that the guides won't tell you about. You can book the tour here.
4. Join a guided hike with the friendliest guide
To enjoy this experience, you just need three things: to love hiking, be in Barcelona, and be willing to meet incredible people! Delph, from Intothewildcat, will take care of the rest.
Each Sunday, she organises a hike for 8-10 people to discover a wild place in Catalonia. She designs the routes, leads the walks, and takes care of all the logistics. All you have to do is show up at the meeting point (always in Barcelona). There, you'll meet the group and hop on public transport to the chosen destination for the hike.
Oh, and we almost forgot. You also need to be quick in signing up! Delph advertises her hikes on Instagram, and they work on a first-come, first-serve basis.
5. Watch the sunrise from a SUP board
One of the advantages of having a beach in the city is that you can go practise aquatic sports or for a swim at any time! Stand up paddle (or SUP) has become a popular sport to practise in La Barceloneta, where several shops are renting SUP boards.
If you want to start your day with a blast, head to La Barceloneta and participate in a sunrise stand up paddle session. You'll see the sunrise from the sea and the city starting to glow under the first rays of sun. At this time, La Barceloneta is far from being the hectic beach that it's later during the day. It's quiet instead, and those who wake up early and head there are rewarded with a beautiful sunrise scene.
Several centres in La Barceloneta organise SUP sessions. The experience lasts for an hour and a half, and you can do it on your own or with a guide. We've tried Anywhere Water Sports and Ungravity, and we loved both.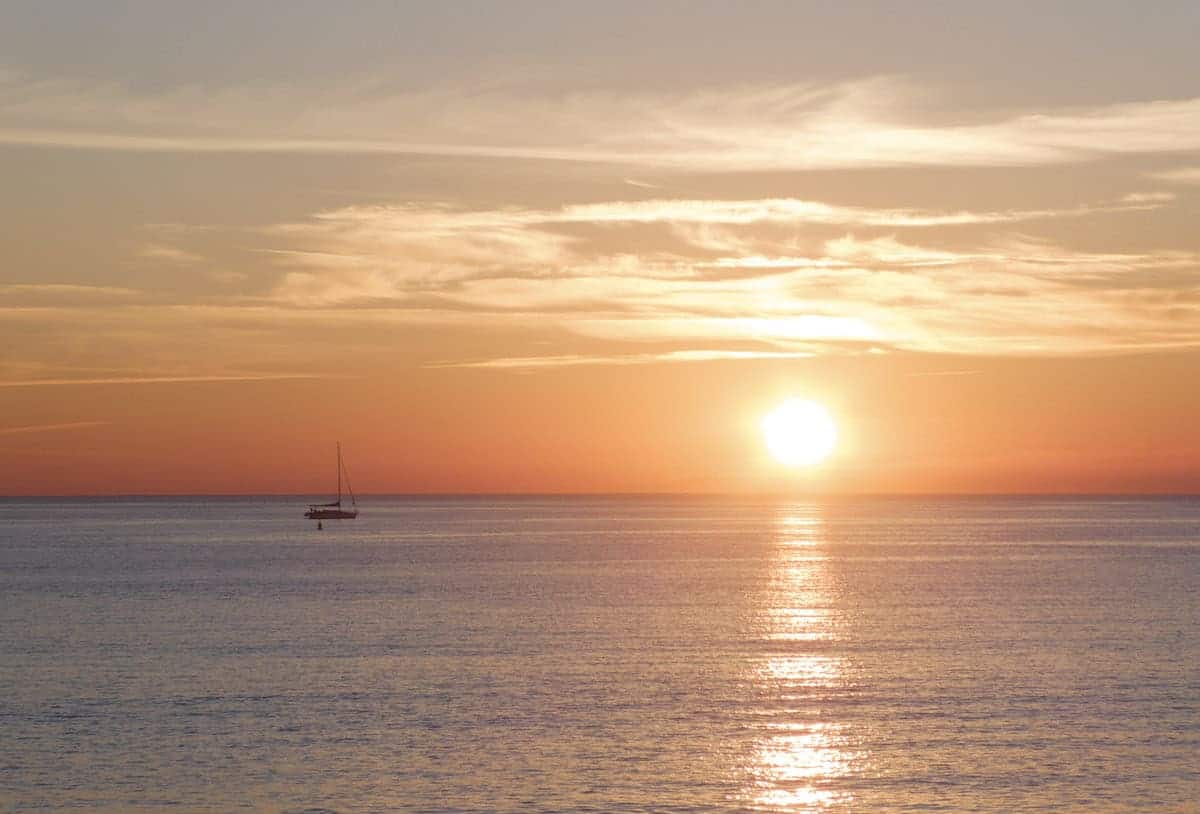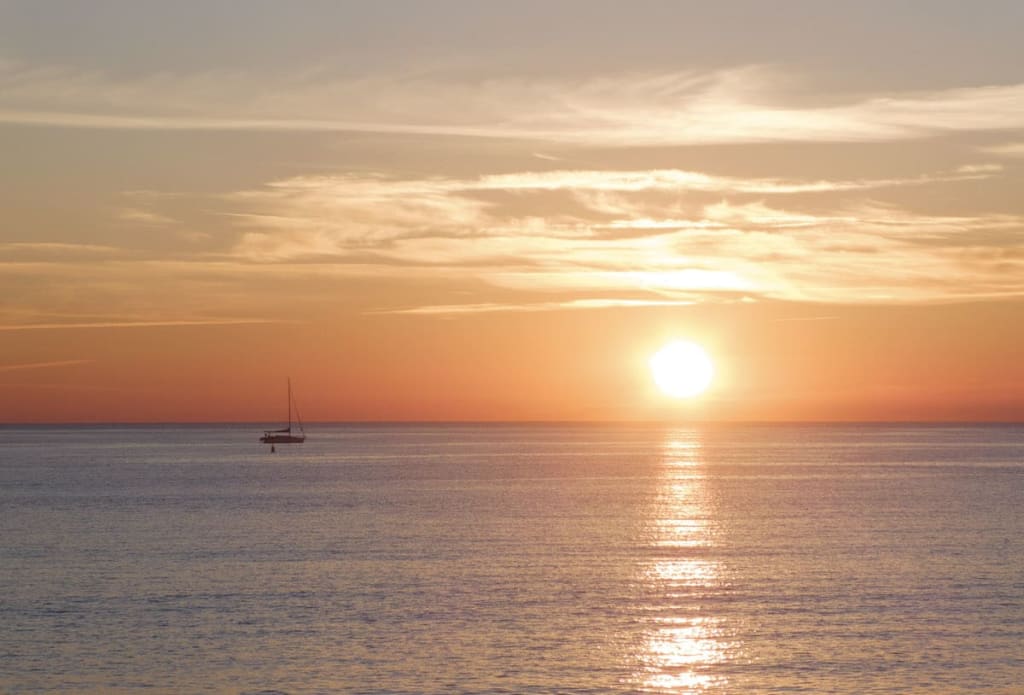 6. Pit your wits against the challenges of an escape room
Ready to use your brain while having lots of fun? Escape rooms are a great way to get your neurones active and have a good laugh. And they can be a wonderful addition to your trip if you have a free afternoon or evening. There are many escape room companies in Barcelona, and each has one or more interactive games where you have to frantically solve brain-teasers, search for keys, and crack codes to finally escape the room!
We love escape rooms, and our favourite ones in the city (from the ones we've tried) are those:
Maximum Escape: Expect spectacular settings no matter the game you choose. The focus of their escape rooms is on immersing their guests in a fantasy reality, so don't expect any of the padlocks and number codes present in most rooms, but rather a focus on storytelling and adventure. The one we've enjoyed the most is Overlook Hotel, based on the movie The Shining. We've also had a great time at Vault 27 (which lasts 90 min!), set in the world of Fallout, and Ulysses, which feels like being in a space movie.
After Party: This room is hilarious and perfect for celebrations. Think about the movie Hangover and you'll quickly get the gist!
La Mina: A game set in a mine that will pit adventurers in an hour race to escape. It's an entry-level game with superb decor. The escape room is located in l'Hospitalet, outside Barcelona, but you can get there by metro. Although their website is in Spanish, they speak English.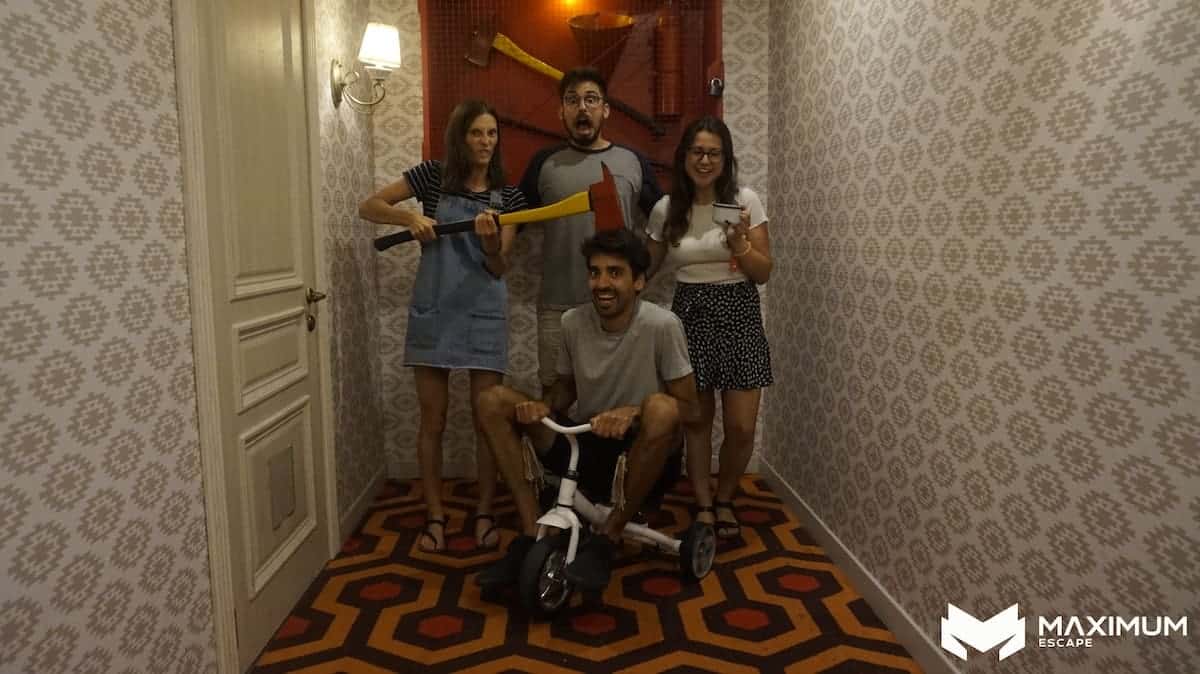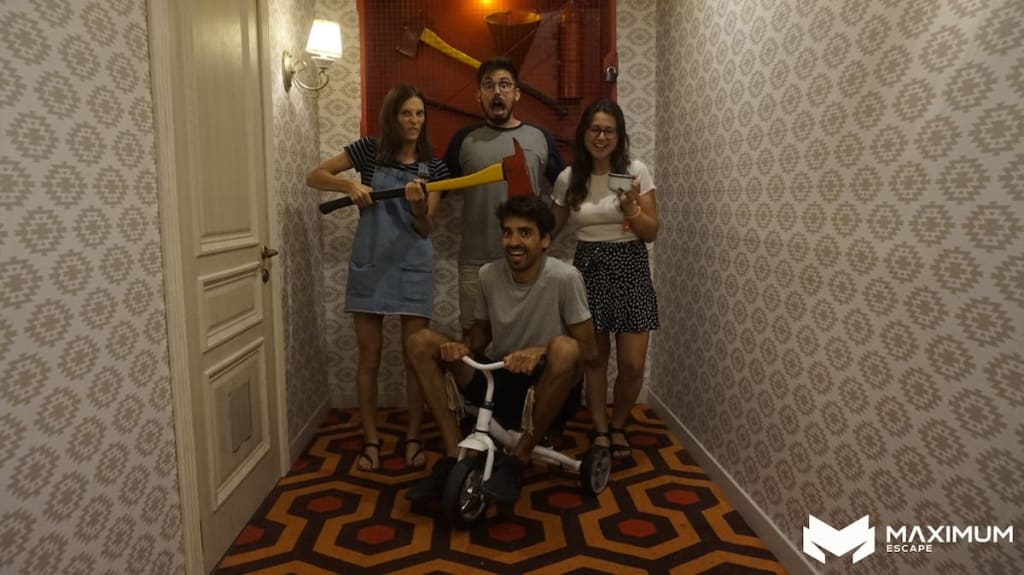 7. Walk along the streets of Roman Barcelona
Hidden below the Plaça del Rei, there's an underground area stretching over 4.000 m2 with remains from the city's first Christian community, the Romans. If you want to understand Barcelona's history and take a look at how it was long ago, sign up for a visit and travel back in time to when Barcelona was known as Barcino. You can buy the tickets online or in the MUHBA office located in the same Plaça del Rei.
We don't want to make a lot of spoilers, but what's underground is freaking impressive! We expected to see a couple of columns and ruins, but we got shocked by its vastness. Literally, the ruins cover all the area under the square.
Some of the things you'll discover will be a laundry from the 2nd century A.D., a winery, a fish factory, and how was the everyday life of Barcelona's first Christian community.
👌🏼 Our tip
After the visit, walk some km to the Temple d'August, where you will discover four well-conserved columns from a temple also from the Roman era. If you're hungry, head to Jon Cake (6 min walk). Jon, the owner, is a cooking wizard, and his cheescakes are from another world.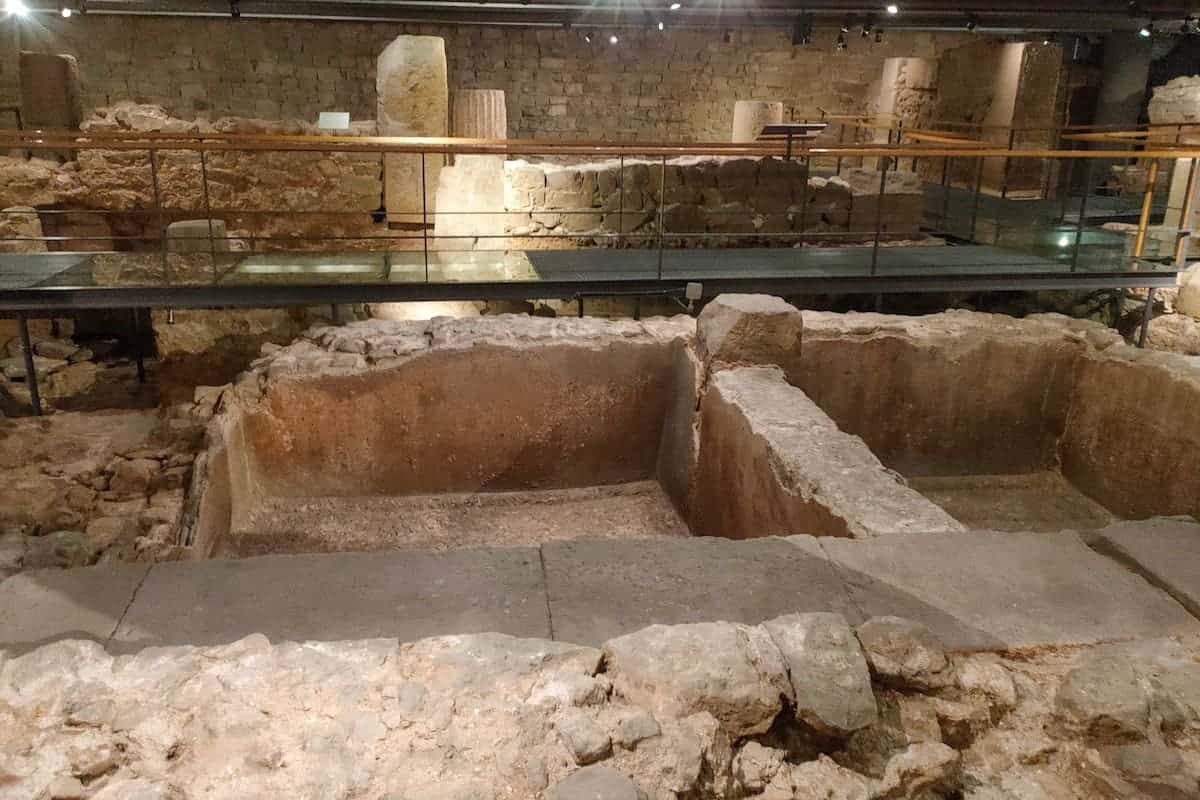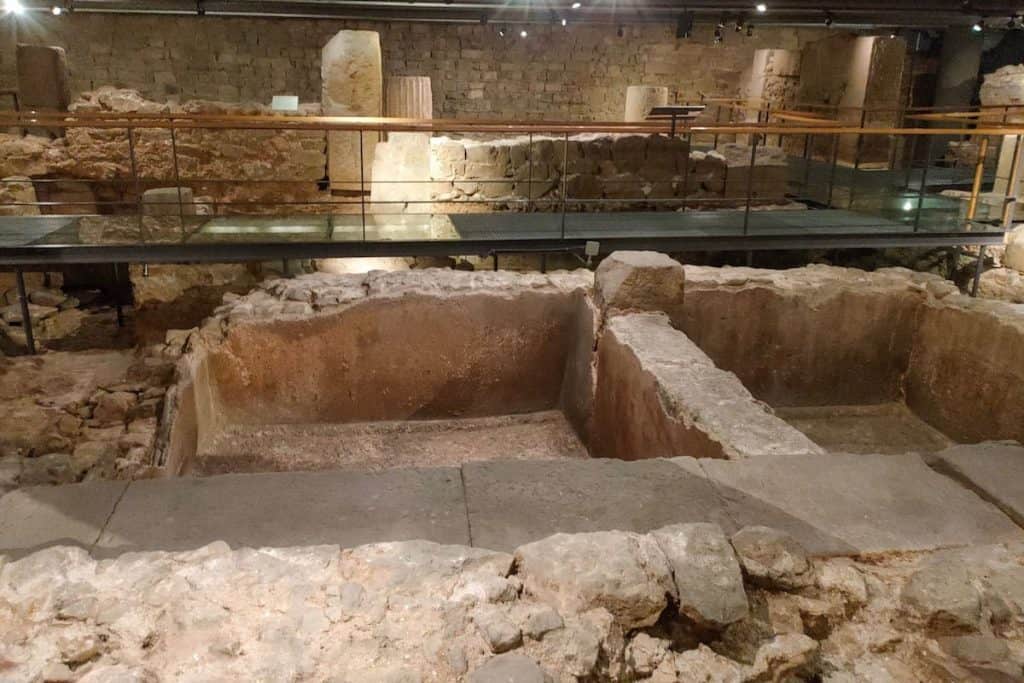 8. Discover your inner artist in a painting and wine class
Spend an evening painting while sipping your favourite wine. You'll be guided step-by-step through creating your own version of the picture chosen for the night, although you're free to go totally rogue. All materials are provided, and canvases are small enough to stick in your checked bag to bring home.
And don't be discouraged if you're a disaster with the brush. After a couple of wine sips, we assure you your creativity will start to flow!
You can enjoy a Paint and Wine experience in Arte Bar (we've been there twice and love it!) or Wine and Art experience, which offers fluorescent paint and wine workshops!
9. Listen to a concert illuminated by candlelight
If you want to surprise someone with a memorable experience, what about a concert in an iconic basilica, train station, or the world's largest Art Nouveau complex? In Barcelona, Fever organises intimate concerts in some of the city's most emblematic spots.
The tickets cost between 15 and 45 €, but it's worth every penny. Not only the locations are incredible, but the concerts are played by flickering candlelight. Just sit, relax with the soft glow of candlelight, and get carried away by the music.
The music played ranges from classical music, such as Vivaldi or Ludovic, to tributes to most modern musicians, such as ABBA, Coldplay, or Queen. There's something for every taste!
10. Visit Barcelona's oldest shop
Located in the narrow streets of the Gothic neighbourhood, Cereria Subirà is the oldest shop in Barcelona that still remains open. Candlemakers have been working with wax in this candle shop since 1761.
But not only are their crafted candles worth taking a look at, but also the building itself. The antique furniture and its spectacular staircase will transport you to the Barcelona from several decades ago.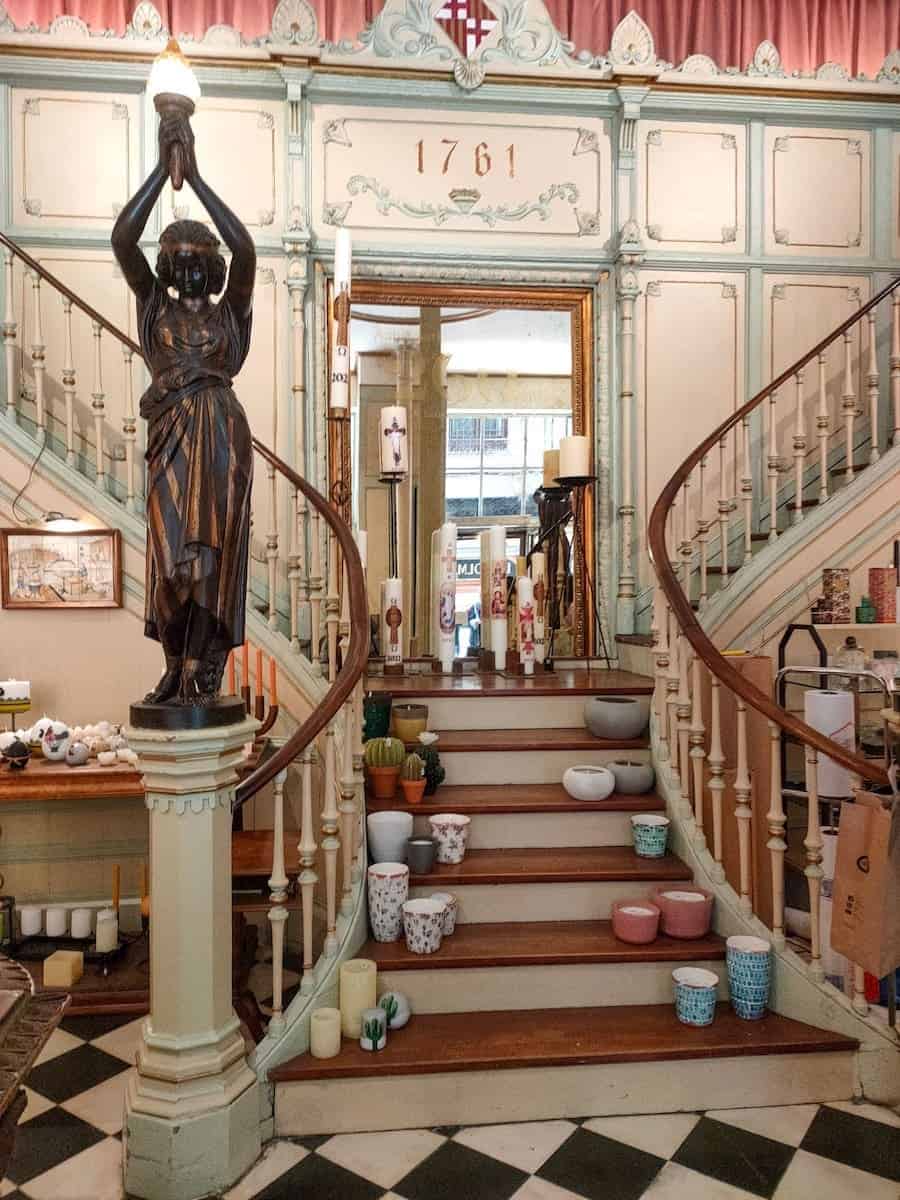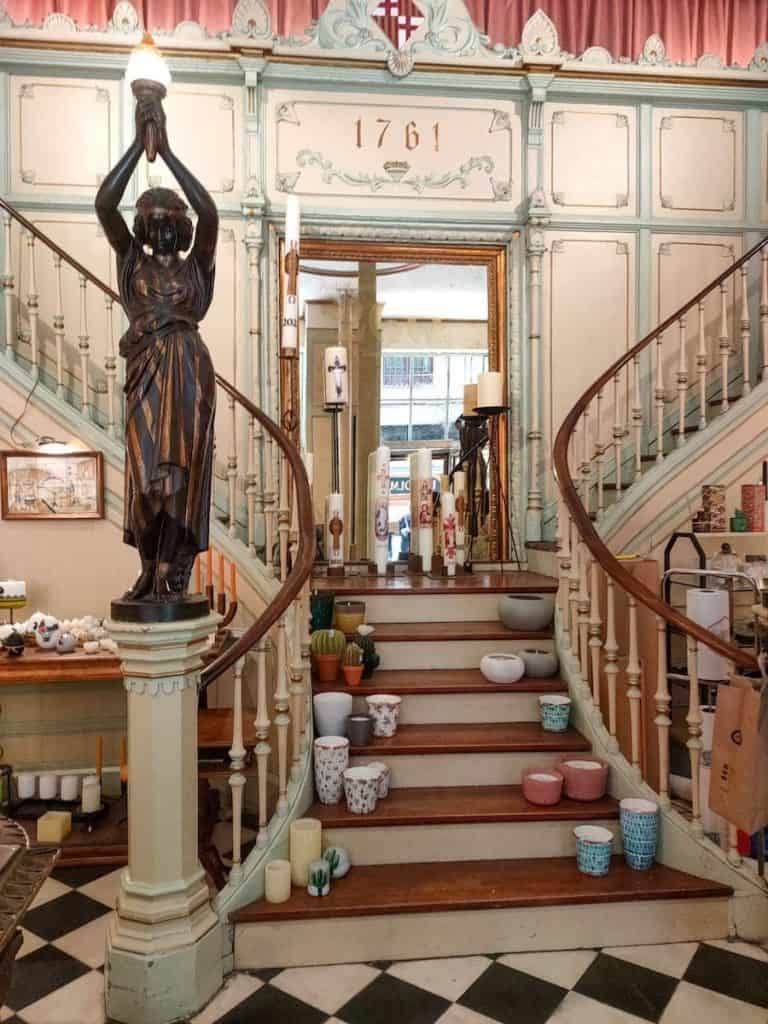 11. Stroll along the Besòs river
The 9-km promenade that runs along the Besòs river, full of meadows and paved paths, is a great refuge to disconnect from the city for a while.
Start at the Can Zam park, and keep walking south-east following the river. You'll find several parks along the way until finishing at the Sant Adrià del Besòs beach.
This promenade is also ideal to cycle or skate, and you can stop at any point along the way for a picnic.
12. Enjoy an açai bowl at the beach
The simplest and most fantastic thing to do when the weather is good: buy yourself a bowl of açaí in any of the healthy bars in La Barceloneta (Açaí&Me, in the Plaça del Mar, is one of the closest ones) and sit at the beach to enjoy it.
During the day, you'll see people practising all kinds of sports, strolling, or just sunbathing in La Barceloneta. At night, the lively atmosphere continues with groups of friends playing the guitar, chilling under the stars, or enjoying a drink (take into account that alcoholic ones are prohibited here!).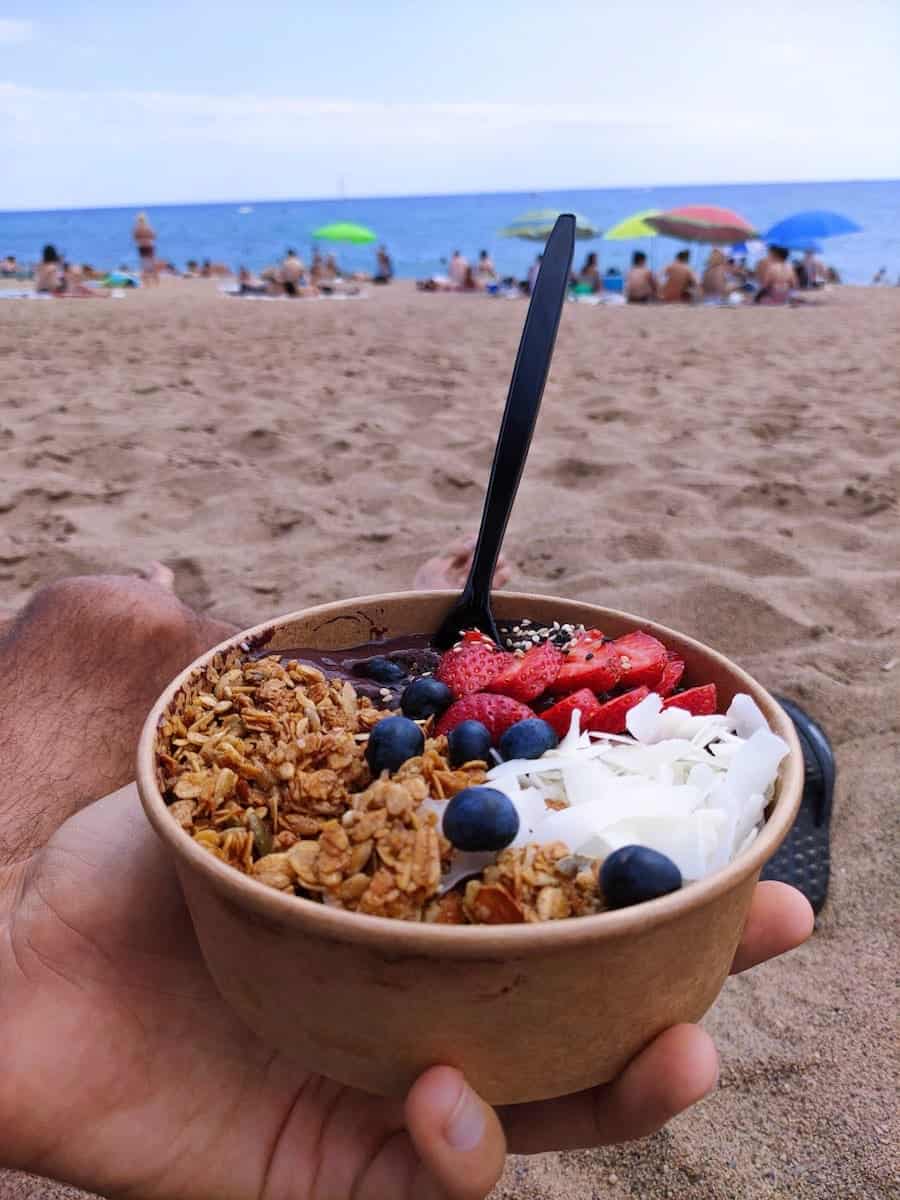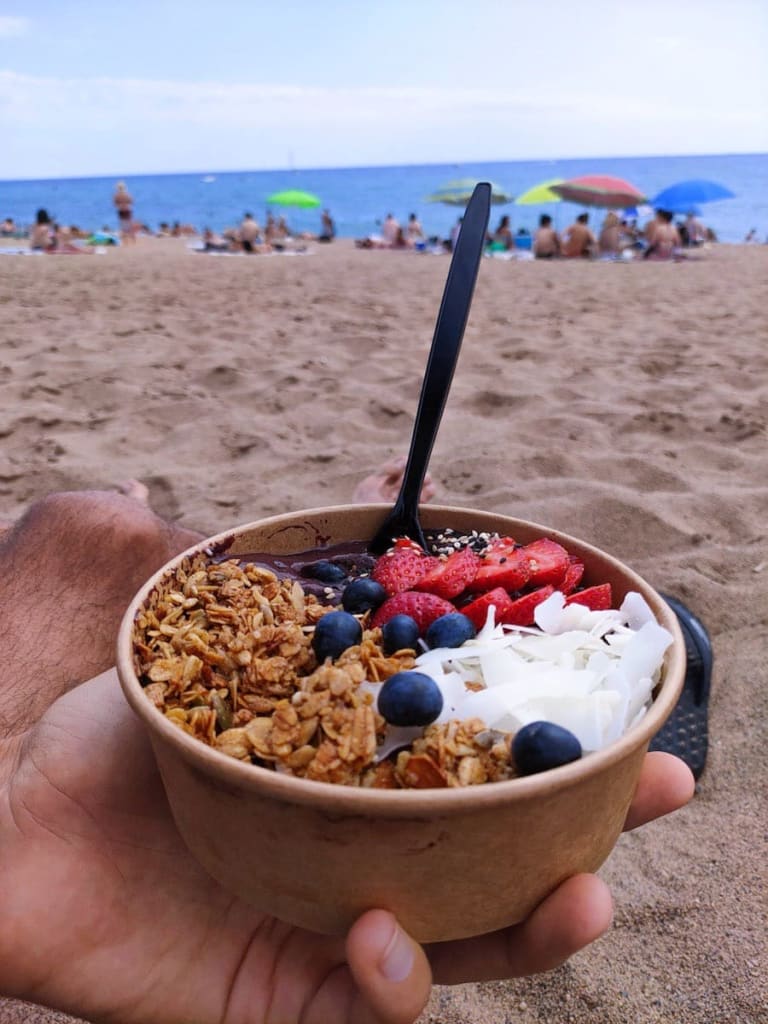 13. Discover one of Gaudí's lesser-known masterpieces
Besides the Sagrada Família, Casa Batlló, and La Pedrera, Gaudí designed other majestic buildings in Barcelona. One of our favourites is the Casa Vicens, Gaudí's first house in Barcelona. It's hidden in an ordinary street in the district of Gràcia, and, like the other works of Gaudí, this building stands out for its beauty, colours, natural elements, and beautifully crafted details.
You can visit it on your own following the explanation of an audioguide, or you can join a tour where an expert will give you an in-depth explanation of the house.
👌🏼 Our tip
Once you finish visiting this architectural gem, head to one of Gràcia's squares and sit in a terrace to relax and enjoy the lively atmosphere of this neighbourhood. Some of the options are Plaça del Sol, Plaça del Diamant, or Plaça de la Revolució.
14. Watch a movie at one of Barcelona's emblematic cinemas
When was the last time you went to the cinema? And the last time you went to the cinema in another country? If you want to squeeze a movie on your trip, the cinema Phenomena is an excellent choice.
Its outside reminds you of an old cinema, and the inside is super cool: red carpets, original posters of the films, and a vintage atmosphere. Yet, this cinema is equipped with the latest technology in image and sound and giant screens.
All films are in their original language (look out for the symbol V.O.) and with Spanish subtitles (V.O.S.E.), and the variety is huge. Each day, you'll find different movies ranging from blockbuster films to the latest releases. Time to get some popcorn and enjoy the movie of choice that day!
15. Lay back and soak up a movie in Montjuïc castle's garden
And while we're talking about cinemas, here's another cinema experience! This one is for summer nights only and includes a picnic, live music, and a movie under the stars.
Sala Montjuïc is an open-air cinema that sets up camp every July and August in an incredible setting, within the walls of the 17th century famous Monjuïc Castle. The program tends to keep things pretty current, so expect to see big releases from the past year or two. All movies are in original version with Spanish subtitles. Also, there's a small concert on the stage before the movie starts.
When it comes to food, you are welcome to bring your own. Get as creative as you want; the sky is the limit! Think about crackers, dips, a fruit platter, or cava to celebrate the occasion! If you don't feel like going to the supermarket, you can pick something up from one of the food stalls.
Tickets tend to sell out, so make sure you check early on for your travel dates to see if you can snag any.
👌🏼 Our tip
It gets pretty chilly and windy at night at Montjuïc, so we recommend you bring a jacket or blanket.
16. Become a great paella cook
Would you like to return home and surprise your family or friends with your cooking skills? Master the art of paella, tapas, and other Catalan (and Spanish) traditional dishes in a hands-on cooking class. This is a great experience to learn about the culture, cook, have fun, and meet other people from around the world!
There are a variety of workshops you can choose from, depending on what you want to learn and how long you have. Some of the workshop also include a visit to a market to handpick the fresh ingredients and learn more about the food.
The best part? Once finished cooking, you'll treat your tastebuds with the food you've just prepared!
Here are some great cooking classes to check:
Paella cooking class and winery tour: If you have 5 hours, we can't recommend this experience enough. You'll not only learn how to cook a delicious paella, but also do a wine tasting in a beautiful family-run winery overlooking the Mediterranean Sea.
Looking for something more exclusive and special? Chef Yves Nicolier offers a private culinary experience that includes shopping in La Boqueria Market plus a personalised, hands-on cooking class. You won't be disappointed!
17. Disconnect at one of Barcelona's patios
The noise, traffic, and crowds of a European capital can be exhausting sometimes. But luckily, it's not difficult to find an oasis of peace in Barcelona for the pause you so much deserve. The city has some beautiful patios where you can recharge your batteries and forget about the urban chaos. Some of our favourites are:
18. Have xurros amb xocolata for breakfast
Xurros amb xocolata are a classic, especially during Christmas time. But you don't have to wait for the Christmasy season to enjoy them, you can eat them all year round!
In Barcelona, there's a charming street named Carrer Petritxol, known for having three emblematic cafés in Barcelona: Granja Dulcinea, Petritxol, and La Pallaresa. The speciality of those places? You guessed it: their xurros accompanied with a hot chocolate cup.
👌🏼 Our tip
If you're a chocolate lover, don't miss out on the shop Chocolateria Equador, located on the same street. They sell fine crafted chocolate, which is an ideal gift for those with a sweet tooth. Also, you can enjoy various chocolate products in their store, such as hot chocolate with melindros (a finger-shaped soft pastry made with eggs, flour, and sugar).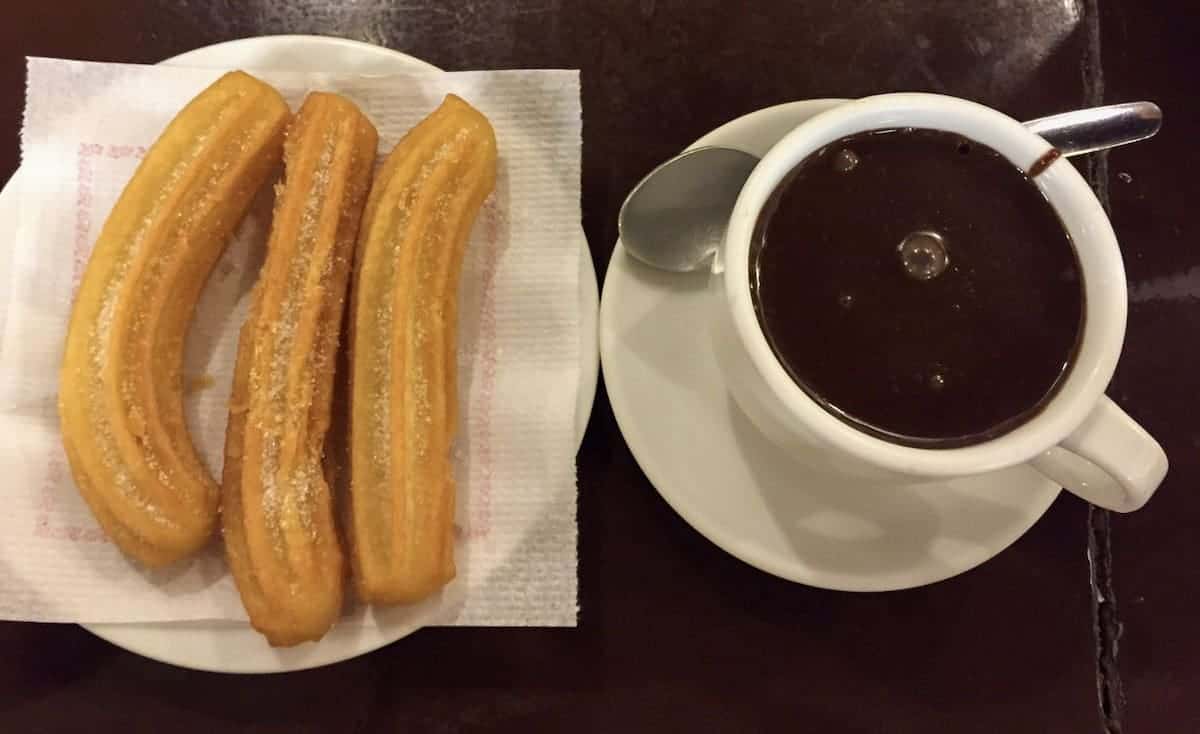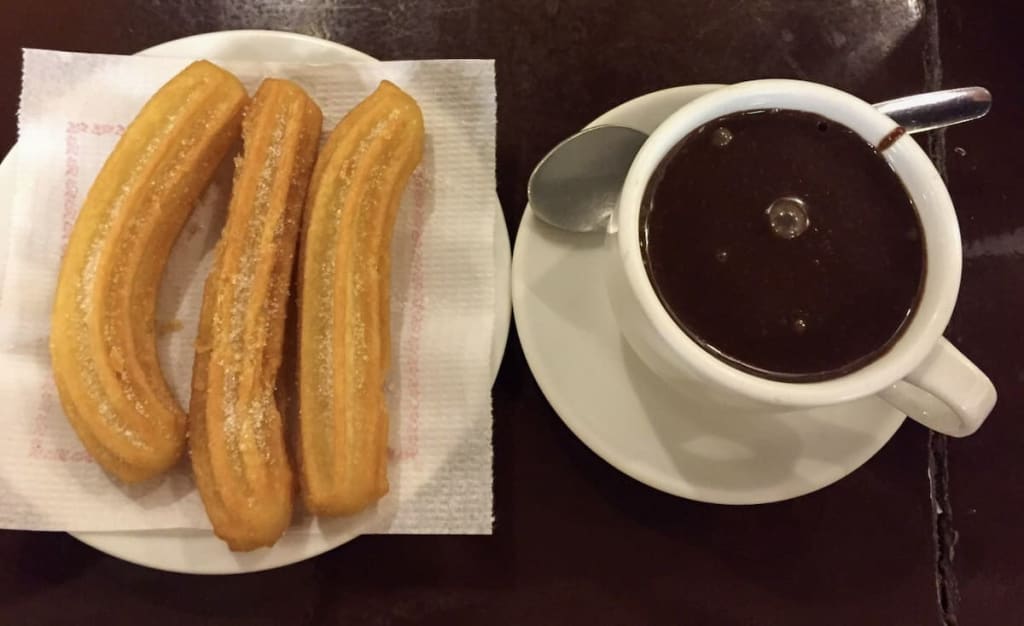 19. Brunch and graffitis at the Nau Bostik
The Sant Martí district is hardly known by travellers, but it's home to some exciting places. One of them is the Nau Bostik, a former glue factory repurposed as a cultural centre and best known for being an open-air street art gallery.
The building walls are covered in graffiti and paintings that keep changing with time. On the inside, there's always something going on: workshops, exhibitions, etc. We would advise checking the website to see the activities when you visit. Also, its patio is a lovely place to enjoy a beer or vermut.
You can start with a delicious brunch at Es Bien Brunch, walk to the Parc de la Pegaso park and end up at the Nau Bostik to admire the graffitis.
20. Enjoy a futuristic dinner at NÜA Smart Restaurant
Looking for a different dining experience? Book a table at NÜA Smart, the first smart restaurant in Europe. It's a tech-inspired eatery equipped with advanced technologies that will make you feel like you're in the future. You can consult, order, and pay from the interactive table, but you can also play games, draw, or check the weather.
The food is casual and not particularly cheap. You'll find a wide variety of foods: from poke bowls, dips, and pasta, to risottos and sushis.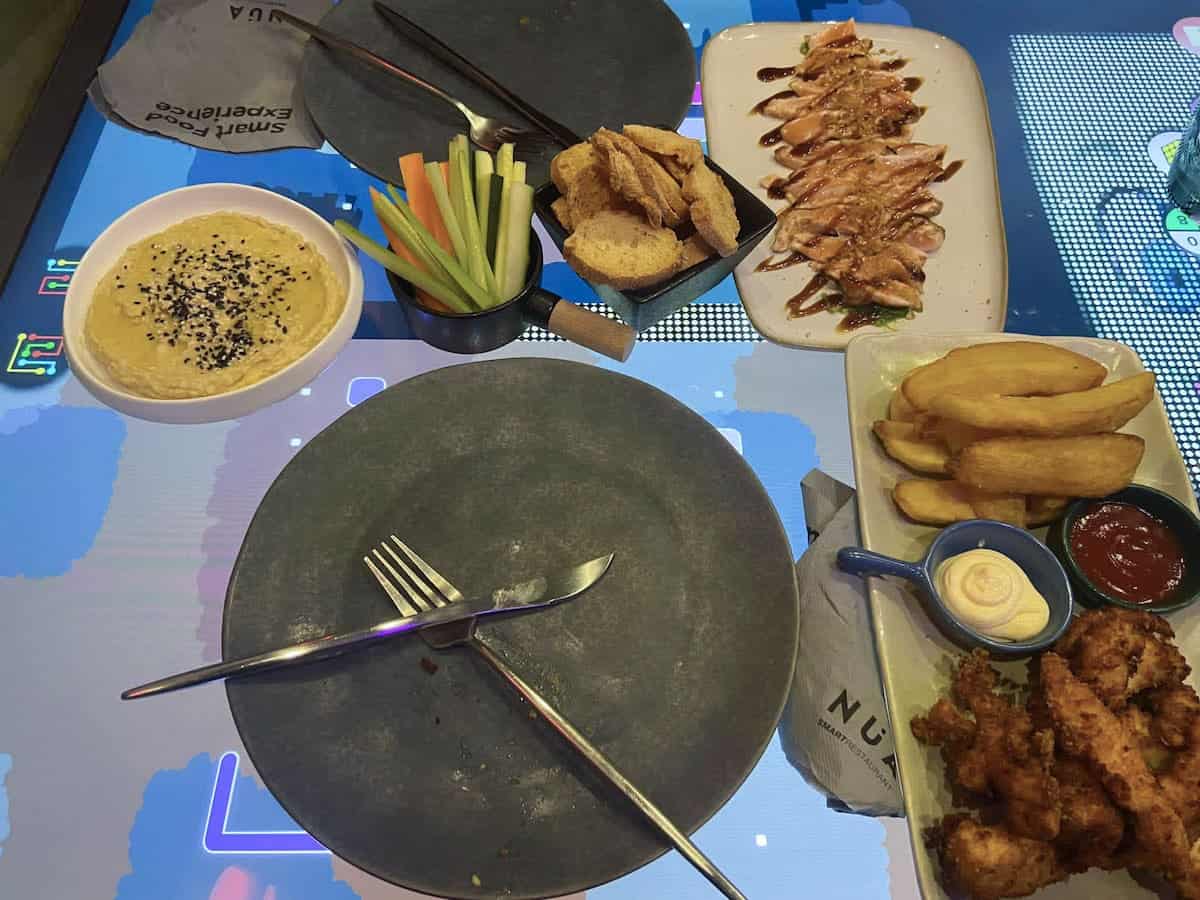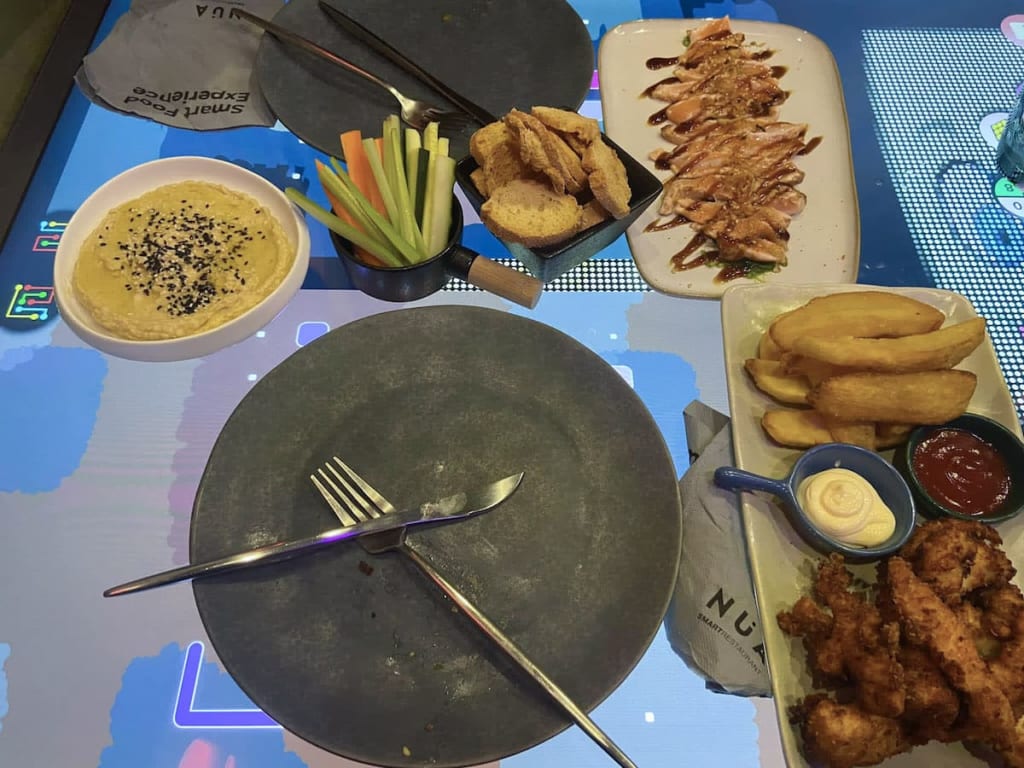 21. Join a yoga class under the sun (or the full moon!)
If you like to sneak some sport in your holidays while enjoying beautiful views of the city, add a class at Rooftop yoga Barcelona into your next trip. There are daily classes at sunset, and you don't need to worry about any material, as they provide you with everything.
The classes take place on a rooftop in the centre of Barcelona, from where you'll have amazing views as far as the Collserola mountains.
If you aren't into practising the pigeon pose under the sun, you also can book a night class (only when there's a full moon).
👌🏼 Our tip
Hungry after the class? Nearby, there is one of our favourite restaurants in the city: Flax&Kale. They serve pescatarian and plant-based food, and their roof garden is lovely. Also, a few meters from the restaurant, there's the pub Nevermind, a classic for skaters. It was built over an existing skate park and it has a very unique and alternative vibe.
22. Enjoy a concert in Casa Batlló's rooftop
This is a special plan for spring and summer nights! If you're visiting Barcelona in May, June, or July, we couldn't recommend you enough to book tickets to enjoy a concert al fresco on a rooftop while the sun sets in the background. And if this doesn't sound appealing enough, let us tell you that the rooftop is the one in the Casa Batlló, one of Gaudí's architectural jewels!
The experience starts with a visit, where you'll get to know the history of Gaudí and all the details of the Casa Batlló (it's the same as the day visit). You'll be given headsets (to hear the explanations) and can go at your own pace. The visit finishes at the rooftop, where you'll get a drink and enjoy the concert of choice that night.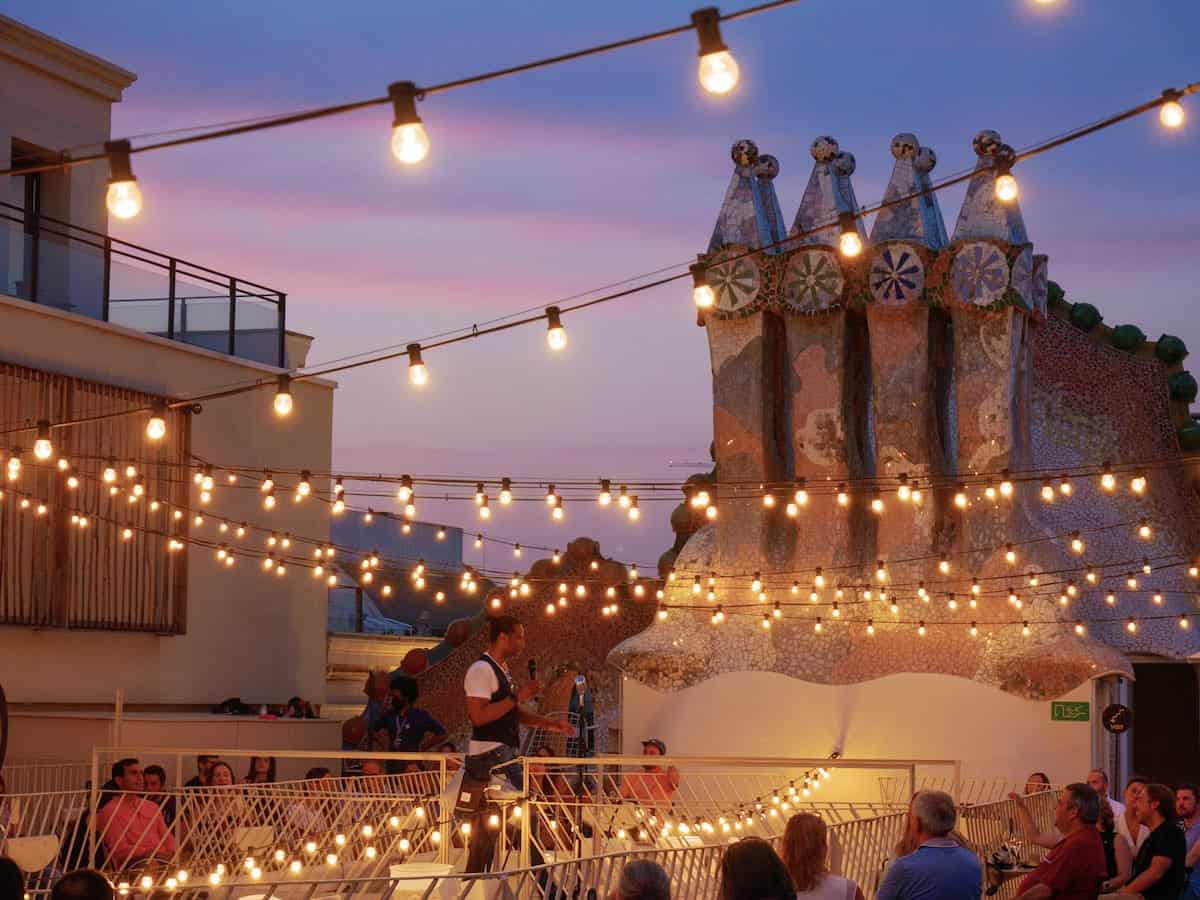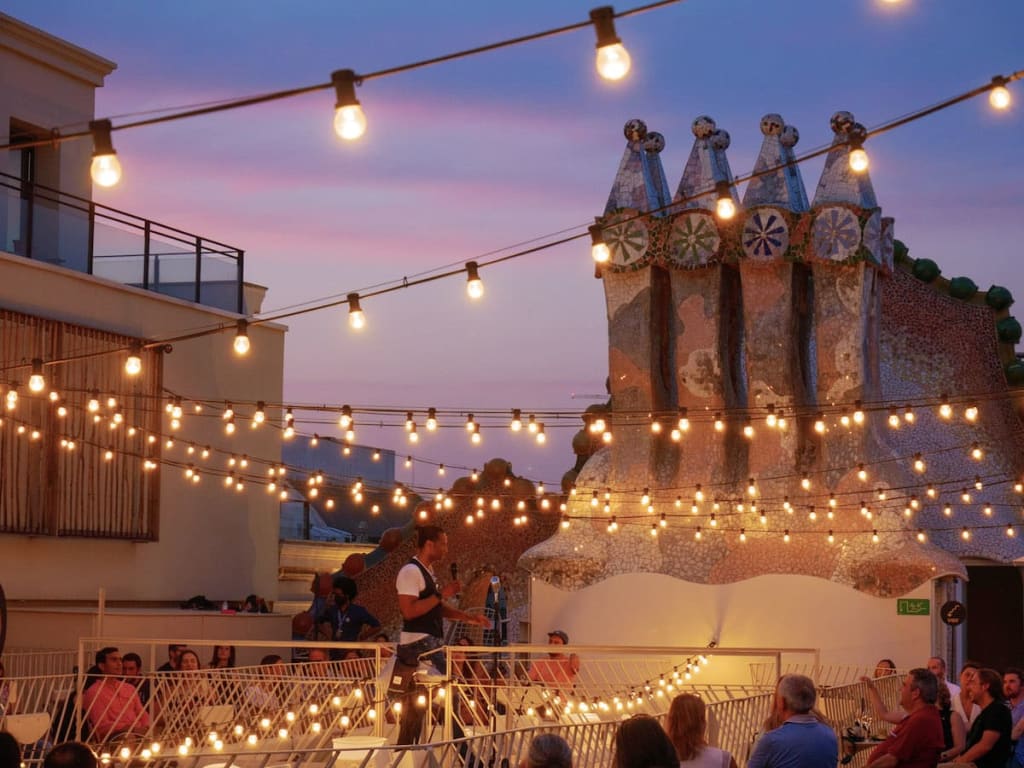 Can you think of other original plans in Barcelona? Have you tried any of those experiences? Tell us everything in the comments!
---
To keep living Catalonia like a local…
We recommend you the following posts: