Bon Nadal, as we say here! Christmas in Catalonia is similar to what you'd expect from most Western countries: decorated Christmas trees, children opening the 24 little windows of their Advent calendar, and streets flashing with twinkling lights. Yet, we also retain our own distinctive (and bizarre) traditions.
Want to know what they are, the most important dates, cool things to do and… ? We've got you covered!
After many years of celebrating Christmas here, we've rounded up a complete guide to the festive season in Catalonia. Below you'll find the important dates in the Catalan Christmas calendar, cool things to do this time of the year and our most important traditions.
Important dates to mark in the calendar during Christmas in Catalonia
Let's start with some good news; Christmas time in Catalonia doesn't end with the beginning of the new year. The festive season extends until Jan 6 (the Kings' day), and kids don't return to school until Jan 7.
During that period, there are a bunch of public holidays and festivities, the most important ones being:
Christmas eve (the night of the 24th Dec)
Christmas Eve is considered as important here in Catalonia, if not more, than Christmas Day.
Families gather together, and we start the evening by beating the Tió good and proper to claim our hard-earned gifts. Once our arms are tired of smacking the Tió, it's time to get some calories back!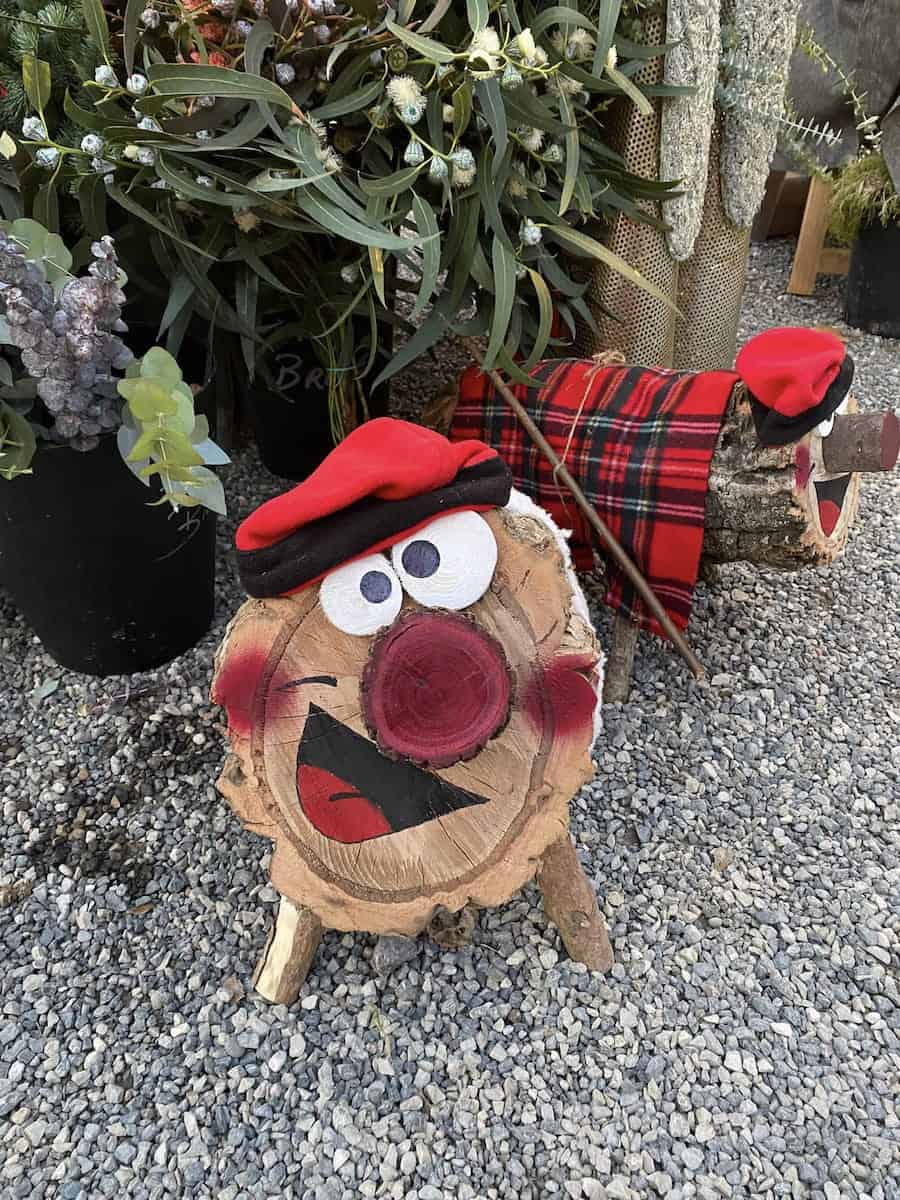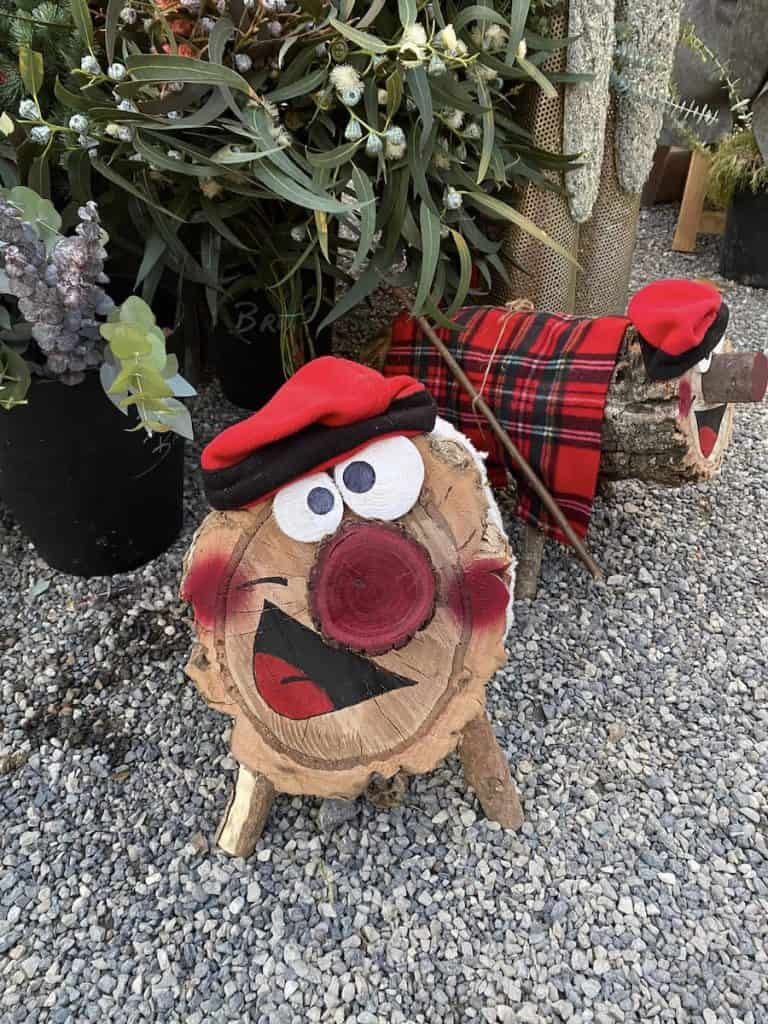 The dinner usually includes a delicious sopa de galets or seafood dishes. As a dessert, turró (nougat), polvorons, and cava are a common combination.
Once we finish eating a lavish dinner, the most traditional and religious people go to church to attend the Missa del Gall (Rooster's mass). This mass starts at midnight and commemorates Jesus' birth.
Those who don't attend the mass usually go out to visit friends or extended family. The clubs are generally open and throw big parties for those considering going out their main religion.
Christmas Day (25th Dec)
Christmas Day is a public holiday. Shops usually close, but most attractions, like Christmas markets, ice rings or cinemas, are open.
Christmas Day is when people usually unwrap their presents in most countries, but not in Catalonia. Here, we generally do so on the 6th of January, because it's Three Magics Kings that deliver the gifts, and not Santa Claus. 
However, Santa has become more popular here because of globalisation, and it's not unusual to see families in Catalonia opening gifts on Christmas day. Then the kids have more time to play before returning to school.
Catalans usually spend Christmas day at home with their close family or visit a nice restaurant. As a family tradition, we like to go for a morning hike to work up an appetite.
Then, a nice lunch is mandatory! It's typical to eat a roast or sopa de galets. For dessert, we eat turró and neules, and some people also add fresh pineapple to the table.
The afternoon is usually the time to recover from a food coma by doing low-energy activities like a Christmas movie marathon or playing board games.
Sant Esteve (26th Dec)
Sant Esteve (Boxing Day) is also a day dedicated to the family. We gather together and enjoy a delicious meal, usually consisting of canelons. Many believe this tradition comes from using the leftovers from the previous day (roast and broth) to avoid wasting precious food. Whether that's true or not is pretty irrelevant compared to how good they are!
Dec 26 is also a public holiday in Catalonia.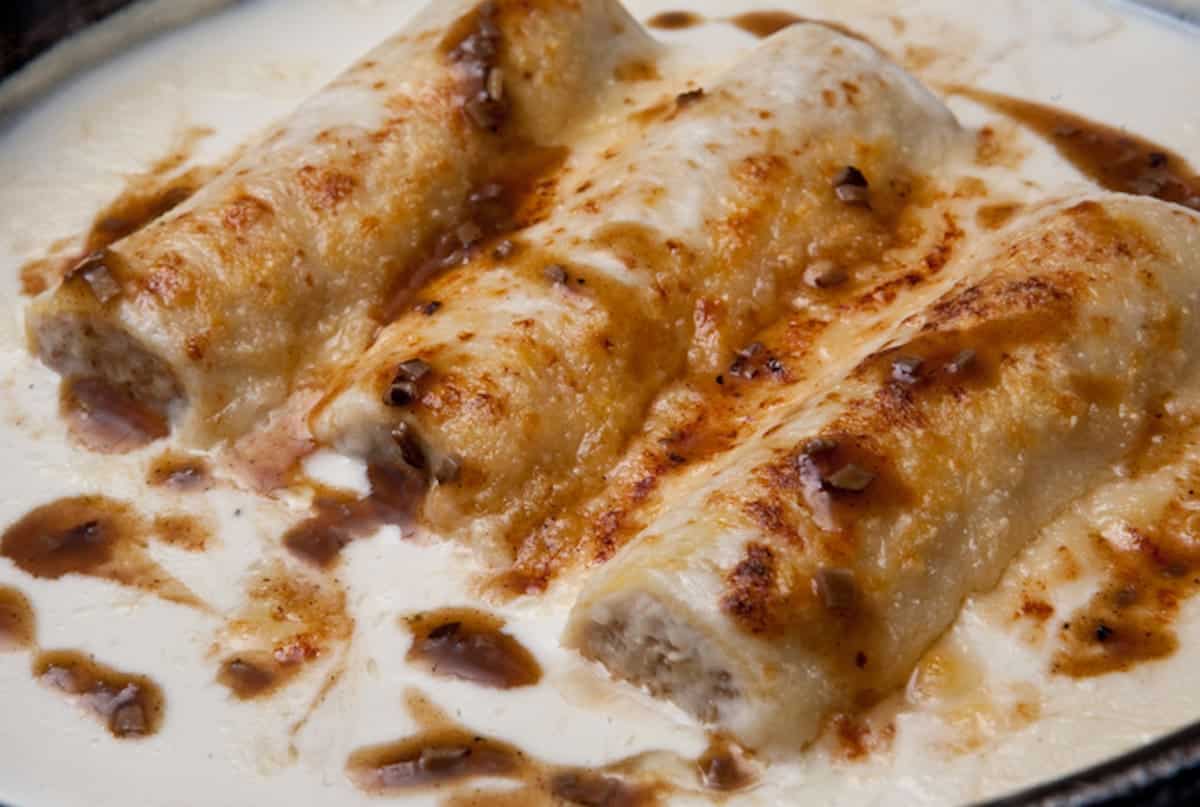 New Year's Eve (31st Dec)
The last night of the year. As in most countries, New Year's Eve in Catalonia includes a nice dinner, fireworks, and partying (either at home or in a club). But there's something special about New Year's Eve here: the twelve grapes tradition.
If you are in Catalonia during this particular date, make sure to go to the supermarket beforehand and buy some grapes (12 per person). Then, during the first twelve seconds of the New Year, you'll need to stuff one grape at a time in your mouth. If you don't choke, you'll have the best luck for the rest of the year (or at least, you'd have experienced our most sacred Christmas tradition without any injuries!).
New Year's Day (1st Jan)
The 1st of January is a public holiday here, and most shops, restaurants, and bars close. It's a day to recover from New Year's Eve celebration. 
Probably, it's also one of the best days to go out in nature or skiing as 80% of the population are too hungover to get out of bed.
La Cavalcada (5th Jan)
On the evening of the 5th of January, we celebrate the arrival of the Three Magic Kings. A parade takes place in every city of Catalonia, with trucks full of gifts the Kings will deliver. A bunch of characters walk in the parade: mineworkers who make carbon for those who haven't behaved well enough, patges reials (King's helpers) who collect the kids' letters to the Kings, and finally the coaches with the kings themselves.
The different characters throw sweets at the people watching and greeting them during the parades. Don't forget to bring a bag to collect them (and maybe a helmet if you have a delicate skull).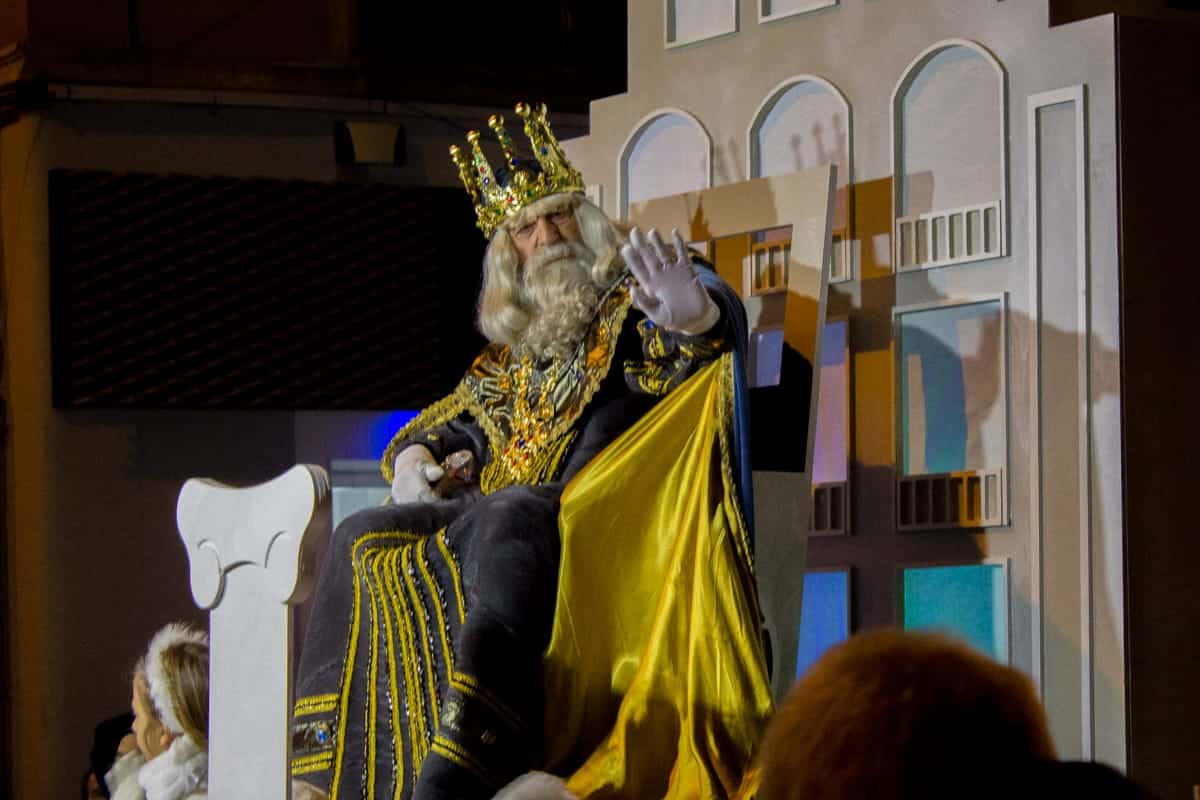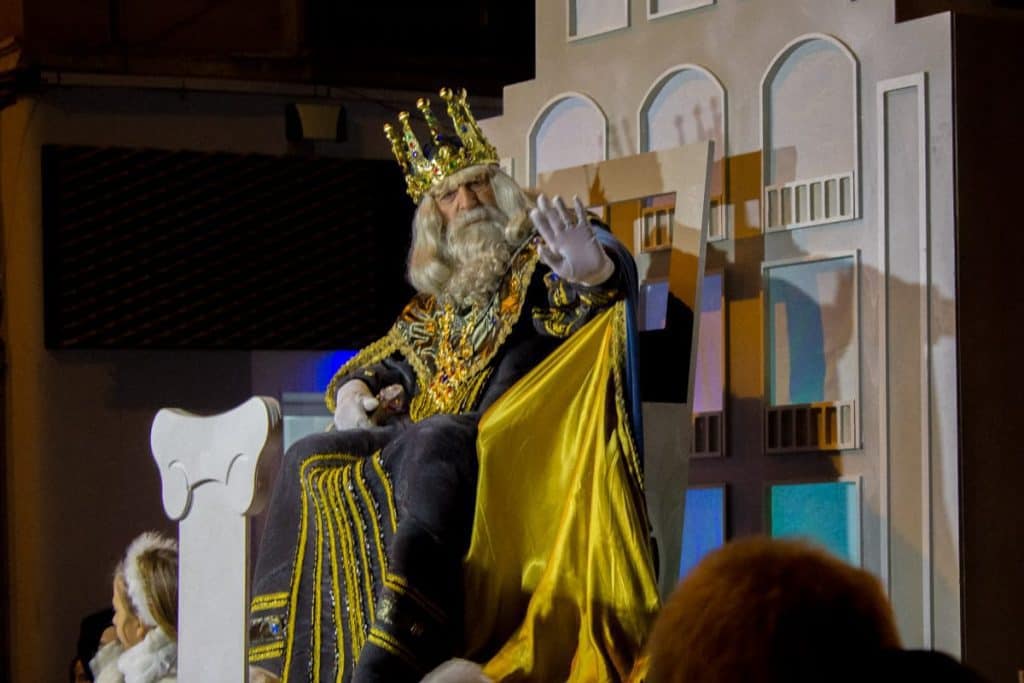 Kings' Day (6th Jan)
On Jan 6, it's time to open the presents that the Three Magic Kings have delivered. Like Santa Claus, the Three Kings fly with their magic camels on Jan 5 at night to bring gifts to everyone. The presents are waiting under the Christmas tree when the family wakes up on Jan 6.
After unwrapping the gifts and spending time with the family, a meal follows. As a dessert, it's typical to eat what we call Tortell de Reis, a special doughnut-shaped cake with a couple of surprises inside.
Jan 6 is a public holiday in Catalonia.
What to do for Christmas in Catalonia
Here you have some fun activities to sprinkle some extra magic into the festive period:
Take a walk to see the Christmas lights
Is there anything more Christmasy than strolling through the streets illuminated with Christmas lights?
From the end of November until the beginning of January, you can enjoy a magic atmosphere in most Catalan cities and villages.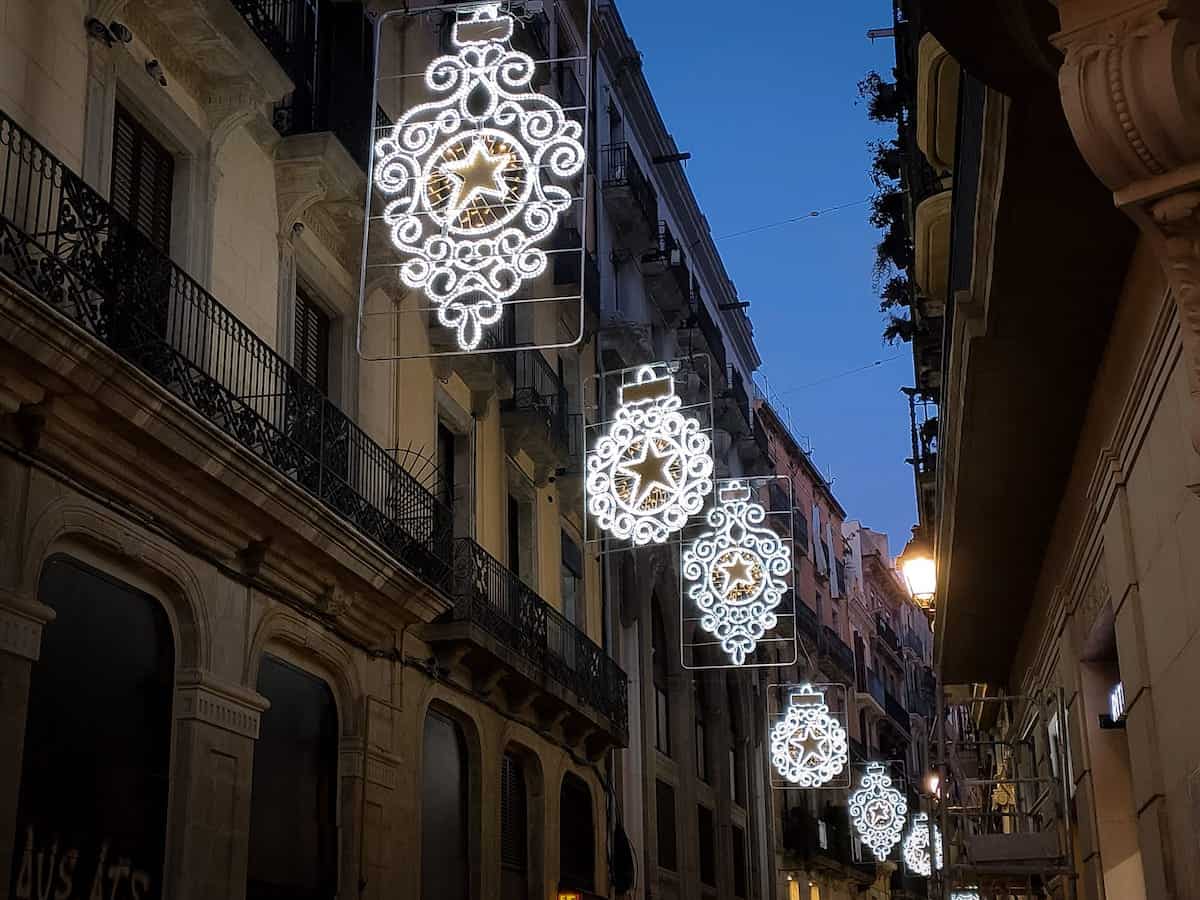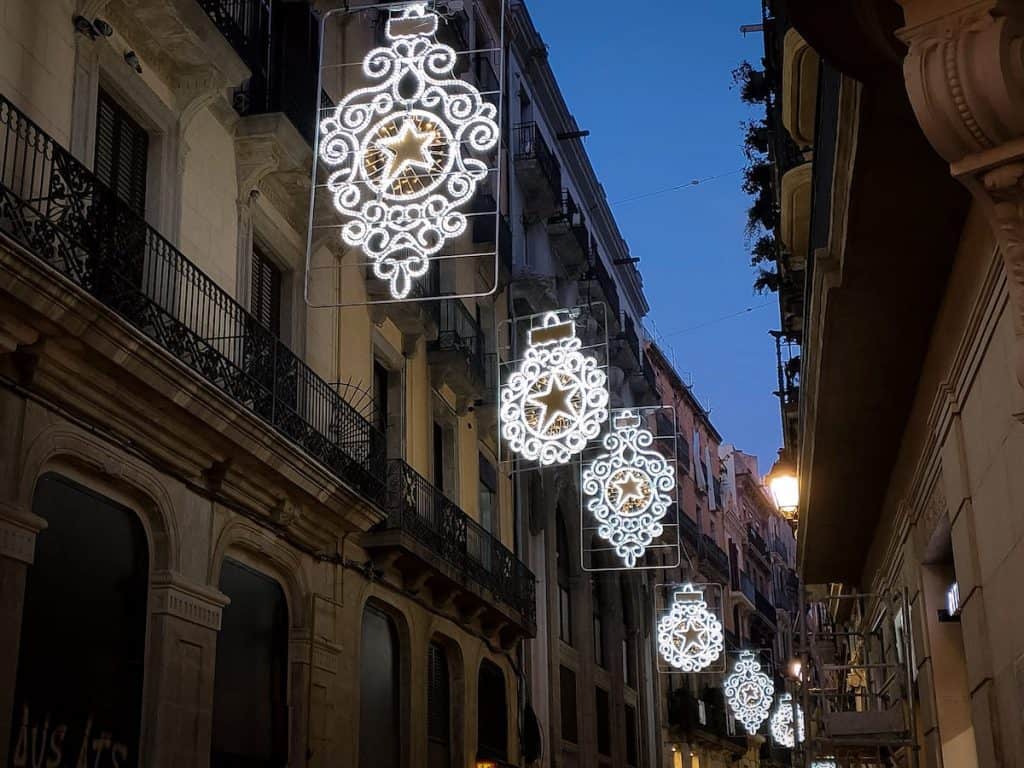 Practise your ice skating skills
One of our favourite activities to do during winter is ice skating. If you're like us, you might enjoy snuggling a couple of hours of ice skating into your trip.
Here's a list of several ice skating rinks located around the region:
Barcelona region ice rinks
Barcelona: You can find 3 ice skating rinks in Barcelona city. One is located in the Barcelona Football Club (prices start at 7.5 € and it's open all year except August), the other in the shopping mall l'Illa Diagonal (prices start at 5 € and it's open from Dec 5 to Jan 13), and the last one is in the neighbourhood Nou Barris (price is 6 € and it's open from Dec 10 to Jan 9).
Igualada: Price is 6 € and it's open from Nov 30 to Jan 13.
L'Hospitalet de Llobregat: Prices start at 7 € and it's open on the Dec 7, 8, 9, 14, 15, 16 and from Dec 21 to Jan 7.
Manresa: Price is 7 € and it's open until Jan 13.
Manlleu: Prices start at 5.2 € and it's open from Dec 8 to Jan 7.
Rubí: Price is 6 € and it's open from Dec 5 to Jan 7.
Pineda de Mar: Price is 2 € and it's open from Nov 30 to Jan 6.
Vilafranca del Penedès: Open from Dec 6 to Jan 5.
Girona region ice rinks
Figueres: Price is 6 € and it's open from Dec 5 to Jan 5.
Girona: Price is 8 € and it's open from Dec 23 to Jan 9.
La Jonquera: Open from Dec 1 to Jan 7.
Olot: Open from Dec 16 to Jan 9.
Palafrugell: Prices start at 3 € and it's open from Dec 20 to Jan 6.
Puigcerdà: Open all year. Prices start at 5.8 €.
Tarragona region ice rinks
Reus: Price is 7 € and it's open from Nov 23 to Jan 7.
Tarragona: Prices start at 6 € and it's open from Nov 23 to Jan 7.
Tortosa: Price is 6 € and it's open from Dec 1 to Jan 6.
Lleida region ice rinks
Lleida: Prices start at 6 € and it's open from Nov 30 to Jan 13.
Buy a caganer and a Tió at a Christmas market
Are you thinking about starting one of our weirdly fun Christmas traditions at your home? Then, the first step is heading to a Christmas market! In there, you'll find popping logs (Tió) and the Christmas crapper (caganer), amongst many other decorations.
Go skiing
The cold is no excuse to stay inside! Catalonia is ideal for skiing and snowboarding if you fancy a day of exercise between mountains. Home to 9 ski resorts, we're sure you'll find one that suits your level and taste.
For more info about the ski resorts in the region, take a look at our blog post "Where to ski in the Catalan Pyrenees: A guide to all the ski resorts in Catalonia".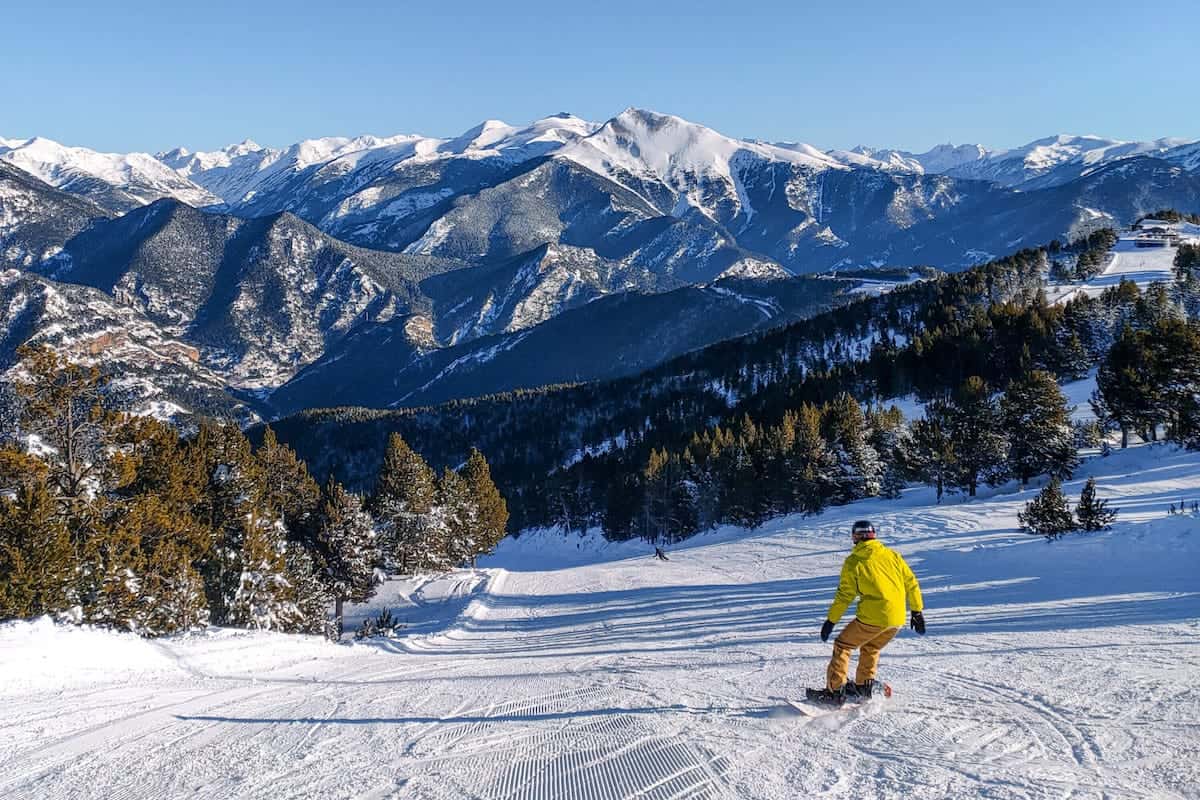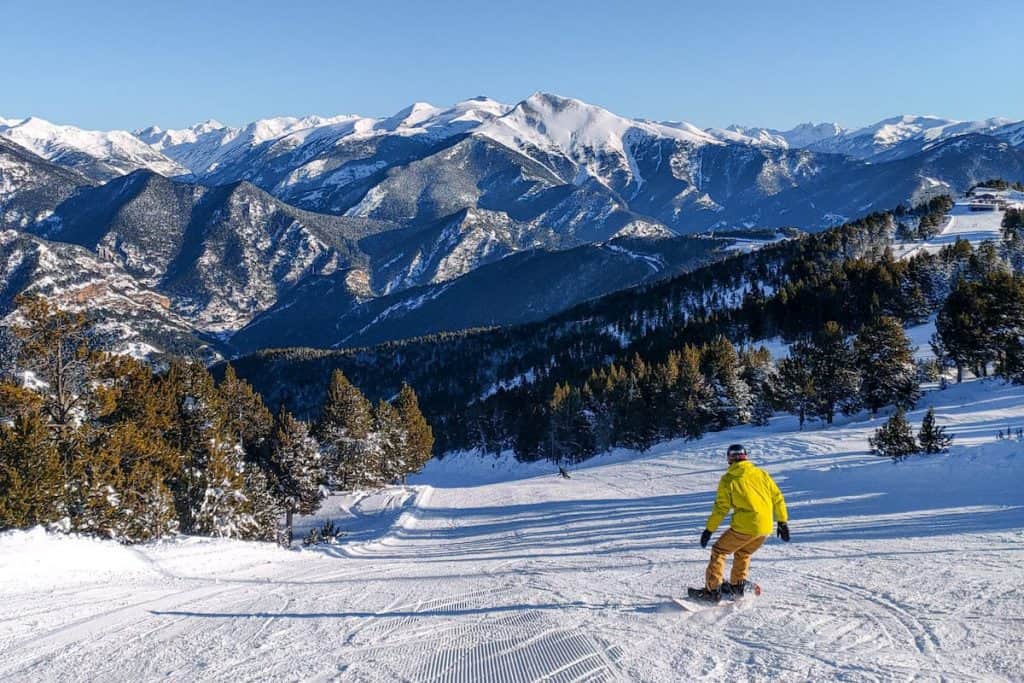 Join a swimming race in Barcelona's harbour
Do you have the guts to swim in the Mediterranean sea in December?
If the answer is yes, we're sure you'll enjoy participating in the Christmas swim organised in Barcelona's harbour. The race takes place on Christmas Day, and it's the oldest open water race in all of Spain.
The race's distance is 200 m, and the winner gets a special Christmas present: 250 €.
Catalan Christmas traditions
Here we've summed up some traditions Catalans follow during Christmas time that might be unfamiliar to you. Spoiler: be prepared; most of them involve 💩.
Pessebre: It consists of a representation of Jesus' birth in Bethlehem. However, the Catalan ones have a peculiar figure on the scene: the caganer, a peasant pooing in front of the newborn Jesus.
Caga Tió: This is also about poo. The Tió is a wooden log with a painted face wearing a red hat that "excretes" presents when children smack it and sing a traditional song.
Three Magic Kings: They were three wise men that embarked on an adventure to find the holy Messiah and bring him precious gifts. They are responsible for bringing the presents on Jan 6.
The twelve grapes: Catalans are too busy for hugs and champagne during the first twelve seconds of the Catalans' New Year. We're stuffing twelve grapes in our mouths, one each second, because this will give us good luck for the following year.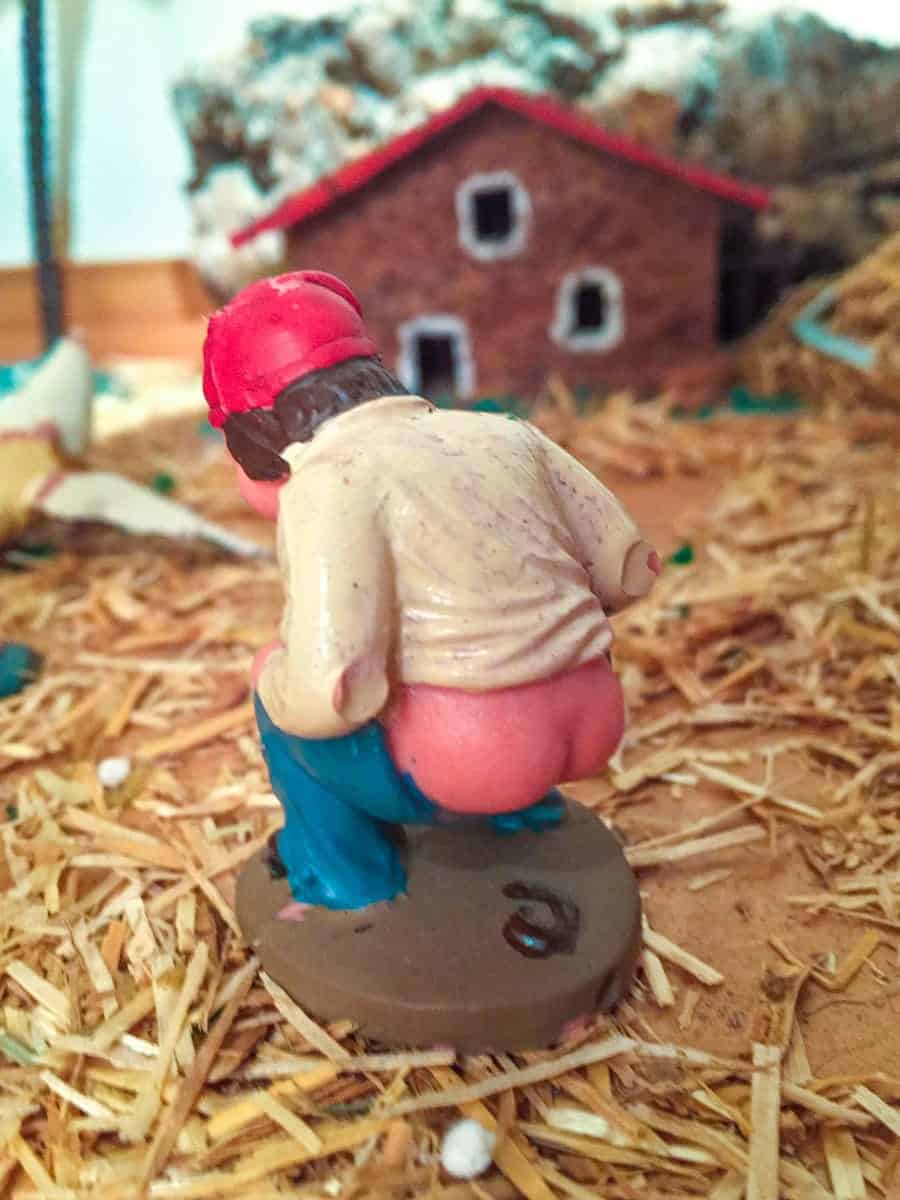 Culinary traditions during Christmas in Catalonia
We love to celebrate the Christian festivity in the form of long and succulent meals. Among the most traditional food we eat those days, we can find sopa de galets, canelos, turró, and neules.
If you come to Catalonia during Christmas time, please try them all!
Sopa de galets
Sopa de galets (or escudella) is a synonym for Christmas Day. It's a soup made with galets, pasta shaped like a snail shell. The shells can either be big or small. If you use the small variety, the soup includes a meatball, but if you use the big ones, you stuff directly the minced meat into the galets.
The magic of this recipe is in the broth. The more things you use to make it, the better. Vegetables, poultry, and meat? Nice try! You must add some botifarra (black or white Catalan sausage), cansalada (streaky bacon), or pig's ear to have a Christmas broth in all its glory!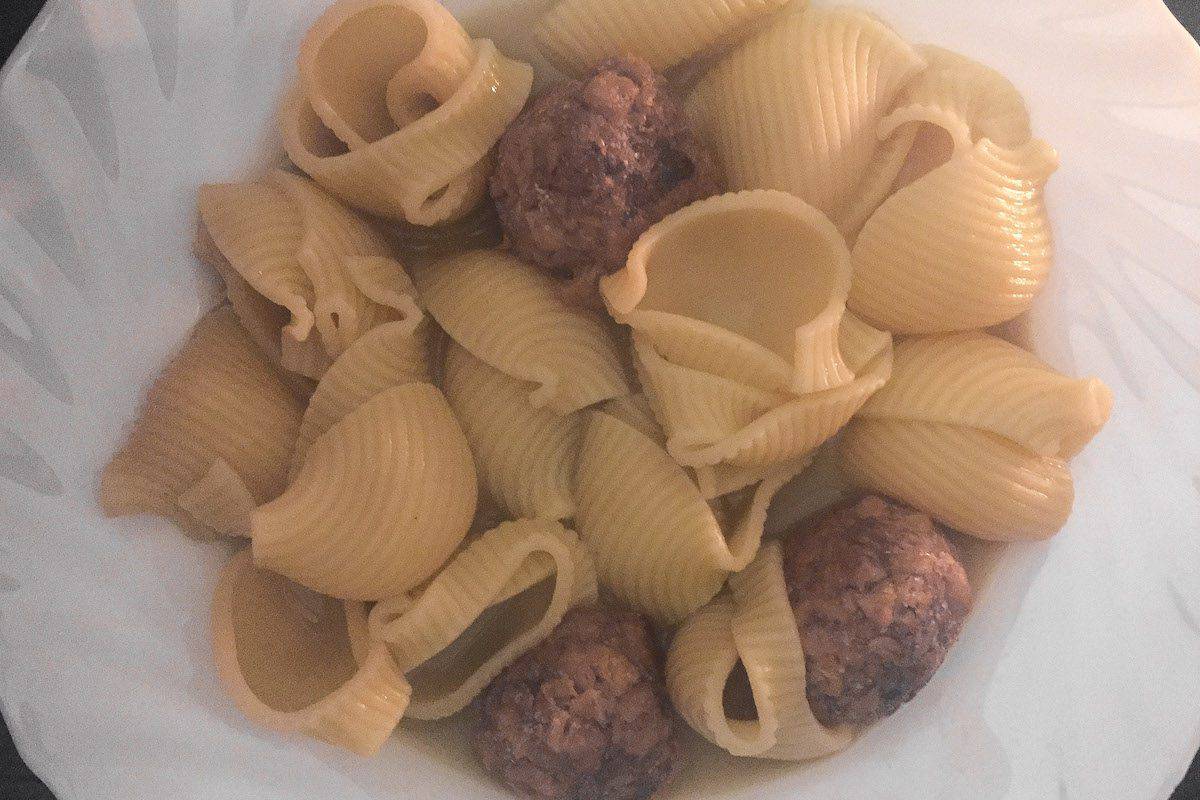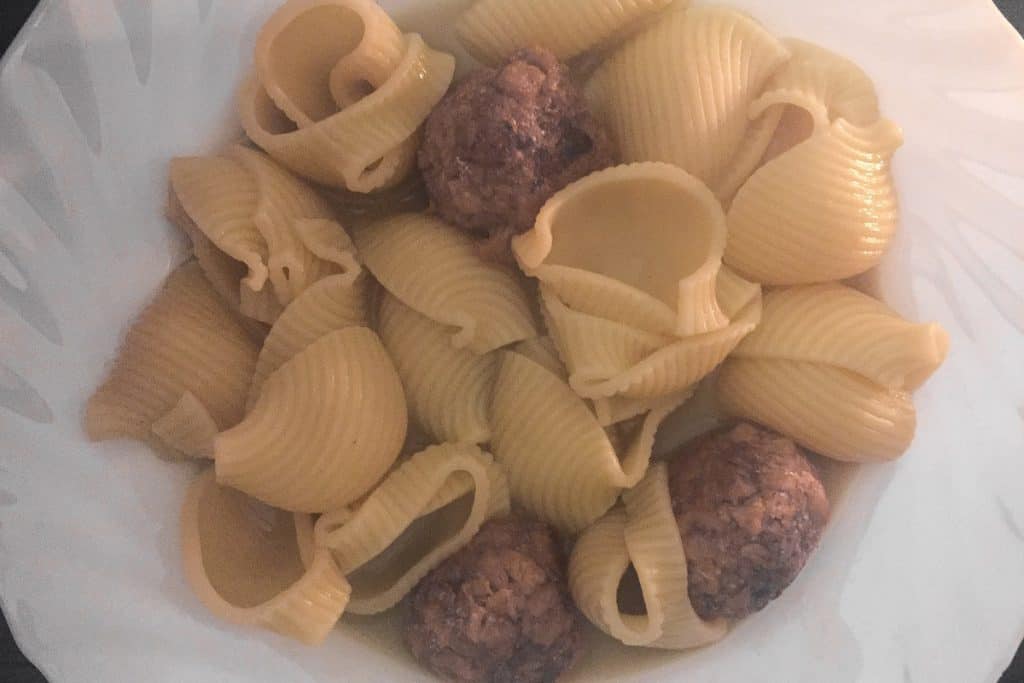 Canelons
Canelons are the main protagonist of Boxing Day (26th Dec). This dish was imported by Italian chefs who worked for the bourgeoisie in the 19th century. Thank God they brought it here! The recipe rapidly became popular and twisted, becoming somewhat different from the Italian version.
If you're still wondering what we're talking about, canelons are made with cylindrical pasta filled with meat and covered with bechamel and cheese.
Today, you can find canelons filled with meat, vegetables, seafood, mushrooms, etc. It's a tough decision, but whichever you choose to try, it'll probably be delicious!
Torró (nougat)
Turró is the dessert par excellence of the Christmas festivity. There are innumerable variants of this dessert. The more traditional ones are Xixona (soft and creamy nougat), Alacant (hard nougat), turró de crema (burnt egg yolk nougat), and chocolate nougat.
The theories of where turró comes from are not clear. Some say that back in time, this Christmas sweet was reserved for the wealthy Arabs, who ate it for dessert on special occasions. Others say that nougat was used by Greek sportsmen who participated in the Olympic Games to give them energy.
According to historical writings, Christmas workers received turró in the 15th century as a form of payment in Spain.
Whatever the truth is, turró gradually became popular. Now, wealthy or not, Olympian athlete or not, everybody here eats it for Christmas.
Neules
Another typical Christmas sweet. The legend says that neules were invented when a nun had the brilliant idea to roll a consecrated wafer. Over the years, the recipe for this rolled wafer was perfected, and it became thinner and crispier.
If you see someone grabbing a neula, and dunking it into a glass of cava, don't panic. Even in medieval times, it was normal to do so, and it looks like we haven't changed that much!
Cava
All right, the food is sorted. We've got escudella, turrons, canelons, but what about the drinks?
No Christmas meal is completed without a bottle -or two- of cava! This bubbly drink, similar to champagne, is our preferred choice for toasting festive occasions.
In fact, Christmas is the time of the year when most bottles of cava are sold.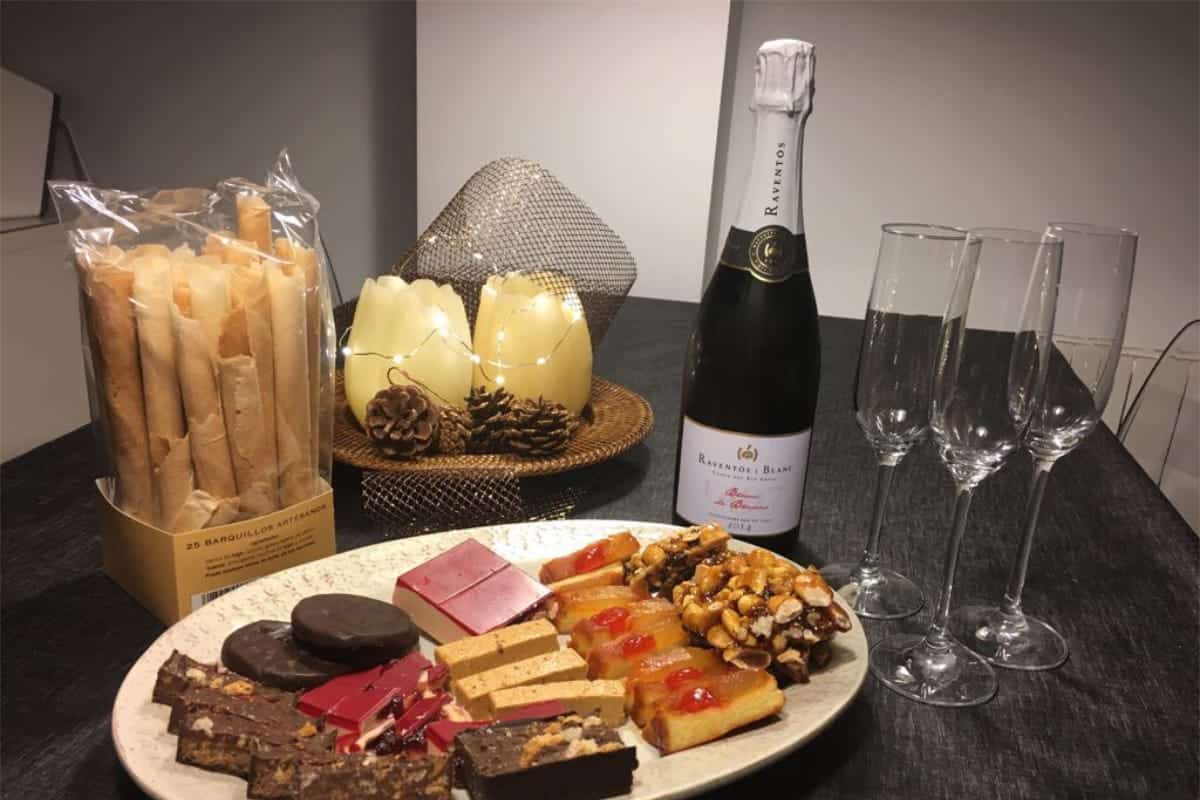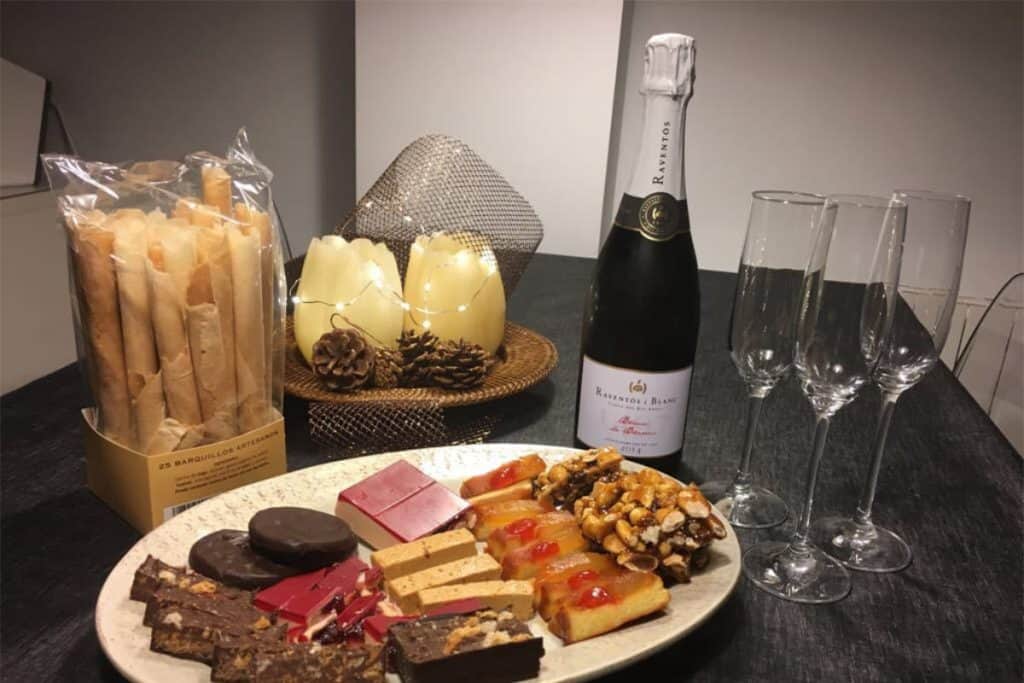 We hope by now that you have a better picture of what to expect if you come to Catalonia during Christmas time and that you're looking forward to coming here and experiencing it. If this guide has been helpful, leave us a comment explaining your Christmas adventures to us!
---
Are you looking for more Christmas inspiration?
We've written more blog posts related to Christmas that you might be interested in reading:
As you've seen, Christmas here involves a lot of food. We recommend sneaking some activities between meals to open up the appetite and enjoy the food better! Here are some suggestions: