Barcelona can be enjoyed in many ways and, even if you've been there one, two or three times, we're sure you haven't discovered the city from all its perspectives.
Here, we want to share alternative and active ways to explore the capital, so your visit can be more exciting than sitting on the tourist bus. Who said there's no room for adventure in a big city?
How to discover Barcelona in a different way?
Cycling
Cycling is the go-to option if you want to cover bigger distances. Use the bike to get lost in Barcelona's streets and discover the city in one of the most sustainable ways.
Biking in Barcelona has become very popular in the recent years, as the cycle lanes network has been expanded and there's a raising trend towards sustainable transportation. So, the city had never been so prepared to accommodate bikers!
You can use this map to move around Barcelona by bike. It shows the different bike lanes in the city and gives you the best route to go from point A to B.
🚲 Cycling route (and Wikiloc track)
Looking for a sightseeing cycling route? We've prepared a one that covers the main monuments and streets of Barcelona. You can find it on our Wikiloc profile and use it as a guide to plan your cycling tour around the city. This route passes by some of the most iconic spots in the city: Plaça Catalunya, La Rambla, La Boqueria, Santa Maria del Pi, La Ciutadella, Santa Maria del Mar, Arc de Triomf, Sagrada Família, Park Güell, Casa Vicens, La Pedrera and Casa Batlló.
Where can I rent a bike in Barcelona?
You now know the routes and the cycling lanes, but there's one thing you're missing: the bike! There're several rental places scattered around Barcelona where you can rent a bike. Here we list some of them:
Born Bikes: Located in the Born district. The price for renting a bike starts at 7 € (2 h rental). They also rent tandem bikes, which can be a super fun way to explore the city! The bikes come with locks to safely enjoy your stops and a map of the city. The shop is open every day from 10 am to 7 pm, except December 25th, 26th and January 1st. Besides renting the bikes, Born Bikes also offers four different bike tours. Those are a good choice if you feel more comfortable cycling around with a guide.
Cruising Barcelona Bike Tours: Located in the Eixample, nearby the metro station Universitat. The shop is open daily from 10 am to 8 pm and bike rental starts at 6 € (2 h). They even deliver the bike to your hotel at an additional cost of 6 €. There's also the option of renting an e-bike, although it's more expensive (starting at 12 € per 2 h). And if you'd like to go around with a guide, they also offer various guided tours.
Bike Rental Barcelona: Located at the end of Les Rambles street, near the metro station Drassanes. They've got a wide range of bikes, from e-bikes to folding bikes to tandem bikes. The prices start at 8 € (3 h rental). They deliver the bikes to your hotel, apartment or any other place convenient for you. Bike Rental Barcelona also offers guided tours.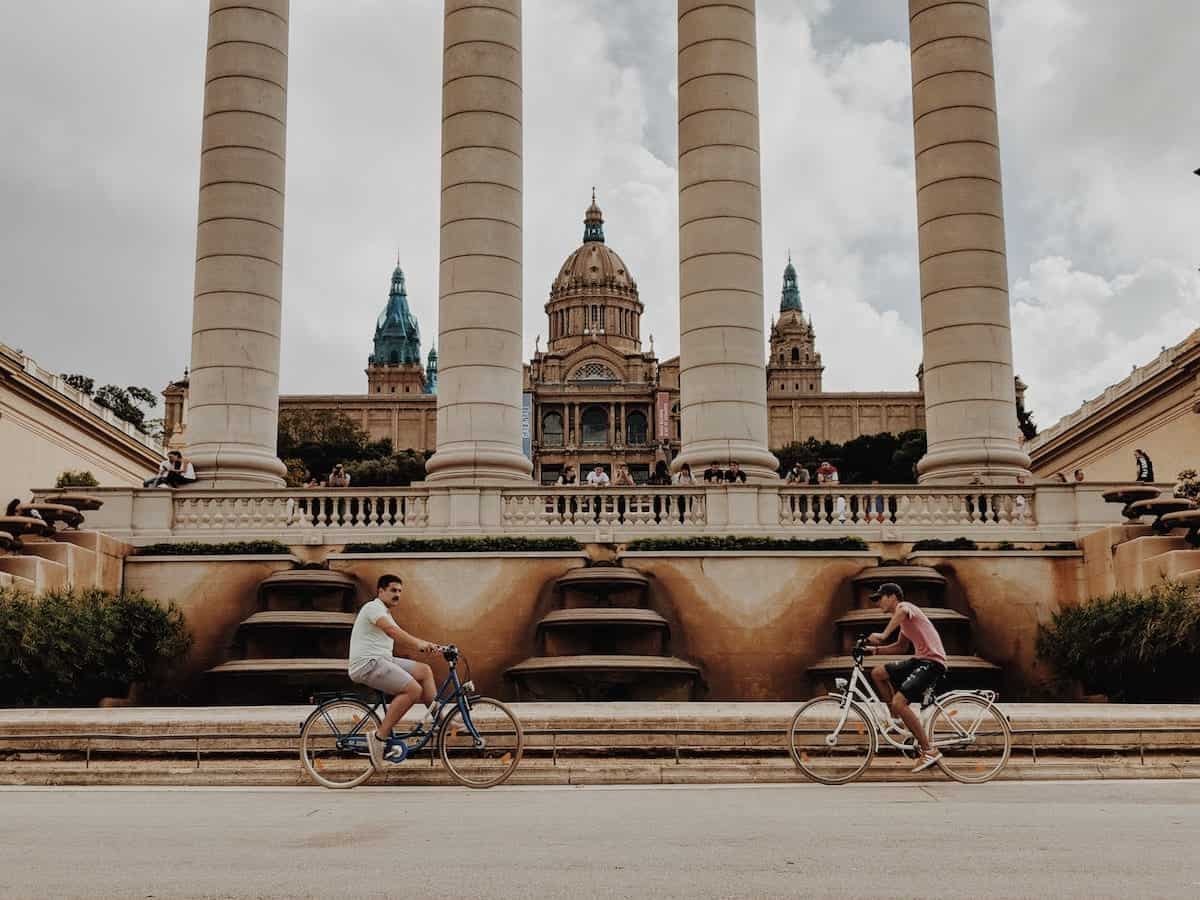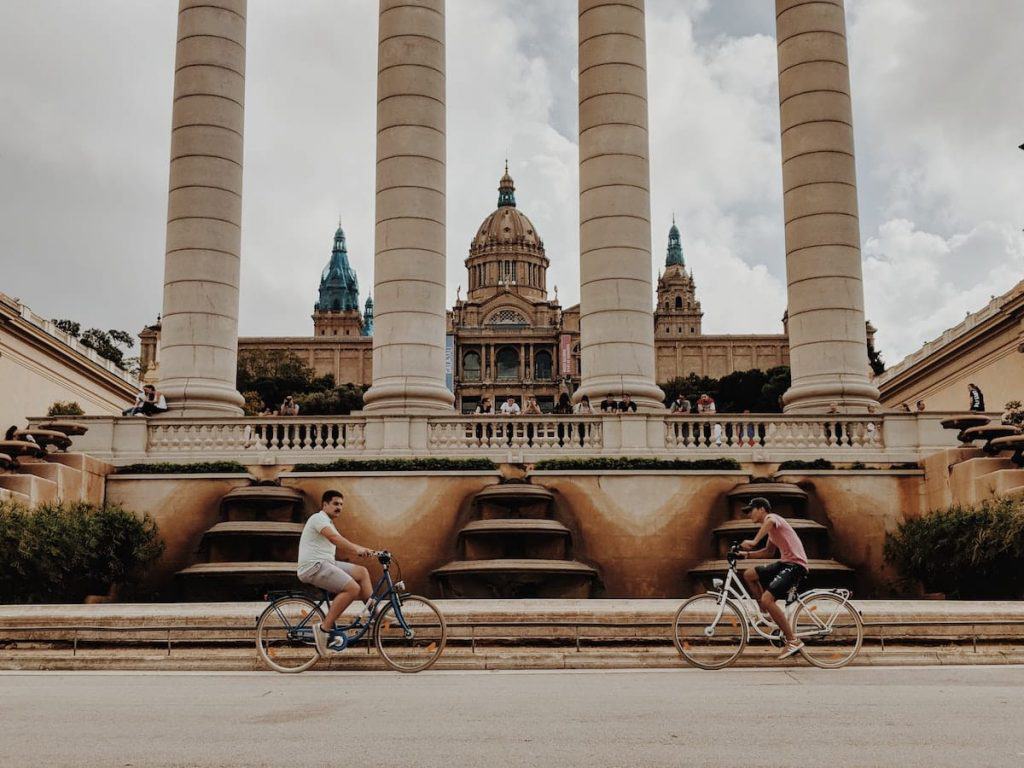 Stand up paddling
A fun activity to enjoy the city's coast and get to see the W Hotel and Barcelona's coastline from the sea is stand up paddle (SUP). Rent a SUP board and enjoy the freedom of exploring the coast in your own pace.
Also, SUP is an excellent activity for all levels, as you can stop whenever and wherever you want. Feeling tired? Just lay on the table and enjoy sunbathing!
Many places rent SUP boards on Barcelona's coast. We've tried Anywhere Water Sports and Ungravity, both located in La Barceloneta. The rental went smoothly and the service was great!
The price of a SUP rental starts at 15 €/hour (Anywhere Water Sports) and 20 € for 1.5 hours (Ungravity). If you don't feel confident, you can also sign up for one of their SUP classes.
👌🏼 Our tip
A cool thing to do is planning a SUP adventure during sunrise or sunset. Both of the places we mentioned before offer SUP sunrise and sunset sessions. In Barcelona, the sun rises in the sea, so a magical experience is guaranteed. Downside? You'll have to get up early, but we assure you it's worth it!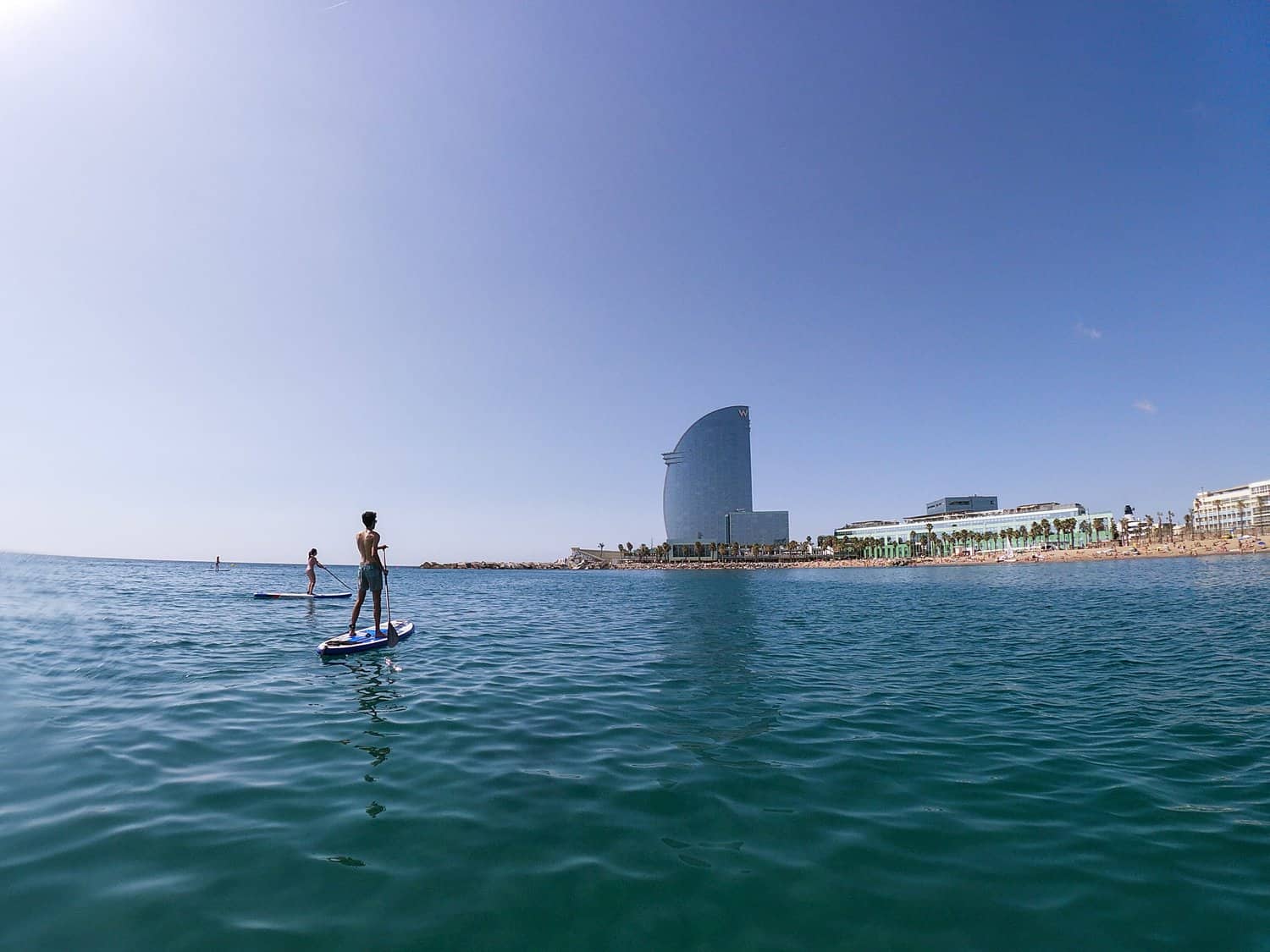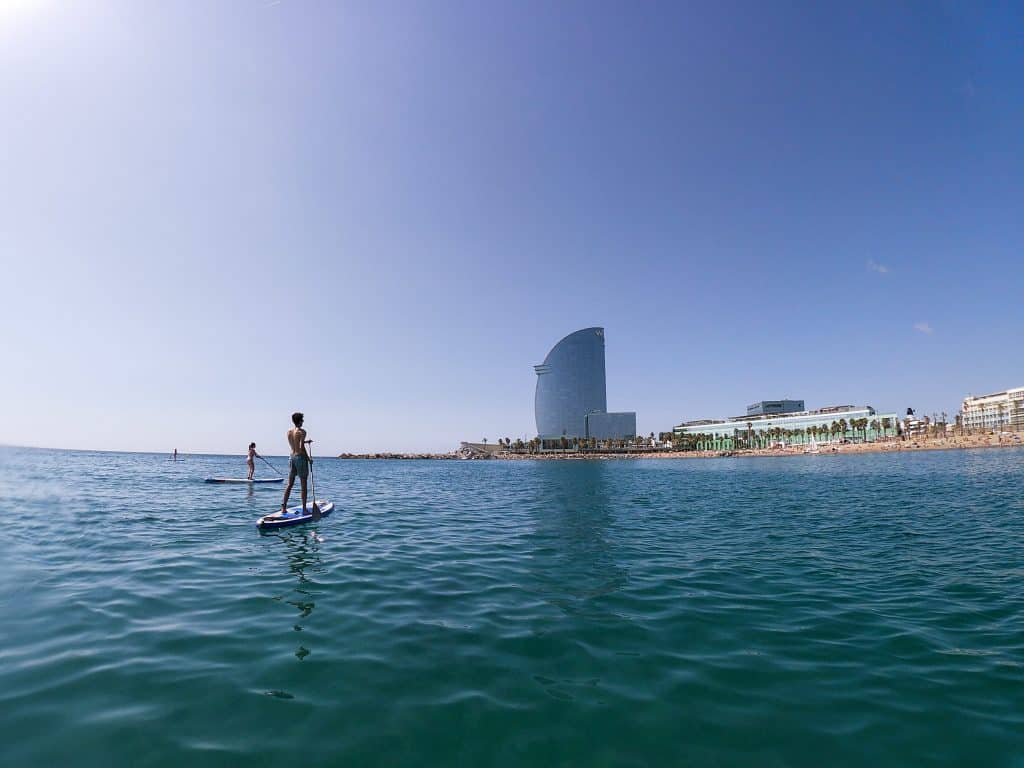 Snorkelling / Diving
Barcelona is better known for its football team than for scuba diving, that's for sure! However, it does have some diving and snorkelling spots.
Change a visit around the city, with its monuments and buildings, to an exploration of its seabed, where you will get to discover the city's marine fauna.
Most of the dive centres located in Barcelona carry out the immersions outside of Barcelona, usually at the Costa Brava. However, few of them also offer diving in La Barceloneta, an alternative and fun way to explore Barcelona's coast!
Underwater Barcelona is one of them. It's an eco-friendly dive centre that offers both snorkelling and diving experiences on Barcelona's beach, usually in front of the W Hotel. If you're wondering if there's any sea life at this spot, there is! Especially colourful nudibranch (you might know them as sea slugs), fishes, starfish, some octopuses, and even seahorses!
If diving is too much for you, Underwater Barcelona also offers a guided snorkel tour in the bay with calm waters located on Sant Sebastià beach. It lasts 60 min, and the price is 25 €.
🤿 Looking for diving trips from Barcelona?
We've written a whole guide about diving in and around Barcelona, featuring beautiful spots not too far from the capital, how to get there, and recommended diving tours with gear, transportation, and guide included.
Running
Running has also become a popular activity in the city of Barcelona. The city is surrounded by natural spots, such as the beach or the natural park of Collserola, which provide a refreshing backdrop for joggers and sprinters alike.
Our favourite runs in Barcelona
Here are some of our favourite running spots in Barcelona:
Parc Ciutadella: One of Barcelona's only runner-friendly green spaces inside the city. The park is relatively flat and small, making it ideal for a short run or a beginner's run. We advise you to get there either early in the morning or late in the evening, as the park gets very crowded during the day, especially on weekends. If you want to increase the distance, you can go from the park to the beach and run in the beach promenade.
The waterfront: Up to 9 km of great running along the flat, pedestrianised promenade with views of the Mediterranean sea. Get there early to beat the crowds and enjoy the sunrise from the sea; a treat for the early risers! Also, it's the perfect location if you fancy a post-run dip. We recommend you running from the Villa Olímpica towards the Forum, as it's a much quieter route.
Collserola natural park: The largest green space in the metropolitan area of Barcelona is just a short ride away from the city centre. There're many routes in the park, but probably the most accessible one is Carretera de les Aigües (although it's also the most crowded). It's a 9-km flat, traffic light-free route with impressive panoramic views of the city. You can get there easily by public transport from Plaça Catalunya, using the Ferrocarils de la Generalitat S1 or S2 until the stop Peu del Funicular. From there, you just follow the Carrer de Santpedor up and you'll get to the Carretera de les Aigües.
Montjuïc: Montjuic is a hill on the south side of Barcelona, a good option for runners looking to train with some incline. You can start the run in Plaça d'Espanya and climb over 180 metres up the hill of Montjuïc. Along the run, you'll be rewarded with aerial views across the city, from the mountains of Collserola to the Mediterranean sea.
Parc del Besòs: A green space that stretches along the last 9 km of the Besòs River. Run in grassy lawns and paved paths with river views and forget for a while that you're in Catalonia's capital. You can get there by tram (stopping at Sant Adrià del Besòs or La Catalana), or tube (stopping at Can Peixauet or Artigues).
👌🏼 Our tip
Keep in mind that air quality isn't the best in Barcelona and air pollution can be an issue, that's why we like to run early, when there's less traffic. Also, we recommend the natural areas mentioned before rather than running the middle of the city.
If you're not into running alone and prefer some good company, several organised groups meet to share their running passion. For example, Barcelona Casual Runners group meets three times a week and sometimes during weekends too. You can find their next events on the meetup group.
You can also go for a sightrunning, meaning exploring the city with a guided tour while burning some calories. Running Tours Barcelona offers six different guided experiences that include lots of running and interesting facts!
Running events in Barcelona
Add a challenge to your trip to Barcelona by signing up for one of the running events taking place in the city.
Marina ran the marathon several years ago, and the atmosphere was super festive. Many runners stopped in front of the iconic buildings, such as La Sagrada Família, to take selfies while racing. Sightseeing while doing exercise, a win-win!
If you're not ready yet to run 42 km, there're other shorter races taking place in the capital: half marathon (21 km), cursa Corte Inglés (10 km) and cursa Bombers (10 km).
Skating
Inline skating is one of our favourite ways to explore the city. We couldn't recommend more going to the waterfront promenade, especially the section from the W Hotel to the Nova Icària beach. Palm trees, the beach, people jogging, skating, exercising,…you might think you've been teleported to California!
Another great spot for skating is Passeig del Mare Nostrum, where the W Hotel is located. If you want to avoid the crowds, head there early. If you're looking to enjoy the beach's atmosphere fully, go there in the evening and enjoy the show!
You can rent inline skates at Inercia, located next to the Ciutadella park. Keep in mind that they're closed on Sundays. If you are more into performing tricks with a longboard, you can also rent one there. If that's your option, head to Macba (Barcelona Museum of Contemporary Art), the longboard mecca of Barcelona. Prices for inline skate and longboard rental start at 5€ (1 h), and you can rent them for an entire weekend or a whole week.
When we started skating, we joined the Associació de patinadors de Barcelona. It's a non-profit organisation that do skating lessons (basic level) for free. The intermediate and advanced classes are paying. They also organise routes around the city every Friday at 10 am, a fantastic way to meet people and share your skating adventure. You can find all the info here.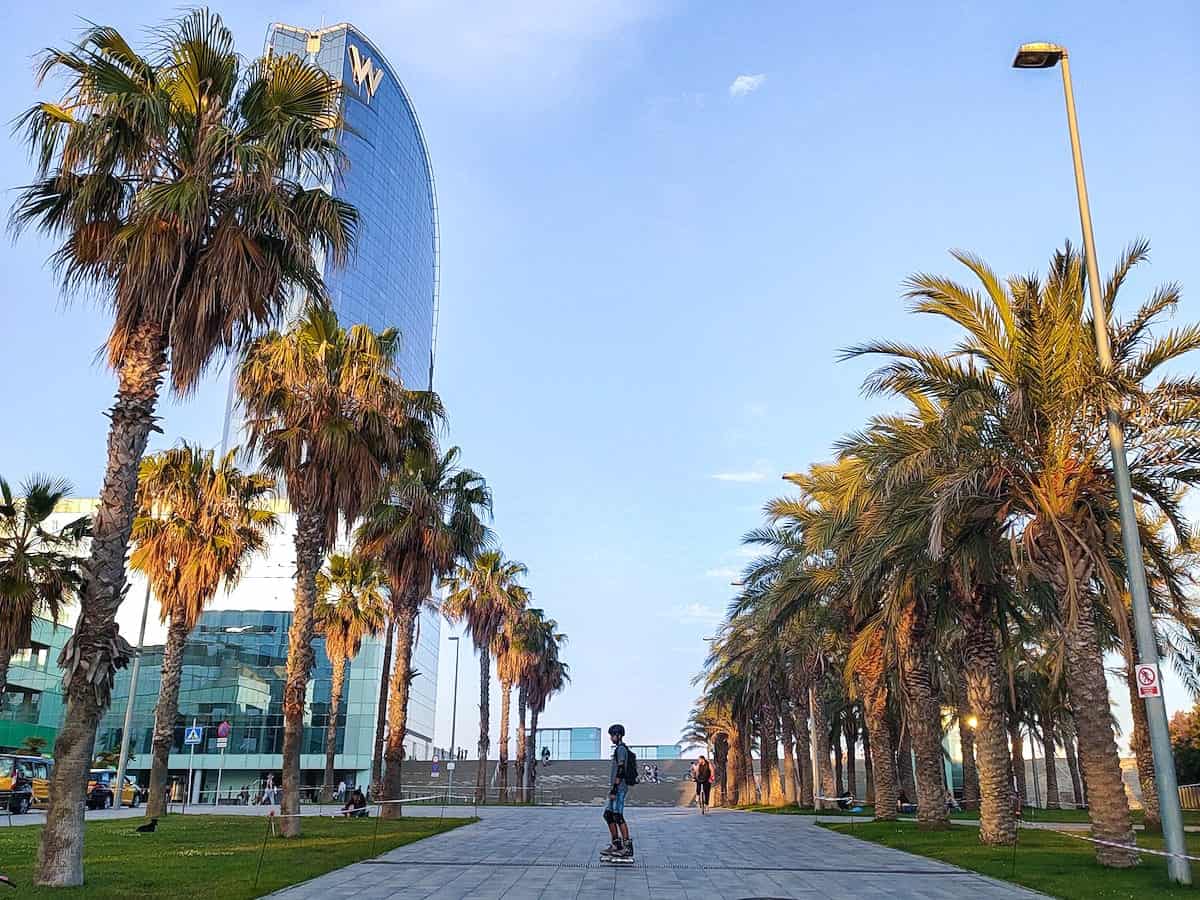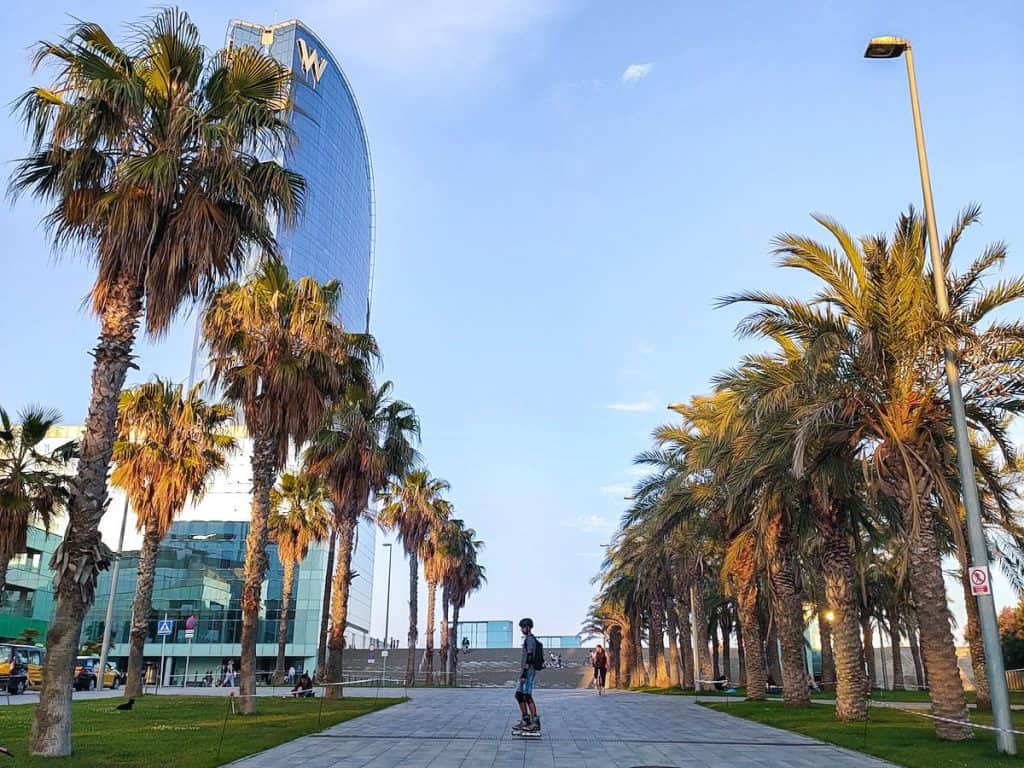 We hope this post helps you enjoy Barcelona differently and makes your trip more exciting. You don't have to give up sightseeing to embark on an adventure! Maybe your trip to Barcelona is the perfect excuse to try one of the activities mentioned above for the first time or to practise your favourite sport in a different setting.