Are you coming to Catalonia in February? Although this is the shortest month of the year, it doesn't mean there are fewer things to do! February is a synonym for barbecuing strange shaped onions in the countryside (calçots), dressing up for the carnestoltes, and enjoying magical winter landscapes. Discover these and more activities in this local guide we've prepared for you.
The weather in Catalonia in February
This time of the year in most parts of Catalonia means cold, although it really depends on the area you're staying. February often sees crisp blue skies and warm winter sunshine. Temperatures are nice at midday, cooling off considerably at night.
🌡 Temperatures
The temperatures vary a lot depending on the area of Catalonia you're visiting. On the coast, temperatures are mild compared to winter standards. On sunny days, it's warm enough for T-shirts at midday or to enjoy a cold dip in the sea. The joys of the Mediterranean weather! On the mountain, the centre of Catalonia, and the region of Lleida, the weather is much colder, reaching temperatures below zero most of the days (especially at nighttime). You can keep an eye on the weather on your phone's app (we usually use Google Weather) or Accuweather.
🌦 Weather
Although it's the middle of winter, sunshine is the norm in most parts of Catalonia. Except for Lleida. If you go there, get ready to experience its famous foggy weather!
☔️ Rain and snow
Snowfalls are more frequent in the mountains, but it doesn't usually rain in the rest of the territory. So with a bit of luck you won't get wet during your visit! Just in case, we recommend you pack a winter jacket that is also waterproof, so you can keep exploring without getting too wet!
☀️ Hours of light
Days get longer. Although mornings are still quite dark (the sun rises around 8 am), it gets dark later. At the end of the month, the sun sets around 7 pm.
What to pack for a trip to Catalonia in February
🧣 Clothing
What about the clothes to pack? Versatility is the key, especially if you're staying in various regions. You'll definitely need to add a winter coat and a jumper to your packing list. If you're going to the mountains, definitely pack a pair of gloves, a scarf, and some thermal layers (especially if you're practising winter sports). If you're going to the coast, you can pack some T-shirts, which can be helpful on sunny days.
🥾 Footwear
Regarding shoes, sneakers or boots are a great option. A pair of warm hiking boots will do if you plan to go to the mountains.
What's on in Catalonia in February
Go skiing
The cold is no excuse to stay inside! Catalonia is ideal for skiing and snowboarding if you fancy a day of exercise in the mountains. Home to 9 ski resorts, we're sure you'll find one that suits your level and taste. For more info about the ski resorts located in the region, take a look at our blog post Where to ski in the Catalan Pyrenees: A guide to all the ski resorts in Catalonia.
And if you decide to venture a little bit further, you can also explore the ski options available in Andorra at our blog post Skiing in Andorra: A guide to all the ski resorts in the country.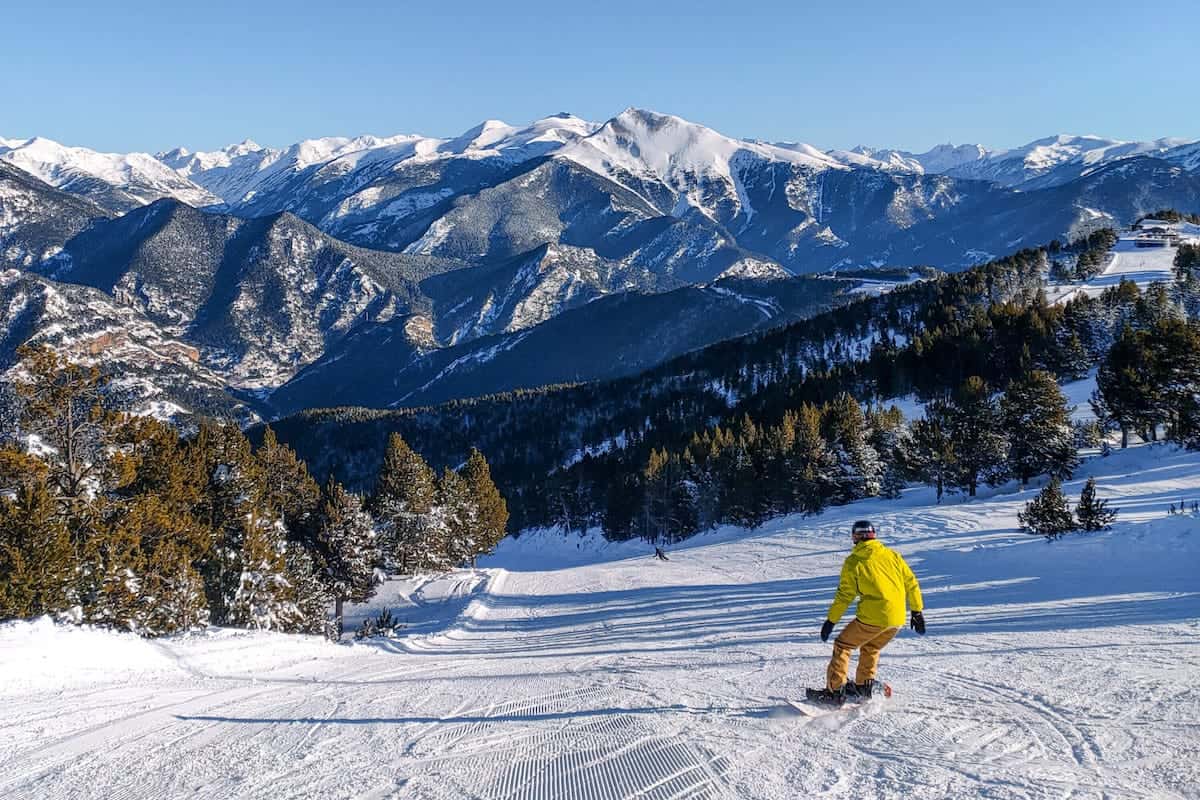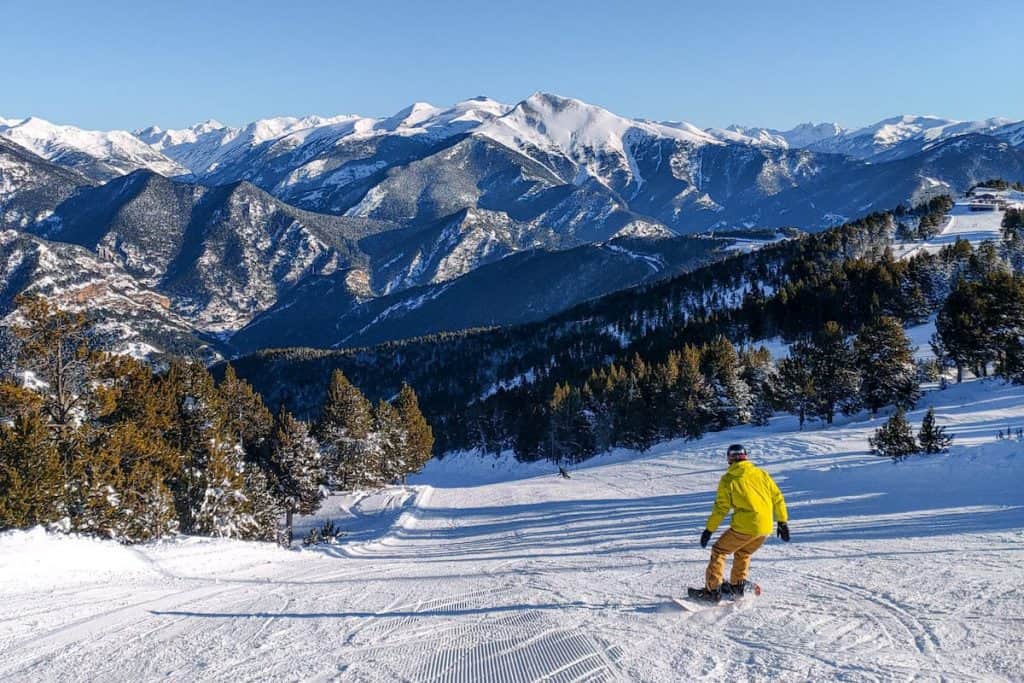 Dress up for the carnival
Carnaval de Sitges (16th to 22nd Feb)
The place par excellence to celebrate the carnival in Catalonia is Sitges. From the 16th to the 22nd of February, Sitges goes crazy, and the streets are filled with music, colour, and dance. Hop on a train to Sitges and get ready for wild street parties, magnificent parades, and lots of fun.
The Sitges Carnival is known as one of the top ten carnival celebrations in the world! More than 300,000 people visit Sitges during carnival every year, and it's a favourite of the gay community.
There are all sorts of events and activities that occur during Carnival in Sitges, but the ones that most people attend are the two parades: the Rua de la Dibauxa held on Sunday and the Rua del Exterminio celebrated on Tuesday during carnival week.
Another highlight of the Sitges Carnival is the cursa de llits disfressats (that would mean something like the dressed up beds race). As its name says, the participants dress up their beds and rally around the town's streets. If you don't want to miss this show, be there on the 18th of February.
Carnaval de Solsona (10th to 26th Feb)
Another huge and emblematic (and super fun!) carnival in Catalonia is the one in Solsona, a village located an hour and a half from Barcelona. The town, usually calm and quiet, turns into an epic party.
The celebration lasts for several days (from the 10th to the 26th Feb), and is replete with more than fifty events — some very unusual and characteristic ones! The carnival in Solsona was declared as a Heritage Festival of National Interest for its outstanding originality.
Our favourite event is the Penjada del Ruc, in which people hang a donkey plush of the bell tower on the Saturday of Carnival (18th Feb in the evening). While the donkey plush is being lifted, it starts throwing water to the people below, simulating pee. It might sound like people from Solsona are out of their minds, but this has a "logic" explanation. The legend says that herbs were growing in the bell tower a long time ago. People from Solsona wanted to clean them, and they decided that a donkey should eat them. But the donkey didn't pass through the door. So, the clever people decided to get him up with a rope. Guess what happened… The poor animal, scared as hell, peed on all the people there before finally dying.
Because of this unfortunate event, people from Solsona are called matarrucs (donkey killers).
During the whole carnival, you'll be able to see the gegants del carnaval. They're peculiar human-like figures (between 2 and 3 m tall) that dance to the sound of El Bufi, the anthem of Solsona's carnival while hitting people with their arms. But do not fear for your life, luckily the arms are made with soft materials!
Eat calçots
Picture this: a kind of spring onion, much thicker and with a longer white part. This is a calçot, Catalonia's favourite winter veggie. But as much as we like calçots, what we truly enjoy is the sauce we eat them with. This nutty sauce, called romesco, is made with tomatoes, roasted red peppers, toasted almonds, vinegar, and garlic. Calçots alone aren't that spectacular, but as soon as we dip them in romesco sauce, it takes them to a new whole level!
Especially in February and March, one of the favourite hobbies of the Catalan people is to enjoy a calçotada, a winter BBQ centred around eating calçots. Calçotades start by making a hot fire and grilling the calçots to perfection over it. Once they are slightly black, the calçots are wrapped up in newspaper to keep them warm, just like Fish & Chips.
Important! When eating calçots, never ever use a fork or a knife to peel off the charred outer layer. That's the most essential rule: Calçots are ALWAYS peeled with bare hands! Once peeled, deep them in the romesco sauce and eat them. Sweet, tender and absolutely delicious!
No calçotada is complete without all types of grilled meats (like botifarra), potatoes, bread, and some red wine drunk from a porró to help wash it all down.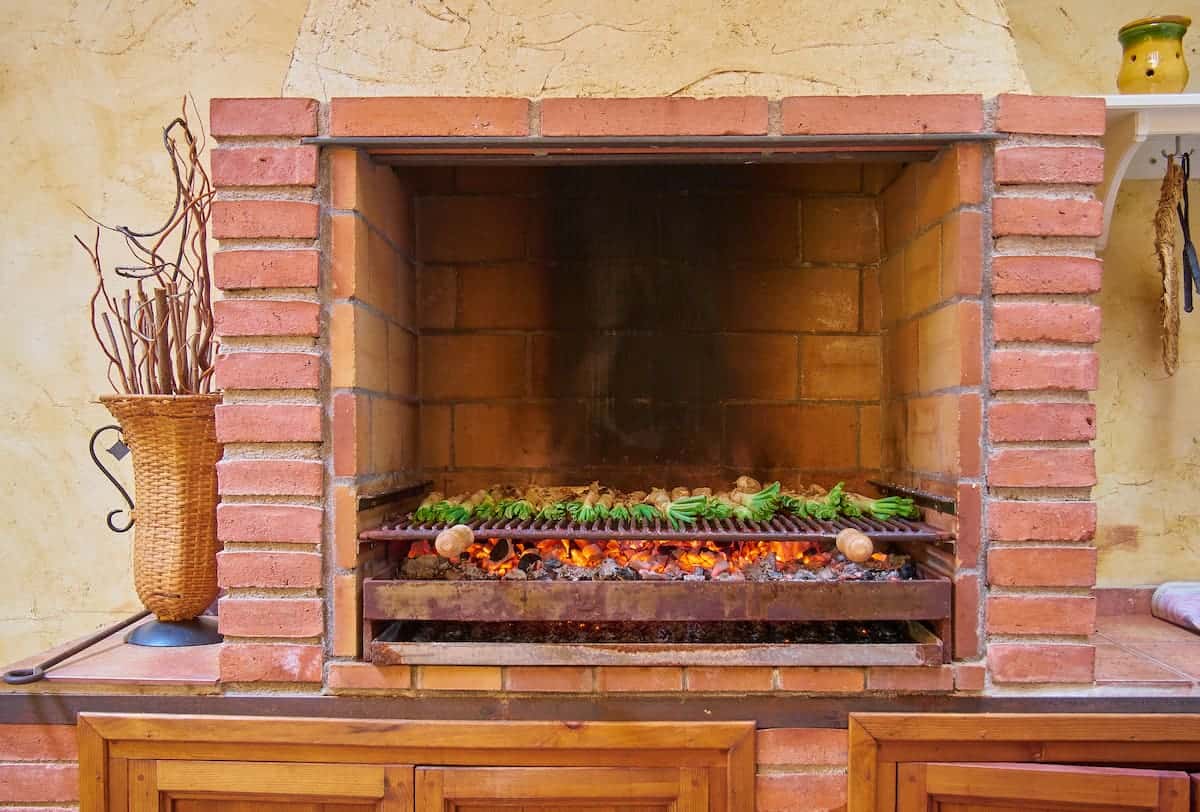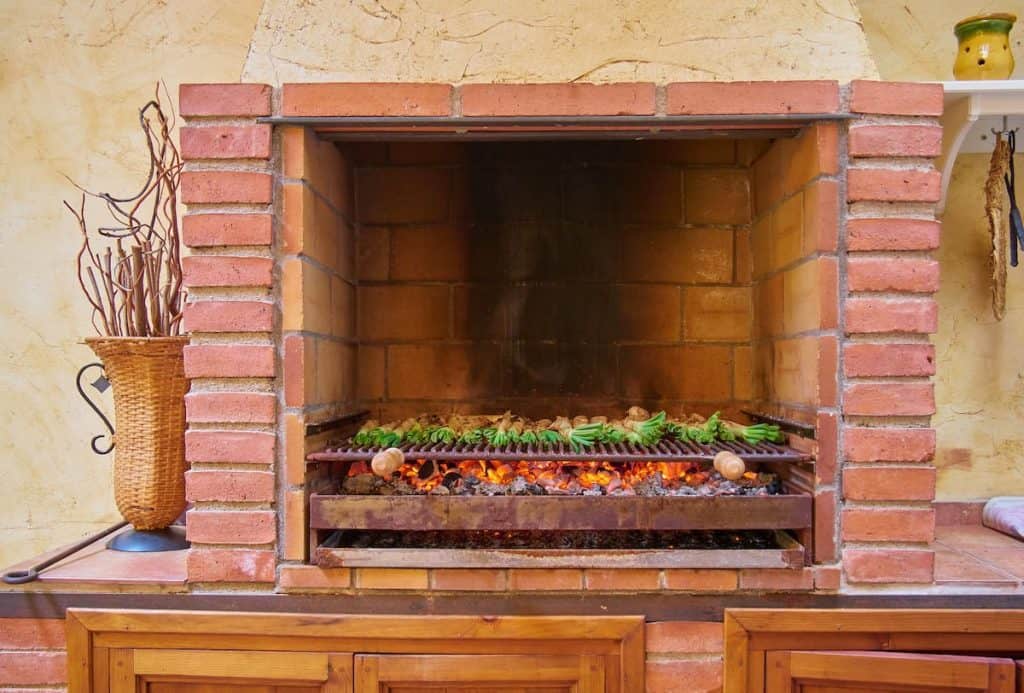 Where can you experience a calçotada?
If you're looking to experience this Catalan gastronomic tradition, you have two options:
Go to a masia (the Catalan name for countryside houses or farms): Nearby Barcelona, you can go to El Vinyet, Can Cortes, Can Cortada, Can Martí. Some great options in the Tarragona province are Cal Ganxo, Masia del Pla, or Masia Cervelló. Remember to always book in advance!
Find a public barbecue spot and throw a calçotada yourself: You can find calçots in most veggie and fruit stores. The famous ones are from Valls, a city in the province of Tarragona. Those have earned the European Union's Protected Geographical Indication label. Some barbecue spots: Barbacoes del Parc de Trinitat Vella (in Barcelona), Parc del Pi Gros (in Barcelona), Merendero Can Xec (in the Barcelona province), or Berenador del Collbaix (in the Barcelona province). You can find more spots by typing picnic or berenador in Google Maps.
Snowshoe to discover magical winter landscapes
Put your jacket on, strap on your snowshoes, and get ready for a winter adventure! Snowshoeing is an ideal way to discover landscapes covered in snow, that otherwise we wouldn't be able to enjoy. You can find snowshoe routes all over the Catalan Pyrenees. If you're looking for something safe and easy to plan, then head to one of the ski resorts in Catalonia. Most of them have snowshoe trails of various levels, and you can rent the equipment on site. For example, here you have an snowshoe excursion that we really like in the Port del Comte ski resort.
If you want to venture into the wild, you're no short of options in the Pyrenees! We suggest you search for a route on Wikiloc around the area that you're staying. One of our suggestions in a snowshoe route in the Vall d'Aran region, that will take you to the picturesque village of Montgarri.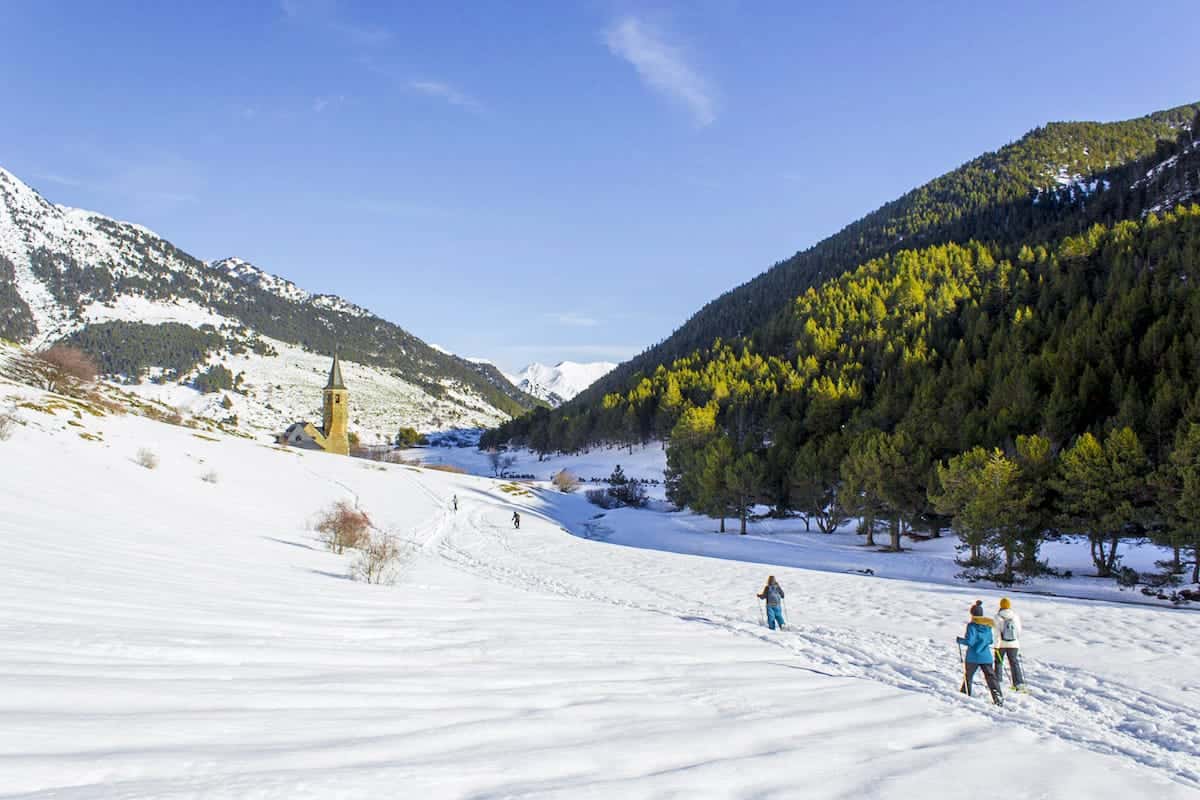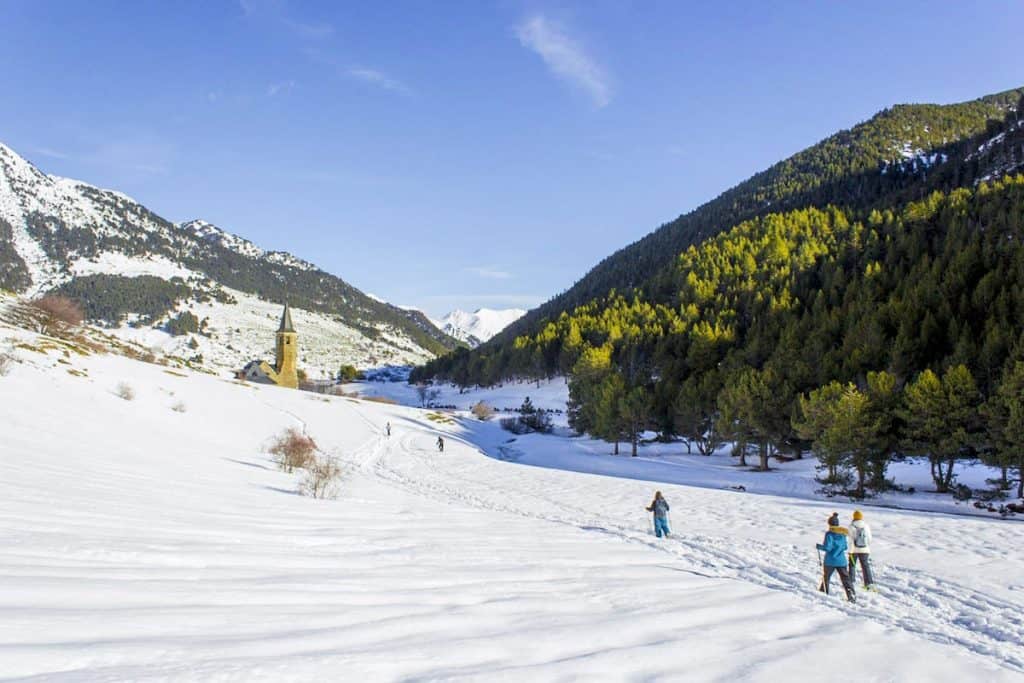 Enjoy winter activities in the Pyrenees
The options in the mountains are almost endless! Besides skiing and snowshoeing, you can also practise cross-country skiing or ski mountaineering. For the first one, you can head to Baqueira-Beret, Aransa, Guils Fontanera, Lles de Cerdanya, Tavascan, Sant Joan de l'Erm, and Tuixent – La Vansa.
If you want to experience the second, you can either venture in the wild (always following the safety recommendations!) or you can try out one of the itineraries in the ski resorts.
In most ski resorts, you'll also find other special activities, such as snowmobiles, snowshoeing at night, mushing, and even ice diving!
Other cool plans to do in Catalonia in February
Looking for more ideas for your winter trip? Here you have some suggestions:
Have you ever visited Catalonia in February? If so, we would love to hear about your experience!