If we're talking about typical Catalan food, you probably know that olive oil is on top of the list! The region of el Baix Camp, located in the south of Catalonia (just 20 min from Tarragona), produces one of the most famous olive oil under the DOP Siurana. How about discovering more about this typical product while doing some exercise? We bring you here a cycling route that both pros and wannabe bikers will surely enjoy!
Jump on a bike and immerse yourself in a landscape strongly dominated by the cultivation of olive trees. Stop at different points along the way, such as cooperatives, mills, farm shops, museums and interpretation centres, to learn more about olive oil, its history, and its production. Make sure to grab a backpack, as you will likely end up buying a bottle of oil or some of the other delicious products in the local stores along the route!
Technical details
🚴🏼 Distance: 49 km
🔃 Circular route: Yes
⬆️ Elevation gain: 335 m
🟠 Difficulty: Moderate (The route is suitable for all bike levels, as it's mostly flat. However, take into account the distance!)
⏱ Duration: It really depends on the stops you're choosing to make along the way. It can vary from half a day to an entire day.
👌🏼 Our tip
There're a lot of interesting stops during the route (cooperatives, museums, etc.), but you don't need to stop at all of them! If not, the cycling route would probably take you 3 days! Just read about them below, choose the ones that sound more appealing and forget about the rest! The important thing is always having fun in the ones you visit, not to visit as many of them as possible!
Since the route is circular, you can start at any of the following cities/villages:
Reus (start in the Camí dels Roquís)
Riudoms (start in the Camí dels Cerdans)
Montbrió del Camp (start in the Camí de Vilanova)
Vilanova d'Escornalbou (start in the Camí de les Roques)
Mont-Roig del Camp (start in the Carrer de Cambrils)
Cambrils (start in the Camí de Reus)
Vinyols i els Arcs (start in the Camí dels Matxos)
Here in the map, you can find the different starting points along the route (yellow circles with a person cycling):
🧭 Wikiloc track
You can find the Wikiloc track of the cycling route here.
The olive oil cycling route
Ready to discover the olive oil culture around the region of the Baix Camp? Olive oil is one of the most famous products of this region, located in the south of Catalonia. Reus, its capital, is just 20 min by car from Tarragona, and it's one of the cities from which you can start the cycling route "Ruta de l'Oli" (olive route in Catalan).
The route goes through seven villages known for being olive oil producers: Reus, Riudoms, Montbrió del Camp, Vilanova d'Escornalbou, Mont-Roig del Camp, Cambrils and Vinyols i els Arcs. In each, you can discover and visit spaces related to the cultivation of olive trees and oil production. Between the villages, you'll find fields of hazelnut, carob and olive trees, and you'll see both mountains and the sea! Amazing, huh?!
If you're not a fan of road cycling and you're afraid of the cars passing by, no worries! 95% of the route passes through rural roads. A small part of the itinerary goes into the towns, basically to visit cooperatives or heritage buildings.
Although the route is signposted, there're some parts in which it can be tricky to find the signs. You can follow our Wikiloc track to not get lost.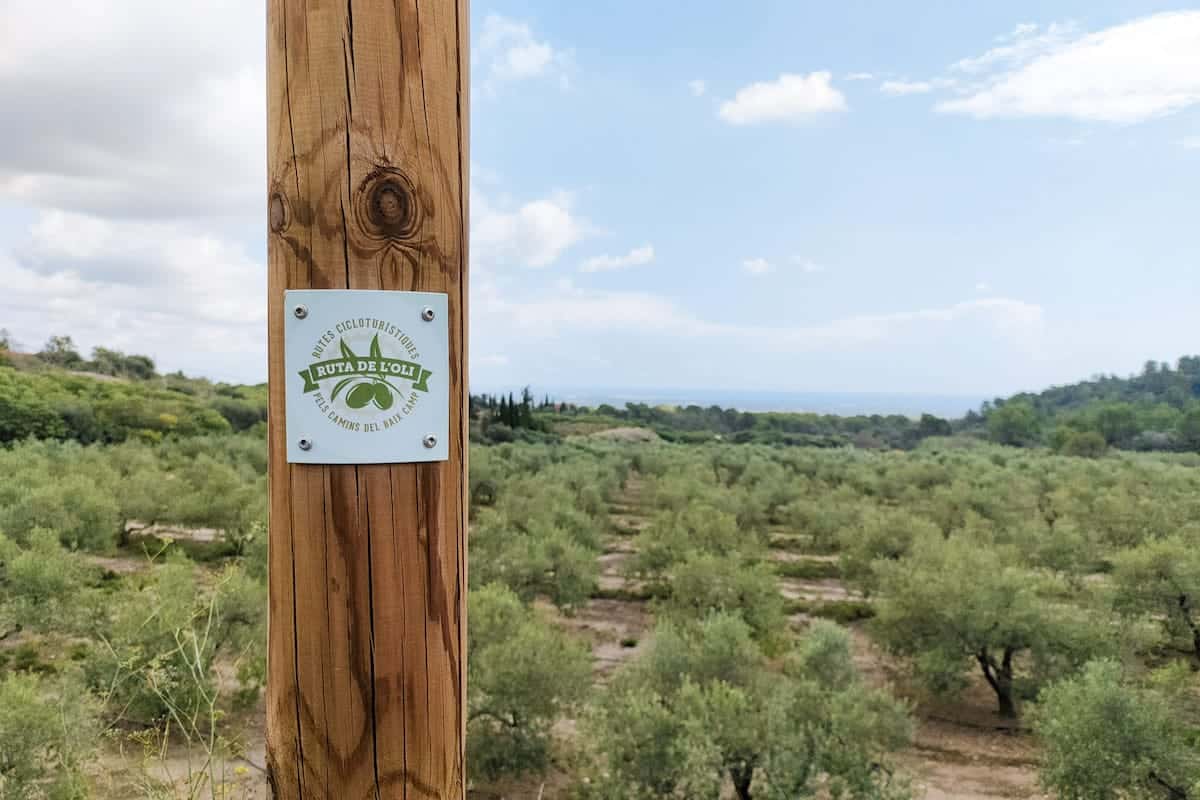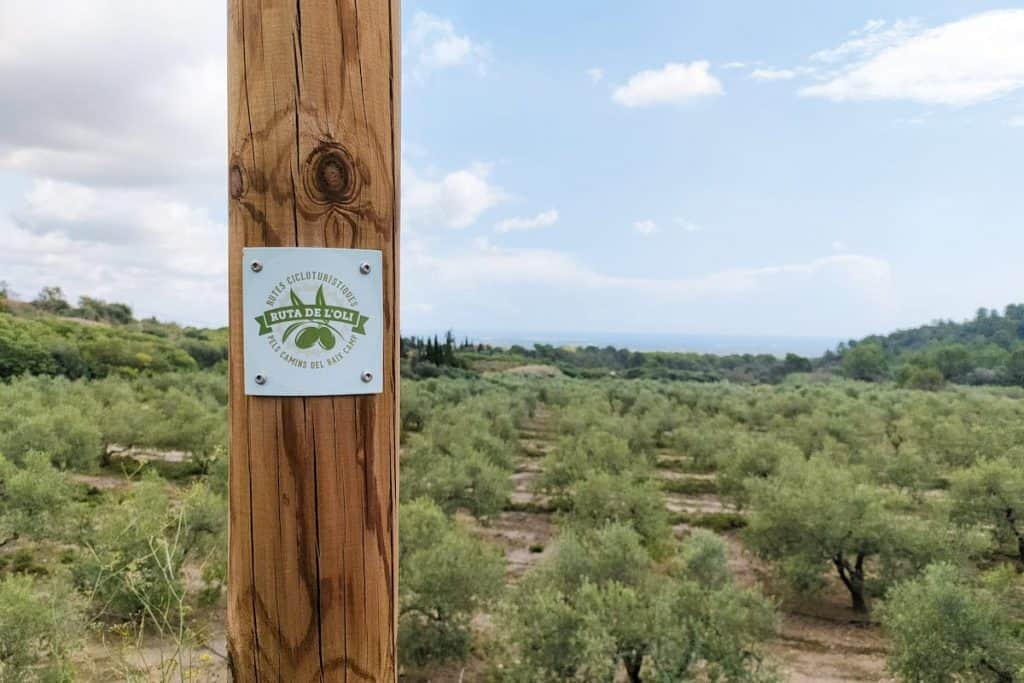 We started the route in Montbrió del Camp, so we'll explain the sections in this order. However, as the trail is circular, you can start at any of the cities/villages mentioned before.
From Montbrió del Camp to Vilanova d'Escornalbou
Starting in Montbrió, the cycling route unwinds through dirty roads with vast fields of olive trees on both sides. After some km, the olive trees change to apple trees, and you leave the dirt road to enter a secondary paved road. Enjoy the green of the trees and the silhouette of the mountains on the horizon.
After 7 km, you'll find yourself in Vilanova d'Escornalbou. We loved cycling through the narrow streets of this little village! Once you reach it, you can visit its oil interpretation center (located here). It's a museum space located in the former headquarters of the town cooperative. You can take a look at the tools and machinery used to make olive oil, and buy local products such as oil or muscatel (a sweet wine we drink with desserts). The center is only open on Saturdays and Sundays from 10 am to 13 pm.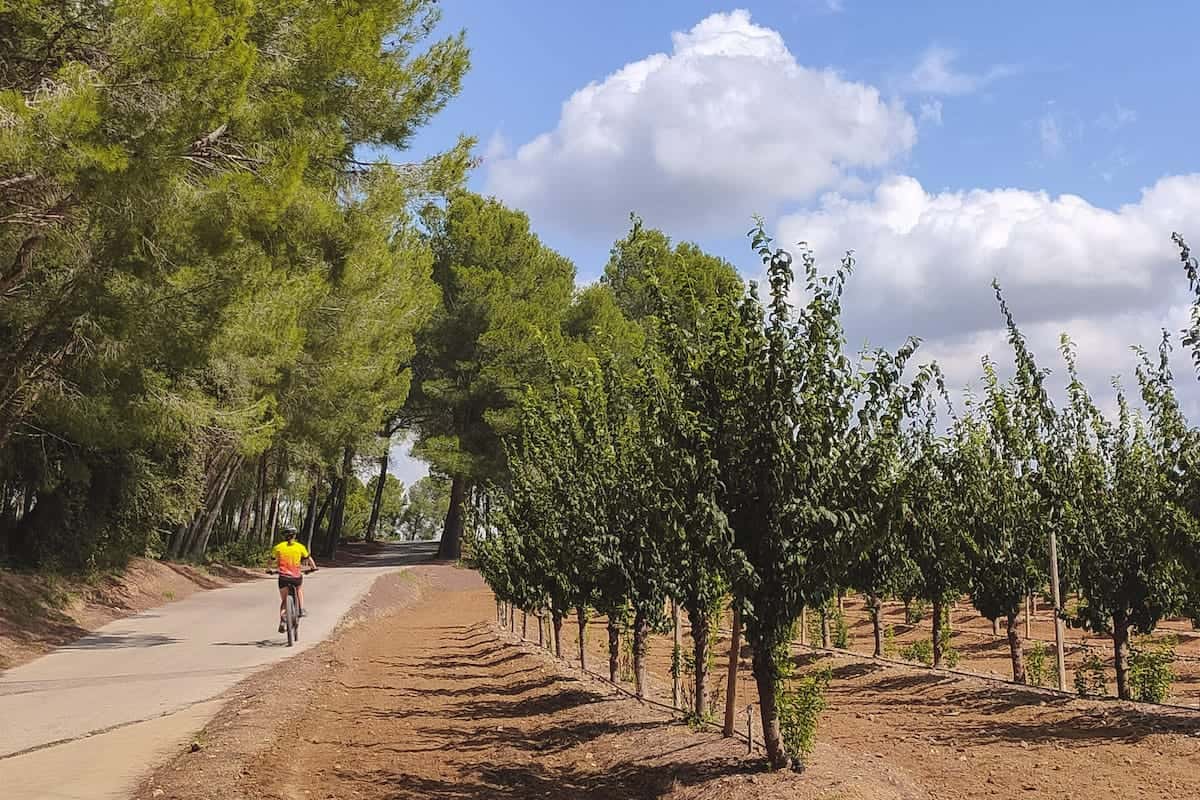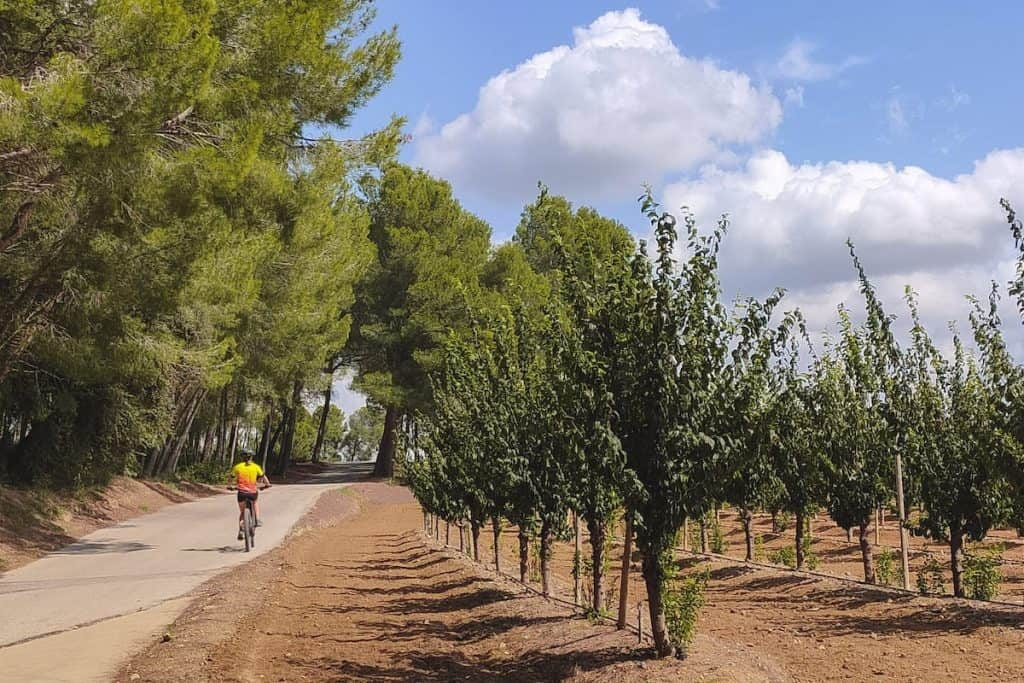 From Vilanova d'Escornalbou to Mont-Roig del Camp
After cycling through the narrow streets of Vilanova d'Escornalbou, it's time to hit a dirt path again. The landscape on this part is beautiful: olive trees all around, the mountains with the Mare de Déu de la Roca chapel on the right, and the Mediterranean sea in the front.
5 km later, you turn right, and the charming old village Mont-Roig del Camp appears in front of you. It's a very picturesque and stunning scene! In Mont-Roig del Camp, you can visit the agroshop (located here), a little shop selling local products, such as olive oil, nuts, and wines. The shop is part of the Unió cooperative federation, founded in Reus in 1942, which works to improve the lives of farmers and growers while promoting sustainability in the agricultural sector. It's open all day (except lunch break) from Monday to Saturday and Sunday morning.
Another interesting stop in Mont-Roig del Camp is the family olive oil company Olis Solé, founded in 1824. For over 5 generations, it has been dedicated to cultivating olive trees and producing extra virgin olive oil of the Arbequina variety. You can visit the Solé Museum, located in the centre of the village, in the old cellar of the Solé family's country house dating from 1801. During the visit, you can see an old press from 1906, utensils that the ancestors used, and the underground deposits in which the great-grandfather kept the family's oil and wine. It's really cool! The museum and shop are open Monday to Friday from 9 am to 1 pm and from 5 pm to 8 pm, and Saturday from 10 am to 1 pm.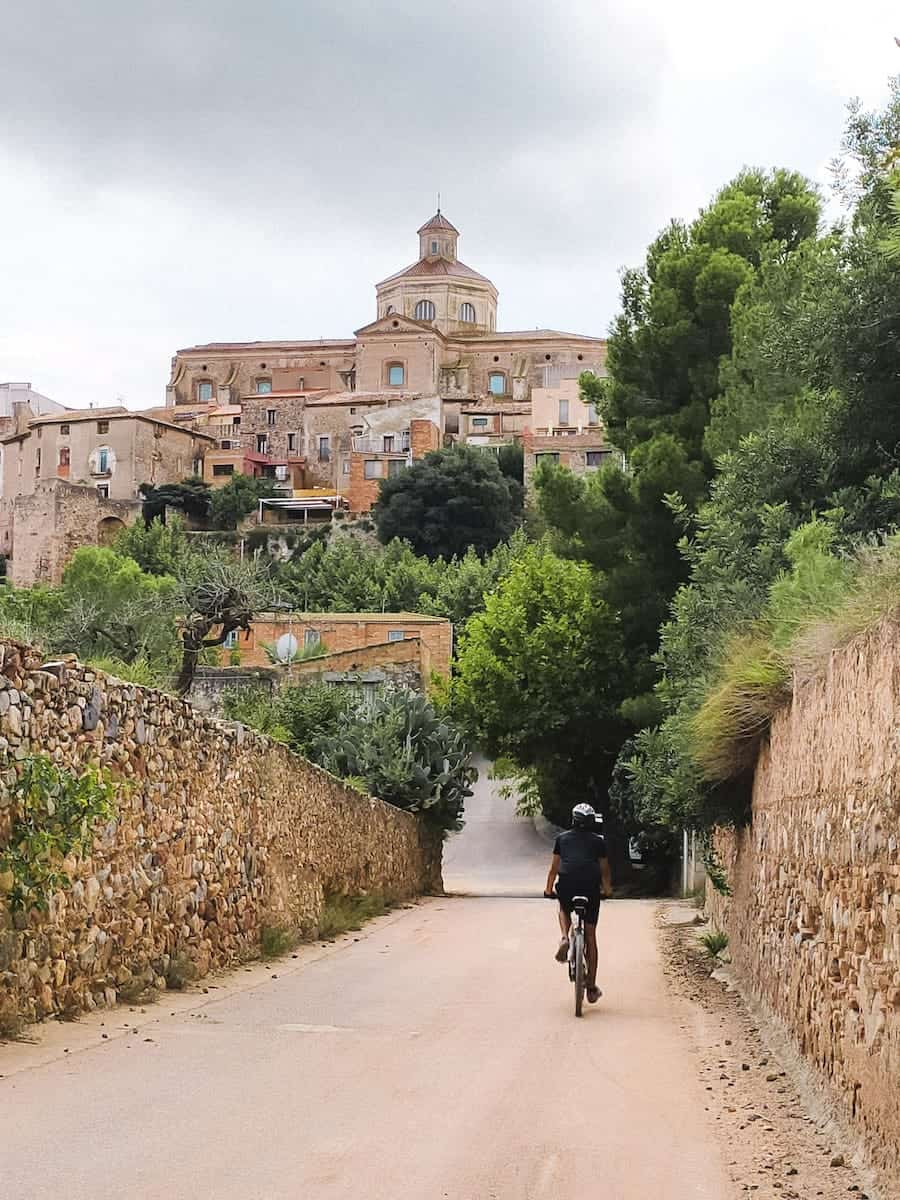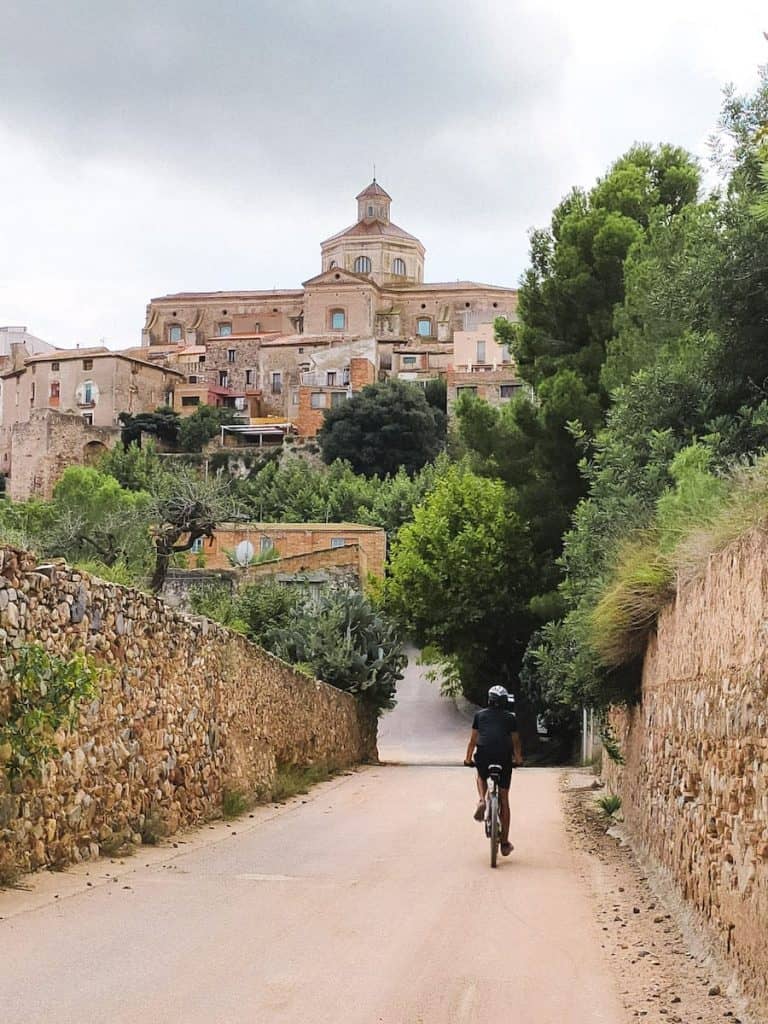 From Mont-Roig del Camp to Cambrils
This is a long stretch. 9 km separate Mont-Roig del Camp from Cambrils, a coastal town with a family friendly atmosphere.
Before reaching Cambrils, the route passes through the Agricultural Cooperative of Cambrils. We highly recommend you stop there, as it's a big shop with lots of delicious local products. This cooperative was created in 1902 to bring together the farmers' individual efforts. Besides olive oil, you can find all kinds of products there: fruits, vegetables, olives, wine, nuts, and other locally-grown products. The cooperative is open from Monday to Saturday from 8.30 am to 8.30 pm.
When we were there, we bought the Vermut Mestral and some local olives. We can't recommend the vermouth enough! After finishing the route, we arrived at the rural house where we were staying, and we poured ourselves a glass of vermouth and some olives before lunch (middle picture below). Heaven!
Another point of interest in Cambrils is the Museum of History of Cambrils. It's located in an old mill and contains two permanent exhibitions: one on the mills and one on archaeology. On Mondays, the museum is closed.
Bear in mind that the route doesn't go through the historical centre and seaside of Cambrils. You can detour and check these parts if your legs still have energy! If not, we recommend going back to Cambrils another time to stroll through its coastal promenade and eat at one of the many excellent seafood restaurants.
From Cambrils to Vinyols i els Arcs
Leave the coast behind and head inland to find olive tree plantations again. This stretch is 7 km along dirt roads until the village Vinyols i els Arcs. This village also has an agro-cooperative, although it's currently being rehabilitated.
⚠️ Important!
Once you reach Vinyols i els Arcs, you can decide what to do next. You can continue towards Reus or skip Riudoms and Reus and shorten your route by going to Montbrió del Camp.
From Vinyols i els Arcs to Reus
10 km separate Vinyols i els Arcs from Reus. You will pass through Riudoms, and you can decide to look at the village at this point or later when you come back from Reus or just pass by and not visit it.
Reus is the industrial and commercial centre of the Baix Camp region, and around two-thirds of the inhabitants of the region live in Reus. As a curious fact, Reus was the second most populous city in Catalonia from the 17th to the 19th centuries! Besides, Reus could be the birthplace of the famous architect Antoni Gaudí. It's a bit controversial because no supporting documents have been found, so Gaudí's exact birthplace is unknown, and experts debate between Reus and Riudoms.
Although he could have been born there, you won't find any buildings designed by him. Nevertheless, the city is home to many Catalan modernist buildings.
The route doesn't go to the city centre but passes through the Reus wine centre (located here), one of the first wine centres in Spain and Europe. It's an elegant and beautiful building, home to a museum about vermouth and wine. There, you can learn about the history of the building and why Reus is considered the "Capital of Vermouth". It's open Fridays and Saturdays from 11 am to 2 pm and 5 to 7 pm, and Sundays from 11 am to 2 pm.
From Reus to Riudoms
From Reus, it's time to get back to Riudoms, but this time through a different trail. Riudoms is a small historical village and, as mentioned before, the possible birthplace of Gaudí.
In Riudoms, you can take a look at the cooperative, which elaborates olive oil protected in the denomination of origin of Siurana. The cooperative was founded in 1956 by a group of farmers encouraged by the veterinarian of the village. In the shop, you'll find products such as oil, olives, dry fruits, and cava. It's open all day from Monday to Saturday and Sundays in the mornings.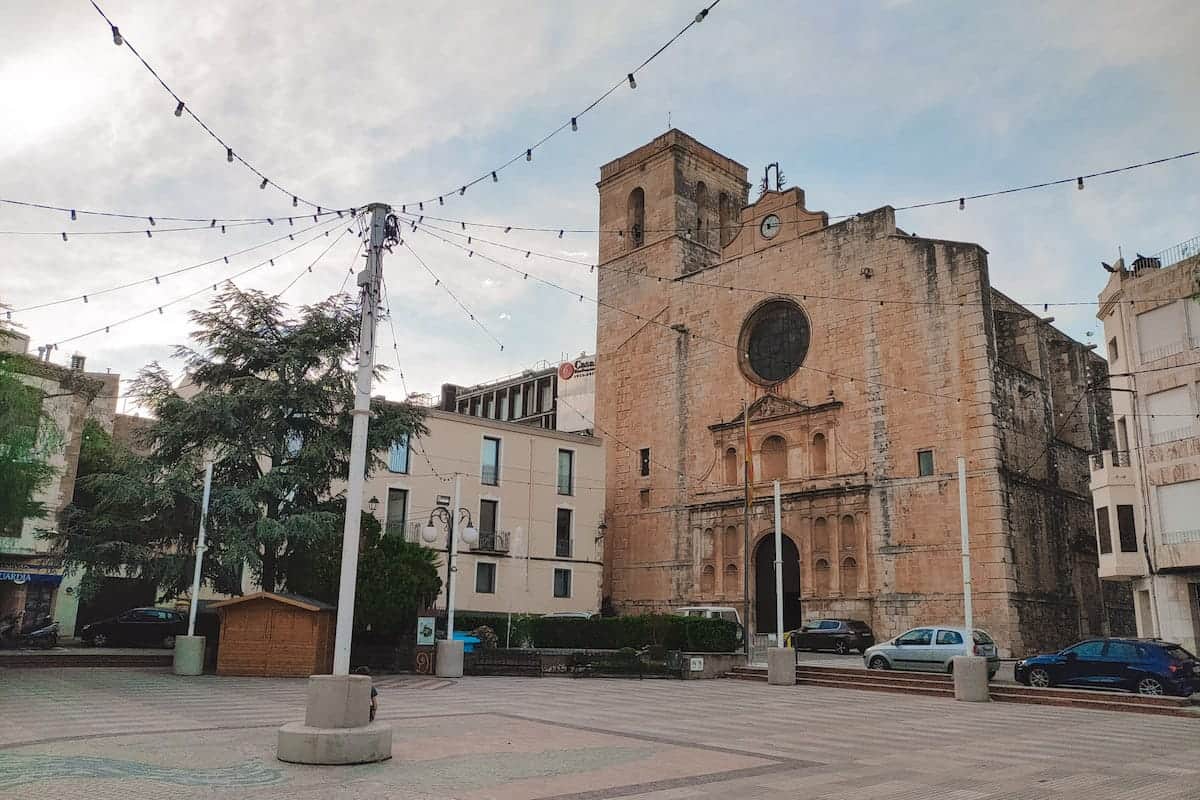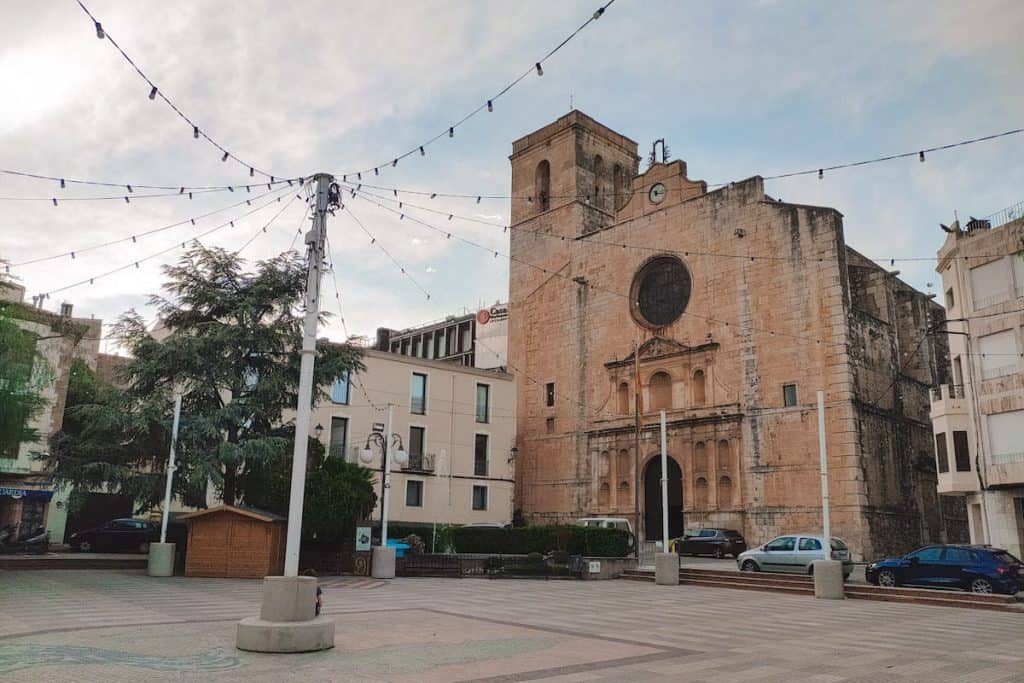 From Riudoms to Montbrió del Camp
This is the shortest part of the route. From Riudoms, it's only 4 km until reaching Montbrió del Camp again. In Montbrió del Camp, there are still two points of interest that you might decide to visit: the cooperative and the wine museum.
The cooperative was built in 1944 and sells products only from Montbrió, including oil, muscat, sacramental wine, vermouth, arbequina olives, vinegar, white wine, and red wine. It's open all day from Monday to Saturday, and Sundays in the morning.
The wine museum Els Cups is home to utensils and materials that show how wine used to be made in the past and a room with images of life in the early 20th century. The visit also includes wine-tasting, a perfect way to celebrate you've made it! It's open from Tuesday to Saturday from 11 am to 2 pm. On Sundays and Mondays, the museum is closed.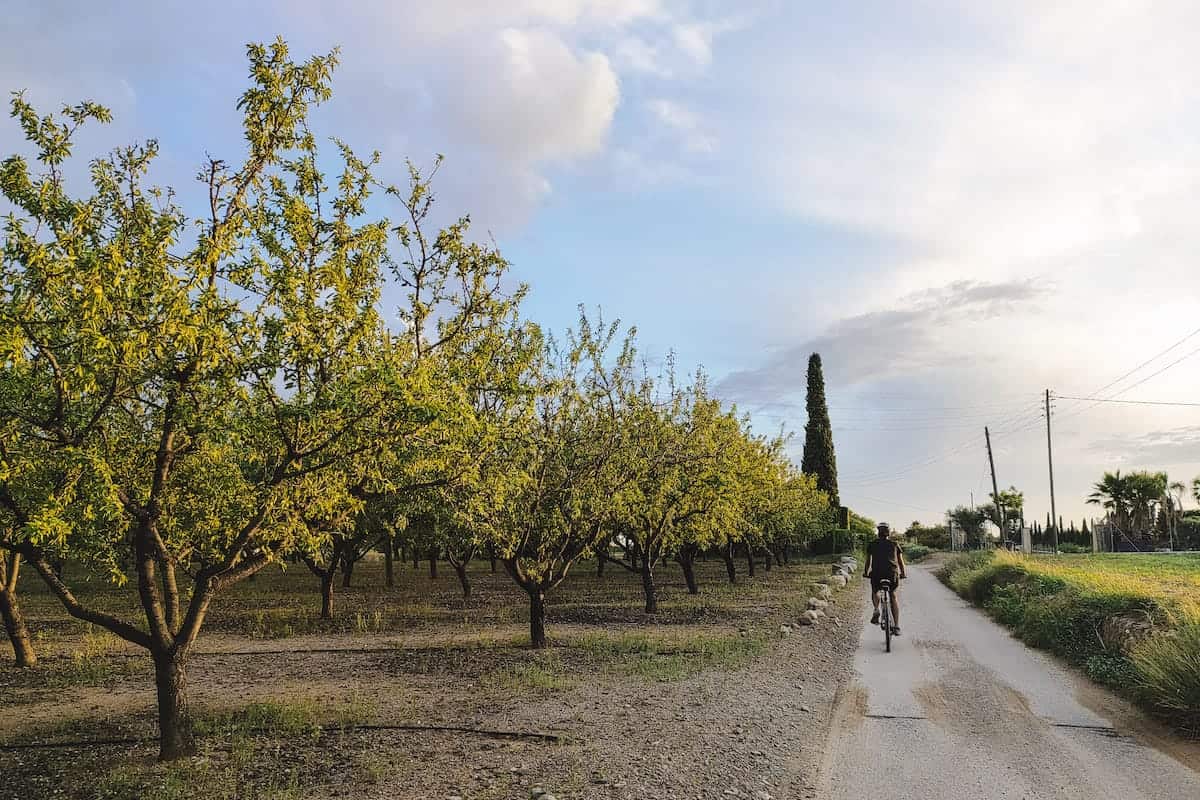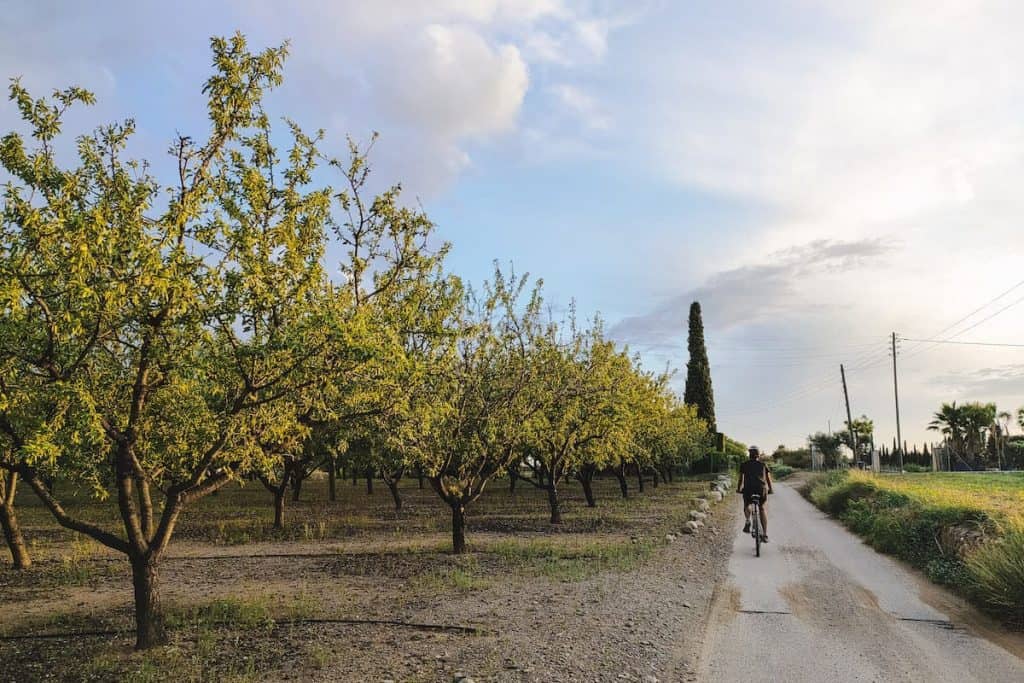 Where can you rent a bike to cycle the Olive oil route?
All right. You've downloaded the track, you're wearing your cycling clothes, and you've filled up your water bottle. But, where's your bike? If you don't have a bike and need to rent one, then you should start the route in Cambrils, where all the rental services are located. Here are the places where you can rent a bike:
Time to venture out and discover Catalonia's olive oil culture by bike. We hope we've helped you prepare your ride through olive tree plantations and enjoy a nice taste of olive oil, wine, or vermouth. If you follow this route, let us know your experience in the comments!