When the temperature drops and the landscape becomes white, it's time to head to the mountains! Whether it's skiing, snowboarding or walking with snowshoes, you can enjoy all those adventures on a day trip from Barcelona to El Port del Comte.
Located only 150 km from the Catalan capital, the ski resort El Port del Comte offers 42 skiable km for all levels. Without any doubt, it's a great place to enjoy winter activities.
In this guide, you'll find more information about the ski resort and the activities you can do there.
If you don't like skiing, no worries, we've also thought about you! Scroll down, and you'll find a great snowshoe track in the Port del Comte.
Ready for a winter adventure?
* Post written for the first time in March 2018 and updated in April 2023.
Port del Comte ski resort
Where is the Port del Comte ski resort located?
In Catalonia, we are lucky to have the Pyrenees, which hosts many ski resorts. One is El Port del Comte, the closest ski resort to Barcelona.
Port del Comte is located on the mountainous massif with the same name, in the province of Lleida, and it's part of the pre-Pyrenees. 
How to get to Port del Comte ski resort
The ski resort is only 150 km from Barcelona, making it ideal for a day or a weekend trip. From Barcelona, it takes 2 h by car.
If you're going from Lleida, it takes 1 h and 40 min. Tarragona and Girona are a bit further from El Port del Comte, making the trip last 2 h and 20 min.
Number of slopes and difficulty level
This resort has 16 lifts serving a respectable 42 km of skiable land for snow lovers of all levels. Most slopes are suited to intermediates, with 24 out of 37 being blues and reds.
But don't let this put you off if you're at either extreme of the spectrum; there is still a choice of beginner areas, with seven green slopes plus a range of black runs (6 in total).
Moreover, if you are a fan of freestyle, Port del Comte has a snowpark where you can practise some tricks.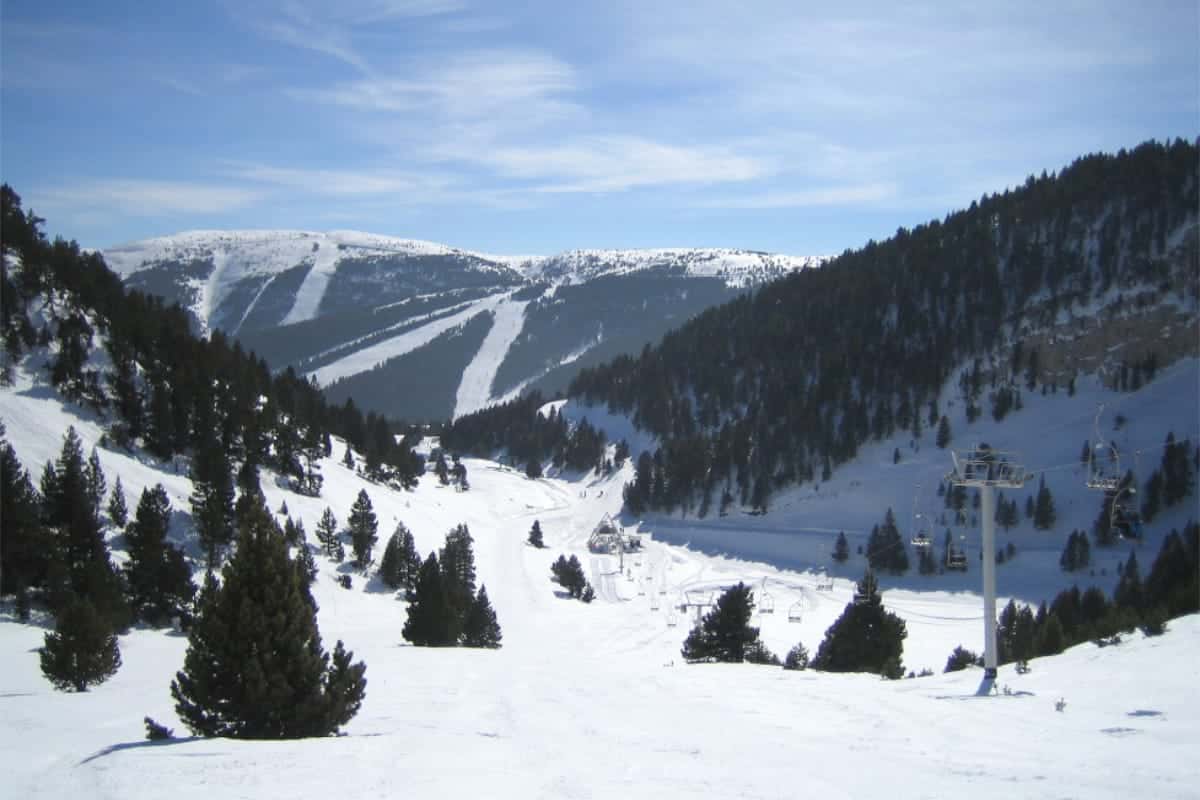 The ski resort is distributed between two different areas. First, there is the Hotel-Sucre area. It has the widest and most accessible runs, in addition to the snowpark, the kids' park and the free ski area.
Then, there is the other area, L'Estivella, where the more challenging runs are located. This area is isolated and surrounded by nature.
Port del Comte ski pass prices
Whether you're a first-timer wanting to give skiing or snowboarding a try or a mixed-ability group wanting to ski together, El Port del Comte is worth a trip. You'll make the most of your money and experience a different culture by practising some sport or trying something new.
The price of the ski pass is 37 € per adult and 30 € per child, making it an affordable option to enjoy a day of skiing while in Catalonia.
When it comes to the equipment, one shop at the station rents everything you need to ski/snowboard. 
Eating in Port del Comte
We always like to bring our sandwiches, drinks and cookies from home for lunch. If the day is pleasant and sunny, we just sit in a spot we like and eat there while enjoying the fresh air and the magnificent views.
However, the ski resort also has different restaurants, so you can buy some (usually overpriced) food there.
One of our favourite tracks to discover the area in snowshoes
If you're not into ski or snowboarding but still want to enjoy a day in the mountain, you can take a walk through the pines of the mountain passes and make the most of the views.
A fantastic way to get around is with snowshoes, and Port del Comte has five different snowshoe circuits of varying lengths and levels. So, there's plenty of choice for everyone!
We chose to try the easiest circuit, which starts at L'Estivella parking and ends in the Font de l'Estivella. This 5 km circular circuit is suitable for everyone as it's very flat. The route is self-explanatory because you just have to follow the blue marks to avoid getting lost.
It was an enjoyable walk through the pine forests. Lots of peace and tranquillity in the middle of a beautiful white landscape.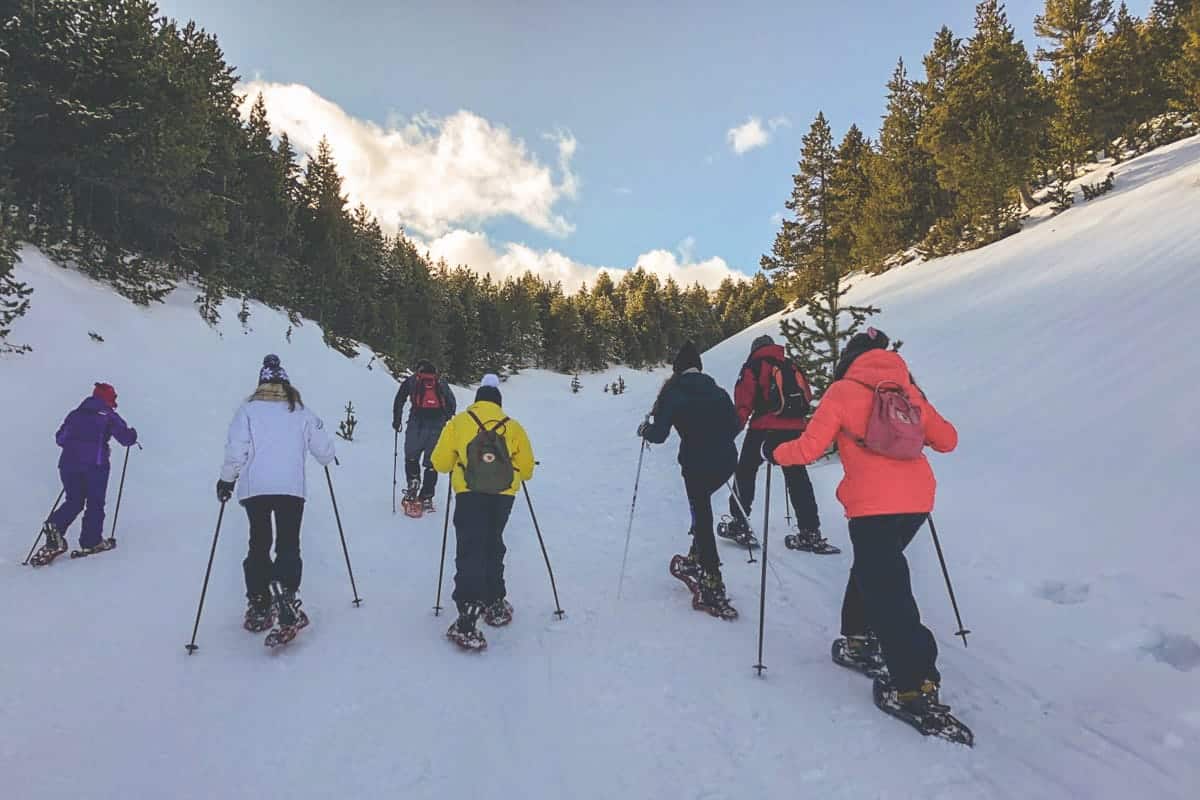 On the ski resort website, you can find all the information about this circuit.
Also, you'll find a map with all the slopes (go to L'Estació> Mapa de pistes) and another one with the snowshoe routes (go to Activitats-Serveis > Raquetes). The website, though, is currently only available in Catalan or Spanish.
If you go skiing or snowshoeing in this ski resort, let us know your experience. We hope you have fun in the snow!