Did you know that Catalonia is home to 9 different ski resorts? From large ones with all the facilities you can think of to smaller ones with a cozy atmosphere, there's enough variety of ski resorts in Catalonia to suit all levels and tastes.
Let's dive into each one of them so you can start planning your next winter adventure!
* This post was first written in Oct 2021 and has been updated in Oct 2022 with the info of the 2022-2023 ski season.
👌🏼 Our tip
Just a tip! As it is the case with ski resorts worldwide, it's always a good idea to avoid public holidays when possible!
Ski resorts in Catalonia
Baqueira-Beret
Skiable terrain: 161 km
Runs: 112 (6 green, 43 blue, 46 red and 17 black)
Ski mountaineering trails: 4
Cross-country trail: 7 km
Snowpark: Yes
Price: 63 € adult / 42 € children
Baqueira-Beret is Spain's largest ski resort and the most popular one. In fact, the Spanish Royal family regularly holidays here!
This ski resort is located in the beautiful Val d'Aran, in the northwestern part of Catalonia. Because this region has an Atlantic climate, the temperatures are warmer than in the Alps and high-quality snow is usually guaranteed from early December to late April.
Baqueira's skiing is as extensive as it is varied. The ski area extends from 1.500 to 2.610 metres in altitude and is divided in four different sectors. Talking about variety, the ski resort provides a wide range of different runs for every level. No matter what you're looking for, you'll find it there: easy greens, superb off-piste powder, and challenging black and mogul runs.
If you're into cross-country ski, Baquiera-Beret also features 7 km of cross-country trails. Snowboarders are also well catered for with a funpark and permanent halfpipe. And if you're a beginner trying to improve your skills, Baqueira-Beret has Spain's biggest ski school, with 200 instructors who teach in French, English and Spanish.
When the sun goes down and the ski resort closes, the day is not over yet! If you're into off-slope partying, you'll love Baqueira. The après ski is a big tradition there, with a whole range of bars and pubs to suit every taste and pocket.
The main downside of this ski resort is that being one of Spain's best known ski destinations, you can expect a lot of people (especially during weekends and public holidays) and the highest prices on this list (for skiing, renting, eating and sleeping).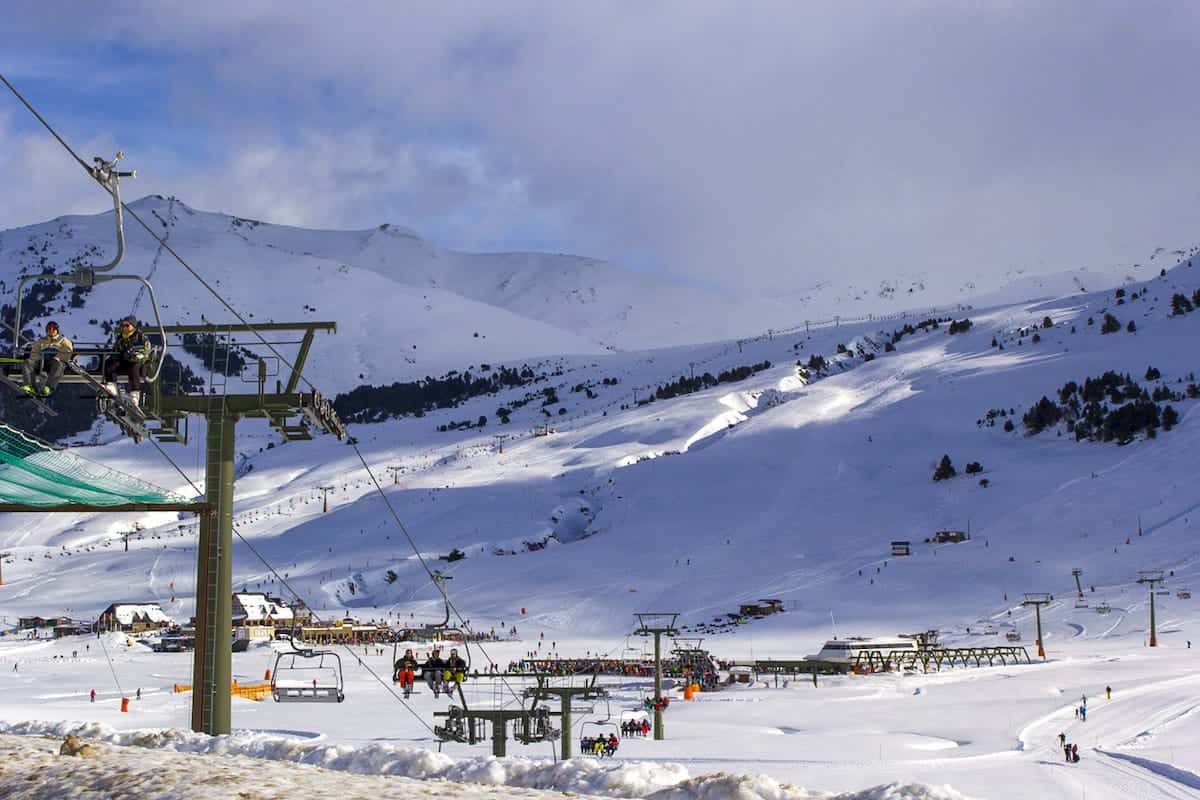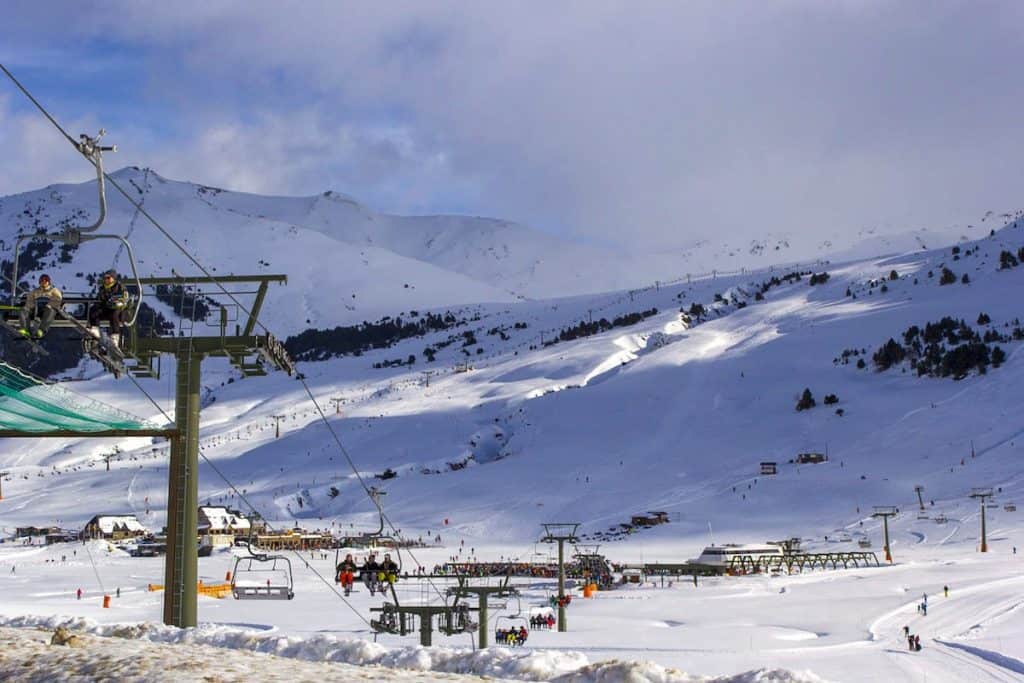 Boí Taüll
Skiable terrain: 45 km
Runs: 43 (6 green, 3 blue, 20 red and 14 black)
Snowpark: Yes
Ski mountaineering trails: 4
Price: Not disclosed yet
The highest ski slopes in the Catalan Pyrenees are in Boí-Taüll, reaching up to 2,751 metres in altitude.
This ski resort is located in the Vall de Boí and it's known for its untouched natural surroundings. Due to its northern location, the snow conditions are usually excellent.
Its slopes appeal to all levels and range from pleasant green pistes ideal for beginners to highly demanding runs for experienced skiers.
For those who like to leave the comfort of the slopes, Boí Taüll also has two off-piste itineraries. And if you're into practising tricks, head to the snowpark, there's five different levels that will allow you practice safely and become a real pro.
In our opinion, this ski resort is ideal for those looking to escape the masses and enjoy an excellent ski day in a beautiful setting.
Espot Esquí
Skiable terrain: 20 km
Runs: 22 (2 green, 10 blue, 6 red and 4 black)
Ski mountaineering trails: 5
Snowpark: No
Price: Not disclosed yet
The ski resort of Espot Esquí is the only one in the Catalan Pyrenees located next to a national park. It's a favourite among families for its large beginners' area with gentle slopes and its ample playground. However, it also has challenging red and black slopes for the bravest family members, with three of them approved for international competitions.
We highly recommend this resort if you're looking to combine your ski days with other activities, as you can easily reach the Aigüestortes National Park for a snowshoeing excursion or a ski mountaineering day.
Here is a map of the ski resort with the ski mountaineering itineraries and the slopes in it.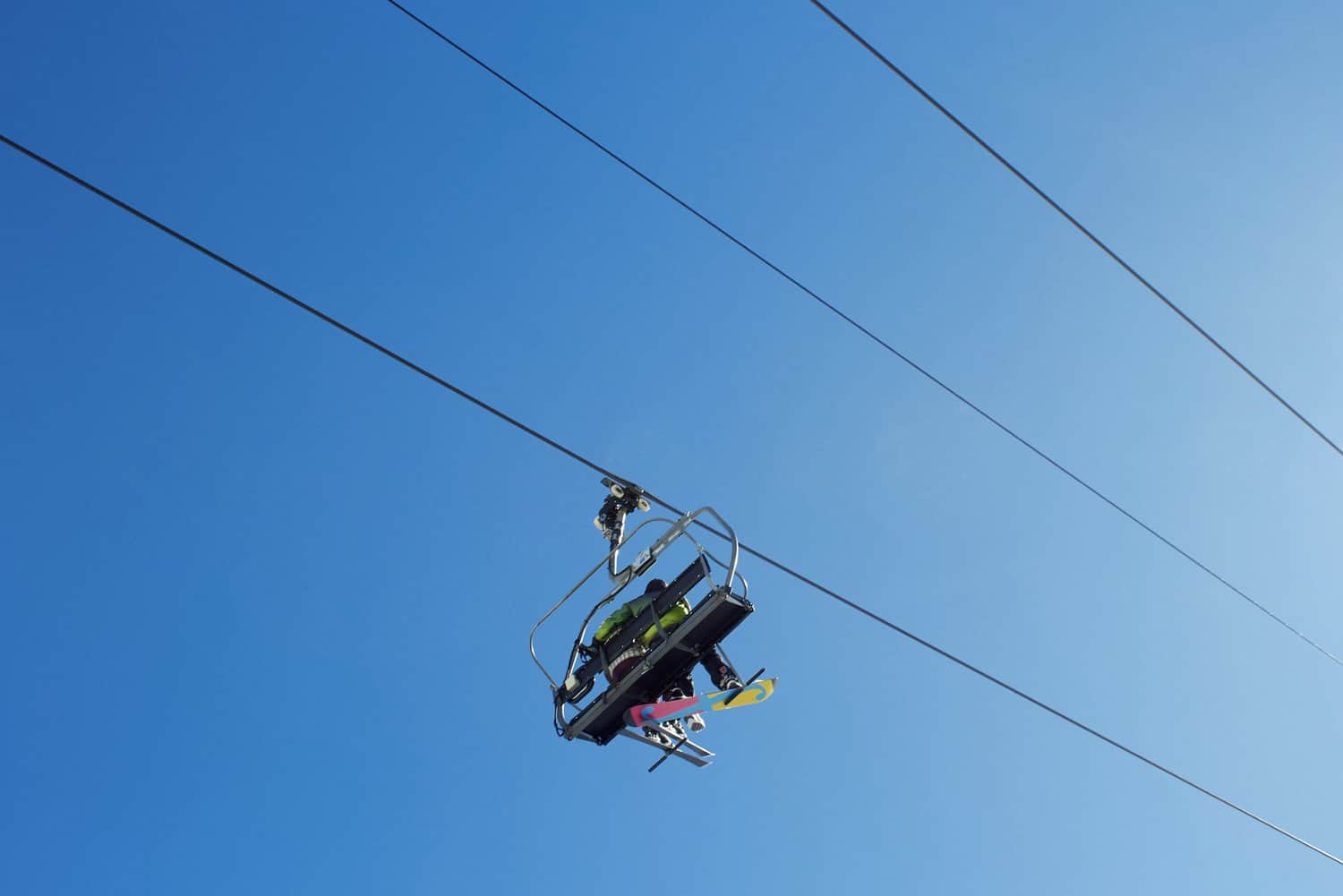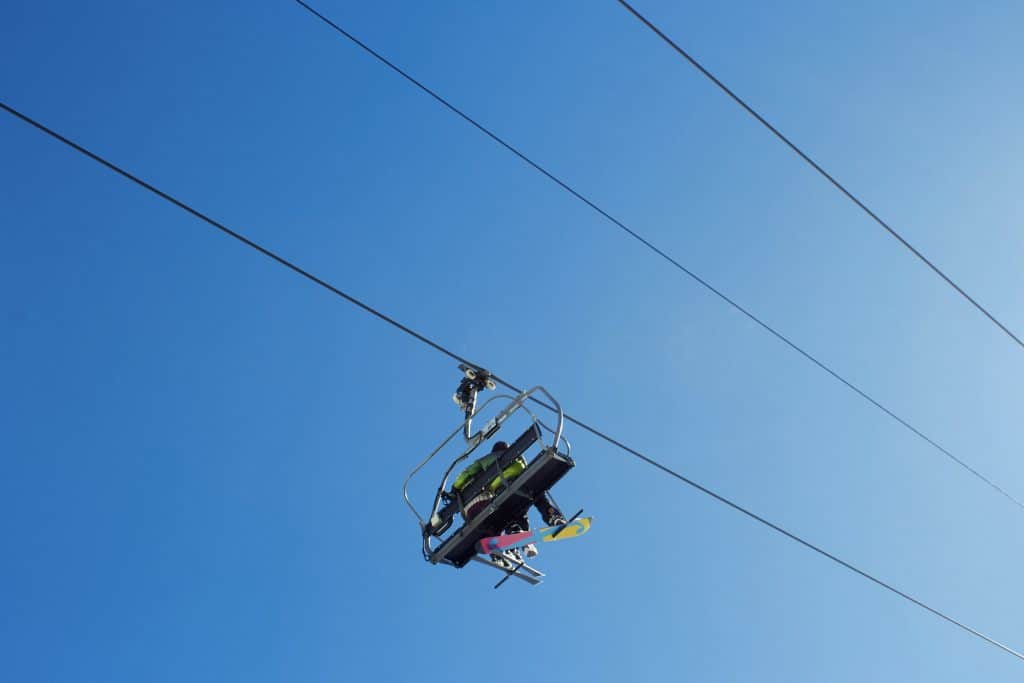 Alp 2500 (La Molina and Masella)
Alp 2500 is the combination of two ski resorts, La Molina and Masella, connected via a cable car. Together, both resorts are home to 145 km of skiable domain. Skiers and snowboarders of all levels are attracted to their sunny slopes, easily accessible as a day trip destination from Barcelona.
Only an easy 90-minute drive separates the capital from Alp 2500, making it an excellent weekend choice for travellers from around Europe who want to combine a skiing trip with one of the world's most famous city breaks.
While La Molina is wide and open, Masella has more of an alpine enclosed feel. You can buy a daily pass for just one of the ski resorts or a combined one that allows you to ski in both.
During the week, Alp 2500 is a delightful ski domain. However, it tends to get crowded during the weekend due to day-trippers.
Masella
Skiable terrain: 72 km
Runs: 65 (9 green, 24 blue, 22 red and 10 black)
Snowpark: Yes
Price: 47 € adult / 40.5 € teenager / 37 € children
Masella is located in the region of Cerdanya and is popular with experienced skiers, offering zigzagging downhill runs, including the longest in the Pyrenees. It's a 7 km non-stop descent from the top (La Tosa d'Alp) to the base of the resort, with almost a 1 km vertical drop.
Besides having this crazy long slope, another highlight of the Masella is that you can ski at night time! If you happen to be spending some days in this resort, don't forget you have the option to ski in a fairy-lit magical setting.
Amateurs and families can also have a fun time in Masella as it has two big beginner areas, and one of the slopes is even called Familia, which means family in Catalan. The lower slopes are all between trees and we especially like the winding blue runs that seem to sweep through the lush pine forests forever.
La Molina
Skiable terrain: 71 km
Runs: 68 (20 green, 19 blue, 22 red and 7 black)
Ski mountaineering trails: 3
Snowpark: Yes
Price: Not disclosed yet
La Molina is Spain's oldest ski resort, but there's nothing antique about it. Nowadays, it continues to draw the crowds as it did in the old days, mainly because of its pretty slopes between pine trees and extensive terrain.
Sixty-eight pistes stretched across 71 km make up the resort's ski area, and runs ranging from pleasant greens to challenging blacks cater to all skier and snowboarder levels.
If you're a freestyle enthusiast, you'll love the two snowparks in La Molina, where you'll find the largest Halfpipe of the Pyrenees (which we're too scared to try, so let us know if you do!).
There's also 4 km of cross-country trails through the forests and three different ski mountaineering itineraries.
La Molina is an ideal choice for intermediate skiers. You can warm up on some very large green pistes and then head up the mountains to take on a wide selection of blue and red slopes.
Port del Comte
Skiable terrain: 42 km
Runs: 37 (7 green, 11 blue, 13 red and 6 black)
Snowpark: Yes
Price: 42 € adult / 35 € children
Port del Comte ski resort is part of the pre-Pyrenees and is home to 42 km of skiable land for snow lovers of all levels. The majority of the slopes are suitable for intermediates, being red and blue.
The ski resort is surrounded by beautiful scenery of thick pine forests, and it's a popular choice amongst locals, particularly families. You'll also find a snow park for kids, a free ride area, and five snowshoe itineraries.
If you only have one day to ski during your trip, this is your place! Port del Comte is an ideal ski resort for a day or a weekend trip from Barcelona, as it's one of the closest ski resorts to the capital (2 hours by car).
If you want to read more about this ski resort, check out our Port del Comte ski resort guide.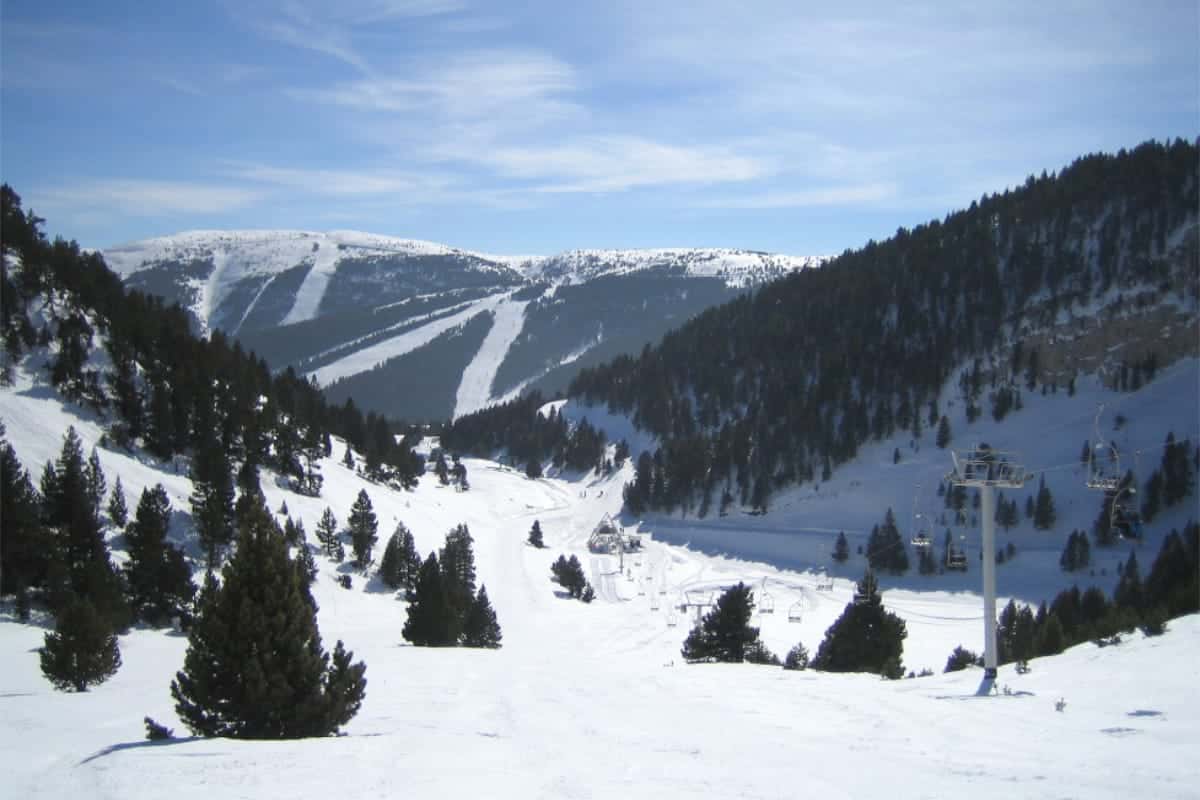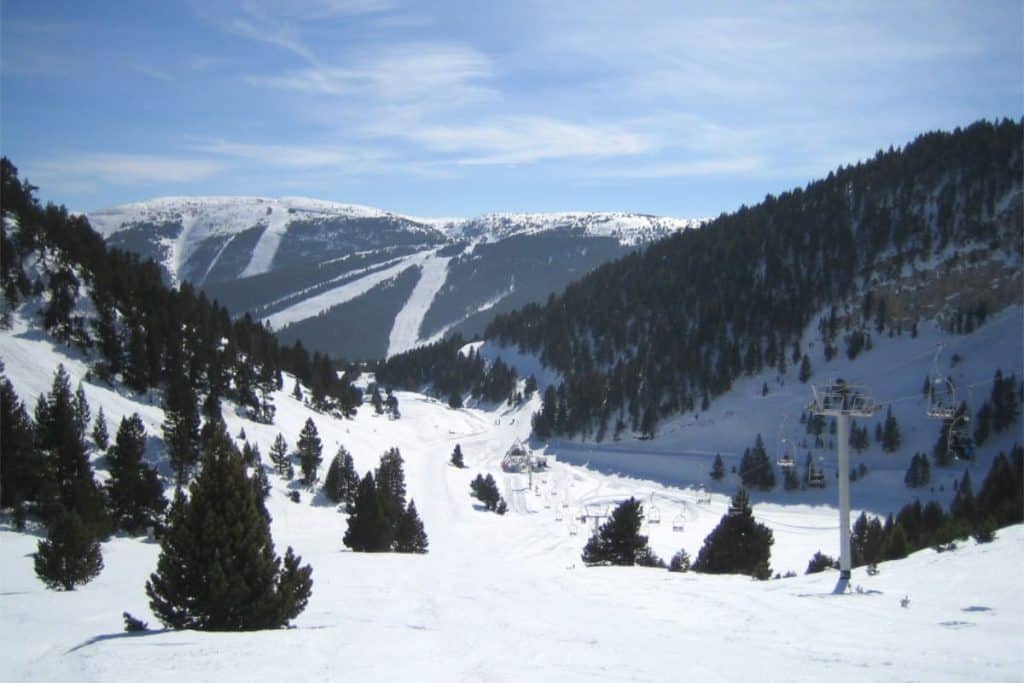 Port Ainé
Skiable terrain: 26.7 km
Runs: 25 (6 green, 4 blue, 11 red and 4 black)
Ski mountaineering trails: 5
Snowpark: Yes
Price: Not disclosed yet
Located in the Alt Pirineu Natural Park, Port Ainé is a small ski resort designed mostly for families. Even though it doesn't cover a vast area, it offers some of the best ski conditions in the Pyrenees. Most of the slopes are located facing north, making the quality of the snow excellent.
If you enjoy freestyle more than alpine skiing, you'll love this ski resort. For many years, it has been at the forefront of new trends in freestyle modality. The snowpark has its own lift and offers jumps and artificial modules for all levels, so you can take your freestyle skills to the next level.
When it comes to ski mountaineering, the resort Port Ainé counts on five ski mountaineering itineraries in an incomparable natural environment.
Tavascan
Skiable terrain: 5 km
Runs: 7 (2 green, 1 blue, 2 red and 2 black)
Ski mountaineering trails: 4
Snowpark: No
Price: Not disclosed yet
Looking to enjoy the mountain at its most pure state? Tavascan is the smallest and most budget-friendly ski resort in the Catalan Pyrenees, but don't let its size turn you down.
Besides the slopes mentioned above, you can also practise nordic skiing for the same price, and have 4 ski mountaineering itineraries (info in Catalan) so there's no room for boredom!
It's an excellent choice if you're looking for a quiet ski resort, away from the crowds, where you can enjoy the mountains at their best.
Vall de Núria
Skiable terrain: 7,6 km
Runs: 11 (3 green, 3 blue, 3 red and 2 black)
Ski mountaineering trails: 2
Snowpark: No
Price: 36 € adult / 27.5 € children (includes the mountain railway from Queralbs or Ribes de Freser)
Vall de Núria is a ski resort located in a valley surrounded by peaks that almost reach 3,000 meters. One of the top reasons people come to this ski resort is the valley's beauty and its isolation.
The only way to access it is with a mountain railway that departs from the village Ribes de Freser. This fact limits the number of people who can come to this peculiar ski resort, so you won't find massive queues or aglomerations.
That being said, Vall the Núria isn't for everyone. If you hate kids, Vall de Núria is probably not your thing! If you're into freestyle, there're definitely better options.
However, if you like ski mountaineering, Vall de Núria has two itineraries worth checking!
👌🏼 Our tip
If you go to this ski resort, it's worth having lunch at the terrace of the youth hostel (Refugi Pic de l'Àliga). You'll be rewarded with jaw-dropping views of white peaks and ice fields.
Vallter 2000
Skiable terrain: 20 km
Runs: 13 (3 green, 4 blue, 6 red and 0 black)
Ski mountaineering trails: 4
Snowpark: No
Price: Not disclosed yet
Vallter 2000 is located in the region of El Ripollès, in the easternmost part of the Pyrenees. The ski resort is situated in a circle of glacial origin within the Natural Park of Les Capçaleres del Ter and Freser, between peaks as high as 2,800 m.
What's cool about this ski resort is that from its highest point, 2.535 m, you can spot the Mediterranean Sea on clear days! That's why Vallter 2000 is affectionately called the Mediterranean resort of the Pyrenees.
Unlike some other ski resorts in the Catalan Pyrenees, there are no hotels or restaurants amidst the slopes, so it has this cool, wilder feel. The ski area stretches for 20 km and features 13 pretty pine tree-lined slopes.
Vallter 2000 is an excellent option for intermediate skiers.
If you like ski mountaineering or want to give it a go, you should know that Vallter is the cradle of Catalan mountaineering. It's the ideal place to put on your mountain skies and discover the area. There're four ski mountaineering itineraries in the resort and many more outside of it!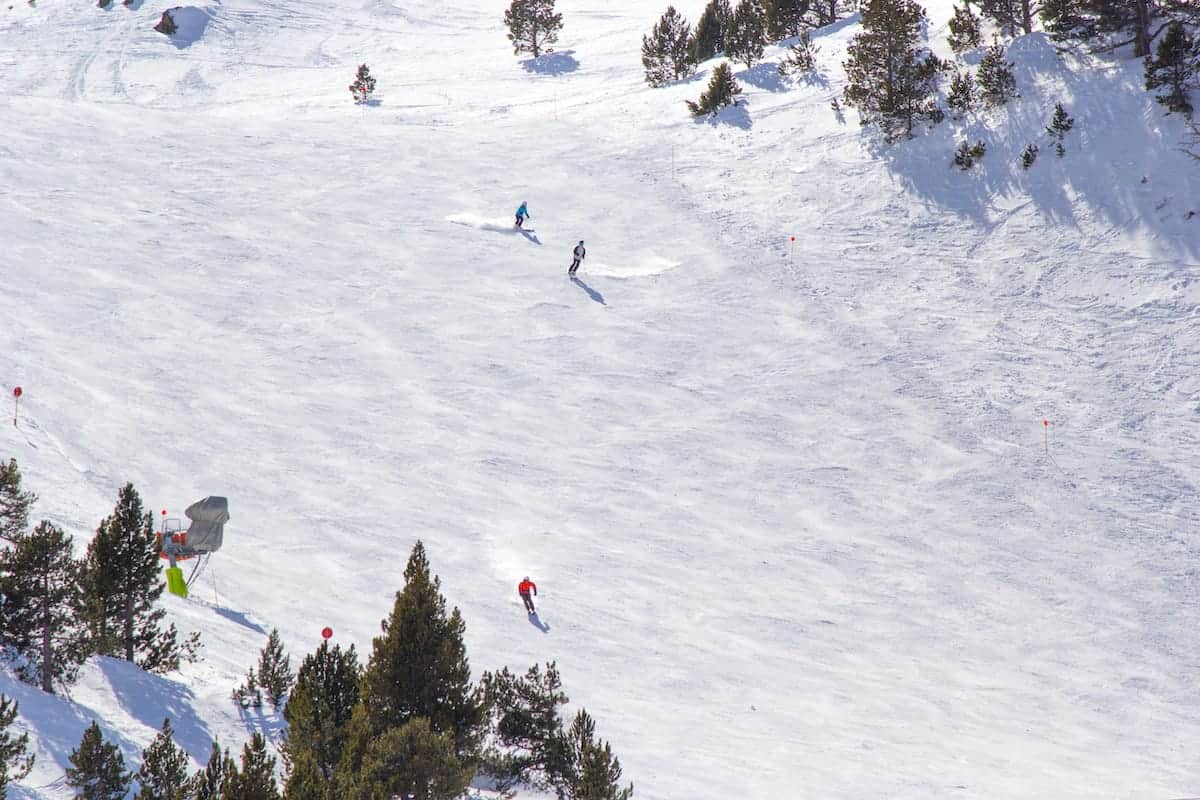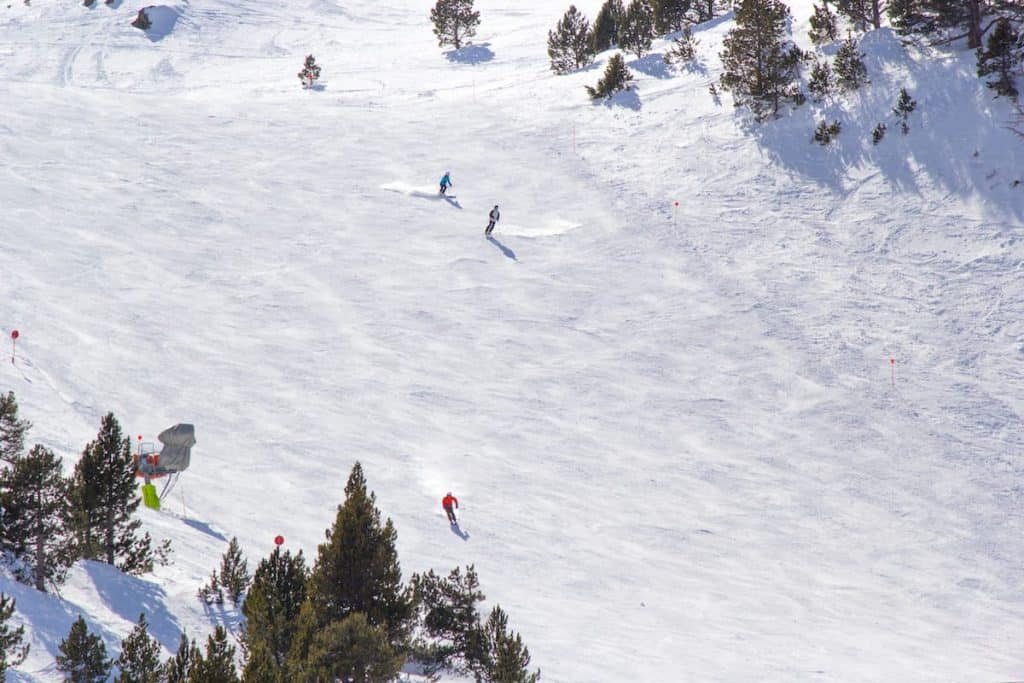 And there you have it! We've summarised here all the ski resorts you can find in Catalonia. If you visit any of them, let us know; we'd love to know what you think. Happy ski season!