There are many amazing things to do in the Vall d'Aran during winter, but one of our favourites is snowshoe to Montgarri. It's one of the "easier" winter adventures you can take in Catalonia's northwesternmost region, yet the landscape is prettily picturesque! At about 5 km each way, it's a relatively short trail, and even those new to snowshoeing can enjoy the hike. In this blog post, we'll be sharing all the tips on how to get there, when to go, and the gear needed.
Snowshoe to Montgarri in winter
Quick info about the activity
📍Location: Baqueira-Beret Ski Area (Vall d'Aran)
🚗 How to get there: Drive to the Pla de Beret. The roads leading to the trailhead are ploughed and accessible all winter long
🗓 When to go: During the winter months, when there's adequate snowpack
↔️ Distance: Approx. 10 km (round trip)
⬆️ Elevation gain: approx. 220 m
🟢 Difficulty: Easy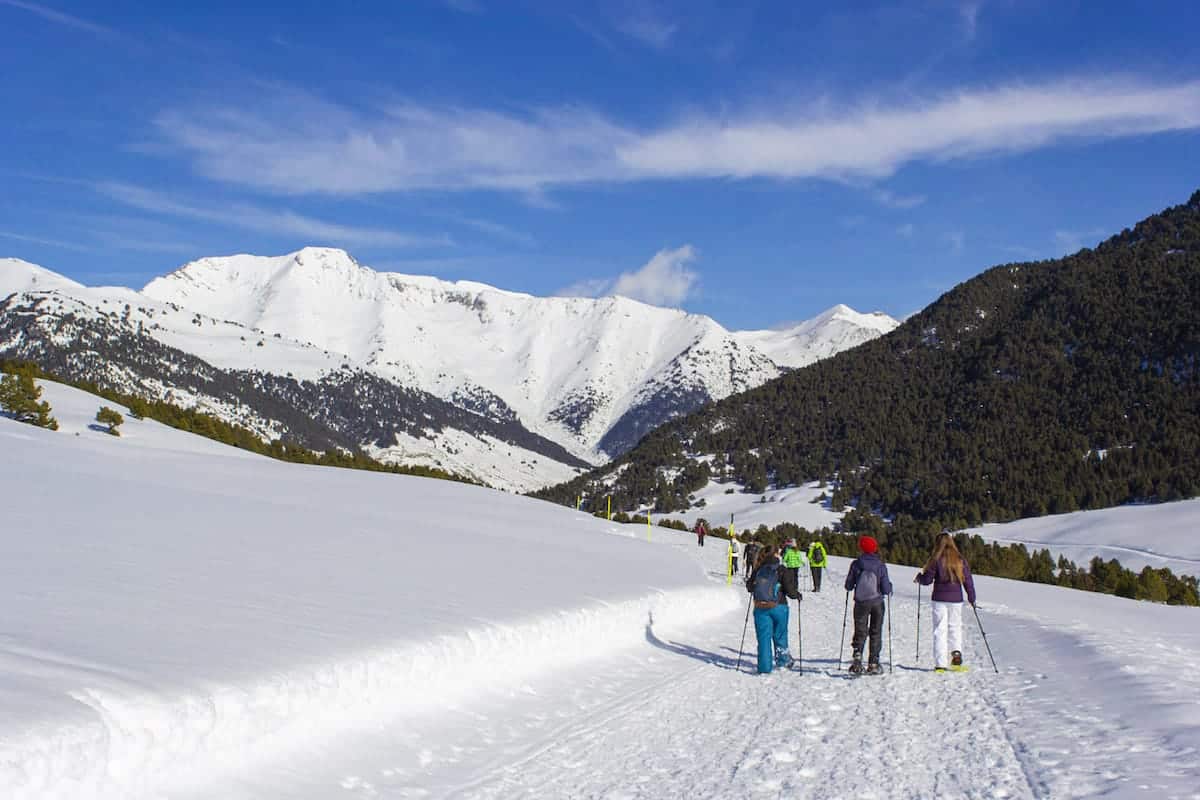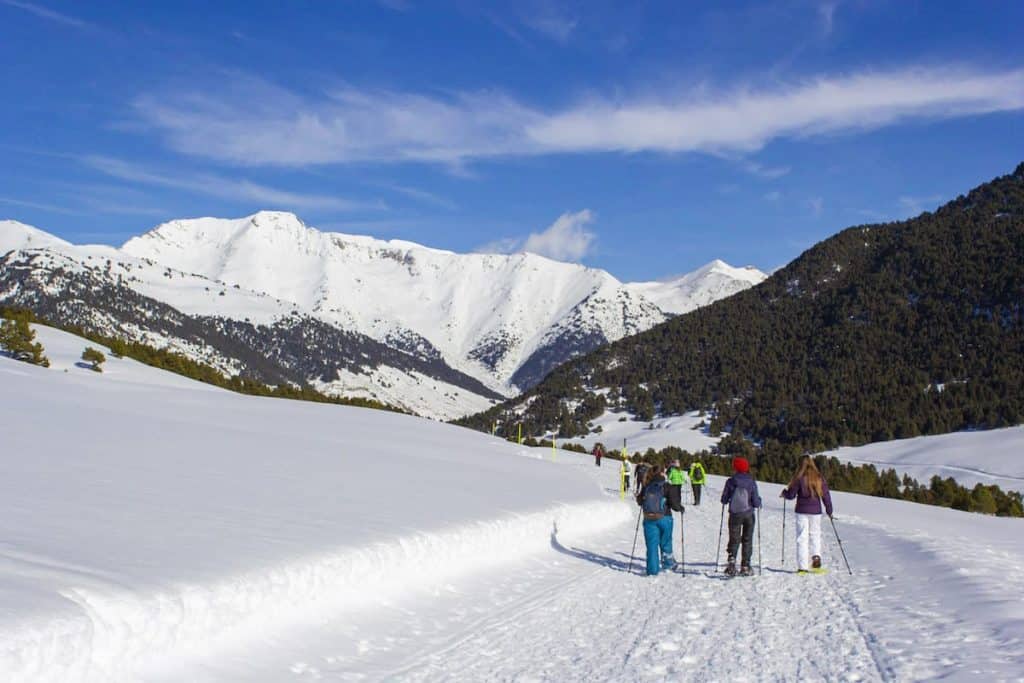 Ok, let's jump into all the details on how to actually get to Montgarri!
Location of Montgarri and how to get there
Montgarri is located next to the ski resort Baqueira-Beret, in the Pyrenees mountains. This is at the very northwestern tip of Catalonia, close to the border between Spain and France.
The driving distance from Barcelona to the Vall d'Aran is approximately 4 hours, or 2 hours if you are coming from Lleida. The main access road is via El Port de la Bonaigua (C-28 until Baqueira and then C-142B), which is maintained year long. Depending on conditions (especially if you're going after a snowstorm), you may prefer to have a 4-wheel drive vehicle and/or snow chains when driving the winding mountain pass El Port de la Bonaigua.
How to find the Montgarri trailhead
To find the Montgarri trailhead, you will want to drive the C-142B until you reach the Carretera Ta Bagergue parking lot. It's free to park. From here, you are at the trailhead. Put your jacket on, strap on your snowshoes, and get ready for a winter adventure!
Snowshoeing to Montgarri
Cross-country skiers also use the beginning of the trail, making it the busiest section of the route. Once you walk away from the ski resort, the number of people drop drastically. After 4 km of being surrounded by a white landscape, you'll find the Era Creu (a viewpoint with a cross). It's a nice spot to rest and drink some water.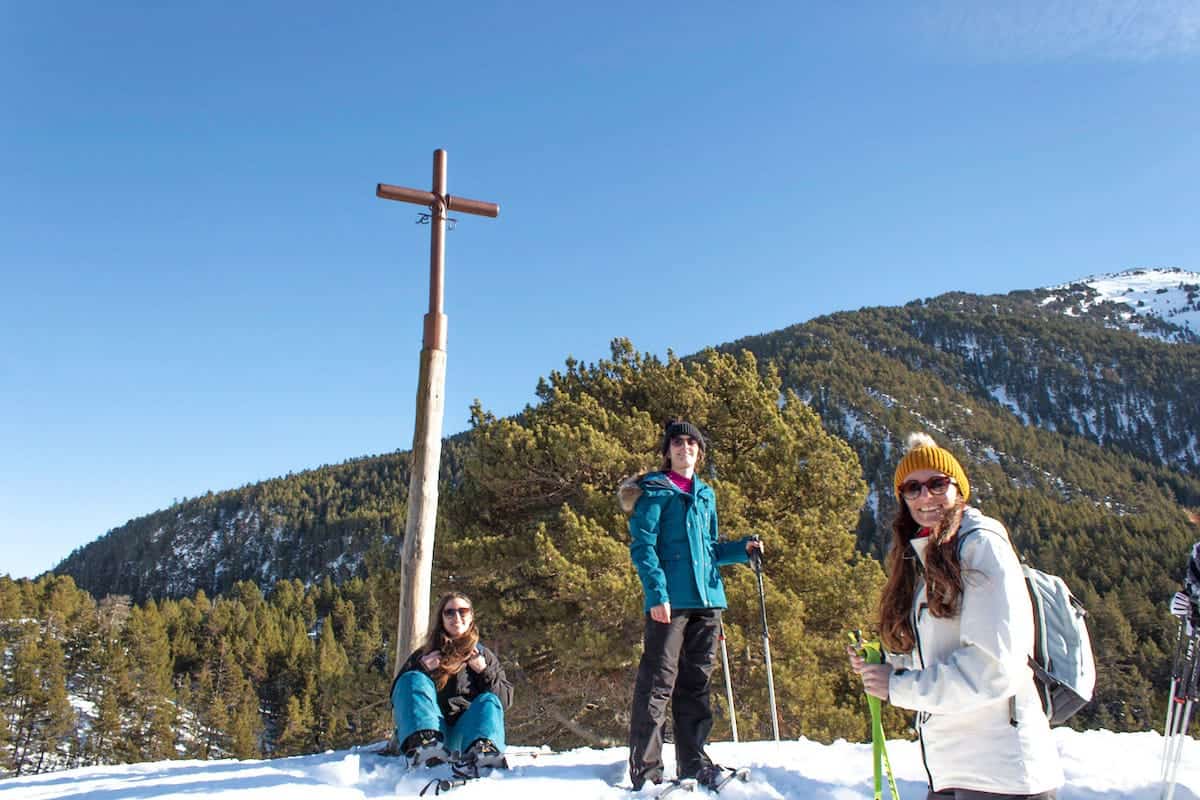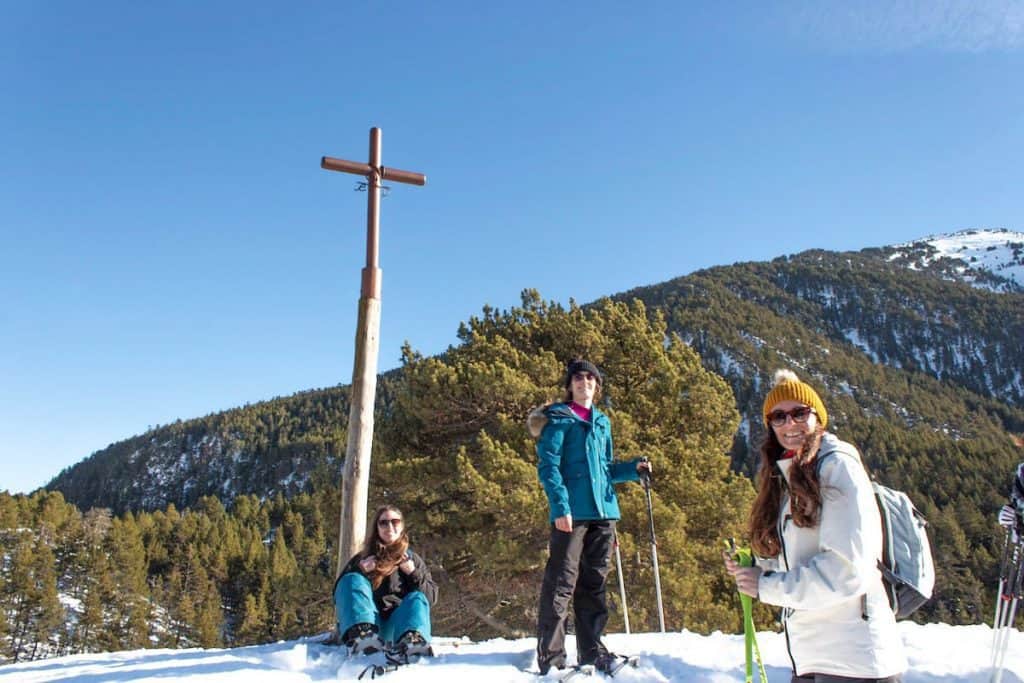 The trail keeps losing altitude, passing by a couple of huts until reaching the Montgarri Sanctuary. During this section, the views reminded us of a Christmas postcard: a white landscape with just the sanctuary and the river passing by next to it.
Montgarri sanctuary and mountain hut
The sanctuary was built in the 12th century, and it was considered the main sanctuary of the region. It's located in a strategic point, linking Catalonia and France. In the old days, there was also a hospital, a rectory, and an accommodation building. The place was used as a mountain hospital and a shelter for passers-by and people in need.
Nowadays, there's a mountain hut next to the sanctuary, where you can eat and sleep. They serve typical dishes of the region, such as Olla Aranesa (a soup with meat, beans and vegetables), cured meats, and pâté. We didn't eat at the restaurant but grabbed something to drink and snacks in the bar and enjoyed them outside.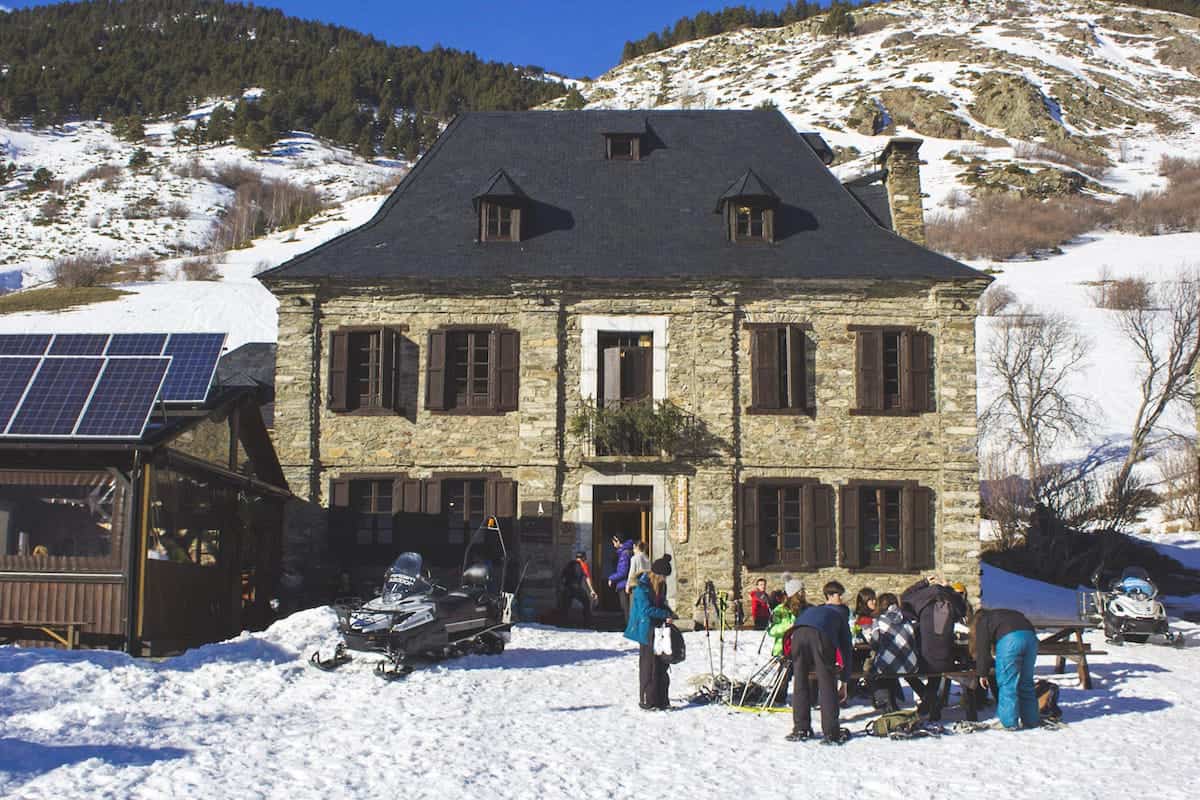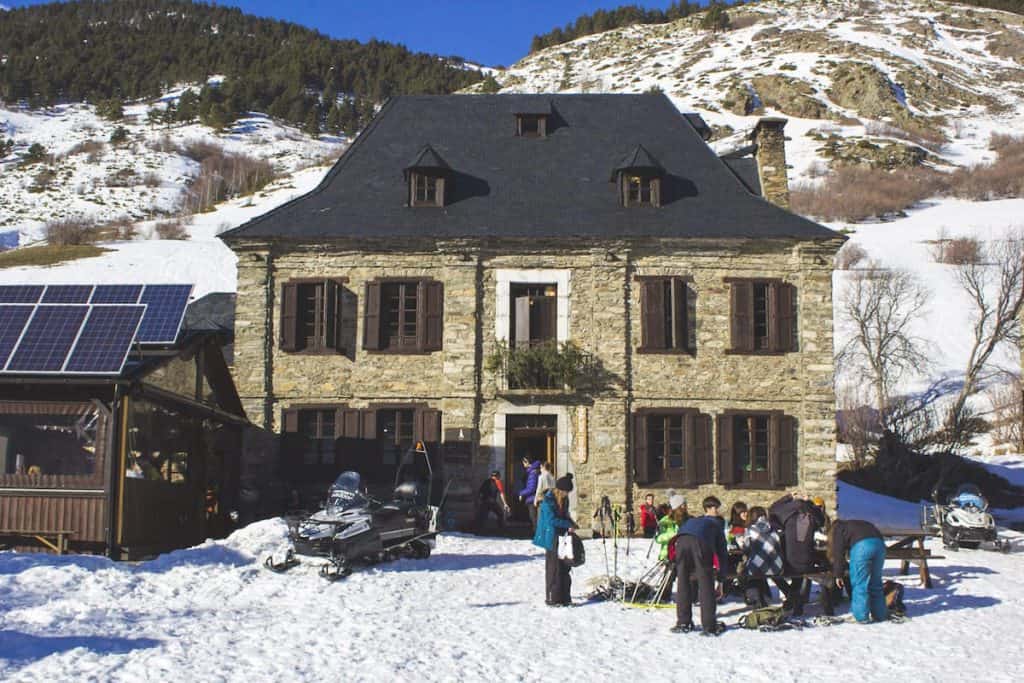 Montgarri abandoned village
Once you're ready to continue, it's time to cross the bridge in front of the mountain hut. Turn left and keep following the trail until reaching the abandoned village of Montgarri. You'll see the remainings of the mountain houses (named bordes) in ruins. The inhabitants of this village were forced to abandon their homes due to the harsh living conditions. Heavy snowstorms were frequent there, and the village's isolation didn't make things easier.
As a curious fact, Montgarri is considered the coldest village in Spain, with an average annual temperature of only 5 degrees!
After visiting the village ruins, come back to the bridge using the same track. Once there, enjoy the unparalleled views one last time before heading back up to the car. It's not unusual to find dog sledges and snowmobiles on this part of the trail.
🧭 Wikiloc track
Use our Wikiloc track to help guide your way. We prefer to download the area's offline map via the app and use it to move around and follow the trail.
Required gear for snowshoeing to Montgarri
We love snowshoeing as it's a relatively low-barrier activity when it comes to enjoying the winter months. Below, you'll find gear tips on what to wear and items to pack for your snowshoe to Montgarri.
Snowshoes: Bring your own or rent them at J. Moga (Baqueira) or Beret Ski Service (located in front of the parking lot).
Waterproof winter hiking boots
Warm clothes
Gloves
Backpack: To store snacks, water bottle, etc.
Neck/face cover and/or beanie: Don't skimp on those ones… you may regret it if the weather changes quickly!
Sunglasses
🧤 Dressing tip
When it comes to dressing for winter adventures, the best tip is to dress in layers. As a general rule, we recommend wearing a breathable base layer and hiking pants or fleece-lined leggings. If you get cold quickly, a good idea might be to wear thermal leggings or tights below the hiking pants. That might be enough to keep you warm on the uphill (when you're doing the most exercise), but it's likely that you'll also need some extra clothing on the way down, especially on colder days. A lightweight jacket or fleece layer will do.
Good winter hiking practises
Oh! Last but not least. Remember that if you're going to be out in nature, it's essential that you strive to protect it and follow Leave No Trace principles. Take a moment to poke around the website and familiarise yourself with proper winter hiking etiquette before you snowshoe to Montgarri.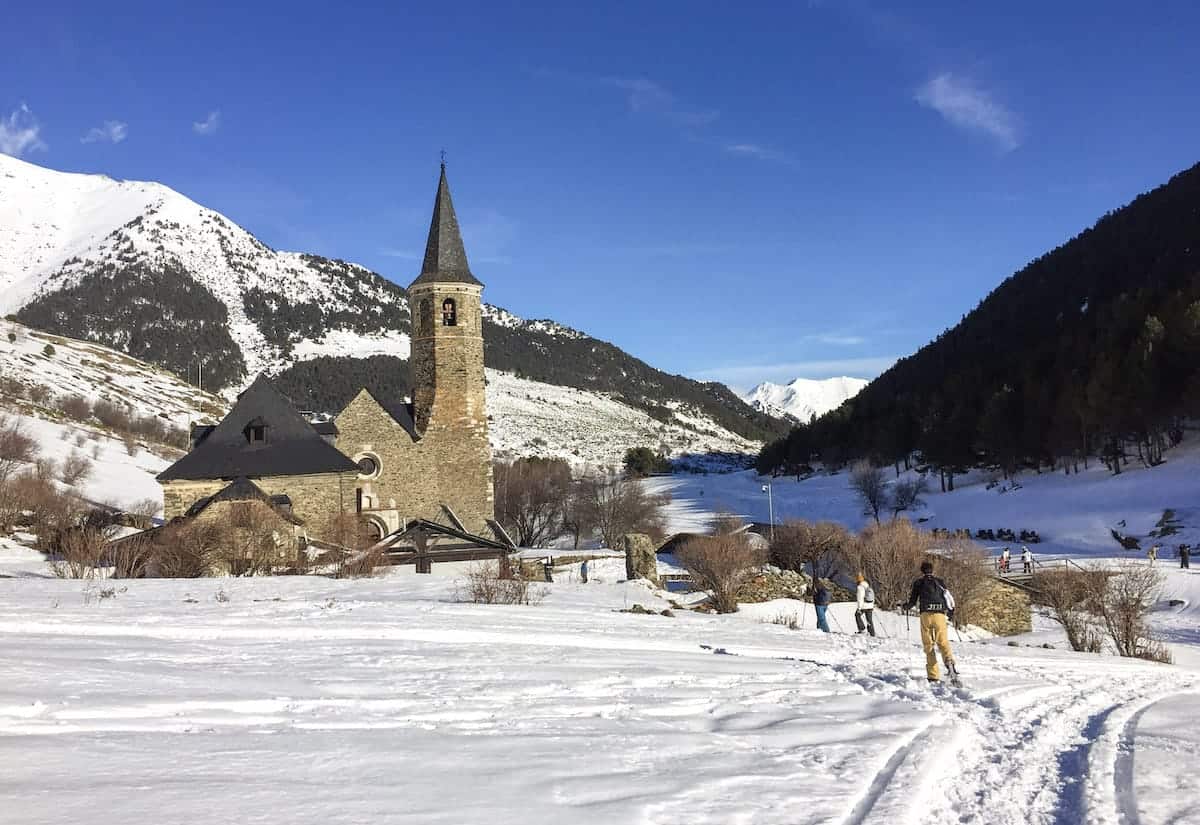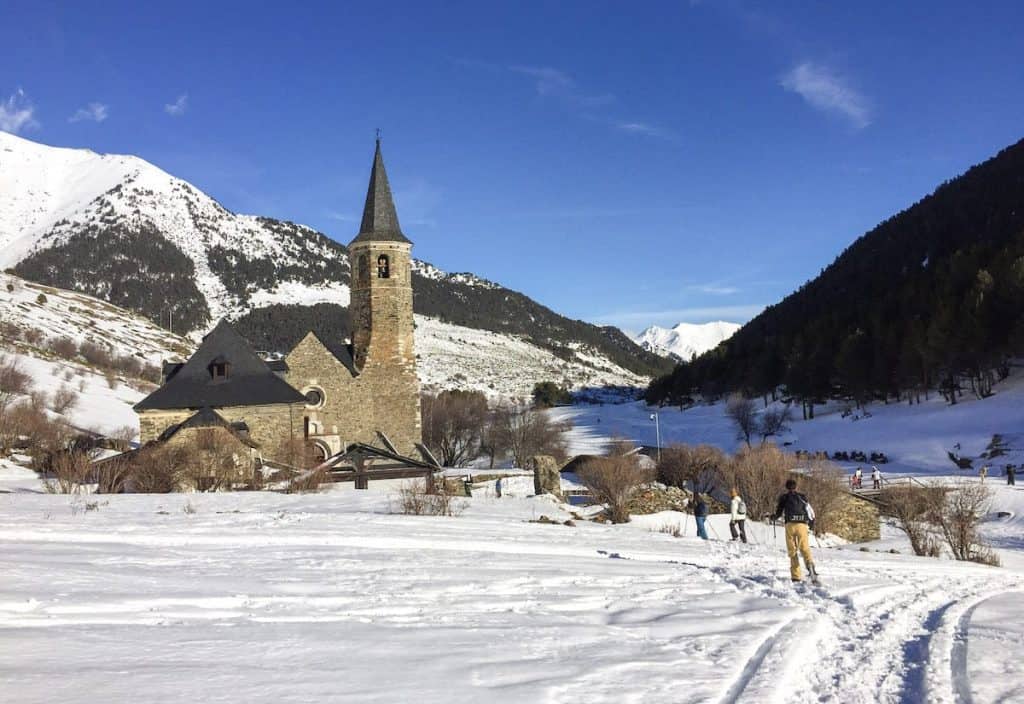 We hope this post encourages you to strap a pair of snowshoes and discover the beautiful region of the Vall d'Aran when it's covered in snow! We know winter makes you feel like staying indoors with a hot drink in hand… But we can guarantee you that getting out and snowshoeing to Montgarri will not disappoint!
---
More winter adventures in the Vall d'Aran
The Vall d'Aran region is home to Spain's largest ski resort (Baqueira-Beret). While you are there, why not put on your skies and enjoy a day descending on the slopes? We've written a post about it if you feel like you want more info.