If you observe Montserrat from its north face, chances are that you'll see one of its most characteristic rocks: La Foradada. The main feature of this rock is its huge triangular hole, and the good news is there's a lovely hike that will lead you to this beautiful natural viewpoint.
In this guide, we share everything you need to know to hike to La Foradada, from how long the trail is to some cool facts about it.
Technical details
🥾 Distance: 1.95 km one way
🟢 Level: Easy
⬆️ Elevation gain: 218 m
⬇️ Elevation loss: 54 m
⏱ Duration: A couple of hours to half day. It depends on the number of stops you make and the number of pictures you take!
What is La Foradada?
Amongst Montserrat rocks, there's a triangular-shaped rock with a hole known as La Foradada (the drilled). The artists who gave this peculiar rock shape were the wind and the water, and they did an awesome job!
Talking dimensions, the rock is slightly more than 10 m in height and around 6 m wide.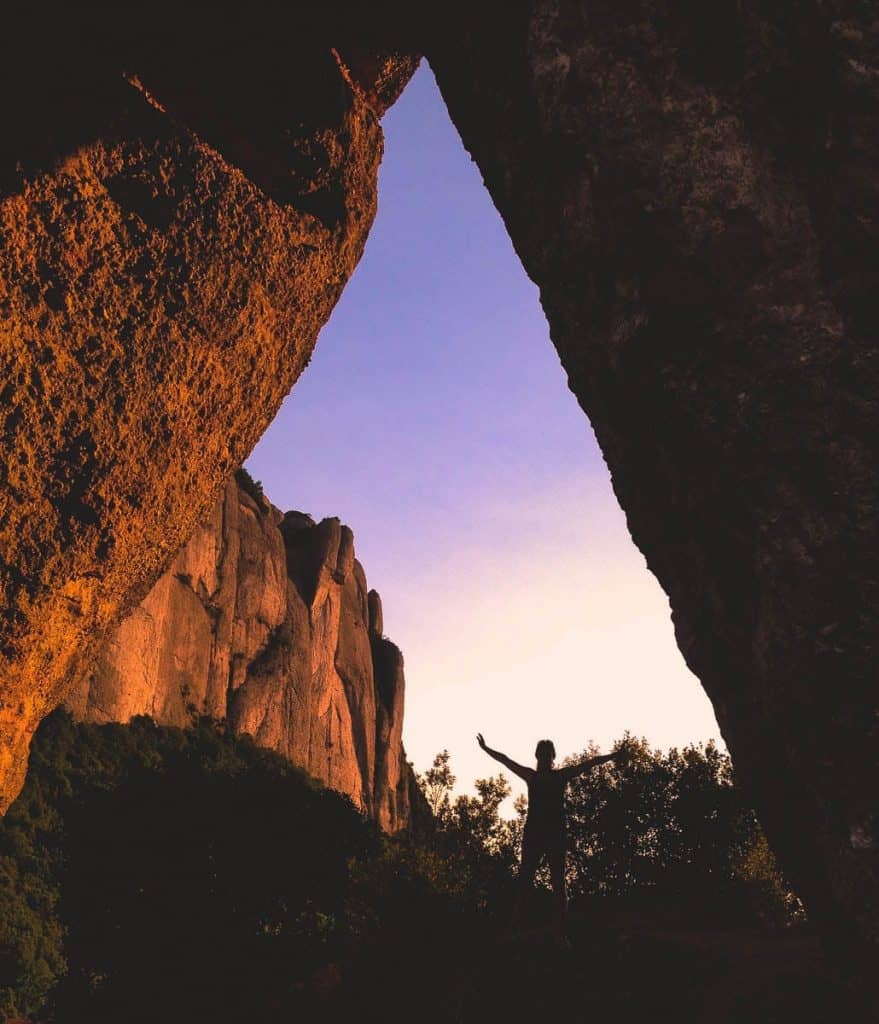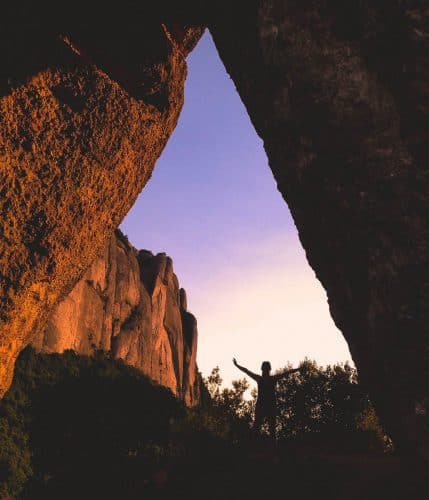 Location of La Foradada and how to get there
La Foradada is located in the Montserrat Natural Park, in El Bages region. This is at the heart of Catalonia, just one hour from Barcelona.
The hike to La Foradada starts at the parking Can Maçana. If you're driving there from Barcelona, you'll move on the A2 and take exit 570, which says El Bruc. You'll drive past the hotel El Bruc, and then you'll see the indications to the parking lot on the right.
Anyway, if you use Google Maps or any other GPS, they will guide you without any problem.
The driving distance from Barcelona to the parking Can Maçana is approximately 45 min.
⚠️ Important!
The parking lot Can Maçana has space for 100 vehicles. You have to pay 4€ to park there on weekends and public holidays. Also, it tends to be crowded quite early.
If you find the parking lot full, you can keep driving and turn right when you reach an intersection. After a few meters, next to the road, you'll see a piece of land where you can park.
Hiking to La Foradada
The hike to get to La Foradada starts at the parking Can Maçana. To find the trailhead, take the track next to the picnic area in the parking. You'll see a fence with an arrow painted. Cross it, and you'll be on the right track!
The first part of the hike is a walk suitable for all ages and levels as it's very plain. Once you find the first intersection, turn left, following the "Refugi Vicenç Barber" signs. After a while, you'll see the lookout Mirador de Can Maçana. A sign on the lookout highlights all the interesting points you can see from there. If the day is clear, you'll have uninterrupted panoramic views of the Pedraforca, the Puigmal, and other Catalan mountains.
From this point onwards, you'll start to see La Foradada. The track gets narrower and leafier. When you encounter an intersection, always follow the "Refugi Vicenç Barber" direction because La Foradada doesn't appear in any sign.
The only thing that will indicate you to leave the trail you're following to start the ascent to La Foradada is a tree with a white and red line painted. Pay attention, so you don't miss it!
Here things get a bit trickier. For the last 10 min, you'll have to use your hands at some points and climb a little bit to get inside the triangular hole. You don't need to be an expert mountaineer to do so; any person can. Just make sure to pay attention.
Once you arrive, breathe in the fresh air of the mountain and feel the calm and tranquillity all around you. Don't forget to enjoy the awe-inspiring views as well! Let your imagination run wild and try to guess what kind of object the nearest peak looks like: is it a chair or a camel?
🧭 Wikiloc track
In order not to get lost, check our Wikiloc page where you'll find the track of this route.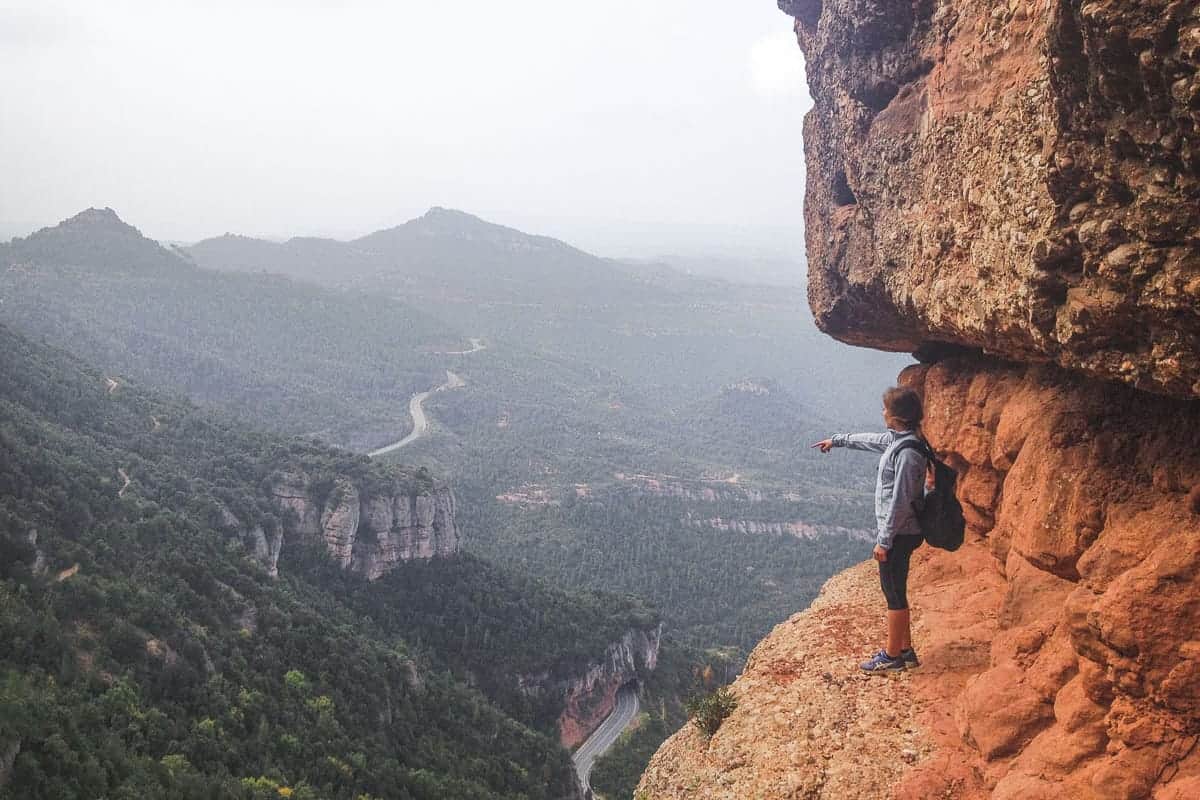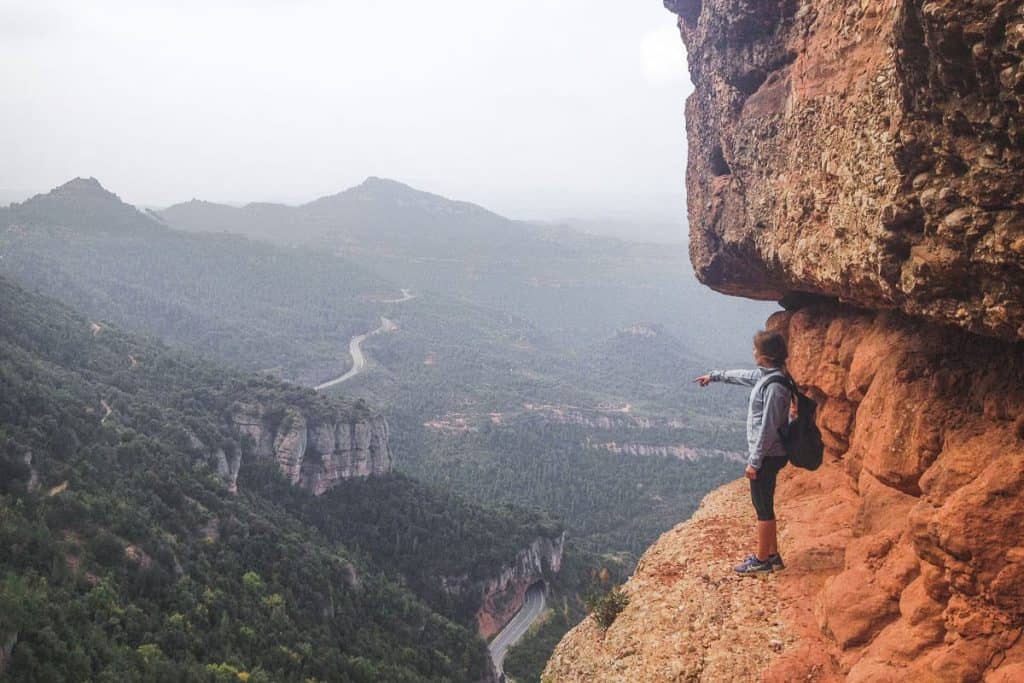 The way back is done following the same track until getting to the car parking.
A cool fact about La Foradada
Many sports can be practised at Montserrat mountain, such as trekking, climbing and… wingsuit-flying! For those wondering what a wingsuit is, it's a fabric outfit that creates an area between the legs and under the arms, allowing people to "fly".
As crazy as it can sound, in 2013, a Norwegian skydiver named Alexander Polli jumped out of a helicopter and flew through the hole of La Foradada while wearing only a wingsuit. He travelled at a speed of 240km/h through the hole, which is like… a lot! Take a look at the video of the whole hole experience, and you'll see!
If you want to spend a different morning or afternoon in Montserrat, hiking to La Foradada is an excellent option. For an even better experience, go there during sunrise or sunset. Impressive views are guaranteed!