Live concerts, a meteor shower, perfect days for outdoor adventures… August in Catalonia never gets boring!
With plenty of hours of light, hot temperatures (sometimes even too much!), and warm waters, August is a great month to enjoy the beach and the mountains.
But let's be real as well. The fantastic weather is a magnet for travellers from all over the world, so you'll likely find big crowds at most of the famous tourist landmarks. Also, the hotel and flight fares are higher.
Should you let this stop you from coming? No! A lot is happening in the country in August, and there are many ways to beat the crowds and enjoy a fantastic trip.
Ready to discover more? Here's a rundown of plans to do in Catalonia in August.
The weather in Catalonia in August
Together with July, August is the hottest month in Catalonia. This means plenty of sunshine (although summer thunderstorms are also common), scorching temperatures, and the need to look for shade or water when the heat becomes unbearable!
It's this time of the year when even nights get sticky, especially on the coast, so be sure to book accommodation with a fan or air-con.
🌡 Temperatures
The temperatures vary depending on the area of Catalonia you're visiting.
On the coast, the average daily high in August is approx. 29ºC (84ºF), although it's no surprise that the mercury soars to 35°C (95ºF)! As you can imagine, you'll be looking for shade or the sea to cool down. Temperatures drop at night but rarely below 20ºC (68ºF).
Since Barcelona is a humid city, things get a bit sticky around here this time of year.
Day temperatures are even hotter in the west and centre of Catalonia, with an average of 31ºC (87ºF). However, they lower more drastically at nighttime.
If you want to escape the heat, your best bet is to head to the Pyrenees or the picturesque Val d'Aran. In the mountains, temperatures are slightly lower, especially at night when the average low is around 14ºC (57ºF).
You can check the weather on your phone's app (we usually use Google Weather) or Accuweather.
⚠️ Important!
We recommend avoiding high-intensity activities from 12 to 3 pm when the sun hits hard. The best time to do them is early morning or late afternoon.
Also, take plenty of water, a hat or cap, and sunscreen when you head out to explore!
🌊 Sea temperature
August is a perfect month to practise all kinds of water sports as the sea's temperature is a pleasant 25 ºC.
This can change if you go to Costa Brava, where the sea temperature is usually slightly colder but still nice and pleasant (especially with scorching temperatures outside!).
🌦 Weather
Sun, sun, and…more sun! Sunny days are the norm in most parts of Catalonia in August.
However, if you head to the mountains, know that summer thunderstorms are frequent, especially in the evenings. It's normal that a day in the Pyrenees starts with the sun shining bright, just for the sky to be covered in clouds by the afternoon and a thunderstorm hitting hard in the evening. Even hail is not unusual!
☔️ Rain
There are, on average, 2 rainy days in August on the coast, centre, and west of Catalonia. So the chances of rain ruining your vacation are extremely low! Also, those two days will never be days where it rains non-stop.
The average in the mountains is up to 6 days, so rainfall could be on the cards. We highly recommend checking the weather forecast, especially if you're heading to high altitudes, and carrying rain gear during your trip. This way, you can keep exploring without getting soaked!
To check the rain in the area you're travelling, we recommend downloading the app Rain Radar.
☀️ Hours of light
Although the hours of light start diminishing compared to July, there are still plenty of bright hours for outdoor activities and exploring around. There are about 14 h of light a day in Catalonia in August.
Sunrise happens around 6:45 am at the beginning of the month and 7:15 at the end. If you're staying at the coast and want to catch a beautiful sunrise over the sea, you better set your alarm early!
On the other hand, sunset happens after 9 pm at the beginning of the month and around 8:30 pm at the end. It's that lovely time of the year when you can enjoy dinners outside, and it's still bright.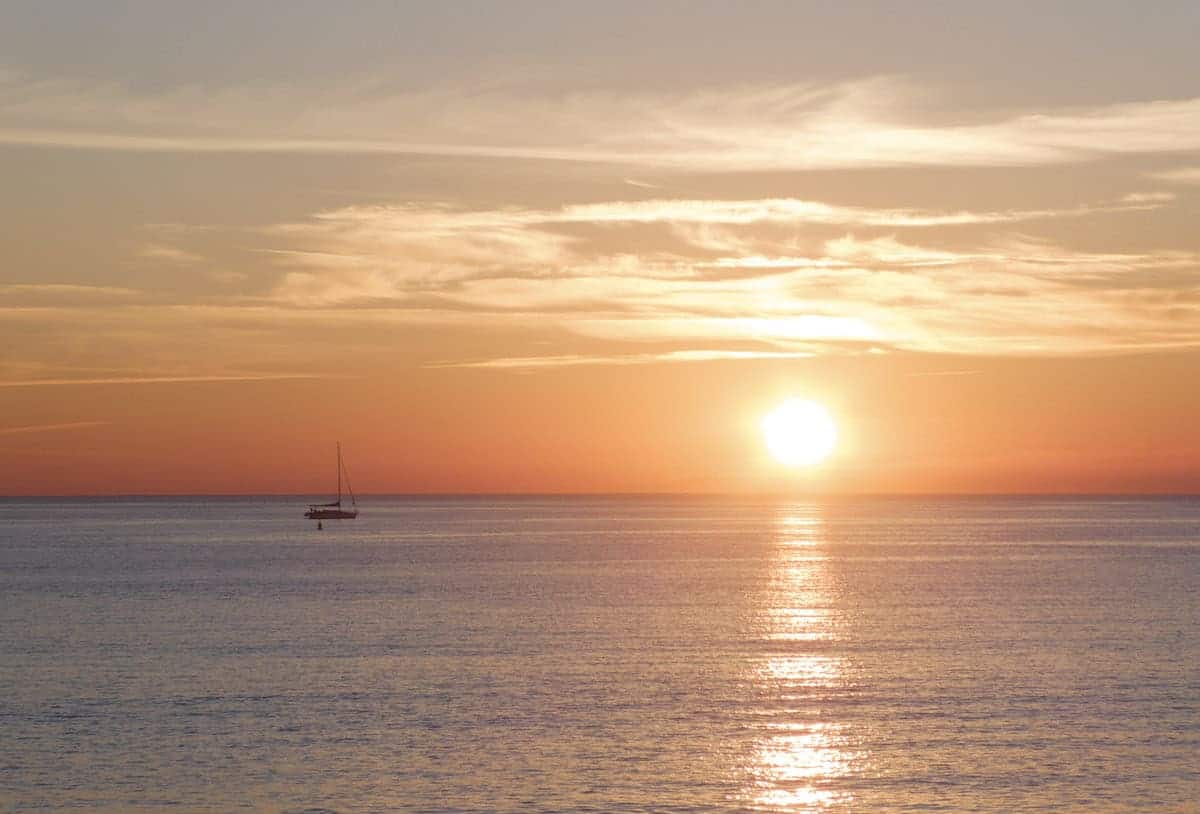 What to pack for a trip to Catalonia in August
The first thing you should throw in your suitcase is some factor 50 (reef-friendly please!).
👙 Clothing
You'll mostly want to go around in T-shirts and shorts day and night and wear your swimsuit a lot. You'll need very little in the way of long sleeves and trousers, although a thin jacket might come in handy if it gets fresher than expected in the evening.
If you're going to the mountains, don't forget a rainproof jacket and at least one warm top layer. We also advise you to pack a hat and a pair of trousers at least, not only shorts.
Sunscreen and aftersun are no brainers obviously, although you can pick them up at the supermarket or many corner stores, so no need for them to take up too much space in your luggage.
🩴 Footwear
Regarding shoes, you'll spend most of the day in your sandals. Water shoes might come in handy if you plan to explore the coast.
If you include hiking in your trip's plans, don't forget to have a pair of hiking shoes that are breathable and not too warm.
Always remember to bring comfy shoes!
What's on in Catalonia in August
Lay back and soak up a movie
Ready for a movie under the stars? Here are two cinema experiences in Barcelona and its surroundings reserved for summer nights only:
In Montjuïc castle's garden (30th June to 4th Aug)
Sala Montjuïc is an open-air cinema that sets up camp every July and August in an incredible setting within the walls of the 17th-century famous Monjuïc Castle.
The program keeps things pretty current, so expect big releases from the past year or two. All movies are un-dubbed with Spanish subtitles. Also, there's a small concert on the stage before the movie starts.
When it comes to food, you are welcome to bring your own. Get as creative as you want; the sky is the limit! Think about crackers, dips, a fruit platter, or cava to celebrate the occasion! If you don't feel like going to the supermarket, you can pick something up from one of the food stalls.
Tickets tend to sell out, so check early for your travel dates to see if you can snag any.
👌🏼 Our tip
It gets pretty chilly and windy at night at Montjuïc, so we recommend you bring a jacket or blanket.
In the beaches of Barcelona and surroundings (30th June to 10th Aug)
Cinema Lliure Platja is a cinema festival on various beaches along the Catalan Coast. The movies are played un-dubbed in all the locations but on different dates. The best thing? It's completely free!
So if you're in Barcelona (Platja de Sant Sebastià), Tossa de Mar, Tarragona, El Prat, Sitges, or Palamós, check out the movie showtimes, pack a picnic, and enjoy a great night!
Celebrate like a local at a Festa Major
As summer inches closer, we locals start talking about Festes Majors. Each village, town, and even district celebrates its own, and they are the most authentic parties you can attend.
But don't think about fancy dresses, expensive entrance tickets, and renowned international DJs. To give you a better idea, you can think of Festes Majors as big street parties.
They usually involve traditional events, like correfocs (fire runs), sardanes (a typical dance), castells (human towers), and gegants (giant sculptures that dance). But also open-air concerts, neighbourhood dinners al fresco, and lots of fun!
They are free-to-attend events and it's almost impossible to find reliable info on them in English… But here we'll mention the most important ones happening in August:
Festa Major de Gràcia (Barcelona, 15th to 21st Aug)
This is Barcelona's most famous Festa Major. It takes place in the bohemian and alternative neighbourhood of Gràcia, and fun and good vibes are guaranteed!
The highlight of this party is the competition between different streets to win the prize of the best-dressed street. Months before the party, the neighbours start designing and building the decorations, and we assure you that their DIY skills are top-level! Expect to find anything from underwater world ornaments to bizarre space-themed sculptures to famous kids' heroes like SpongeBob or Harry Potter.
Besides, you'll also find live music, castellers (human towers), pop-up bars, correfocs (fire runs), and probably plenty of people. Just check the program or wander into the Gràcia neighbourhood during those dates, and you'll surely find something happening!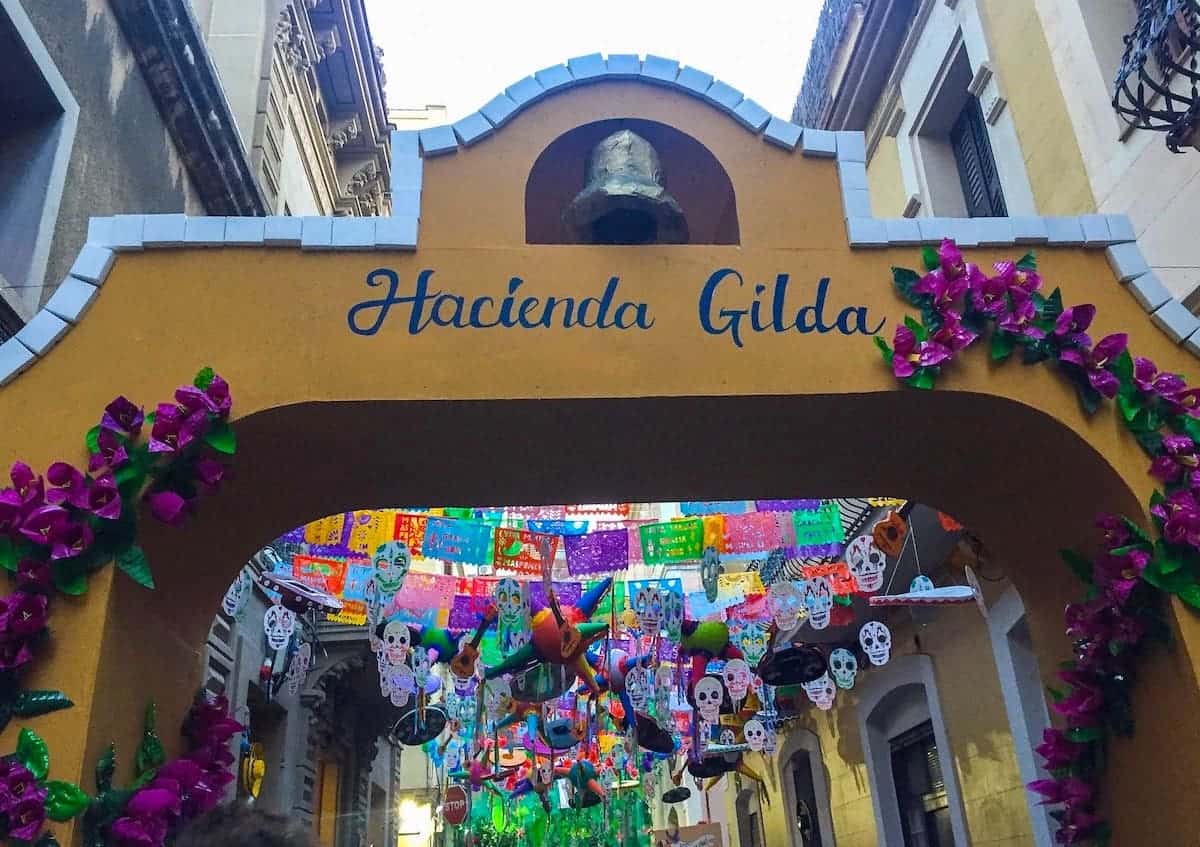 Festa Major de Sants (Barcelona, 19th to 27th Aug)
Another famous Festa Major in Barcelona is the one in the Sants district. Not as crowded as the Festa Major de Gràcia, this is a wonderful occasion to admire decorated streets, castellers (human towers) and enjoy outdoor concerts.
Aquelarre (Cervera, 25th to 27th Aug)
This amazing festival is probably like nothing you've ever seen before. During 3 days, witchcraft, magic, and esotericism fill the streets of Cervera, a town in Western Catalonia.
The word Aquelarre translates as a coven, so you can get an idea of the theme behind the festival, which dates back to 1978.
The main character of the Aquelarre is the Mascle Cabró, a satyr with a giant erected male member that throws foam at people while they dance and sing.
There are also correfocs (fire runs) and a fair where you can buy arts, crafts, and esoteric products.
Dance all night at a music festival
August, together with July, is one of the biggest months of outdoor music events in Spain, and Catalonia is no different.
The country's agenda is packed with different festivals for every taste, style, and budget. The most important ones are:
Festival de Porta Ferrada (Costa Brava, 1st of July to 27th Aug)
Festival de Porta Ferrada is the oldest festival in Catalonia, running since 1958. It takes place in the coastal town of Sant Feliu de Guíxols, in Costa Brava during the months of July and August, so it's a great way to cheer your summer nights if you're staying in the area.
The festival is diverse, with music, theatre, and dancing performances. Best thing? The scenarios are located in great spots, such as in the harbour, or in the interior of a Gothic church.
Cap Roig Festival (Costa Brava, 14th July to 19th Aug)
The setting for this festival is unbeatable: an open-air stage in the Cap Roig castle and botanical gardens, one of the most renowned botanical gardens in the Mediterranean. If that wasn't enough, the botanical gardens are in front of the sea!
So, if you spend some days in the Costa Brava, the Cap Roig Festival is a great plan. It takes place during July and August, with one concert on each date.
The music is diverse, featuring international artists like Mika and Damien Rice and local musicians such as Lola Índigo and Stay Homas.
Festival de Cambrils (Costa Daurada, 28th July to 6th Aug)
Festival de Cambrils takes place in the beautiful coastal town of Cambrils, located in Costa Daurada.
If you're up for discovering great local musicians, this is the place! We recommend Stay Homas, three roommates that created a group as a result of the lockdown (their music is so uplifting!); Els Amics de les Arts, a much-beloved Catalan group; or Miki Nuñez if you're more into romantic music.
Festival Castell de Peralada (Costa Brava, 28th July to 5th Aug)
Celebrated since 1987, this exclusive festival takes place in a beautiful setting: the gardens of the Perelada Castle.
The Festival Castell de Peralada counts on various national and international artists and dancers. Although the focus is opera, ballet, and classical music, you'll also find jazz, flamenco, and pop performances.
Besides enjoying great music, the festival also has a strong gastronomic focus. On the site, several restaurants and bars offer local cuisine and wines from the area.
Festival de Música Antiga dels Pirineus (Pyrenees, 7th July to 20th Aug)
FeMAP is a festival in different locations across the Pyrenees mountains every summer. The idea is to bring music closer to this region and to honour and remember ancient music.
The concerts take place in unique sites, such as Romanesque churches and alpine lakes, so it's a cool way to get to know the culture and heritage of the area.
Occident Summerfest (Pyrenees, 17th to 26th Aug)
Another festival happening in the Catalan mountains, the Occident Summerfest takes place in the beautiful outskirts of Puigcerdà.
The artists that play in this scenario surrounded by nature are primarily national, such as David Bisbal, Miki Nuñez, or Els Amics de les Arts. A great way to discover Spanish and Catalan artists in an unbeatable setting!
Watch the incredible Perseid meteor shower
The Perseids are one of the two strongest annual meteor showers, and they happen in August. This year's peak is on the night of the 12th to 13th of August, and you could spot more than 60 Perseids per hour!
If you miss that date because you have other plans, no worries. You can still see them all other nights of August, although the frequency will vary depending on how close the night you choose is to the 12th of August.
So, wherever you're, find a dark spot, pack a picnic, and head to see these shooting stars. It's a beautiful experience!
Go hut-to-hut hiking in the Pyrenees
Luckily, we have a vast network of mountain huts in the Pyrenees, with several routes linking them. Each year, we try one of them, and we always end up surprised about the stunning landscapes in the Pyrenees and how much they vary in a few km distances.
Check out our hut-to-hut hiking guide to find the one that better suits your fitness level, taste, and needs.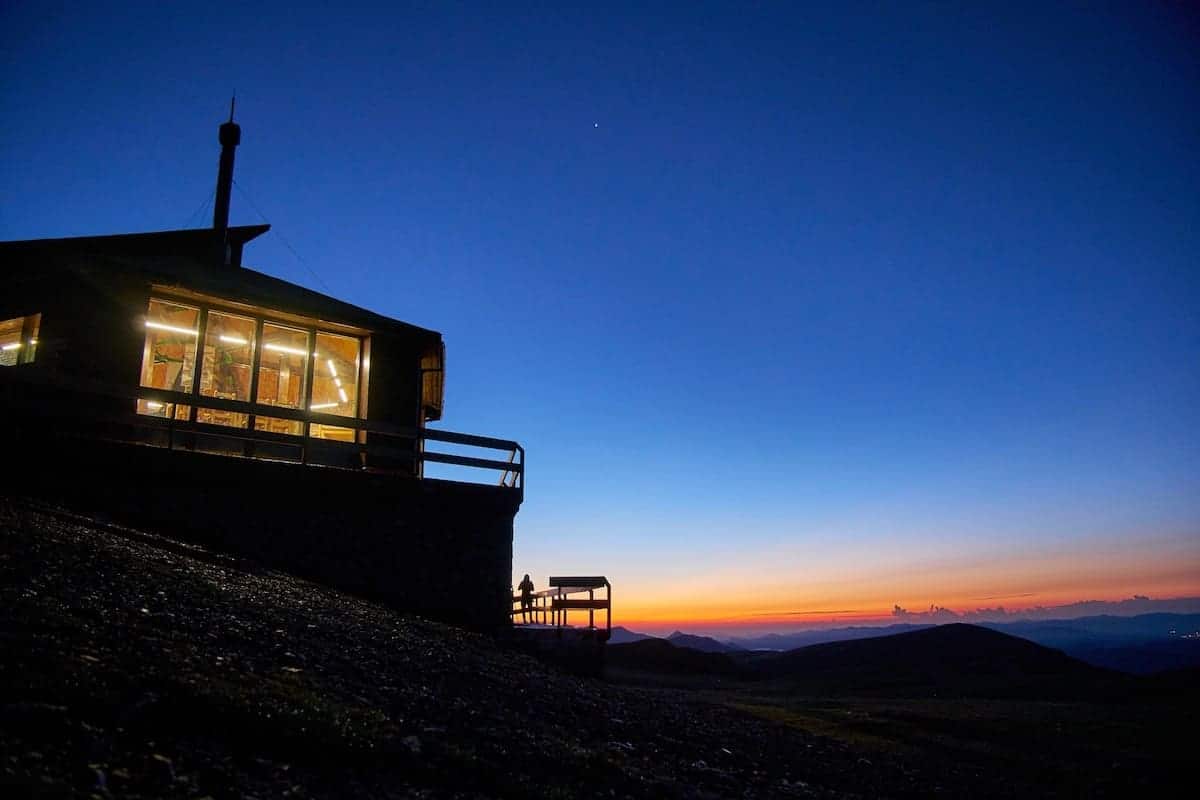 Enjoy a concert in one of Gaudí's buildings
This is a unique plan for summer nights! If you're visiting Barcelona in July, we couldn't recommend you enough to book tickets to enjoy a concert on a rooftop while the sun sets in the background. And if this doesn't sound appealing enough, let us tell you that the rooftops are in the Casa Batlló and La Pedrera, two of Gaudí's architectural jewels!
In Casa Batlló, the experience starts with a visit, where you'll get to know the history of Gaudí and all the details of the building (it's the same as the day visit). You'll be given headsets (to hear the explanations) and can go at your own pace. The visit finishes at the rooftop, where you'll get a drink and enjoy the concert of choice that night. There are concerts every day at 9 pm.
In La Pedrera, you don't visit the whole building, only the attic. Although this might seem like a downside, the good thing is that tickets are much cheaper. After the visit, it's time to enjoy the jazz concert of choice on the rooftop. The concerts are on Thursdays and Fridays at 8 pm.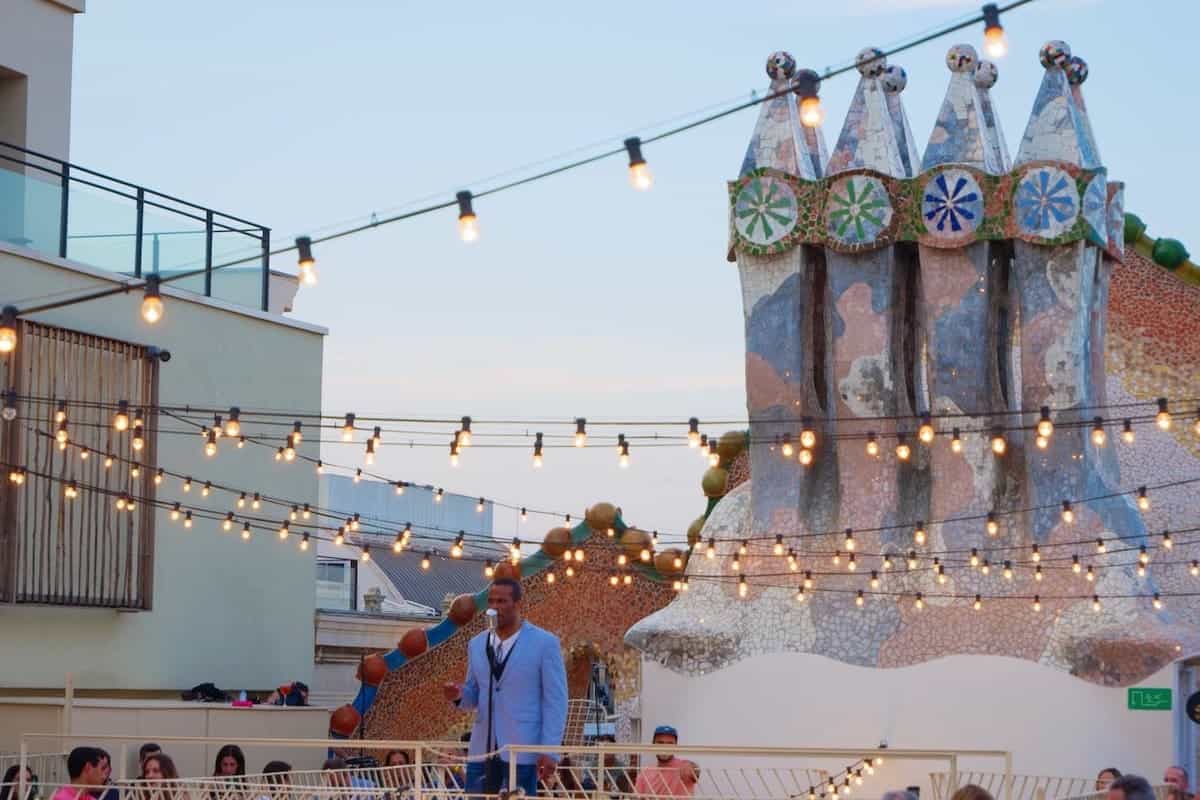 Scuba dive and explore Catalonia's seabed
Warm temperatures mean it's time to jump into the sea!
If you're up for a diving adventure, Catalonia is home to some of the best diving spots in the Mediterranean. An example is the famous Medes Islands, where you can spot giant groupers and red coral.
On the Catalan coast, you'll often find excellent visibility and relatively good water temperatures, and you'll discover thriving marine life, underwater tunnels and caves, and wrecks with a lot of history.
If you want to discover more diving spots nearby Barcelona, check out this guide. If you're spending your holidays in the Costa Brava and would like to go for a dive, we've also written a guide covering the top spots in the area.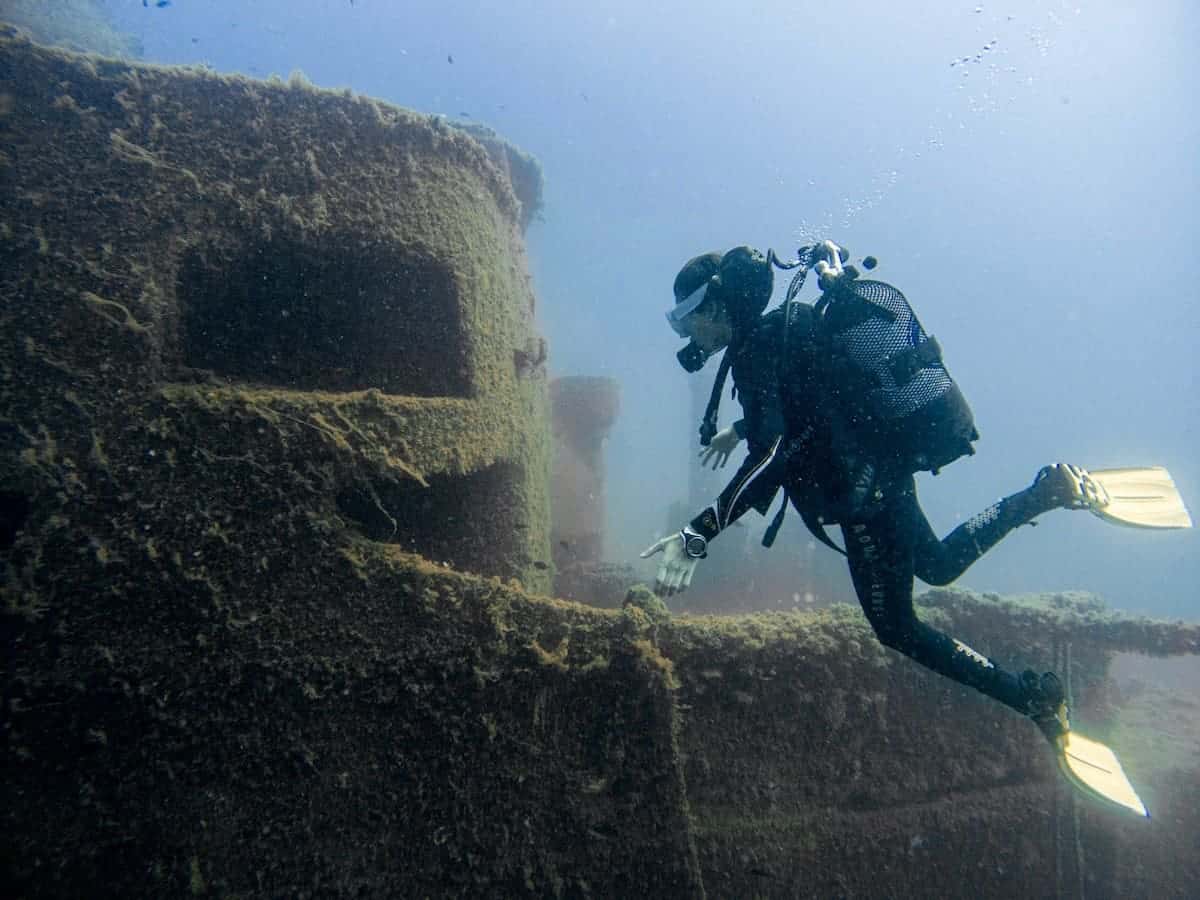 Have dinner under the stars
Eating out is always nice. But eating out in a space observatory? Wow, that is a thousand times nicer!
During the summer, the Fabra Observatory organises a gourmet dinner experience combining food and astronomy.
It starts with a dinner made with locally-sourced ingredients served at dusk on the observatory's terrace. Later, you enter the observatory for a guided visit. Under the dome, you can observe far stars, planets, and constellations through one of Europe's largest and oldest telescopes.
Other cool plans to do in Catalonia in August
Looking for more ideas for your trip? Here you have some suggestions:
And if you're spending some days in Barcelona, no matter the season, don't miss out on our list of unusual and cool things to do at any time of the year.
Have you ever visited Catalonia in August? If so, we would love to hear about your experience!