September is one of our favourite months to travel in Catalonia. The summer vibes continue, the temperatures are milder, and the tourist flocks are gone. Overall, it's the perfect month to go on outdoor adventures, enjoy the last beach trip of the year, or embark on a road trip.
Travelling during the shoulder season means fewer crowds and lower prices in flights and accommodation, but still great weather and many things to do.
Summer tourist crowds have calmed down, and locals are back from their August holidays, making Barcelona and its surroundings feel lively again.
You won't get bored as there's a lot taking place in the country this month, from Barcelona's biggest street party to grape harvest parties around the country!
If you're coming to Catalonia in September, keep scrolling to discover local plans, what to pack, and what the weather looks like.
The weather in Catalonia in September
Catalonia enjoys balmy weather in September. Temperatures drop from the summer heights, sunshine is the norm, and although the days get shorter, the hours of light are plenty for exploring around!
🌡 Temperatures
The temperatures vary greatly depending on the area of Catalonia you're visiting. But one thing is for sure: they become much more manageable this time of year.
You'll still enjoy bikini-worthy beach weather on the coast, perfect for swimming, sunbathing, and outdoor adventures such as kayaking or scuba diving. But you won't break into a sweat every time you step out of the accommodation like it happens in July and August. The average high in September is approx. 26ºC (78ºF), while the lower is around 16ºC (60ºF).
It's still warm for shorts and T-shirts, although packing a thin jumper or jacket is always a good option.
Day temperatures are slightly higher in Central and Western Catalonia, although they get lower at nighttime.
In the mountains, temperatures are slightly lower, with an average high of 22ºC (71ºF). It especially gets cold at night when they reach around 8ºC (46ºF).
You can check the weather on your phone's app (we usually use Google Weather) or Accuweather.
🌦 Weather
Don't expect a lot of grey days like in Northern Europe or the UK. We're lucky sunshine is the norm in most parts of Catalonia in September!
☔️ Rain
There are, on average, 4 rainy days in September in the centre, the west, and the coast of Catalonia. In the mountains, the average gets up to 8 days.
So, while September is mostly dry, you never know when those days of rainfall will strike. We highly recommend you pack a jacket that is also waterproof or a small, easily portable umbrella so you can keep exploring without getting soaked!
☀️ Hours of light
Catalonia has an average of 12.5 hours of light daily in September. That's plenty of sunshine for outdoor activities and for exploring around!
Sunrise happens around 7:30 am. So, it's a good time for those staying at the coast and wanting to catch a beautiful sunrise over the sea. On the other hand, sunset happens around 8 pm, making it perfect to enjoy sunset picnics at the mountain and the beach.
What to pack for a trip to Catalonia in September
In terms of what to pack, you'll need all your usual summer holiday stuff (shorts, t-shirts and swimwear!), especially during the day, but it would be wise to pack one or two long pairs of pants, and a warm layer or two for the evenings, just in case it cools off.
🧣 Clothing
In terms of what to pack, you'll need all your usual summer stuff, including T-shirts, shorts, and swimmers. As it can cool off in the evening, it's wise to pack some full-length trousers and a warm layer.
If you're going to the mountains, don't forget warm jumpers, a rain jacket, and a coat. Even a beanie and a pair of gloves might come in handy.
🥾 Footwear
Regarding shoes, sneakers are a great option. If you're staying on the coast, you can still pack sandals, as you can wear them, especially during the day. If you plan to go to the mountains, a pair of hiking boots or trail running shoes will do.
Always remember to bring comfy shoes!
What's on in Catalonia in September
Enjoy local art at Montbriart (2nd and 3rd Sep)
On the first weekend of September, the village of Montbrió del Camp, near Tarragona, celebrates a festival dedicated to local art. You'll find all kinds of masterpieces, from paintings, iron sculptures, ceramics, and photography.
The best thing about this festival is that it involves the people from the village, as the art displays occur in the houses on the main street. So it's a unique opportunity to take a look at the inside of these beautiful traditional houses. Most are restored but still maintain their antique look, with wood ceilings, stone walls, and elegant entrances. Some even have lush indoor patios!
We went there for the first time in 2023 and loved the festive atmosphere, talking to the talented artists, and seeing many unique art and houses.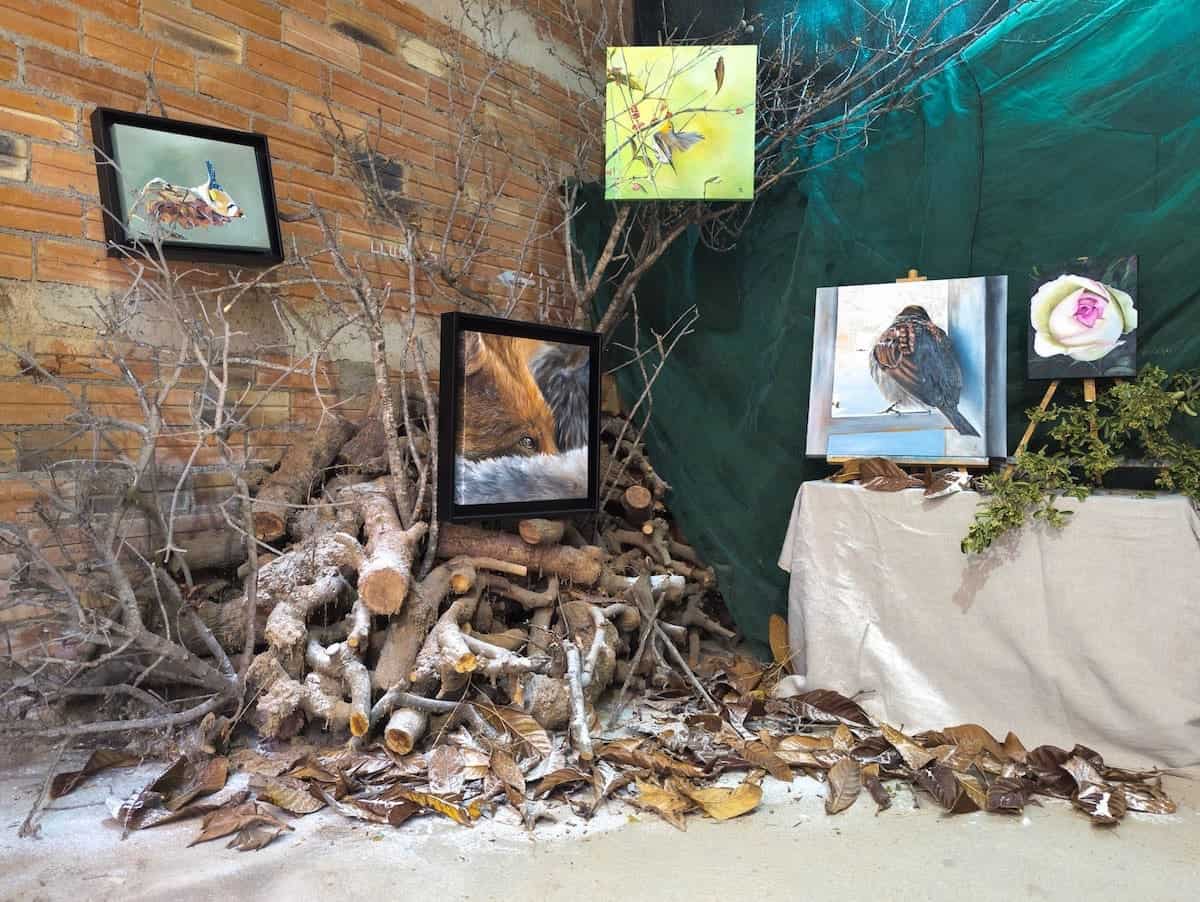 Admire theatre performances at Fira Tàrrega (7th to 10th Sep)
Since 1981, the town of Tàrrega became the stage for a well-attended theatre festival. Fira de Tàrrega, which would be something similar to the Fringe Festival in Scotland, attracts performers from all over the world and has an eclectic programme providing a big showcase for international companies and professionals.
There are many shows in the streets and squares, but also in halls around the city.
So, if you're around from the 7th to the 10th of September and are a fan of theatre, head to Tàrrega and enjoy the shows!
Enjoy live music in a medieval town(13th to 16th Sep)
Although summer comes to an end, this doesn't mean that outdoor music festivals are over!
If you're looking to listen to good music and shake your body, head to the medieval town of Vic. From the 13th to the 16th of September, its squares, streets, and venues fill with music. The most emblematic concerts take place at dusk in the emblematic Plaça Major (main square).
This music fair, known as Mercat de Música Viva de Vic, has been ongoing since 1989, so this year marks the 35th edition. The lineup has artists like Balkan Paradise Orchestra, The Tyets (a really cool Catalan group), or Bru Ferri.
Go for a wine-related experience in a cellar
Wine lovers, this one is for you!
The grape harvesting season begins in Catalonia in September, which means this is an excellent time of year to visit a vineyard and go wine tasting.
For example, in the Penedès region, the closest to Barcelona, there are wine-related activities the whole month. Picnics between vineyards, brunch on the cellars, wine tastings, Segway adventures between vines,… You name it! The list is extensive and varied, so we're sure you'll find something of your liking. Some activities occur throughout September, while others happen on specific dates.
Wine tours from (and in) Barcelona
If you're looking for tours from Barcelona to enjoy a wine experience, we can't recommend enough these ones:
Self-guided bike tour in the Pendès area: Grab a bike and follow the map to discover the Penedès region. This tour lasts 4 hours and includes visiting an ecological boutique winery and a wine and cava tasting.
E-bike tour in the Penedès region: If you prefer going with a guide instead of cycling alone, this tour is for you! It lasts 7 hours and includes visiting two family-run wineries and tasting 7 wines and cava.
Sailing and e-bike winery tour in Alella: Fancy combining a ride with something else? What about a sailing trip? This great 5-hour tour combines sailing from Barcelona on a yacht to a winery in Alella, riding an e-bike to the winery, tasting 3 wines paired with food, and riding the bike back along the coast to Barcelona.
4WD wine and cava tour in the Penedès region: If, instead of cycling, you'd rather drive a 4WD through a vineyard, we recommend this 6-hour tour. It includes a taste of 3 wines and 4 cavas, plus a visit to 2 historical wineries.
Hike and wine tour in the Penedès region: Do you like discovering an area on foot? This 6-hour hiking tour is perfect for those who love walking, as it includes a hike through vineyards plus a visit to a family-owned organic winery (with wine tasting included, of course!).
Are you staying in Barcelona and don't have time for a day trip to a winery? You don't need to leave the Catalan capital to taste excellent wine! In this 1.5-hour guided tour, you'll learn about Catalonia's wine regions and tasting techniques, all while enjoying 3 to 5 local wines. Learning, laughs, and fun are guaranteed!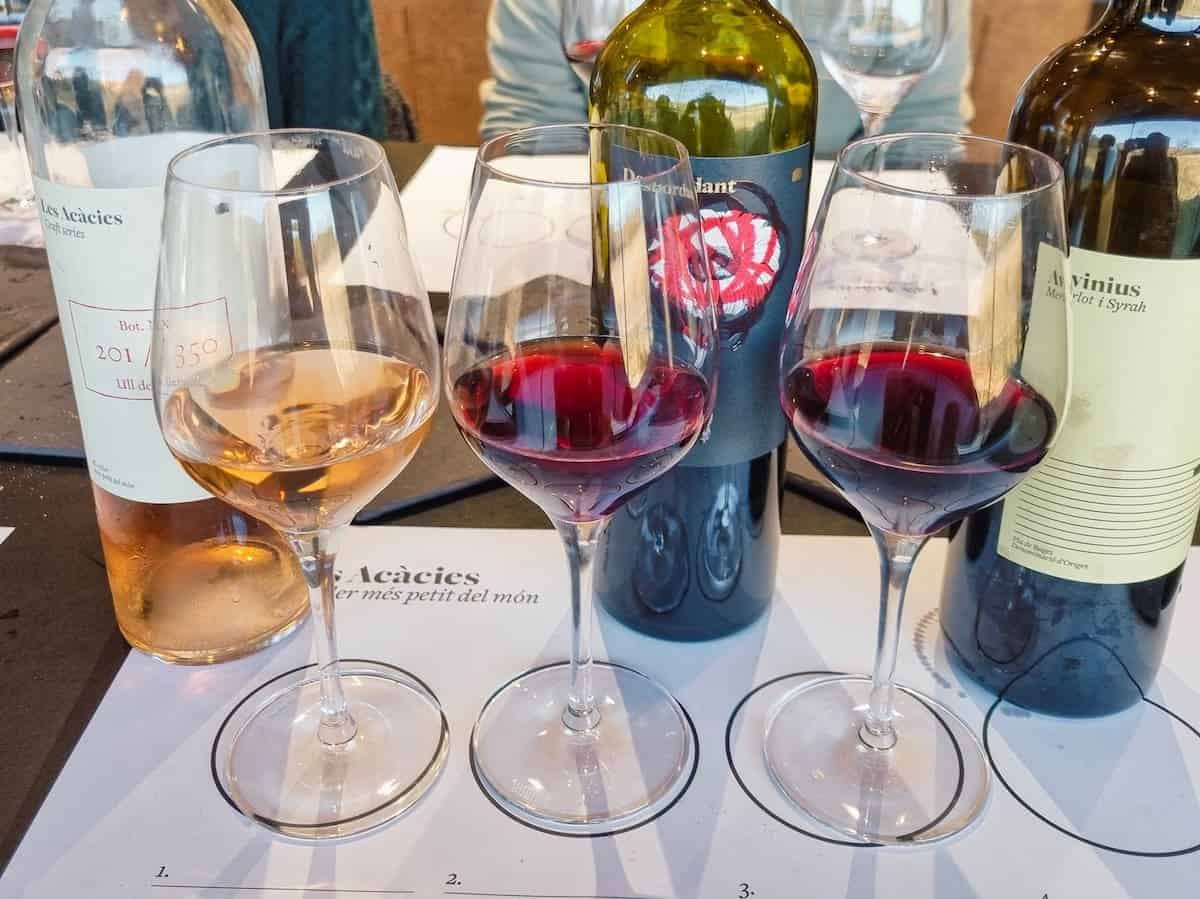 Go hut-to-hut hiking in the Pyrenees
The beginning of September is a wonderful time to enjoy hiking in the Catalan mountains. Most of the guarded huts remain open until mid-Sep, so there's still time for a last hut-to-hut hiking adventure before winter comes!
Luckily, we have a vast network of mountain huts in the Pyrenees, with several routes linking them. Each year, we try one of them, and we always end up surprised about the stunning landscapes in the Pyrenees and how much they vary in a few km distances.
Check out our hut-to-hut hiking guide to find the one that better suits your fitness level, taste, and needs.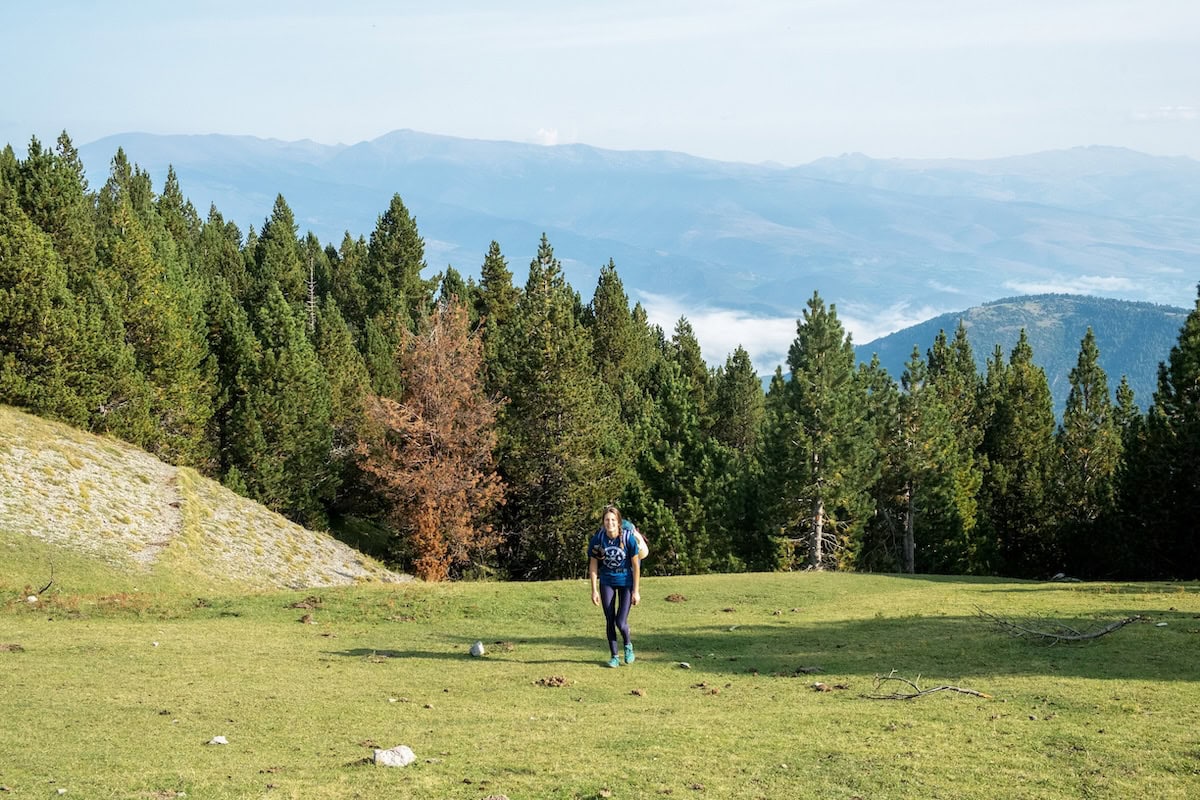 Witness La Diada (11th Sep)
On the 11th of September, Catalans celebrate the national day of Catalonia. The festivity is known as Diada Nacional de Catalunya, or simply La Diada by locals.
Traditionally, it's a day for cultural events, though they're often overshadowed by the independence marches held in Barcelona.
If you find yourself in Barcelona on that day, you'll most likely see a festive atmosphere, with plenty of people on the street and several events, like concerts, going on.
Participate in a triathlon in Costa Brava (16th Sep)
If you like to sneak a sports event on your trip, you might be interested in this triathlon. What's unique about it is not the option of choosing between several distances or the number of participants. What's special is the dreamlike location where it takes place.
In September, this circuit, named the TriTour, has one race in the beautiful city of Tossa de Mar on the 16th. Think about swimming with views of city's medieval centre, cycling in the cliffs overlooking the Mediterranean Sea, and running through a forest.
We did in 2022 and loved the organisation, the festive atmosphere, and the landscapes.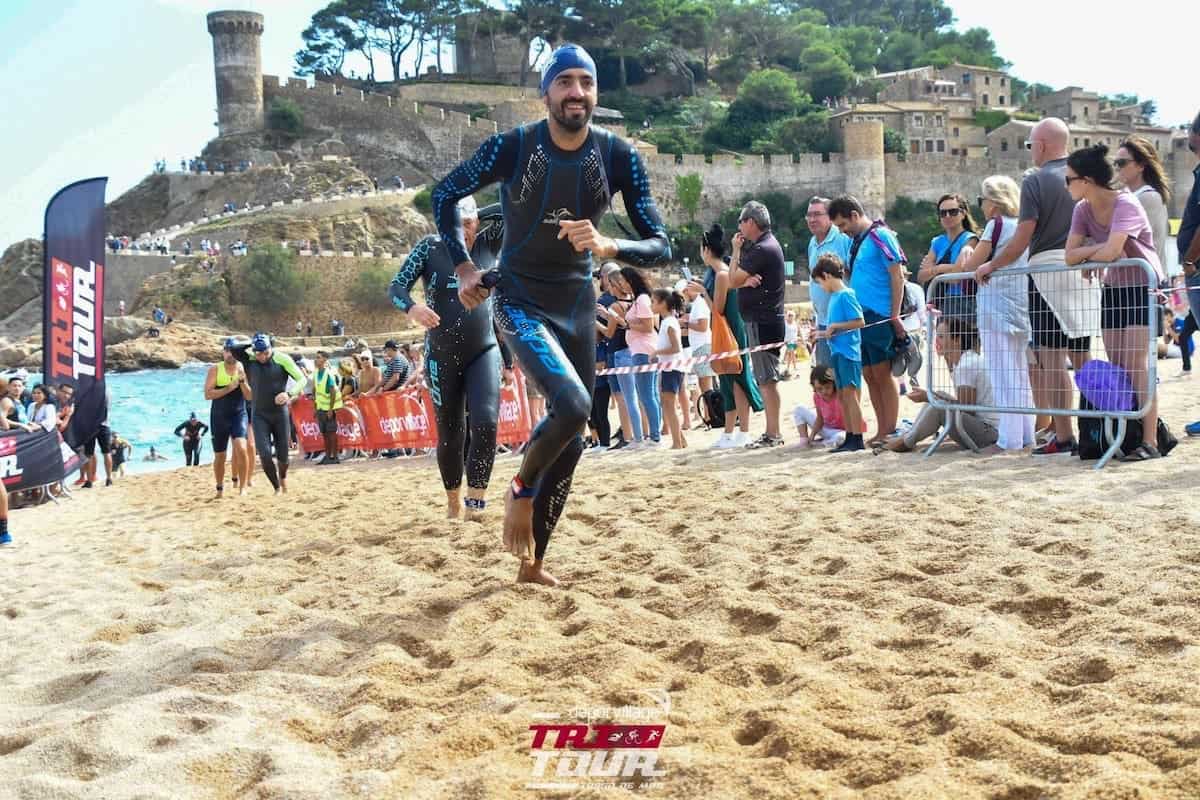 See (and hear) the red deers rut during La Brama
From mid-September to mid-October, a curious and magnificent show of nature takes place in the Pre-Pyrenean area. During this period, it's when the deer are in the rutting season. Stags are flooded with testosterone and adrenaline and roar loudly (especially at dusk and dawn) to attract females. Hearing them and hiding in the woods to spot them is an incredible wildlife experience!
One of the best places to admire them is the Boumort Wildlife Reserve. It's one of the most remote locations in Catalonia. You always need to go with an expert guide who holds a permit to enter the location and knows the best spots to see and hear the deer.
Dance all night at La Mercè (22nd to 25th Sep)
Catalonia's biggest street festival, La Mercè, takes place in Barcelona from the 22nd to the 25th of Sep. And it attracts more than 2 million visitors!
What can you expect?
Excellent street theatre, concerts, art installations, and light shows popping up around the city. Also, there's no shortage of artisan food and wine-tasting events, crafts fairs, music workshops, fire runs, and historic parades (with giants and dragons, of course!).
One of the festivity highlights is the Piromusical, an impressive firework display with music. It happens on the 25th of Sep at 10 pm in Avinguda de la Reina Maria Cristina.
You can check the program here if you're in Barcelona on those dates. We're sure you'll find something for your taste.
Have dinner under the stars
Eating out is always lovely. But eating out in a space observatory? Wow, that is a thousand times nicer!
During the summer, the Fabra Observatory organises a gourmet dinner experience combining food and astronomy.
It starts with a dinner made with locally-sourced ingredients served at dusk on the observatory's terrace. Later, you enter the observatory for a guided visit. Under the dome, you can observe far stars, planets, and constellations through one of Europe's largest and oldest telescopes.
Scuba dive and explore Catalonia's seabed
September is an ideal month to enjoy diving in Catalonia. After the summer, the sea temperatures are warm and pleasant, and the coastal towns are not as hectic as in the peak summer months.
If you're up for a diving adventure, Catalonia is home to some of the best diving spots in the Mediterranean. An example is the famous Medes Islands, where you can spot giant groupers and red coral.
You'll often find excellent visibility and relatively good water temperatures on the Catalan coast, where you'll discover thriving marine life, underwater tunnels and caves, and wrecks with a lot of history.
If you want to discover more diving spots near Barcelona, check out this guide. If you're spending your holidays in the Costa Brava and would like to go for a dive, we've also written a guide covering the top spots in the area.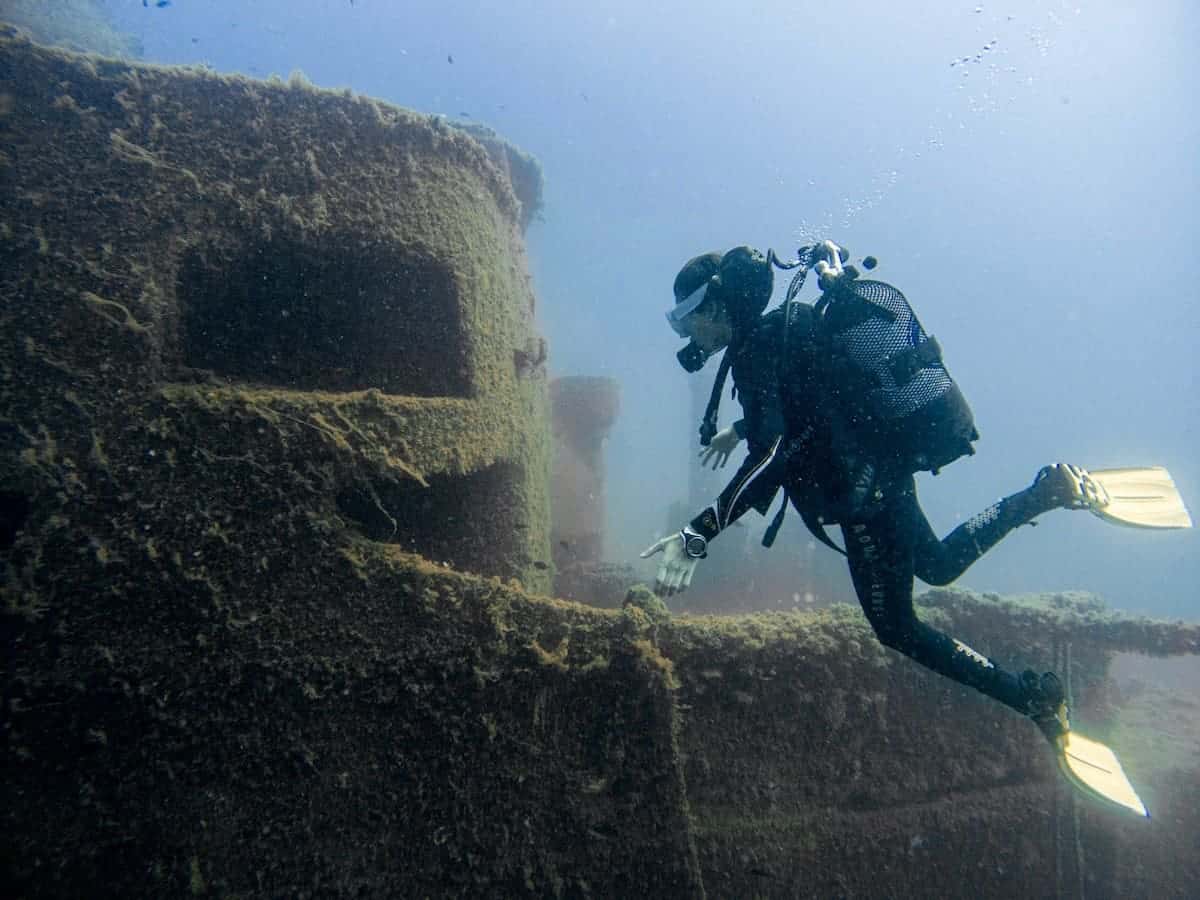 Enjoy a concert in the rooftop of Casa Batlló
This is a unique plan for summer nights! If you're visiting Barcelona in September, we couldn't recommend you enough to book tickets to enjoy a concert on a rooftop while the sun sets in the background. And if this doesn't sound appealing enough, let us tell you that the rooftop is in the Casa Batlló, one of Gaudí's architectural jewels!
The experience starts with a visit at 8 pm, where you'll get to know the history of Gaudí and all the details of the building (it's the same as the day visit). You'll be given headsets to hear the explanations and can go at your own pace. The visit finishes at the rooftop, where you'll get a drink and enjoy the concert of choice that night. There are concerts every day at 9 pm that range from pop and jazz to R&B and swing.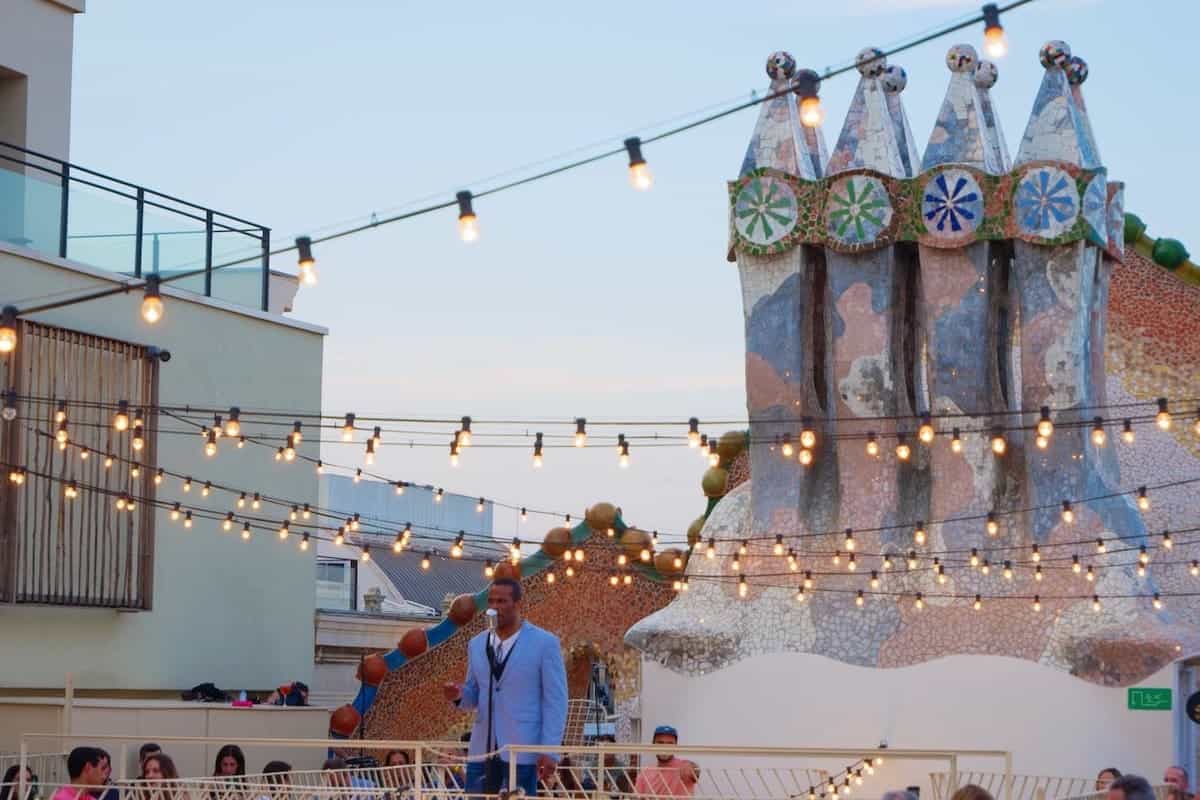 Other cool plans to do in Catalonia in September
Looking for more ideas for your September trip? We've rounded up some fun and fresh ideas for things to do in Catalonia in September:
And if you're spending some days in Barcelona, no matter the season, don't miss out on our list of original things to do at any time of the year.
Have you ever visited Catalonia in September? If so, we would love to hear about your experience!