Autumn is in the air! Tree leaves are falling, people start wearing jackets and boots, and the delicious smell of roasted chestnuts and sweet potatoes is all over the city. That's how November feels in Barcelona.
The high tourist season has already ended, which means fewer crowds to enjoy all the cool events in Barcelona during November: eating typical foods like panellets, enjoying a photojournalism exhibition, or listening to music at the city's oldest musical event.
Are you travelling to Barcelona in November? We've rounded up a few of our favourite things to do in the Catalan capital to help you plan your trip. Keep scrolling to know more!
Is November a good time to visit Barcelona?
If you want to avoid the crowds, November is a wonderful time to visit Barcelona. The summer crowds are long gone, and the winter ones aren't still here, so the city has a more local vibe than in peak season.
Apart from fewer tourists, you should find prices of hotels, flights and apartments more affordable in November. All in all, this might be the cheapest month to visit.
Also, you won't be sweating all the time as you'd do in summer, but you won't be cold either. November in Barcelona offers mild weather, perfect for exploring the city on foot and nice enough to enjoy outdoor activities.
And although it's not high season, in a city as vibrant as Barcelona, there are always plenty of things to do!
The weather in Barcelona in November
🌡 Temperatures
The average temperatures in Barcelona range from 10ºC to 18ºC (50ºF to 64 ºF). Temperatures noticeably drop from the summer highs (which can stretch as late as October!), but that's not bad news!
You might not enjoy a day of sunbathing and swimming, but you'll still be able to enjoy a picnic at the beach (and with much fewer crowds). Also, sightseeing will be considerably less sweaty, and you'll still be able to strip down to a T-shirt at midday.
🌦 Weather
The days are typically sunny with clear blue skies, and the nights are chilly but not freezing.
November is usually a dry month in Barcelona, with an average of five days of rain, typically short showers. Your chances of getting wet are pretty low, but we still recommend you pack a raincoat or an umbrella to keep exploring without getting soaked!
☀️ Hours of light
As clocks have gone back by November, days shorten drastically. November starts with 10.5 hours of daylight, but this number decreases to 9.5 hours by the end of the month. Sunrise is around 7:30 am, while sunset is at 5:30 pm.
Although this leaves you less time to explore the city in the daylight, it also makes it easier to enjoy epic sunrises and sunsets!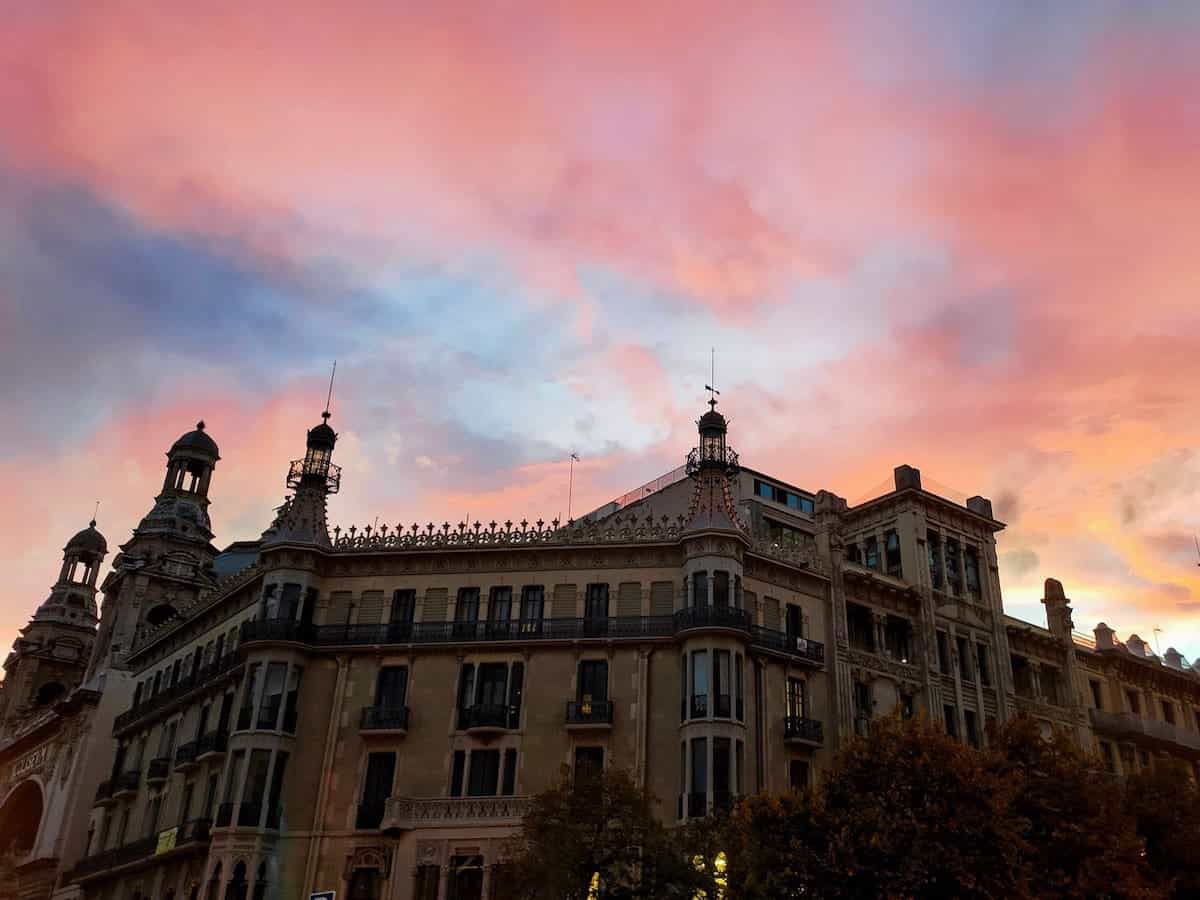 What to pack for a trip to Barcelona in November
🧣 Clothing
If we'd pack for coming to Barcelona in November, we'd definitely include warm clothing in our luggage. Think sweaters, trousers, and a warm jacket for cooler evenings. Packaging T-shirts is also a good idea, as you'll probably get your sweater off if you're in the sun at midday.
Although the sea might be too cold for swimming, it's a good idea to check if your hotel has a pool, so you don't forget to pack a swimsuit.
🥾 Footwear
Regarding shoes, sneakers and boots are a great option. We always encourage you to discover the city on foot, so make sure you pack comfortable shoes.
Remember to bring the appropriate footwear if you plan to go hiking in or near Barcelona, like Montserrat.
What's on in Barcelona in November
Commemorate All Saints' Day (Tots Sants in Catalan)
November kicks off with a public holiday in Barcelona: Tots Sants (or All Saints' Day), a day to honour and remember the dead.
People usually go to the cemetery to visit their loved ones and leave them flowers. Flower vendors line the streets to sell floral displays to people to decorate their beloved deceased's graves. But there's more to this day than remembering the past!
This is also when families traditionally gather together and eat roasted chestnuts, sweet potatoes and panellets, Catalan's favourite autumnal dessert. They're small, mostly round sweets made mainly of marzipan and potato, and covered with pine nuts, coconut, almonds or even chocolate.
If you're looking to try amazing panellets on your trip to Barcelona, check out Pastisseria Canal, Pastisseria Carrió, Forn Ginebra, and the legendary pastry shop La Colmena.
Tots Sants is celebrated every year on November 1st, the day after La Castanyada. Take into account that people have the day off at work and some businesses might be closed.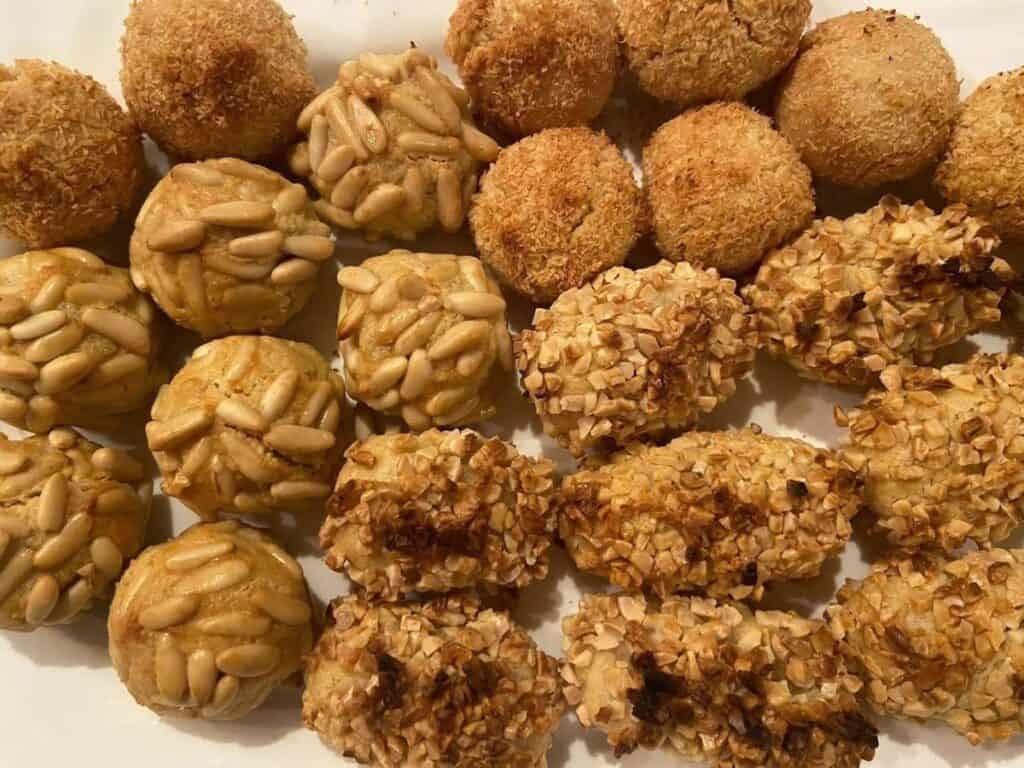 Watch a movie at the Asian Film Festival in Barcelona (26th Oct to 6th Nov)
Cinema fans, from the 25 of October to the 5th of November, you have a date with the Asian Film Festival!
It's the leading Asian film festival in Spain, bringing together the best filmography from this part of the world. Every year, the festival presents hundreds of screenings from different countries in Asia projected in several venues in Barcelona. General admission for one session goes from 4 to 6 €.
You'll find more info, the tickets and the screening times on the festival's website.
Enjoy one (or more!) films at Barcelona's various film festivals
Besides the Asian Film Festival, the city has two other events that cinephiles will love!
One is the In-Edit Film Festival, the country's most important festival dedicated to musical documentary films. It takes place from the 26th of October to the 5th of November at the Mooby Aribau and features both national and international documentaries. If you're considering attending more than one screening, check out the festival passes.
The second is L'Alternativa Film Festival, a festival for independent films. Besides screenings, there are also workshops, masterclasses, and meetings to discuss all things cinema. The festival takes place from the 10th to the 19th of November in various locations across the city.
Dance at the music festival Cruïlla Tardor (4th Nov to 1st Dec)
In 2016, the organisers of the famous Cruïlla festival thought it would be nice to not make people wait until next summer to enjoy a Cruïlla festival. And so the Cruïlla Tardor was born.
This year, the festival takes place between the 4th of November and the 1st of December in different music venues around Barcelona. Malian singer Fatoumata Diawara and Spanish pop band Nena Daconte are some of the artists on this year's lineup.
You can find the concerts, schedule and venues on the festival's website. Ready to get your butt moving?
Get goosebumps at the World Press Photo (10th Nov to 17th Dec)
The World Press Photo Contest is an annual exhibition displaying press photographs of significant news events and important moments overlooked by the mainstream media.
The exhibition is visited by nearly four million people across its 60 locations, and Barcelona is one of them. So, this is an excellent half-day plan if you're in the Catalan capital from the 10th of November to the 17th of December.
We have attended every edition and can't help but leave feeling overwhelmed and grateful. There's always something new to discover, and it's a great way to learn more about the world surrounding us.
The exhibition takes place at the CCCB, and you can visit it on your own or join a guided tour.
👌 Our tip
We recommend buying the tickets in advance. It tends to be pretty crowded inside, so it might be a good idea to go around midday when people are having lunch.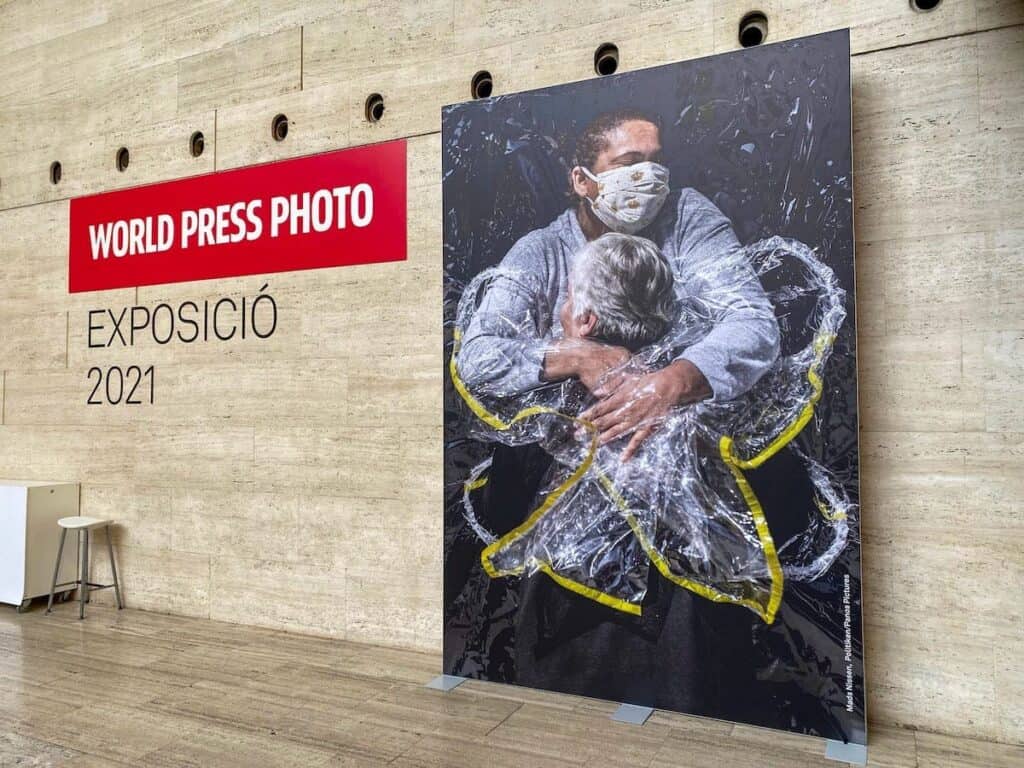 Listen to jazz music
Festival Jazz Barcelona is the city's oldest musical event, with over 50 editions.
This festival fills different venues in the city with renowned jazz artists from all over the world, like singer Bebel Gilberto or pianist Kenny Barron.
So, if you happen to be here in November and like to listen to live music, this is an excellent opportunity! Concerts happen every night in stunning locations like the Palau de la Música Catalana or the famous club Jamboree.
Other cool plans to do in Barcelona in November
So there you go… plenty of things to see and do this November!
But, if for some reason you haven't filled all your trip yet, we have many more ideas to enjoy Barcelona. Here are some:
Have you travelled to Barcelona in November? How was your experience?