Need a break from the hustle and bustle of the city? Explore all the natural spots in Barcelona and enjoy a more relaxed way of visiting the metropolis.
Here we'll show you our favourite parks, hills, gardens and beaches. Ready for a dose of nature?
The most beautiful natural spots in Barcelona
La Barceloneta, Sant Miquel and Sant Sebastià beaches
With the same name as the fishing neighbourhood nearby, La Barceloneta is one of the oldest, but most loved Barcelona's beaches.
The beach has a gymnastics area, some beach volleyball nets and many bars (xiringuitos) to go for a drink. The only downside is that it's usually the most crowded beach in Barcelona.
Sant Miquel Beach is connected to La Barceloneta. It's very similar to it but with fewer bars around and fewer people.
One cool thing is that on summer nights, there's usually one film per week projected on this beach. The access is free, and the movies are in their original language (usually English). It's a great place to spend a fabulous and different evening.
Further away but connected to Sant Miquel, there's the Sant Sebastià beach. In our opinion, it's the best one if you just want to swim and lay on the sand to sunbathe.
On this beach, there are also a couple of places where you can rent the material for practising aquatic activities, such as SUP (highly recommended!) and kayaking.
The Sant Sebastià beach ends at the feet of the luxurious Hotel W, where you'll find some really cool bars. They are great for having some food and cocktails while listening to nice music and enjoying the vibes of the summer in Barcelona.
⚠️ Important!
All these three beaches are pretty crowded from the end of May to September. Still, there's plenty of sand for everyone. Just find a nice spot or get there early and enjoy the sun!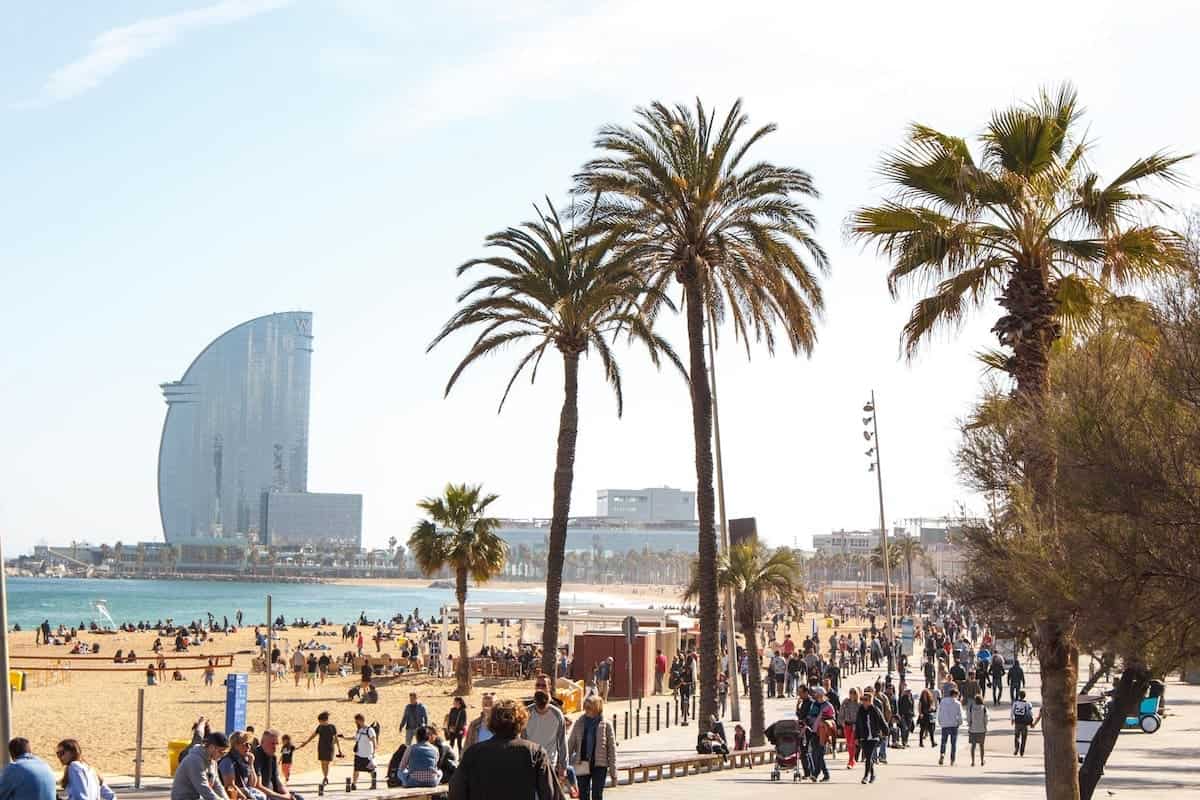 Montjuïc
Montjuïc is Barcelona's most famous hill.
Some time ago, it played an essential role in the city's defence during wars and battles. Now, it's a favourite amongst locals for exercising, attending concerts, and watching the sunset while eating a picnic.
It's an incredible spot as it overlooks Barcelona's harbour, allowing you to enjoy a breathtaking view of it and the Mediterranean Sea.
There are a lot of things to do and visit in Montjuïc. We recommend you choose what you want to see beforehand or walk to the top and down if you're short of time. The main attractions are the impressive Castell de Montjuïc (Montjuïc's castle), the National Museum of Art of Catalonia (MNAC) and the Olympic Ring.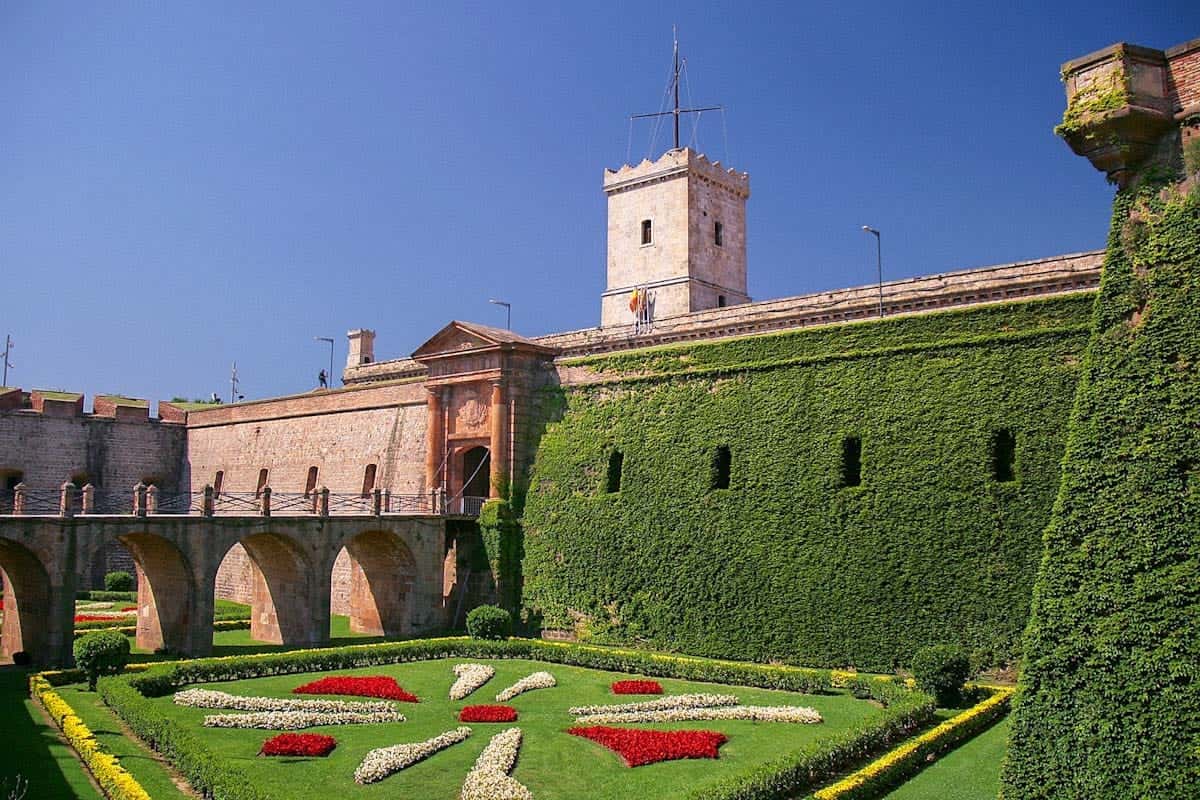 Most events during the Olympic Games of the summer of 1992 took place in Montjuïc.
We can still admire the Olympic stadium (Estadi Olímpic Lluís Companys), the sports complex Palau Sant Jordi, the Bernat Picornell swimming pools and the telecommunications tower designed by Santiago Calatrava.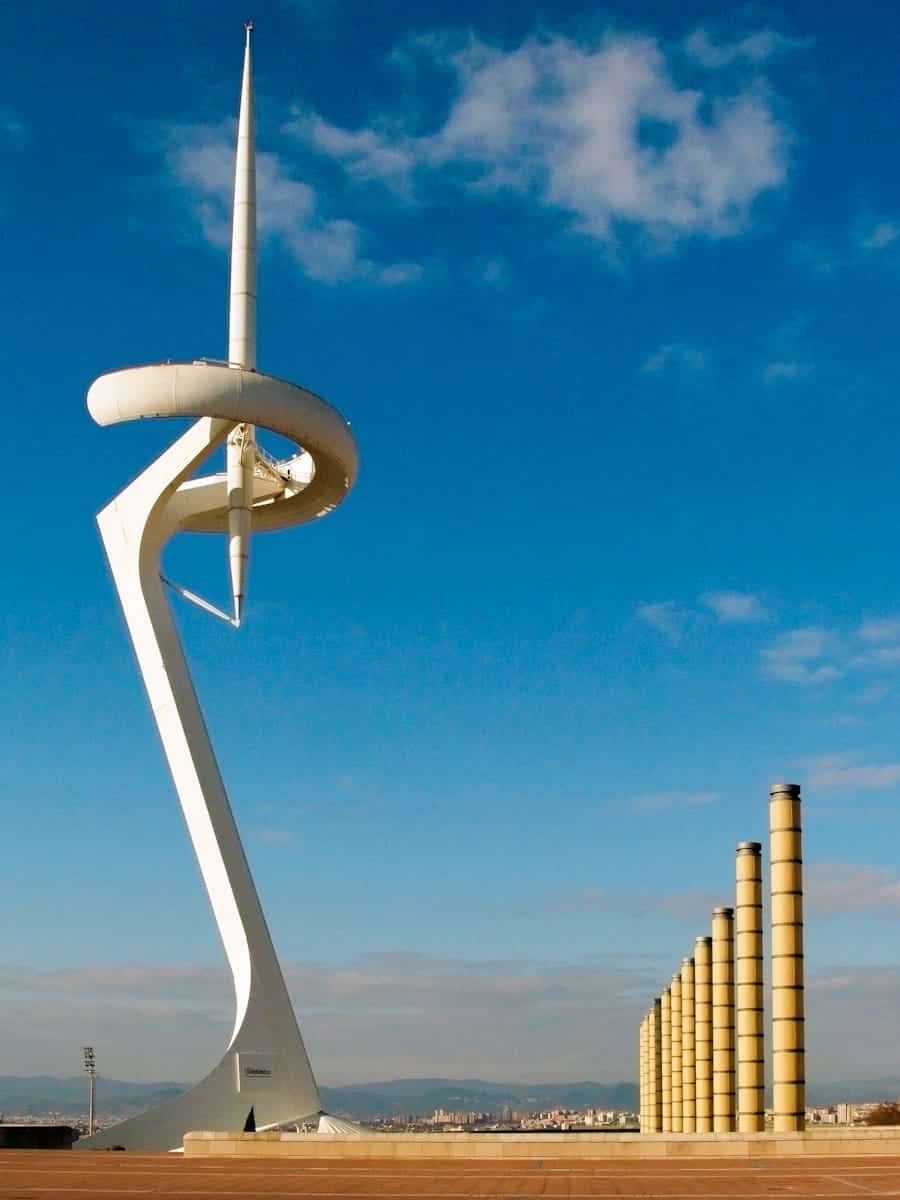 In addition, we can find more sport-related constructions around the area, like the National Institute of Physical Education (INEFC) and the Olympic and Sports Museum.
Another sports complex is La Foixarda. If you're a rock climbing or rugby fan, you'll love it!
It consists of a horse riding school, a rugby field, and climbing facilities, both indoor and outdoor. The outdoor one is a tunnel with several routes, free to access.
Montjuïc is also home to beautiful gardens, such as the Mossèn Cinto Verdaguer Gardens, the Greek Theatre Gardens and the Botanical Gardens. Our favourite is the Mossèn Costa i Llobera Gardens. It has a crazy amount of different cactus, and combined with its views of the sea, it makes for a nice stroll.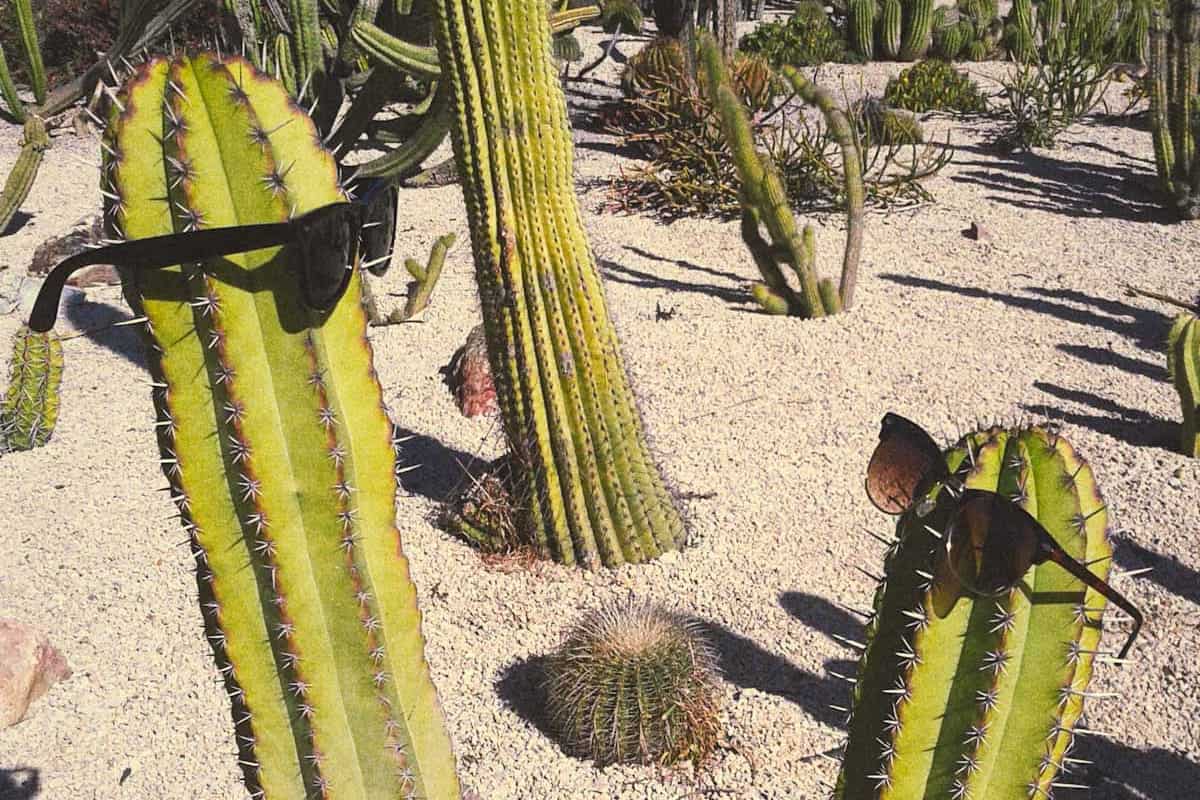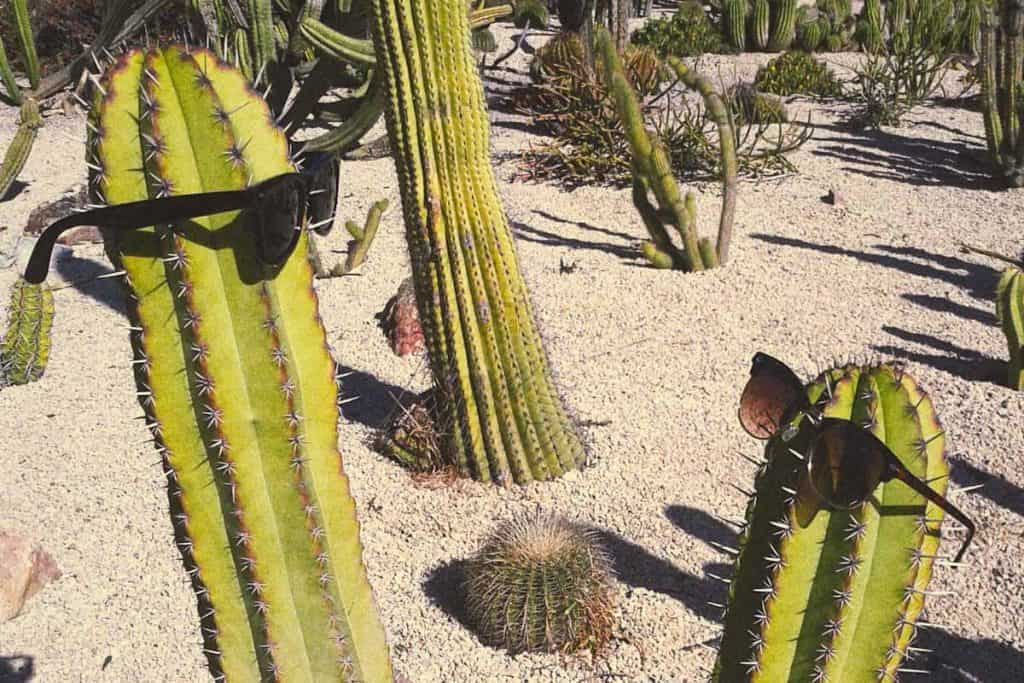 Finally, another point of interest is the Montjuïc Cemetery. It contains excellent funerary art and the only collection of Hearses in Europe. In this cemetery are buried important personalities, like the former president Francesc Macià or the artists Joan Miró and Santiago Russiñol.
Parc de la Ciutadella
Parc de la Ciutadella (Citadel's Park), or just La Ciutadella, was created in the mid-19th century, and it's still the greenest oasis in Barcelona.
Although it's not a big park, it's usually full of life, practising all kinds of activities. From playing music, doing slackline, juggling, and having a picnic, to lying under the sun, the place is bustling with life. So no matter what you want to do, it's an ideal place to relax and enjoy some nature.
This park is home to the Barcelona Zoo (which we don't recommend visiting) and the Catalan Parliament. Moreover, it has an impressive and beautiful fountain and a small lake where you can rent a boat and spend a romantic (or playful) time paddling.
The park is open all day until dusk, and it's usually jam-packed in the evenings, especially during spring and summer.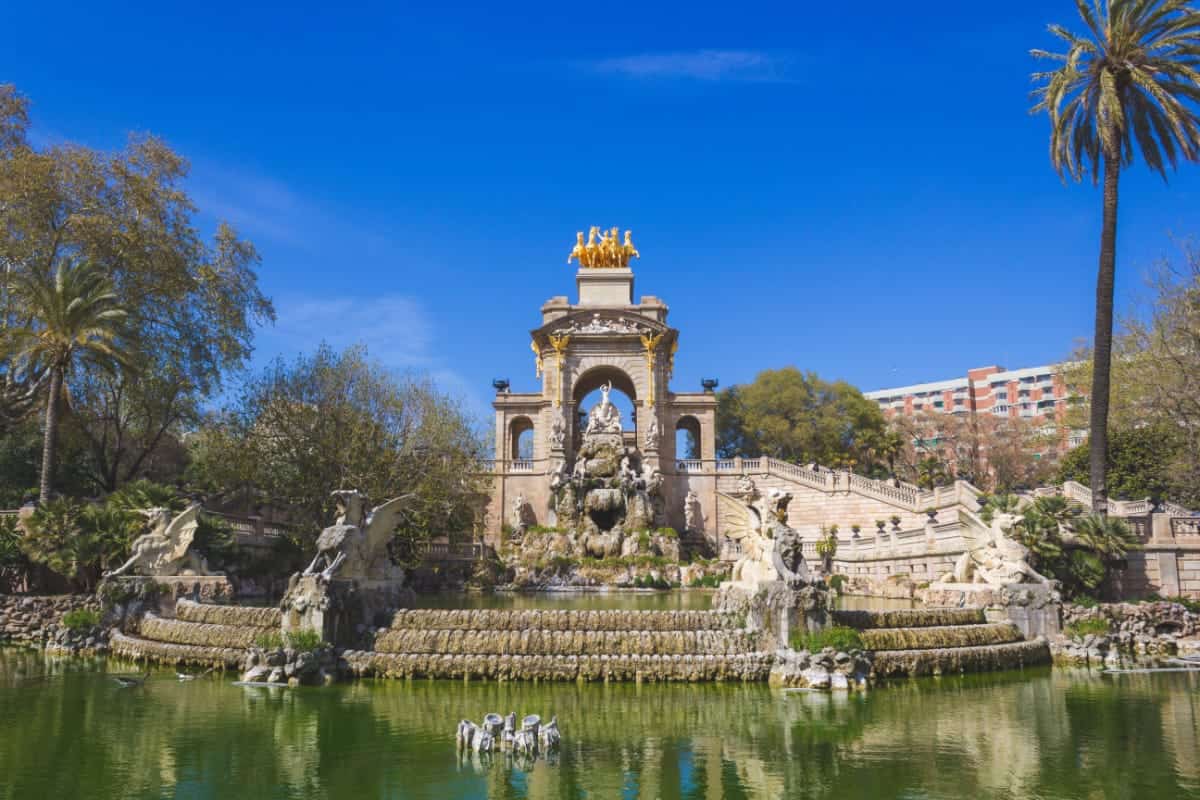 Carretera de les Aigües
Located in the Collserola Natural Park, the Carretera de les Aigües is one of the local's favourite nature spots in Barcelona.
It's a 9-km flat, traffic-free route with impressive panoramic views of the city. Locals love cycling, running, or walking there; the views are pretty unbeatable!
You can get there easily by public transport from Plaça Catalunya, using the Ferrocarils de la Generalitat S1 or S2 until the stop Peu del Funicular. From there, you follow the Carrer de Santpedor up and get to the Carretera de les Aigües.
Keep in mind that on the weekends and holidays, the route tends to be pretty crowded.
Tibidabo
On our list of natural spots in Barcelona, Tibidabo couldn't be missing! It's the tallest mountain in Barcelona, with 512 m.
Home to Spain's oldest amusement park and a church similar to the Sacré Coeur in Paris, there's no shortage of things to do in this green spot of Barcelona. It's an excellent place to spend half a day for adults and children.
To know more about what to do in Tibidabo, how to get there, and its schedules, check out our Tibidabo guide.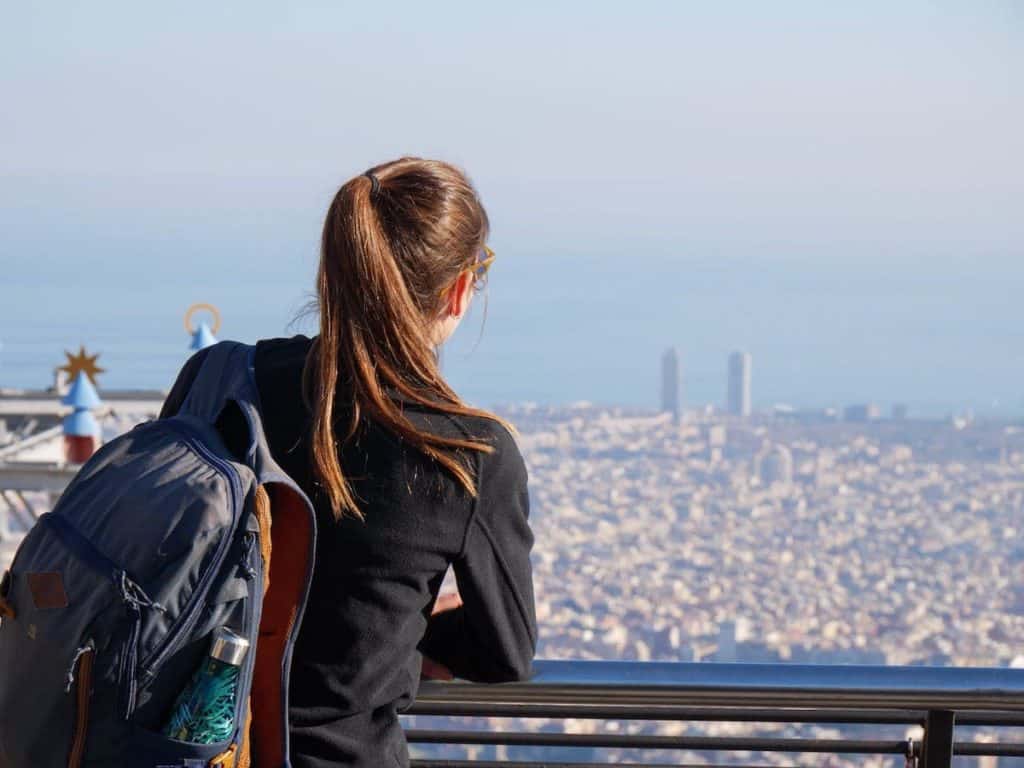 We hope this guide helps you find a spot to enjoy nature during your trip to the Catalan capital. Do you know any natural spot in Barcelona we could add to this list?
---
To keep exploring Barcelona like a local…
We recommend you check the following guides: