Barcelona's streets and squares are the backbone of the city, each with its own distinct character and stories to tell.
In this post, we'll explain the most famous (and nice) ones to visit, their curiosities, and what you can do in each. You'll find iconic ones like Les Rambles, but also lesser-known (yet beautiful!) gems such Plaça del Rei.
So grab your shoes, and let's get lost together in Barcelona's streets and squares!
* Post written for the first time in December 2017 and updated in August 2023.
Iconic streets in Barcelona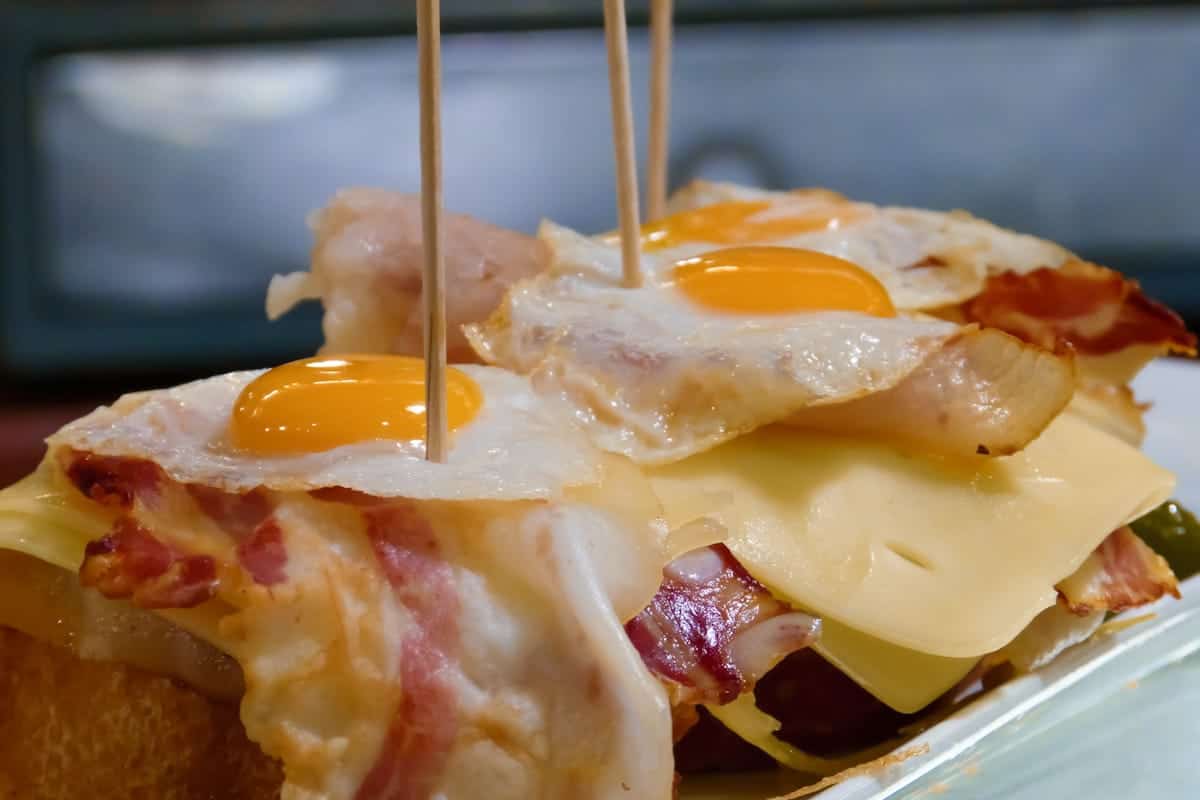 Carrer Blai
Carrer Blai is a street where you can literally find tapa bar after tapa bar!
It's one of the best places in Barcelona to try tapes and pintxos. You might not know the difference between them, but they're pretty simple to differentiate. Tapes come on a plate and look like a small version of a dish.
On the other hand, pintxos are commonly served on a small bread base with a pintxo (a stick) nailed in it. They are originally from the Basque Country, a region in northern Spain.
Anyway, if you're considering delighting your senses with this incredible food, don't think twice; Carrer Blai is the place to go.
The food price is lower than in most tourist places in Barcelona, and the quality and variety are excellent. The Carrer Blai is full of restaurants and bars, so just hop from one to another to find the one that suits your appetite!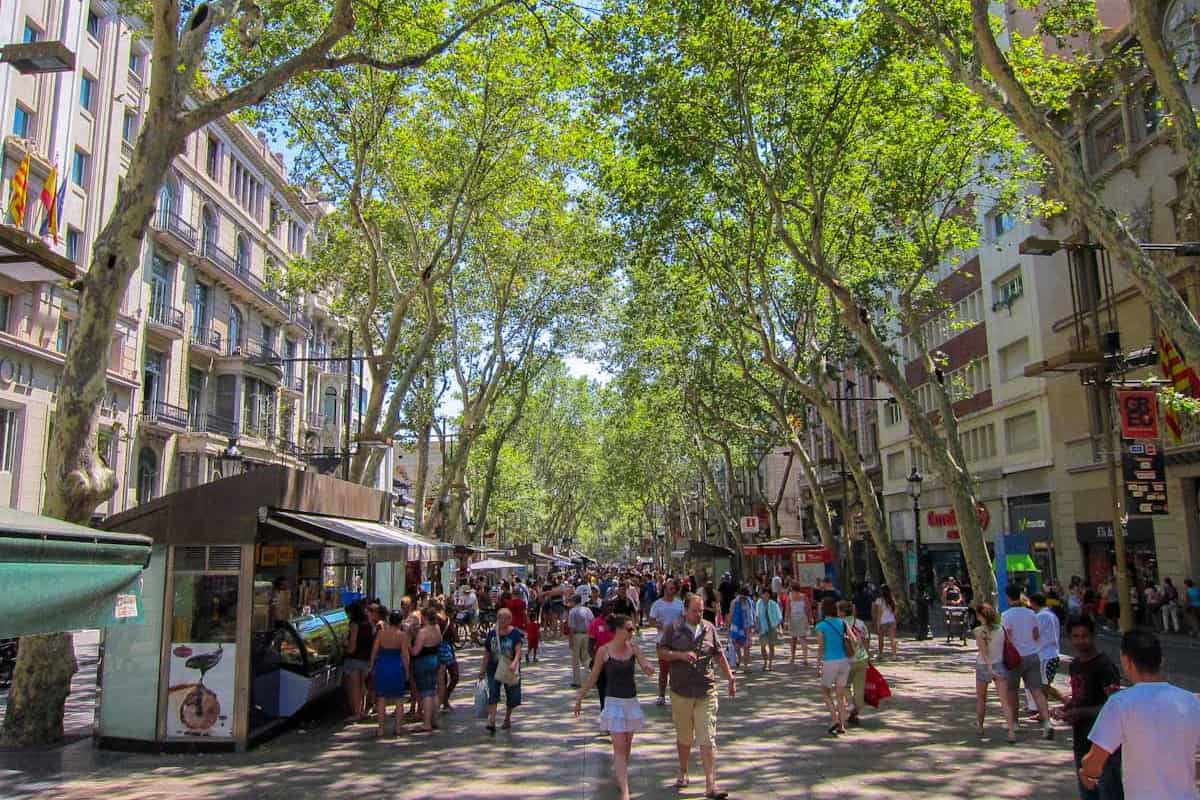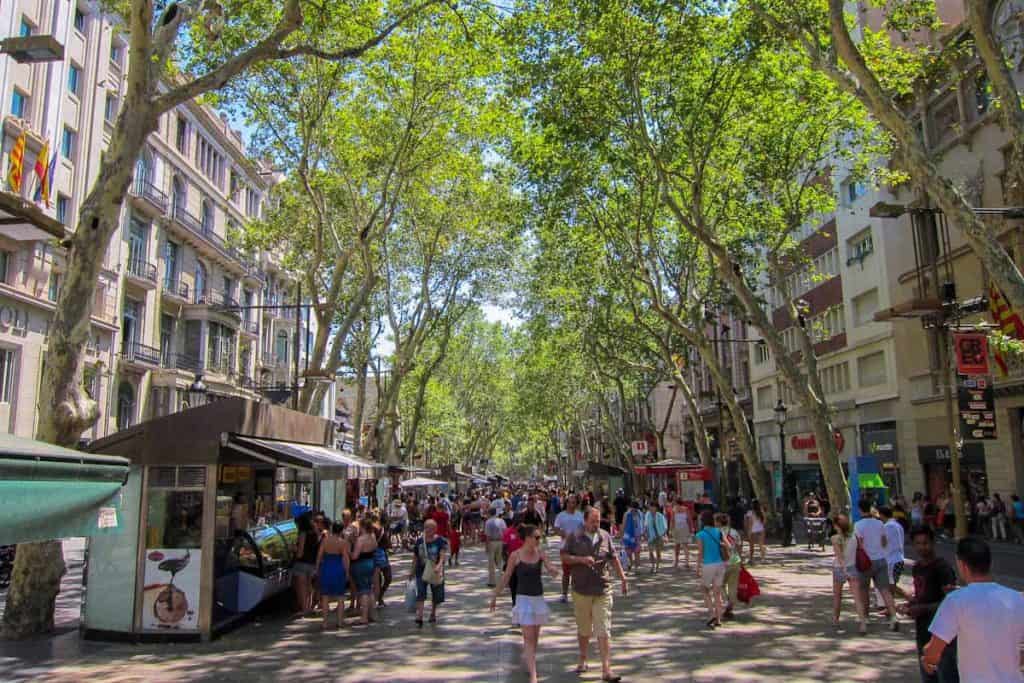 Les Rambles
Call it La Rambla or Les Rambles; one thing is true: this is one of the most emblematic streets in the city. Its 1.2 km connect Plaça Catalunya, in the centre, with Port Vell, next to the sea.
Les Rambles is usually a crowded street, especially during summer and Sant Jordi, and it's kiosks selling souvenirs, flowers and some foods.
Along Les Rambes, you'll see important historic buildings, such as the Palau de la Virreina, a palace of the 18th century, or the Liceu, an old theatre staging ballets and operas. Other points of interest in this promenade are the Mercat de la Boqueria (don't forget to grab a fruit juice there!) and the sculpture of Christopher Columbus.
⚠️ Important!
Les Rambles has become a touristy place, so be aware of keeping an eye on your belongings!
Also, please don't sit on a terrace or eat in one of the restaurants there! Most of them are touristy scams, and the food quality sucks.
We recommend Les Rambles as a pleasant stroll but not as a place to eat, meet locals, or buy souvenirs.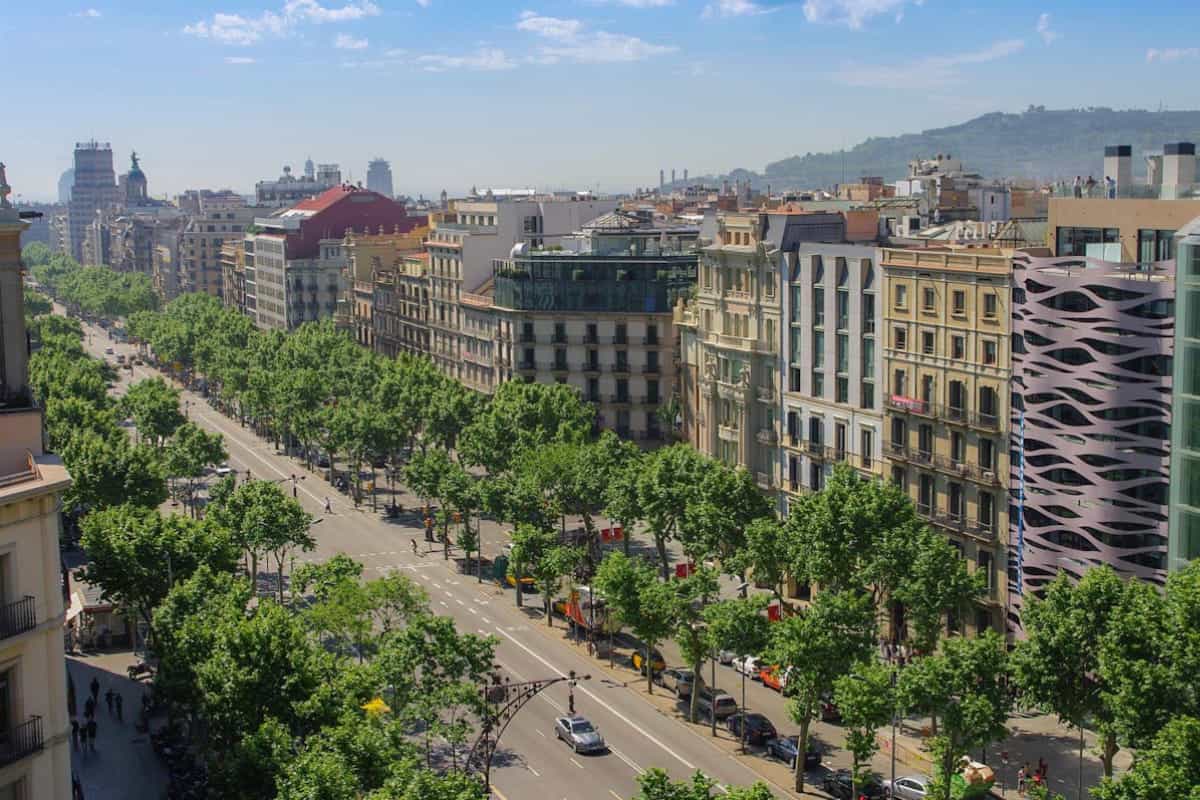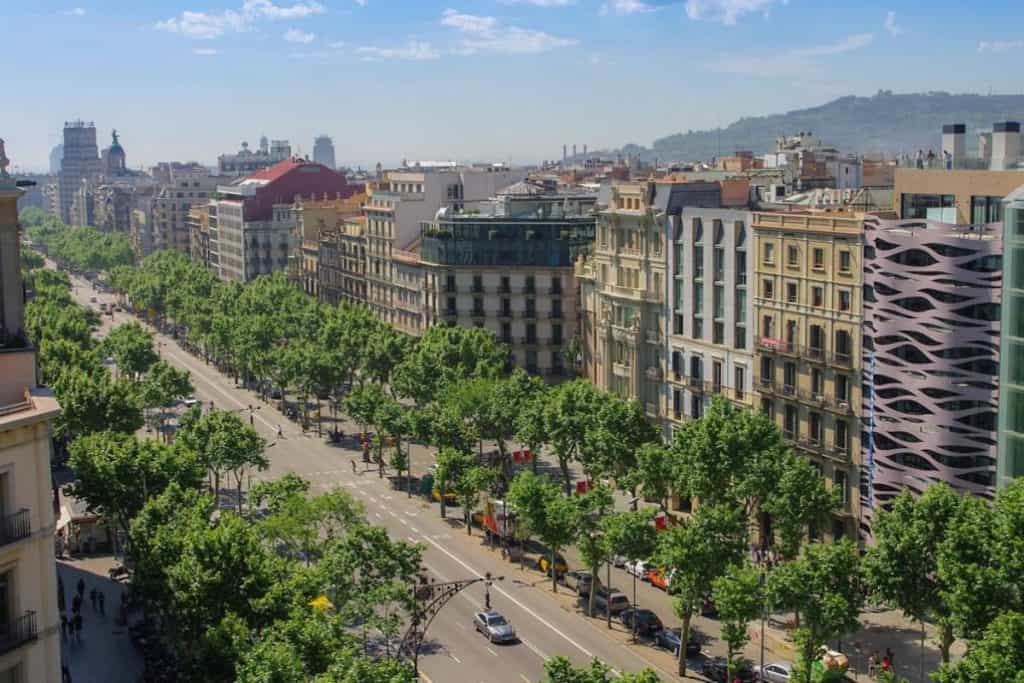 Passeig de Gràcia
Known as Barcelona's version of Champs-Élysées, this central avenue is home to the city's most luxurious shops and posh hotels. You'll also find many important architectonic masterpieces on it, such as Casa Batlló (one of Gaudí's marvels), Casa Milà (mostly known as La Pedrera) or Casa Fuster (built like a house, nowadays is a five-star hotel).
Another emblematic building in this street is El Nacional, whose facade and structure reflect the industrial architecture of the 1920s. This building is home to an all new-concept that came into the city not long ago: a food court. It's a great place to try as much variety of traditional Catalan food as possible!
Passeig de Gràcia is the most expensive street in Barcelona, but this hasn't always been like that. Some centuries ago, it was a country road that linked the capital with the independent municipality of Gràcia!
If you are walking through Passeig de Gràcia, don't forget to look down! Architecture and beauty are not only reflected in the buildings but also in the pavement. The whole avenue is asphalted with a marvellous Gaudí's piece of art, the Panot Gaudí.
The famous artist designed them in 1904. In the beginning, they were supposed to be the floor for the Casa Batlló. No one knows why they didn't make it there, but in the end, the tiles ended up in the service rooms of La Pedrera and the whole pavement of one of the most famous streets of Barcelona.
Look at the tiles closer, and you'll see they have a hexagonal shape inspired by the cells of a beehive. The draw in the tiles will transport you into a submarine world and remind you of starfish, algae and seashells. Interestingly, the only way to see the whole picture is by joining six tiles around a central one.
Passeig Marítim de La Barceloneta
One of the things we love the most about Barcelona is that the city has a beach. Ans we locals know well how to take advantage of that!
The long promenade from Port Olímpic to the luxurious Hotel W unwinds right next to the beach, and it is a favourite for runners and walkers.
The promenade has a separate path for cyclists, and you can usually find many skaters and rollerbladers killing some time in the sun.
No matter the time of the day you go, it is always full of life. During the day, you'll find people exercising and strolling, while at night, people eat and chill at its restaurants and xiringuitos (bars on the beach).
This promenade is also home to Barcelona's most exclusive venues. They're restaurants and bars during the daytime but metamorphose into nightclubs after the sunset, hosting internationally famous DJs and singers.
Aside from the beach and restaurants, you can also find some quirky examples of architecture on this boulevard.
Firstly, the "Homenatge a la Barceloneta" is made by Rebecca Horn and represents a funny vision of a building. Another jewel is the impressive, glittering gold sculpture of a giant fish made by Frank Gehry.
If that's not enough, two impressive skyscrapers rise on the seafront. One of them is Torre Mapfre, due to its owner, Mapfre, an insurance company. Remarkably, this 40-story building holds the title for the highest helipad in Spain, situated at 154m in height.
The skyscraper next to it is the luxurious Hotel Arts, and it's the same height as its twin tower. With 483 rooms, a swimming pool, and six different restaurants and bars, one with 2 Michelin stars, this 5-star hotel is a sign of modernity and lust.
🛼 Up for an adventure?
If you want to explore Barcelona's beach promenade in a fun way, we can't recommend enough hiring a pair of inline skates or joining one of the free classes or routes run by the Associació de patinadors de Barcelona. You can find all the info here.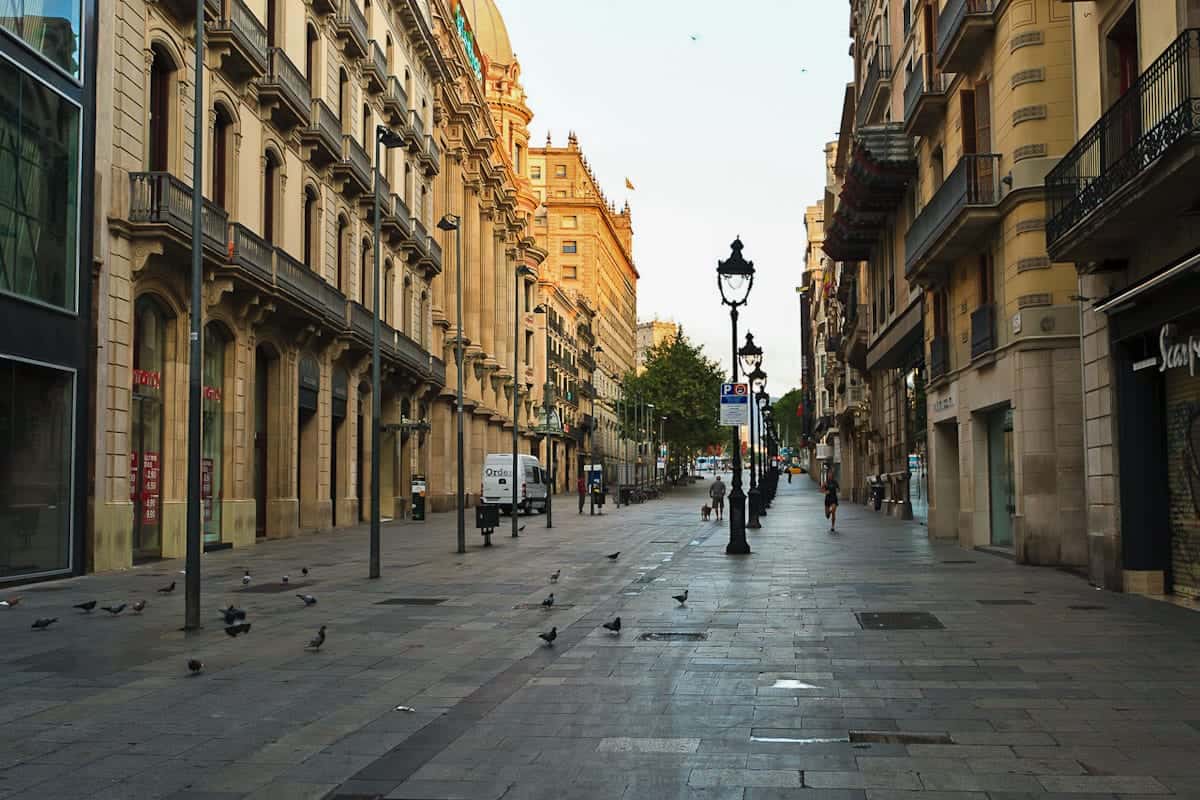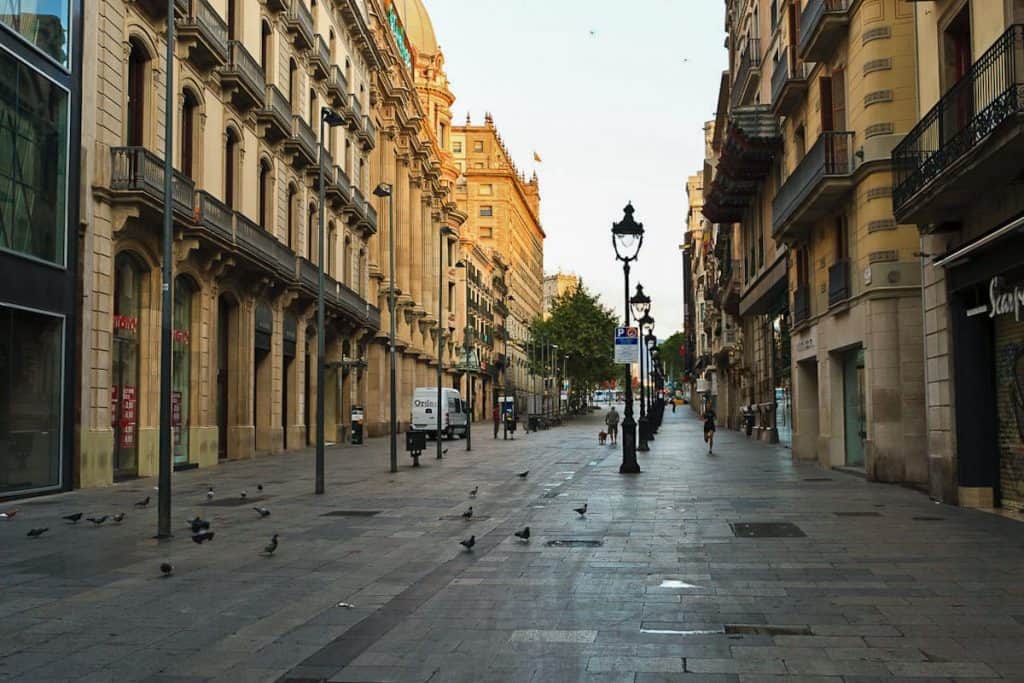 Portal de l'Àngel
Located in the Ciutat Vella, this pedestrian avenue is one of the most popular destinations for shopaholics. However, you'll only find internationally known brands such as Zara, Benetton, or Pull&Bear. If you like to shop from small local businesses, it's not the place to go.
Considered one of the main commercial venues of Barcelona, Portal de l'Àngel is home to many shops extending from Plaça Catalunya to a street called Cucurulla. As you can imagine, this makes it one of the most crowded and busiest streets in the whole city!
But it's not all about shopping here; there are also legends and curiosities. For example, the one about the street's name.
The legend tells that there used to be a stream and a path where the Portal de l'Àngel is located. In the 10th century, the city grew, and a neighbourhood appeared around this path, although only poor people lived there. In 1419, when Vicenç Ferrer – a Valencian Dominican friar – visited the city, an angel appeared to him and told him that he was there to protect the city. Some years later, the avenue would be called Portal de l'Àngel (Angel's portal) in honour of this story. Nowadays, you can find the sculpture of an angel in the street.
Carrer dels Mirallers
If Portal de l'Àngel is the place to find brands you can find anywhere else, Carrer dels Mirallers is where you find the real deal.
Tucked in the beautiful district El Born, this small narrow street will keep you entertained for a while. It's home to handicraft and artisan shops, like Ivori, Bonic and Angle, three local clothing stores, and Born Cosmetics, a natural and eco cosmetics shop.
You'll also find the classic Bodega del Born, the perfect place to enjoy drinks and delicious bites of food. The site is truly authentic and super cosy.
Once the sun sets, Dr Stravinsky is where to go. It's an excellent cocktail bar, nominated as one of the world's 50 best bars in 2019. The only downside is that you might have to wait in line to enter, but it is worth it.
Also, on this street, you'll admire one architectural jewel on each end. On one side, you can find Santa Maria del Mar, a stunning Gothic church from the 14th century. On the other, you'll see La Carassa, a face sculpture from 1983 with a curious story behind it. These sculptures were used to indicate where you could find a brothel. Wherever the eyes were looking, this was the brothel's location.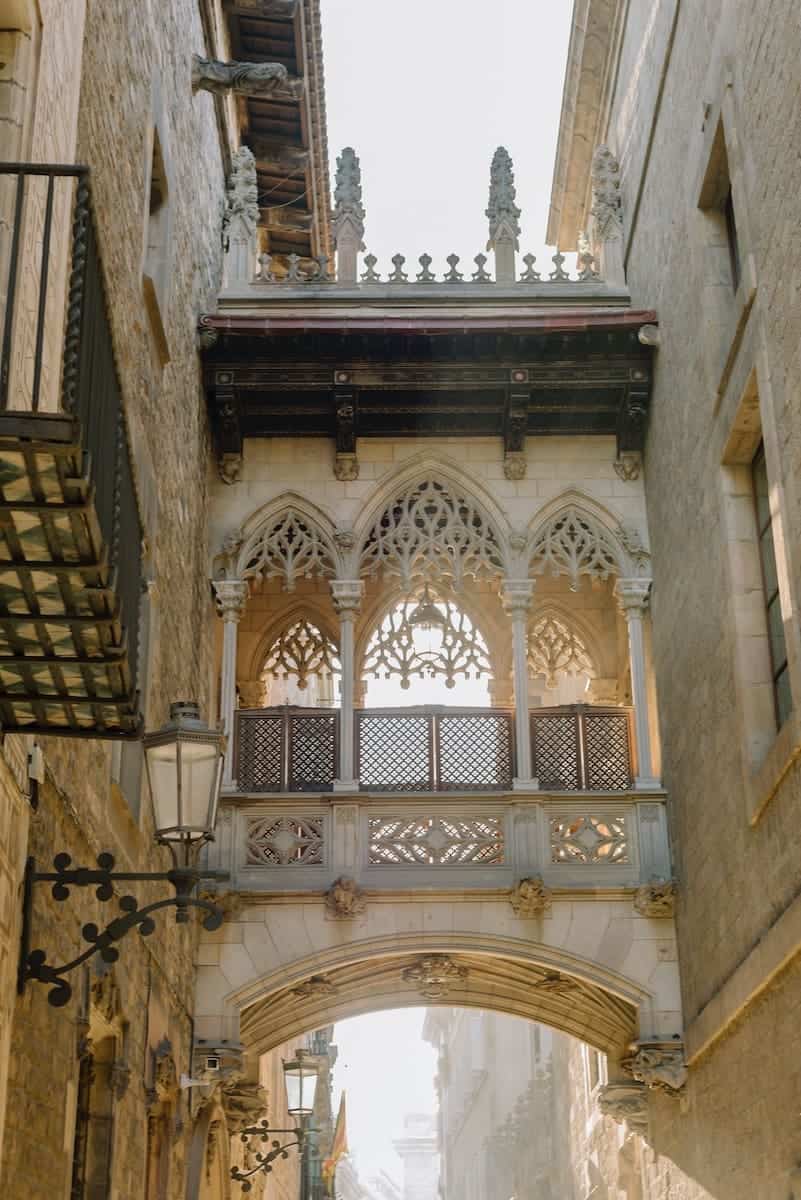 Carrer del Bisbe
Carrer del Bisbe is one of Barcelona's most romantic, beautiful, and best-preserved streets, making you feel you've been teleported to medieval times.
It's the street par excellence to admire the architecture, especially neo-Gothic. For starters, you'll find two Roman towers at the street's entrance.
Some steps further, you'll find the beautiful patio (don't forget to check it out!) of Casa Ardiaca, home to the Historical Archive of the City of Barcelona.
Before entering, can you spot the fantastic mailbox? This is already a piece of art itself! It was designed by the famous Catalan architect Lluís Domènech i Muntaner upon request of the local Lawyers' Association. The design is very clever and full of symbolism: the ivy represents the difficulties lawyers encountered with bureaucracy, the five swallows symbolised that justice is above everything, and the turtle…well, the turtle just means bureaucracy is slow!
Finally, you'll admire the jewel of the street: Pont del Bisbe. It's the iconic medieval bridge we're sure you've seen in some photos. And although beautiful, it has some macabre details, like the skull with a dagger inside that you can spot under the bridge.
As a curiosity, the name of the street (Bisbe, translated as Bishop) comes from ​​the fact that Barcelona's bishop's residence is on this street.
👌🏼 Our tip
This street attracts many tourists during the day, so if you want to find some peace and quietness, we recommend going there early in the morning.
Carrer de Petritxol
The charming street Carrer Petritxol is known for having three emblematic granges (cafés specialised in hot chocolate): Granja Dulcinea, Petritxol, and La Pallaresa. The speciality of those places? Their xurros with a hot chocolate cup.
Xurros amb xocolata is a classic, especially during Christmas time. But you don't have to wait for the Christmassy season to enjoy them; you can eat them all year round!
Besides being a great place for a sweet treat, this 500-years old street is also home to several small businesses and the wonderful Espai Quera, a 5th-generation bookshop turned restaurant.
🍫 For chocolate lovers
If you're a chocolate fan, don't miss out on the shop Chocolateria Equador on the same street. They sell fine-crafted chocolate, which is an ideal gift for those with a sweet tooth.
Also, you can enjoy various chocolate products in their store, such as hot chocolate with melindros (a finger-shaped soft pastry made with eggs, flour, and sugar).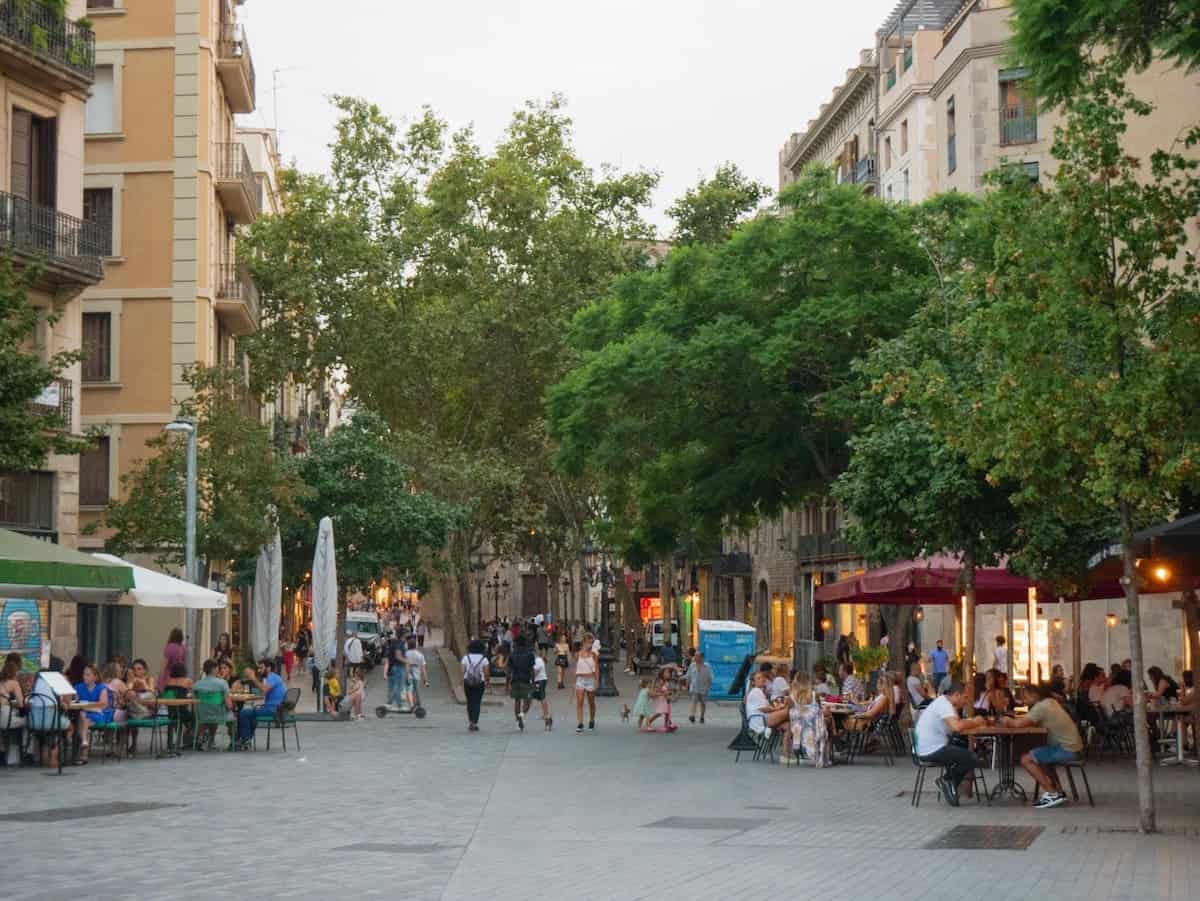 Passeig del Born
If you're into history, add this one to your bucket list. Passeig del Born has been the site of duels amongst knights, brutal executions by the Inquisition, and the Siege of Barcelona, during which Felipe V's army seized the street.
Besides, it's a famous medieval street with important architectural marvels, such as the Gothic church Santa Maria del Mar, independent boutiques, and many terraces.
After sunset, all the trendy bars are open and the atmosphere is more vibrant than ever!
🍹 Cocktail bar rec
If you're around Passeig del Born after 6 pm, head to Berimbau. We guarantee you amazing cocktails and a cosy chill atmosphere.
Iconic squares in Barcelona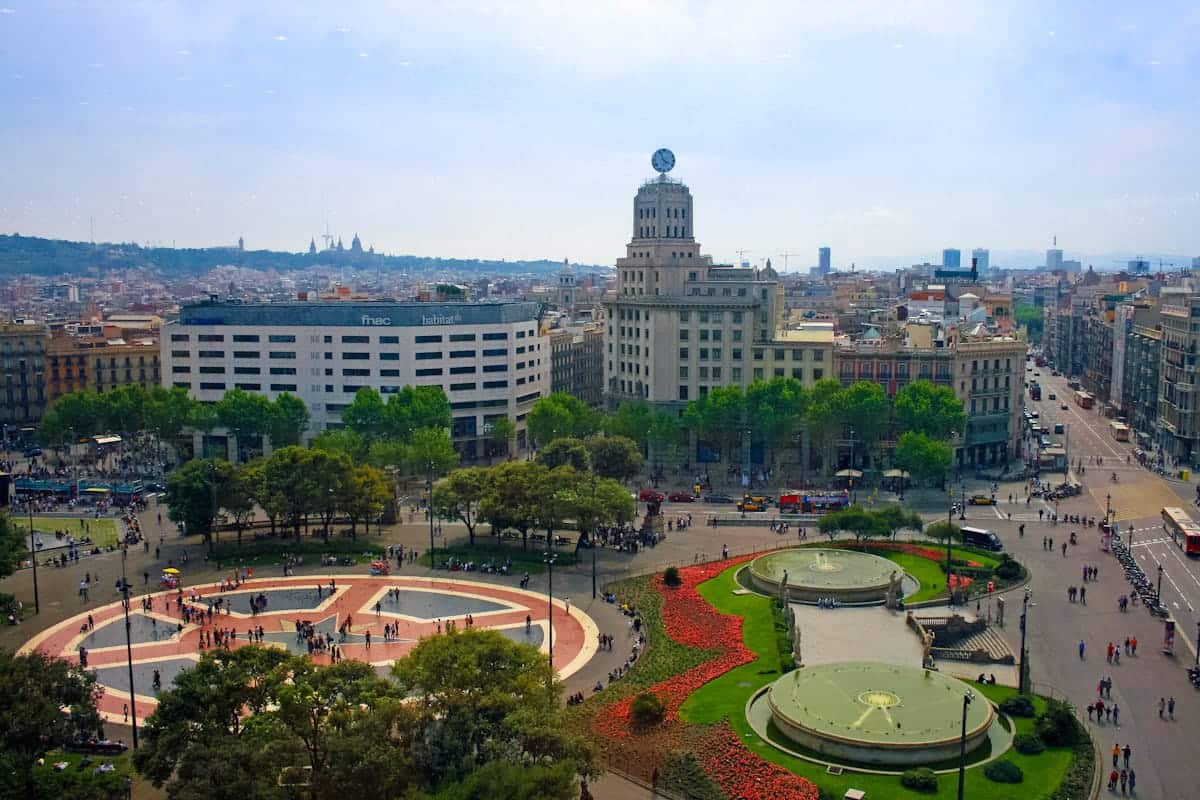 Plaça Catalunya
Some say that it's the centre of Barcelona and they're not wrong. Plaça Catalunya is the biggest and most centric square in Barcelona.
It's the point that connects the oldest part of the city (Ciutat Vella) with the 19th-century-built Eixample.
This square is famous for its shopping malls and fountains. But Plaça Catalunya is also known for a curious fact: the number of pigeons that gather there. It's not unusual to see people giving food to them or just trying to catch them to take a picture, although we believe it's pretty disgusting!!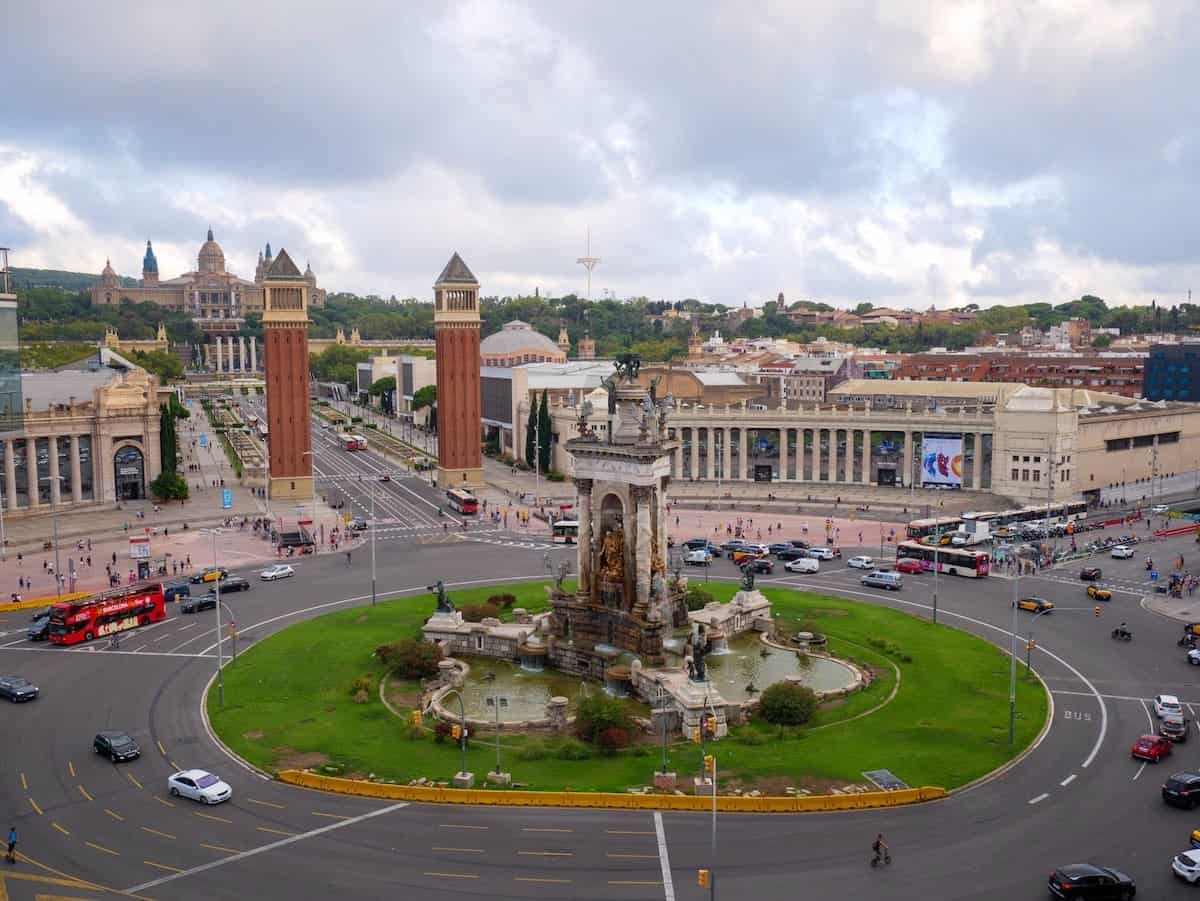 Plaça d'Espanya
Built on the foot of Montjuïc in 1929, this is one of Barcelona's most important squares.
Some of the city's main roads intersect at this point, making it a central transport hub.
It's also one of the major touristic attractions in the town as it features many places of interest. One is the Magic Fountain of Montjuïc, which offers a display of music, lights and water acrobatics, usually on Thursday, Friday and Saturday nights.
Then, you'll also find the Arenas is an old bullring converted into a shopping mall. The outside is nice, but inside you'll only find international brands.
Finally, the square is also home to the Torres Venecianes, two 47 meters-high towers modelled on the Campanile di San Marco in Venice.
👌🏼 Our advice
We would only recommend going to Plaça Espanya if you're around the area or visiting Montjuïc, as it's far from the city centre. However, if you go there only to see the square, we believe there are a thousand better things to do in the city.
If you end up going, we can't recommend the views from the top floor of the Arenas shopping mall enough. They're impressive! Also, it's free to get there.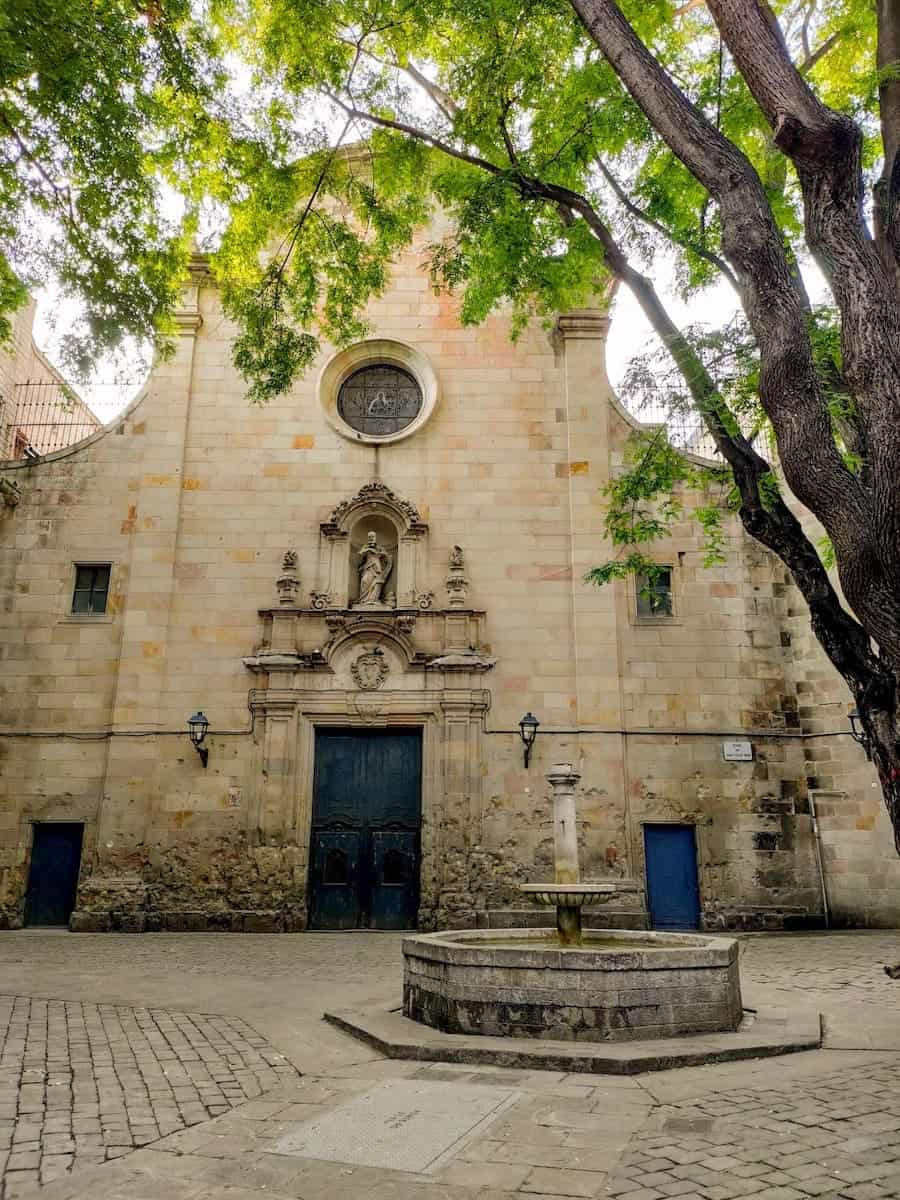 Plaça de Sant Felip Neri
This small square is hidden in the middle of Barri Gòtic and holds a lot of history.
It was built on top of an old medieval cemetery destroyed during the civil war.
If you go there, pay attention to the walls of the church located on it. You can clearly observe the marks of a bomb dropped by Franco's air force on the 30th of January 1938.
The attack caused 42 victims, most of whom were children living in the convent as refugees. Aside from the killed ones, the bomb also destroyed all the houses next to the square.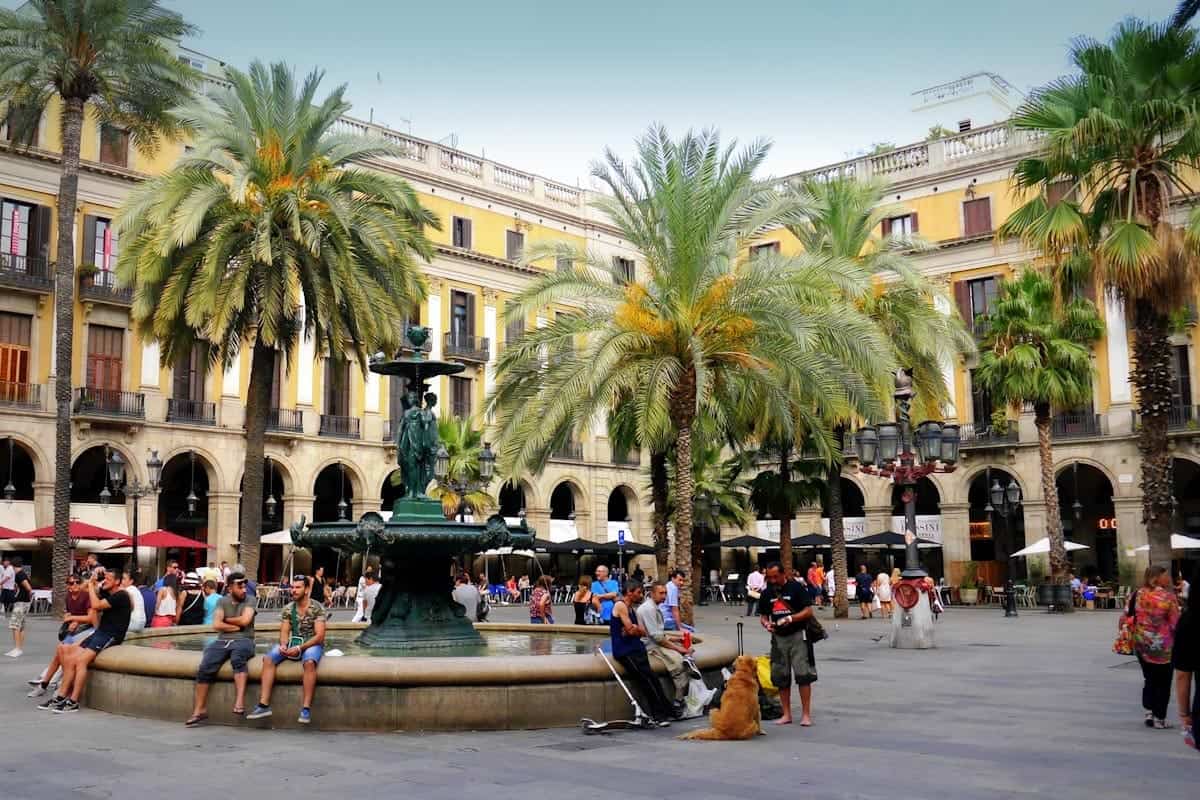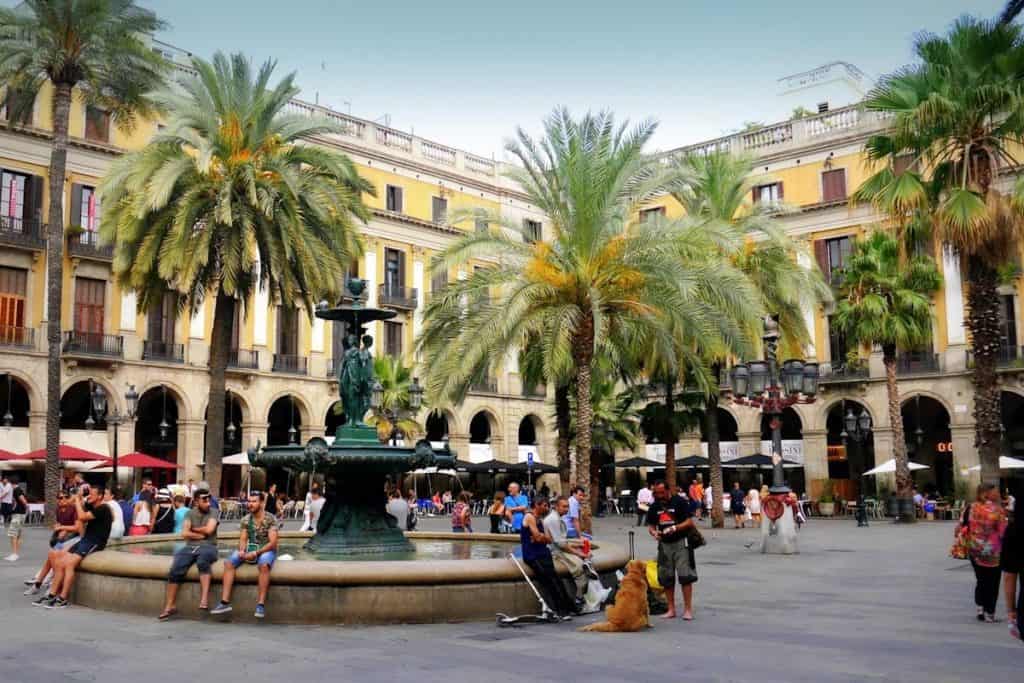 Plaça Reial
As its name indicates, Plaça Reial (Royal Square) is dedicated to the monarchy. It was built during the 19th century and dedicated to the king of that time, Ferran VII.
The square is one of the most beautiful in Barcelona and is one of the few porticated squares in the city, which makes it impressive.
With many restaurants and clubs, plenty of people enjoy the square during the day and night. In the daytime, you'll see people sitting at the café terraces under the arcades enjoying a meal or a drink.
At nighttime, the atmosphere changes completely. The square attracts many party animals as it is home to some of Barcelona's most famous alternative clubs, such as Jamboree and Sidecar. If you're looking for a great night out, here is one of the best places to dance until sunrise.
A curious fact is that the street lights in the square were an early work of Gaudí, who was still unknown when he designed them.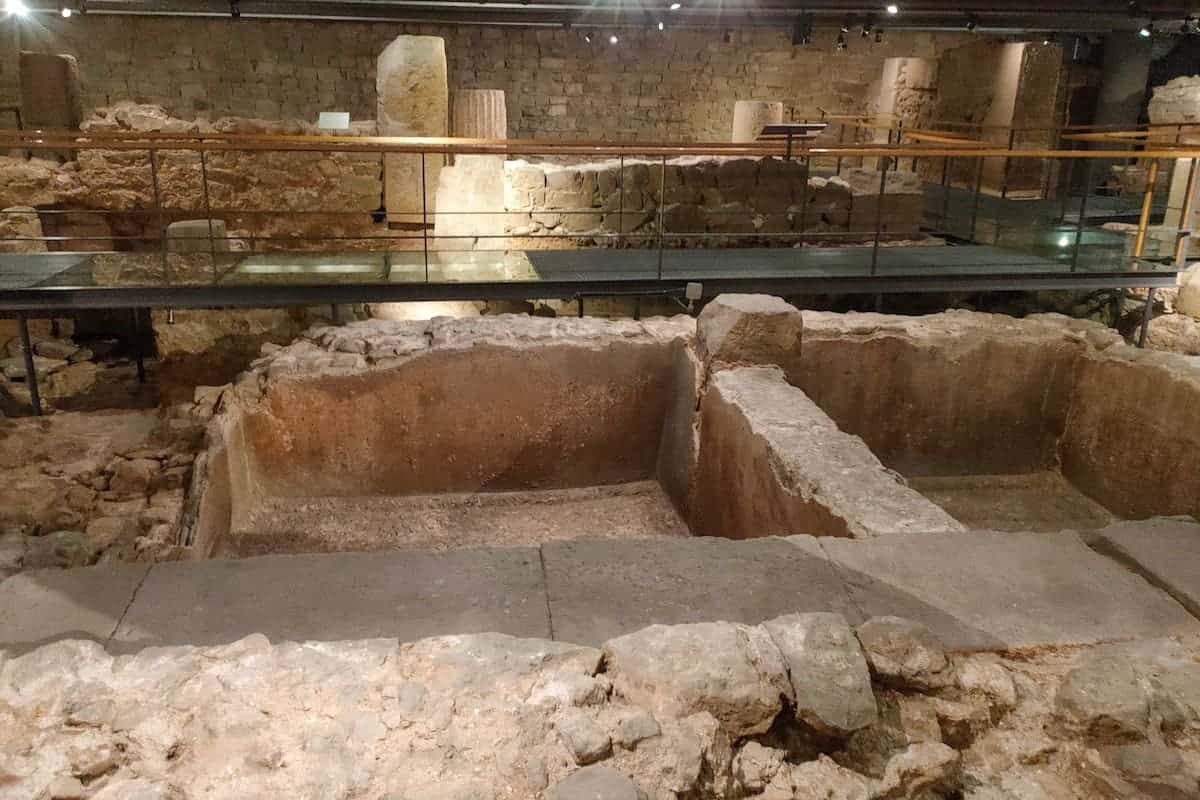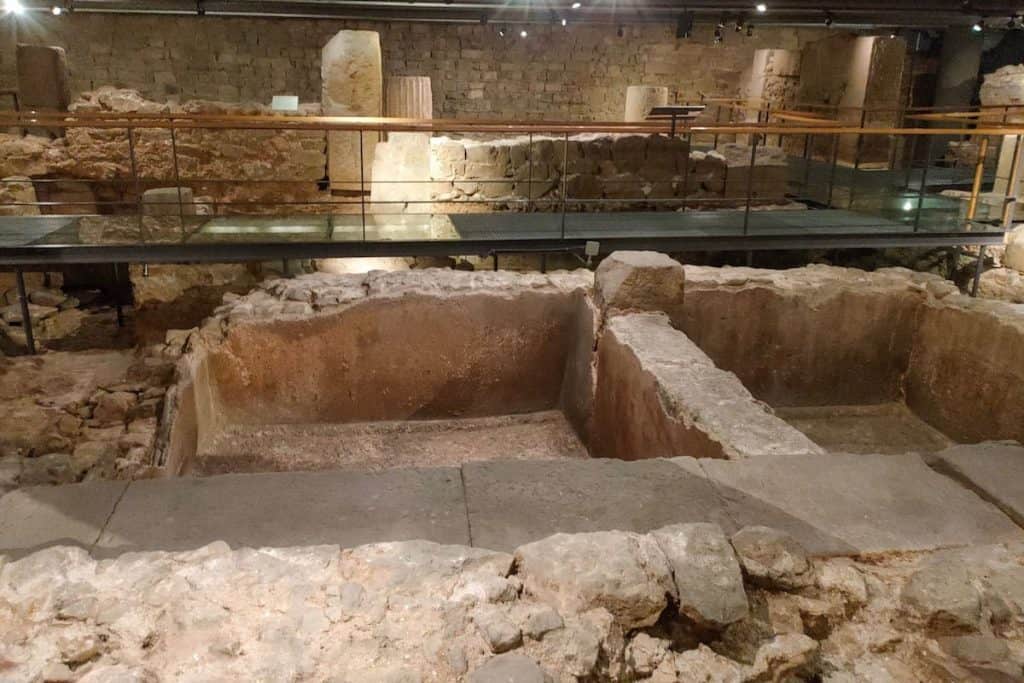 Plaça del Rei
Talking about royal things, our next listing is Plaça del Rei (King's Square).
This big square in the Gothic Quartier feels small because it's tucked between various historical buildings. To us, it's one of the most beautiful squares in Barcelona, both for the buildings and the atmosphere.
But, as stunning as what's on the surface is what's under it. Hidden below the Plaça del Rei, you'll find an underground area stretching over 4.000 m2 with remains from the city's first Christian community, the Romans.
If you want to understand Barcelona's history and look at how it was long ago, sign up for a visit and travel back to when Barcelona was known as Barcino. You can buy the tickets online or in the MUHBA office in the same Plaça del Rei.
👌🏼 Our tip
The evening is our favourite time to visit this square. It's when musicians and other artists perform shows, and the atmosphere is magical.
If you want to make this moment even better, head first to Jon Cake (6 min walk). Jon, the owner, is a cooking wizard, and his cheesecakes are from another world. Grab a slice of cheesecake and sit on the stairs of the square to enjoy the show.
If you're not a fan of cheesecakes, you can do the same with ice cream! An excellent ice creamery nearby is Gelaaati Di Marco.
And that's a wrap! We hope this guide has given you some insight into the Barcelona's streets and squares, and you can't wait to discover some of its curiosities and enjoy its cafeterias, restaurants, architecture, and shops.
Which is your favourite one?