Ready to embark on a delicious journey through Costa Brava's culinary scene?
The region's cuisine is renowned for being vibrant and diverse, featuring a delicious array of traditional dishes and unique flavours, from the freshest seafood to the sweetest treats.
In this guide, we'll share with you all the authentic foods and flavours that this foodie's paradise offers and that we've discovered after years of exploring the region. Forget about the usual tourist favourites and get ready to indulge in some of the most delicious foods you've ever tasted!
Typical tapas from Costa Brava
Tapes (or tapas in Spanish) are an ever-present classic in Costa Brava cuisine. Coming across people sharing tapes during a meal instead of feasting on a single dish is the most common thing in the region's coastal villages.
Anchovy fillets from a village named l'Escala, for example, are a typical product of regional cuisine and have a reputation for being exquisite. They are salted and kept in olive oil, and we usually eat them with pa amb tomàquet (bread rubbed with tomato, salted and drizzled with olive oil). This is probably the most uncomplicated yet delicious tapa in the world!
When it comes to tapes, the ones made with fresh seafood are almost always present on the table. Our favourites are the xipirons a la planxa (grilled tiny squid with olive oil, parsley, and lemon), musclos al vapor (tasty mussels steamed in white wine and lemon), pop amb patata (octopus lying in a potato bed and covered in paprika) and calamars a la romana (fried squid rings).
If you're looking for something different, give ortigues de mar a try. They're fried Mediterranean snakelocks sea anemones, and they're absolutely delicious!
Another classic from the Costa Brava area is sonso. It's a tasty small fish lightly coated in batter and then fried. We assure you once you've tried one, you can't stop!
If talking about tapes where the protagonist isn't seafood, we must mention croquetes. Deep-fried rolls filled with all kinds of delicious combinations: squid ink and seafood, cod and potato, chorizo, ham and asparagus… The options are as varied as creative are the chefs!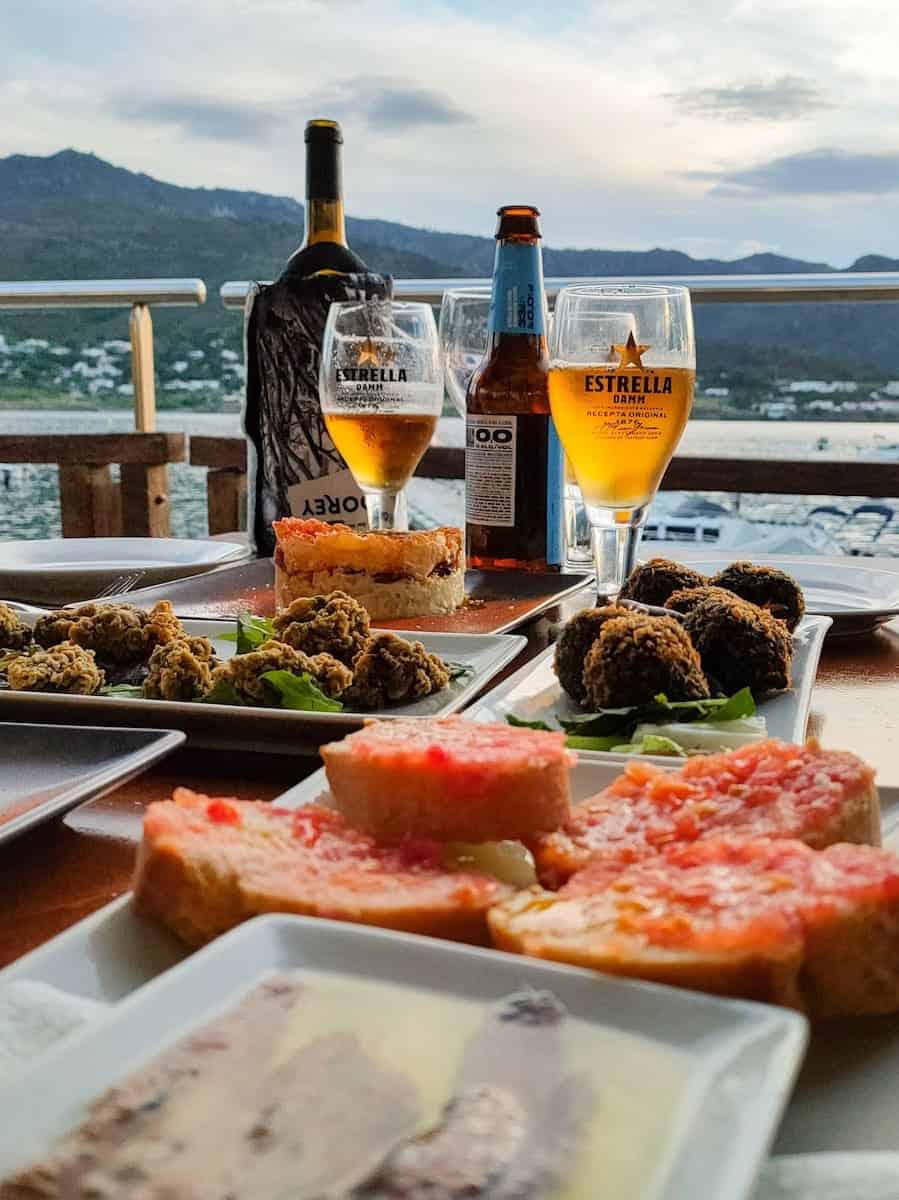 Costa Brava's seafood dishes
The absolute protagonist of Costa Brava's cuisine is seafood.
You say gambes, you say Palamós. Now a delicatessen, the prawns from Palamós city are famous for their strong yet succulent flavour. Their colour is intensely red, and they are renowned worldwide for their tasty meat.
Other local species are clams, razor clams, cockles, and lobsters. They are usually grilled with parsley, olive oil, salt, and garlic. As simple and delicious as it sounds!
In fine dining restaurants, you'll also find sea urchins, known as garoines in Catalan. In the past, the fisherman caught them on the rocks and ate them straight, together with a piece of bread. Nowadays, this is an exquisite dish, sometimes cooked with various sauces.
Although most seafood is eaten as a tapa or enjoying a good mariscada, you can also find main dishes typical from the region where fish is a crucial ingredient. One is esqueixada, a salad made with shredded salt cod, onion, tomatoes, olive oil, vinegar, and olives. It's the perfect food for refreshing after a morning under the sun!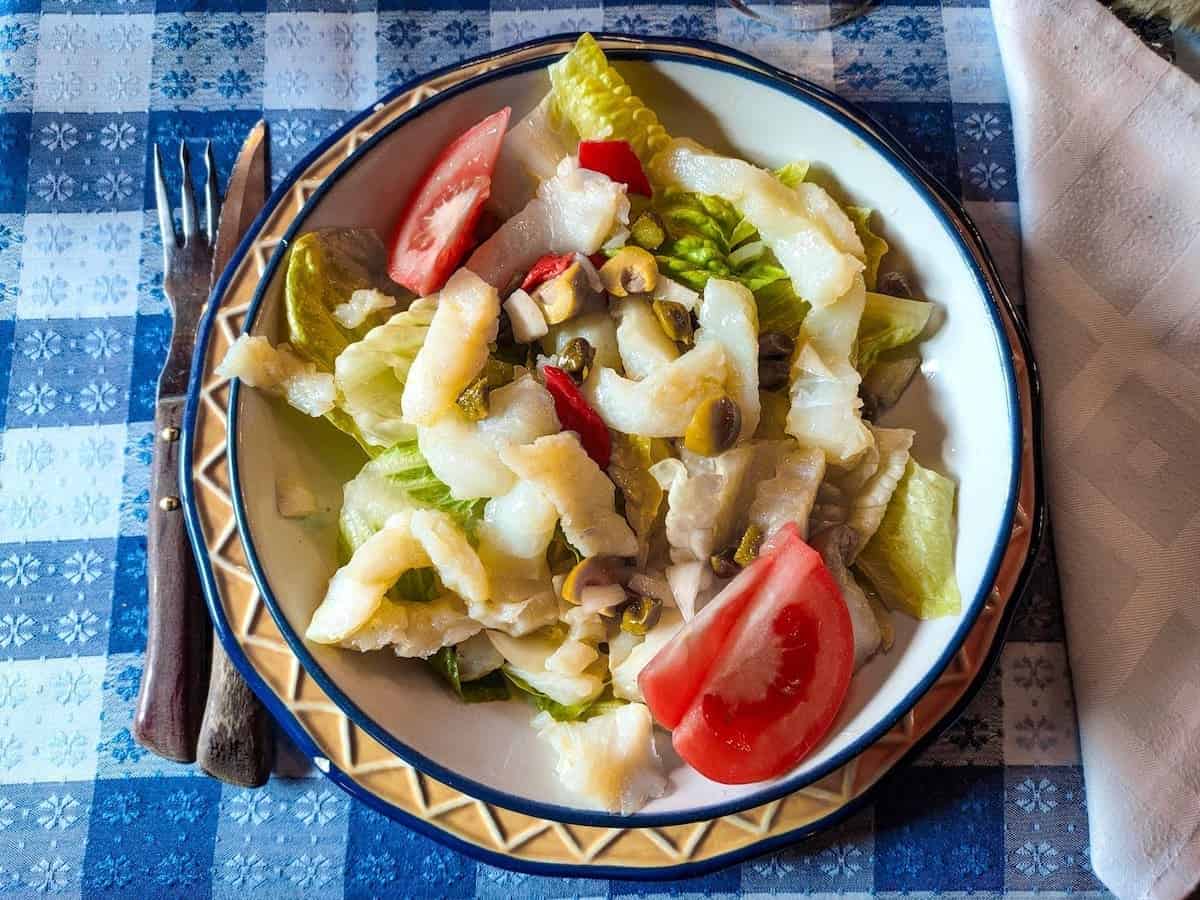 Meat dishes from Costa Brava
Although seafood is the star in the Costa Brava, there is no shortage of meat dishes in the regional cuisine. Expect unexpected combinations, such as meat cooked with fish or sweet ingredients like chocolate.
Particularly well-known is Mar i Muntanya, a typical dish that combines ingredients from the sea (mar in Catalan) with the mountain (muntanya). It usually has prawns, lobster, other seafood, chicken, rabbit, and other meat, and it's similar to a stew. In some places, they serve it with rice.
Another delicatessen of the area is mandonguilles amb sípia, a juicy dish that exquisitely combines sea and mountain flavours. Think of all the goodness of meatballs combined with the tenderness of cuttlefish, cooked in a tomato, fish broth, and wine sauce. Once finished, don't forget to grab a slice of bread and dip the sauce. It's one of life's most delicious pleasures!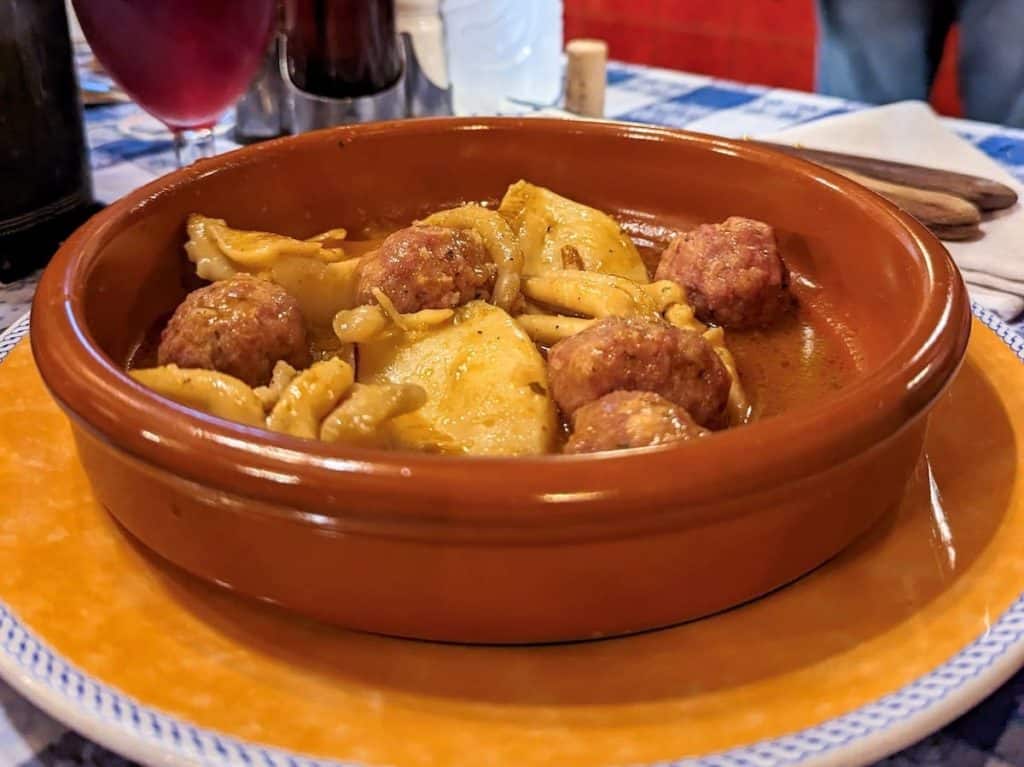 Authentic rice and pasta dishes
Thanks to the region's weather, Costa Brava historically developed a great rice-making culture and boasted countless rice dishes. In particular, the little village of Pals is famous for rice production: the village has around 2500 inhabitants, but it's home to as many as three rice factories!
Among the rice dishes, the best known is undoubtedly paella. However, this one is actually imported from the neighbour region of València.
If you want to try the real deal, forget about paella and look instead for arròs de Pals a la cassola. The aroma of this brothy rice served with meat and seafood can be smelled from km away!
Another popular rice dish is arròs negre, easy to recognise because of its characteristic black colour. It's similar to paella, but instead of cooking the rice with broth and tomato, the rice is cooked with squid or cuttlefish ink, hence the black colour. The rice is served with mussels, cuttlefish, squid, prawns, or other seafood. Oh! And don't forget to mix it with a little bit of the allioli, which perfectly balances the natural sweetness of the ink.
And then there's fideuà. Fideus (a thinner and shorter version of spaghetti), seafood, veggies and fumet (a fishy broth) are the only four ingredients needed to prepare this dish, which tastes like paella, but is made with pasta instead of rice.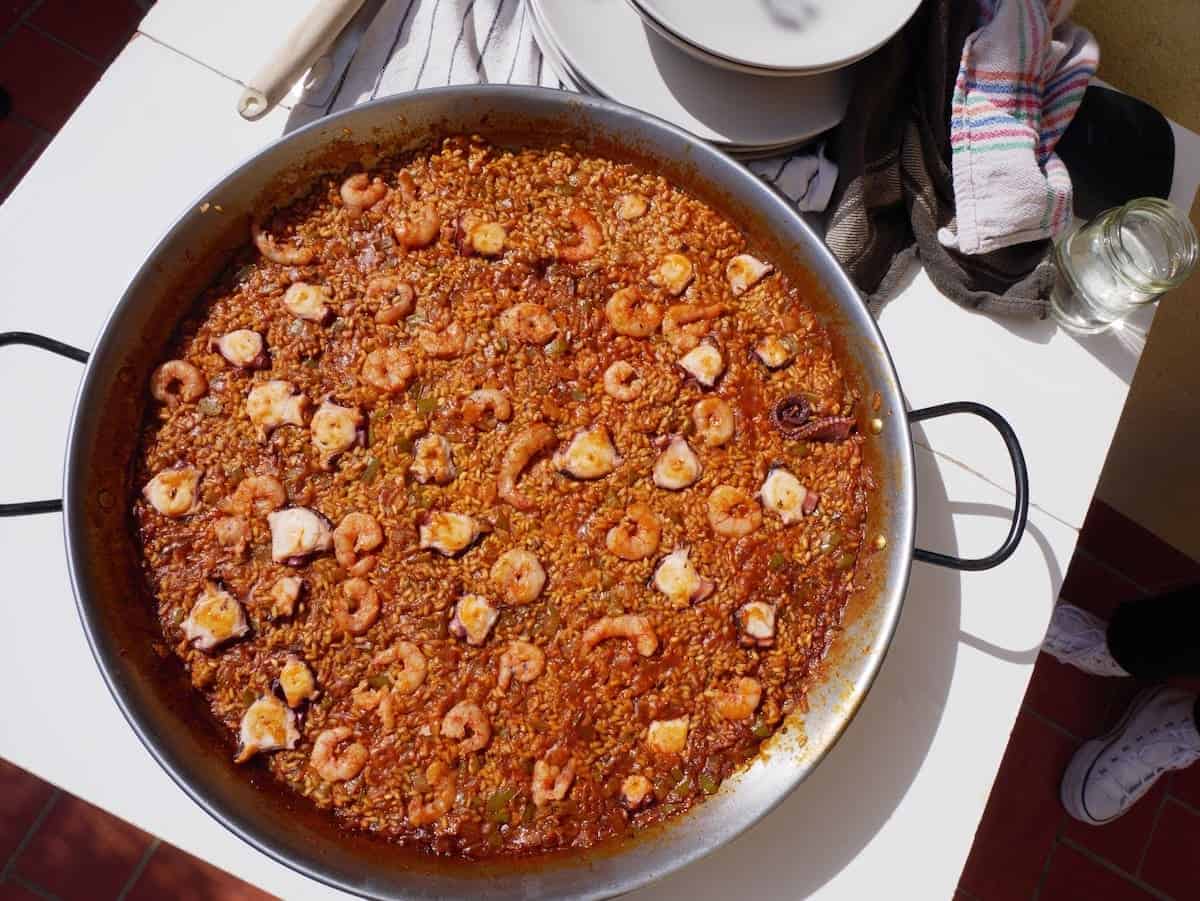 Typical sweets from Costa Brava
Should there be room for dessert (which is always!), Costa Brava's sweets are countless and each better than the next.
Typical of Cadaqués, the small village Dalí fell in love with, are taps de Cadaqués. They're individual sponge cakes topped with powdered sugar and rum (optional) and have a distinctive shape and heavenly flavour. The form of these mini-cakes recalls the corks (taps in Catalan) of a bottle of cava. According to folk tales, this sweet originated in the 18th century, when fishermen, tired of eating hard biscuits, discovered they could dip them in rum and get fluffier biscuits. Smart!
Another classic is recuit de drap, a soft and creamy cheese made with sheep or goat's milk. Its name comes from the elaboration process because the cheese is covered with a cloth (drap in Catalan) to ferment. But what's curious about this cheese is its sweet taste. Catalans eat it as a dessert, together with honey; it's sensational!
From the city of Girona are the very famous xuixos, a fried croissant-like pastry filled with pastry cream. The sugar-coated xiuxos symbolise Girona to the extent that there's a renowned procession where locals stroll through the city's streets and, after the walk, are given xuixos that have been prepared by the board of pastry chefs of Girona.
Brunyols de l'Empordà, a sweet originally from Girona, is eaten especially at Lent and Easter. It's a doughnut-shaped dough covered with sugar and with an aniseedy taste.
And last, we can't miss the flaones de l'Alt Empordà, a speciality of the town of Figueres. These fried pastries filled with cream pastry were never missing from parties, meetings, or celebrations.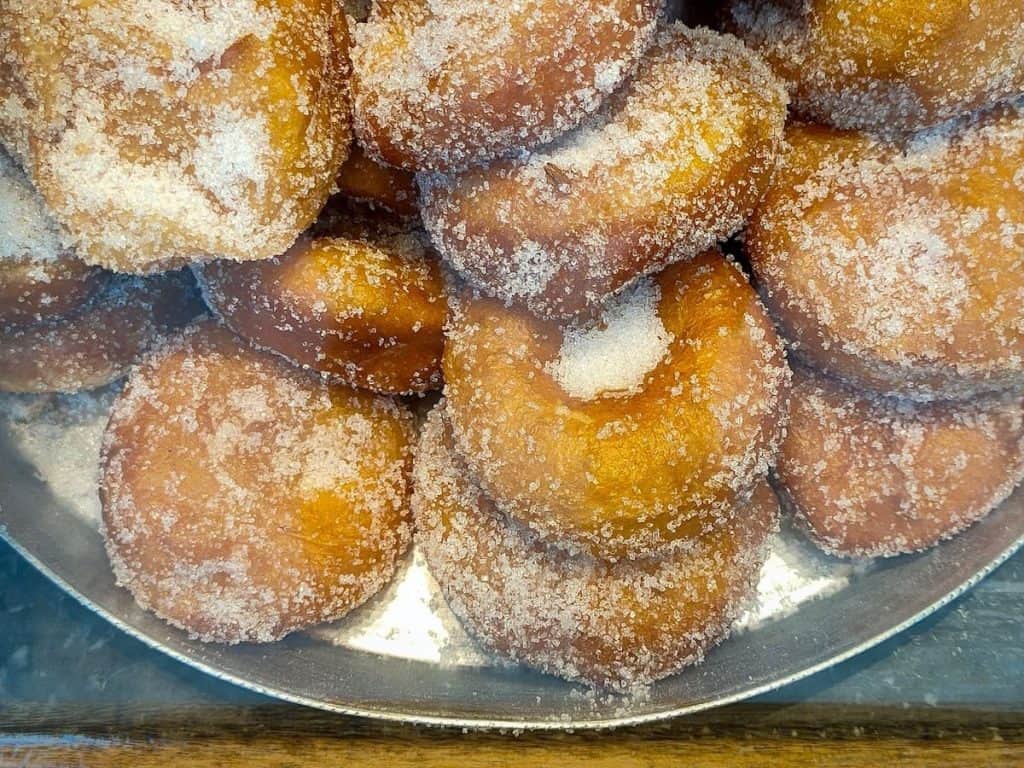 DO Empordà wines
All that delicious food mentioned needs something to wash it down with. And what's better than local wines.
More than 3.5 million bottles are produced annually from vineyards located in the northern and central areas of the Costa Brava, known as Empordà. To make sure a bottle of wine is from the region, look for the DO Empordà label, which indicates that a product is from a specific geographical area.
What makes these wines unique is the tramuntana, a strong north wind characteristic from the region that benefits the vineyard's sanitary condition.
Costa Brava's liqueurs
To end our culinary journey are the liqueurs. Ratafia is the typical one, a sweeter digestive made of tender walnuts and aromatic plants. This caramel colour beverage is a favourite amongst locals, and we drink it as shots or when we're eating dessert.
Vermut is also another Catalan classic. It's a white or dark digestive made from numerous herbs and roots. Locals drink it before lunch, together with olives and chips. A pure moment of bliss!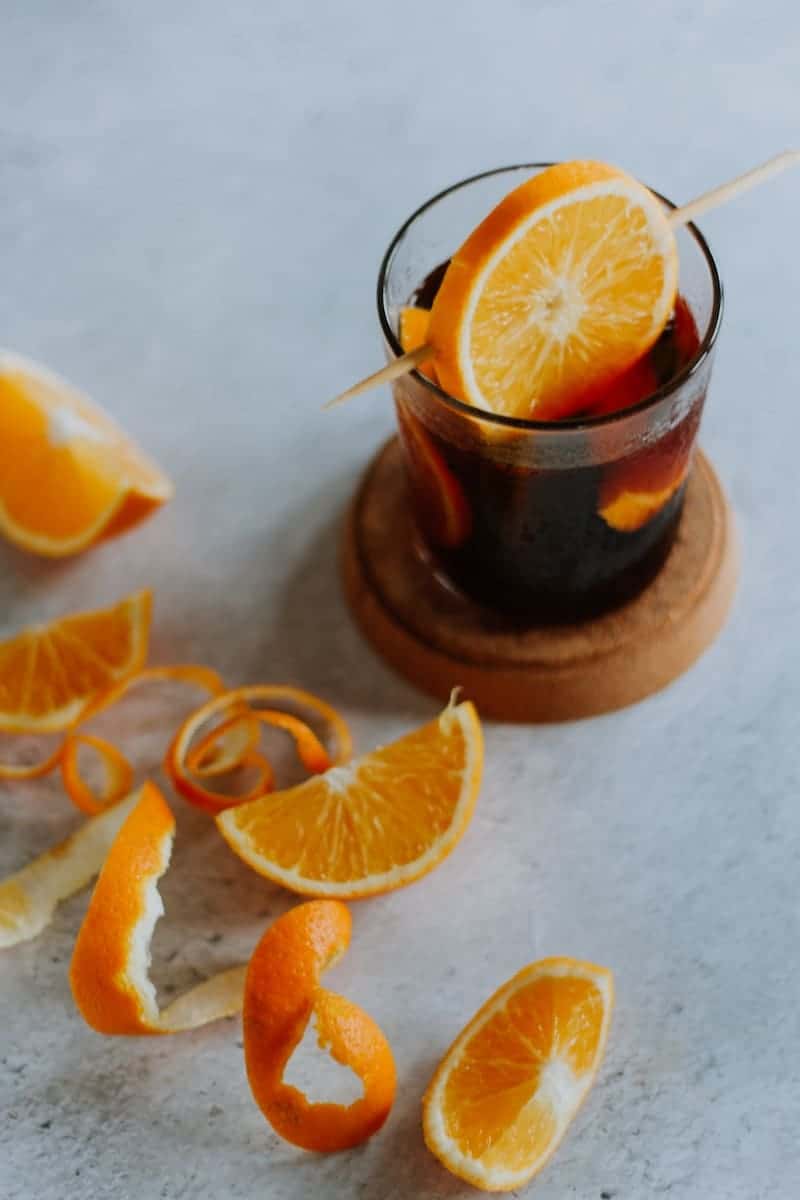 Well, fellow foodies, it's time to say goodbye to the Costa Brava and its amazing cuisine. We hope this guide has given you a taste of all the incredible flavours and dishes of the region and you're ready to embark on your own culinary adventure!