Spring is in the air! Buds are forming on trees, flowers are preparing to bloom, and long, sunny, warm days are ahead.
And it is not high tourist season yet. This means fewer crowds to enjoy all the cool events happening in Catalonia during April: eating typical foods for Easter, celebrating the most romantic day of the year for Catalans, or enjoying an indie film festival.
Are you spending some days in Catalonia during April? Scroll down! We've rounded up a list of local plans to do in Catalonia during this month.
* Post written for the first time in March 2022 and updated in March 2023.
The weather in Catalonia in April
Catalonia (except the Pyrenees) has said goodbye to winter by the time April rolls around. Spring temperatures are pleasant, sunshine is the norm, and the hours of light are plenty for exploring around!
🌡 Temperatures
The temperatures vary a lot depending on the area of Catalonia you're visiting. Spring is in the air, and temperatures get warmer and warmer.
On the coast, the average high in April is just over 19ºC (66ºF). It's warm enough for T-shirts at midday. The sea is probably still too cold for a proper swim, but there are always a few brave souls who give it a go. In the evenings, temperatures always drop, so it's good to have a jacket at hand.
Day temperatures are similar in central and western Catalonia, although they get a bit lower at nighttime.
In the mountains, temperatures are lower, especially at night when they reach around 5ºC (41ºF).
You can watch the weather on your phone's app (we usually use Google Weather) or Accuweather.
🌦 Weather
Don't expect a lot of grey days like in Norway or London. We're lucky sunshine is the norm in most parts of Catalonia!
☔️ Rain and snow
The chances of getting a few showers in April are a bit higher than in the rest of the year (especially in the mountains, where it rains more often). With a bit of luck, you won't get wet during your visit.
But, just in case, we recommend you pack a jacket that is also waterproof, so you can keep exploring without getting soaked!
☀️ Hours of light
The hours of light increase considerably in April. There's plenty of sunshine for outdoor activities, with the sun rising at 7:30 am at the beginning of the month, and at 6:50 am at the end of the month.
The sunset happens at 8:15 pm at the beginning of the month and as late as 8:47 pm at the end of April. It's a wonderful time to enjoy sunsets as they won't happen as late as in summer.
What to pack for a trip to Catalonia in April
🧣 Clothing
What about the clothes to pack? You'll definitely need to add a spring jacket and a jumper to your packing list. The temperatures get down in the evening, and it can get chilly. If you're going to the mountains, pack a coat and some warm jumpers. Thermal layers and gloves might still be necessary if you decide to practise any winter sports. You might want to pack your swimsuit for a holiday on the coast. Maybe you don't use it for a swim, but you might want to get tanned if the sun is shining!
🥾 Footwear
Regarding shoes, sneakers are a great option. A pair of hiking boots will do if you plan to go to the mountains. Always remember to bring comfy shoes!
What's on in Catalonia in April
Go skiing
Although it's no longer winter and temperatures are a bit warmer, it's not yet time to hang the skis! Ski resorts in Catalonia are open until mid-April. So, if you fancy a last-minute trip to the mountains before the season is over, you still have time!
Catalonia is home to 9 ski resorts, so we're sure you'll find one that suits your level and taste. For more info about the ski resorts located in the region, take a look at our blog post Where to ski in the Catalan Pyrenees: A guide to all the ski resorts in Catalonia.
And if you decide to venture a little bit further, you can also explore the ski options available in Andorra at our blog post Skiing in Andorra: A guide to all the ski resorts in the country.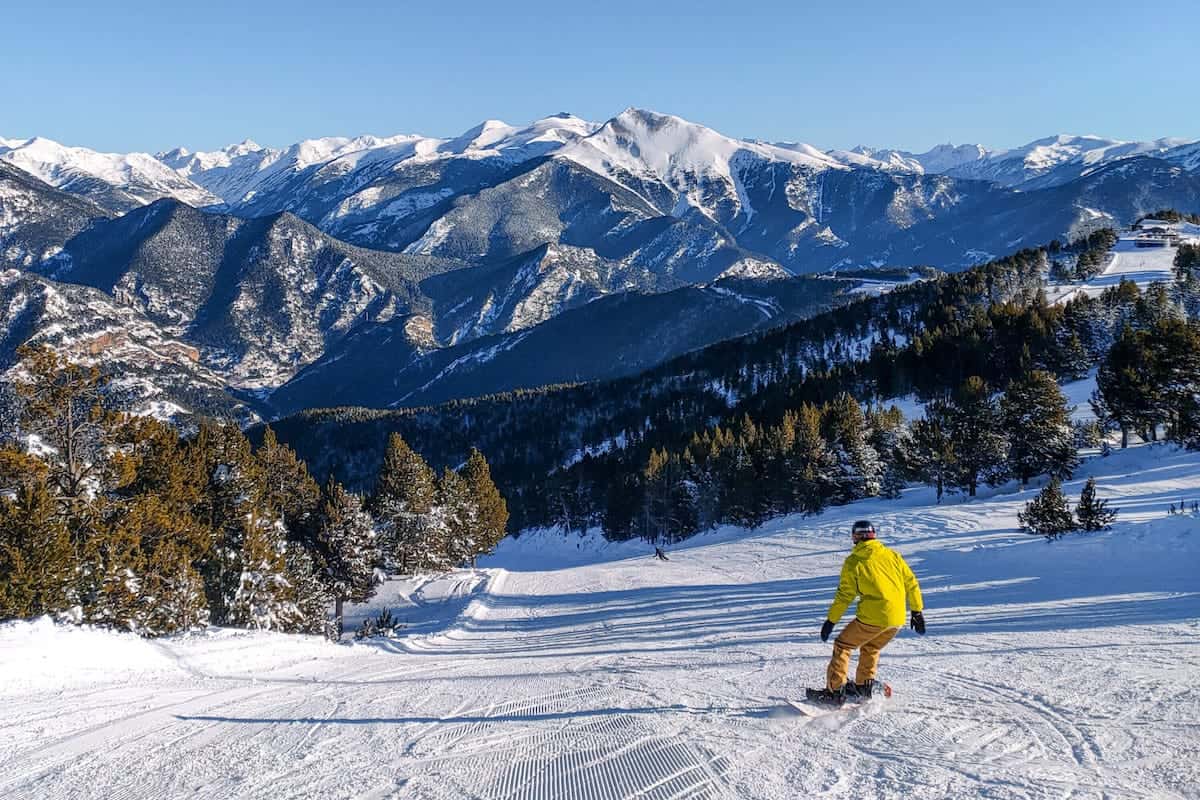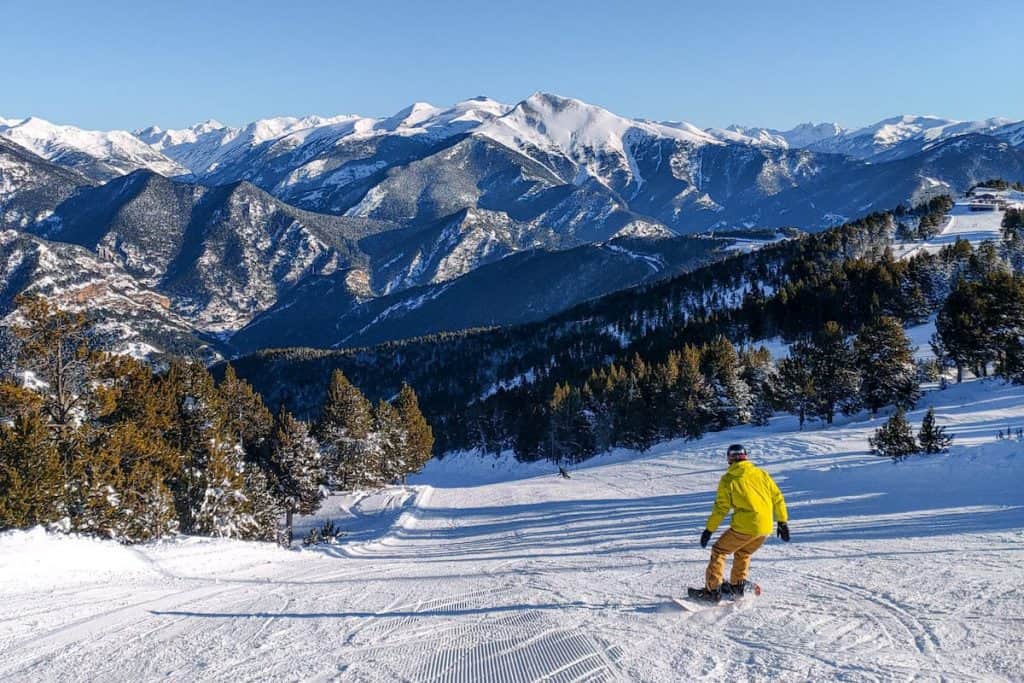 Check the Indie D'A Film Festival (23rd March to 2nd April)
Cinephiles will love this plan! April rounds out with the D'A film festival, which celebrates the best in indie film and what's next to come in the world of cinema.
The "D'A" in the festival's name stands for d'autor (auteur cinema in Catalan), so expect plenty of fascinating, creative movies, more like Sundance than Hollywood productions.
Celebrate Easter like a local
⚠️ Important!
Many shops will be closed around Easter Sunday (17th Apr), so make sure to plan accordingly! They also tend to shut on Good Friday (15th Apr) and the Monday after Easter (18th Apr).
Get to know more about the religious culture of Catalonia
If the religious side of Easter interests you, there are various events taking place in Catalonia. In Barcelona, you can watch a few parades around the historic city centre, like the La Burreta procession on Palm Sunday in the Raval neighbourhood. The Gothic Quarter also has one procession on Good Friday. Outside Barcelona, the most important events are La Passió d'Olesa (a theatre representation of the live, death and resurrection of Christ, subtitled in English), or La Processó de Verges (an emblematic procession taking place on Maundy Thursday).
Eat a mona de Pasqua
If, like us, you're not interested in the religious side of Easter, maybe the culinary one grabs your attention. Bakeries make a roaring trade around those dates. Besides selling typical Easter treats like chocolate eggs, they also sell traditional Catalan sweets. One of them is the mona de Pasqua, a cake that traditionally had hard-boiled eggs on top. However, in most parts of Catalonia, chocolate replaced the eggs over time (which is yummier!), and nowadays, the mones are authentic chocolate masterpieces. You'll find them in all shapes, and they usually have elaborate chocolate figures picturing famous cartoons, eggs, or animals.
As a curiosity, the cake's name, Mona de Pasqua, literally means Easter's female monkey. But don't worry, the cake doesn't contain anything related to monkeys! It's thought that the name comes from the Arabic word Muna, which literally means "gift". In the past, Arabs used this word to describe a tax in the form of an offering of cakes, boiled eggs or other agricultural products.
Catalans eat the Mona de Pasqua on Easter Sunday or Easter Monday. The tradition is that the godfather or godmother buys the mona for their godchildren.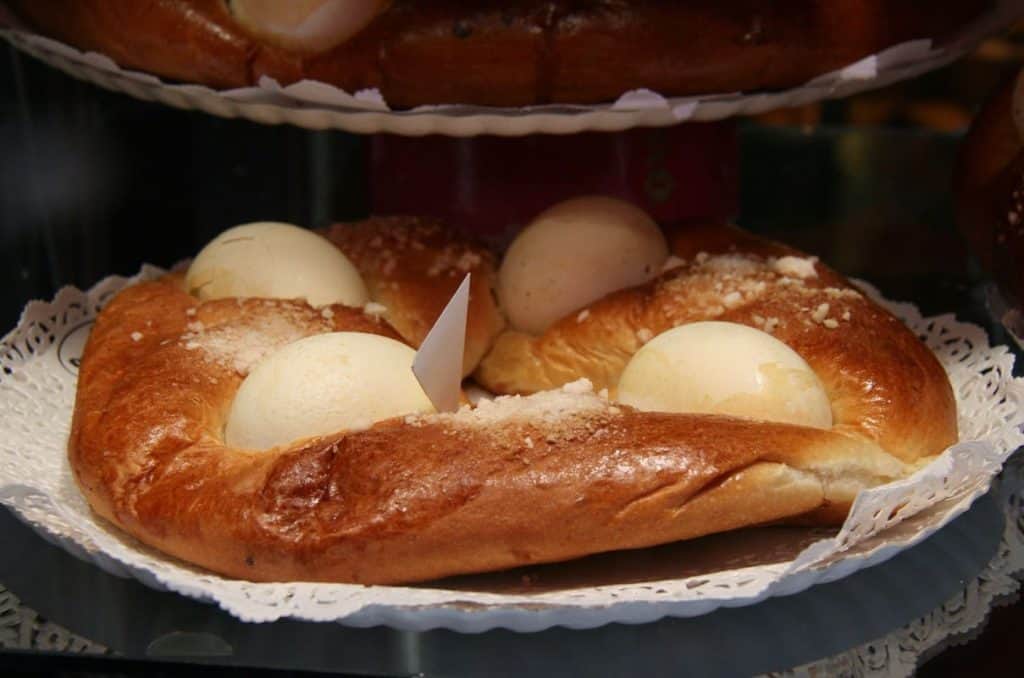 Savour the bunyols de Quaresma
We are not done talking about food! Next on our list are the bunyols de Quaresma, another typical Catalan sweet eaten during Lent and Holy Week. Before, you would find them in cake shops on Wednesday and Friday around that time, but now you can find them any day of the year because they are delicious and easy to make.
Bunyols de Quaresma, which literally means "Lent fritters", are balls made from a flour base, fried in oil and then coated with sugar. Because the dough is very airy and it feels like they're empty inside, we also call them bunyols de vent (wind fritters). Whatever you want to call it, they're delicious!
There are variations in the way of preparing the bunyol de Quaresma, and one of the most widespread recipes is the one of the Empordà region. This has a more consistent dough and is spiced with aniseed and coriander.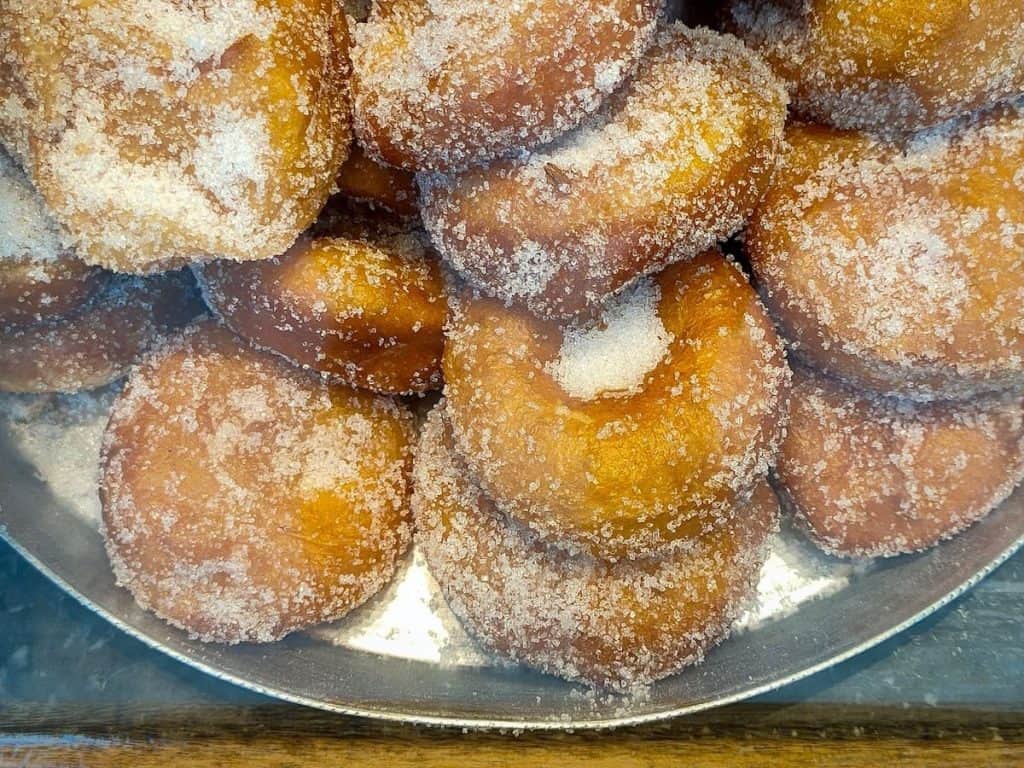 Participate in a triathlon in a unique setting (15th & 16th April)
If you like to sneak a sports event on your trip, you might be interested in those two triathlons. What's unique about them is not the option of choosing between several distances or the number of participants. What's special are the dreamlike locations where the triathlons take place.
In April, this circuit, named the TriTour, has one race. It takes place in the beautiful southern region known as Terres de l'Ebre. It's on the weekend of the 15th Apr and 16th of April in the Deltebre. Think about swimming at the end of the Ebre river, where it is about to join the Mediterranean sea, cycling through rice fields, and running nearby swamps or pretty villages.
Party under the sun with Brunch in the city (16th and 23rd April)
Who said you must spend the whole night out to enjoy great parties? For those who like more to party in the sunshine, be in bed at 11 pm, and wake up fresh the next day, allow us to introduce you to Brunch in the city!
This festival takes place on Sunday the 16th and 23rd of April. You only need to book your ticket in advance, and love electronic music! Then, you're ready to have a great time.
And the location? It's always in Barcelona, but the place changes every time! It can be in the famous Poble Espanyol, a park in Les Corts, or an old beer factory.
There's also something cool about this festival that party mums and dads will love: little party animals are welcome! The festival has an area exclusively designed for kids and parents. Also, there are activities programmed, so the young enjoy it as much as the old!
Enjoy a tennis match at the Trofeu Conde de Godó (15th to 23rd April)
The Conde de Godó Trophy, currently known as Barcelona Open Banc Sabadell, is the oldest tennis tournament in Spain and an unmissable event for some of the best tennis players in the world. It will occur at the Reial Club de Tennis Barcelona from the 15th to the 23rd of April.
We're sure you'll love this clay-court tournament if you're a sports fan. Get ready for a day of top-class tennis matches, a festive atmosphere, and many people cheering!
Rafael Nadal, and Carlos Alcaraz are some of the players that have already confirmed their participation in the tournament. Who will be the winner?
Cruïlla DO Terra Alta (22nd-23rd and 28th-30th April)
Cruïlla, the famous festival that takes place in Barcelona every summer, is expanding and reaching new locations. On this spring edition, the festival takes place in two wine-producing areas of Catalonia, so music and wine will be the main characters.
The first festival is Cruïlla DO Terra Alta, which takes place on the 22nd and 23rd of April in the small village of Batea.
The second one is Ressons, which takes place on the 28th, 29th, and 30th of April in various locations across the Penedès wine region.
Not only you'll be able to listen to local artists, like Els Amics de les Arts and Els Catarres, but you'll do so while sipping local wines!
Sant Jordi (23rd of April)
The Diada de Sant Jordi (Saint George's Day to us) is the Catalan equivalent of Valentine's Day. But it's not only a romantic celebration. On the 23rd of April, romance gets mixed in with local traditions and literature. Sant Jordi (Saint George) is Catalonia's patron saint, and the celebration also coincides with World Book Day.
Take a stroll around the streets of any Catalan city, filled with stalls selling red roses, books, and all kinds of items adorned with the red and yellow stripes of La Senyera, the Catalan flag. The tradition is that men give women a red rose, while women give men books (although nowadays you give whatever you want to whoever you want!).
Although the festive atmosphere, Sant Jordi is not an official public holiday in Catalonia.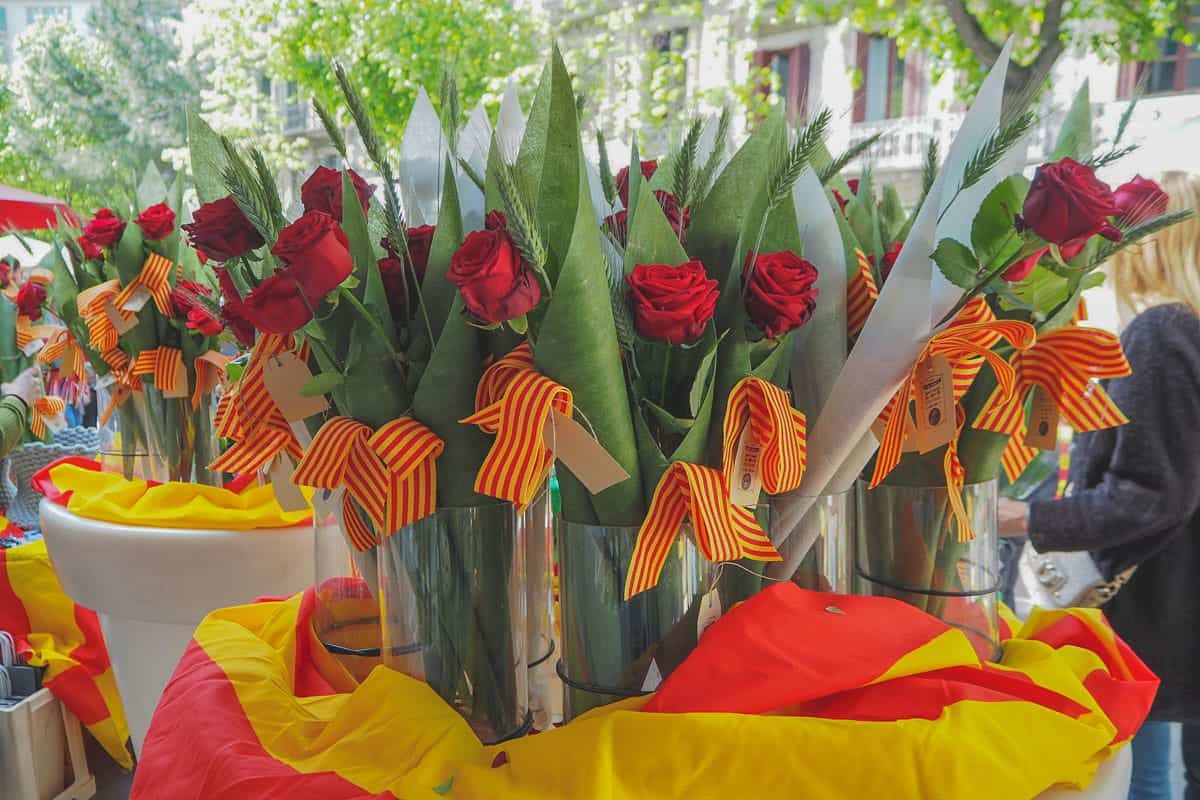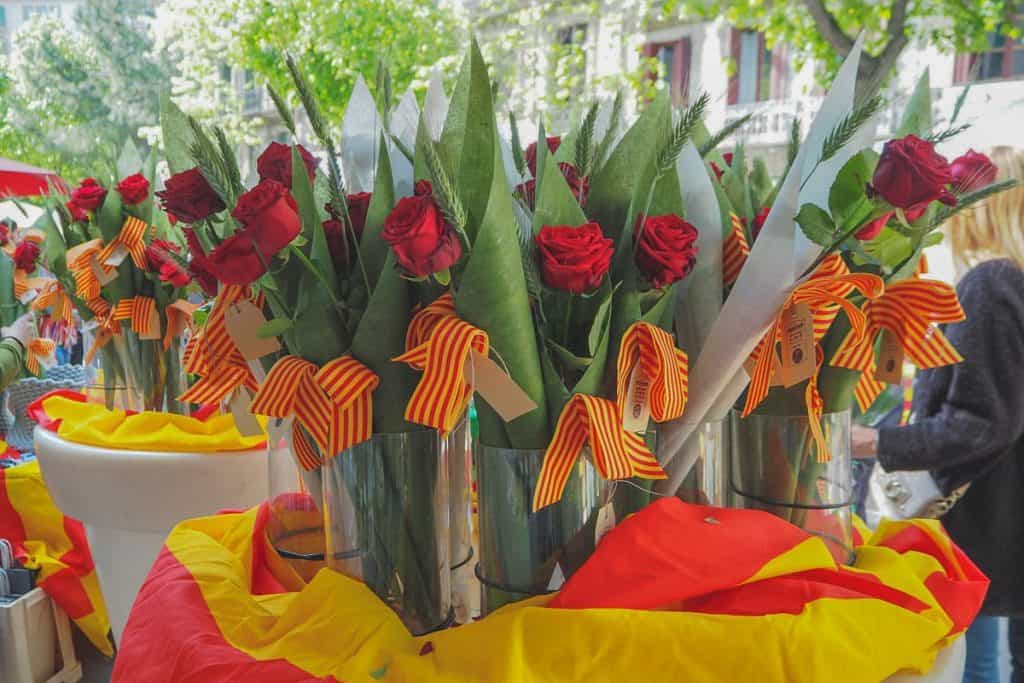 Get your cheese-fix at Lactium (22nd and 23rd April)
Cheese lovers, welcome to the largest cheese market in Catalonia! In May, the cheese festival Lactium takes place in the charming city of Vic. 40 Catalan and artisan cheesemakers from all over the country go there, and you'll be able to taste and buy more than 200 cheeses!
Would we change all our travel plans to go specifically there? No. But if you happen to be in Barcelona and have a free day, this is a great choice for a day trip. You can reach Vic by train and the market takes place only 10 min walking from the train station.
Also, Vic is a city rich in history and with delicious places to eat. We recommend checking the historic medieval city centre, cathedral (Catedral de Sant Pere de Vic), main square (Plaça Major), and Roman temple.
For eating, Sherpa Vic (Nepalese cuisine), Devici Bar de Vins (wine bar); Peter's Brasas (Latin food, huge portions!), and El Manubri Gastro-Bar (focaccias and cocktails) are excellent choices.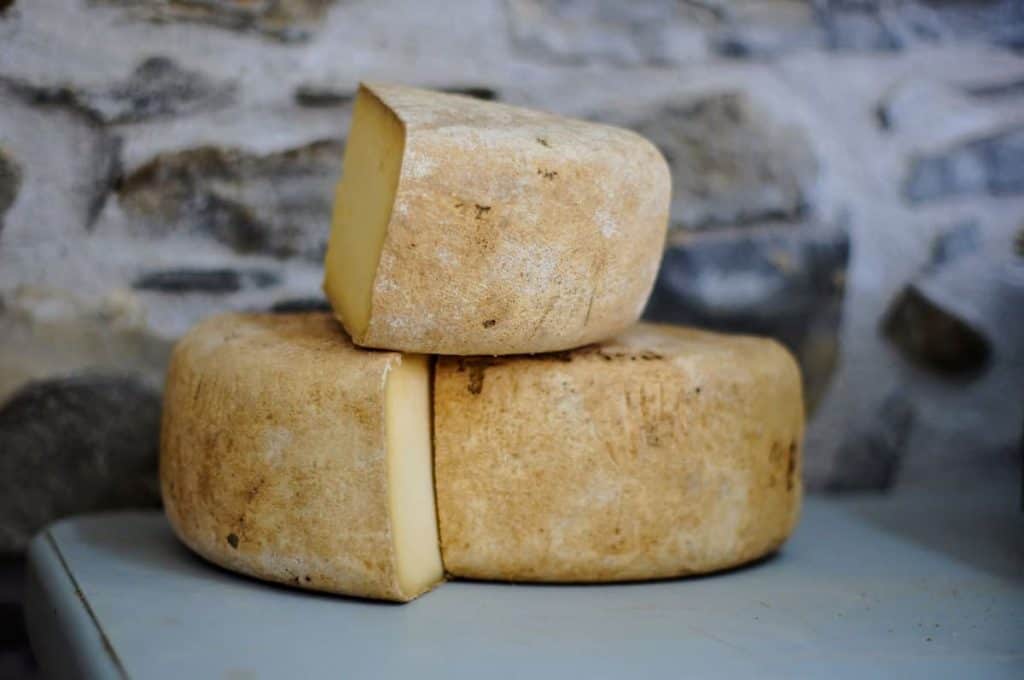 Other cool plans to do in Catalonia in April
Looking for more ideas for your spring trip? Here you have some suggestions:
And if you're spending some days in Barcelona, no matter the season, don't miss out on our list of original things to do any time of the year.
Have you ever visited Catalonia in April? If so, we would love to hear about your experience!