June means bathing, camping, and festival season are in full swing, together with outdoor adventures and meals al fresco. The snow has mostly melted in the mountains, welcoming hikers to conquer the highest peaks. On the beach, coastal villages become alive again, with restaurant terraces full and people taking a refreshing swim between sunbathing and playing beach tennis.
Days are as long as they get, so there are plenty of hours of light to explore.
The only downside is that the fantastic weather is a magnet for visitors from all over the world, so places tend to be more crowded than in spring, autumn, or winter.
A lot is going on in the country in June, from mid-summer celebrations to the craziest pyrotechnic festival.
Ready to discover more? Our guide with local plans to do in Catalonia in June might come in handy!
The weather in Catalonia in June
Catalonia enjoys summery weather and plenty of sunlight in June. Temperatures are warm (except when there are heat waves), sunshine is the norm, and the hours of light are plenty for exploring around!
🌡 Temperatures
The temperatures vary depending on the area of Catalonia you're visiting.
On the coast, the average high in June is approx. 25 ºC, although temperatures can rise as high as 32 °C or even slightly higher during heat waves. However, as it can be quite breezy, it's rarely unbearably hot in June. Expect to wear your swimsuit and go around in a T-shirt and shorts.
Day temperatures are hotter in the centre of Catalonia and the region of Lleida. However, they get a bit lower at nighttime.
In the mountains, temperatures are slightly lower, especially at night when the average low is around 10 ºC. So if you want to escape the heat, the Pyrenees or the Val d'Aran are the perfect places!
You can watch the weather on your phone's app (we usually use Google Weather) or Accuweather.
🌦 Weather
We're lucky sunny days are the norm in most parts of Catalonia in June!
☔️ Rain and snow
There are, on average, four rainy days in June on the coast and the centre and west of Catalonia. In the mountains, the average gets up to 8 days.
So the probability of you getting wet during your visit is pretty low!
If you go to the mountains, we highly recommend you pack a jacket that is also waterproof, so you can keep exploring without getting soaked!
☀️ Hours of light
There are 15 hours of light a day in Catalonia in June. Actually, on the longest day (23rd June), this number goes up to 15 h and 10 min. That's plenty of sunshine for outdoor activities and for exploring around!
Sunrise happens around 6:20 am. So, for those staying at the coast and wanting to catch a beautiful sunrise over the sea, you better set your alarm early!
Sunset, on the other hand, happens after 9:15 pm. Yes, it's that wonderful time of the year when you can enjoy dinners outside, and it's still bright.
What to pack for a trip to Catalonia in June
👙 Clothing
What about the clothes to pack? You'll need mainly summery clothes this time of year. Garb some T-shirts, shorts, and your swimmers. Also, a thin jacket might come in handy in case it gets a little fresher than expected in the evening.
If you're going to the mountains, don't forget a water/windproof jacket and at least one warm top layer. We also advise you to pack trousers, not only shorts.
👟 Footwear
Regarding shoes, sneakers and sandals are a great option. Always remember to bring comfy shoes!
What's on in Catalonia in June
Eat snails at the Aplec del Cargol (2nd to 4th June)
This is undoubtedly one of the biggest (and craziest!) gastronomic festivals in Catalonia. L'Aplec del Caragol, which would be translated to something like The Snail Meet, is a festival held yearly in Lleida.
For three days in June, thousands of locals from Lleida organise themselves into groups and associations and celebrate a big party whose main star is the snail.
Although it might sound weird to eat snails, it's pretty popular here in Catalonia. We don't eat them daily, but we do when we eat at a traditional restaurant.
And what do people do at the Aplec del Cargol? Well, the main activity is definitely eating and drinking. Besides, the festival also has music, fireworks, and street entertainment.
Picture more than 200,000 people together consuming around 12 tonnes of snails! That's the Aplec del Cargol.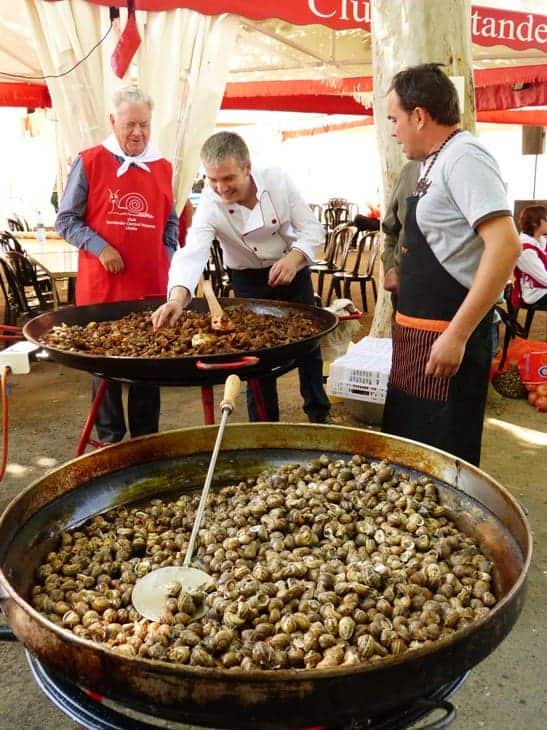 Take part in the fire festival La Patum (7th to 11th June)
Fire. Bizarre-looking characters. The sound of drums. Heat, sweat, smoke. And thousands of people dancing to the rhythm of the parading groups, shouting and having the time of their lives. This sums up the traditional festival La Patum pretty well.
Declared an Intangible Cultural Heritage by UNESCO, you can imagine La Patum is quite a big and important event for Catalans. For five days during Corpus Christi (60 days after Easter), the town of Berga, located 1 h 15 min north of Barcelona, celebrates this religious commemoration that dates back to the Middle Ages.
Townspeople dress as mystical and symbolical characters, such as dwarves, an eagle, demons, and gegants (giants) armed with rockets and firecrackers, and perform various dances following the rhythm of a drum. Some of the dances of this popular festivity, such as Els Plens, are as old as 1628!
If you decide to join the fun, wear appropriate clothing and footwear to protect yourself from the fireworks and crowds. This means a long-sleeved shirt, hat, scarf, sturdy footwear, and, if necessary, goggles.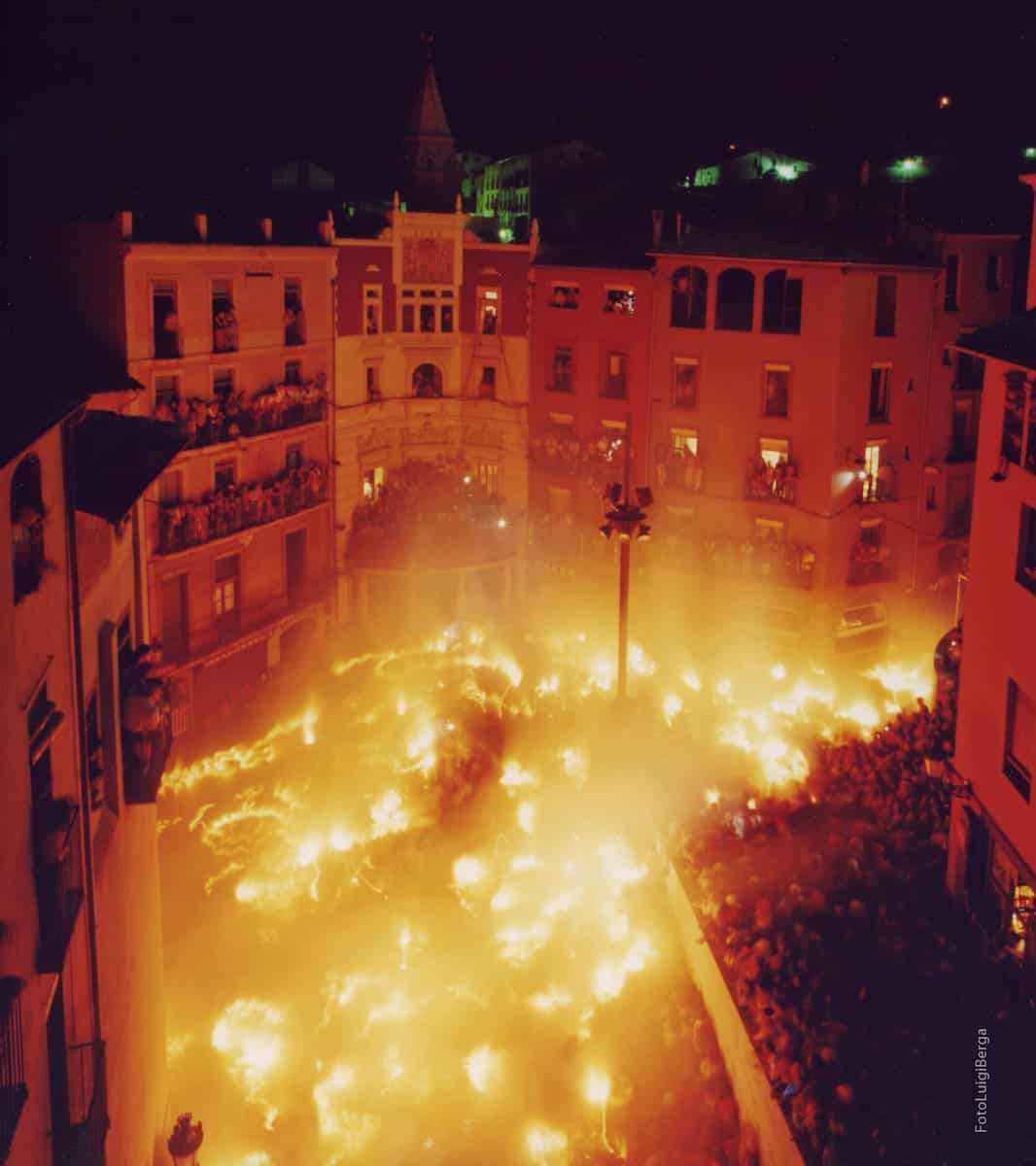 Enjoy a concert in one of Gaudí's buildings
This is a unique plan for summer nights! If you're visiting Barcelona in June, we couldn't recommend you enough to book tickets to enjoy a concert on a rooftop while the sun sets in the background. And if this doesn't sound appealing enough, let us tell you that the rooftops are in the Casa Batlló and La Pedrera, two of Gaudí's architectural jewels!
In Casa Batlló, the experience starts with a visit, where you'll get to know the history of Gaudí and all the details of the building (it's the same as the day visit). You'll be given headsets (to hear the explanations) and can go at your own pace. The visit finishes at the rooftop, where you'll get a drink and enjoy the concert of choice that night. There are concerts every day at 9 pm.
In La Pedrera, you don't visit the whole building, only the attic. Although this might seem like a downside, the good thing is that tickets are much cheaper. After the visit, it's time to enjoy the jazz concert of choice on the rooftop. The concerts are on Thursdays and Fridays at 8 pm.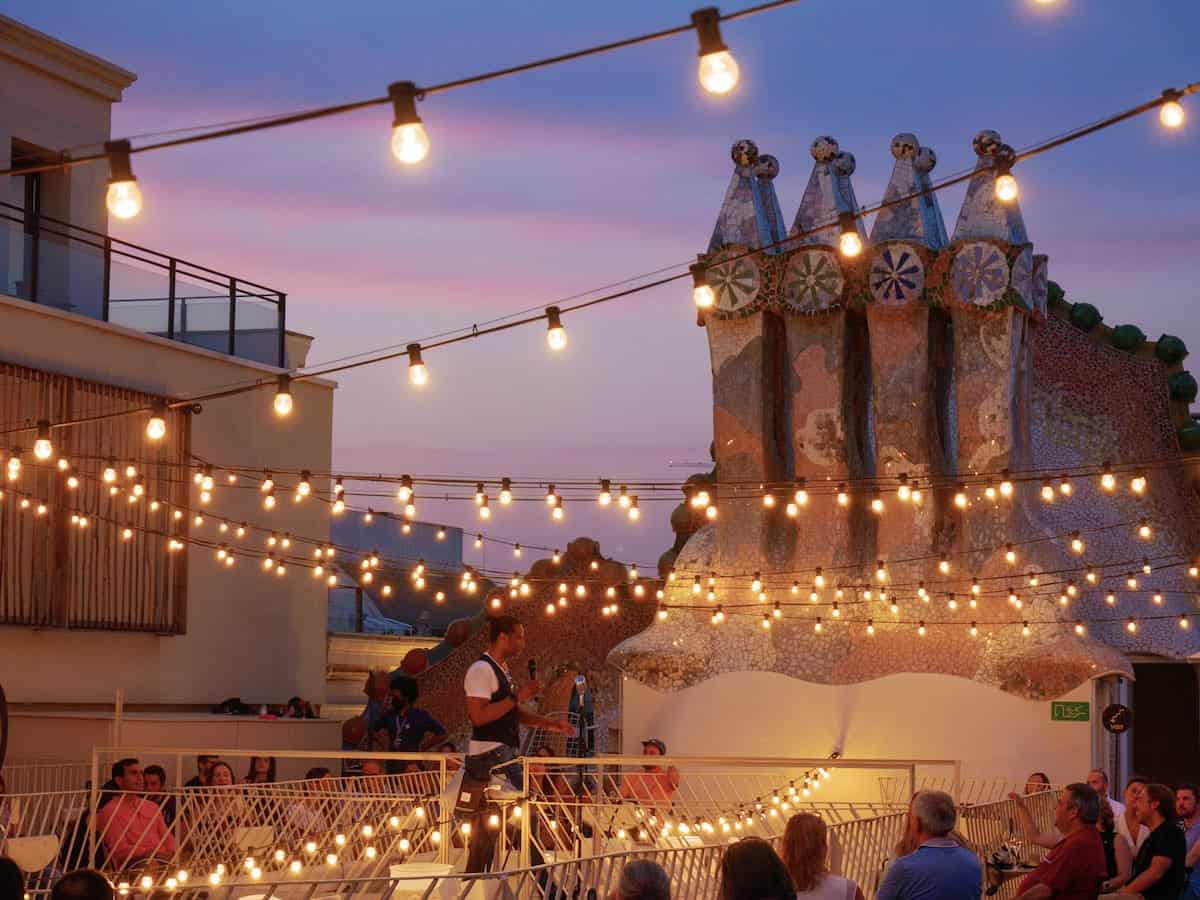 Dance all night at a music festival
June is the month when outdoor festivals start happening in Barcelona. The most important ones are:
Primavera Sound (1st to 3rd June)
As Spain's most famous indie rock festival, you can expect a lineup with international artists, a great atmosphere, and many people ready to party at Primavera Sound!
The first edition gathered 8.000 music enthusiasts in 2001 at the famous Poble Espanyol, but it quickly outgrew its old home. Now, the festival takes place by the sea at the Parc del Fòrum, and in 2022, more than 450.000 attended it!
Some of the big names in this year's edition are Rosalía, Depeche Mode, Calvin Harris, Diplo, and NxWORRIES.
Share festival (9th and 10th June)
Share Festival is an urban and pop-rock music festival that brings to the stage stars of trap and hip hop, such as Quevedo, Morad, Bzrp, and others. It's a relatively new festival, and it also takes place in the Parc del Fòrum.
But the purpose of this festival goes beyond music. Attendees can collaborate on various solidarity and charitable actions organised with the help of several NGOs during the event.
Sónar (15th to 17th June)
If you're a fan of electronic music, you'll probably know all about Sónar.
What began as a three-day electronic music festival in 1994 has grown exponentially from its humble beginnings, with 120.000 attendees from all over the world in 2022.
The festival is held in multiple open-air venues in the Fira Gran Via L'Hospitalet (Sónar by Night) and Fira Montjuïc (Sónar by Day), with various spaces and cosy electro-tents.
This year's cracking lineup includes Bad Gyal, Aphex Twin, BICEP live, Eric Prydz, Black Coffee, and more.
Off Sónar (15th to 18th June)
If you're looking to shake your body but don't want to spend a ton of money, Off Sonar is what you're looking for.
Off Sonar electronic music events run throughout the Sónar festival and take place in Poble Espanyol.
Actually, many of the DJs playing during the festival end up playing in after-parties and clubs, often announced on short notice.
Celebrate Sant Joan (23rd of June)
The night of the 23rd of June to the 24th is one of the best nights of the year! It is the summer solstice, meaning the longest day and the shortest night of the year, and a great excuse to stay up all night!
This night is known as "La Revetlla" or "Sant Joan", as the 24th of June is the day of Saint John the Baptist.
And what do Catalans do?
We start the night by joining in large dinners with family and friends, who always end with cava and coca de Sant Joan (a sweet pastry with candied fruit on top).
Then, it's time to party! Celebrations with concerts, bonfires, firecrackers, and fireworks are organised in most cities.
Some regions have their own traditions. For example, in the Pyrenees, locals make a torchlight descent (known as les falles) from the mountains down to the villages. The torches are made with resinous tree trunks about two metres long (!), and once they reach the village, they are thrown onto a bonfire while locals perform traditional folk dances.
Another popular event is the Crema deth Haro and Crema deth Taro, celebrated in Les and Arties (Val d'Aran), respectively. We took part a couple of years ago, and it was impressive! It's similar to Les falles because a tree trunk is lit, but instead of bringing it from the mountains, it stands in the middle of the village's main square. As it burns, people dance, shout, and drink hot wine around it. This celebration is declared a Cultural Heritage of Humanity by UNESCO.
The next day, on the 24th, is a much-needed public holiday.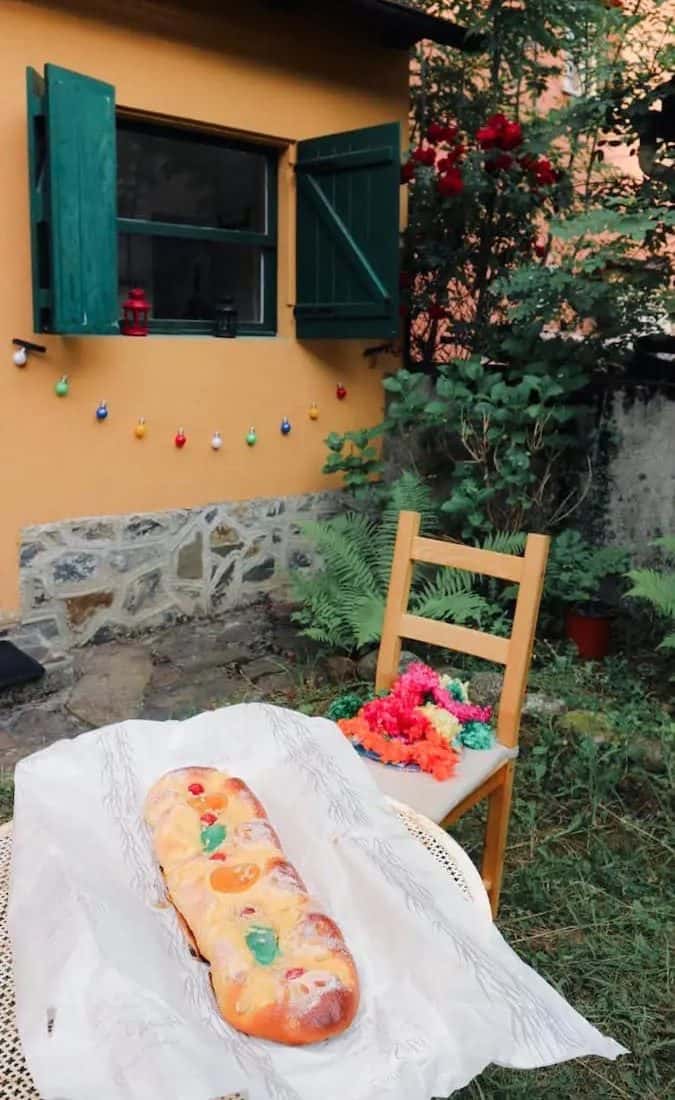 Have dinner under the stars
Eating out is always nice. But eating out in a space observatory? Wow, that is a thousand times nicer!
During the summer, the Fabra Observatory organises a gourmet dinner experience combining food and astronomy.
It starts with a dinner made with locally-sourced ingredients served at dusk on the observatory's terrace. Later, you enter the observatory for a guided visit. Under the dome, you can observe far stars, planets, and constellations through one of Europe's largest and oldest telescopes.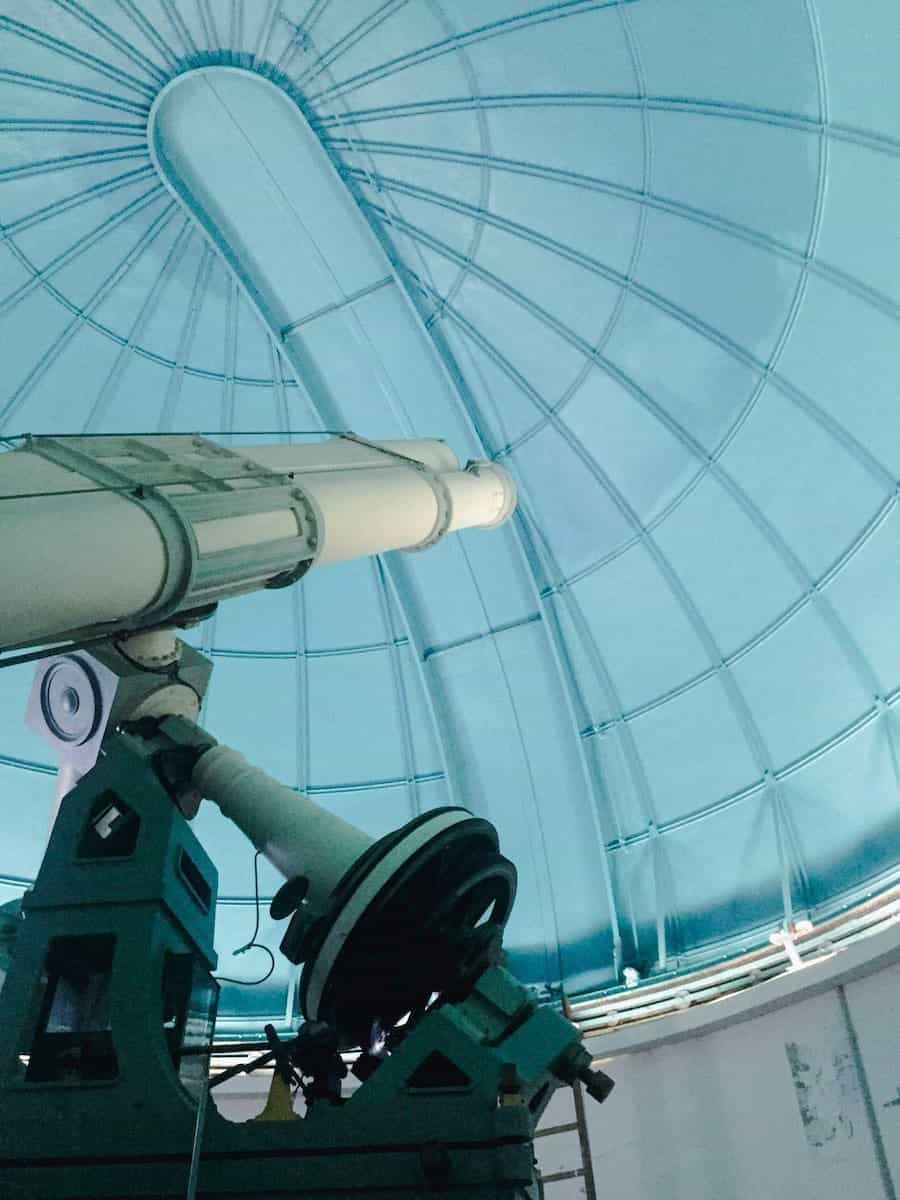 Admire beautiful lavender fields
You don't need to go to Provence to see vast fields of purple flowers. We've got some lavender fields here as well!
You can find them at Mas Sampera, a family-run lavender farm half an hour from Barcelona. The actually cultivate more than 18.000 lavender flowers.
Besides admiring the fields, you can enjoy a drink or a dinner al fresco overlooking the fields. We tasted a beer infused with, of course, lavender!
They also have a shop selling homemade lavender-related products, such as soap, essential oils, or honey. Buying some as a souvenir is a wonderful way to contribute to free field visits.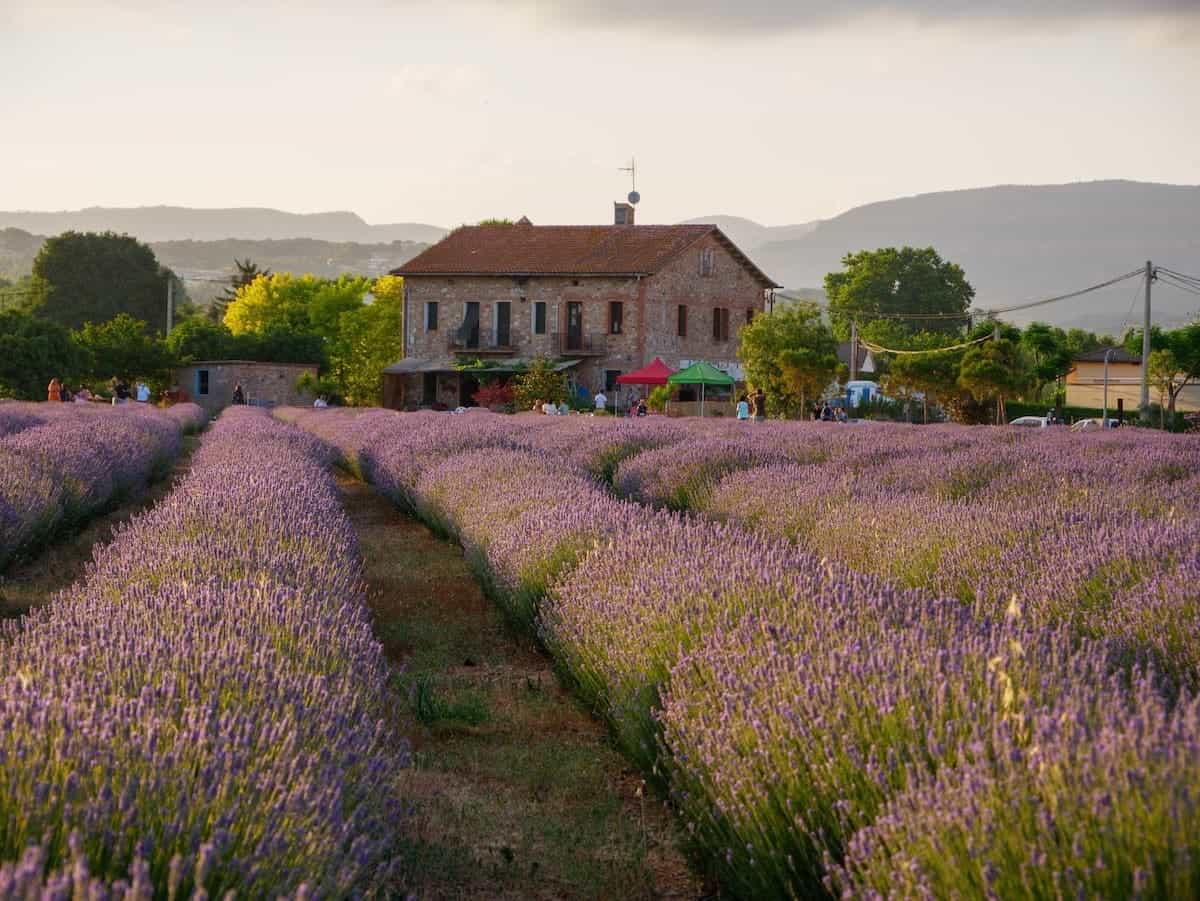 Other cool plans to do in Catalonia in June
Looking for more ideas for your trip? Here you have some suggestions:
And if you're spending some days in Barcelona, no matter the season, don't miss out on our list of unusual and cool things to do at any time of the year.
Have you ever visited Catalonia in June? If so, we would love to hear about your experience!