If you hear firecrackers going off and see bonfires gleaming on the night of 23rd June, don't worry; you're about to discover one of Catalonia's most magical nights of the year.
This night is known as Nit de Sant Joan, La Revetlla, or Sant Joan, but whichever the name, one thing's for sure: few Catalans spend the night indoors!
This celebration marks the start of the summer, and from Barcelona to the Pyrenees and the coast, you'll see locals detonating firecrackers, dancing, and eating coca de Sant Joan.
Curious to know more and see how we (Catalans) celebrate it? Keep scrolling to discover more!
When is Sant Joan?
You might hear people talking about Sant Joan and mentioning the 23rd or 24th of June, which can be a bit confusing.
The truth is that Sant Joan is officially on the 24th of June, which is a bank holiday in Catalonia. However, the proper celebration is on the 23rd in the evening.
People work on the 23rd, then go home and get ready for an evening of celebrating and partying. The next day, the 24th, is a much-needed public holiday, used pretty much for recovering from the last night!
⚠️ Important!
As mentioned before, the 24th of June is a bank holiday. Therefore, you may find many shops and restaurants closed on this date. If you're travelling and have a place you want to go in mind, it's always a good idea to check in advance if they're open or not.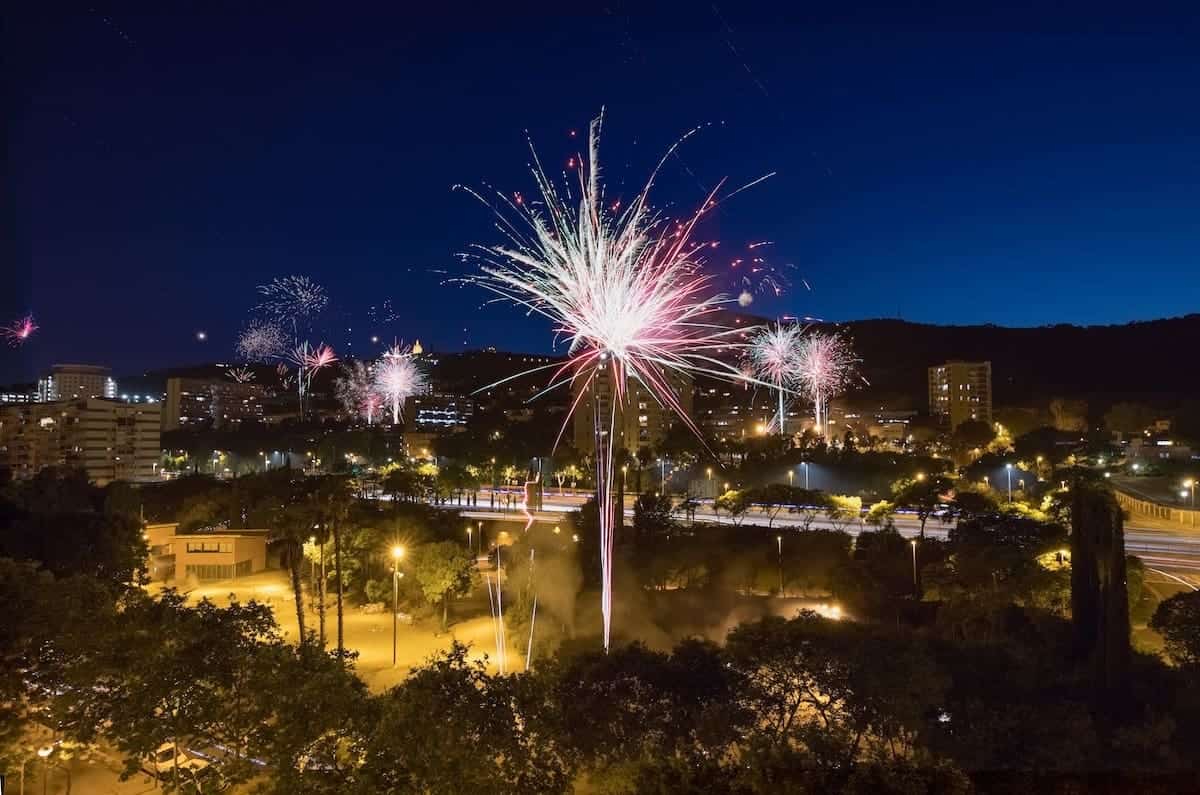 The history behind Sant Joan
Although its origins are not exactly clear, it's thought that Sant Joan derived from solar cults celebrated by cultures worldwide since before Christianity. During this festivity, people lighted bonfires to ward off evil spirits and welcome the nice weather.
With the arrival of Christianity, the celebrations were moved from June 21st, the real summer solstice, to the 24th. Why? So, the celebrations coincide with the birth of Sant John the Baptist (Sant Joan in Catalan), born 6 months before Jesus on June 24th.
Besides fire, there were two other traditional symbols of Sant Joan. First is water, which symbolised healing. This is why it's not unusual to see people bathing in the sea at night, doing all kinds of superstitious acts linked to good luck, like jumping waves or walking backwards.
The other symbol is herbs, which, according to tradition, become magical on the night of Sant Joan. Therefore, some people pick herbs on that night and claim that the herbs' healing qualities are enhanced thousands of times.
How do we celebrate Sant Joan?
We start the night by joining in large dinners with family and friends, who always end with cava and coca de Sant Joan (more on this delicious dessert below).
Neighbours from some cities and villages might also organise outdoor dinners on the street, known as sopars populars, so it's not unusual to see tables lining up with locals enjoying a meal.
Then, it's time to party!
Sant Joan always involves concerts, bonfires, firecrackers, and fireworks. Various organisations, sometimes public and sometimes private, organise celebrations across Catalonia. So, no matter where you are, you'll feel the festive atmosphere and find something going on!
Locals love to randomly detonate firecrackers throughout the night, on the street, on their patio, or on the beach. If you want to join the craziness, you can buy some at the temporary fireworks shops you'll find around the country in the days leading up to the celebrations.
⚠️ Important!
A word of caution! As we mentioned, it's normal for people to detonate firecrackers without much warning. If you're afraid of them, we recommend getting away from crowded streets and going to more quiet locations. For example, if you're in Barcelona, you could head to Montjuïc, Carretera de les Aigües, or Tibidabo to see the fireworks from above.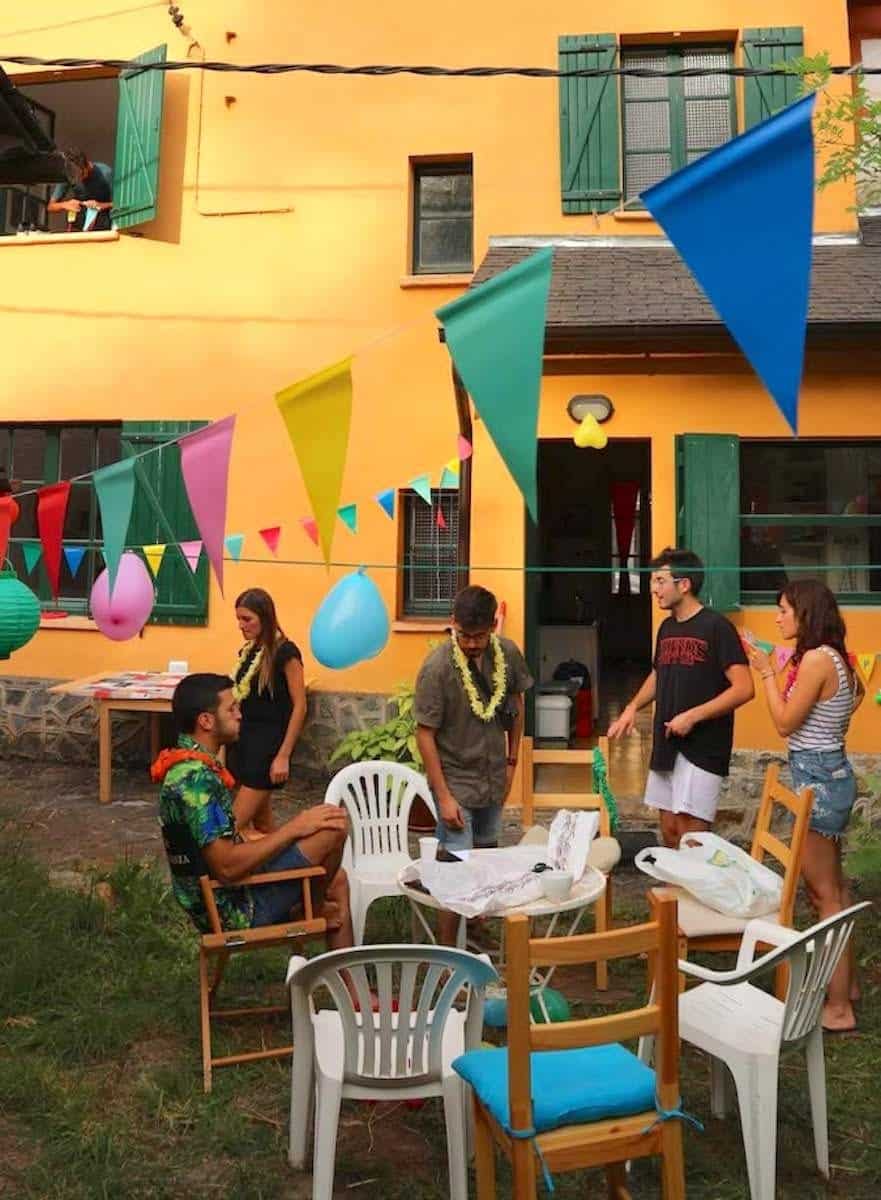 Nit de Sant Joan in Barcelona
You'll find fireworks displays, concerts, sopars populars, and bonfires taking place in most neighbourhoods. Here is a list of all the activities in the city (it's in Catalan, but you can use Google Translate).
However, the most unique event is the arrival of the Canigó flame, used to light the city's bonfires.
This tradition dates back to 1955 and involves many people (and even two countries!).
It all starts in Perpignan, most precisely in its main museum. There, a flame is kept burning all year round. On the 22nd of June, at midnight, locals carry the flame to the top of Canigó, a 2.784 m high mountain close to Catalonia's border.
The flame is used for kindling a fire, shared on burning torches and taken in a spectacular relay by hundreds of organisations to their respective towns.
One of these towns is Barcelona, where the flame arrives in the afternoon on the 23rd. The ceremony occurs in Plaça de Sant Jaume, where traditional festival figures, such as Els Gegants or l'Àliga, await to welcome it.
After a small celebration, the representatives of each neighbourhood take the flame to light hundreds of bonfires around the city.
👌🏼Our tip
Thinking about going to La Barceloneta to celebrate Sant Joan? Then, it's a good idea to head down there before it gets dark and enjoy a picnic there. The beach gets increasingly hectic as the night goes on, starting after dinner, so you can secure a spot if you go there before.
It might get chilly after the sun goes down, so grabbing a jumper is never wrong!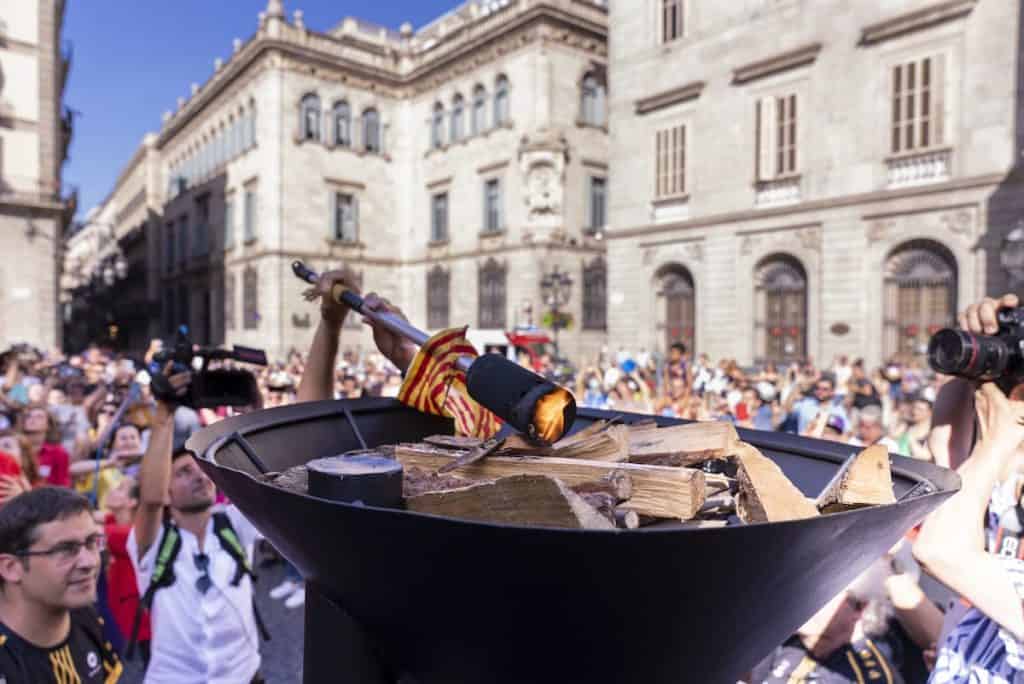 Nit de Sant Joan in the Pyrenees
In the Pyrenees, locals make a torchlight descent (known as les falles) from the mountains down to the villages. The torches are made with resinous tree trunks about two metres long! Once they reach the village, they are thrown onto a bonfire while locals perform traditional folk dances.
Two of the most emblematic places to witness this celebration are Sant Joan d'Isil and Alins.
Nit de Sant Joan in the Val d'Aran
Another popular event is the Crema deth Haro and Crema deth Taro, celebrated in Les and Arties (Val d'Aran), respectively. We took part a couple of years ago, and it was impressive!
It's similar to Les falles, because a tree trunk is lit. However, the trunk stands in the village's main square instead of bringing it from the mountains. As it burns, people dance, shout, and drink hot wine around it.
This celebration is declared a Cultural Heritage of Humanity by UNESCO.
Coca de Sant Joan: Typical food we eat in Sant Joan
The Nit de Sant Joan wouldn't be complete without eating coca de Sant Joan. This typical dessert is as essential as bonfires or firecrackers, so if you're in Catalonia on the 23rd-24th of June, get your hands on one; it's SO delicious!
Wait…but what is it exactly? It's a sweet and large flatbread topped with candied fruit and filled with confectioner's custard. This is the traditional one, although you can find many variations: topped with pine nuts, filled with chocolate or cream, or topped with custard cream.
Another delicious variety is the one made from dough mixed with lardons.
Anyway, whichever you choose, it will be good for sure! To be a true local, don't forget to serve it with a glass (or two!) of cava or sweet moscatell.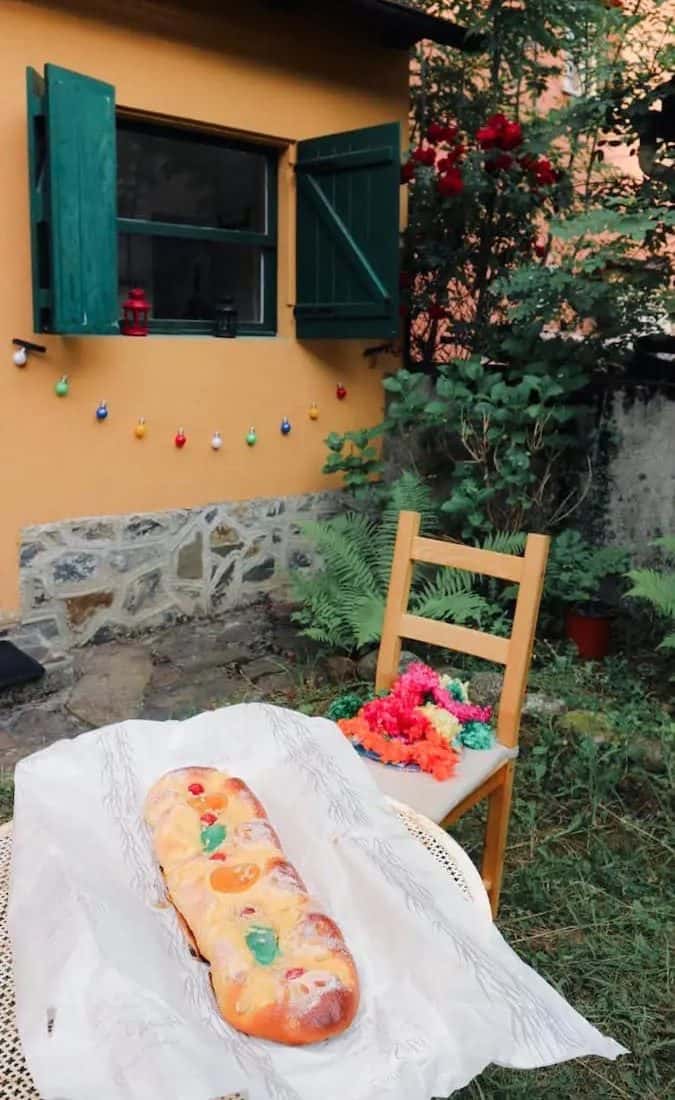 All you need for your Sant Joan party
So, if after all you've read, you want to celebrate Sant Joan like a Catalan, here's a list of what you'll need and where to find it.
You can get a coca de Sant Joan in most bakeries around the country. They sell out pretty fast, especially the most yummy ones, so it's a good idea to buy them some days in advance or call to reserve one.
Some amazing coques de Sant Joan in Barcelona are those sold in Bubó, Pastisseria Carrió, Monsieur Bosc, and Boulangerie Mayer.
All right. Next is cava. This is a sparkling wine that you can find in most supermarkets. If you prefer something sweeter, get some moscatell. It's a naturally sweet, delicious wine that you can also find in most supermarkets or wine stores, like Diví Muntaner.
Fancy getting firecrackers? You can buy some at the temporary fireworks shops you'll find around the country in the days leading up to the celebrations.
Once you have all this, just head to the beach or join a street celebration. And you'll be set for an amazing night!