Although people tend to think about Andorra as a winter destination, the truth is that Andorra in summer is paradise!
The place is ideal for visiting during the warm summer days because it boasts breathtaking hiking trails, tasty food, pleasant temperatures, and a vast array of fun outdoor adventures suitable for all levels!
We have spent most of our holidays since we were kids in Andorra, so we know the country like the palm of our hand! All the time we have spent there has given us insight into what everyone needs to know when planning a trip to Andorra in summer.
So, read on our local guide to find out when to visit, how to get around, where to stay and eat, what to pack, and what to do in the country!
Planning a trip to Andorra in summer
When to visit Andorra in summer
June and July are great months to visit as the days are long, temperatures are warm, and many events are happening. The snow has already melted in the mountain, so you can enjoy hiking, climbing, and cycling.
August tends to be the most crowded and warmer month. Also, it's usually when summer storms occur, especially in the afternoon/evening.
If you're looking for fewer crowds and still good temperatures, we would say the best months are June and September.
MTB season starts in Vallnord Pal Arinsal on the 9th of June. From this date to the 24th of June, the bike park is open only at weekends. From the 24th of June onwards, you can enjoy it every day.
⚠️ Important!
If you plan to go to Andorra in August, consider that the 15th is a public holiday, so some restaurants and shops might be closed.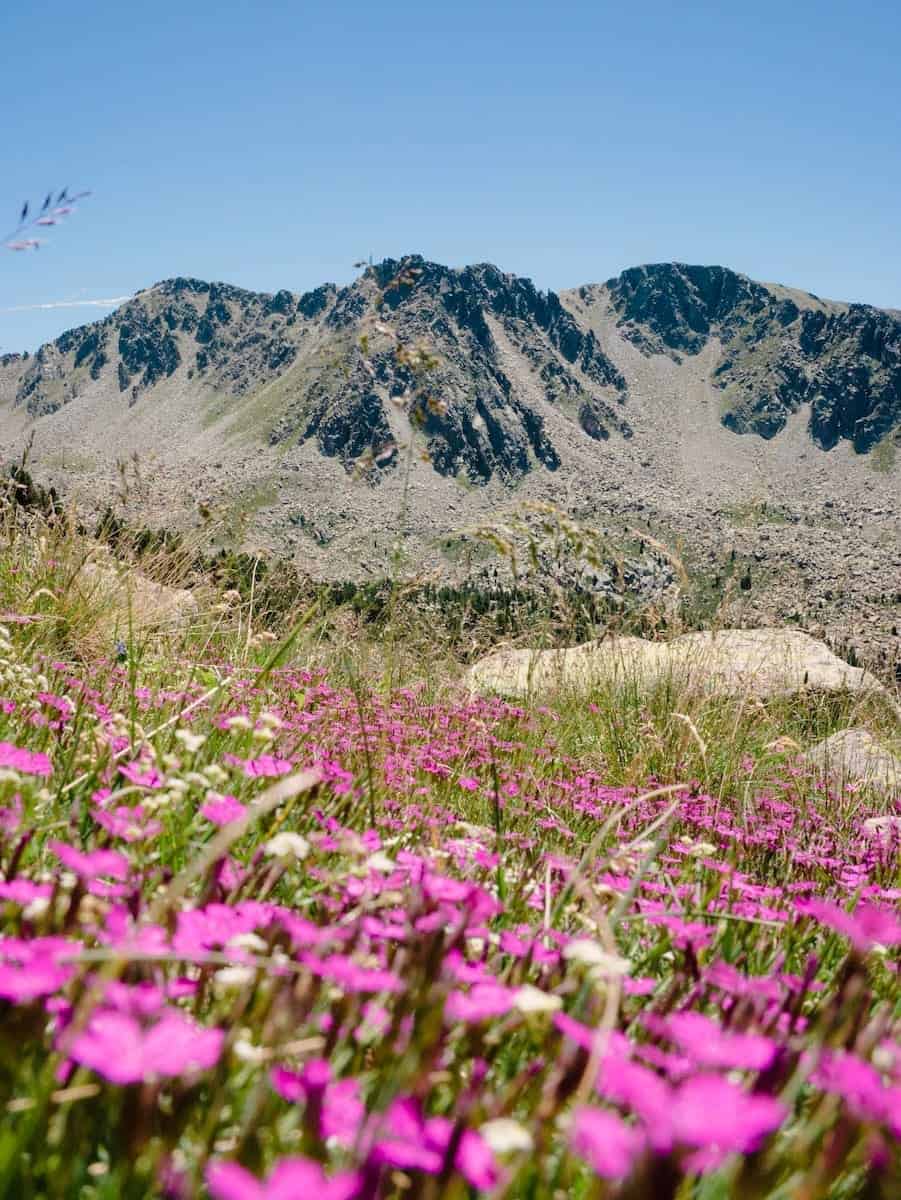 How to get to Andorra
The nearest international airports are Barcelona and Girona (both in Catalonia) and Toulouse (in France).
If you arrive in Barcelona, the most convenient option is to take the bus. Two bus companies, Directbus and Andbus, go straight from the airport to Andorra (both have similar prices). These buses also make a stop in Sants station (Directbus) or Diagonal (Andbus), so they're also a good option if you're visiting Barcelona for some days and then want to go to Andorra. The buses run between 6 and 8 times a day, and the trip takes around 3 hours.
The other option to reach Andorra is by car.
⚠️ Important!
If you rent a car in Spain or France and are considering driving to Andorra, think it's a different country, and you might need special permission. Talk to the rental agency before making the trip to be sure everything is okay.
Moving around Andorra in summer
The easiest way to move around the country is by car, especially if you plan on sunset adventures and reaching not-so-popular spots.
That said, there is an excellent bus network around Andorra that connects all villages and the country's capital. You can reach all Natural Parks, most climbing areas, and points of interest (such as monuments and picnic spots) by bus without any problem. Check the bus lines and schedules here. Tickets are bought directly on the bus.
On Fridays and Saturdays, several night buses run from the country's capital to the villages throughout the night.
As you might know, Andorra is a pint-sized country, so moving around, even if you cross the whole country, won't take you more than an hour.
⚠️ Important!
If you drive, one thing to consider is that, in Andorra La Vella, it's almost impossible to park for free. Save time (and sanity!) by leaving your car in a parking lot rather than searching for a free spot.
Phone calls and Internet in Andorra
Although surrounded by EU countries, Andorra is not part of the EU. Therefore, roaming doesn't apply in Andorra. We advise you to turn off your mobile data before entering the country as the Internet rates are crazily expensive. We don't want you to end up with a bill of 60 € just for receiving a couple of Whatsapp!
To stay connected during your trip, you can buy a SIM card there (Telecom is the only provider in Andorra) or rely on the WiFi. There are plenty of places to get WiFi for free, like hotels, ski resorts, restaurants, coffee shops, etc. Even the city centre of Andorra La Vella has a free WiFi network.
Where to stay in Andorra in summer
The accommodation options in Andorra are endless.
If you're looking for calmness and outdoor adventures, we recommend booking accommodation at one of the many mountain villages. We suggest planning the activities and things you'd like to do and see first and then looking at the best place to be based depending on what you've planned.
If you like having more entertainment and food options, you might want to book your accommodation in Escaldes-Engordany or Andorra La Vella.
You can look at Booking to find a stay that suits your budget and needs.
Come to Andorra to test your skills at Vallnord Bike Park? Then, getting accommodation in La Massana or Arinsal will save you time and money. Both villages have direct access to the bike park through a cable car.
If your trip to Andorra is to celebrate a special occasion, maybe you're interested in an original and unique stay. You have various options, such as secret mountain tents with unbeatable views, a cabin in the middle of the forest, glamping at 2.350 m, or a borda in one of Andorra's most idyllic valleys.
⚠️ Important!
If you plan on staying in Andorra for more than a day, make sure to book your accommodations ahead of time! The hotels, resorts, and hostels tend to fill up early in summer since Andorra is a popular summer destination, especially for Catalan people.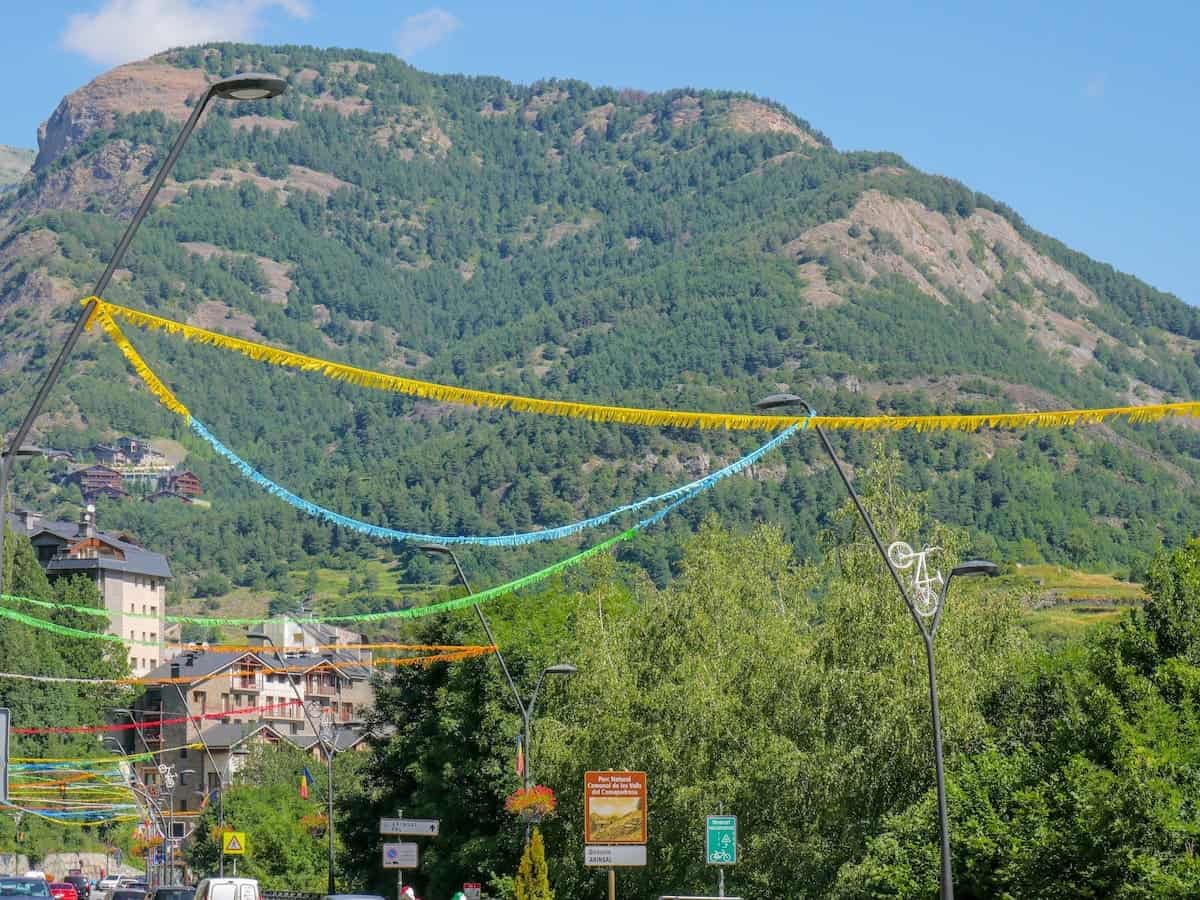 Top things to do in Andorra in summer
Andorra is a paradise for mountain and adventure lovers but also for families, couples, and friends looking to relax and escape the hustle and bustle of the big cities.
Also, Andorra's main feature is that everything to do is located so closely that one can visit several places in one day!
Here are some of our favourite things to do in Andorra in summer:
Hike through breathtaking landscapes
Andorra's location is ideal for hiking lovers. The country is in the middle of the Pyrenees range, meaning its natural setting is breathtaking. Think about crystal-clear lakes, rocky mountain peaks, green meadows, and lush pine tree forests.
From short walks to moderate and intense hikes, there are options for all levels!
🏔 Rugged and hilly peaks
Looking for a challenge and unbeatable views? You're sorted! The country is home to over 65 peaks that exceed 2.500 m (8.200 ft) in altitude.
Our favourite ones are Comapedrosa, Casamanya, Medacorba, Pic de la Font Blanca, Pic de l'Estanyó, and Alt del Griu.
💧 Crystalline lakes
Andorra is also home to more than 50 mountain lakes. If you're up for exploring the alpine lakes around the country, you can't go wrong with the Estanys de Pessons, Estanys de Tristaina (quite crowded in peak season), or the lakes in the Vall del Madriu (challenging routes) or Vall d'Incles. The most accessible one, with a car park less than a 5 min walk from the lake, is the Engolasters lake.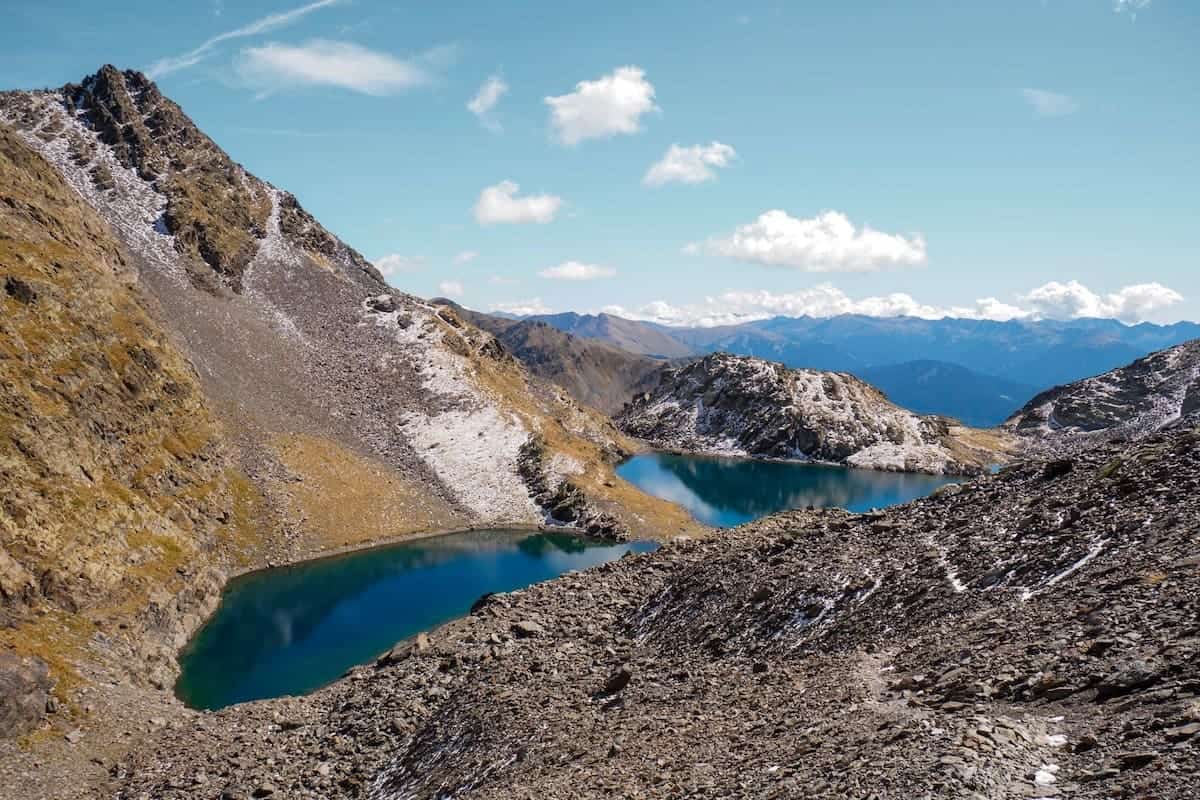 😌 Easy hikes
But not everything is challenging routes that take several hours to complete. In Andorra, you can also find easy trails that are perfect for a morning stroll, can be enjoyed by the whole family and are suitable for all levels.
We love the Ruta del Ferro (Ordino), Camí del Gall (Canillo), Camí de l'Obac d'Incles (Vall d'Incles), and Circuit de les Fonts (Engolasters).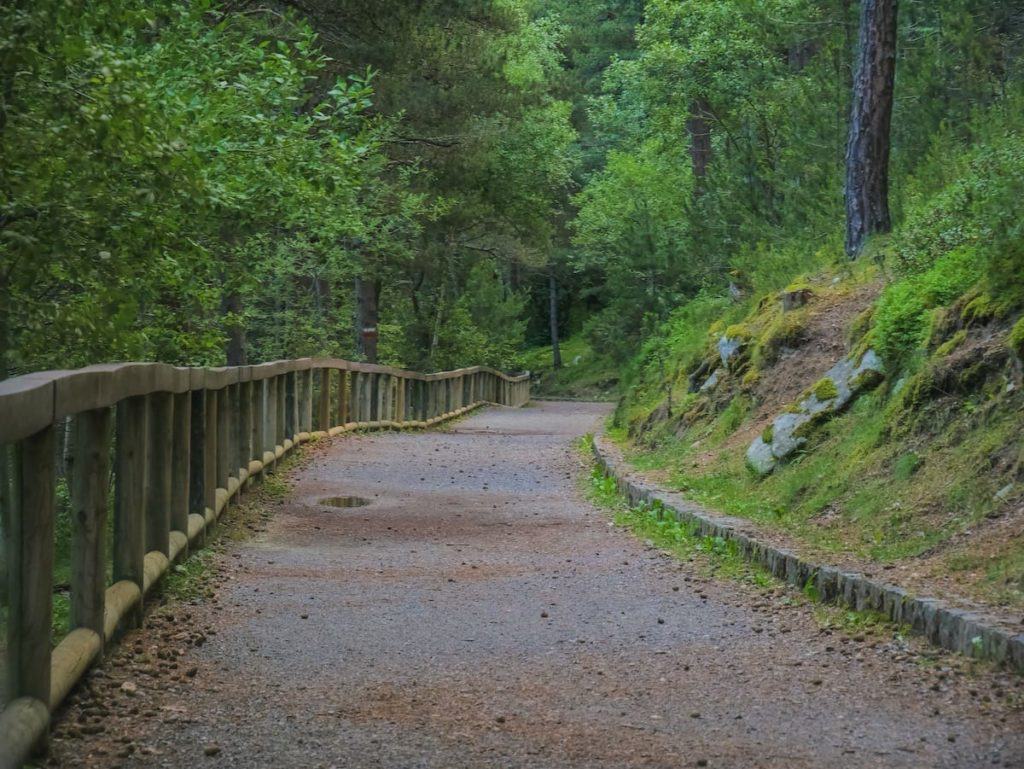 🏡 Hut to hut hike
Finally, if you're a seasoned hiker and are up for a multi-day adventure, you can hike the Coronallacs. It's a 92-km hut-to-hut hiking route divided into five stages. You sleep at one of Andorra's guarded shelters each night, so you don't have to carry much weight during the hike.
Have a picnic in the middle of nature
Fancy a day outdoors that involves tasty food, time in nature, and having fun?
Then, head to the supermarket, buy everything you need, and enjoy one of Andorra's picnic areas. Choosing one won't be easy, as there are more than fifty!
You'll find tables and benches, water taps, and car parks in all picnic areas, and some are even equipped with barbecues.
⚠️ Important!
Before lighting any fire to grill food, make sure that lightning fire is allowed at that moment. BBQs and fires are prohibited during drought periods and when temperatures are high, so it's always good to check before heading out.
Also, please remember to tidy up everything and don't leave any rubbish behind, so other people after you can enjoy the experience and have a great time as well!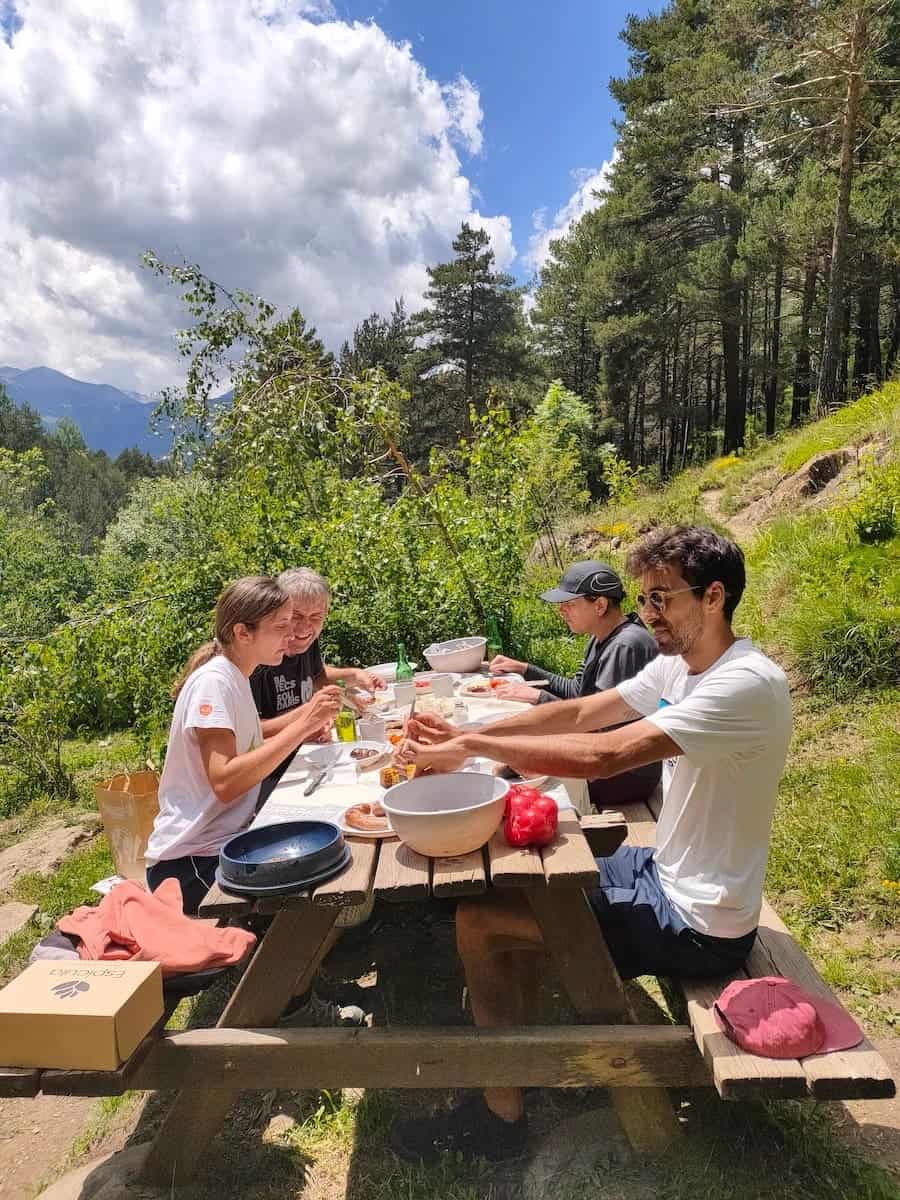 Test your MTB skills in one of the world's best bike parks
Redbull magazine said so. They rated Vallnord Bike Park as the 4th best bike park in the world, thanks to its services and privileged location within the Pyrenees.
Vallnord Bike Park is located in the ski resort Pal-Arinsal, which turns into a mountain bikers' paradise during summer. You can access it either by car or via a cable car from the village of La Massana.
There are several circuits for all levels and all tastes: cross-country, e-bike, enduro, 24 downhill trails with jumps, and a wood park with drops, walkways, and a wall ride. The bike park even has a circuit for the little ones!
Don't have the equipment to practise this sport? No worries! There are several shops in La Massana where you can rent bikes and all the equipment necessary to enjoy this sport safely.
Also, from the 22nd to the 27th of August, Vallnord Bike Park hosts the UCI MTB World Cup, the world's largest multi-round mountain bike racing series.
Go rock climbing
Rock climbing season in Andorra starts in April/May and stretches until September/October, depending on the weather.
The country has multiple areas for rock climbing, all well-equipped, in breathtaking natural surroundings, and with incredible mountain views.
Whether you're trying your first moves in rock climbing or are a pro, you'll find routes in Andorra suitable for your level. You can check the various rock climbing areas and routes here.
If you'd rather climb on an outdoor climbing wall, you can head to Ordino (free access climbing wall with several routes), Canillo (a 33 m high artificial wall with a pyramid shape), or Cortals d'Encamp (a free big fake rock with several routes). This option is excellent for beginners or people who want to climb when the sun has set (the one in Ordino is illuminated).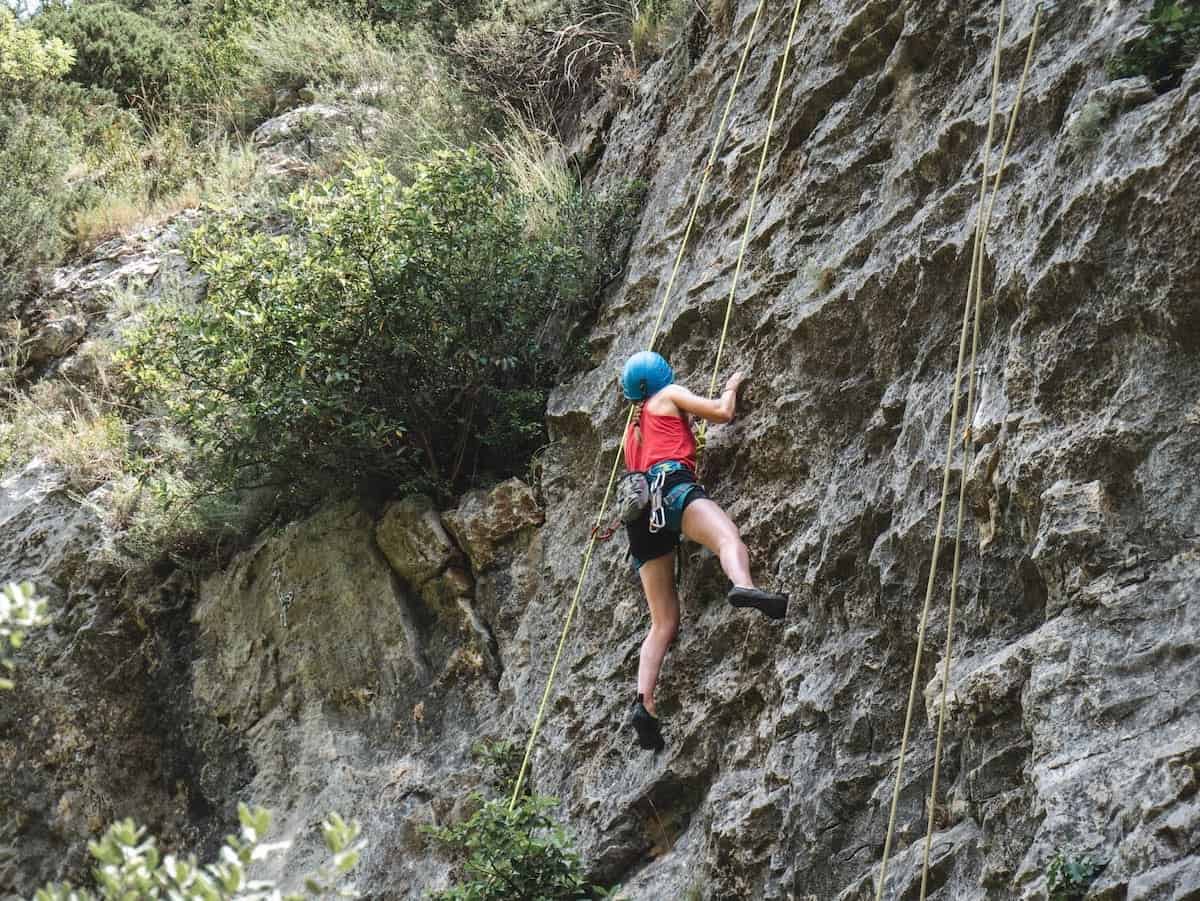 Get your adrenaline pumping on a via ferrata
If you are unafraid of heights and sure-footed but don't fancy the complicated knots or rope manoeuvres needed for climbing, we have something for you: climbing a via ferrata.
This activity consists in climbing a mountain with different aids like ladders, suspension bridges, rugs, and steel cables, and it's so much fun!
You'll find 18 via ferrata routes in Andorra, and we guarantee you incredible views in all of them!
Easy ones, ideal for beginners or to take it easy, are Clots de l'Aspra (incredible views over Cortals d'Encamp valley) and Roc de Basera (beautiful forest views and amazing forest hike after the via ferrata).
More challenging ones are Roc d'Esquers (fun via ferrata with a suspension bridge and breathtaking views of Andorra La Vella), La Directíssima (the best way to reach the famous lookout Roc del Quer!), and Segudet (entertaining via ferrata with great views of Ordino).
We've tried almost all of them, and our favourites so far are the Roc d'Esquers (K3), Clots de l'Aspra (K2), and La Directíssima (K3).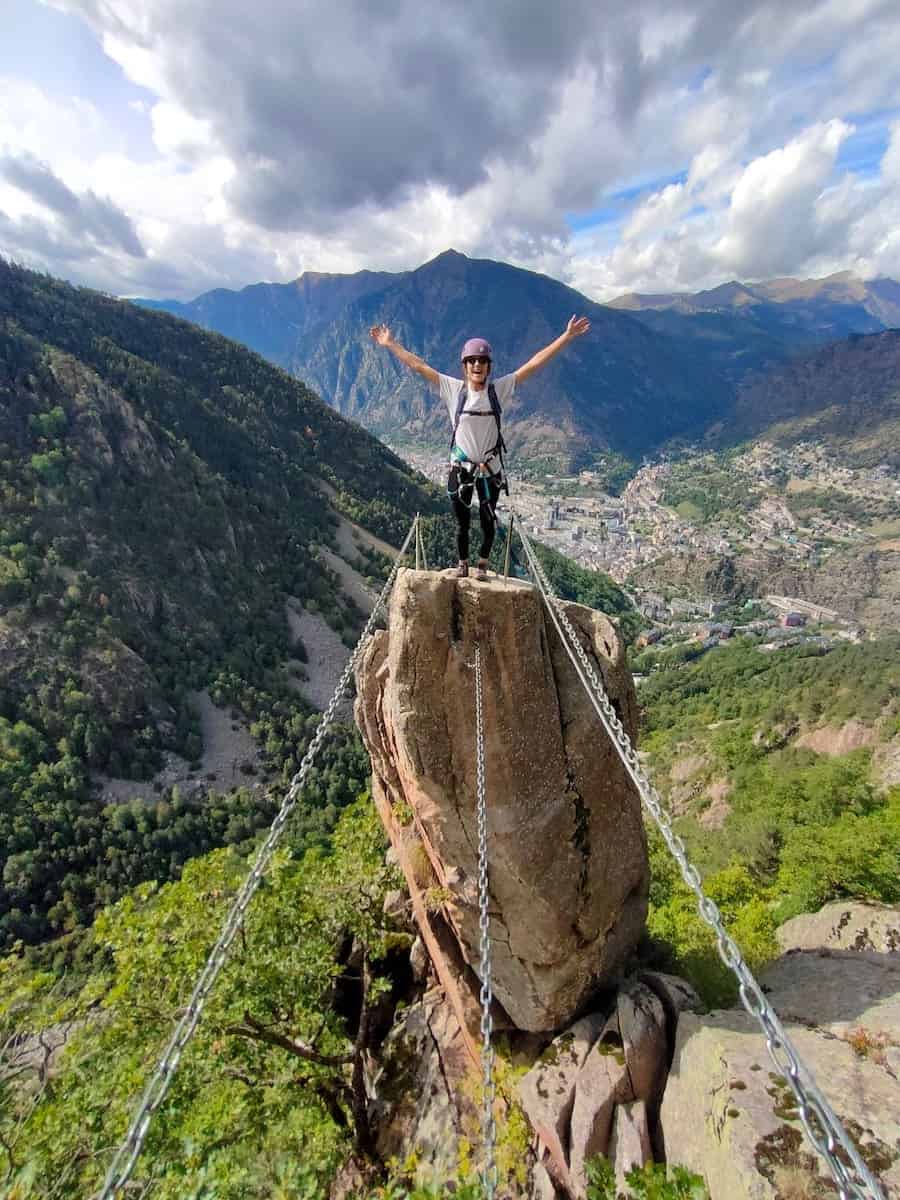 Be marvelled by the grand Cirque du Soleil
Epic acrobatics, mind-blowing tricks, colourful characters, and great music.
Yes, that's what Cirque du Soleil is all about.
For the past ten years, Cirque du Soliel has been performing a new show in Andorra La Vella each July. This year one is called Festa (Party in Catalan). As it marks the tenth anniversary of the partnership between Cirque du Soleil and the Andorra Tourism Board, it promises to be bigger and more spectacular than ever!
We've attended all the shows and promise the experience is magical! The show is shorter than a typical Cirque de Soleil one but also cheaper. It lasts about 60 min and costs 25 €.
Go for a sunset adventure
It isn't easy to appreciate the sunset from the capital and the mountain villages in Andorra. But, once you venture out in the mountains and gain altitude, you discover sunsets are pretty impressive from there!
We can assure you there's no better feeling than enjoying a tasty meal while watching the sunset behind the mountains. That's what we go for when we want to enjoy a special occasion or cram adventure time during the weekdays, as we did last summer in Casamanya.
⚠️ Important!
Remember to bring a headlamp with you for a sunset adventure. After watching the sunset, you'll have to go down in the darkness, so a headlamp is necessary!
It's also a good idea to take a windproof jacket and some layers with you, as temperatures descend at night and it gets chilly, especially at high altitudes.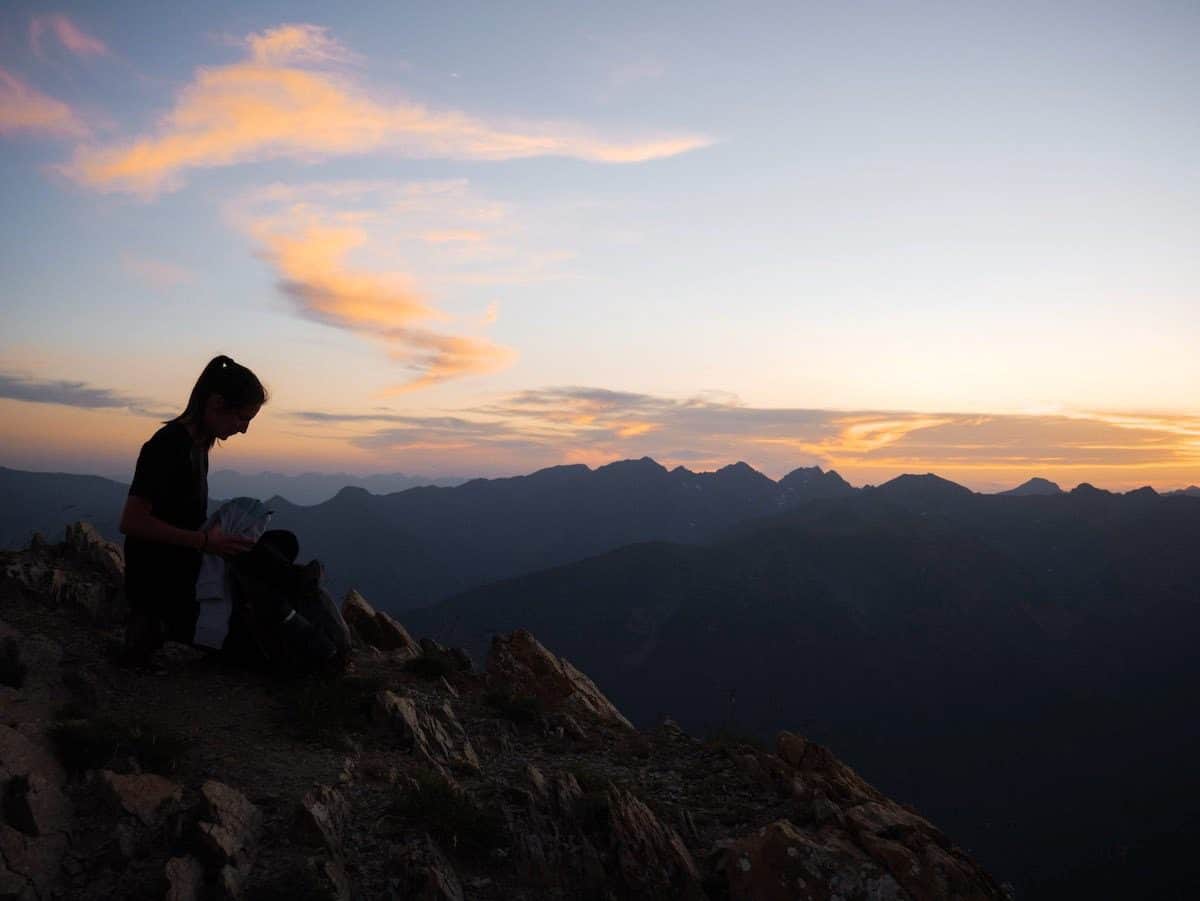 If you want to make your adventure longer and not return to the car after sunset, you can spend a night at any non-guarded mountain hut around the country.
They are basic shelters with a fireplace, tables, a fountain, and bunk beds (without mattresses). Consider that there's no electricity (and sometimes no running water), so you have to be prepared with everything you need to spend a night there.
We've slept several times in various huts and, although with the hard beds you won't have your best night's sleep, the experience of enjoying the sunset, being disconnected, and waking up in the middle of nature is indescribable!
⚠️ Important!
Remember to leave the huts as you found them so others can enjoy them too. Take all the trash with you, replace the wood (if you've used it to make a fire) and clean the fireplace.
Enjoy a wine tasting in a high-altitude winery
Although Andorra is far from being a region famous for its wines, wine lovers will still find several local wine producers offering tours of the vineyards and wine tastings.
Andorra's local wineries are:
Discover the country on two wheels
2-wheeled enthusiasts, this one is for you!
We mentioned Vallnord Bike Park before, but Andorra offers many other opportunities for road, gravel, and mountain bikers.
🚴🏼 Road cycling
Home to 21 mountain passes, Andorra is a great place to practise road cycling. Many pros use these roads as a playground to train, and it's normal to see cyclists pushing hard on the roads all around the country during summer.
Be warned, though! Don't expect to find flat roads here; everything goes uphill or downhill.
The most famous mountain passes are Port de Cabús (15.6 km with an average gradient of 6.2%), Coll de la Gallina (12.2 km with an average gradient of 8.4%), Port d'Envalira (26 km with an average gradient of 5.2%), and Coll d'Ordino (9.9 km with an average gradient of 7%).
Also, some well-known bike road races take place on the Andorran roads. For example, La Purito, the most arduous amateur cycling tour in Europe, is on the 6th of August, and part of the Haute Route unwinds through Andorra on the 4th of July.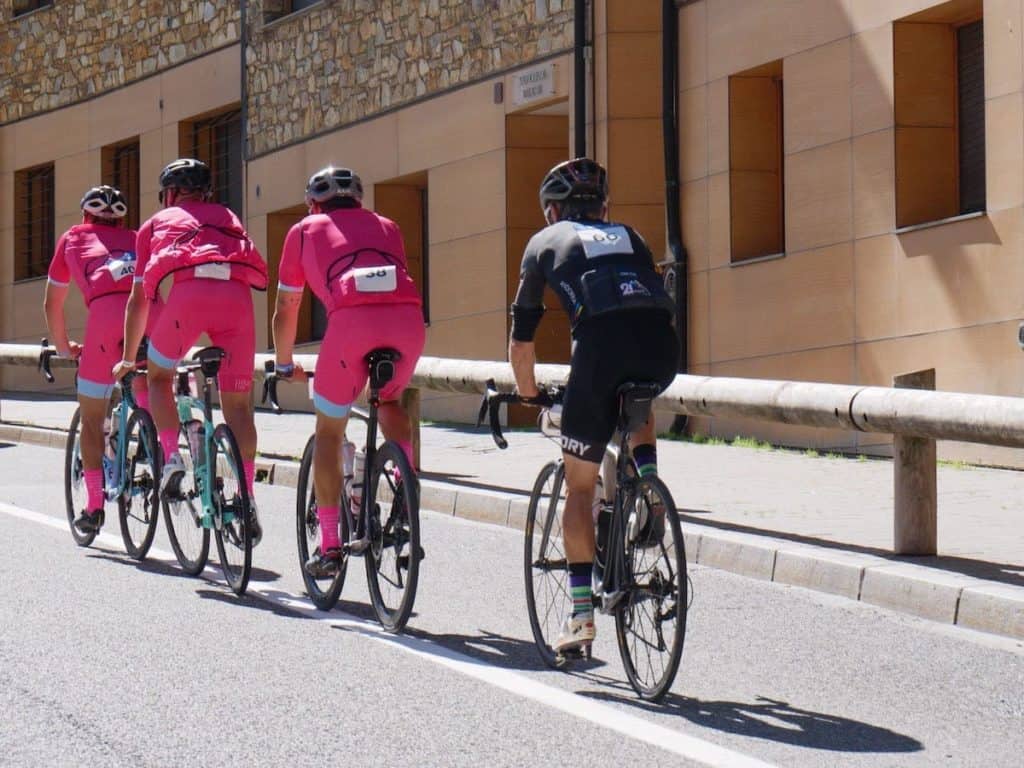 🚵🏽‍♂️ Mountain biking
If, like us, riding on the road is not your jam and you prefer the forest and mountains, you'll also find hundreds of km off-road in Andorra.
In Berques d'Arinsal, Engolasters, and Naturland, you'll find several circuits with jumps, obstacles, and pump tracks. The first two are smaller but free, while Naturland is paying but has several areas and more than 60 km of trails.
A great option to explore the country at a more leisurely pace is by e-bike. This way, you'll be able to enjoy longer distances and move the next day!
You can find both MTB and e-bike routes here.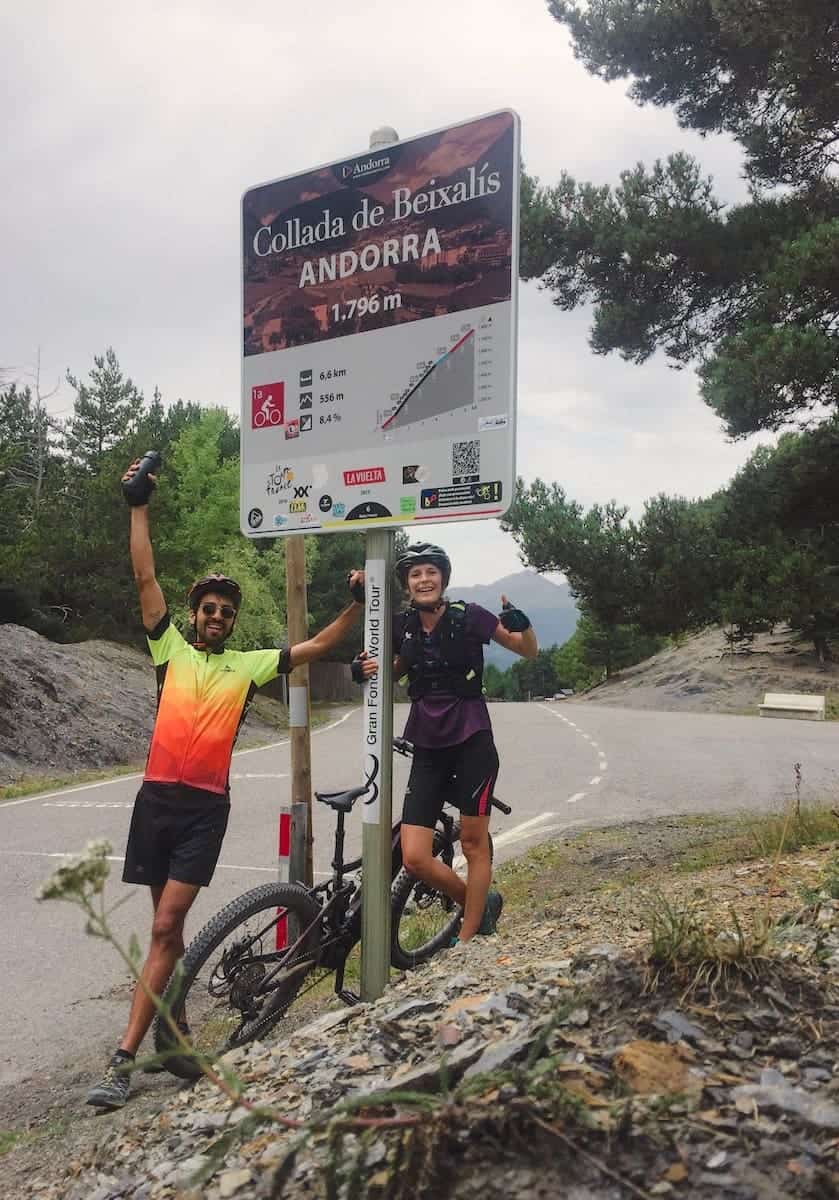 Explore the country's capital
Another good plan is to explore the actual town of Andorra La Vella. Its main avenue is filled with shops, restaurants, and bars, and the city centre is very pedestrian-friendly.
Besides the commercial centre, our favourite part is the historical centre. It's like a small village inside a big town.
Also, Andorra La Vella is where you'll find most entertainment attractions. There's a cinema, a bowling alley, and, if you're a fan of escape rooms (like us!), we can't recommend enough the two games at Maximum Escape.
There is also a short trail to take around town that provides scenic views of the country's capital.
Have a go on the world's longest alpine slide
Would you dare to try the longest alpine slide in the world? Tobotronc is a 5.3 km long slide with a total drop of 400 m. Nearly 10 min of high speeds and adrenaline rush are guaranteed!
We tried it last summer, and the experience was so fun! We went down surprisingly fast yet always felt safe. There are brakes so you can regulate and control the speed.
The Tobotronc is located in the leisure park Naturland, and it's designed for both children and adults. The good thing is that the ride's cars can seat two people, so you can share the fear and scream together!!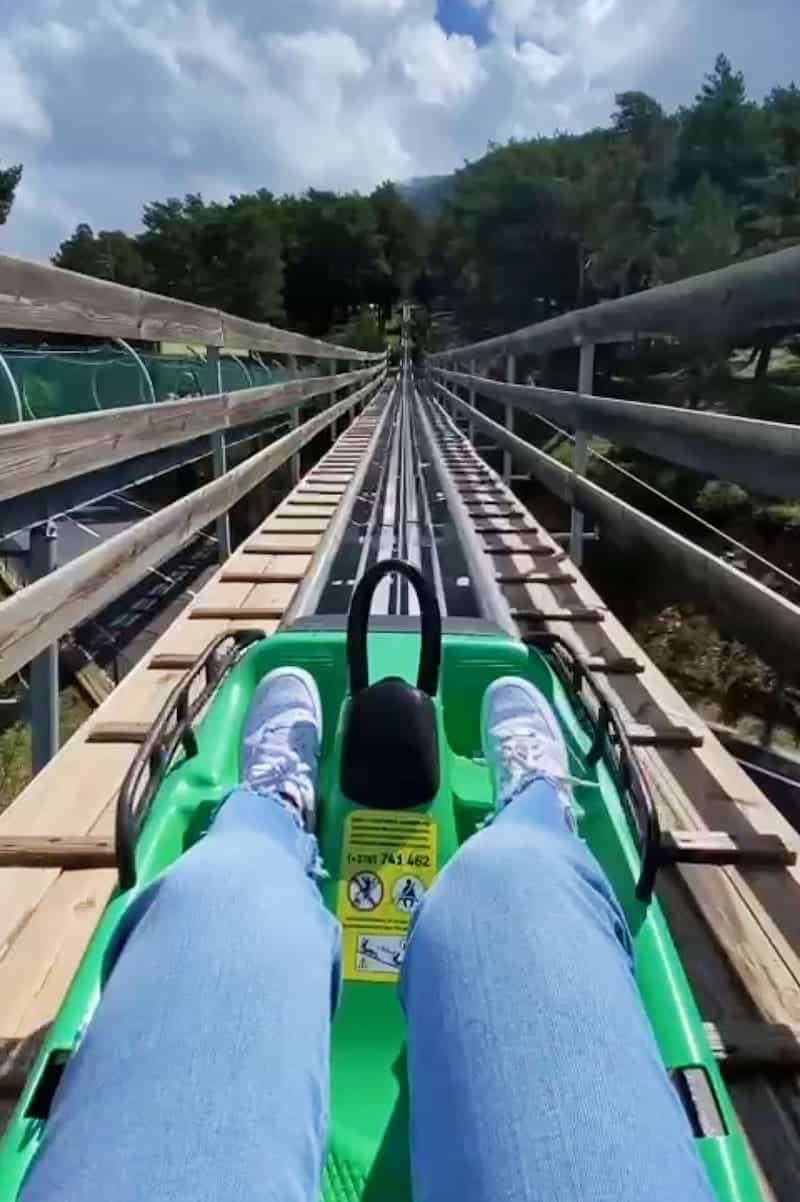 Delicious places to eat in Andorra
Andorra is home to mouthwatering restaurants serving high-quality food. Although being a tiny country, you'll be surprised at the variety of food options you can find around.
We've put together a list of delicious restaurants in Andorra to make it easier for you to decide where to eat. It's an eclectic mix, but each restaurant listed here has been sampled and tested without fear or favour.
⚠️ Important!
We recommend you to book in advance, especially in the high season (summer and winter). Some restaurants in Andorra can't be booked through their website, so you have to use the old fashion way: calling. As the phone rates here in Andorra are expensive, we recommend using Skype to call.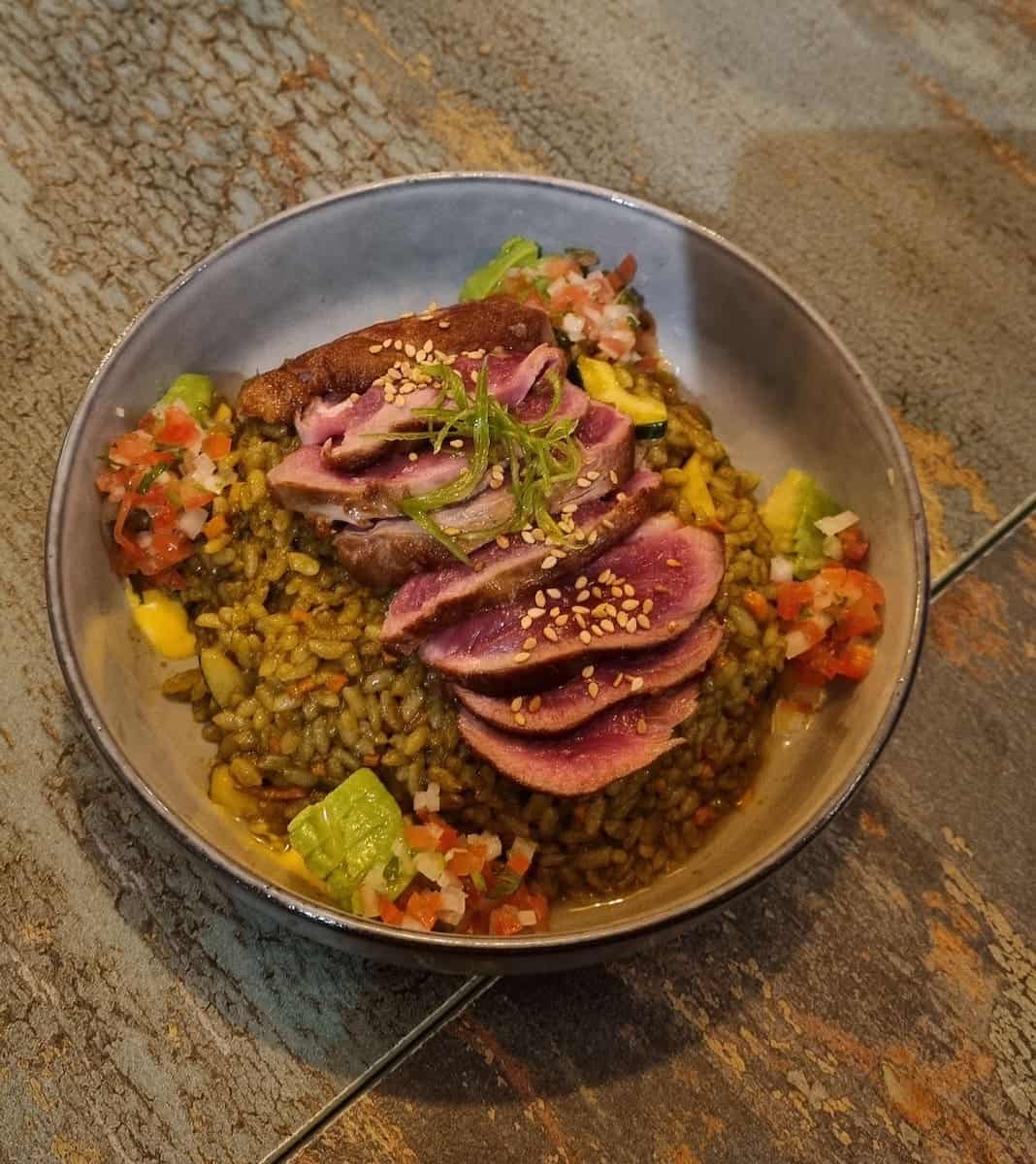 What to pack for a trip to Andorra in summer
Temperatures in Andorra in summer are delightful. We're talking highs of around 25 ºC (it's usually sunny in Andorra) and lows of 15 ºC.
Although it can be hot during the day, temperatures tend to drop at night, so packing appropriately is essential! A useful rule of thumb is to take a windproof jacket, a down jacket, a neck gaiter, and long pants with your summer clothing.
If a hike or an adventure in high altitudes is on your list, we recommend packing a windproof jacket and some layers. The weather in the mountain can change quickly, and it's better to be safe than sorry! A reusable water bottle and an emergency kit can also come in handy.
In the mountain, the sun hits harder. So, it's good to have sunglasses, a cap or hat, and sunscreen (reef-friendly to protect yourself and the environment against nasty chemicals). You can now get hiking shirts and pants designed to protect you from the sun.
When we pack for a summer trip to Andorra, we like to bring our headlamps. That's useful if we stay longer in the mountains and it gets dark.
We also find it helpful to pack two pairs of shoes in case one gets wet or dirty from a hike.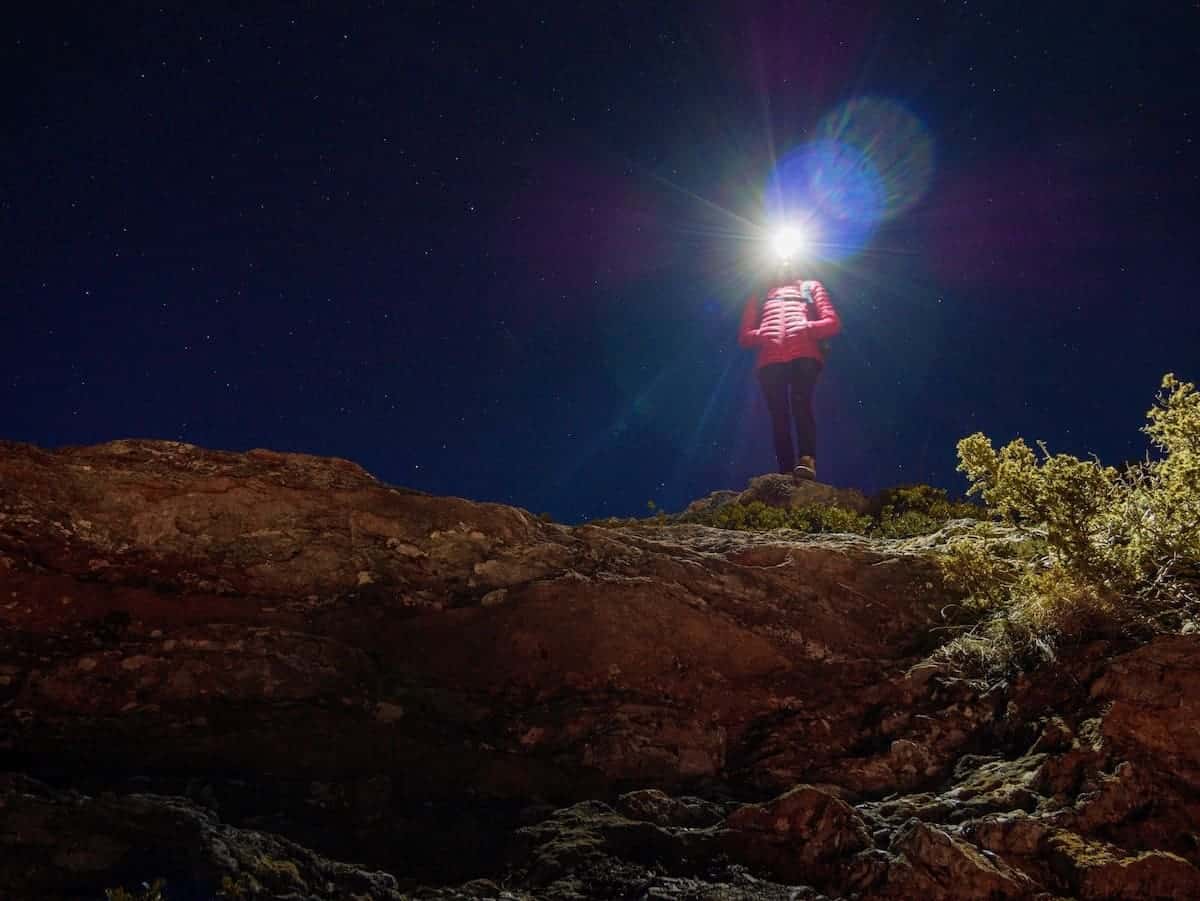 We hope this guide helps you plan a fantastic trip to Andorra. If you visit the country in the summer, let us know your favourite adventures!