Andorra is an amazing place to get started in the world of hiking. The mountain air is crisp and fresh, and no matter where you look, the views are spectacular. If you're looking for easy-friendly hikes in this country, the list we've prepared will be just what you need!
The trails we suggest are excellent for beginners, families, and people just getting started hiking, but also for more seasoned hikers that want a pleasant hike to take it easy. They are lovely walks with no more than 300 m of elevation gain, which usually take between 1 and 3 hours.
So, grab your hiking boots, a map, and some water, and get ready to immerse yourself in stunning landscapes!
Ten easy (yet beautiful!) hikes in Andorra
1. Tomb del Turer
📍Starting point: Ordino (carrer del Turer)
↔️ Distance: 3.35 km (circular)
⬆️ Elevation gain: 211 m
🧭 Wikiloc track
This beautiful circular hike will take you to a lookout with impressive views of Ordino and La Massana's villages and the surrounding mountains.
The trail starts in Ordino and quickly ascends through a lush forest. Halfway through the climb, you'll find a sign indicating the lookout "Mirador del Turer". It's a nice spot to take a break and absorb the views while eating a snack or sipping a warm drink.
Once you leave the lookout, the trail keeps ascending. The terrain is rockier this time, and you might need to use your hands several times, but nothing difficult. After a while, the trail disappears into the forest again. It's time to descend!
Once you're getting closer to Ordino, you'll find another lookout. The views at sunset from this lookout are beautiful! Then, the trail follows a river and passes by some pretty houses before reaching the starting point again.
2. Estany Primer de Pessons
📍Starting point: Grandvalira Grau Roig car park
↔️ Distance: 1.5 km (one way)
⬆️ Elevation gain: 200 m
🧭 Wikiloc track
Love mountain lakes? Then, this hike is for you!
Pessons are 6 alpine lakes, one after the other, located in a breathtaking granitic glacial cirque and surrounded by mountains more than 2.800 m high.
Although the hike to the last lake is quite challenging (more than 700 m of elevation gain in 6 km), the one to the first lake is suitable for everyone.
The trail unwinds through the forest and the ski slopes of Grandvalira ski resort, climbing steadily for 35 min. And then comes the reward! A beautiful alpine lake. An excellent spot for a picnic, chilling, and enjoying nature.
Keep in mind that this is a popular hike, so it can be pretty crowded in summer.
3. Camí Ral and Rec del Solà
📍Starting point: La Massana
↔️ Distance: 6.72 km (one way)
⬆️ Elevation gain: 34 m
🧭 Wikiloc track
This is an uncomplicated hike that has two parts. The first part, the Camí Ral, descends from the village of La Massana to the country's capital, Andorra La Vella. The trail follows the course of the Valira d'Orient River, descending next to it. It's surprising how isolated you feel during this hike, even though you're surrounded by roads.
You'll pass by several old stone bridges and a little church during this section. There's a selfie point next to one of the bridges from which you can take a beautiful photo.
The second part, the Rec del Solà, is almost flat. This section follows the irrigation channel that crosses Andorra La Vella. While strolling there, you'll see many veggie gardens where the locals grow food. Those gardens contrast with the crowded streets of the city centre, located a few meters away.
If you keep walking, you'll get to a picnic spot with a magnificent view of the city of Andorra La Vella and the mountains surrounding it.
The hike finishes at Andorra La Vella. If you must return to La Massana, you can walk the same track or use public transport. You can take line L5 or line L6.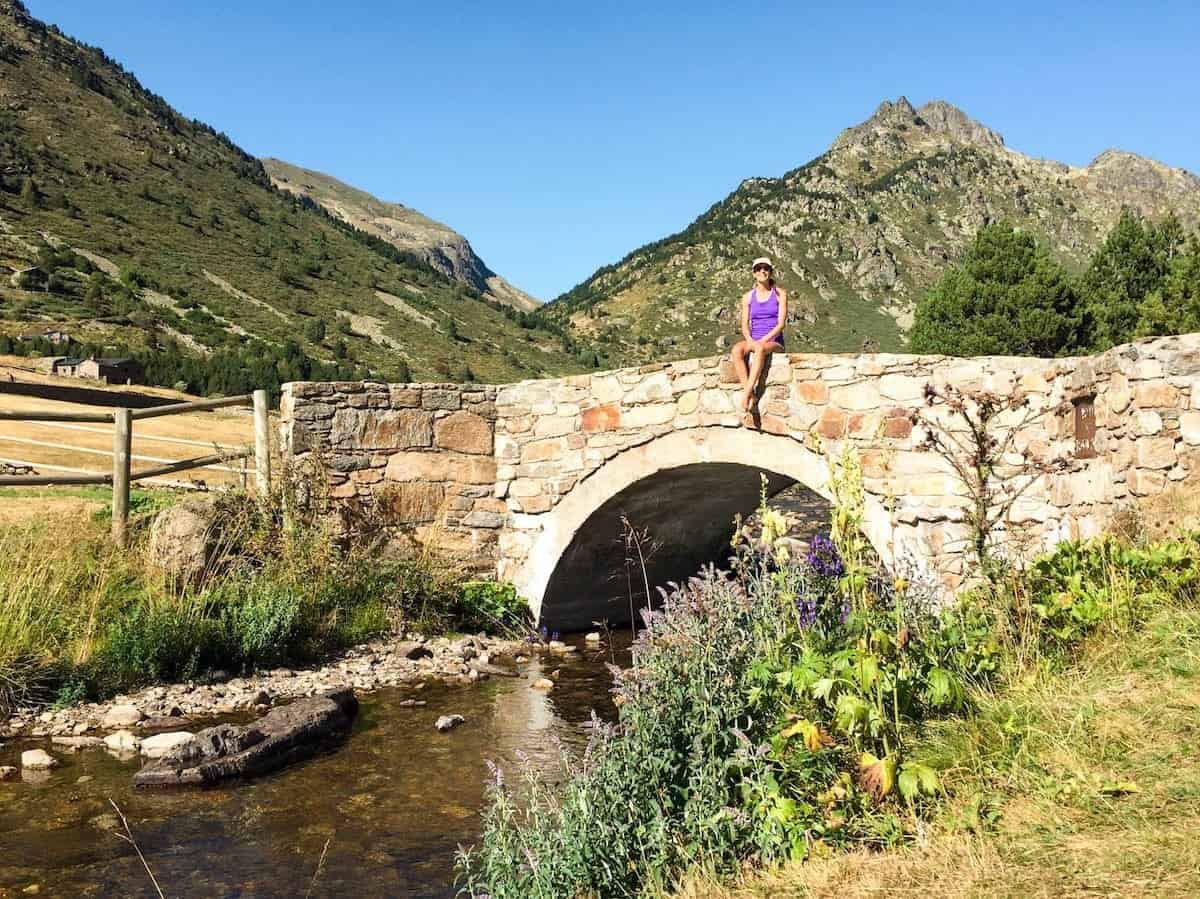 4. Camí de l'Obac d'Incles
📍Starting point: Parking area in the Vall d'Incles
↔️ Distance: 2.82 km (one way)
⬆️ Elevation gain: 99 m
🧭 Wikiloc track
The Vall d'Incles is a breathtaking valley of glacial origin. It remains an unspoiled landscape except for a few mountain huts (known as bordes in Catalan) and small stone bridges.
There're only two ways of accessing the valley. One follows the main road (which in winter is covered in snow), and the other is hiking the Camí de l'Obac d'Incles.
This hike runs through the shady side of the Incles Valley, following the course of the Incles River. The beauty of the place is striking. On one side, you'll see the river and the bordes, and the forest on the other. The flat trail will take you to the deepest part of the valley, where most paths that take you to higher altitudes start.
The return to the parking lot can be through the same trail or the main road. On the way back, pay attention, and you'll see the slopes of Grandvalira ski resort. Can you spot the two runs crossing in an X shape (which inspired the ski resort logo)?
5. Estany de les Abelletes
📍Starting point: Pas de la Casa
↔️ Distance: 0.8 km (one way)
⬆️ Elevation gain: 120 m
🧭 Wikiloc track
Short and sweet hike to a beautiful alpine lake known as Estany de les Abelletes (Lake of the Little Bees).
You'll not only enjoy great views of an emerald lake surrounded by mountains, but as an added bonus, you'll hike in two countries! The Estany de les Abelletes is a natural border between France and Andorra. Part of the lake is in one country and part in the other.
The route takes place on the slopes of Grandvalira ski resort, following the river and unwinding through the forest. Once at the lake, it's not unusual to spot fishermen, as it's a popular spot for fishing trouts and salmons.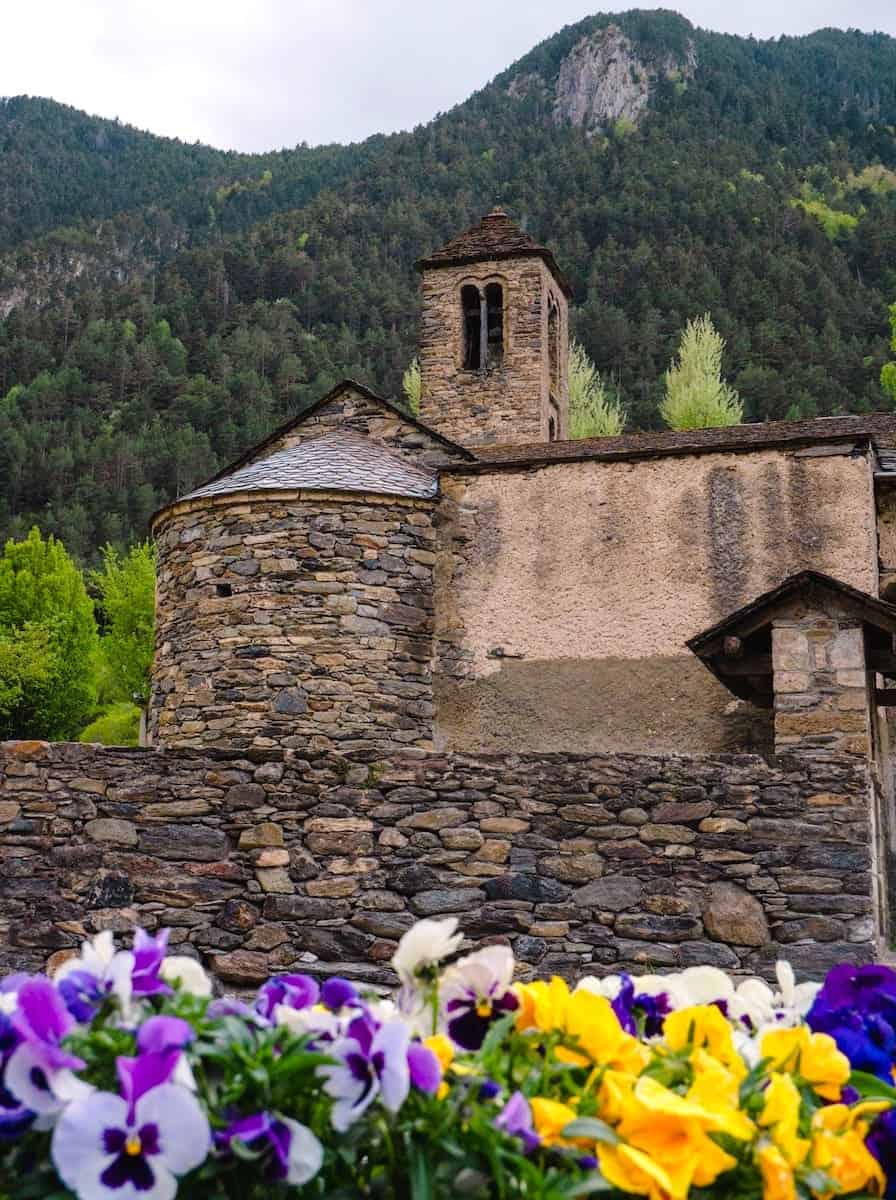 6. Ruta del Ferro
📍Starting point: Mina de Llorts
↔️ Distance: 4.2 km (one way)
⬆️ Elevation gain: 126 m
🧭 Wikiloc track
The Ruta del Ferro (Iron route) is an easy walk that combines nature and culture. Along the trail, you'll discover the importance of the metal industry in Andorra through the sculptures explaining the extraction, transformation, and sale of iron in Andorra. The statues are made, of course, of iron!
This route begins at the Mina de Llorts, an old iron mine that goes 30 m deep, which can be visited in summer.
The first part of the trail is mostly flat, whereas the second is slightly uphill. The trail ends at La Cortinada, where you can visit a beautiful church and two old mills. To return, you can either walk through the same path or take the bus of the Ordino Parish connecting La Cortinada with Les Mines de Llorts.
👌🏼 Our tip
Hungry after the hike? Cross the street in front of the Llorts mines and grab some food at the cosy restaurant Braseria La Neu (open from 1 to 3:45 pm). It couldn't be easier!
We've eaten several times there, and love it. The food is delicious, and the decoration makes you feel at home from the moment you step in.
Bear in mind that it tends to be crowded, especially in summer, so booking in advance is better.
🥾 Want to make this route longer?
Once you reach La Cortinada, you can continue walking until Ordino, following the Camí Ral. We highly recommend it!
If you've parked the car in Llorts, you can take the bus from Ordino to get back to the car.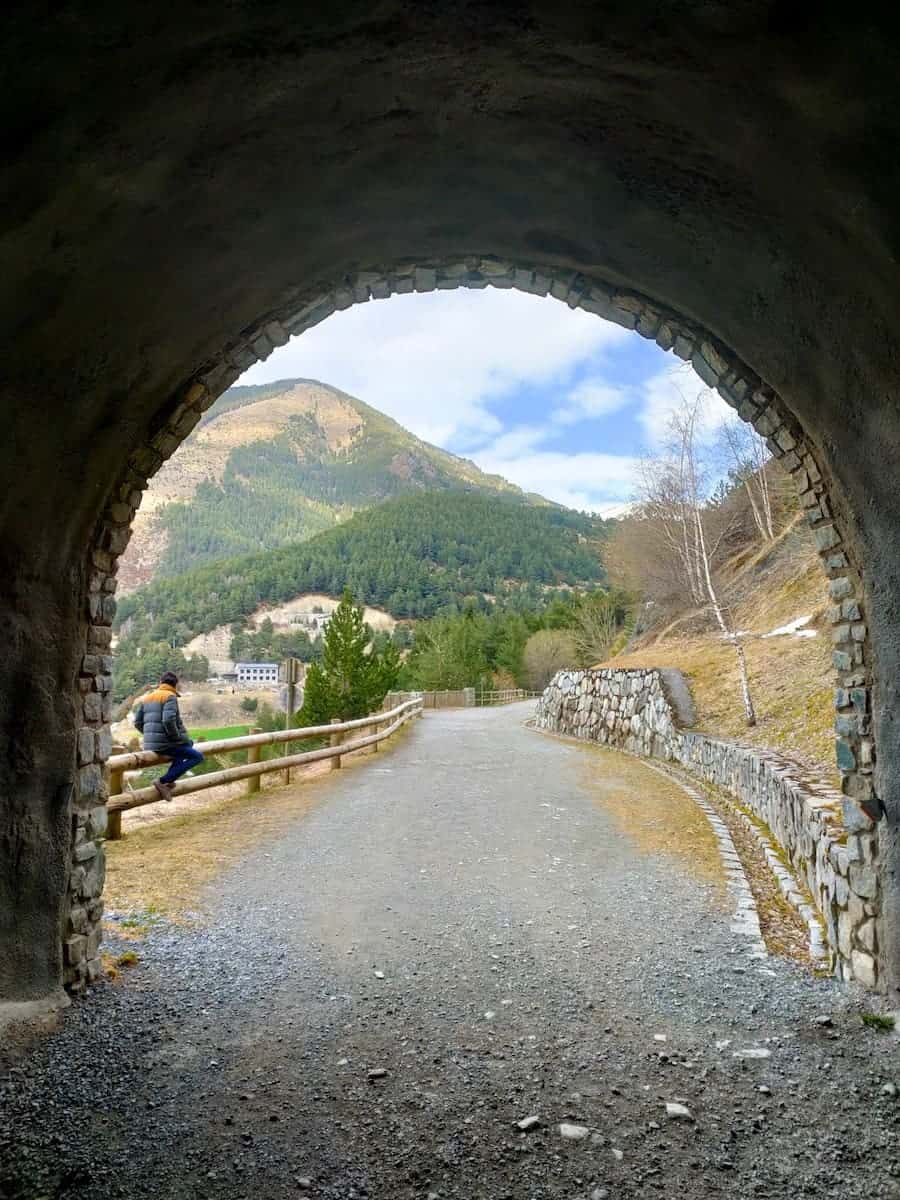 7. Camí de Les Pardines and Llac d'Engolasters
📍Starting point: Els Cortals d'Encamp
↔️ Distance: 8.81 km (circular)
⬆️ Elevation gain: 139 m
🧭 Wikiloc track
Engolasters Lake is one of the most well-known and accessible lakes in Andorra, but not because of this less beautiful. The lake itself is worth a visit, but what we really love are the surroundings: lush green forests, picnic areas, and a lookout that overlooks the surrounding mountain peaks.
Only 10 minutes by car separate the city centre of Andorra La Vella from the lake. Because of this and its accessibility (the parking lot is only a short walk from the lake), it tends to be pretty crowded in summer.
The hike we propose combines a flat walk (Camí de les Pardines) with circling the lake later. Although the path presents no challenges, the Camí de les Pardines offers several points of interest: small botanical gardens, picnic areas, tunnels, and non-stop views of Encamp. So the route is definitely varied!
This trail is shaded pretty much the entire way, so it's a nice option to cool down on those hot summer days. Also, it's great for running as it's completely flat — something difficult to find in Andorra!
If you want to complete your day, there are several activities you can do without moving the car at all. Fans of climbing will find their place in the Circuit de les Fonts, next to the lake, with several climbing routes along the trail. If you would rather ride your bike, there is a bike park next to Engolasters Lake. Finally, children (and adults too!) can have fun at Bosc Aventura, an adventure park with four aerial circuits featuring zip lines, bridges, and other cool obstacles!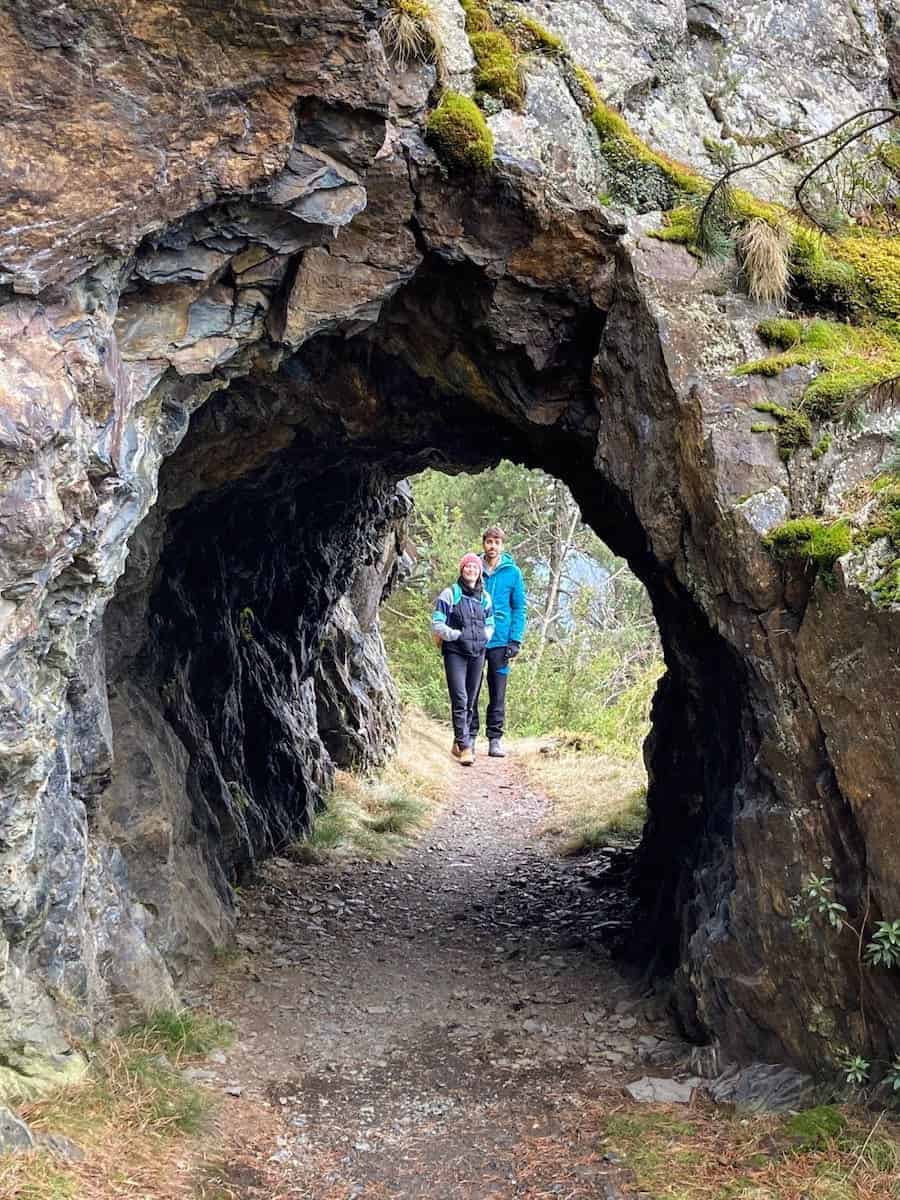 8. Camí del Canal de Ransol a Engolasters
📍Starting point: Cortals d'Encamp
↔️ Distance: 3.95 km (one way)
⬆️ Elevation gain: 15 m
🧭 Wikiloc track
Camí del Canal is a great hike to do in summer for those looking to avoid the crowds in Engolasters. At less than a 4 km one-way trip, it crosses the river and winds through forests on the way to the Romanic church Sant Miquel de Prats.
Also, along the path, there are three lookouts with beautiful views of Encamp, the Meritxell Sanctuary, and Canillo. You'll also find surprises, like two wooden bridges and a cool rock tunnel!
The route ends in Prats, a tiny mountain village nearby Canillo. You can either return walking through the same path or walk to Canillo and take the bus from Canillo to Encamp and another bus from Encamp to Les Pardines (trailhead).
👌🏼 Our tip
Hungry or thirsty after the hike? You can head to Blōt, in Canillo, for an informal lunch. There, you can sample craft beers and get your hands in one of their delicious burgers or sandwiches.
🥾 Want to make this route longer?
To make this hike longer, you can start it in Prats. Follow the Camí del Canal in reverse, and once you reach the end in Cortals d'Encamp, you can descend through the road for about 100 m and start the Camí de les Pardines all the way to the Engolasters lake (mentioned above).
9. Camí del Gall
📍Starting point: Canillo
↔️ Distance: 5.86 km (one way)
⬆️ Elevation gain: 285 m
🧭 Wikiloc track
This walk is easy, beautiful, and fun!
It starts in Canillo and is signposted with a red rooster. Along the route, you'll find a Romanic church and several lookouts, from where you can admire the surrounding villages and mountains.
Although easy, the walk is definitely entertaining! It has a tunnel, some wooden bridges, and a section equipped with chains.
The route ends in Soldeu, another mountain village. You can either return walking through the same path or take the buses L3 or L4 connecting both villages (the stops in Canillo are Plaça de l'Areny or El Molí).
🧒🏼 Going with children?
If you want to make the walk more effortless, you can do it in reverse. Start from Soldeu and end in Canillo. This way, the whole route will be downhill instead of uphill.
10. Camí del Toll Bullidor
📍Starting point: Pont de Molleres
↔️ Distance: 0.86 km (one way)
⬆️ Elevation gain: -70 m
🧭 Wikiloc track
Toll Bullidor is one of our favourite easy hikes in Andorra, especially because it takes you to a lookout from where to admire an impressive waterfall!
The waterfall is the most incredible from April to June when it's fuelled by snowmelt, but it's still spectacular all summer and fall. You can also visit it in winter, but be careful as the path can be icy.
The trail is short in length, not steep, and has an easy-to-follow route. Also, you'll enjoy great views of the Meritxell Sanctuary along the way. This singular religious construction was built in 1976 and dedicated to the Meritxell Virgin, patroness of Andorra.
When is the hiking season in Andorra?
The hiking season in Andorra starts around May and lasts until October/November. However, most of the above hikes can be done all year round.
The ones always covered in snow in wintertime are the Estany Primer de Pessons, Camí de l'Obac d'Incles, Estany de les Abelletes, and Camí del Gall. For those, you'll need microspikes or snowshoes, depending on the snow level.
Quick list of things to take into account when hiking in Andorra
🗺 Planning
Before hiking, the first thing you should do is plan your route. Factor in overall distance, elevation gain, current conditions and your fitness when selecting a trail.
Ensure you know how the trail is signposted or have a map or track of it. This will help you avoid getting lost.
🥾 Footwear
Always wear hiking shoes or trail runners to do these hikes. The key considerations are comfort and safety.
🩳 Clothing
You'll want to pack some sort of insulation layer in case it gets cold, even if it seems like a sunny day! The weather can change very fast in the mountains, so having a warmer jumper or a windproof or rainproof jacket is wise.
Hiking in the summer months? Andorra is a sunny country, and during summer, the sun hits hard throughout the day. We recommend you wear some kind of hat on the trail to protect you from the sun, especially during July and August.
⛈ Weather
Before heading to the trailhead, always check the weather. Some of the hikes mentioned above take place at high altitudes, where the weather can change quickly. We always use the official meteo website of Andorra to check the weather forecast and weather warnings.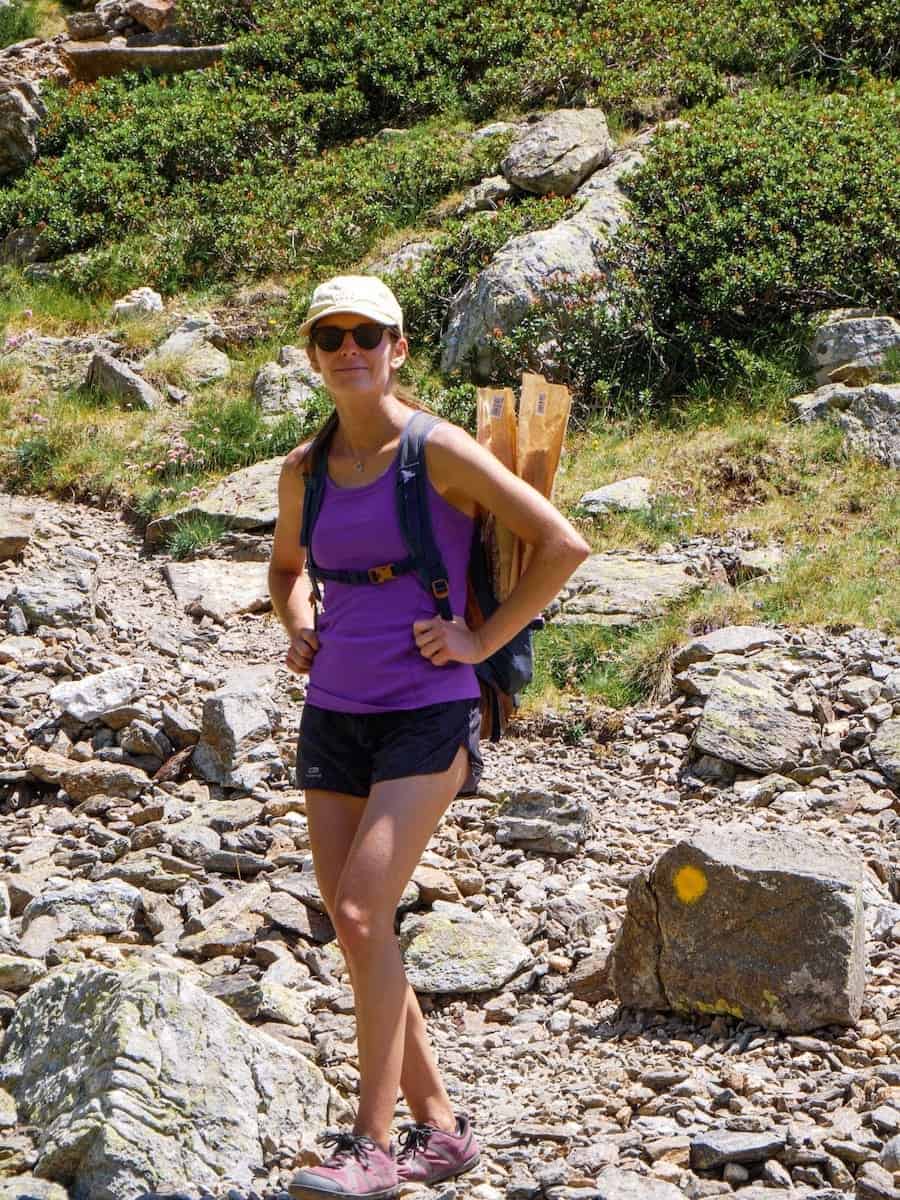 ⚠️ Important!
Since most hikes mentioned above are pretty popular, we can have a huge impact on the natural environments listed here. We recommend our Stepping outdoors 101 guide for a fun read before you plan your next hike.
We hope this guide helps you experience the magic of hiking in Andorra and discover its stunning landscapes. Do you know any other beginner-friendly hikes to do in the country?
---
Planning a trip to Andorra in summer?
If you have a trip to Andorra in mind, our guide "Planning a trip to Andorra in summer" might be helpful! There, you'll find recommendations about what to do, how to move around, where to stay, and where to eat.