Looking for restaurants in Andorra? This tiny country has only 468 km² but more than 700 places to eat out! The variety of establishments is overwhelming – brassy noisy brasseries, cool brunch spots, traditional bordes cooking high-mountain dishes…so, where do you start?
We've got you covered! Here, you'll find our most updated list of delicious restaurants in Andorra. It's an eclectic mix, but each restaurant listed here has been sampled and tested without fear or favour. Bon profit!
Mouth-watering restaurants in Andorra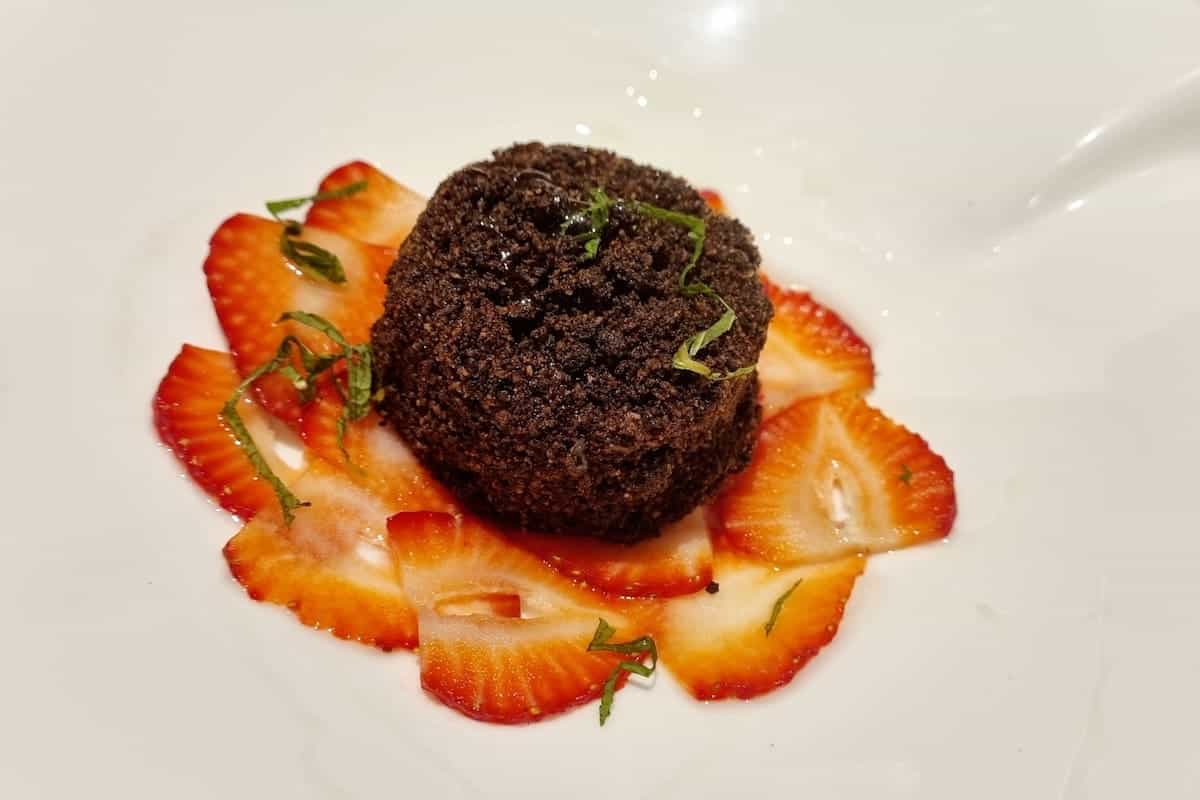 MiraKbé!
📍 Location: Andorra La Vella
🍳 Food type: Tapas
💰 Average price: 20-35 €
MiraKbé is a gastrobar serving original mouth-watering tapas in the heart of Andorra La Vella. It's perfect for a night date or a dinner with friends or family., and it's one of our favourite tapas restaurants in Andorra.
Our highlight was the egg with bread, Serrano ham, mashed potato, and wait for it… truffle! The omelettes and the Kaneló de garrinet are also exquisite.
Go there Mon-Sat for dinner or Saturday for lunch to try the tapas, because during the week for lunch, they only serve a menu.
Borda d'Erts
📍 Location: Erts
🥗 Food type: Andorran
💰 Average price: 25-35 €
Borda d'Erts is one of our favourite comfort food restaurants in Andorra.
A borda is what Andorrans call a traditional old house, and the Borda d'Erts is a fantastic one to eat! Go there to enjoy typical Andorran food, such as escudella (a traditional soup), conill (rabbit), or cargols a la llauna (snails).
The atmosphere is very cosy, with a fireplace, wooden ceiling, and stone walls. They also have a terrace, which is lovely to eat outside on sunny days.
Malandra
📍 Location: La Massana
🥩 Food type: Andorran / Grill
💰 Average price: 20-35 €
Malandra is a chic restaurant in a borda (traditional old house), serving delicious and original food. The focus here is on the charcoal grill, with lots of dishes that are interesting and perfect to share. Although most dishes are thought for meat lovers, there are also delicious vegetarian options, such as the roasted aubergines.
Our favourites are the caneló llarg de foie (a foie cannelloni), the costelles de porc a baixa temperatura (pork ribs), and the mel i mató (a typical Catalan dessert but with a twist).
The staff is great, and the chef knows what he's doing. They also have a terrace if you want to soak up the sun in summer!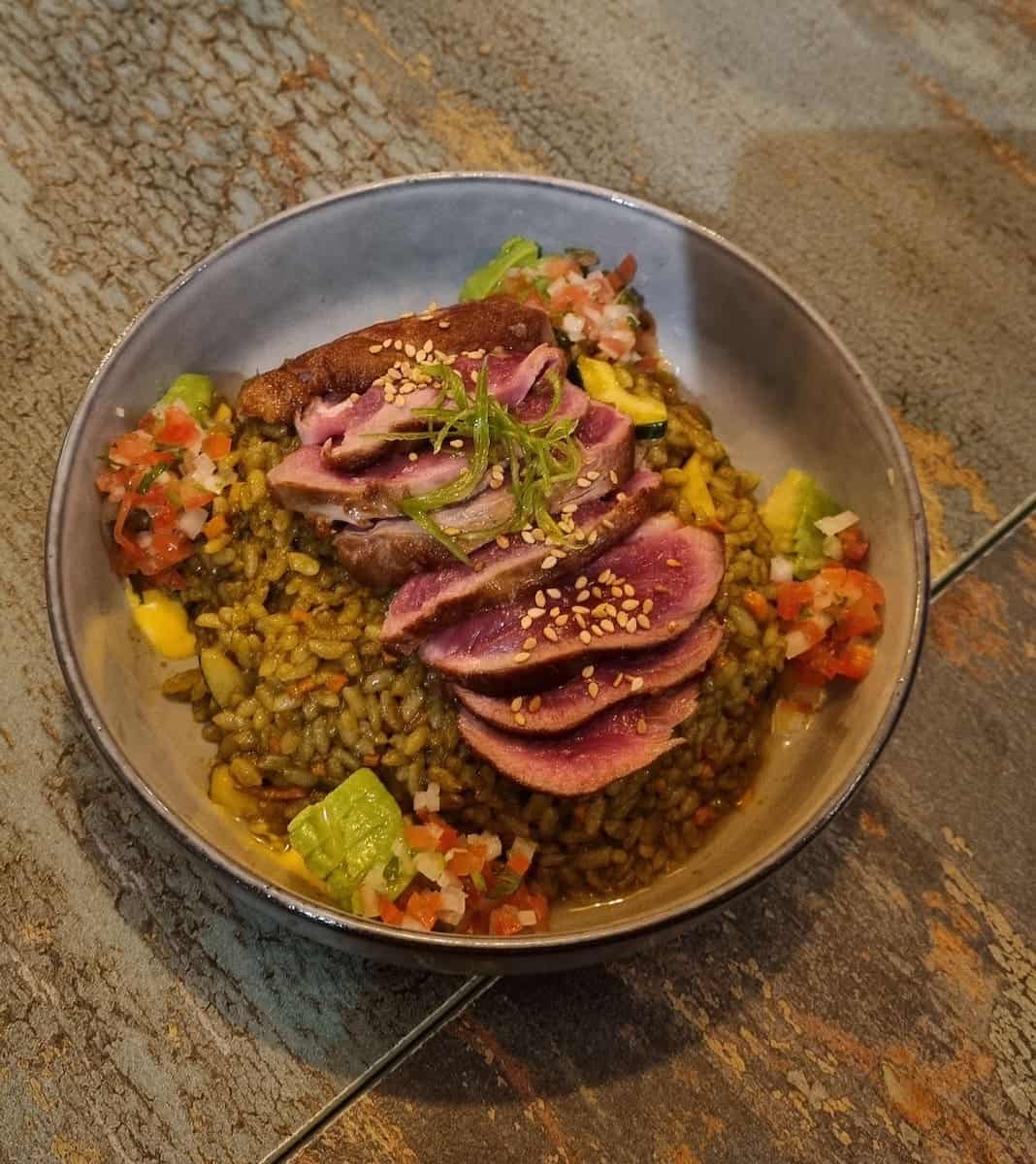 Wakatai Nikkei
📍 Location: Andorra La Vella
🍥 Food type: Nikkei
💰 Average price: 30-40 €
You may not have heard about Nikkei cuisine, but you'll surely enjoy it once you try it!
As we said, this restaurant specialises in Nikkei cuisine, a delicious combination of both Japanese and Peruvian ingredients.
We can't recommend enough the Tacos Nikkei (a taco with guacamole, fish tartar, onion, and quinoa), the Arroz con pato nikkei (rice dish with duck tartar), and the sushi rolls.
Leave some room for dessert because they're also exquisite! We love the chocolate mochi and the green tea cheesecake.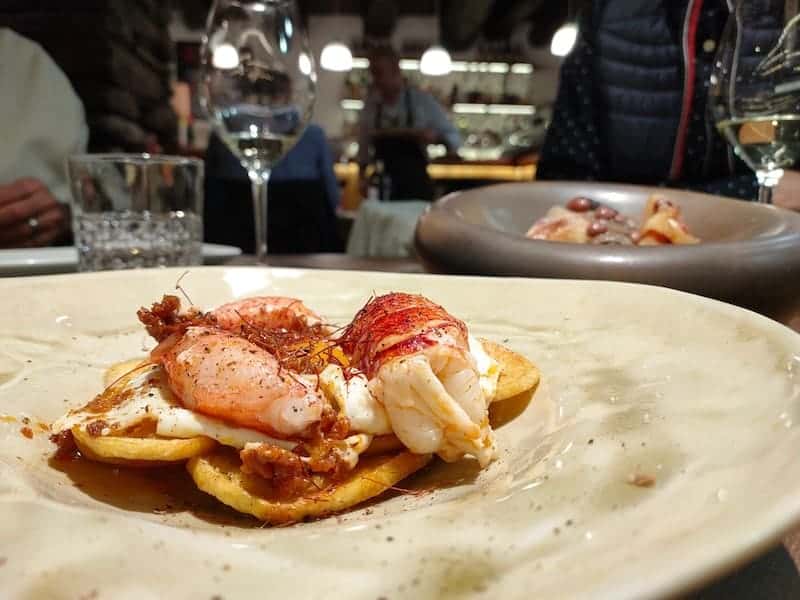 Borda Vella
📍 Location: Encamp
🍽 Food type: Andorran
💰 Average price: 30-45 €
Forget everything you thought you knew about combining ingredients and flavours because you'll taste the most unexpected combinations here.
La Borda Vella is run by a couple that decided to quit their jobs in the financial sector and opened this lovely restaurant. And thanks God they did! This place blew our minds!
Every dish was thought through to the last detail, and they surprise you with traditional dishes with unexpected twists at a reasonable price. It's honestly one of the best meals we have ever had.
Not only is the food original, but the service is also impeccable. We felt like guests in their home, and this is something few places achieve.
Our recommendations? Order several dishes to share, so you can try many good things! And keep room for the desserts. The chocolate coulant is something from another world.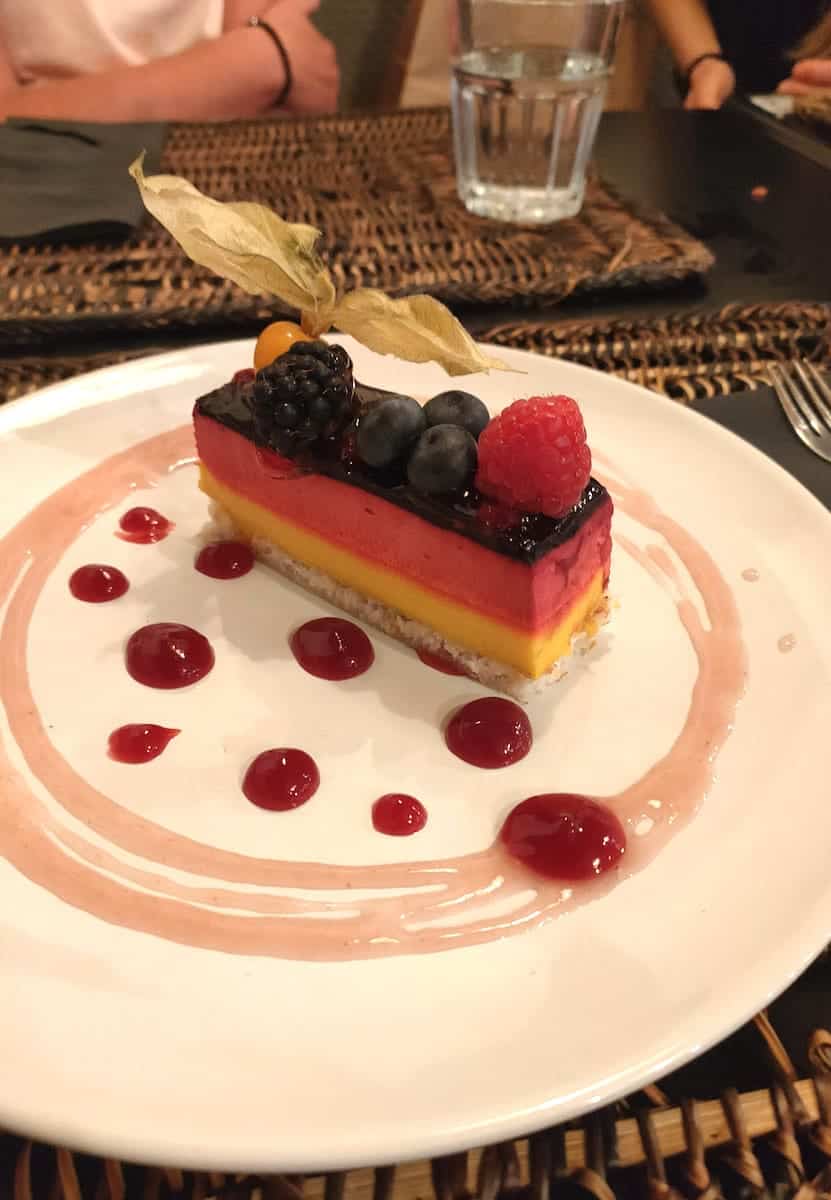 Sentro '20
📍Location: La Massana
🍜 Food type: Filipino
💰 Average price: 15-25 €
Sentro '20 is lovely family-run restaurant to eat amazing Filipino food. The owners are from the Philippines, so the recipes are as traditional as they can get!
We've been there several times, and everything we ordered was delicious. The menu is huge, so you can try new things every time.
We highly recommend the Siaopao (steamed bread with meat inside), the Chicken Katsu (rice dish with fried chicken and omelette), the Kim-Chae (sweet potato noodles with veggies), and the Vegudon (a veggie soup).
Save room for the dessert cause they are all homemade and without sugar. We love the Ube cheesecake and Turon filipino con helado casero (banana rolls caramelised with cinnamon and served with homemade ice cream).
El Bosc
📍 Location: Arinsal
🥘 Food type: Tapas / Burger / Pizza
💰 Average price: 15-25 €
This is a place where you feel at home. We love their fast service and how kind and friendly the owner is. Also, the decoration is great; it makes you feel you're in a magic forest.
No matter what you'll order here, you can't get it wrong. All the food at El Bosc is of high quality: their pizzas, their burgers, their tapas, etc. We recommend sharing some tapas as a starter and ordering a main dish.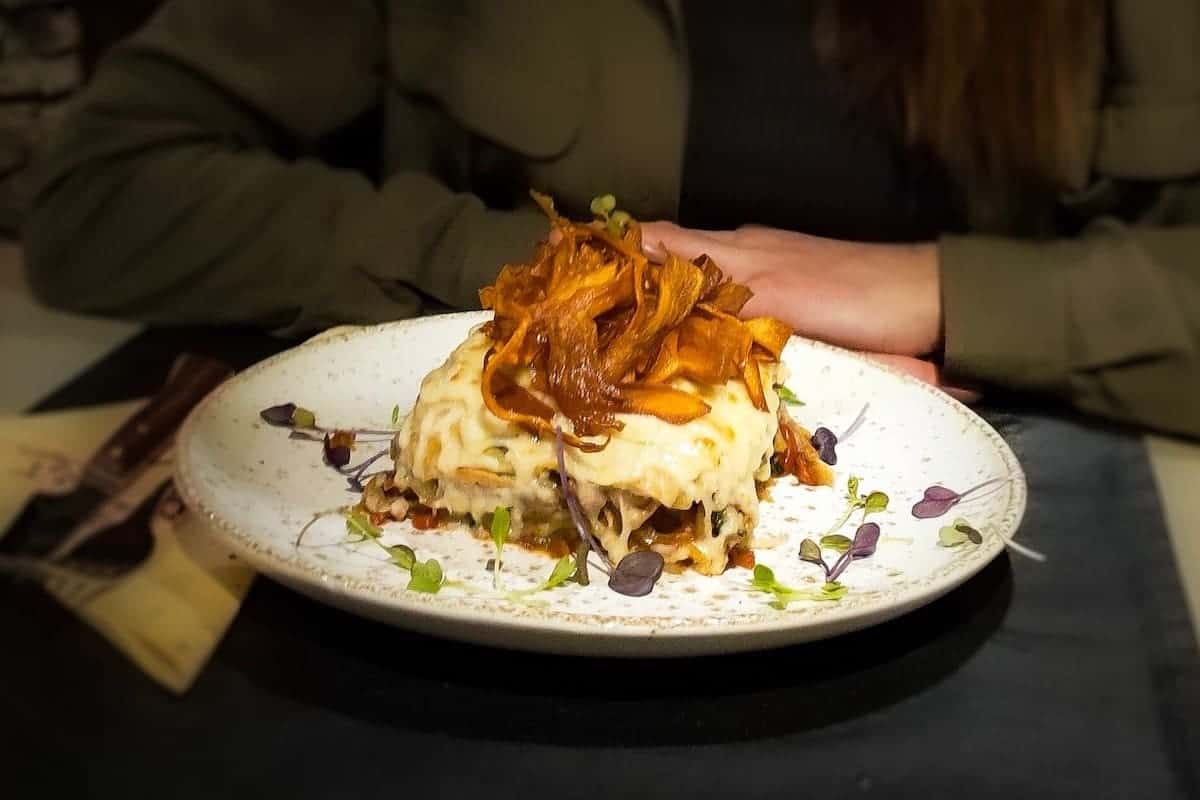 La Cort del Popaire
📍 Location: Soldeu
🥘 Food type: Andorran
💰 Average price: 30-40 €
La Cort del Popaire is a traditional borda turned into a restaurant. You can tell by its authentic feel: stone walls, wooded ceilings, and antique decoration. It's such a cosy place!
They serve typical Andorran food: fresh veggies, cured and grilled meats, fresh fish, and homemade sauces. Everything is of great quality and all the dishes are presented in such a beautiful way!
We went there for a celebration and did a closed menu but we can't wait to go back and try more dishes!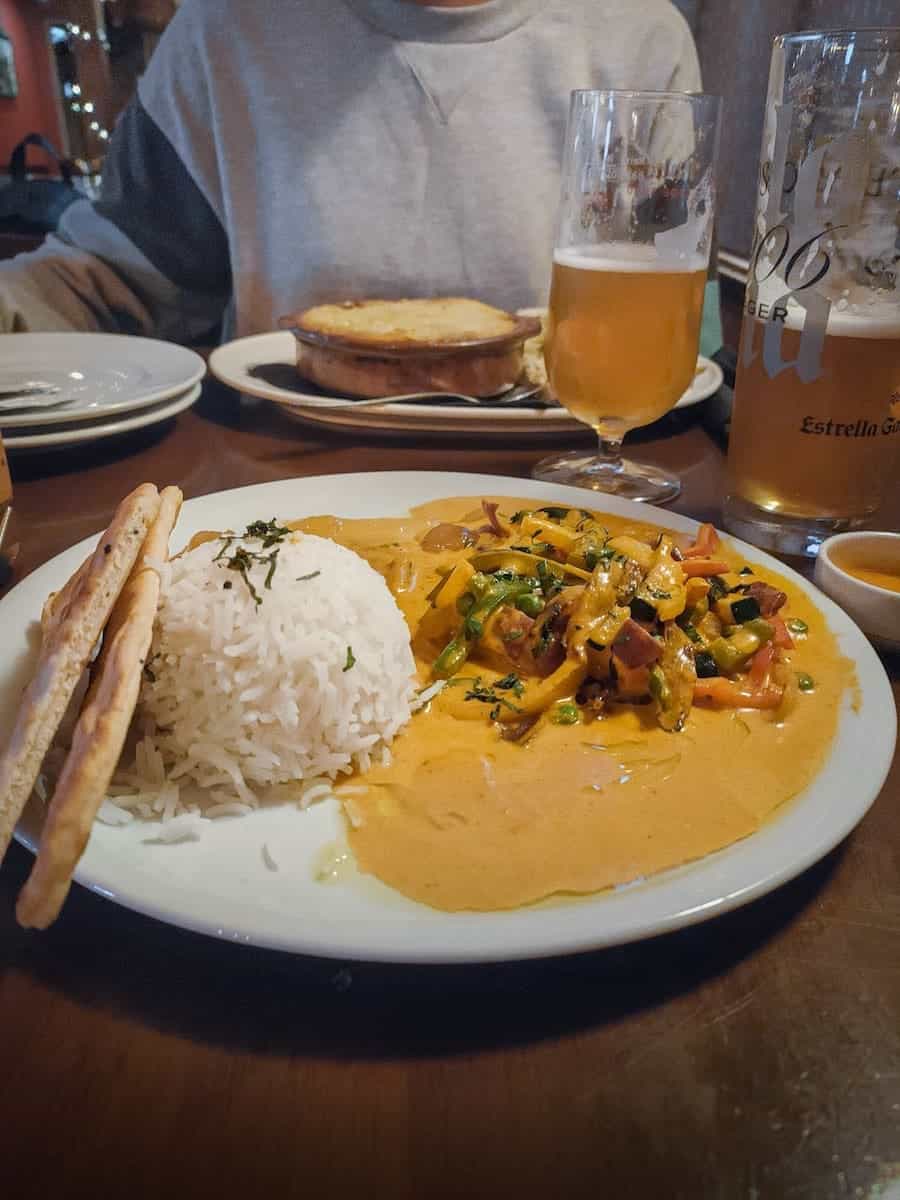 Hunters
📍Location: Arinsal
🥧 Food type: English / Peruvian
💰 Average price: 15-25 €
This place made us travel back to the time we lived in London! Hunters is an authentic English pub mainly serving English dishes, like oven-baked pies, the famous fish and chips, and cottage pies. In fact, it's so genuine that the waiters and waitresses are from England!
But besides all those tasty dishes, you'll also find Peruvian food there, because the chef is from Peru. Our favourites are the Peruvian style mini pies, the lomo saltado, or the Hunters curry.
It's also a great place to go for a drink, as they have a great selection of beers and ciders (they even have a ginger beer!). The restaurant is super cosy, well-decorated, and the staff very friendly!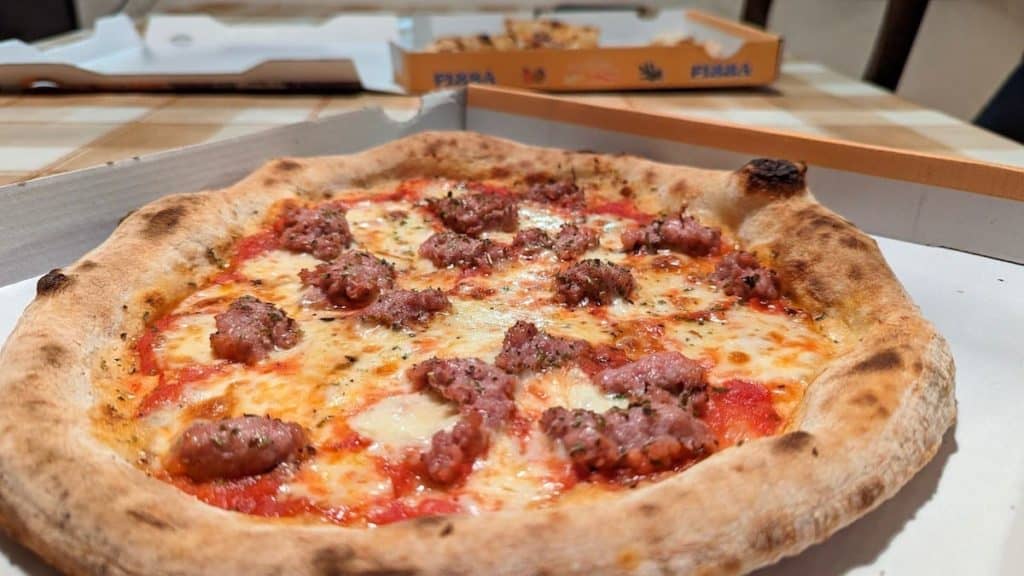 La Capricciosa
📍 Location: La Massana
🍕 Food type: Italian
💰 Average price: 15-25 €
Neapolitan pizza at its best, made with authentic Italian ingredients. We went there with an Italian friend, and she loved it, which is obviously a good sign!
At the door, you are greeted by a wood-fired oven and a friendly and dynamic staff. The pizza menu is extensive, with options for both meat lovers and vegetarians.
And don't forget to order a dessert! They are all homemade and so delicious!
We've tried our fair share of pizzas here and, to us, this is one of the most authentic Italian restaurants in Andorra.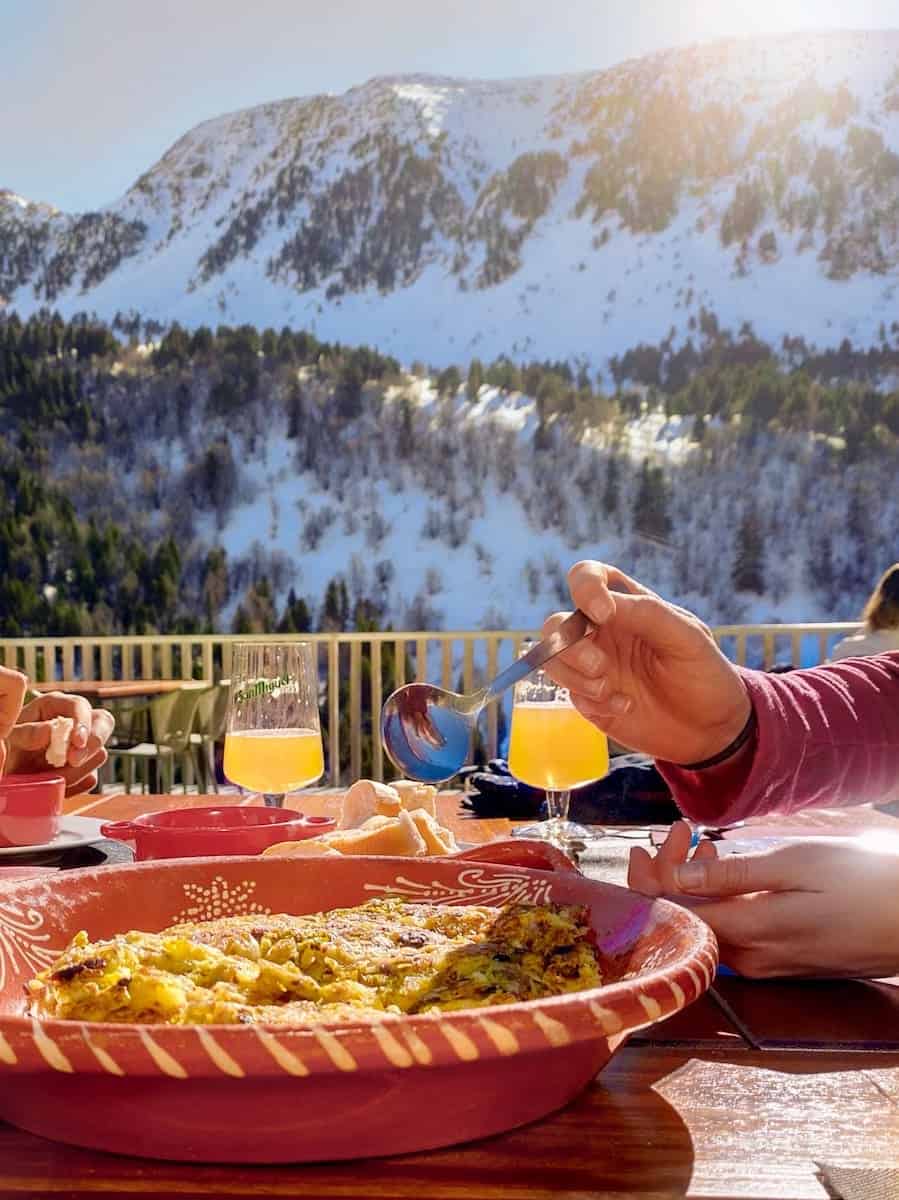 Refugi de Sorteny
📍 Location: Sorteny (Ordino)
🥘 Food type: Andorran
💰 Average price: 25-30 €
This place isn't the easiest to get to, but it's worth it! You can get there hiking in summer, while in winter, you'll have to strap a pair of snowshoes or grab your mountaineering skis.
And once there, you'll discover this wonderful mountain hut serving a menu made with local and high-quality food.
The atmosphere can't be cosier, with a fireplace keeping the place warm in winter and a terrace ideal for the sunny days (gorgeous views are guaranteed!). The chef is also very attentive and friendly.
La Llum d'Oli
📍Location: Arinsal
🍔 Food type: Tapas / Burgers
💰 Average price: 15-25 €
La Llum d'Oli is one of the best restaurants in Andorra for an informal bite with friends or to go with a group. They serve delicious food at a good price and have a large outside terrace, perfect for lunch under the sun.
Here, you will find yummy burgers (veggie options as well!) and salads. But our favourite thing are the tapas, which are not local tapas but rather international ones. We loved the bunyols negres de bacallà amb allioli (cod fritters), the sopaipilla (a kind of fried bread), and the tequeños (fried breaded cheese sticks). Oh, they also ace the patates braves!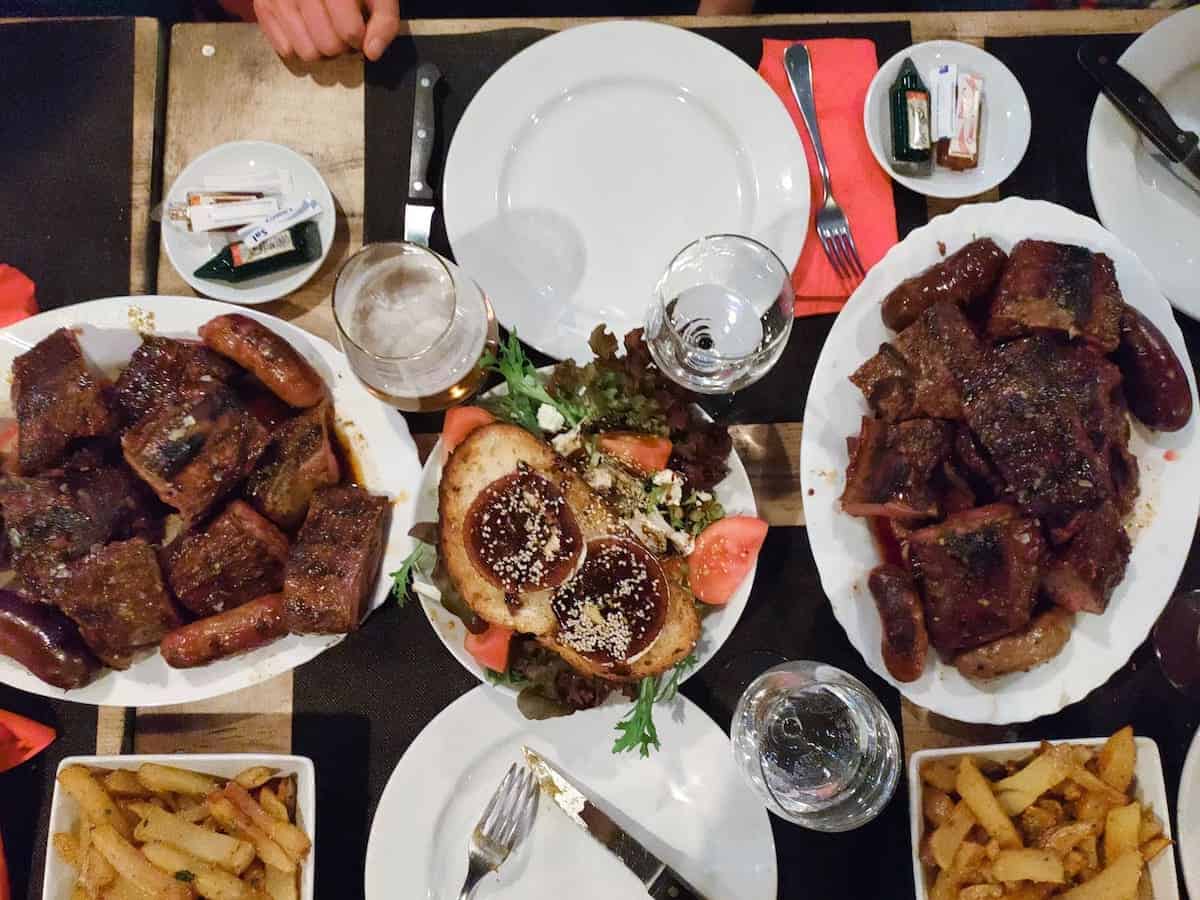 Ruta 40
📍Location: Arinsal
🥩 Food type: Argentinian
💰 Average price: 20-30 €
An off-the-beaten-track place where meat is king! Ruta 40 is a superb Argentinian steakhouse specialising in grilled meats, although they also serve burgers and pizzas. Their Nachos Full and Parrillada Argentina (a mix of Argentinean meats) are to die for!
The portions are huge, don't say we didn't warn you!
Also, make sure to park in the designated parking area in the restaurant. You may be surprised with a ticket if you park on the street.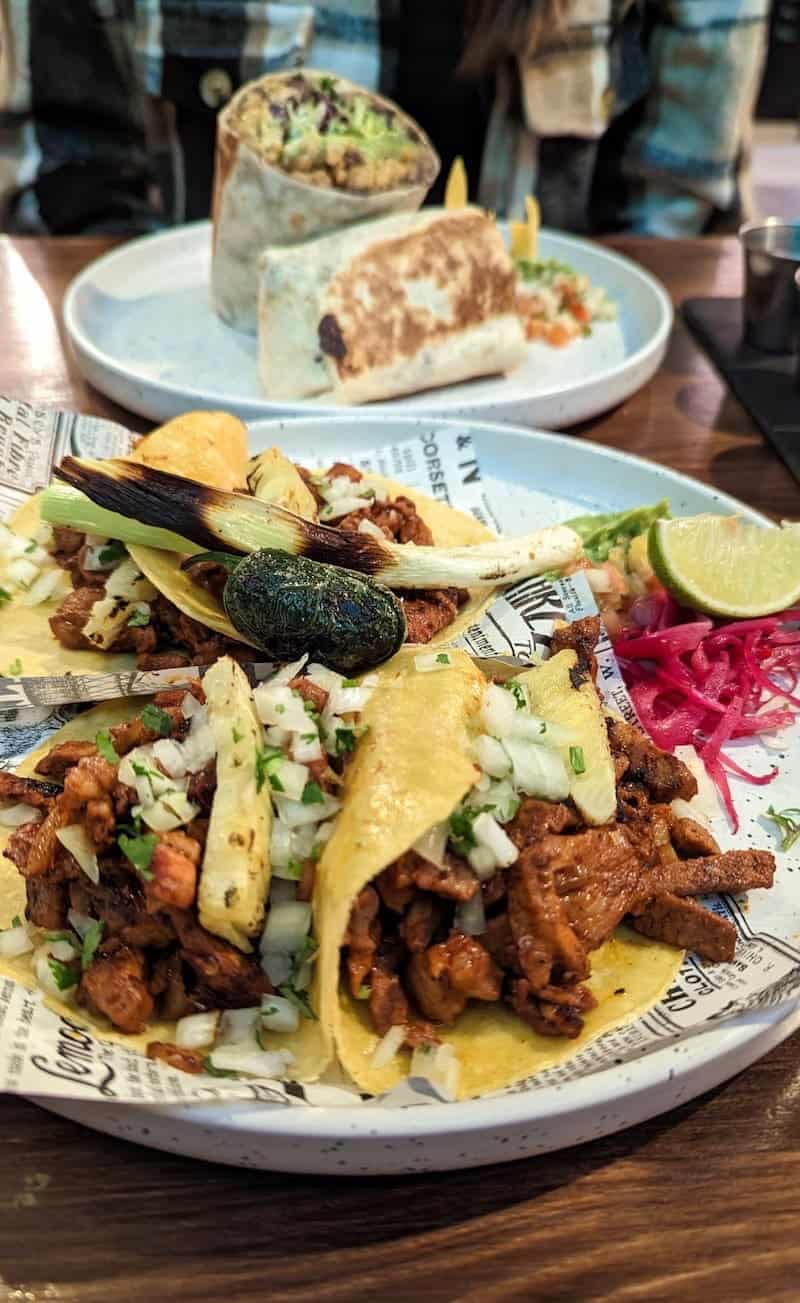 California Grill
📍 Location: Arinsal
🌮 Food type: Mexican
💰 Average price: 15-25 €
Lovers of Mexican food, this cantina is for you!
California Grill is a little gem tucked into Arinsal's historic district, perfect for a casual dinner with your partner or for getting a fun night out with friends started.
The place is small, with a a few high chairs and tables, but it has all the vibes. Mexican sombreros and garlands fill the space, and the walls are decorated with posters of Mexican characters and fun memes about tacos.
They serve typical dishes that you quickly recognise, such as tacos, burritos, or nachos. The menu isn't extensive but the quality of everything is top. Also, they ace the cocktails!
Borda de Les Pubilles
📍 Location: Aixirivall
🥘 Food type: Andorran
💰 Average price: 25-35 €
Borda de Les Pubilles is a great discovery we made one day after climbing nearby and desperately needed food to fuel. Such an unexpected find!
Once you step in, it feels you've travelled back 50 years or so in time in this borda. The building actually dates from the 18th century! It's located in a little rural village surrounded by mountain, that you get to see from the restaurant's windows. The views are truly breathtaking!
We love the restaurants that greet you with pa amb tomàquet, olives and fuet (a typical cured meat of the area), and this is one of them! After eating this snack, get ready to try Andorran cuisine at its best. Don't miss their cargols a la llauna (snails), mountain rice dishes, and ous estrellats (fried eggs with potatoes and Serrano ham).
It's a great place to go with your family for lunch and just sit and eat for hours.
Blót
📍Location: Canillo
🍔 Food type: Argentinian / Burgers
💰 Average price: 15-25 €
Blót is a cosy brewpub where they brew their craft beer and serve tasty food! They have a range of amazing sandwiches, burgers, salads, and dishes to share.
What about a burger with mushrooms, roasted tomato, red onion, and avocado paste? Or a Milanese with tomato sauce, ham, mozzarella cheese, oregano and two fried eggs?
They have many other yummy things on their menu, perfect to pair with a fresh beer from the tap or a glass of wine if beer is not your thing.
Quick tips for eating out in Andorra
📱 We recommend you to book in advance, especially in the high season (summer and winter). Most restaurants in Andorra can't be booked through their website, so you have to use the old fashion way: calling. As the phone rates here in Andorra are expensive, we recommend using Skype to call.
💸 Unlike USA, tipping in Andorra is optional and not expected. If you're happy with the service provided and the food, then it's always nice and polite to leave a tip.
🙅🏻 Stay away from touristy spots. By this, we mean the main street in Andorra La Vella. The food there is usually overpriced, and the quality isn't top-notch. If you want to eat in the area, just wander through the secondary streets or open Google Maps and look for a restaurant with a good rating.
---
To keep discovering Andorra like a local…
We recommend you the following posts: