Barcelona is divided into many districts, each of them having its own charm. From the oldest district, Ciutat Vella, to the most bohemian one, Gràcia, we'll uncover you the secrets of all of them in this post.
Ciutat Vella
As its name implies, the district of Ciutat Vella (literally translated as Old Town) is the oldest one in Barcelona and comprises all the historical center of the city. As each neighbourhood has entirely its own character we're gonna explain them one by one:
Barri Gòtic (the Gothic Quarter)
El Barri Gòtic, known by locals as El Gòtic (the Gothic), is the historic center of the city and where a lot of the oldest and precious treasures are hidden. It used to be the Roman village but nowadays it's an area full of tourist admiring the huge variety of architectonic jewels. This part of the city is the perfect place for culture lovers that want to learn more about Barcelona's history through ancient buildings and monuments. Also, this neighbourhood is home to some important political institutions, such as the Palau de la Generalitat (seat of the Government of Catalonia and the Presidency of the Generalitat) and the City Hall.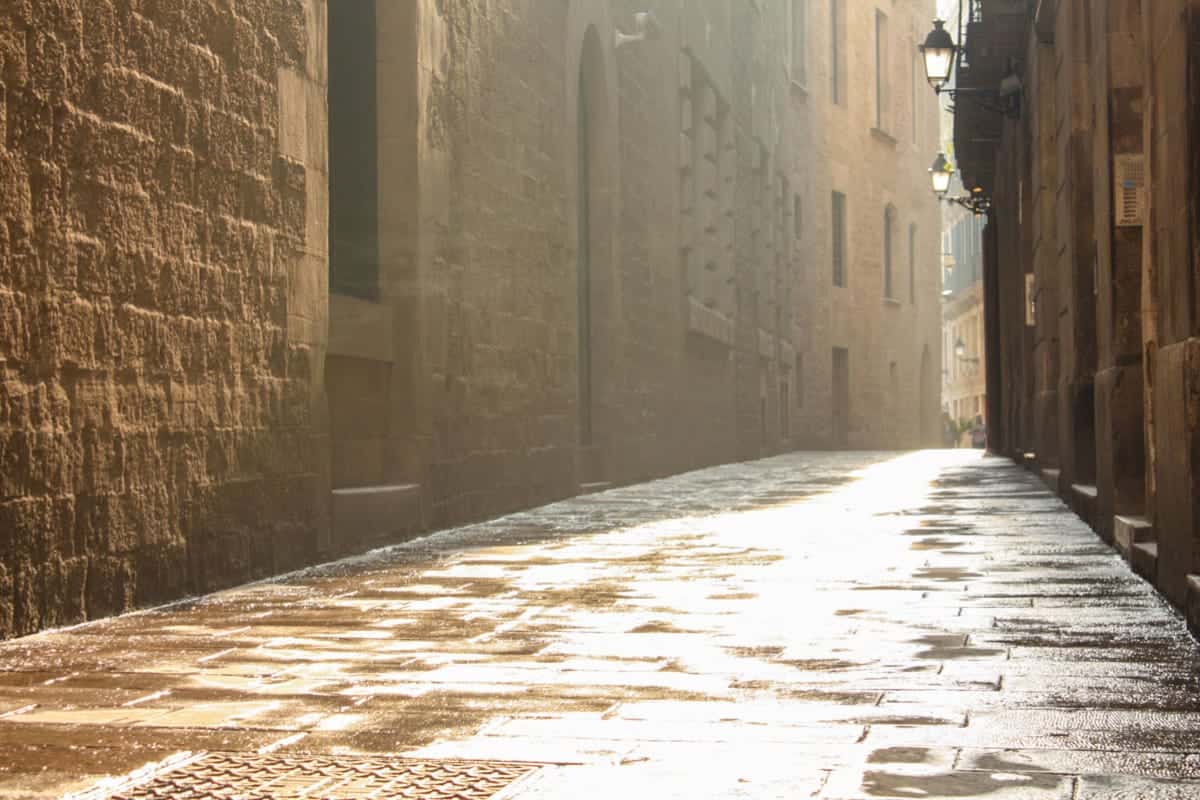 Interesting spots: Basílica de Santa Maria del Pi, Cathedral of Barcelona, Carrer Petritxol, Font de Canaletes, Les Rambles, Mercat de la Boqueria, Plaça Reial, Plaça de Sant Felip Neri, Plaça Sant Jaume and Portal de l'Àngel.
Limits: Born, Eixample, Raval and The Mediterranean Sea.
La Barceloneta
This neighbourhood was constructed during the 18th century and its name means "the small Barcelona". It's the newest neighbourhood of the district of Ciutat Vella and the only one with it's own beach, reason why it was originally inhabited by fishermen.
La Barceloneta has some interesting attractions such as El Telefèric del Port but the real charm of it is getting lost in the alleyways and the narrow streets. The neighbourhood is internationally famous for its delicious restaurants and posh clubs next to the sea and, of course, for its sandy beaches that are normally crowded with people during summer time (if you wanna know more about the beach click here!).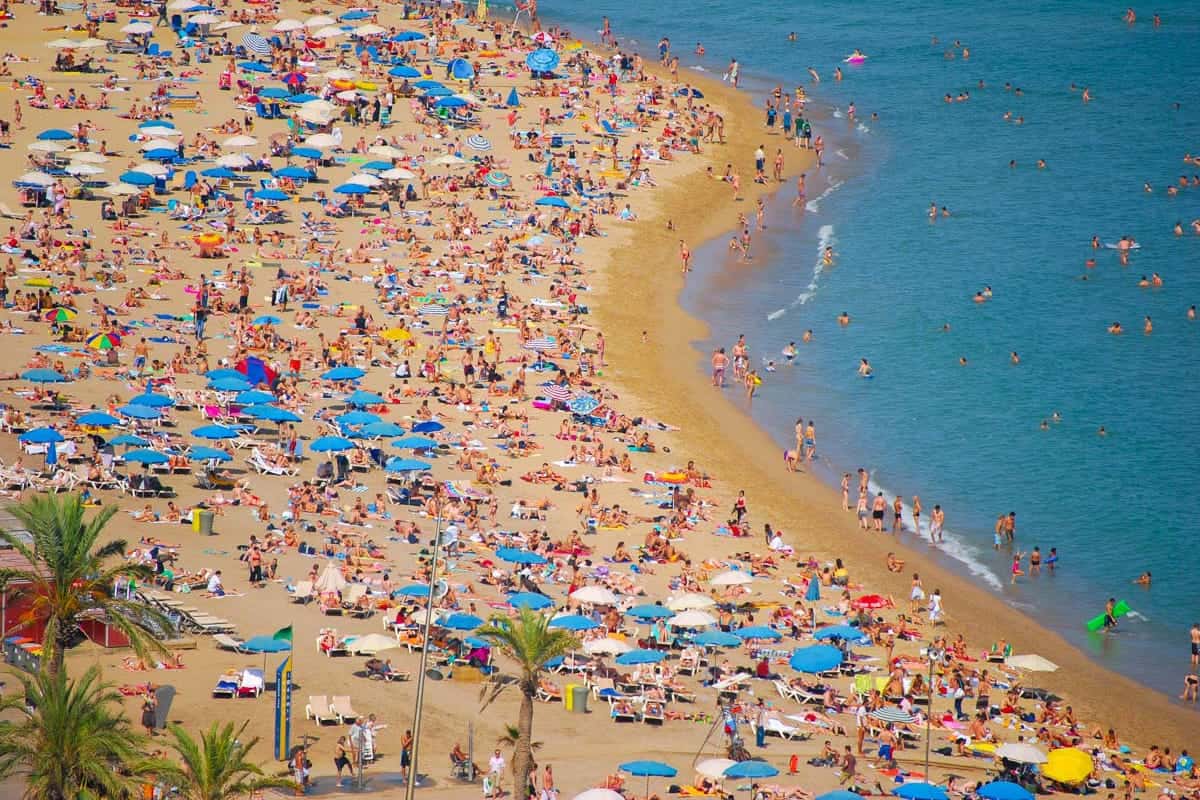 Interesting spots: Aquàrium, Estació de França, Hotel Vela, Passeig Marítim and Telefèric del Port.
Limits: Born, Port Vell and The Mediterranean Sea.
Sant Pere, Santa Caterina i La Ribera (aka El Born)
Mostly known as El Born, this is one of the oldest quarters of the city as it's easy to appreciate for its narrow streets and old buildings. The cool thing is that it has maintained its own style thanks to a lot of small galleries, museums, restaurants and bars. Even though it's quite similar to the Gothic Quarter, you won't find as much tourists here and it's one of the best places (along with Gràcia) to explore freely, as you can find something unexpected in every corner.
El Born is a neighbourhood of contrasts as you can find a lot of historical buildings but at the same time some of the most modern and innovative shops. As we've said before, there are a lot of bars and restaurants and therefore it's the perfect place if you're looking for some cool nightlife with exotic dinner and some delicious drinks or cocktails afterwards.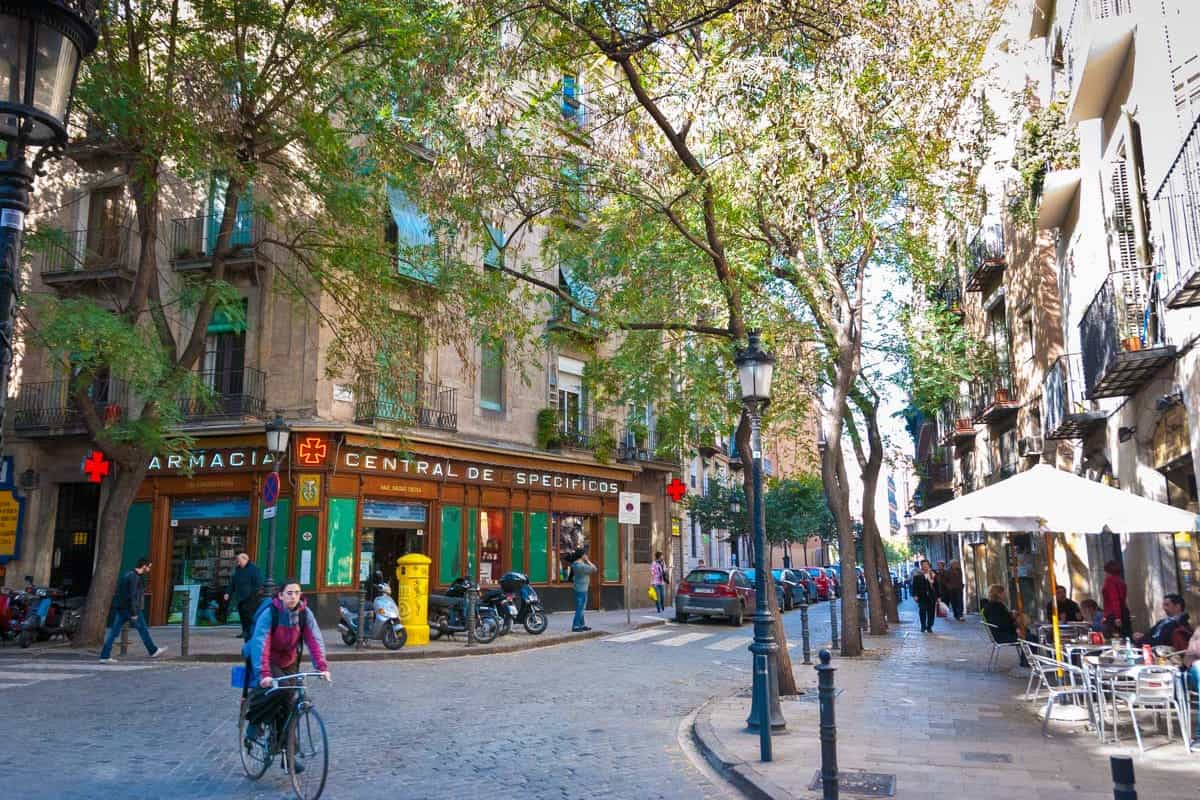 Interesting spots: Arc de Triomf, Basílica de Santa Maria del Mar, Museu de la Xocolata, La Ciutadella, Palau de la Música, Passeig del Born, Picasso Museum and Mercat de Santa Caterina.
Limits: Barceloneta, Barri Gòtic and Eixample.
Eixample
The modern Barcelona was born in the Eixample (translated as Expansion), created by the civil engineer Ildefons Cerdà. This district was built at the end of the 19th century mainly for two reasons. First, the old walled city needed to grow as more and more people were coming to Barcelona during the industrial times. Second, there was the need to communicate the city with what at that time were independent municipalities (such as Gràcia or Sarrià). The main goal of Cerdà when he presented his plan was making a better use of space by taking into account the people's need for health, leisure and social relationships.
The result of his urbanistic plan was the Eixample district, characterised by very wide streets uniformly equal, except for two main avenues that go in opposite directions: the Diagonal and the Meridiana. The houses are grouped in blocks, known as illes (islands) in Catalan. The blocks aren't exactly square because Cerdà thought about creating what is known as xamfrà, which is making the corners chamfered, in order to increase the visibility and make space for the cars to park. This pattern is the most peculiar thing of the Eixample and can be noticed while walking (every turn will be 90º right or left) but it's even more impressive when you're on the plane and look down because you'll clearly have the opportunity to admire it in its whole magnitude. Also, at the centre of many "islands" we'll find a park or a huge space so the neighbours can have a lot of light and balconies with direct sunlight.
One curious fact are the names of the streets in the Eixample. Those were given by Víctor Balaguer in 1864. The horizontal streets have names of territories, such as Londres (London), París (Paris) or Mallorca (Majorca), whereas the vertical streets have the names of important characters in politics, arts and literature, such as Pau Claris or Enric Granados.
Currently, the Eixample is composed of six administrative neighbourhoods: Dreta de l'Eixample, Antiga Esquerra de l'Eixample, Nova Esquerra de l'Eixample, Fort Pienc, Sagrada Família and Sant Antoni. The right part of the Eixample was where the bourgeoisie lived and where most of the modernist buildings are found.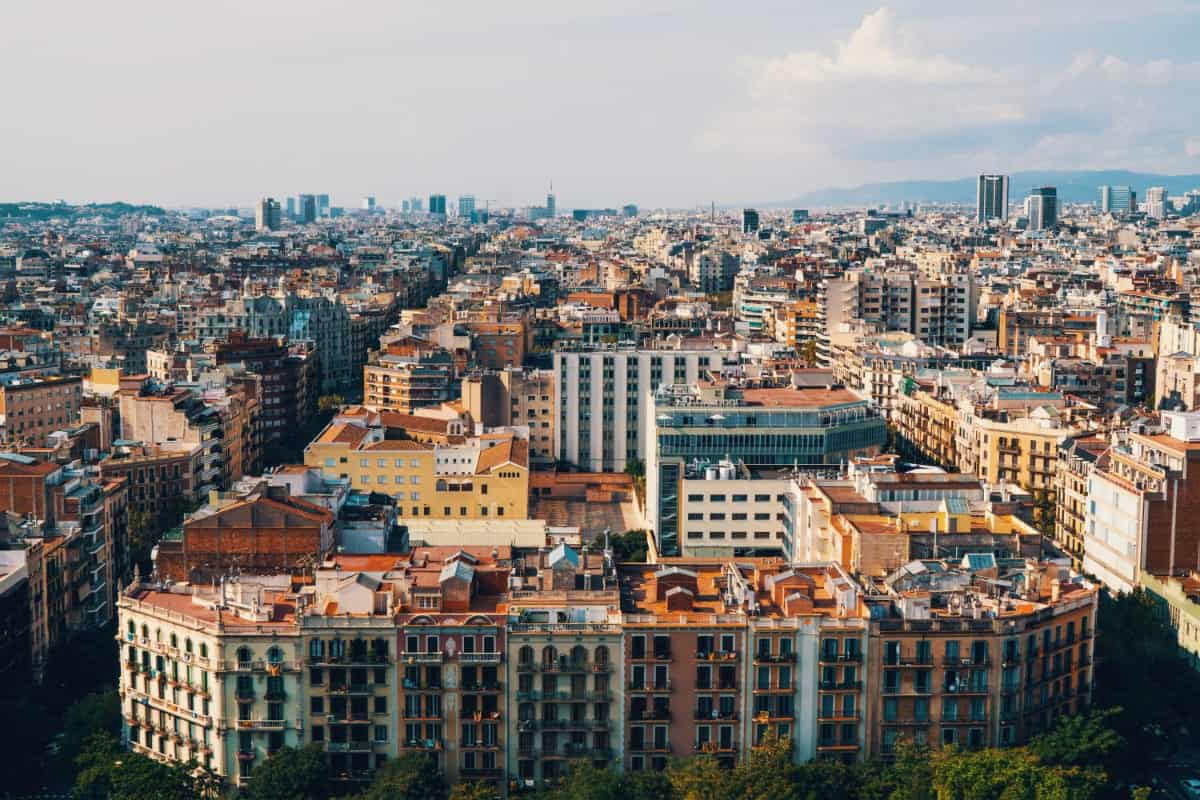 Interesting spots: Casa Amatller, Casa Batlló, Casa Lleó i Morera, Casa Milà (La Pedrera), Casa Terradas (Casa de les Punxes), Mercat de Sant Antoni, Palau Robert, Passeig de Gràcia, Passeig de Sant Joan, Plaça Catalunya, Sagrada Família and Universitat de Barcelona.
Limits: Ciutat Vella, Gràcia, Horta – Guinardó, Les Corts, Sant Martí, Sants Montjuïc and Sarrià – Sant Gervasi.
Gràcia
From its establishment in 1626 until 1897, Gràcia was an independent municipality separated from Barcelona. In 1897, it was formally annexed to Barcelona as a result of the capital's expansion. Although no longer independent, Gràcia still maintains its district identity and it feels quite unique compared to the huge metropolis to which it belongs.
Gràcia is a maze of old one-way streets organised around many squares. It's a vibrant neighbourhood full of life during day and night time. The atmosphere there is hippie and bohemian as you'll observe, for example, when walking through Plaça del Sol (Sun's square). You'll probably find a lot of people sitting on the floor of the square and drinking beer or playing the guitar during the summer evenings. It's a magic place worth visiting.
This district is known for being home to artists and young professionals and most of the people living there are locals. If you get lost in the charming streets of Gràcia, you'll see many Catalan flags adorning the windows and terraces, a symbol of the neighbourhood's pro-independence politics.
Also, Gràcia holds an important festivity during the month of August called Festa Major de Gràcia. The most impressive thing about it is that during the festivity a lot of streets are completely dressed up with the most spectacular and imaginative motives that its neighbours can think of. The neighbours spend the whole year making the decorations and during the festivity there's a contest to choose the best ones. If you're there around those dates, it's a must to go and see it for yourself. You'll be impressed by the superb decorations and you can also enjoy the huge variety of events that take place all day and night.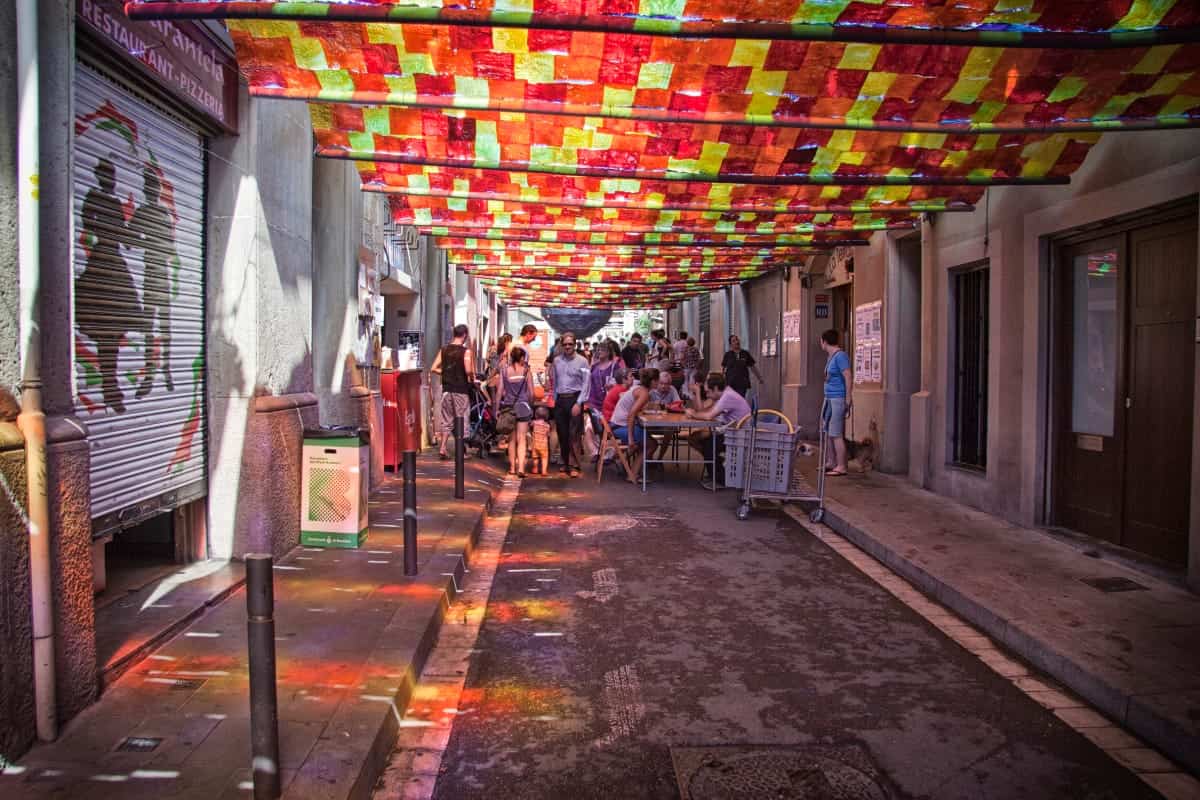 Interesting spots: Casa Fuster, Casa Vicenç, Park Güell, Passeig de Gràcia, Plaça de la Vila de Gràcia and Plaça del Sol.
Limits: Eixample, Horta – Guinardó and Sarrià – Sant Gervasi.