We know the word souvenir probably reminds you of cheesy keychains and fridge magnets, but you won't find those here. As locals, we know that an "I love Barcelona" T-shirt or a plastic mini-Sagrada Família figure (all made in China, of course) is not the good stuff to take back home. So, stick around if you're looking for authentic souvenirs from Barcelona.
We've curated a list with some seriously cool and authentic keepsakes to get on your Barcelona trip. These will make your home more beautiful, wow friends and family, or remind you of the amazing memories you made, all while supporting local artists and small businesses.
Keep reading to discover tasty treats, unique crafts, and distinctively Catalan gifts!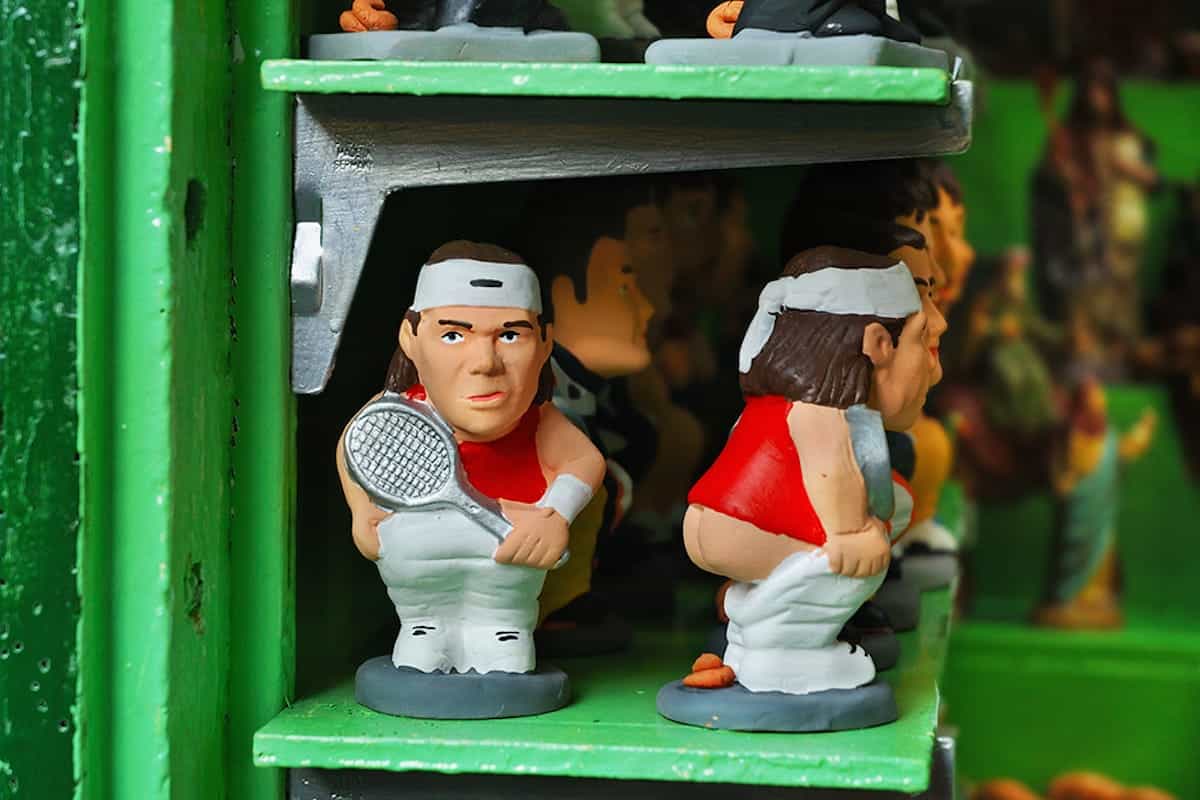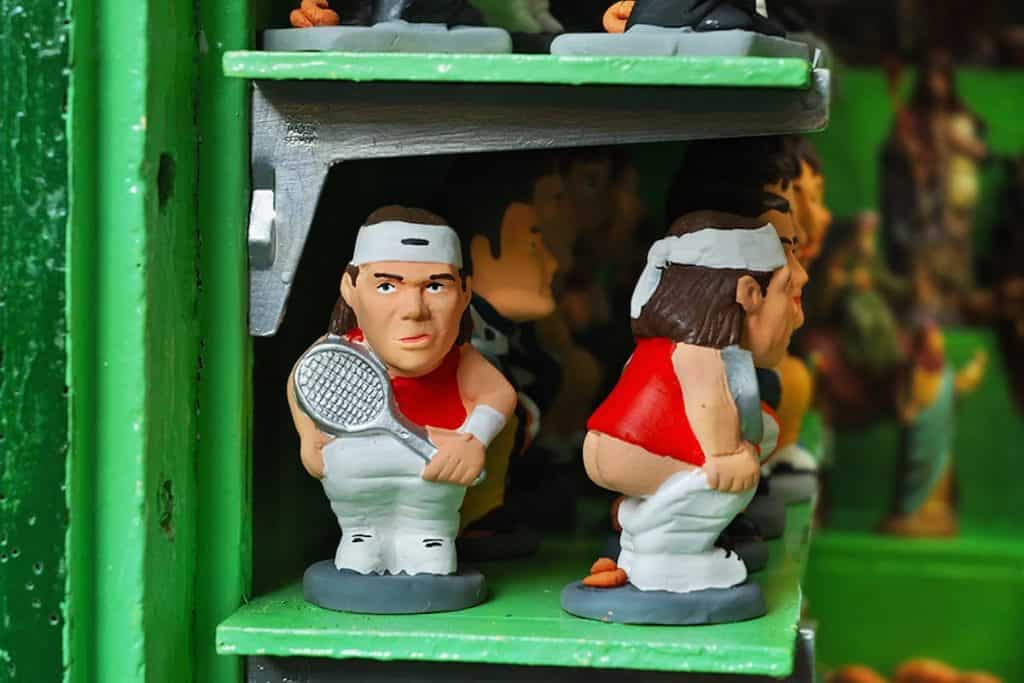 Caganer (the Christmas 'crapper')
We're sure you've probably seen it or heard about this fantastic character. The caganer is a figurine of a peasant wearing a barretina (a traditional red Catalan hat), squatting and mooning while he answers to nature's call.
This funny little fellow is placed in the middle of the holy nativity scene, where he sees fit to drop his sh*t in the presence of the newborn Jesus, his holy parents, and an adoring cast of angels and shepherds.
Nowadays, he is such a popular character that many celebrities and public figures are honoured to be portrayed as a Christmas 'crapper'. Singer and songwriter Rosalía, football player Leo Messi, film director Woody Allan… you name it!
We guess the question that springs to mind now is "Where can I get a Shakira caganer?". We've got you covered! We have a blog post about all the Christmas markets in Catalonia where you can find this cheeky chappy in all its forms.
If you want a caganer so badly you can't wait til Christmas, we've some excellent news for you: Caganer.com has several stores across Barcelona with a wide range of caganers that will make for a great addition to your Christmas decorations or a wonderfully weird gift for family and friends!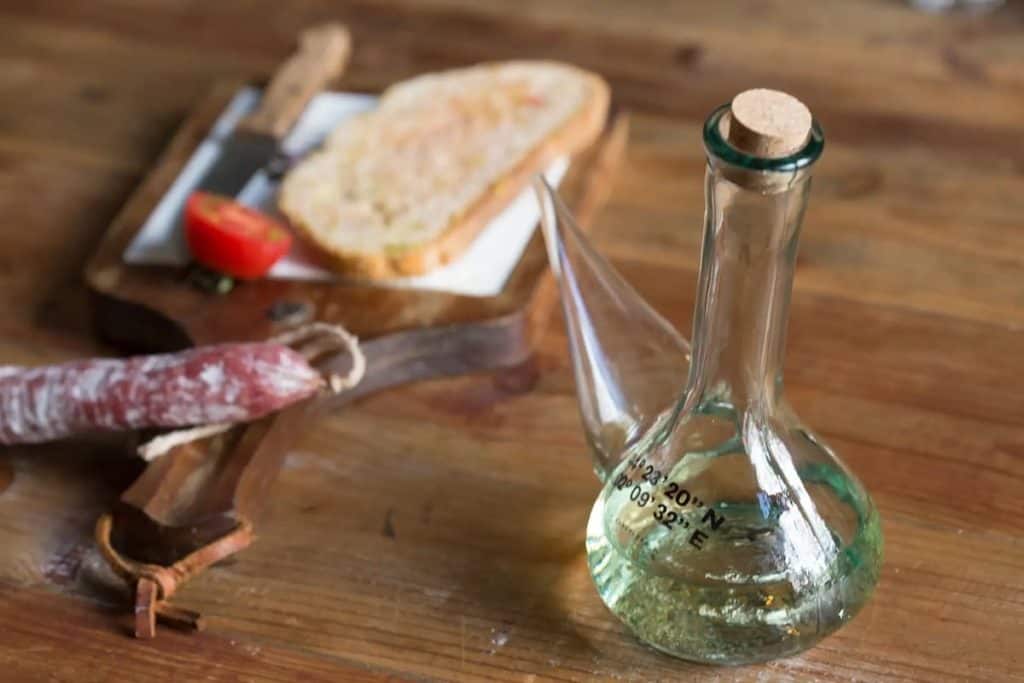 Porró
If you want to bring home a souvenir typical from Catalonia that we're sure will crack more than one laugh, get a porró. A what?
A porró is a traditional wine glass pitcher invented so everyone on the table could drink from the same utensil without touching it with their lips. Seems designed especially for covid times, huh?
Picture this. You get back home and organise a dinner with your friends. You put the porró on the table and fill it with wine through the wider hole. Now the fun starts! It's time to see who is the most skilled drinker.
To drink from porró, bring the spout very close to your mouth and tilt it forward slowly. Once the wine starts coming out, pull the porró as far from the face as possible. Laughs, spillages, and stains are guaranteed!
Some places where you can find a porró in Barcelona are Culinarium and Isol.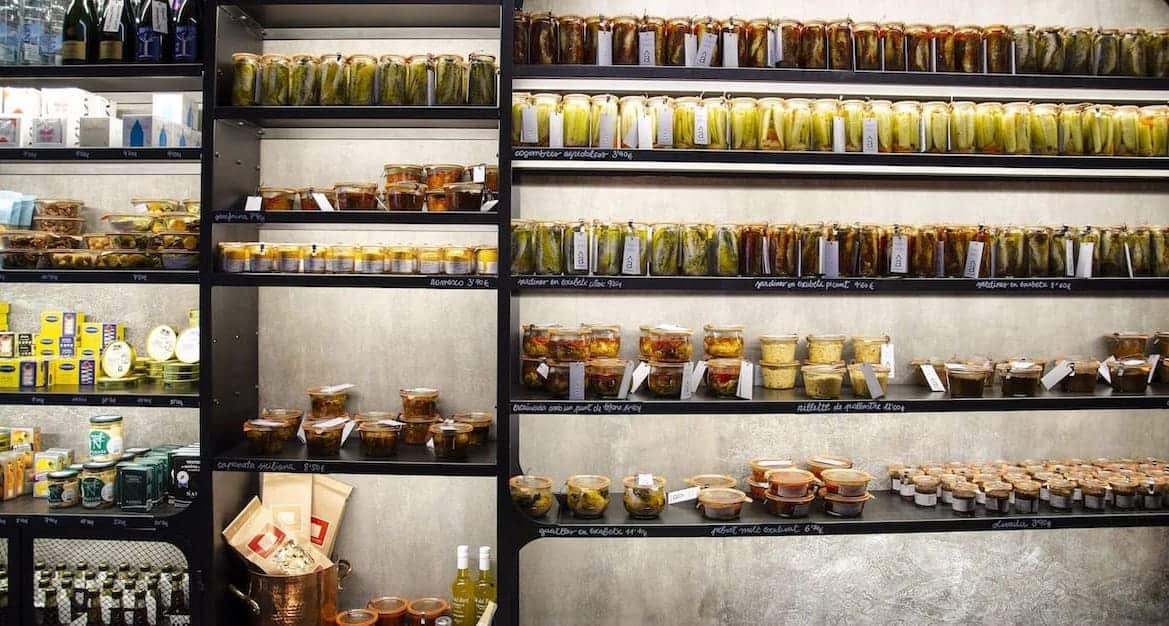 Catalan food
Of course, people around the world associate Barcelona with fantastic food, and well, it's absolutely true! So why not take some with you back home?
There's probably nothing better than returning home after your trip, missing Catalan cuisine, reaching your luggage, and seeing that you can still enjoy some sliced fuet or delicious romesco even though you're far away!
Examples of typical Catalan food you can buy as a souvenir are fuet (a thin, dry-cured sausage of pork meat), galetes Birba o Trias (an assortment with various types of cookies), oli d'oliva (olive oil), anxoves de l'Escala (anchovy fillets in olive oil), carquinyolis (dry biscuits with almonds), arròs de Pals (high-quality rice) or romesco (a delicious nutty sauce).
There are several places in Barcelona where you can find typical Catalan food. Our favourites are: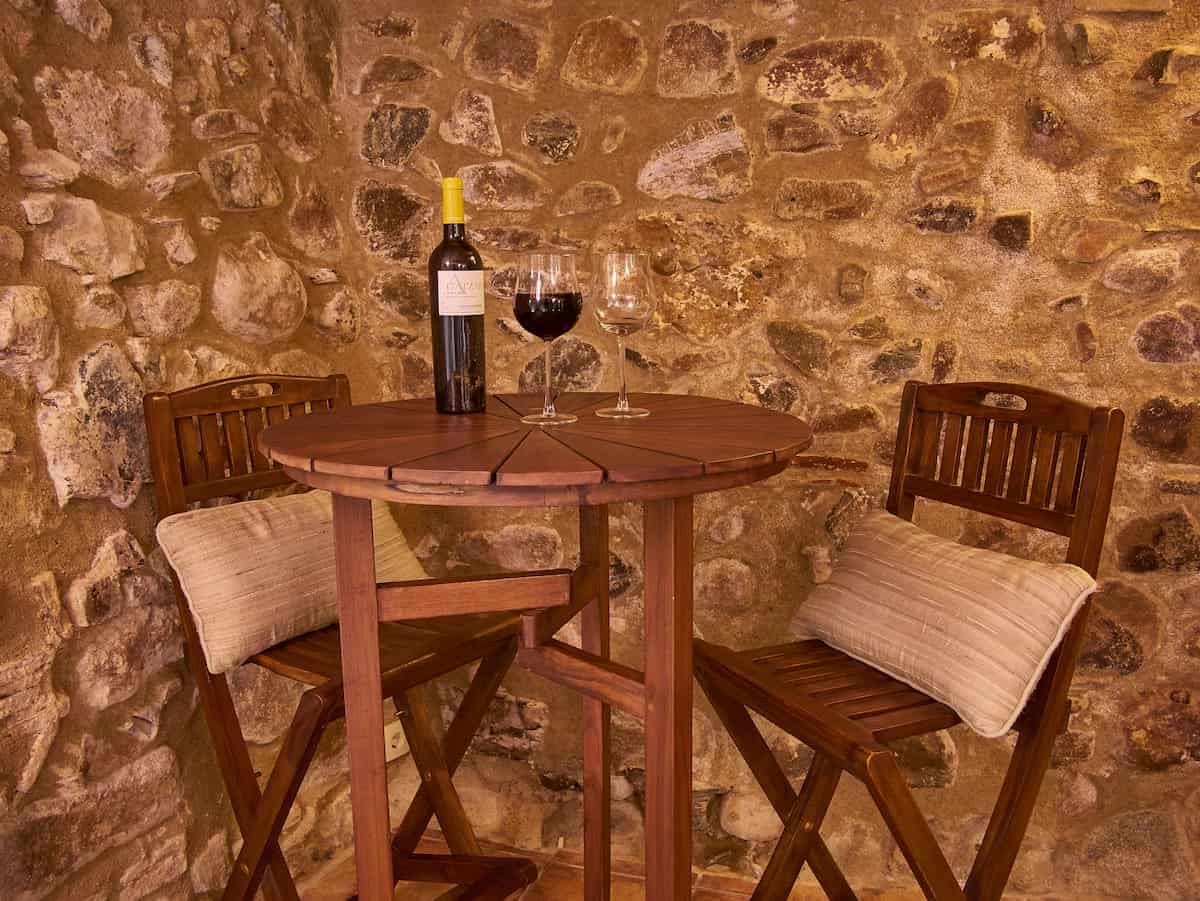 Local wine from one of the many Catalan DO
Are you checking in your luggage? Then, a wonderful souvenir is a wine bottle from a Catalan winery.
Catalonia is a great wine-producing region, with over 600 wineries divided into what we call Denominacions d'Origen or DO (a system indicating a product is from a particular geographical area).
So, where can you find good local wines to take as a souvenir in Barcelona? Some great wine stores are Di-Ví Muntaner (in L'Eixample), La Vinoteca (in La Barceloneta), Vinos Y Max (in Gràcia), Cap de Suro (in Poble Sec), and Bodega Roca (in L'Eixample).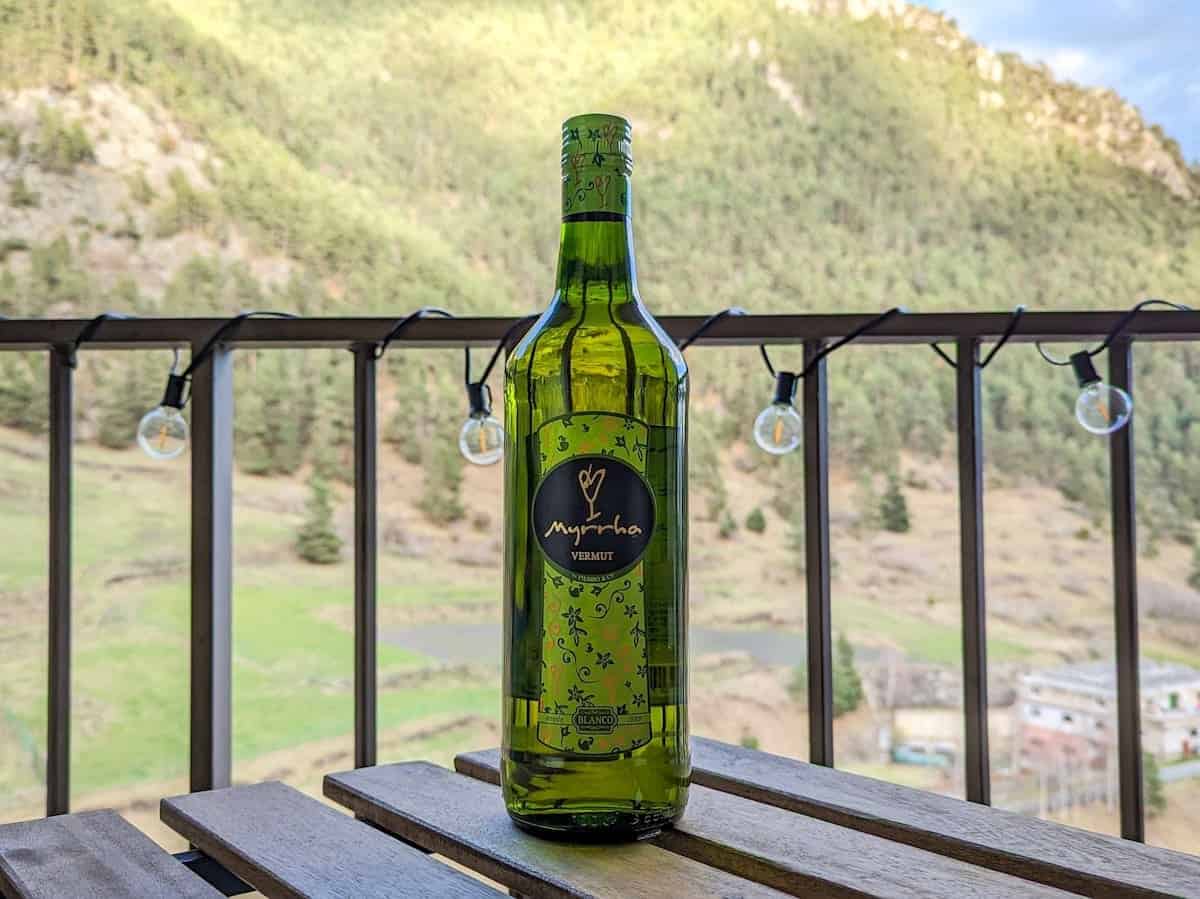 Spirits from a Catalonia-based distillery
If wine is not your thing, you can get a bottle of a Catalonia-born spirit to bring the local Barcelona cocktail experience home with you.
Some of the most popular Catalan liquors are the following:
Ratafia
A sweet digestive made of tender walnuts and aromatic plants. This caramel colour beverage is a favourite amongst locals, especially in the north of Catalonia, and we drink it as shots or when we're eating dessert.
Our favourite ratafia is L'Hòstia, produced in a family cellar run by a twin team. If you wanna crack a laugh, read their website; it's hilarious! In Barcelona, you'll find L'Hòstia at Decántalo, vinosbarcelona, and La Bacanal.
Vermut
Another Catalan classic. Vermut is an aromatised fortified wine flavoured with botanicals. To enjoy it like a local, drink it before lunch, together with olives and chips.
We love the vermut from Vermut Padró, a family-run distillery in a little village nearby Tarragona. Their vermouths are unique, and the design of the bottles is SO beautiful! In Barcelona, you can find Vermut Padró at Di-Ví Muntaner and vinosbarcelona.
You can also find delicious vermouth in bulk at La Vinoteca (in La Barceloneta) and Bodega Roca (in L'Eixample).
Licor d'arròs
Typical from the Terres de l'Ebre region, the licor d'arròs (rice liquor) is a sweet drink with rice, cinnamon, and citrus flavour and a creamy texture.
You can go to vinosbarcelona or Casa Ametller (both in Barcelona) for a bottle or two.
Licor de cassís
A sweet and dark spirit made from blackcurrant. It's original from the Val d'Aran region and it just feels so good to drink it cold after a great meal!
Aromes de Montserrat
Born in the monastery of Montserrat as a stomach ache remedy, this liquor is now famous all over Catalonia. It's made with twelve different species of herbs found in the Montserrat mountain.
You can get a bottle (or more!) at Montserrat's souvenir shop and Vila Viniteca in Barcelona.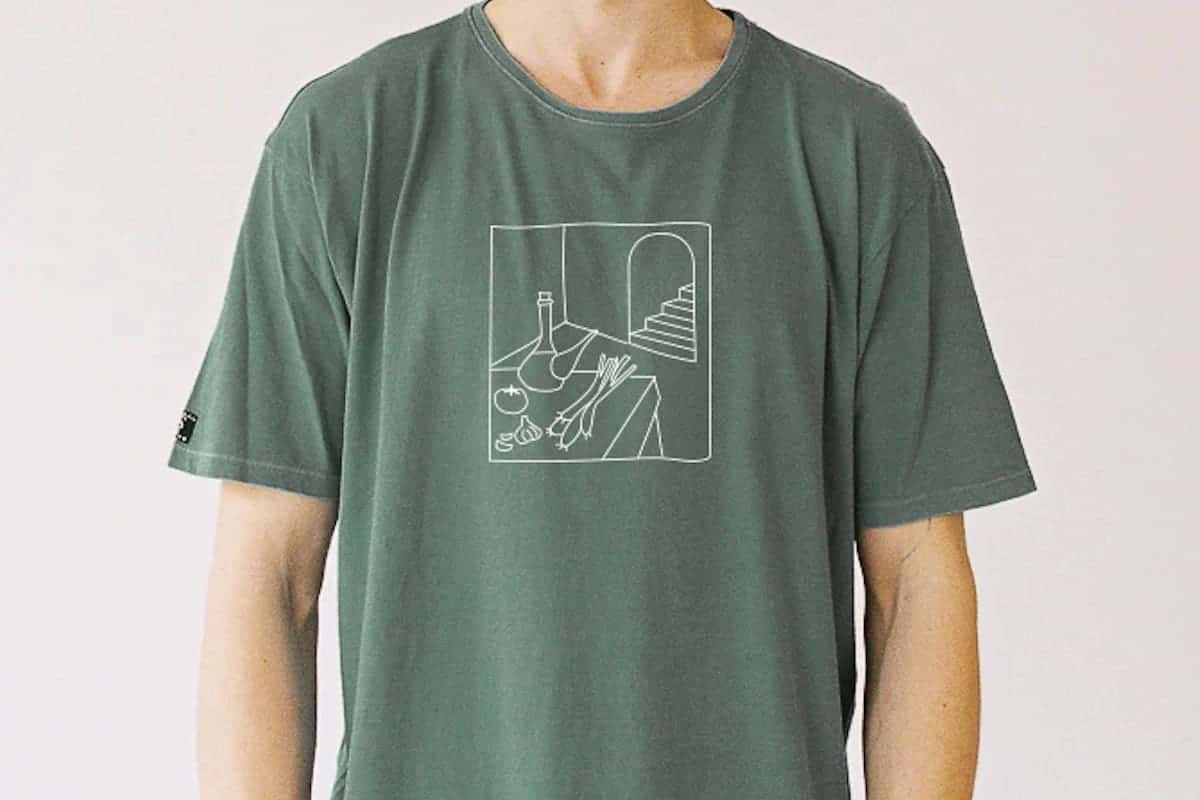 Shirts with Catalan memories
All right, enough food and drinks. Next thing on our souvenir list is clothing!
Forget about these "I love Barcelona" shirts made everywhere but in Barcelona. If you want a shirt that reminds you about your time in Catalonia, we've got some much better and unique options.
Iaios is a family-run clothing business that takes sustainability seriously and is committed to creating beautiful products with a strong sense of culture. Their sweaters are made from recycled yarn, and the shirts are made from organic cotton. Plus, the entire production process takes place in Catalonia!
All the designs feature typical snapshots of Catalan life: a calçotada, the Montserrat mountain, a porró, the vermut, etc.
You get them at Mundana (L'Eixample), B de Barcelona (L'Eixample), Velvet (in Gràcia), and Onland & Gornikramer (in El Born).
Pit i Collons is another Catalan brand created by two young entrepreneurs. They make organic shirts with designs about typical Catalan hobbies, values, and things we love.
You can not get them in Barcelona, but you can get them online.
If you're a fan of skateboarding, then you might like to get a Macba Life piece of clothing as a souvenir. This local brand is inspired by life at Macba square, the longboard mecca of Barcelona. Wanna grab a shirt, hoodie, or hat? You can find them at Puntdou.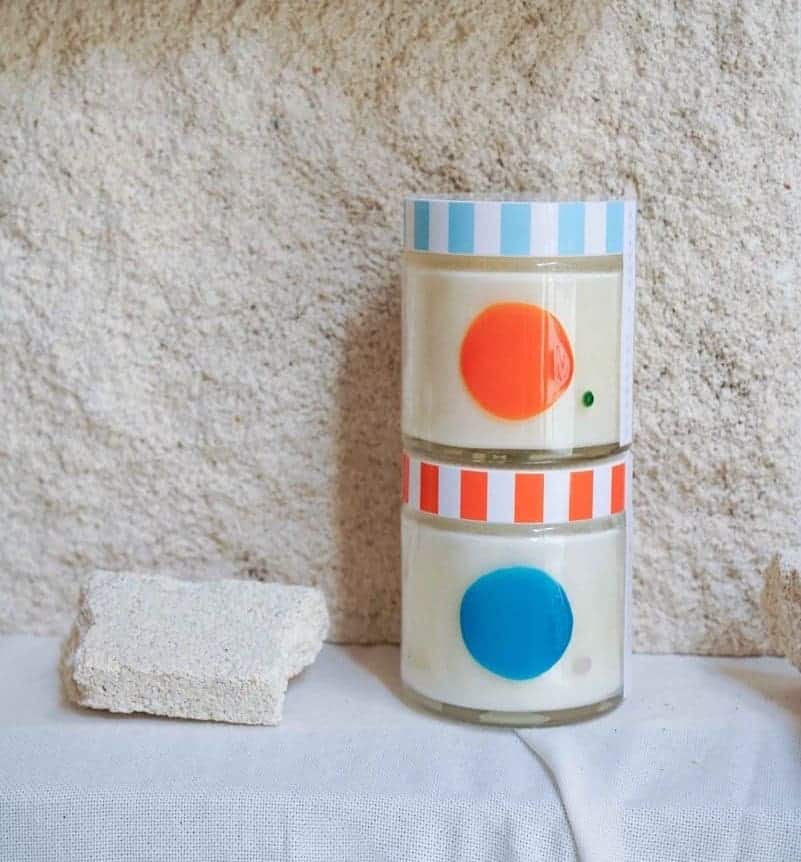 Candles
They say smell has the power to teleport you from one place to another. So, if you want to teleport yourself again to Barcelona and revive your trip memories, get a candle as a souvenir!
Here are some of our favourites: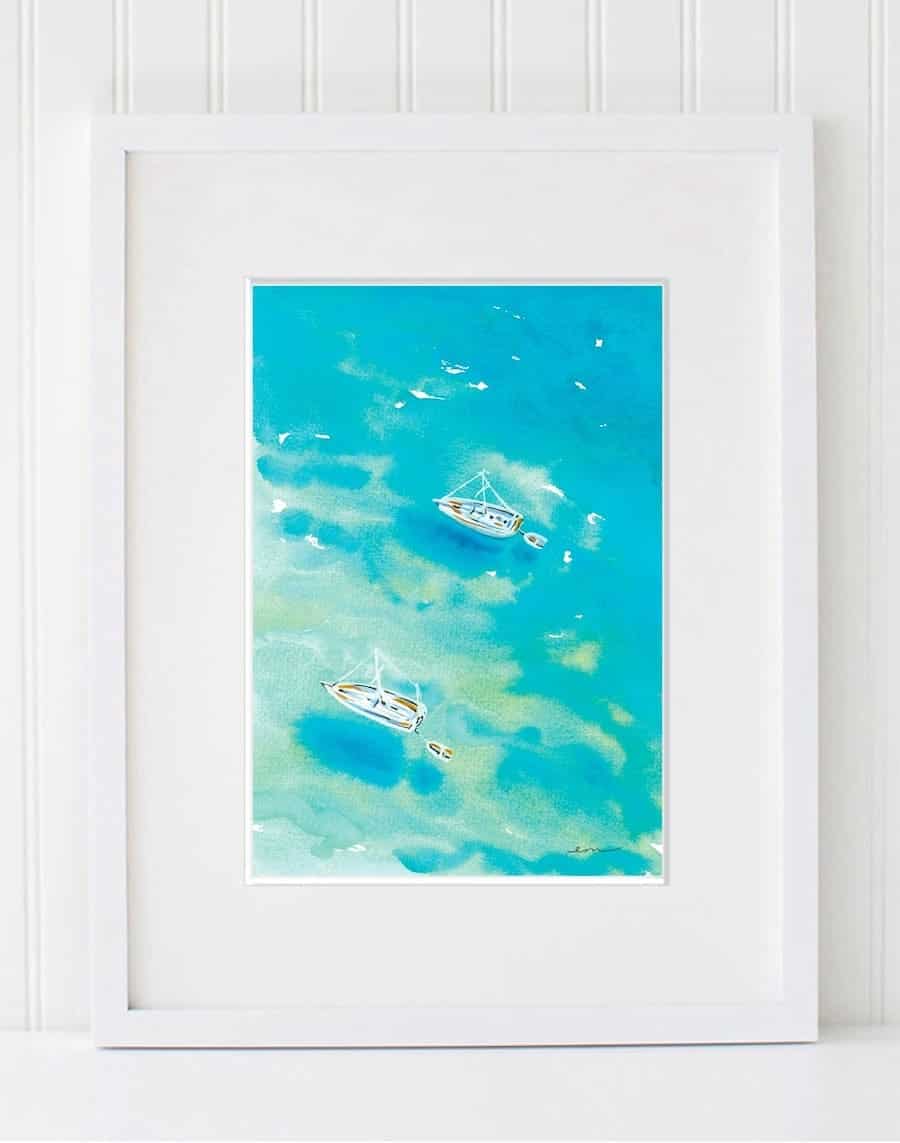 Artwork from local artists
If you are looking for a gift for someone who likes to surround themselves with beautiful things, we have the perfect idea for you: a painting.
We know space can be limited in a suitcase, but bringing home a print or a piece of artwork made by a local artist would give you a very memorable souvenir to get in Barcelona. Try one of these spots: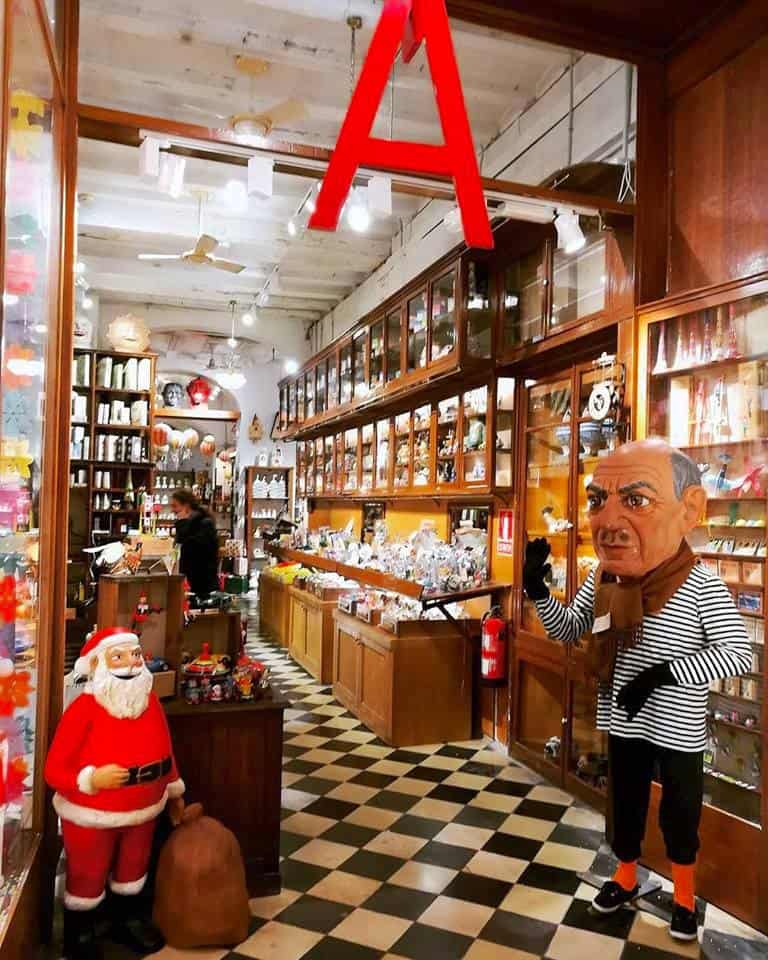 Antiques from Barcelona's best antiquing spot
El Ingenio is one of Barcelona's most famous brick-and-mortar stores for antiquing. This legendary shop opened in 1838 in the Gothic quarter. You'll recognise it because of its renowned papier mâché Picasso sculpture on the street.
Stepping inside feels like entering a wonderland: big A letters hanging from the ceiling like acrobats, face sculptures on the walls, and all kinds of magic board games.
But the true stars of this shop are the capgrossos, traditional papier mâché bigheads present in all popular Catalan street festivals.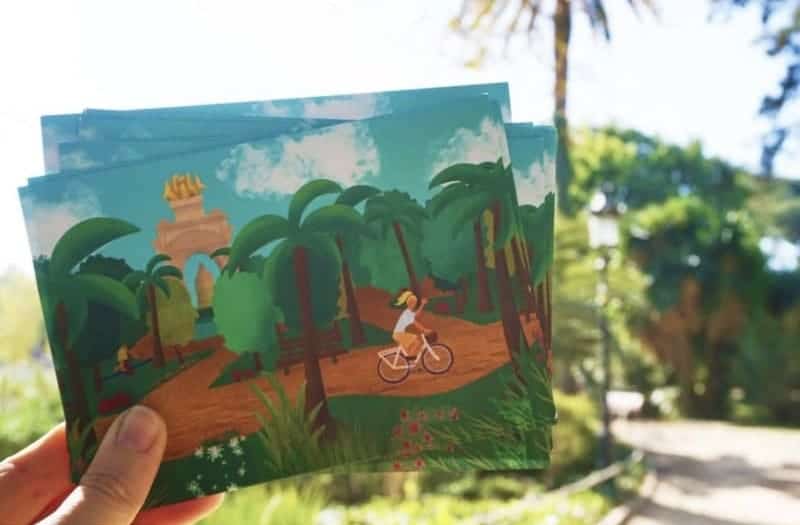 Postcards designed by local artists
There's something truly romantic and nostalgic about sending a postcard to a friend or family from your travels. We love to think about the moment the person finds it in her mailbox, catching her by surprise!
Although you can find postcards about Barcelona in many places, go to Grey Street for unique ones. Their collection based on everyday life in Barcelona is just so beautiful!