The cold has arrived, Christmas is around the corner, and it's that time of the year when wooden logs start excreting presents, and famous people turn into pooping figurines. Yeah, we know, there's something weird with the way we celebrate Christmas, but we're proud of it! If you've never heard of those traditions, we've written a whole post about them. If you have, keep reading! We've rounded up a list of several Christmas markets where you can find them. Time to spice up your Christmas decorations with a Catalan touch!
Christmas markets in Barcelona
Markets spring up all across the city from the end of November and usually stay until the beginning of January. The following are the ones we like the most:
Fira de Santa Llúcia
Located in front of Barcelona's Cathedral, you'll find the Fira de Santa Llúcia. This is the main (and oldest) Christmas market in the Catalan capital, celebrated since 1786.
There are a good range of stalls offering Christmas decorations, handmade crafts, Christmas trees, mistletoes, and the traditional simbomba (a drum-like instrument).
The market starts on the 26th of November and finishes on the 23rd of December (tbc). Opening hours are from 11 am till 8:30 pm Mondays to Fridays, and 10 am to 9:30 pm Saturdays and Sundays.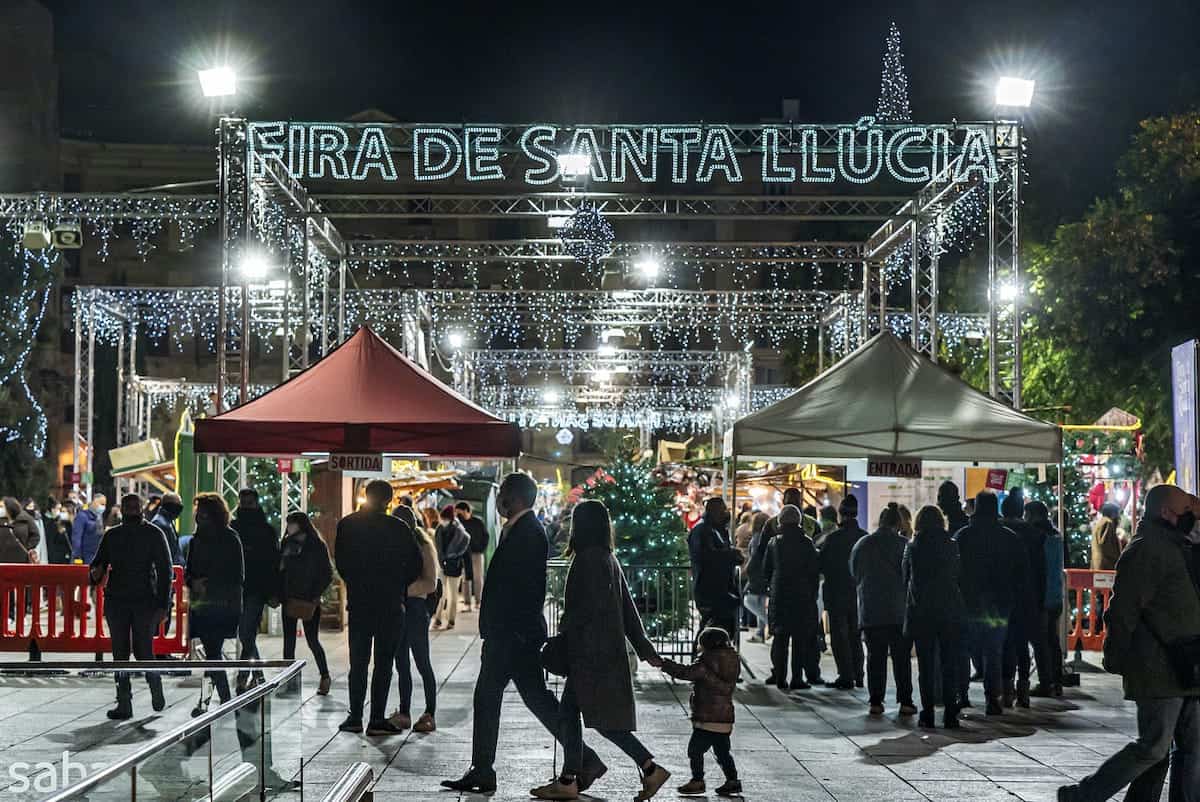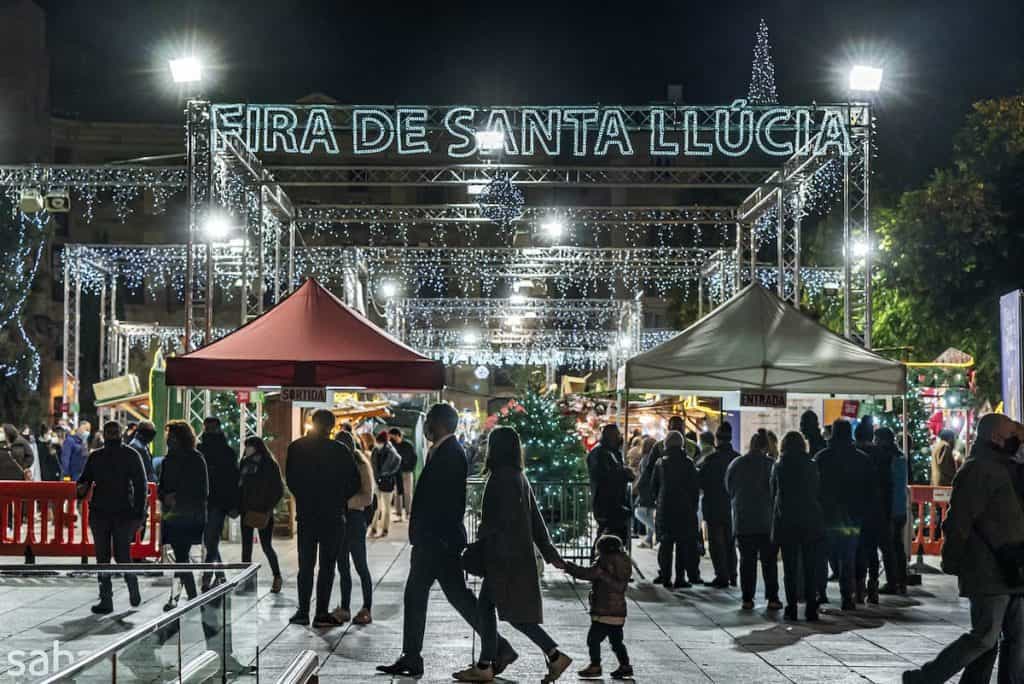 Fira del Port Vell
The Fira del Port Vell is Barcelona's newest Christmas market. You'll find it camped nearby the Christopher Columbus statue. Get lost among the beautiful wooden stalls, try winter delicacies or take a look at the floating nativity scene. This is also the place to jump on a Ferris wheel and enjoy views of Barcelona and its port.
In addition, this market boasts the tallest Christmas tree installed in Catalonia! It's 31 m tall, and all lit up with LED lights.
The market runs from the first weekend of December until the 5th of January. The fair is open daily from 6 pm to 10 pm and at weekends from 10 am until 10 pm.
Fira de Nadal de la Sagrada Família
From the 28th of November to the 23rd of December, the square in front of the Sagrada Família transforms into a Christmas market. Arriving in the city in 1962, this fira also boosts a traditional atmosphere. It's is slightly smaller than the Fira de Santa Llúcia and has more of a local feel to it.
In addition to Christmas decorations (including the well-known defecating figurine of the caganer and all his celebrity versions!), you'll also find beautifully crafted stalls selling xurros, traditional Christmas food, and high-quality handicraft. On the 22nd of December (from 11 am to 2 pm and 5 pm to 8 pm), Santa Claus pays a visit to the market to collect letters from children and hand out balloons and sweets.
This market is open daily from 10 am to 9 pm.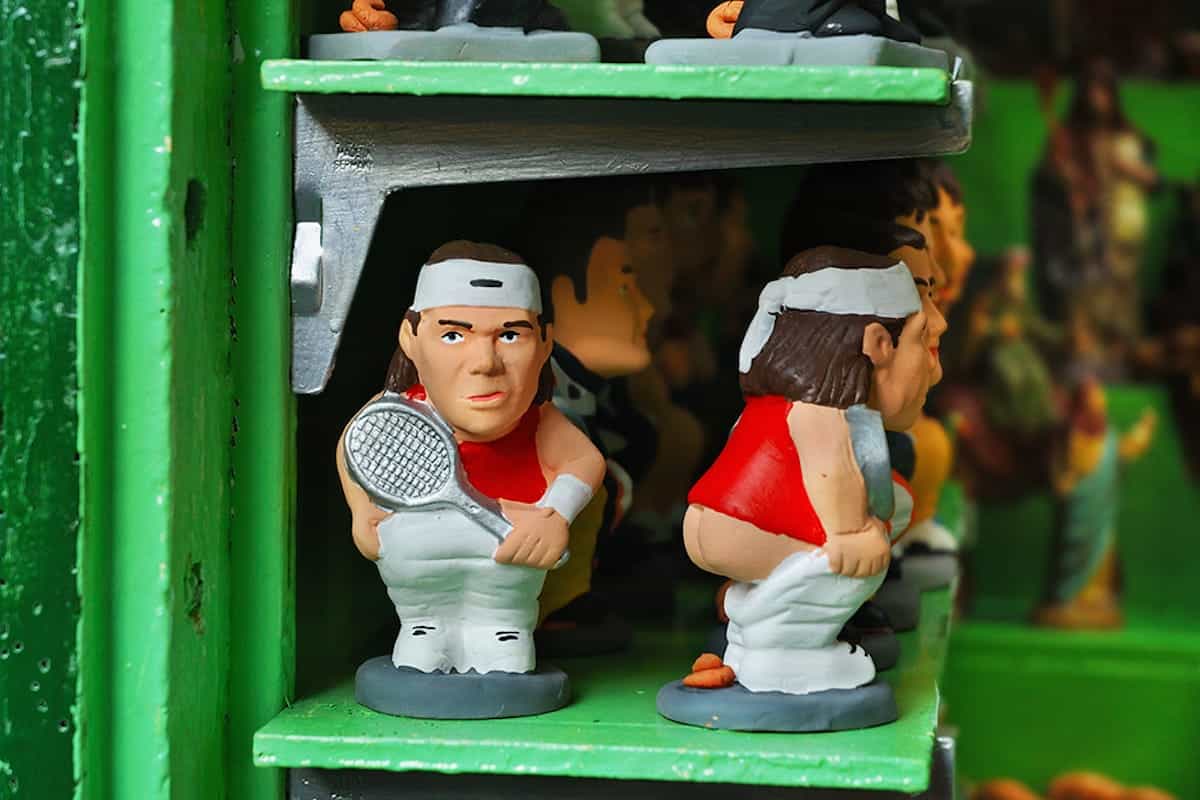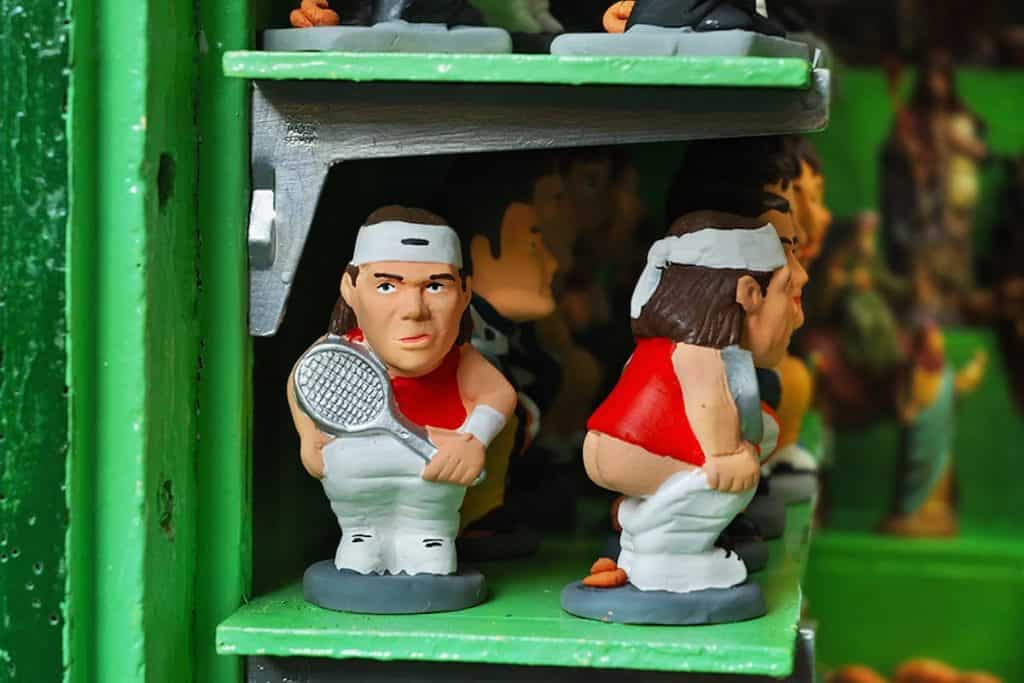 Fira de Reis de la Gran Via
Some 300 market stalls located across the Gran Via offer children's toys, traditional gifts, xurros and hot chocolate in the heart of the buzzing city centre. The market receives its name because it takes place along various sections of the well-known street Gran Via (mostly between Carrer Calabria and Carrer Muntaner).
As you might be aware, the main day for giving and receiving presents in Catalonia is Kings Day, which is January 6th. The presents are not delivered by Santa Claus but by the Three Magic Kings. Hence the first part of the name of this market.
The Fira de Reis runs from the 20th of December until the 6th of January. Opening times are from 10 am to 10 pm Monday to Friday, and from 10 am to midnight Saturday and Sunday.
Christmas markets in Barcelona province
Fira de Nadal i del Torró Artesà de Cardedeu
If there's one product that's present in all Catalan Christmas meals, this is torró. And if there's an ideal place to enjoy this dessert, this is the Fira de Nadal i del Torró Artesà de Cardedeu. The market takes places in Cardadeu during the 10th, 11th and 12th of December.
You'll be spoilt for choice: not only you'll be able to try the classic torrons, but also inventive recipes. One of the most famous is the torró artesà de borrego de Cardedeu, created in 2000 and made of marzipan and cumin. Asking for it will be an exciting challenge, but your tummy will surely thank you!
Besides this dessert, there're also stalls with Christmassy decorations and typical Christmas goods.
Fira de Nadal de Caldes de Montbui
If a dish of escudella (a Christmas soup we eat in Catalonia) is already mouth-watering, imagine one cooked with thermal water and firewood. This happens in Caldes de Montbui, a village famous for its thermal baths and hot springs. But during Christmas time, this village is also famous for something else: cooking the biggest pot of Christmas broth in Catalonia! The inhabitants use two giant pots of 1.5 m in diameter where they cook 1.600 liters of borth in each. So, they end up with 3.000 liters of broth! Isn't this just crazy!?
If you want to taste it, head to the Fira de Nadal de Caldes de Montbui, which happens on the 27th and 28th of November and from the 3rd to the 6th of December.
Besides this gastronomic incentive, handmade gifts, tree decorations and traditional food are also available there.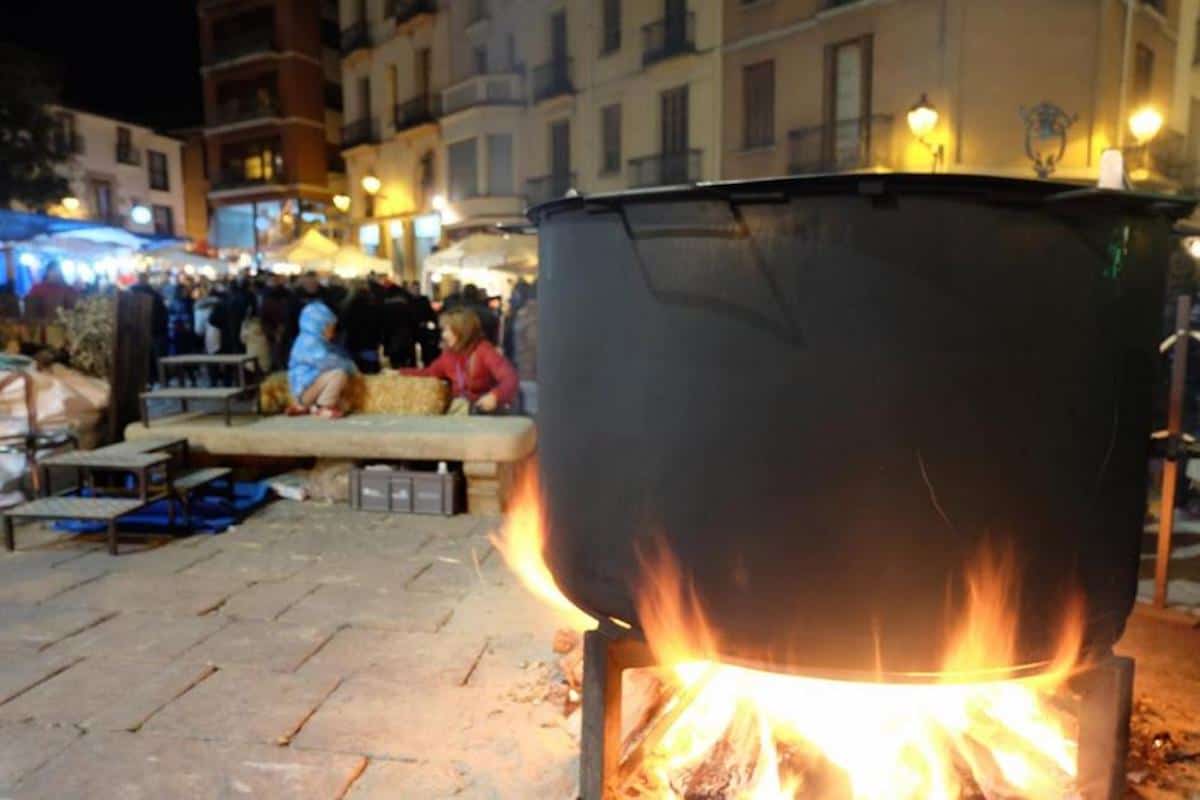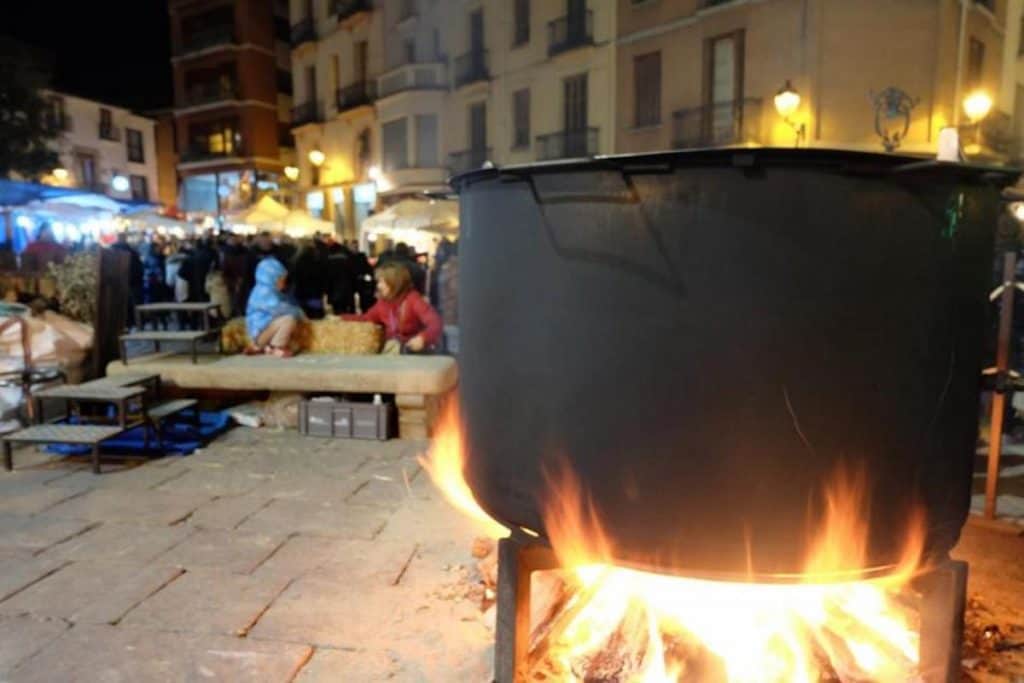 Christmas markets in Girona province
Fira de l'Avet d'Espinelves
If you want to see lots of fir trees, you can either go to the forest or to the Fira de l'Avet d'Espinelves. For over 35 years, this has been the reference market in Catalonia for buying Christmas trees. The majority of stalls are given over to selling fir trees, and more than 4.000 fir trees are sold each year!
Not only you'll find Christmas trees there, but also stalls selling local food, winter products, and handcrafts.
The market takes places in Espinelves, a small charming village surrounded by the Montseny mountains, from the 4th to the 12th of December. The village is located 1 h and 20 min by car from Barcelona.
Fira del Pessebre d'Olot
Figures, figures, and more figures. That's what you'll find in this beautiful open-air Christmas market. From the 5th to the 8th of December, the streets of Olot (a city one hour from Girona) get dressed with Christmas lights and wood stalls selling pooping logs, Christmas trees, and figures for the pessebre (the representation of the nativity scene).
To make it more Christmassy, you can practise your skating skills in the ice ring located in Olot's city center.
If you happen to go to the Fira del Pessebre d'Olot, you can also visit the live nativity scene in Santa Pau, a small village 9 km from Olot. On the 4th and 5th of December at 7 pm, you can enjoy the representation of almost twenty scenes from the Bible.
Christmas markets in Lleida province
Fira del Tió de Solsona
This Christmas market takes place in the beautiful town of Solsona, located 1 hour and a half from Barcelona. What's really cool about the Fira del Tió in Solsona is that the Tió is the main protagonist! Don't know what the Tió is? It's our beloved pooping log! We'll explain you everything about it here. Yup, this market is all about pooping logs!
You'll find authentic logs from the woods of the regions, as well as handmade shepherd's sticks to hit the Tió and make him poop.
If you're looking to know more about this fun (and crazy) tradition, head to Solsona on the 4th of December!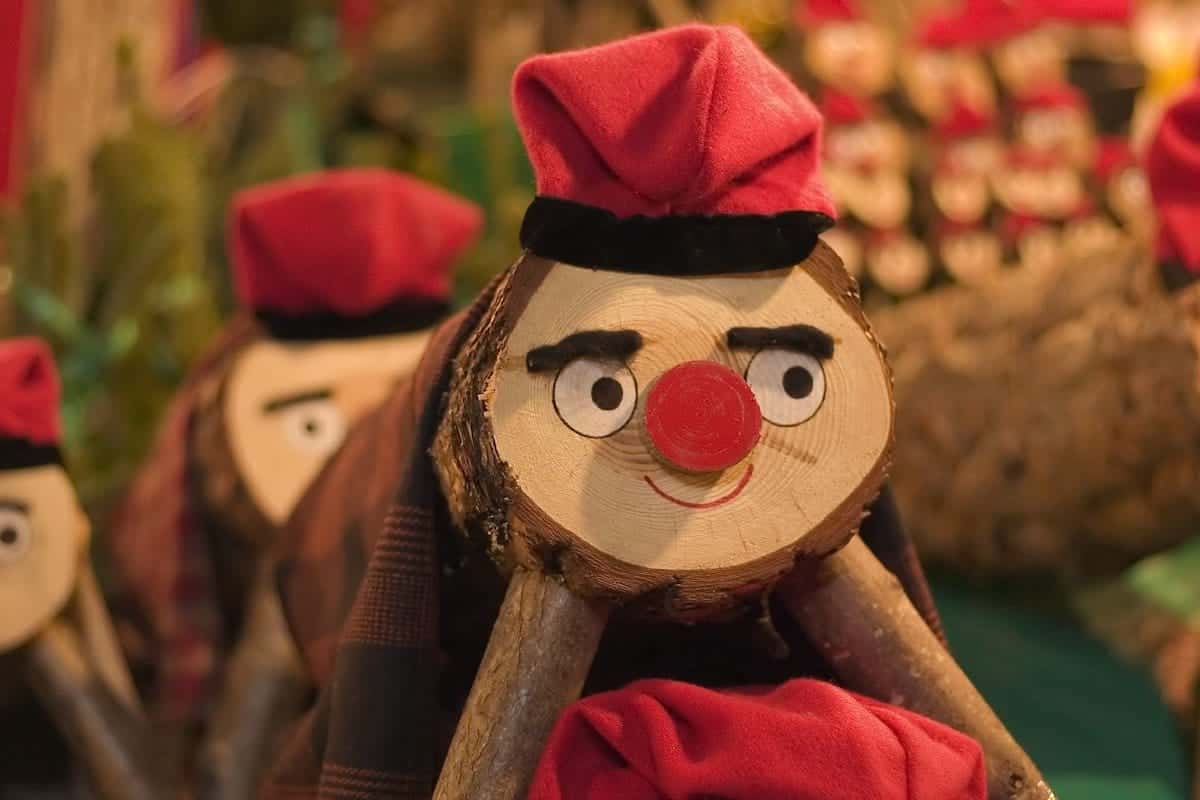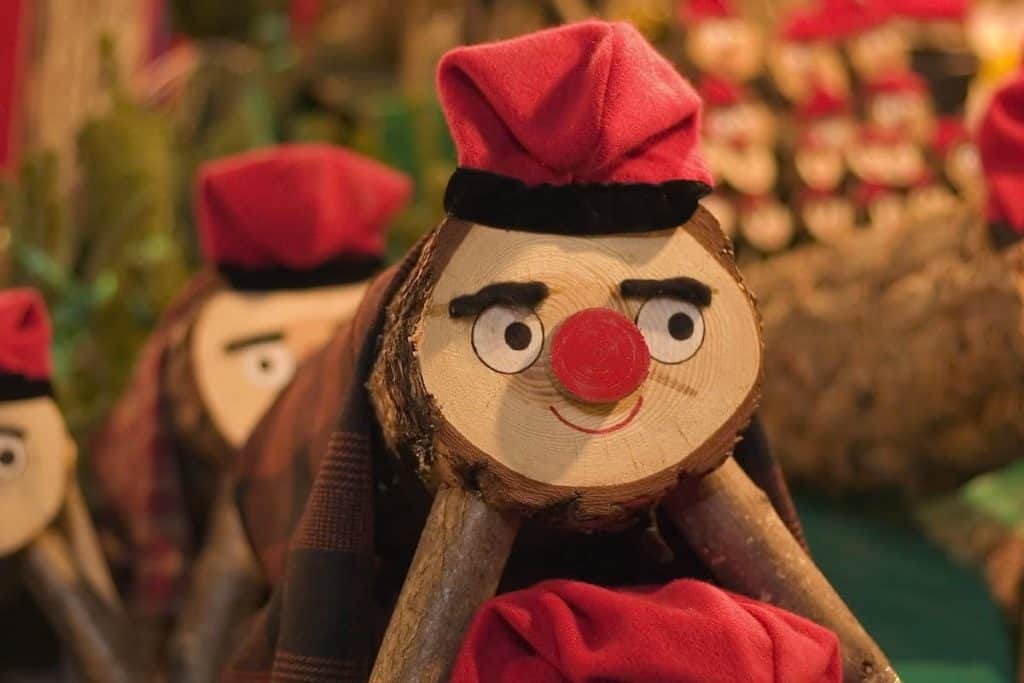 Other Chistmas markets in Catalonia
We've just mentioned the most peculiar and prominent markets in Catalonia. Besides those, there are usually smaller Christmas markets in most of Catalonia's cities and villages.
That's it from our side! We hope you enjoy the Christmassy atmosphere of this markets, taste some traditional food, and find a caganer to level up your nativity scene!
---
More Christmas inspiration
Are you coming to Catalonia during Christmas? Then, these guides will help you plan your trip: