Never been to Barcelona and think that there are tons of things to see and do in the couple of days you have? Don't panic; our Barcelona 2-day itinerary will come in handy!
If you want to discover Barcelona in just a few days, we've prepared a plan to cover the basics and immerse you in the Catalan capital.
Ready to explore Barcelona like a local?
* Post written for the first time in January 2018 and updated in August 2023.
Day 1 of our Barcelona 2-day itinerary
8:00 am – Breakfast
Start the day by waking up around 8 am so you have plenty of time to do many things. We suggest you have a Mediterranean breakfast, including seasonal fruit, tea, natural juice or coffee, and sweet pastries (bread with butter and jam or croissants) or savoury snacks.
A proper Catalan breakfast would include bread rubbed with tomato (a weird thing that most Catalans do) with cured meats (Serrano ham, fuet or llonganissa) or cheese.
The variety is enormous, so we're sure you'll find some combinations you love.
9:30 am – Sagrada Família
Time to head to the Sagrada Família. Gaudí's unfinished masterpiece is a must to visit.
This emblematic cathedral is a world reference in architecture and design. Maybe you've seen the outside in pictures or passing by, but we assure you the inside is even more impressive and magnificent!
To give you a little background, the cathedral's construction commenced in 1882 as a completely different project. In 1883, Gaudi took over and redesigned it in his style. It's still being constructed, and plans are to complete it in 2026 (100 years after Gaudí's death). The Sagrada Família is a UNESCO World Heritage Site.
And yes, we've visited other cathedrals worldwide and feared that the Sagrada Família would be just one more. But all of that went away the moment we stepped on it.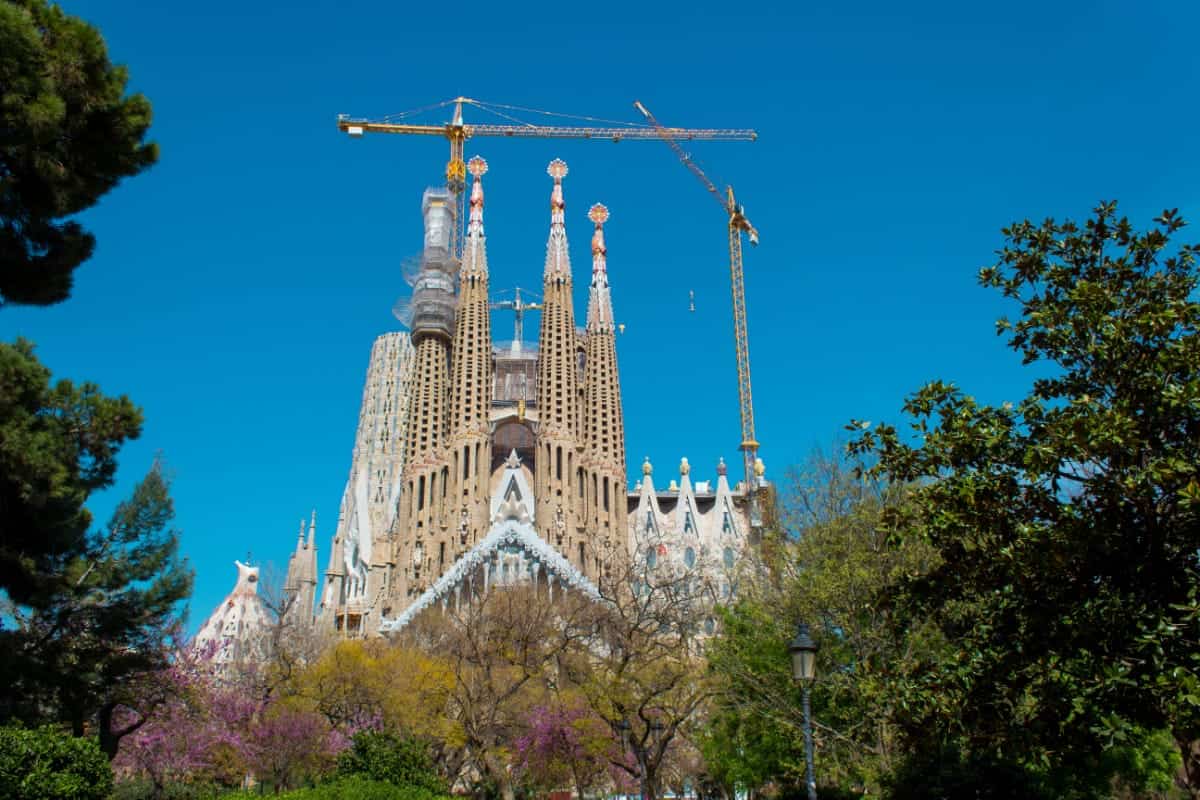 12:00 pm – Marina, Arc de Triomf and La Ciutadella
After getting out of the cathedral, walk along Marina street. You'll still probably be thinking about all the colours and the magnificence of the Sagrada Família! 20 min walking, and you'll arrive at the Arc de Triomf (Triumphal Arch), which crosses over the wide central promenade of the Passeig de Lluís Companys.
At the end of this promenade, you'll see the Parc de la Ciutadella, the greenest oasis in the city. It's an idyllic park with a beautiful and impressive fountain in the middle. If you go there on a sunny day, you'll find many people doing all kinds of activities, from slacklining to playing the guitar.
2:00 pm – Have lunch in La Barceloneta
It's time for lunch! We all know that Catalan people usually eat pretty late…
You're close to the sea, so the best option is to grab something to eat and enjoy it at the beach. We suggest getting a sandwich at Bar Leo, a bar run by a friendly old lady called Leo. The food is delicious, and the atmosphere is typical Spanish.
Once at La Barceloneta beach, you can finally eat the sandwich you've earned with all the walking. Take this time to relax and sunbathe for a bit.
If it's warm, you can even put your feet to the sea or take a bath -highly recommendable in the hot summer days of Catalonia!
3:00 pm – Telefèric del Port, Montjuïc and Plaça d'Espanya
It's time to discover the city from another perspective. Get on the cable car that starts at the beach and ends at Montjuïc to enjoy an impressive panoramic view of Barcelona.
Remember that there is a long queue for taking the cable car, especially during summer weekends and holidays, as the tickets can't be bought online.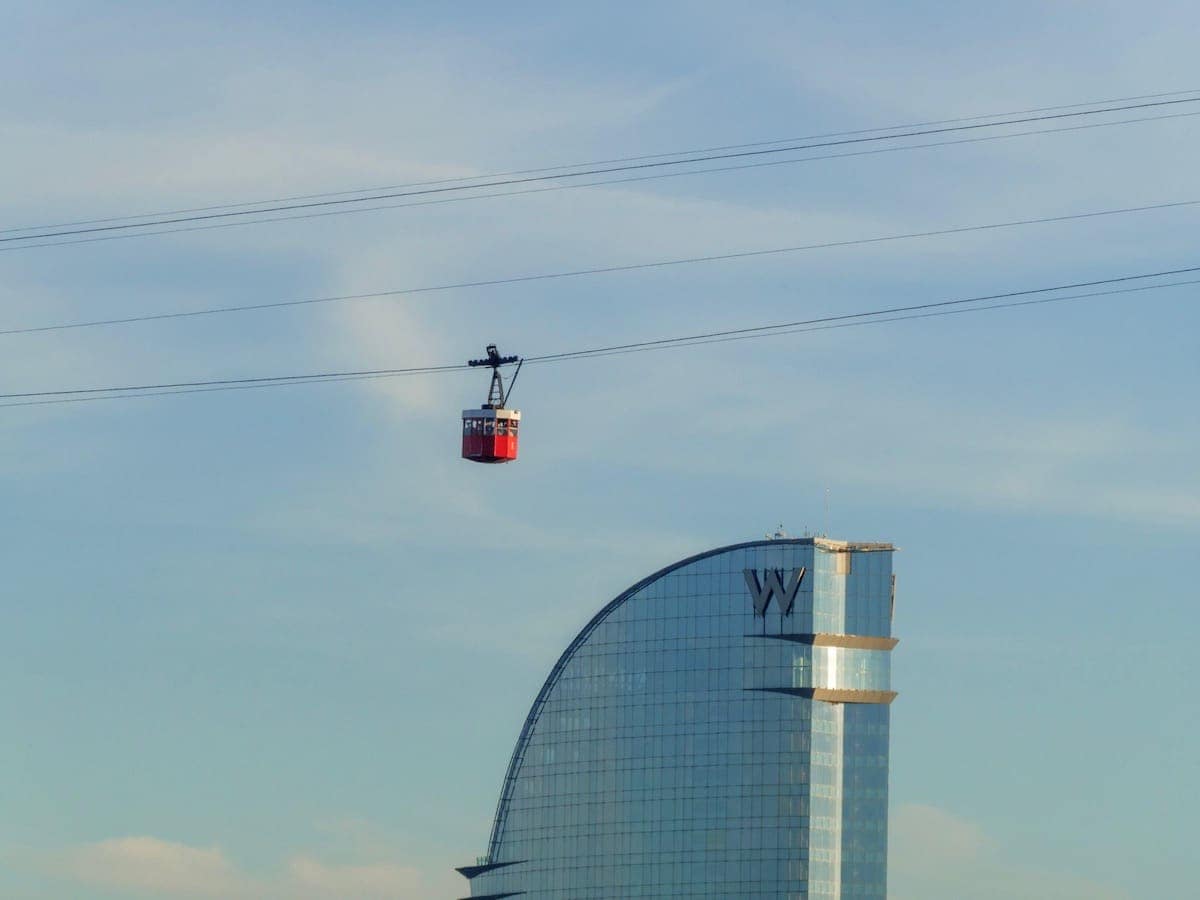 Once in Montjuïc, go for a lovely walk until the Estadi Olímpic de Lluís Companys, where the Olympic Games of 1992 were played. It's a 30 min walk, give or take a few mins.
Your day hasn't ended yet; there's still time for more things! As you descend from the Montjuïc mountain, you'll encounter many famous monuments, such as the MNAC (National Museum of Art of Catalonia), the magic fountain of Montjuïc, and the Torres Venecianes. You'll end up in Plaça d'Espanya, a big roundabout with some important buildings.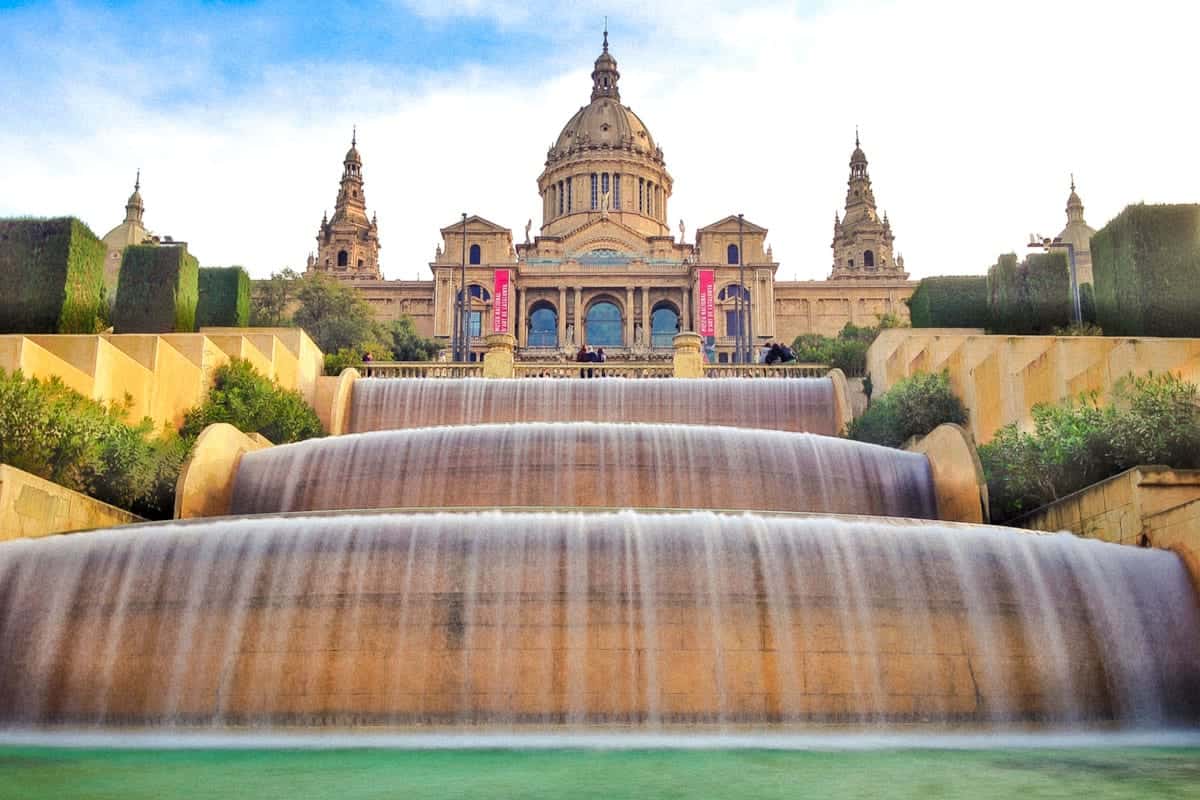 9:00 pm – Carrer Blai
Feeling hungry? We've got you covered!
We suggest you have dinner at one of Barcelona's most famous streets to eat tapes and pintxos (a small slice of bread with various toppings): Carrer Blai. This street is full of bars, and you can just go from one to another to try as many different tapes as possible.
Day 2 of our Barcelona 2-day itinerary
8:00 am – Wake up and breakfast
You've probably heard about the typical Spanish dish called churros (xurros in Catalan). If you want to try some delicious ones with hot chocolate, head to La Dulcinea. This cafeteria, located in the heart of Barcelona, is the perfect spot to enjoy some sweet breakfast and boost your energy for another day of exploring Barcelona!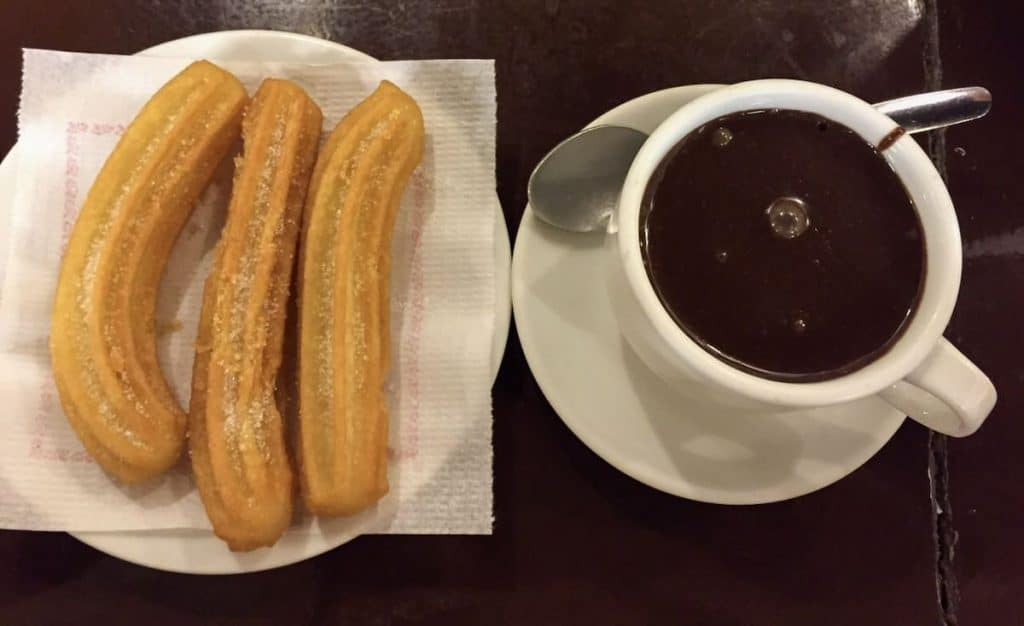 10:00 am – Passeig de Gràcia
Start today's journey at Passeig de Gràcia with Provença. This is the place where La Pedrera, also known as Casa Milà, is located. It's one of the most-known buildings of Gaudí, and besides the beauty of the facade, it also has a fantastic terrace.
Since you don't have much time, we don't recommend you enter. But obviously, if you have time or are very interested in Gaudí's art, step right into it! Remember that is always better to book the tickets in advance.
After admiring the building and taking some pictures, walk down Passeig de Gràcia following the direction of the sea and just immerse yourself in the beauty of this street. It's worth mentioning that you can find the most expensive and glamorous shops in Barcelona along this street.
Also, a couple of blocks away, you'll find Casa Batlló, another of Gaudí's buildings. Even though it's less known than La Pedrera, in our opinion, the inside is way more beautiful.
If you're short on time, we won't recommend you enter either because we still want to show you many things! However, we suggest buying the tickets online if you have time and want to check out this masterpiece.
11:30 am – Plaça Catalunya, Les Rambles and Mercat de La Boqueria
When you reach the end of Passeig de Gràcia, you'll find yourself in Plaça Catalunya. This is considered the centre of Barcelona, and it's a magnificent square surrounded by shops and restaurants of all kinds.
Continue your journey to the sea via the famous street of Les Rambles. If you can't find it, don't look at your phone! Just ask anyone around, and you'll have the chance to meet with locals or with other travellers like you.
After a 10 min walk, your first stop is the Mercat de la Boqueria. It's a big colourful market that will make your senses wiggle with excitement. The entrance is always full of people, but don't be scared. Once inside, it'll probably be quieter.
Considering it has been a long time since breakfast, you deserve some snacks. You'll find everything you can think of in this market. Still, we recommend the smoothies or fruit pieces that are always fresh, delicious, and natural and should cost you no more than 2 €.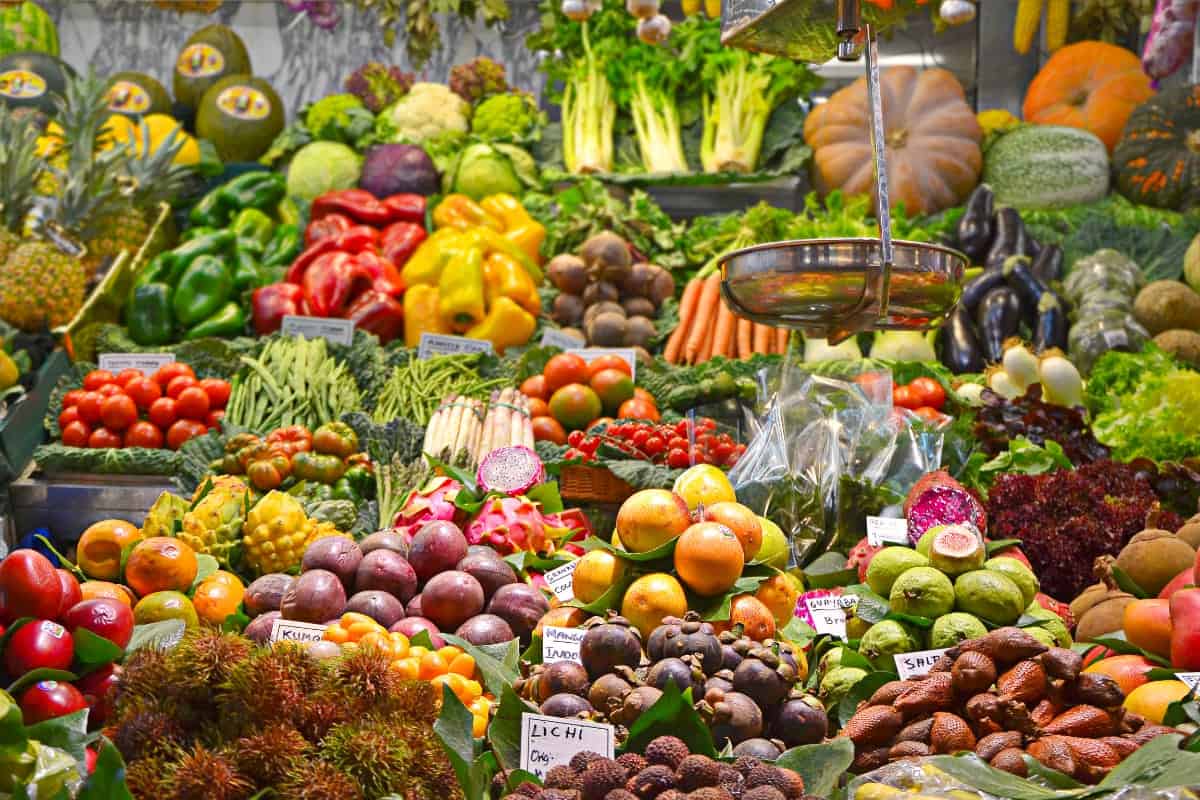 After that energy boost, keep going down, admiring the diversity of people and life around you until arriving at Plaça Reial. This is another incredible square full of restaurants and bars.
Once you get closer to the sea, you'll see the statue of Cristòbal Colón in the middle of a roundabout. Right behind it, there's one of the city's ports. Walk beside it until getting to Via Laietana and the charming neighbourhood of El Born.
1:00 pm – El Born
El Born is nowadays one of the most popular districts of the city. It's mainly made of old buildings renewed into cool restaurants and bars. We suggest you get lost inside it and stop by to eat something.
El Born has plenty of amazing places to eat, which I'm guessing you will be stoked about after the intense morning walk! La Paradeta is an excellent choice to taste Spain's delicious fish and seafood. It's a restaurant with high-quality products at an affordable price. You can choose the kg of each food you want to eat and how you want it to be cooked. A paradise for food lovers!
Other great restaurants in the area are Tantarantana, Bodega La Puntual, and Vegetalia Born.
Some of the points of interest in this neighbourhood are the Palau de la Música (where you can do a self-guided tour) and the Basílica of Santa Maria del Mar. Also, the train station named Estació de França is worth a visit.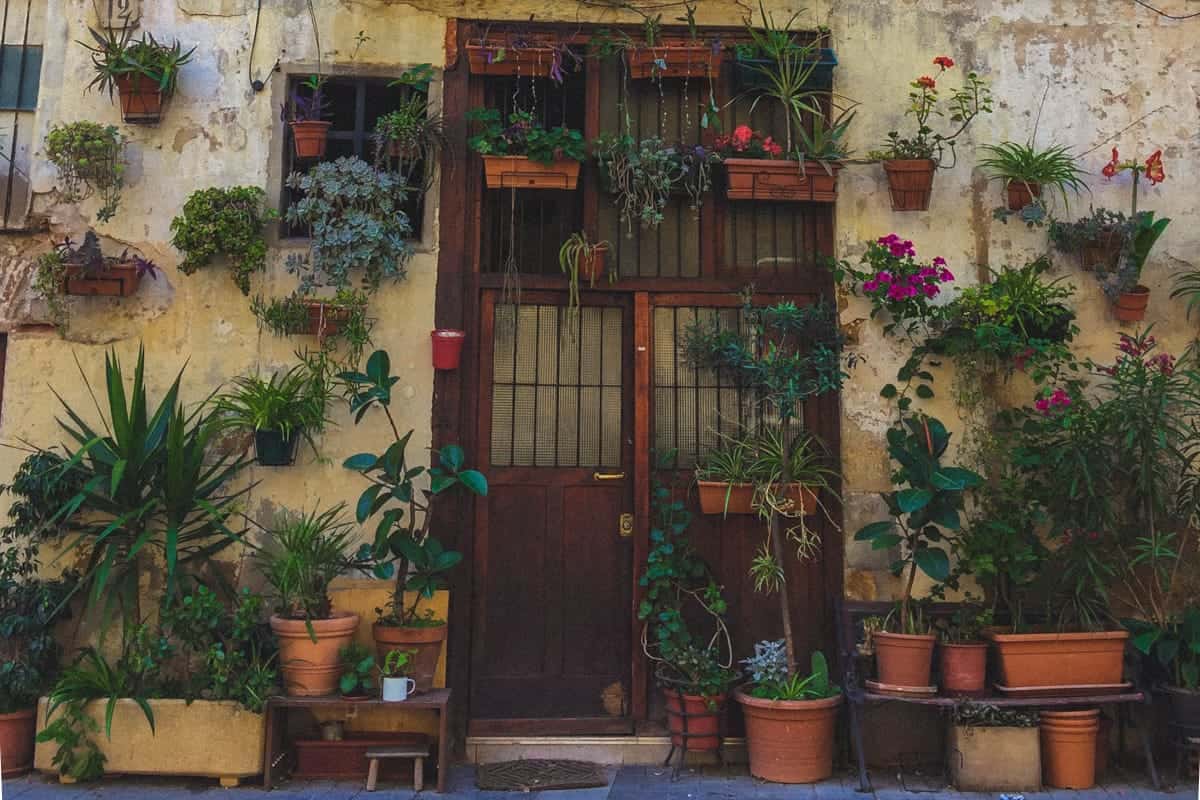 3:00 pm – Barri Gòtic
Home to many buildings from the Roman and medieval times, the neighbourhood of Barri Gòtic makes you feel like in another century. It's the historic centre of Barcelona and the oldest part.
Stroll through its streets to discover the cathedral of Barcelona, the Basílica de Santa Maria del Pi or the Plaça de Felip Neri, a small charming square with a harrowing story.
Don't forget to look at Plaça de Sant Jaume, the political centre of Barcelona. Important administrative buildings for Barcelona and Catalonia, such as The Palau de la Generalitat and the Town Hall, are located in this square.
5:00 pm – Park Güell
You've probably heard about the Park Güell because it's one of Gaudí's most famous pieces of architecture. But the impressive and beautiful architecture is not the only thing you'll enjoy here. The views are also unique because the park is located on a hill.
8:00 pm – Gràcia
The district of Gràcia is a popular area among bohemian crowds and artists, and it feels like a different place from Barcelona.
For an authentic local experience, sit in the Plaça del Sol for a beer as you observe people around chatting or playing the guitar. You might find it weird, but it's pretty usual to see people sitting on the square floor instead of the chairs of the bars.
For dinner, the bar La Nina (tapes), Sartoria Panatieri (pizzeria), Toma Ya Street Food (Peruvian cuisine), Santa Gula (tapes), and Bērytī (Lebanese cuisine) are some of our favourites in this district.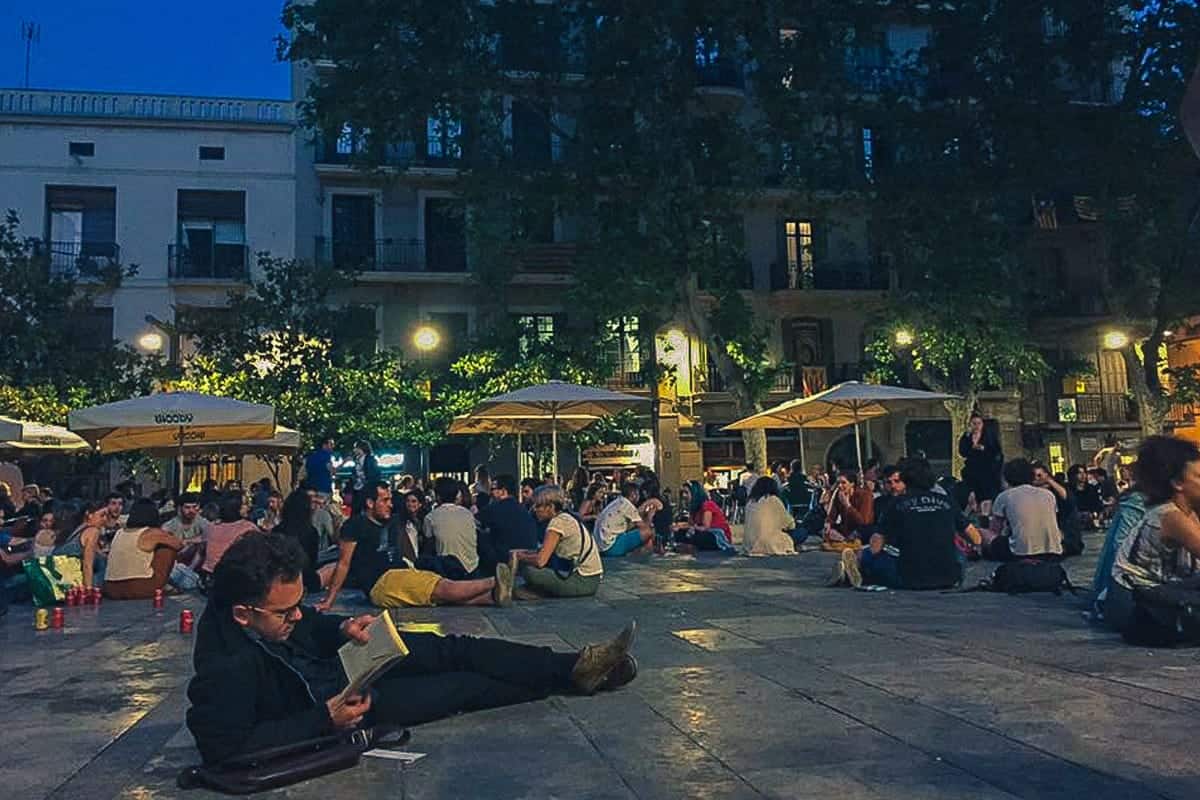 Barcelona 2-day itinerary map
To make following this 2-day itinerary around Barcelona a little easier, we have pinned all the locations and stops mentioned in this post on the map below.
We hope this Barcelona 2-day itinerary helps you better plan your trip. Although intense, this plan will allow you to make the most out of your 2 days in the city.
Have fun exploring the Catalan capital!
---
More Barcelona inspiration
Are you staying in Barcelona for more days or want to explore a more unusual and unconventional side of the city? We've got what you need! Check out the following posts:
Need help finding a place to stay in the capital? Our Recommended Hotels in Barcelona guide will surely help!