If you're travelling to Barcelona in October, you're set for nice temperatures, an alive but not crowded vibe, and many things to do.
While summer is over, the events don't stop. It's a wonderful month to enjoy local delicatessens, visit the not-so-crowded iconic spots, and stroll around the streets while eating roasted chestnuts.
Are you visiting Barcelona in that month and looking for ideas? Scroll to discover what to do in the Catalan capital in October!
🛤 Thinking about venturing outside the city?
Discover all the events going on in Catalonia in October, from watching horror movies in one of the world's most renowned film festivals to celebrating Halloween in Spain's most visited theme park.
Is October a good time to visit Barcelona?
Absolutely! October is one of our favourite months to stay in Barcelona.
Temperatures are much more manageable than in summer months, but it's still sunny to sit on a terrace and enjoy a vermouth or a beer. The brave ones can even dare to dip in the sea!
Also, the flocks of tourists are gone, so the city has a more local vibe than in peak season.
And regardless of the end of the high season, there are still plenty of things to do to enjoy the Catalan capital.
⚠️ Important!
The 12th of October is a public holiday in Spain, the National Day of Spain. On this day, people commemorate the country's long history, and it's not unusual to see demonstrations in Barcelona with people carrying Spanish flags.
If you plan on going to a specific restaurant or shop, check if it's open in advance, as most of them close on that day.
The weather in Barcelona in October
The beach weather may be over, but it's still sunny and dry in October in the Catalan capital.
🌡 Temperatures
The average high during the day is 23ºC (73ºF), so you can still wear a T-shirt at midday. At night, temperatures are lower, with an average low of 17ºC (62ºF). You'll need a jumper or thin jacket, but you can safely leave your winter jacket home.
It's not very humid in Barcelona in autumn, which makes the warm weather even more enjoyable.
☔️ Rain
Although it's sunny most of the time, there are, on average, 6 days of rain in Barcelona in October. This makes it one of Barcelona's wetter months, so grabbing an umbrella or a rain jacket and having a couple of indoor plans in mind is a good idea!
☀️ Hours of light
Throughout October, days get shorter and shorter. The average day in Barcelona during October has 11.2 hours of daylight, with sunrise at 8 am and sunset at 7 pm. It's a wonderful time of the year to enjoy sunrise and sunset, as you don't have to wake up very early or stay up til late.
Also, remember that you have to delay the clock one hour on the night of the 30th to the 31st of October.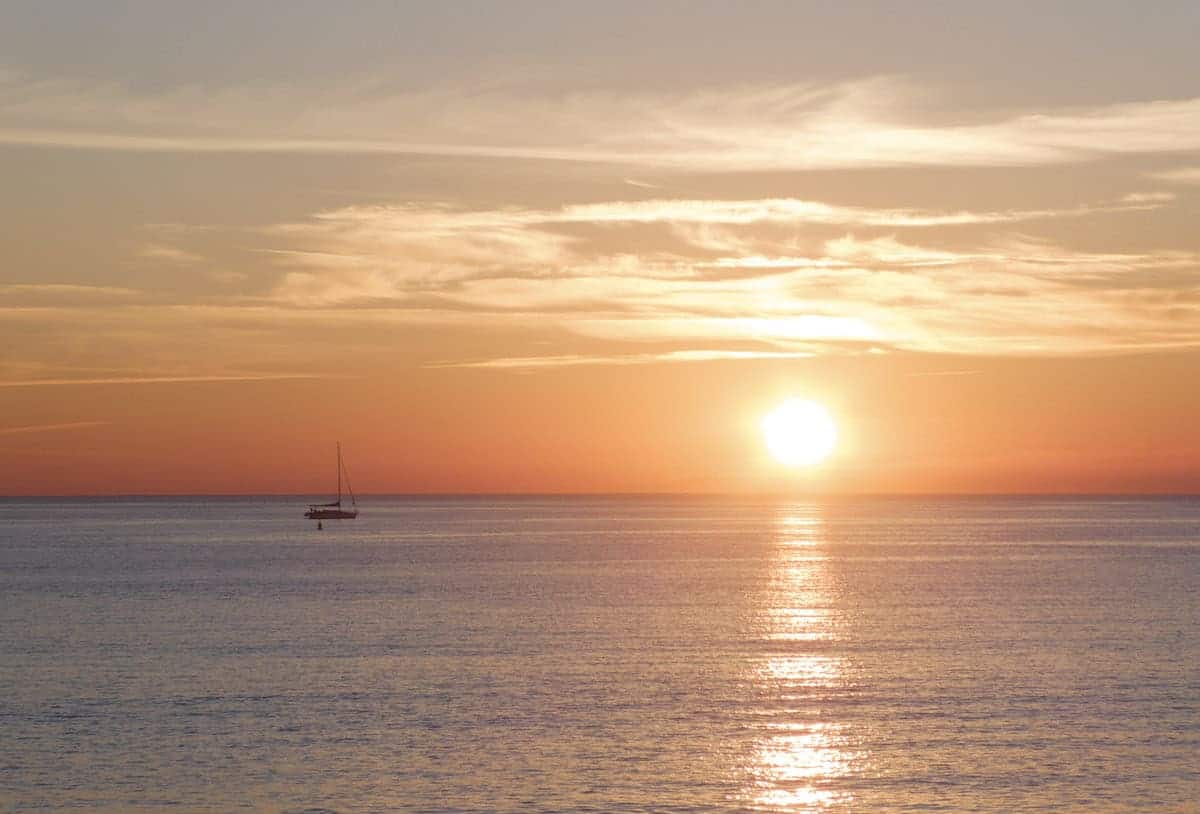 What to pack for a trip to Barcelona in October
👖 Clothing
A helpful rule of thumb is packing layers. During the day, it'll probably be hot enough to wear a short-sleeve T-shirt, but it can be cool in the evening, so it's wise to pack a warm layer or two.
Regarding bottoms, we recommend packing some long pairs of pants, skirts, and one pair of shorts.
Pack something lightweight that you don't mind carrying if you encounter warmer patches in the day.
👟 Footwear
Regarding shoes, sneakers are a great option. Bring the appropriate footwear if you plan to go hiking in or near Barcelona, like Montserrat.
What's on in Barcelona in October
What are the plans in Barcelona for October? The ideas we mention below are updated for this year:
Enjoy a street festival in one of Barcelona's neighbourhoods
Each district in Barcelona celebrates its own Festa Major, and they are the most authentic parties you can attend.
Don't think about fancy dresses, expensive entrance tickets, and renowned international DJs. To give you a better idea, you can think of Festes Majors as big street parties.
They usually involve traditional events, like correfocs (fire runs), sardanes (a typical dance), castells (human towers), and gegants (giant sculptures that dance). But also open-air concerts, neighbourhood dinners al fresco, and lots of fun!
They are free-to-attend events and it's almost impossible to find reliable info on them in English… But here we'll mention the most important ones happening in October in Barcelona:
Festa Major de Sarrià (29th Sep to 8th Oct)
From the 29th Sep to the 8th Oct, it's the turn of the neighbourhood of Sarrià to organise its Festa Major.
The neighbours decorate their balconies, join community dinners in the streets, and organise activities such as flam (pudding) eating contest!
At night, there is usually live music, and if you go there on Saturday the 7th, there's the popular correfoc, a fire run through various streets of the historic centre. If you want to join, dress accordingly: cotton clothing, with sleeves, long trousers, a cotton hat and leather sports shoes that hold your feet properly.
Festa Major de Les Corts (30th Sep to 12th Oct)
Les Corts is another neighbourhood in Barcelona that celebrates its Festa Major at the beginning of October.
On the 30th Sep, you can join the correfoc at 9.30 pm, followed by a music concert and DJ. Another celebration highlight is the other correfoc on 8th Oct at 8 pm, followed by a firework display.
If you're into running, a 10 km race on 8th Oct at 9 am raises funds to fight against cerebral paralysis.
Festa del Roser (7th to 12th Oct)
Want to see the famous street La Rambla more alive than ever? Then, head there between the 7th and 12th of October, when the Festa del Roser takes place.
Also known as Festa Major de La Rambla, this celebration has brought neighbours together since 1961.
It's a wonderful time to visit important buildings, such as the Museu Marítim or the Liceu Theatre, as they are beautifully decorated with flowers. Also, in honour of this celebration, there is free access to famous landmarks like Palau Guell, Paula Moja, and the Liceu Theatre.
Savour tasty food at Mercat de Mercats (20th to 22nd Oct)
If you're a foodie like us, you'll love this one!
Mercat de Mercats is one of Barcelona's largest gastronomic events and the best excuse to try out Catalonia's best food.
This year's edition takes place in Plaça de Glòries, with more than 50 market stalls run by restaurants, local farmers, bars, and winemakers. So, make sure you skip breakfast and save space for all the food you'll encounter here!
Besides the stalls open from 11 am to 10 pm, you'll also find cooking shows, live music, and a space with BBQs and microwaves to cook the fish, meat, and veggies you buy there.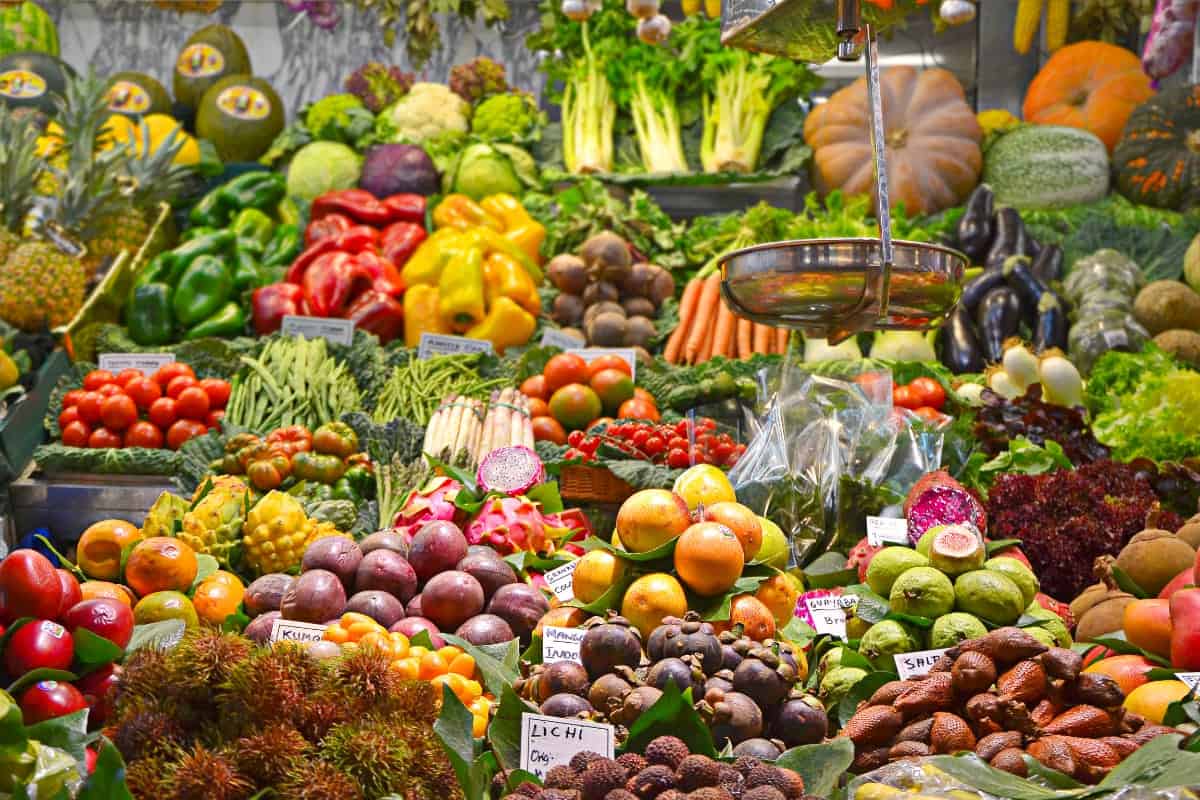 Visit La Pedrera…at night!
Visiting a Gaudí building is always a jaw-dropping experience, but doing so at night makes the experience even more incredible!
If you're in for a unique activity, switch a daily visit to Casa Milà (a.k.a. La Pedrera) for a nocturnal one. With La Pedrera Night Experience, you'll get an evening tour of the house before heading up to the roof for a video mapping show with a glass of cava.
Eat chestnuts and sweet potatoes
Right around the beginning of October, you'll start noticing the balmy scent of baked sweet potatoes and hot, freshly roasted chestnuts in the air. So delicious!
Around this time of the year, specialist vendors take to the streets to sell their autumn delicacies. We love to grab roasted chestnuts, usually cradled in newspaper cones, making our strolls around the city even more enjoyable!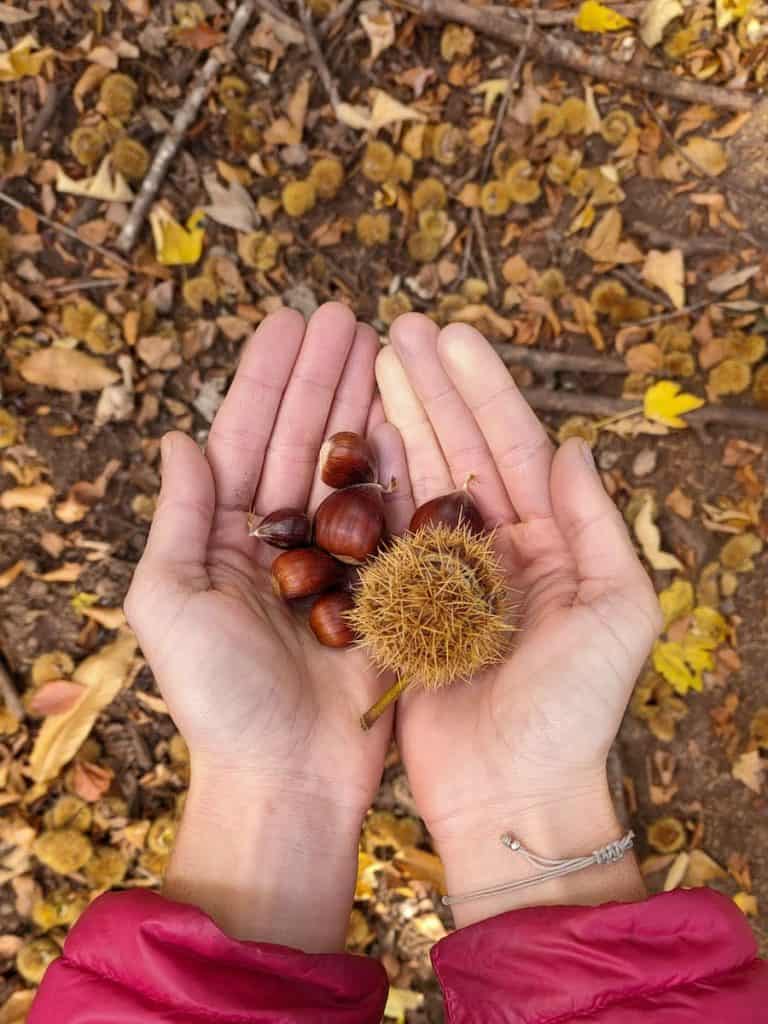 Listen to jazz music
Festival Jazz Barcelona is the city's oldest musical event, with over 50 editions.
This festival fills different venues in the city with renowned jazz artists from all over the world, like singer Bebel Gilberto or pianist Kenny Barron.
So, if you happen to be here in October and like to listen to live music, this is an excellent opportunity! Concerts happen every night in stunning locations like the Palau de la Música Catalana or the famous club Jamboree.
Visit Barcelona's landmarks for free during the 48 h Open House Barcelona (21st and 22nd of October)
On the 21st and 22nd of October, over 200 buildings of every shape and size open their doors to the public completely free of charge.
48 h Open House Barcelona is Barcelona's main architectural event, and it's an initiative that started in 2010 to give the opportunity to understand and experience architecture in a unique way.
You'll come across churches, schools, sports centres, apartment blocks, libraries and restaurants in Barcelona and surrounding cities. Most are usually totally or partially inaccessible to the general public, so it can be your only chance to visit them!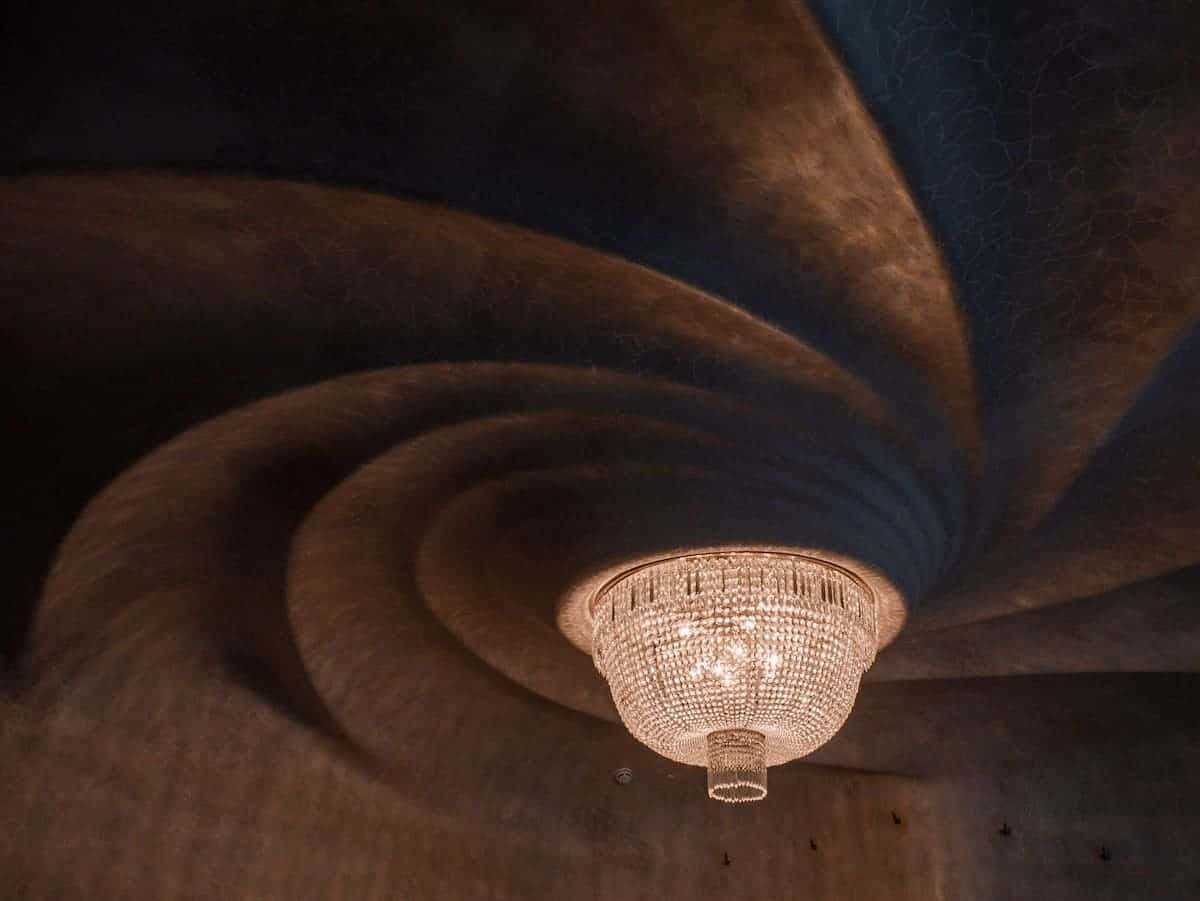 Celebrate La Castanyada (31st October)
While most of the Western World celebrates Halloween on the evening of the 31st of October, we're busy eating roasted chestnuts and panellets.
Yes, we celebrate La Castanyada (the chestnut party) in Catalonia instead of Halloween. And what do we do?
We gather with family and friends and eat chestnuts, sweet potatoes, and panellets, the culinary stars of La Castanyada. Panellets are so popular that in the last week of the month, bakeries sell nearly a million kilos of them!
Fancy celebrating like a local? Check out our "Castanyada: What it is and how we celebrate the Catalan Halloween" guide, where you can learn how to make panellets, where to buy them, and the history around this peculiar tradition.
Dress up and enjoy a terrific Halloween
Although not a local tradition by any means, Halloween celebrations are becoming more and more popular in Barcelona.
Many bars and clubs put on special events, decorating the rooms with creepy stuff and giving prizes for the best dress costume. So, don't be afraid to dress up, you won't be alone for sure!
If you're not into parties but still want to celebrate Halloween with a spooky activity, we recommend joining this Ghost and Legends Tour. You'll learn about all the horrifying stories of Barcelona's past while strolling around the cobbled streets of the Gothic Quarter.
Another cool and unique activity is the Halloween Ghost Hunt. This experience is part outdoor escape room-style game, part scavenger hunt and part walking tour, and it takes around 90 min to complete. It's a smartphone-guided adventure where you'll have to solve challenges, follow clues, and compete against other teams.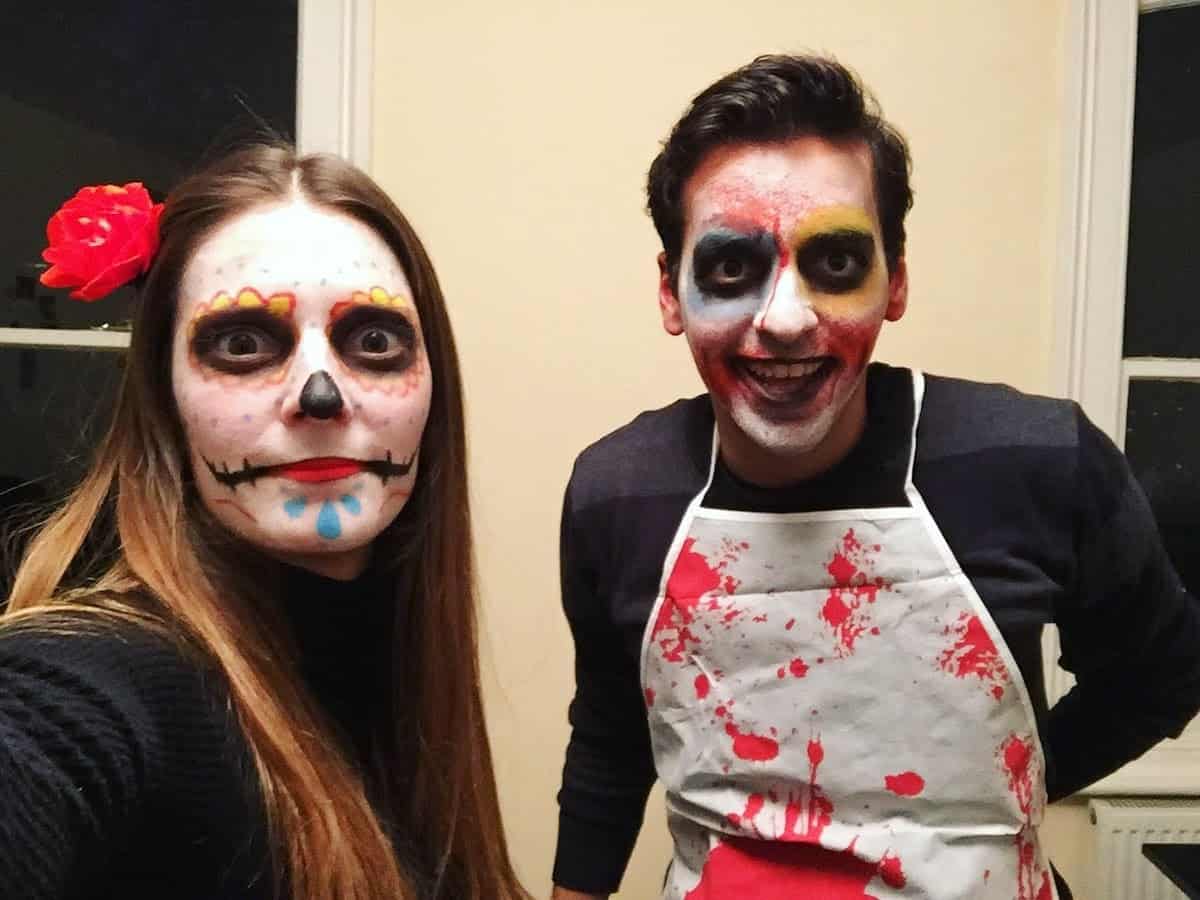 Other cool plans to do in Barcelona in October
In addition to the October events, we have many more plans to enjoy your autumn trip to Barcelona. Here are some ideas:
Have you travelled to Barcelona in October? Do you think it was a good time to discover the city?