From an incredible historical centre to a gleaming commercial centre, Girona has everything a city can offer but in a relaxing environment. This city is worth at least some hours of your time to discover its rich history and culture. Its majestic cathedral, ancient Roman wall and impressive Arab baths are some of the jewels that Girona hides.
Girona is the largest city in the north of Catalonia, and it's the province's capital of the same name. It has a privileged location as it's close to most of the touristic destinations in Catalonia, such as Barcelona, the Pyrenees and the Costa Brava beaches.
We've been there many times and have put together a guide showing our favourite places and what you can do in one day. Keep scrolling to explore!
What to see and what to do in Girona
Girona is the so-called City of the Four Rivers as it's located at the junction of four different rivers (Galligants, Onyar, Ter and Güell). The river Onyar crosses the city leaving the historic centre at its right bank and the commercial district at its left bank. Apart from being an excellent town for culture and history lovers, Girona is a great place to enjoy traditional Catalan food. The city offers a variety of delicious restaurants and cafes, as well as a cool diverse nightlife to enjoy.
The city of Girona is partly surrounded by an ancient city wall, and its charming interior is a maze of narrow streets, pleasant squares, and valuable monuments.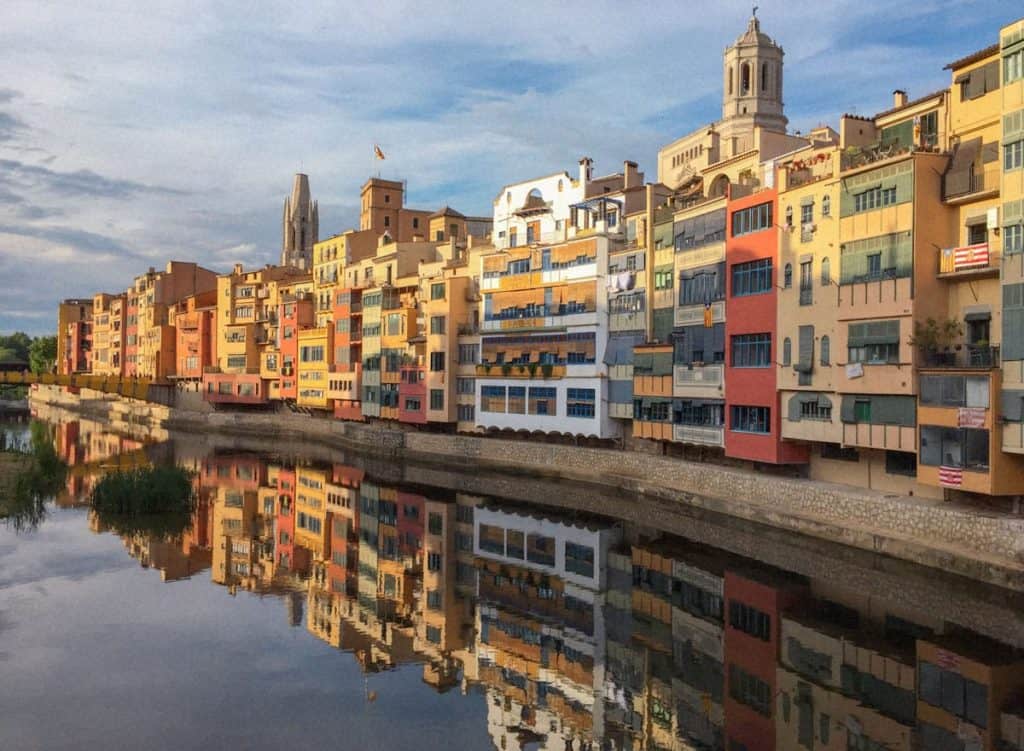 The Call
Located in the heart of the old walled city, El Call is where the Jews established in Girona. Stroll through its charming streets and feel the splendour of this Jewish Quarter; it's one of the best-preserved in the world. Walk through the same narrow and cobbled lanes people used 500 years ago and discover its courtyards and hidden patios.
The Cathedral of Santa Maria de Girona
You can't leave Girona without visiting one of the most impressive highlights of this city. Like a stairway to heaven, you have to climb all the Baroque staircases to get to the entrance of the Cathedral of Santa Maria de Girona. This cathedral was built in a Gothic style except for its western facade, which is in a Baroque style. As a curious fact, the Gothic-style nave of this cathedral is the widest in the world.
And if you're a fan of Game of Thrones, you'll probably know that this cathedral was the Great Sept of Baelor during the show's sixth season. There are many more spots in Girona where the filming took place, representing places like King's Landing, Braavos and Oldtown.
Bear in mind that the opening times of the Cathedral are the following:
July & August: 10 am to 7:30 pm
November to March: 10 am to 5:30 pm
Rest of the year: 10 am to 6:30 pm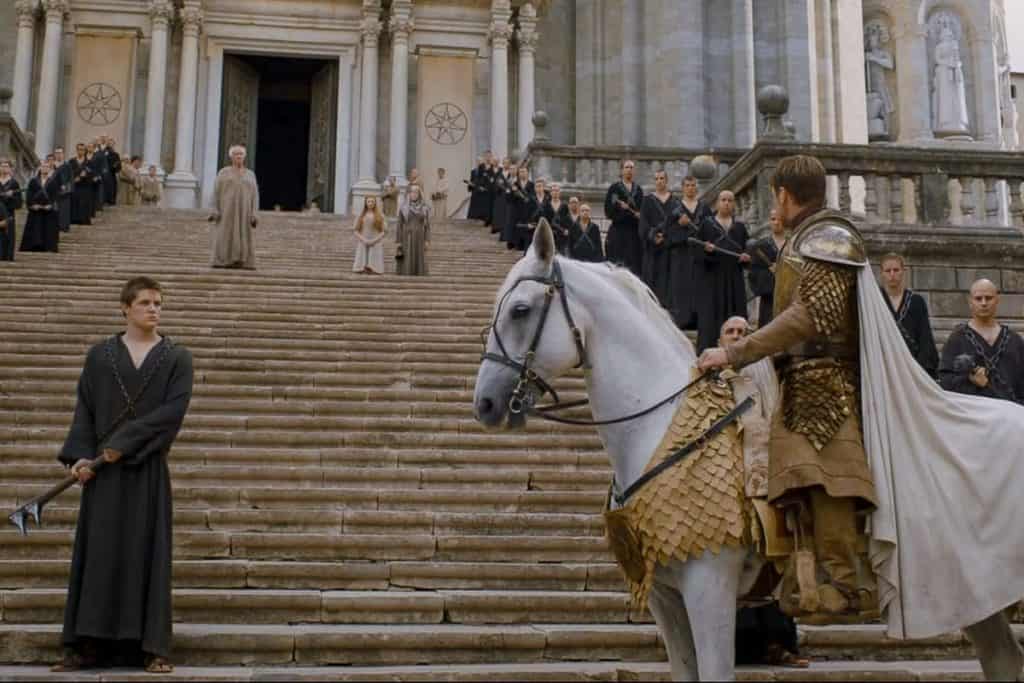 The Arab baths
Immerse yourself in a trip to the past by visiting this construction that dates from the 12th century. The entrance is 2€, and the baths are open from 10 am to afternoon depending on the season. Click here for more info.
The Eiffel bridge
Just before building the Eiffel tower, Gustav Eiffel constructed the most famous bridge in Girona, also named El Pont de les Peixateries Velles (The old fish shop's bridge).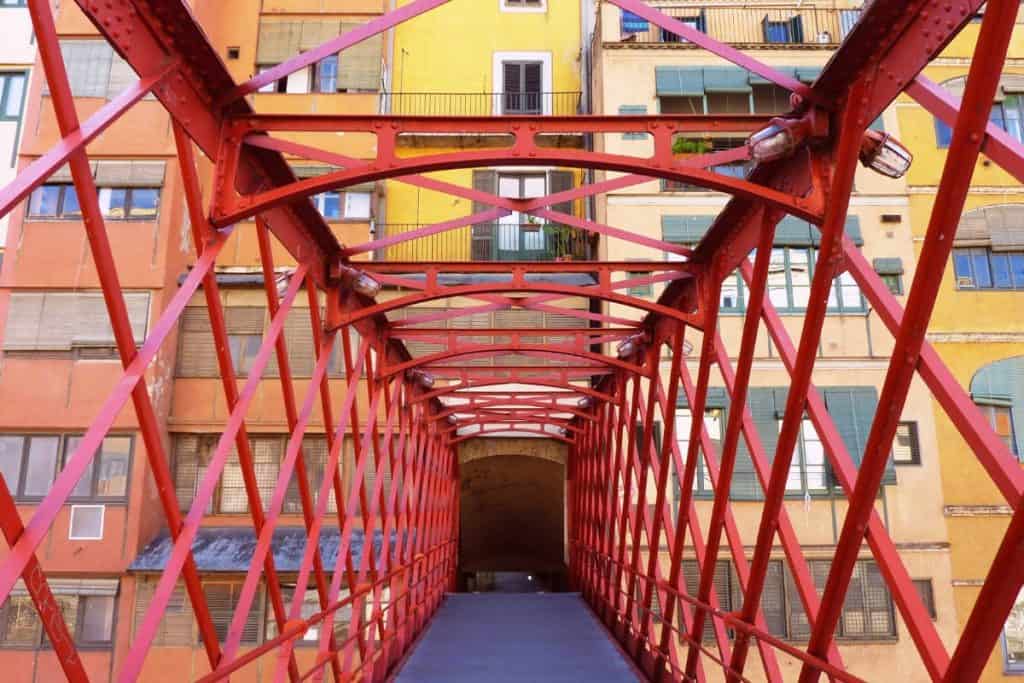 El cul de la Lleona
Literally translated as Lioness' ass. If you see people kissing the ass of a stone lioness, don't be scared! They're not crazy; it's just a popular tradition among visitors to Girona.
The legend tells that many years ago, there was a hostel in this point called The Lioness Hostel. Whose name was given due to a column in one of the hostel's walls, which had a lioness. People started touching its butt, and time after time, it became widely popular.
Visitors to Girona city were told that if they touched the ass, they'd return to the town or never leave it. Nowadays, the action of touching the backside has evolved into kissing it.
So just in case, be sure you kiss it before leaving; we want you to return again!
The medieval city wall
Known as Passeig de la Muralla, the ancient walls extend into the eastern part of the old town of Girona. Walking at the top of the walls is a must-do as it offers spectacular views over the city and it's completely free.
The Independence square
If you fancy a beer, a coffee or just a break after some hours of walking, this lovely square is an excellent place for it. Being the most famous square in Girona, it's a busy place during the day and at night due to the large number of restaurants you can find.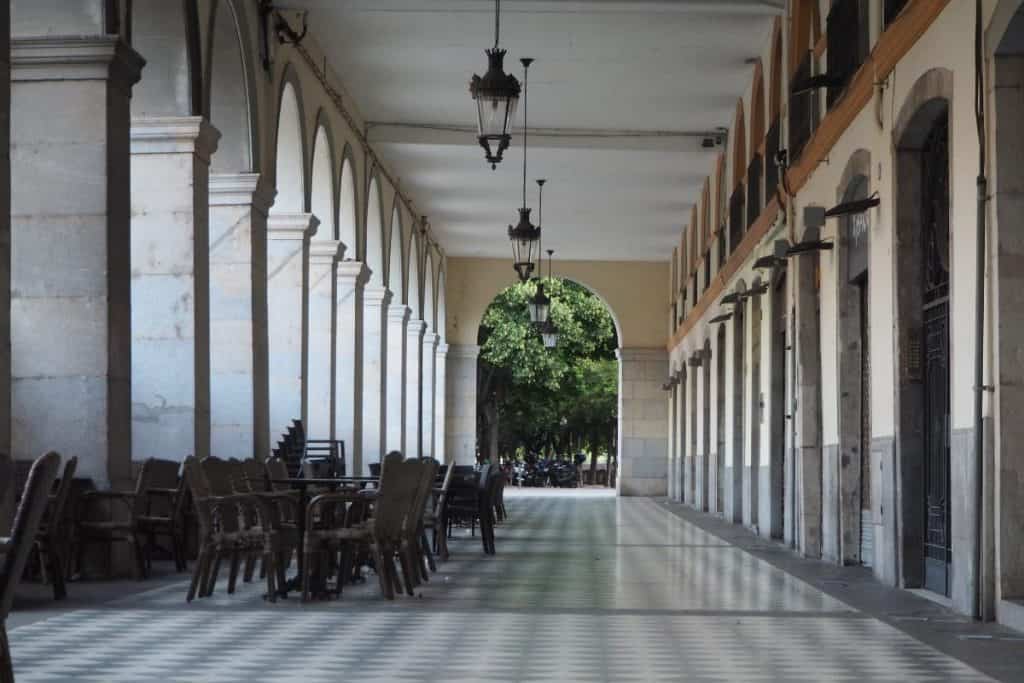 Eating recommendations in Girona
It's traditional in Catalonia to do what we call a vermut. Before having lunch, it's the ideal time to sit on a terrace and drink something while you enjoy the sun. The typical drink is vermouth, an aromatised, fortified wine usually served with an olive, or clara, beer with lemon. The drinks are typically accompanied by a snack such as patates braves, fried potatoes with a spicy sauce.
As far as restaurants go, our choice for lunch is the chain of restaurants König. Girona is where this brand was born in 1973, and there are few of them there. We've been to König Sandwiches. You can eat great sandwiches, burgers, salads, mixed dishes, and tapas. The food is just delicious, and it's a great place if you want good food at a reasonable price. There's typically a lot of queue on weekends and festivities, but the waiting is worthwhile.
Another option for eating that we love is the restaurant 8de7. It's nearby the Cathedral, and they serve typical Mediterranean food. The food quality is excellent, and the best thing is that it's not expensive for what you get.
When is the best time to visit Girona?
You can visit Girona all year round. In summer, it's usually crowded and hot (temperatures can reach up to 35 ºC). Winters (from December to February) are pretty cold, with temperatures around 2 ºC. Girona is primarily sunny throughout the year and doesn't rain very often.
👌🏼 Our tip
A good time to visit Girona is when the "Temps de Flors" festival is happening, usually in May. Temps de Flors is a flower exhibition celebrated annually in Girona since 1954. Throughout the city, you can find monuments and streets decorated with flowers. The city is most colourful than ever!
How to get to Girona and move around
If you don't want to visit Barcelona and just want to stay in Catalonia's North or East part, Girona is a great place to start your trip.
Girona has an airport (Girona-Costa Brava airport) located 13 km from the city centre. If you're flying to Girona and want to go straight to Barcelona, there's a bus operated by Segales that will take you to Barcelona (Estació del Nord) in 1 h 15 min.
The connections from Barcelona are excellent, and you can either reach Girona by car or public transport.
The fastest way is to go by car, but finding a parking spot near the city centre can be complicated. That's why we recommend taking the train. It takes around 1 h 30 min, and it drops you off close to the city centre. You can take the train R1 or R11 (Renfe) from Estació de Sants.
Girona is a middle-sized city, which makes it ideal for exploring on foot or by bike. You can rent a public bike for just 2€ a day.
To make it easier for you to navigate around, we've marked all the points of interest as well as the restaurants mentioned above in the map below:
Girona is one of our favourite cities in Catalonia, and we hope you've loved visiting it with us! If you've tried a new restaurant, enjoyed the sights we've mentioned, or found this guide helpful, we'd love to hear from you!