Mediterranean forests, endless meadows, rocky mountains, picturesque huts, and delicious food – the Cavalls del Vent is one of Catalonia's most popular thru-hiking trails and no wonder why!
The circular route links 8 mountain huts in the Cadí-Moixeró Natural Park, located in the Berguedà and Cerdanya counties. Walkers can start at several points along the route and take the direction they prefer.
Covering over 80 km of track and running between the 902 m high Bastareny river valley and the 2.513 m high Niu de l'Àliga shelter, the landscapes are as varied as spectacular.
Cavalls del Vent (Horses of the Wind) can be completed in 4 to 7 days. Each day you hike to a mountain hut with basic facilities, including a bed, shower and, sometimes, wifi. That feels great after walking all day! But the best is the mountain food: delicious soups, typical rice dishes, high-quality meat, you name it!
We hiked Cavalls del Vent in September 2020 with some family members, and we did it in 4 days, starting and finishing in the hut Cortals de l'Ingla.
Here are our review, tips, and photos to help you plan your Cavalls del Vent adventure!
* Post written for the first time in January 2022 and updated in August 2023.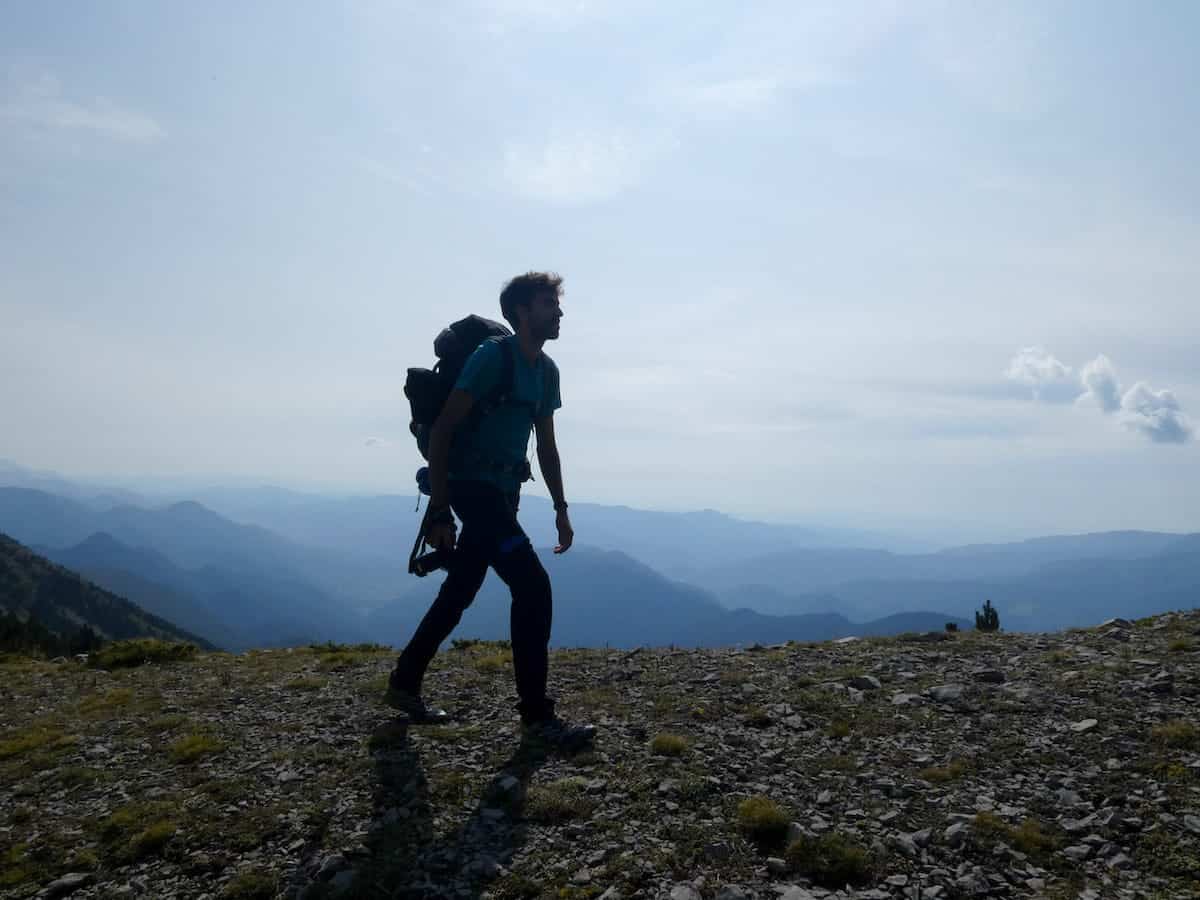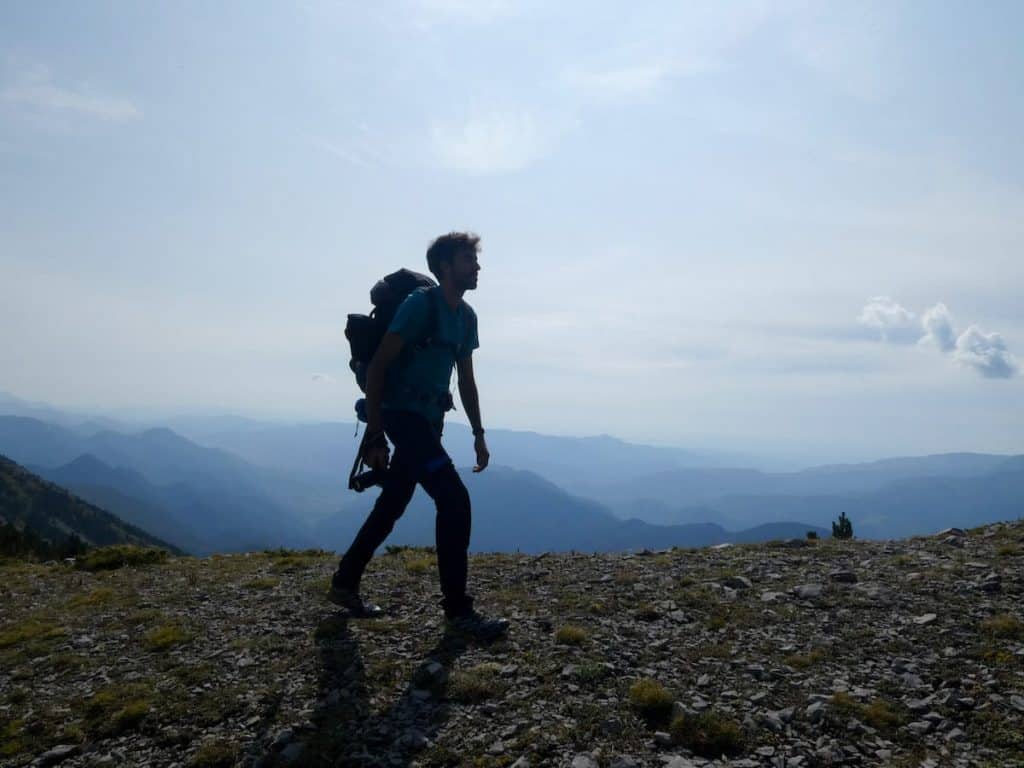 Things to know before hiking Cavalls del Vent
Technical details
🥾 Total distance: 84.2 km
🟠 Difficulty: Moderate
⬆️ Cumulative elevation gain: 5.600 m
⏱ Duration: Between 4 and 7 days
🗓 Recommended season: Cavalls del Vent is a high-mountain route, so the best time to enjoy it is from June to September
The route is graded "moderate", which we think is accurate. We regularly hike, and although it rained and was foggy, we found the track challenging but not technically difficult.
One thing that we would probably change to not rush would have been to add an extra day. We did it in 4 days, and maybe 5 would have been ideal. However, this depends on everyone's fitness level and how they like to face a thru-hike.
👌🏼 Our tip
If you have the chance, September is an excellent month to do this hike as it isn't as crowded as summertime.
Where does the route start?
You can start the route from any of the huts in the park. You can reach some of them by car, and all of them have access walking from their closest towns:
👌🏼 Our tip
If coming from Barcelona, your best options are to start from the Gresolet hut or the Rebost hut. They're both located approximately 2 hours drive from Barcelona. In this way, you don't need to pay the toll Túnel del Cadí to enter the region of La Cerdanya, which costs 12€…
We chose to start from the hut of Cortals de l'Ingla because the number of km in each stage was quite balanced. Also, we could spend a night at Niu de l'Àliga hut, the highest guarded shelter of the Pyrenees. Sunset and sunrise were promising!
Reaching Cavalls del Vent by public transport
From Barcelona, you can reach Bagà by bus (check schedules and duration here) and then walk to the Rebost hut (7 km) or the Sant Jordi hut (10 km). You can also reach La Molina by train (schedule and duration here). Select the train station from where you want to depart and choose La Molina as a destination. Once at the ski resort, you can get to the Niu de l'Àliga hut by chairlift (more info here).
Also, Cavalls del Vent offers a taxi service to take you closer or pick you up anywhere accessible by motor vehicle. You can hire this service by calling the Booking Centre (+34 938 215 111).
Which direction is best to follow?
Regarding the direction of the route, we did it counterclockwise. As it's a circular track, it can be done clockwise and counterclockwise.
However, we recommend counterclockwise because it's a bit easier (although the differences are minimal).
To better plan your approach to this route, here you can see a map with the various mountain huts, their altitude, the elevation gain, and the distance between them.
Is the route marked?
The route is well-signposted with orange marks.
However, it's wise to pack a map of the area. You can buy it online, in some bookstores, or through the Cavalls del Vent organisation.
Gear recommendations
It's not all sunshine and heat in the Catalan mountains! The weather can change rapidly; even though you're hiking in summer, you can get rain and fog.
We recommend taking some winter clothes (even though you hike in summer), a waterproof jacket and some safety equipment, such as an emergency blanket and a first aid kit.
Earplugs are also highly recommended; we bet you'll appreciate them if your neighbour starts snoring!
As you'll spend many hours hiking, it's wise to pack light but sensibly. You'll need to carry your own water, clothes, sleeping bag/sheets, personal items, camera, food (depending on the meals you select when booking), etc. You won't need to pack a sleeping pad or more than one days worth of water at a time.
It's also helpful to take a bag with you to put all the trash there. You can throw it at some of the huts or the village where you finish the route. Please take care of the environment and leave no trace.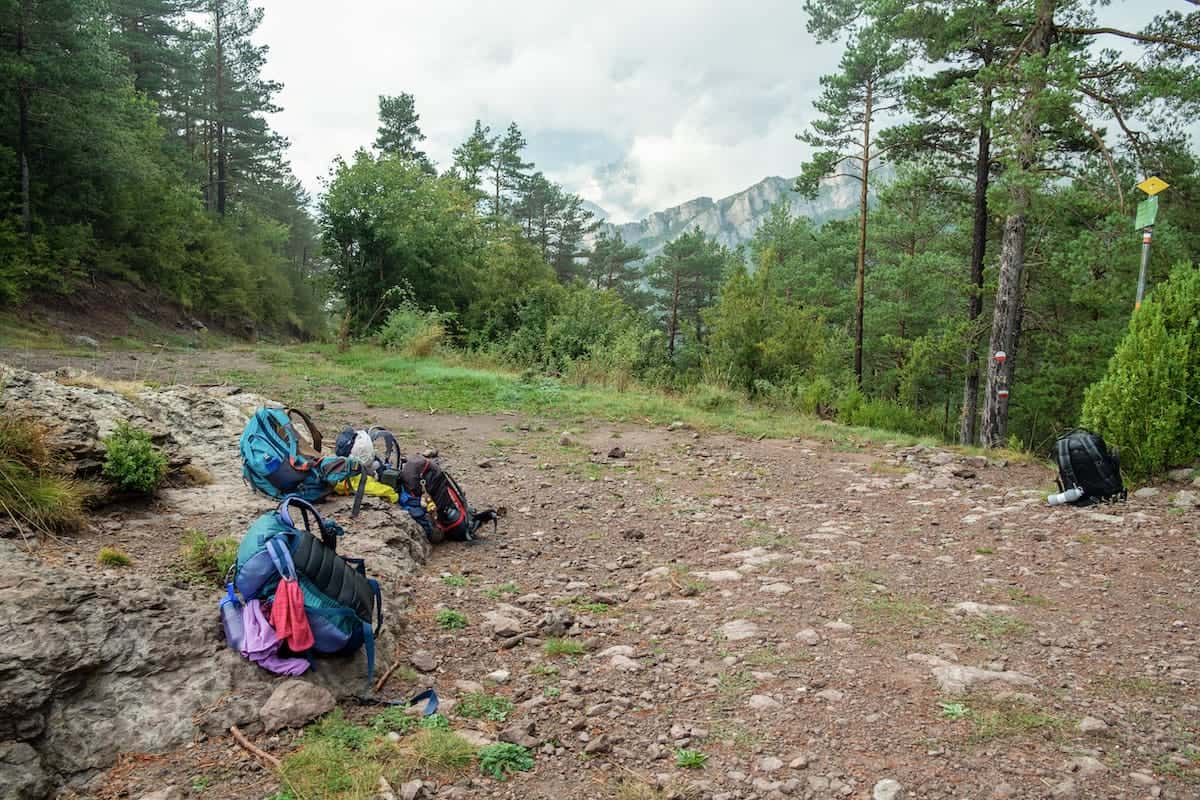 Phone service
The phone service varies depending on the operator, but we had phone service during most of the route.
It's good to let family members or friends know you're doing this hike so they don't freak out if you don't answer them in some hours.
In case of any emergency, call 112. For this emergency number, there's good coverage throughout the hike.
The huts on the Cavalls del Vent route
The 8 huts in the area are located in beautiful natural settings. Keep in mind that the huts are not mountain hotels, and their schedules and rules must be respected.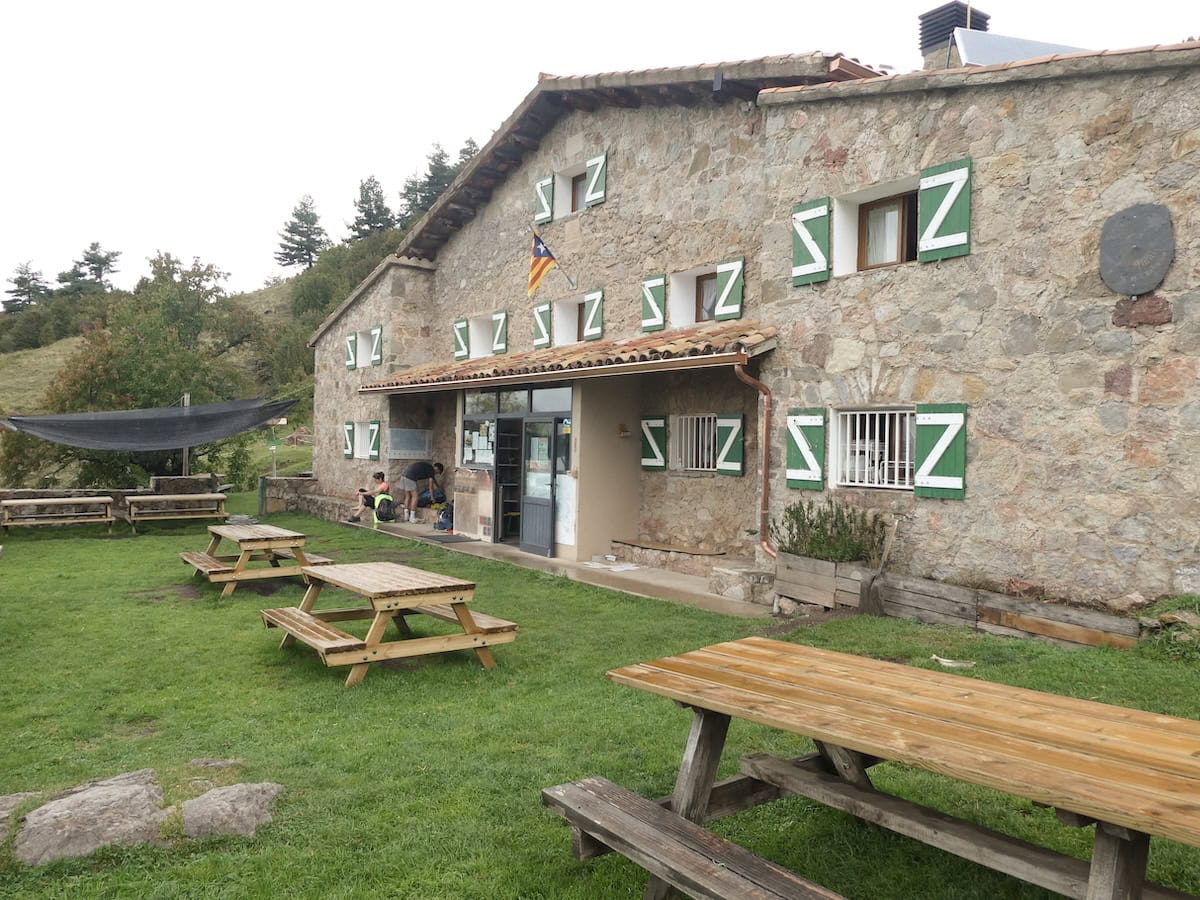 They all have the essential things to spend the night there: a place at the entrance to leave your backpack and boots, heating, accommodation, food and showers (sometimes at an extra cost).
You sleep in a bunk bed in shared dormitories, bigger or smaller depending on the hut. The mattresses are pretty close to the neighbour, so try not to move a lot!
All the huts have blankets, so you need to bring your own sleeping bag or sheets.
We wouldn't say we'd had the best night's sleep in a hut, as in a 40-bed room, the chances of someone snoring or moving are pretty high. Keeping this in mind is good, so you're not frustrated or disappointed after sleeping for a few hours!
You'll find charging stations at each hut, so keeping phones, cameras, e-book readers, etc., charged is a breeze.
Food and water
🍽 Breakfast and dinner
Breakfast and dinner are served in the huts, and we're sure that this will become one of your favourite parts of the hike!
Breakfast usually consists of bread with cured meats, cheese, and/or jam, coffee, biscuits, and tea.
The guards often cook three dishes for dinner, including soup, salad, a meat dish, and a dessert. This can vary from hut to hut, and the food also changes daily.
⚠️ Important!
If you have a food allergy or dietary requirements (vegetarian, vegan, gluten-free, etc.), please say so when booking the huts. The guards will accommodate your requests and make the changes needed.
However, remember that sometimes the hut's resources are limited, and the special meals can be less varied. For example, vegetarians may only be able to choose between cheese or jam for breakfast, whereas non-vegetarians have more options, such as various cured meat.
🥪 Lunch
For lunch, you can either bring it from home or buy a picnic at the huts you sleep. We got the food for the four days from home. We took tuna cans, cheese, tortilla wraps and apples. If you want the picnic, it's essential to request it at the time of booking.
🥜 Snacks
Also, we recommend you bring some extra snacks, like nuts or energy bars. Think about foods that don't spoil quickly and take up much space.
💧 Water
Regarding the water, we recommend you take two reusable water bottles of 0.5-1 L with you. You can refill the water bottles in all mountain huts.
There aren't any lakes and few water sources during this lake, so we recommend ensuring you have enough water before leaving the huts.
Cost of hiking Cavalls del Vent
The hike can be done through the Cavalls del Vent organisation or independently.
If done through the organisation, hikers are given a passport at registration, which will be stamped in each hut. It costs 25 € (or 42 if you want a shirt) and includes a map of the itinerary, a Buff, a box of teas, a passport, and 24 h phone support. This option allows you to make all the bookings on the same website, which is more straightforward.
If done independently, you have to book each hut on its specific webpage and buy the map yourself.
👌🏼 Our tip
It's always necessary to book the huts in advance. Also, if you choose to do the hike during the high season (July and August) or long weekends, you'd better book long in advance.
The cost of the hike varies depending on the huts you sleep in, the modality you choose and the meals you select.
⚠️ Important!
Remember to bring cash! They don't accept card payments in most huts, so having some money with you is always better. Cards are only accepted in the Prat d'Aguiló, Lluís Estasen and Niu de l'Àliga huts.
Cavalls del Vent route
Day 1 – Idyllic huts and the emblematic Pedraforca mountain
Cortals de l'Ingla to Prat d'Aguiló, 11 km hike, 828 m+, 321 m-
The journey kicked off at first light while it was still cool. We reached the Cortals de l'Ingla hut by car and parked next to the hut (following the warden's instructions).
Time to start the 11 km hike until the next hut. The trail unwinded between green forests and rocky mountains, gaining altitude with each step we made.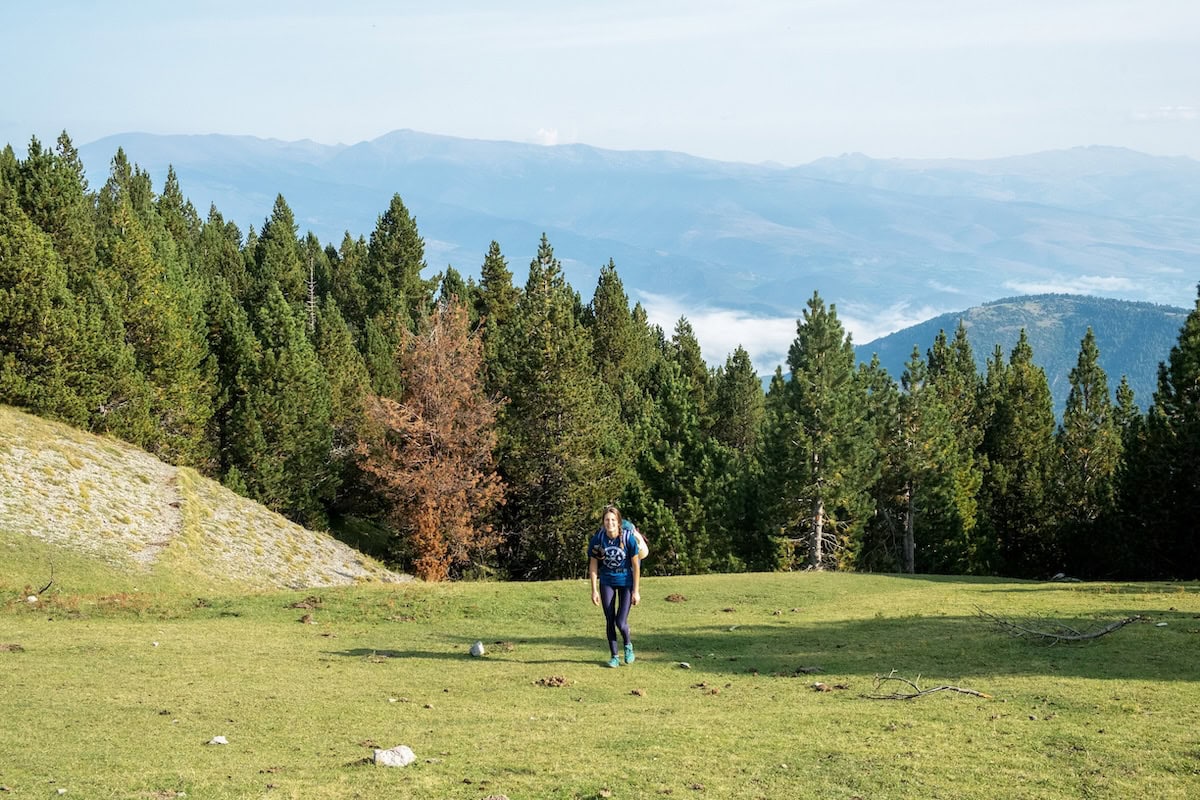 After 10 km, we encountered a meadow. Horses and cows, who made that field their home, welcomed us.
Paying attention to the distance, we got a sight of the Prat d'Aguiló hut. It's an idyllic mountain house of stone and cement surrounded by grassland and mountains.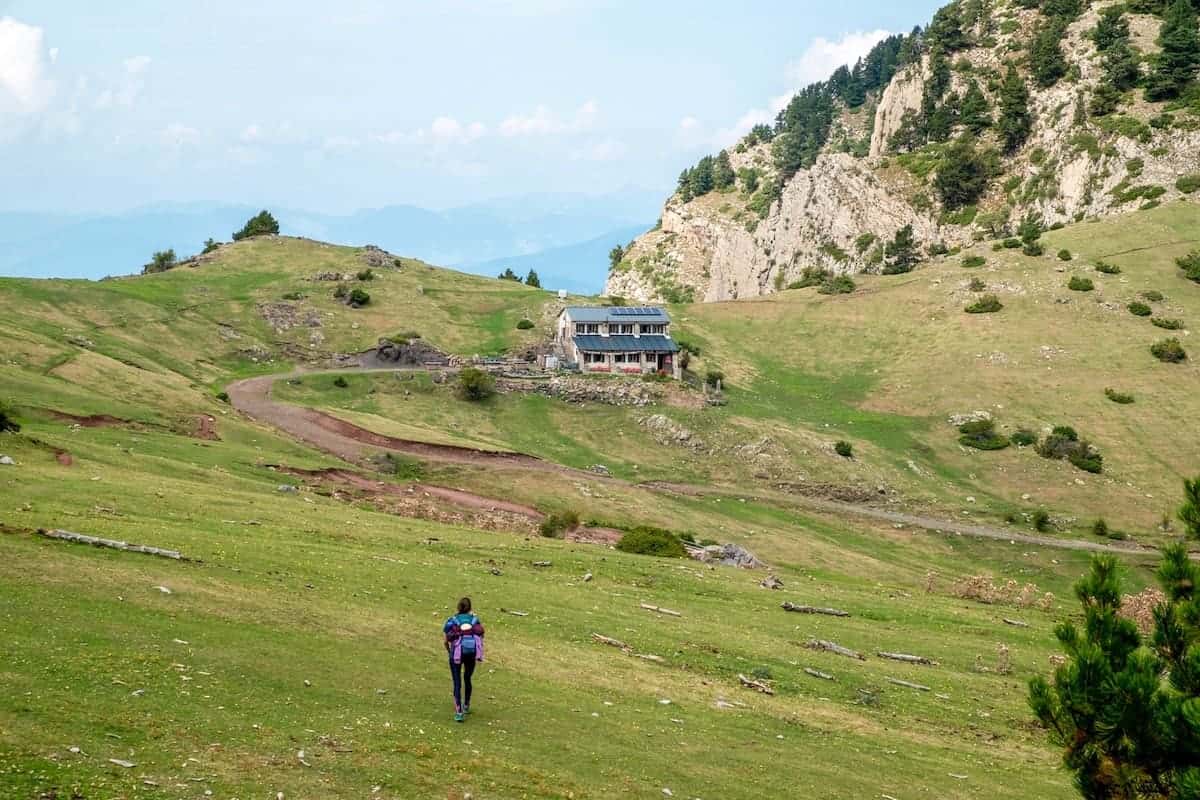 It was almost lunchtime, so we stopped there for a quick bite. We had brought a picnic from home, but you can also buy a sandwich or a warm dish in the hut.
👌🏼 Our tip
We advise you not to eat a lot as the ascent that continues the hike is quite strenuous!
Prat d'Aguiló to Lluís Estasen, 12.5 km hike, 470 m+, 810 m-
This section started with a long hour of sturdy climbing. The views over the Prat d'Aguiló hut were impressive: the hut looked so small in the middle of the meadow and surrounded by high mountains.
After an hour of ascending (which felt like an eternity), we arrived at an iron sign indicating the Pas dels Gosolans. This is a plateau that reminded us of the Mongolian steppe.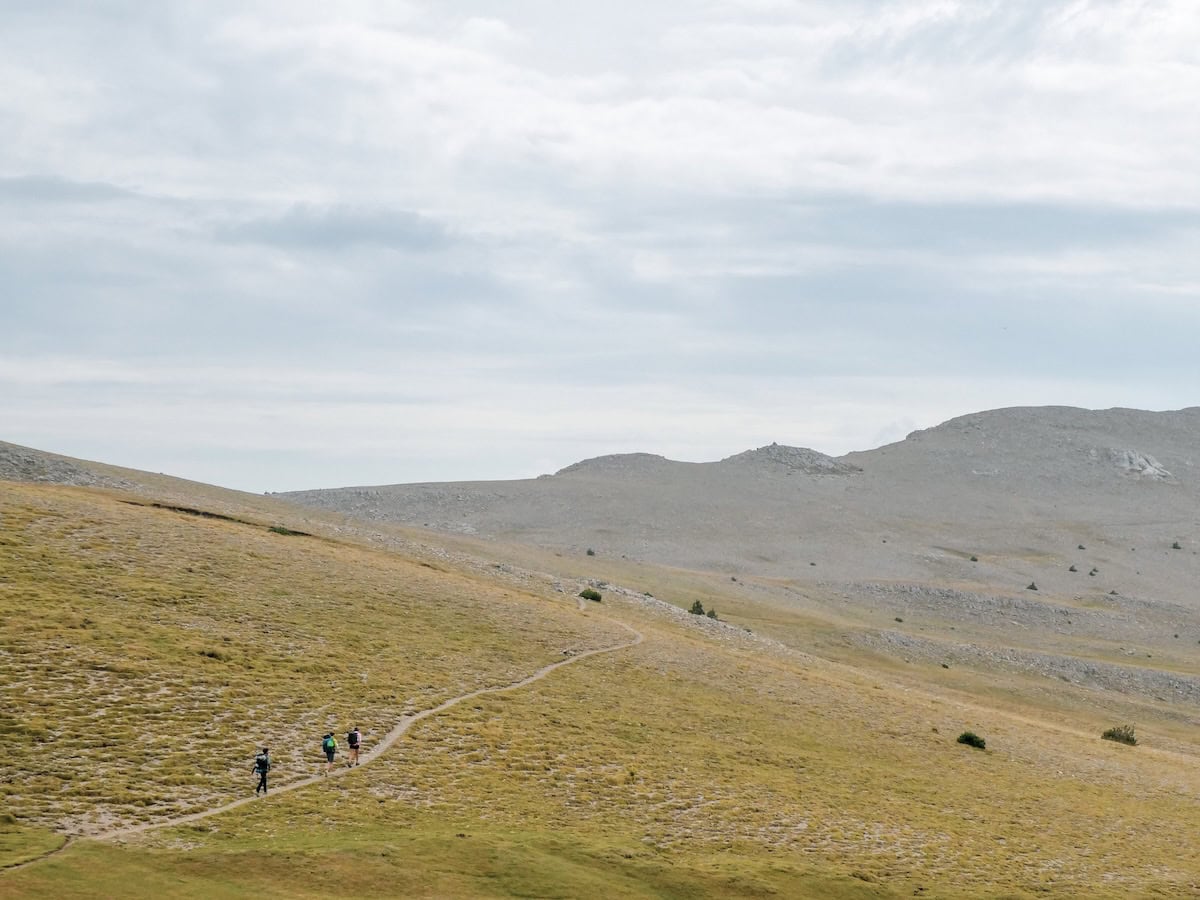 After this, the trail descended until reaching the Lluís Estasen hut.
However, don't think you're close yet. There are a few good km until getting to it!
The good part was that there were beautiful views of the Pedraforca during the whole stretch. The Pedraforca is one of the most emblematic mountains of Catalonia. It's easy to identify because of its rare form, along with the fact that it is not visibly connected to any other adjacent mountains.
The views were striking enough to get us through the next hour along a dirt path that would eventually lead us to the day's destination.
The Lluís Estasen hut had everything we could have asked for: hot showers, a friendly warden, and delicious food.
Punki, the hut's warden, cooked us one of his speciality dishes: mountain rice. And he even added some edible mushrooms we found along the way!
With our belly satisfied, it was time to rest and prepare for the next day's hike.
Day 2 – Pedraforca views, waterfalls and cheesecake
Lluís Estasen to Gresolet, 3.9 km hike, 93 m+, 570 m-
After a delicious dinner and a good night's sleep, we had an excellent breakfast.
Once finished, we started the track and in less than 1 hour, we reached the next hut (Gresolet). This hut had a beautiful lawn and views of the Pedraforca, so it seemed a good spot to stop for a break.
Gresolet to Sant Jordi, 16.1 km hike, 1.009 m+, 330 m-
This was the longest hike section, with the most positive elevation gain. After leaving the Gresolet hut, the route descended pleasantly through a lush green forest with tall trees.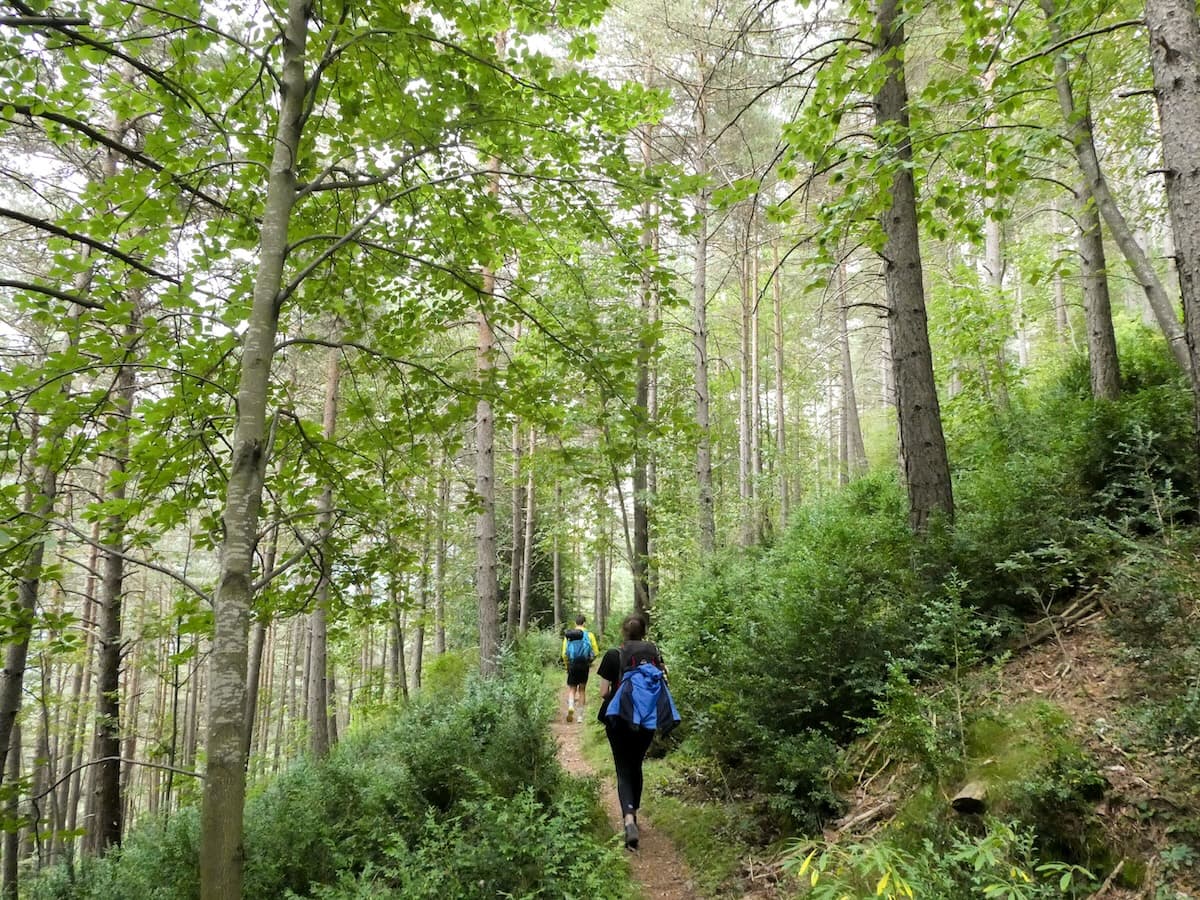 We chose a nice spot to eat our sandwiches and, only moments after finishing, it began raining, as the weather forecast predicted. The water was pouring down, and although we had the necessary rain gear, we were soaking wet.
It was a steep and long climb to the hut, but the landscape distracted us from it and the rain.
The trail entered a gorge, and we encountered many lovely little waterfalls along the way.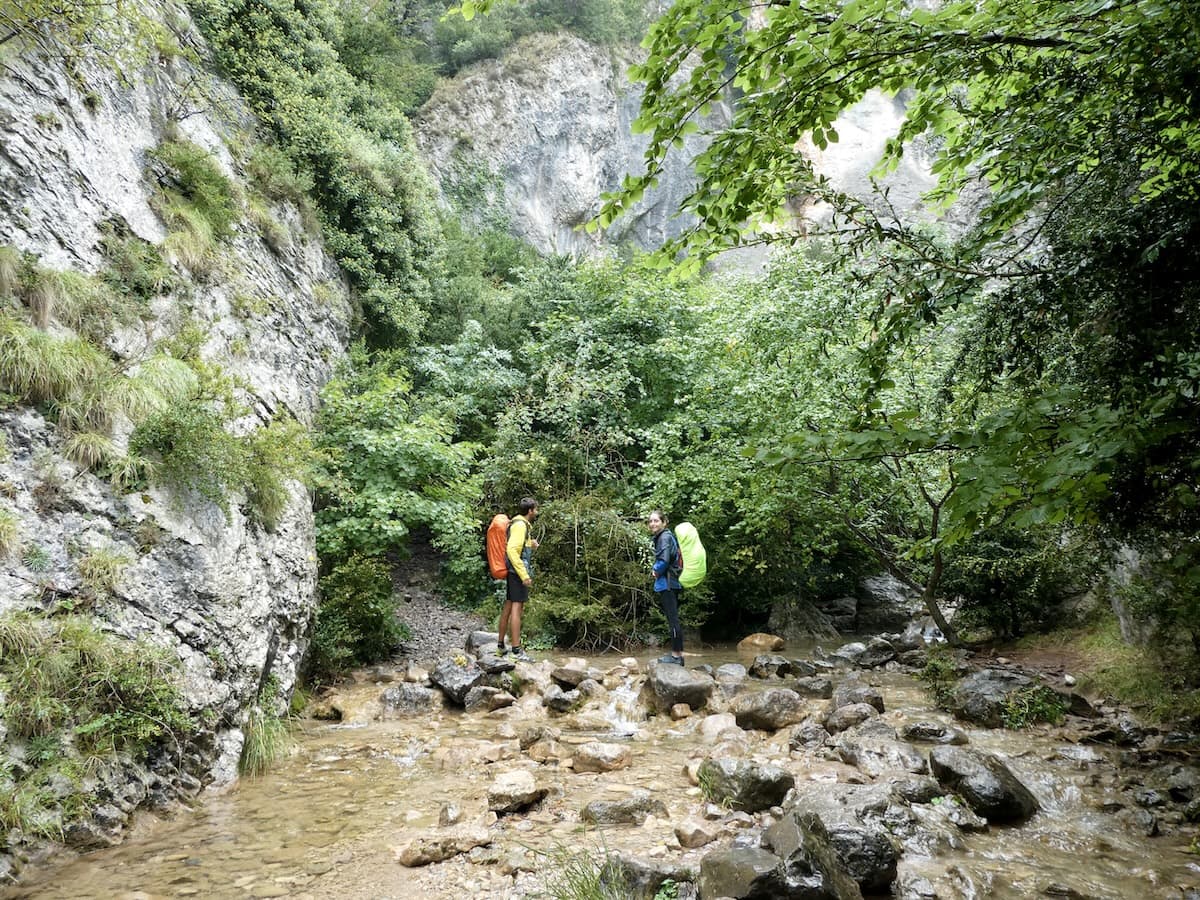 El Bullidor de la Llet (The Milk's Boiler) is the most spectacular. The name comes from when the waterfall's water flows with all its force and acquires a whitish colour, resembling milk.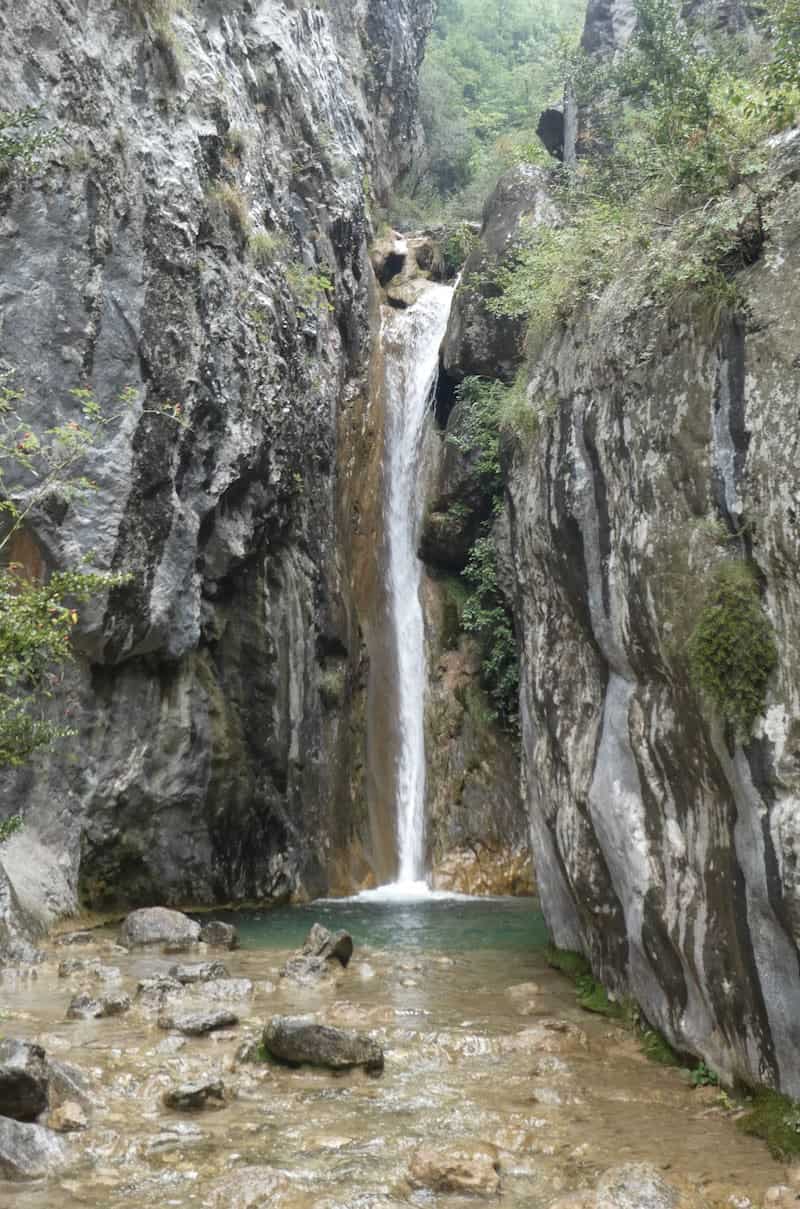 After an eight-hour adventure, we arrived at the Sant Jordi hut. We were so grateful for the fireplace!
Besides the cosy interior and the hot shower, the friendly wardens were what we loved the most.
And the food! We were treated to superb burgers and cheesecake for dessert.
At 10 pm, the hut closed its lights, and everything became silent. Time to sleep!
Day 3 – All the way to the highest point!
Sant Jordi to Rebost, 13 km hike, 939 m+, 864 m-
We found this day to be the toughest one. The first part of the trail was easygoing, descending almost all the time in a non-abrupt way through a spectacular green forest.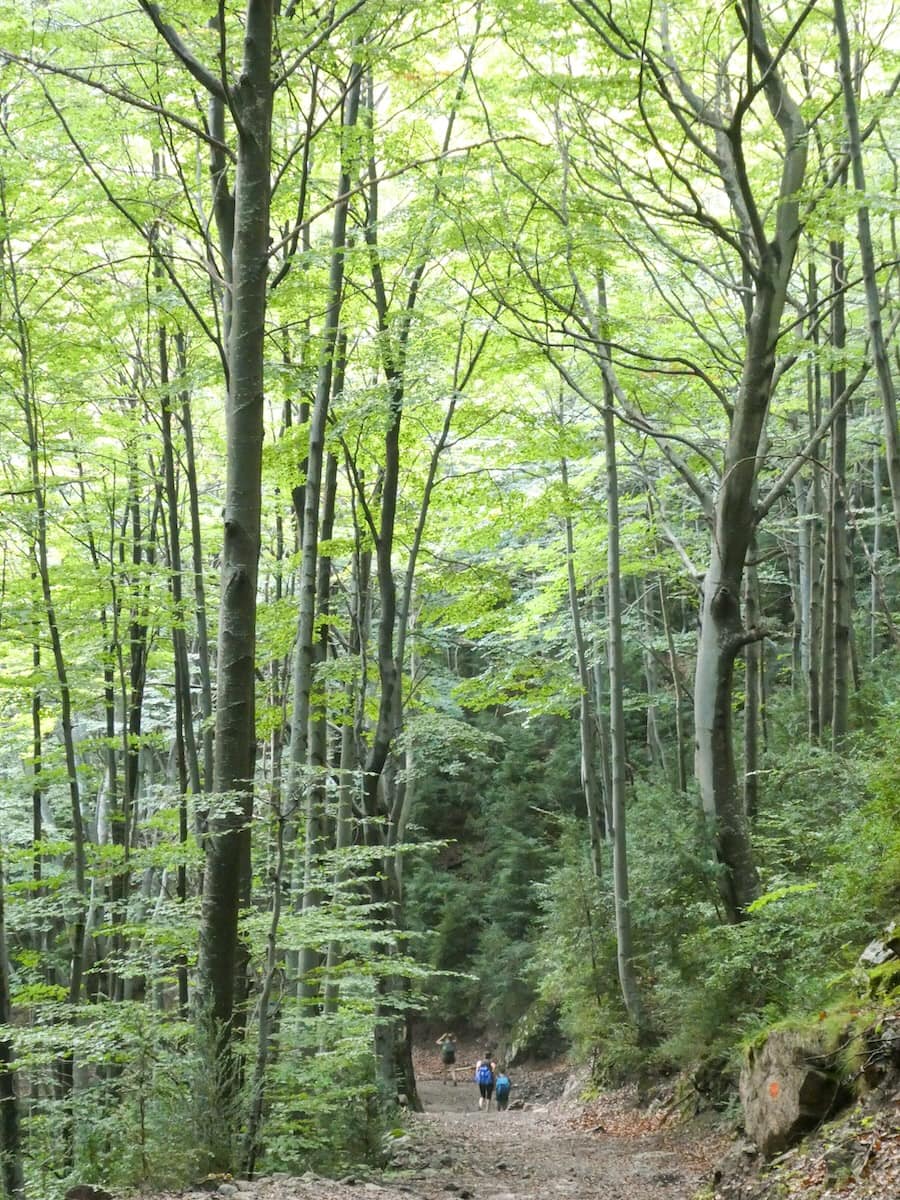 After 6 km, things changed. We crossed two roads, and the trail started gaining altitude. We thought we would see the hut every time there was a turn, but we just found another steep hill to climb.
So, don't despair! It's a long climb. Enjoy the landscape, and the hut will finally appear!
Once there, we were rewarded with impressive views of the Pedraforca and nearby mountains.
If it's sunny, the outdoor area of the hut is an excellent place for a break. In our case, it was pretty cold, and the warden was very kind to let us eat our snacks inside. He even lighted the fireplace!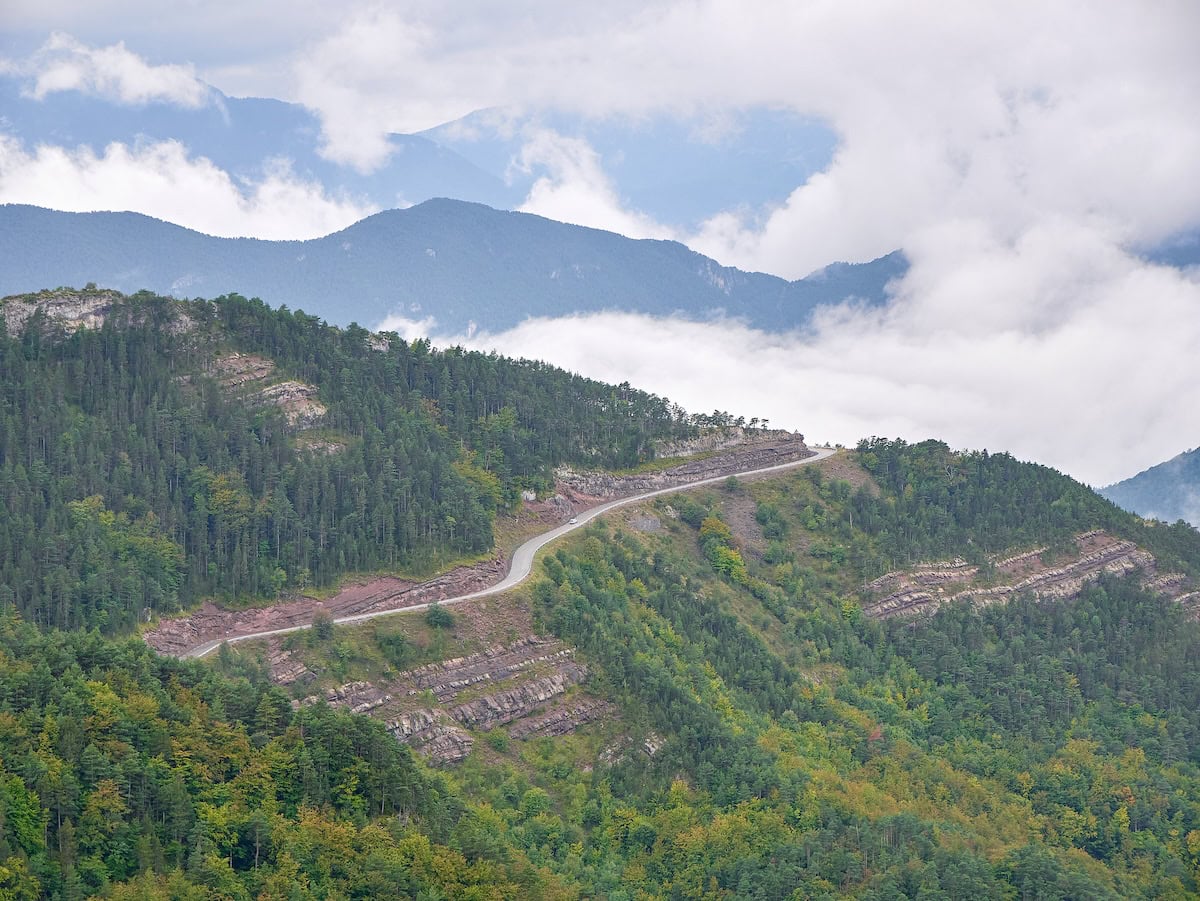 Rebost to Niu de l'Àliga, 7 km hike, 880 m+, 0 m-
From here on, the trail only ascended. Non-stop.
The first section unwinded between meadows and forest, and, apparently, the views are impressive, but we couldn't see them because of the fog. We could barely see ten steps in front of us.
The landscape changed as we passed the 2.000 m of altitude, becoming rockier, and the vegetation disappeared.
The fog became our companion, covering everything around us and giving the landscape a mystical atmosphere.
We had to pay much attention to the orange signs to avoid getting lost. In fact, when we got to the top of the mountain, we were only twenty meters away from the next hut, but we couldn't see it!
The Niu de l'Àliga hut, which literally means Eagle's Nest, is located in the highest area of La Molina ski resort (at the top of the mountain Tosa d'Alp). It can be accessed with a chairlift, and when we arrived, many people were having lunch there.
It was the hut we liked the less, mainly because you can feel it's run by the ski resort and not by a warden. We had to wait until everyone finished their lunch to shower and go to the rooms.
Also, the food and the attention received were far from what we had experienced in the other huts.
Day 4 – Goodbye Cavalls del Vent
Niu de l'Àliga to Serrat de les Esposes, 16 km hike, 360 m+, 1446 m-
The last day couldn't have started better. We set our alarm just in time to get dressed and step outside to enjoy the sunrise (highly recommended!). Seeing the mountains wake up was magical, painting colours we couldn't easily forget.
And if you're lucky enough, you might see a cloud inversion!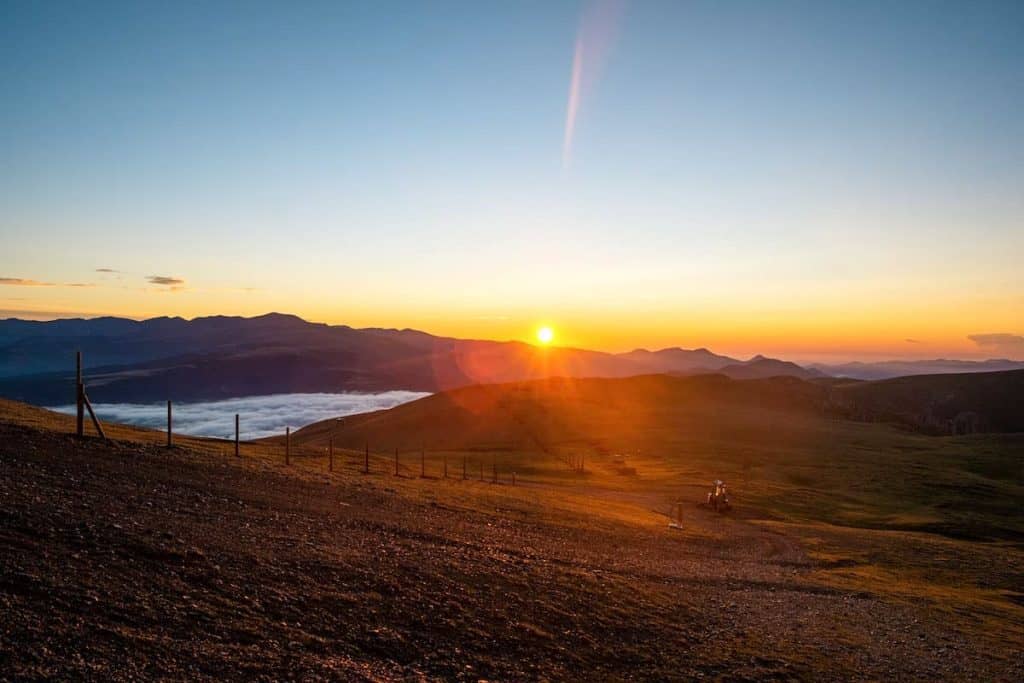 If the last day's section mainly was climbing up to the Tosa d'Alp, this section was mostly downhill.
The first part descended 400 m in a short distance. The panoramic views were breathtaking, and if the day is clear, you could spot Montserrat in the distance.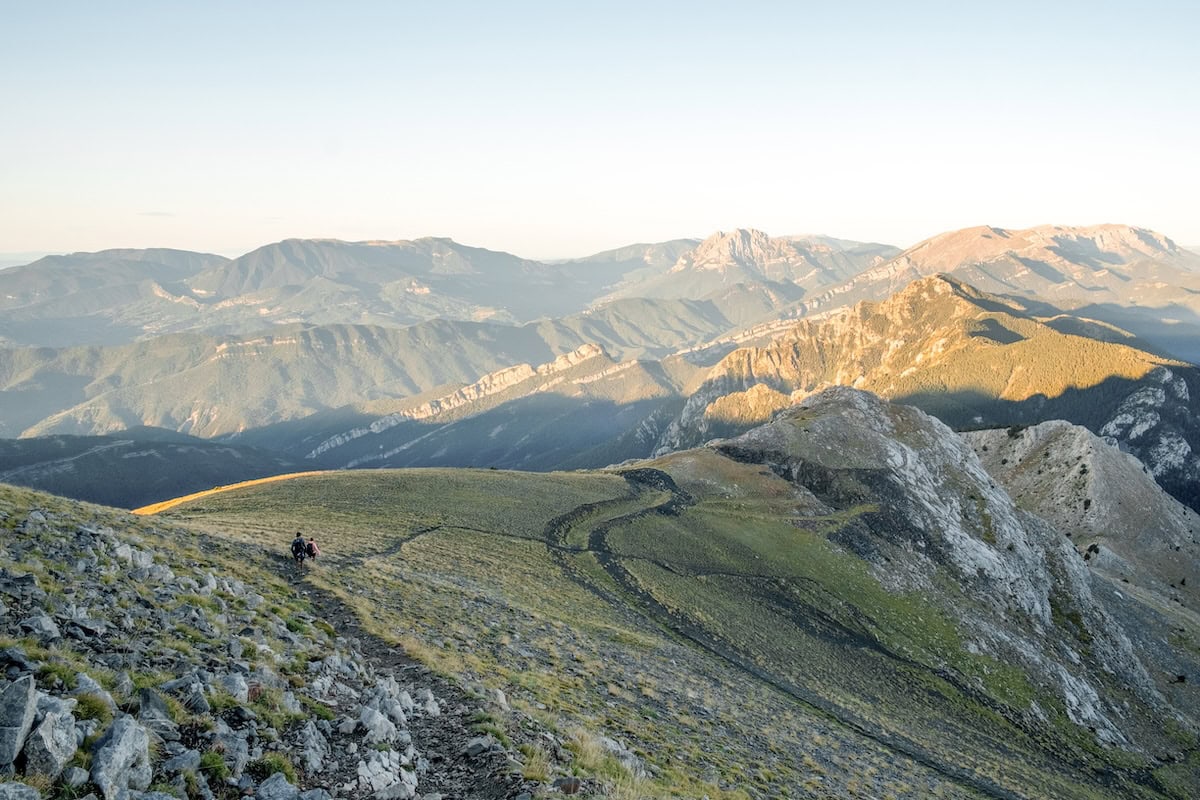 After this, the trail unwinded again through meadows and forest, alternating uphills and downhills.
We were lucky to enjoy the presence of some hot air balloons that were riding early in the morning. It felt like we were still dreaming; it was such a picturesque scene!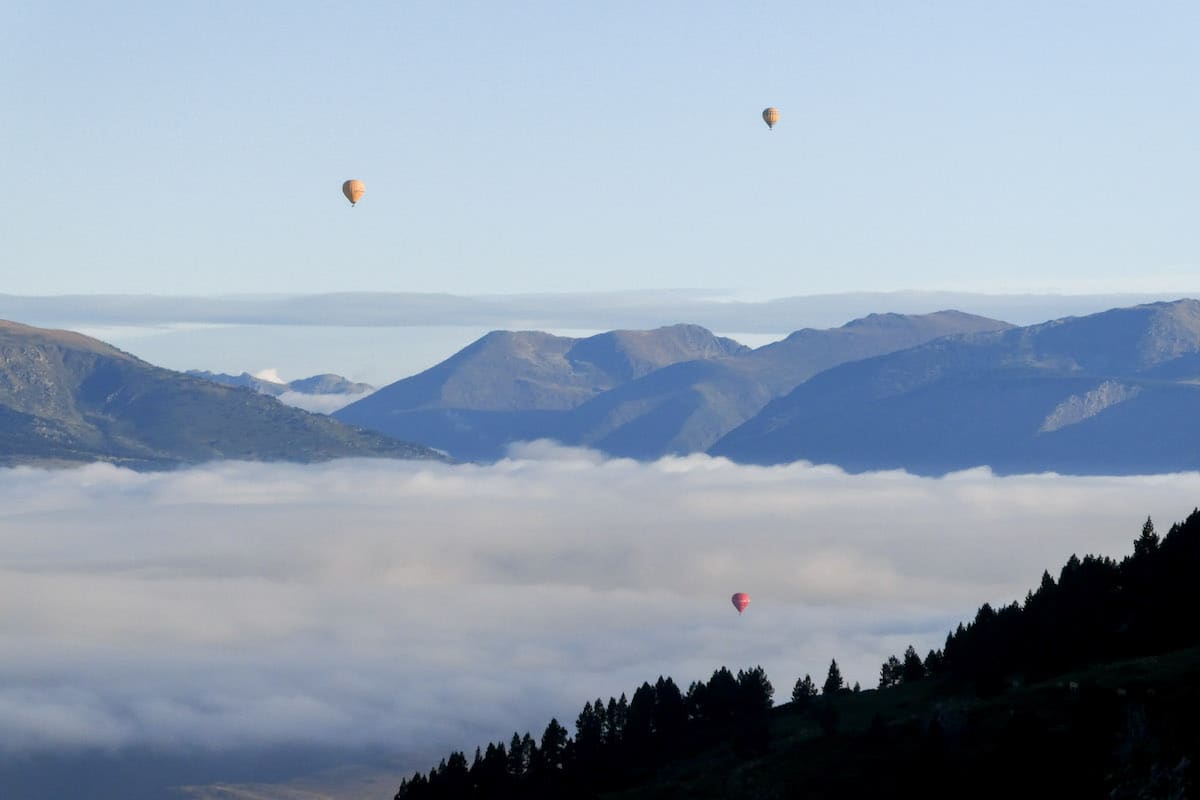 Just some km after leaving the hut, the trail started going up abruptly to reach the Penyes Altes de Moixeró peak (2.279 m).
👌🏼 Our tip
The Cavalls del Vent official trail passes close to the Penyes Altes de Moixeró peak but doesn't reach it. We recommend leaving the track and making a slight detour (walking a hundred meters) to reach the summit. It's totally worth it; the views are jaw-dropping!
After swallowing a snack, we returned to the track and continued down. After a few meters, there was a small section with rocks. But it wasn't a problem as hikers had a rope to use. That's the only "difficulty" of this section.
After this, the landscape turned into endless meadows again. Everywhere you looked, you could see green. And some cows and other livestock grazing around. The grass seemed to invite us to munch on it, and we couldn't help but lay there for a while and let the sun warm our faces while we enjoyed the silence.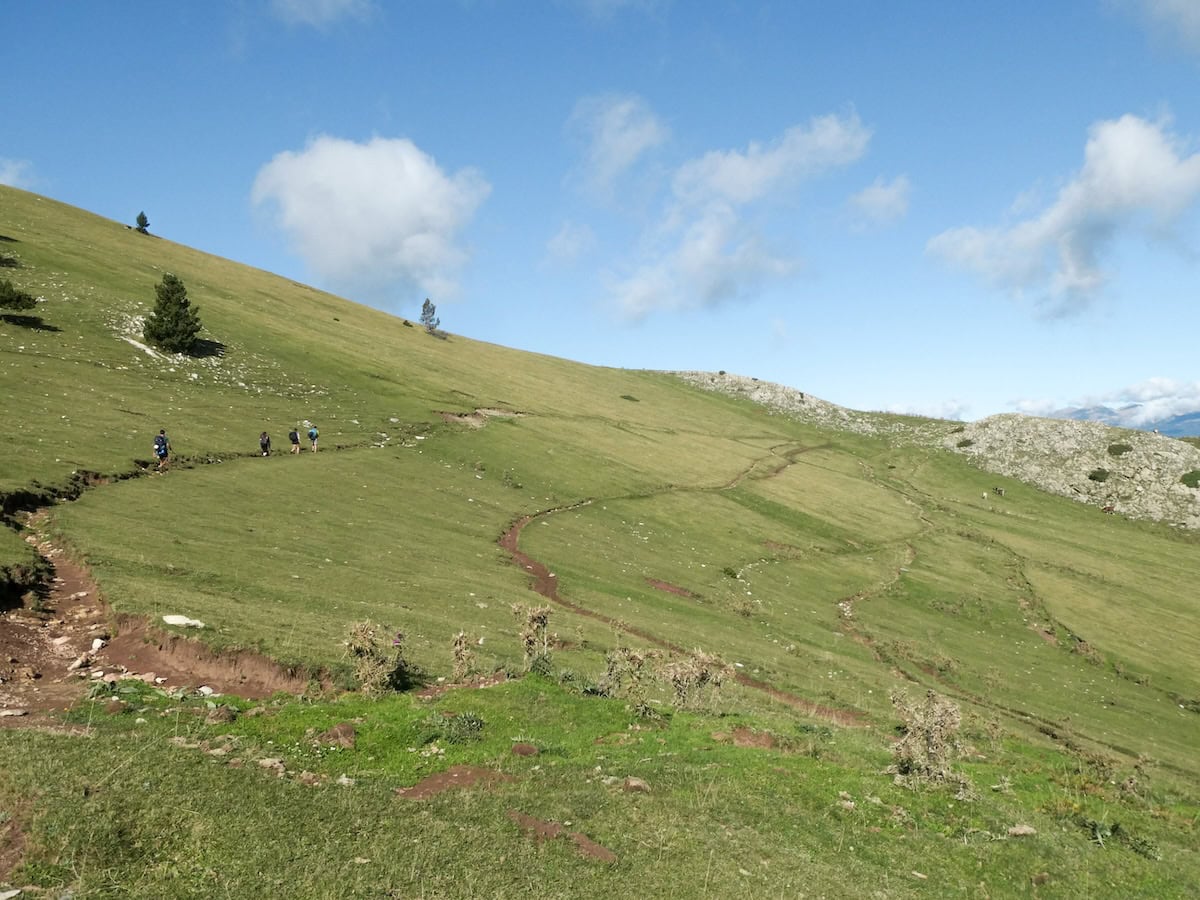 Then, we crossed the last mountain pass of the hike: Collet del Moixeró. It was steep descent through a forest from there until the next hut.
Be patient because the descent is long, and the terrain is rocky. But you'll be in the Serrat de les Esposes hut sooner than you expect.
We loved this hut. Its decoration is beautiful and it has a huge outdoor area featuring chairs and tables. We didn't eat there, but we must say that the food looked delicious!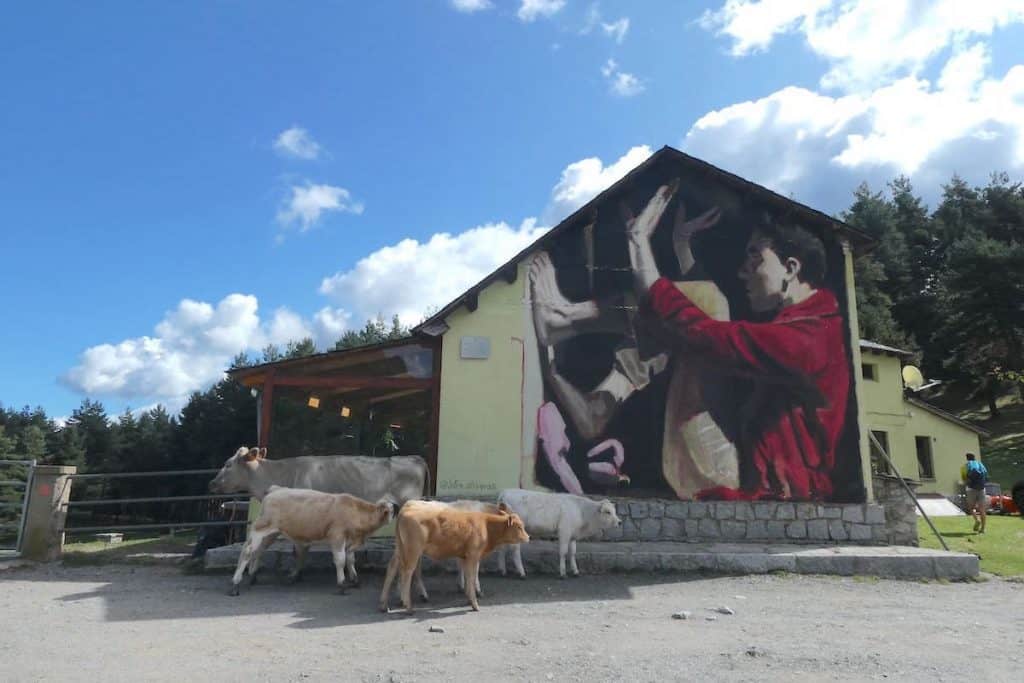 Serrat de les Esposes to Cortals de l'Ingla, 4.7 km hike, 196 m+, 97 m-
Only 4.7 km separated us from completing Cavalls del Vent. This last part of the route alternated between the dirt road that connected the huts Serrat de les Esposes and Cortals de l'Ingla, and a trail through a forest of fir trees.
Finally, we arrived at the Cortals de l'Ingla hut, the starting point of this adventure 4 days ago. We made it!
Next thing we did? Hurry to a restaurant to celebrate it with a well-deserved lunch!
Would we recommend Cavalls del Vent?
For sure! The Cadí-Moixeró Natural Park is a beautiful area with a great variety of landscapes. One moment you think you've been teleported to the Alps, only to find yourself crossing a typical Mediterranean wood minutes later. And when you reach the huts, you might feel you're suddenly in a Switzerland refugio (only that it's much warmer here!).
Cavalls del Vent is perfect for anyone who wants to experience a multi-day hike but would like the comforts of staying in a hut, carrying less weight and eating delicious and abundant food!
Remember to follow Leave No Trace practices. Be kind to fellow hikers. Be respectful to hut wardens and the local communities. And hike on!
---
More hut-to-hut hiking routes in the Catalan Pyrenees
Check our "Hut-to-hut hiking in the Pyrenees: Five stunning routes + Essential info" guide to discover more thru-hikes in the Catalan Pyrenees.
We've also written in depth guides about other multi-day hikes we've done in the Pyrenees: Estanys Amagats, Carros de Foc, and La Travessa dels 3 Refugis. We hope you enjoy them!