Have you ever wanted to fly free like a bird of prey? Well, we can't make you fly, but we can bring you to a place where you'll have the same views as these magnificent birds. The gorge of Mont-Rebei is a natural border between Catalonia and Aragon, and it's the perfect place to do a wide variety of activities -such as trekking, cycling, climbing, and kayaking- while experiencing a sense of isolation and freedom in the middle of a breathtaking landscape. So grab your trainers and your flip-flops and follow us to this natural paradise!
What is the gorge of Mont-Rebei?
The gorge of Mont-Rebei is created by the Noguera Ribagorçana river on its course through the Montsec mountains. The result is an incredible wall of rock crossed through by a river of emerald blue water. The walls are as high as 500 metres, and the only way to cross the gorge is through a bridle path of less than 3 meters of width entirely excavated in the rock. No need to say that this allows enjoying the landscape in an imposing way. Do you dare?
The 600 hectares that cover the canyon are one of the most unique natural areas in Catalonia not only for the stunning landscape but also for its ecological value. The variety of wildlife ranges from vultures to foxes allowing the animal and plant lovers to take pleasure in the beauty of nature.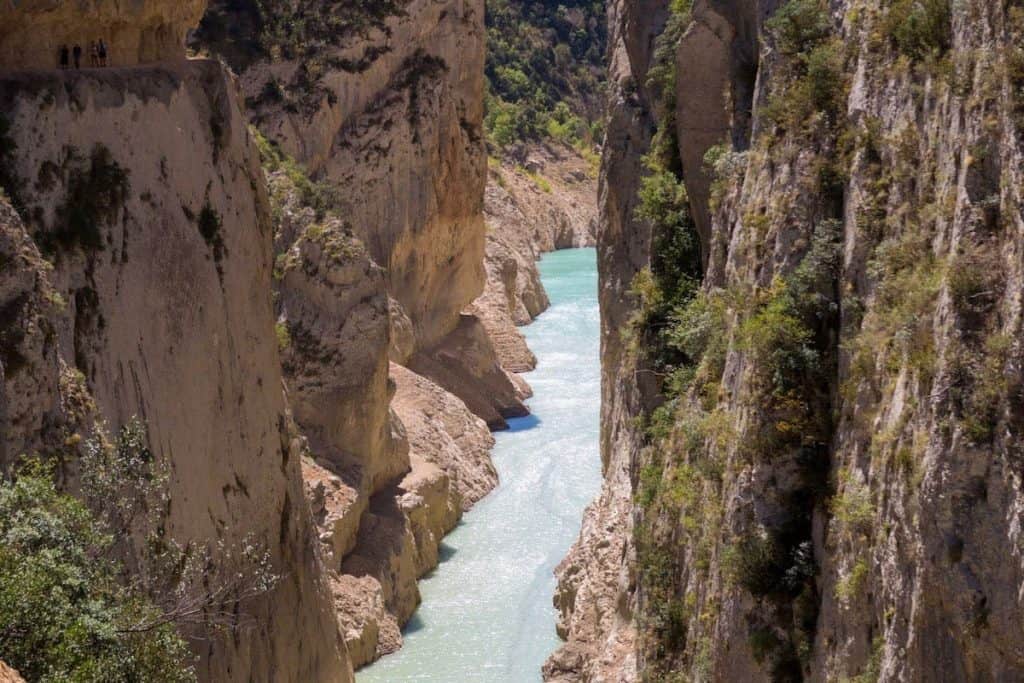 What to do in Mont-Rebei
Due to its nature, the gorge of Mont-Rebei is a perfect spot for practising different types of activities. If you go just for one day, hiking is what we recommend. If you're going there for a couple of days, especially from April to September, we recommend you to also go kayaking. It's a great way to see the gorge from an alternative and unique perspective.
Hiking the gorge of Mont-Rebei
Start at the parking "La Masieta" for a lovely hike through the gorge. The first part is an easy walk that gets you to a 40 m high suspension bridge located in the ravine of Sant Jaume. We realised how high we were when we finally were brave enough to look down!
⚠️ Important info
Parking in La Masieta costs 6 € per vehicle per day. The parking is closed at night, and camping or overnight stays are not authorized, so access to motorhomes is forbidden. During high season (July to September), it's recommended to book your parking spot in advance, and you can do it online here.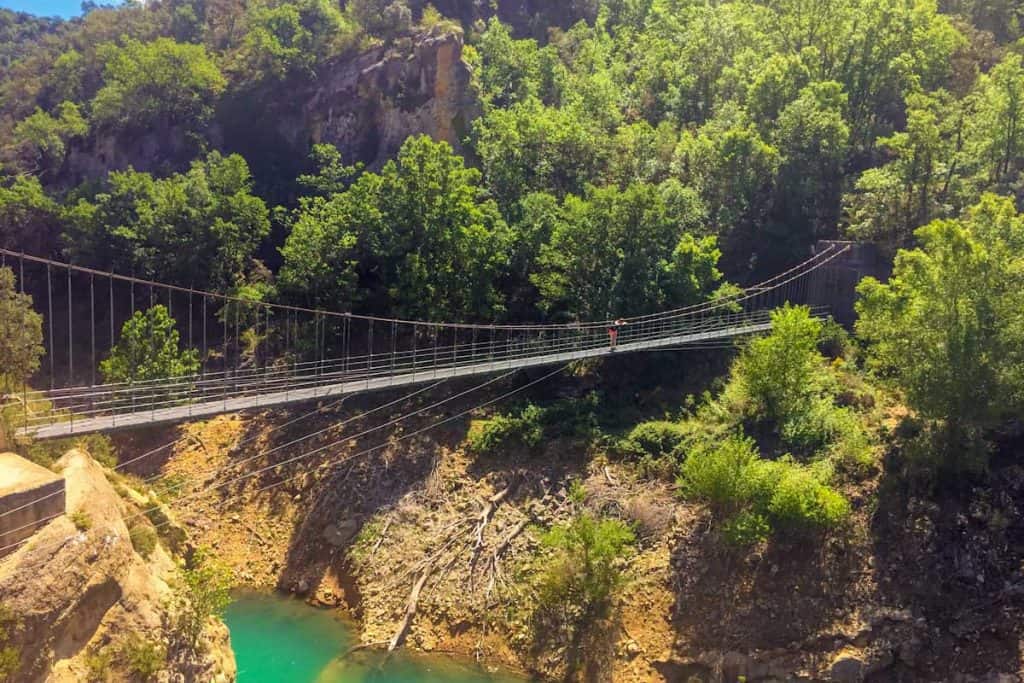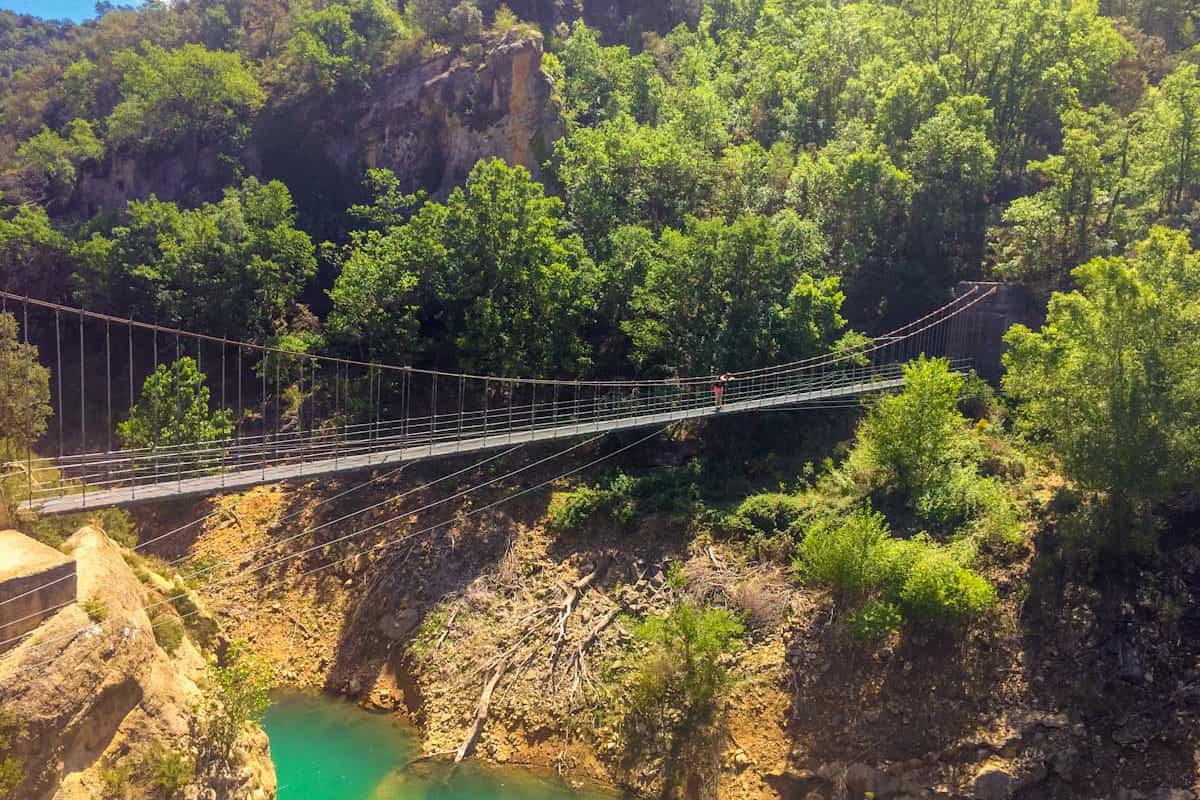 Breath in the fresh air of the mountains and continue to the gorge's gorgeous entrance. Once there, the feeling of freedom and the views are indescribable. We recommend you to stop in one of the benches for a picnic (we brought it from home when we went) and get some energy while looking at an impressive landscape.
After passing the gorge, the fun hasn't ended yet. The next part runs down a smoothly slope until the second suspension bridge (Sigué bridge) and… surprise! You're no longer in Catalonia; you're in the region of Aragon.
One of the most spectacular parts of the route comes after; two zigzag-shaped staircase systems built against the rock's face. We felt a bit dizzy with the panoramic views, but at the same time, we couldn't stop staring as we were astonished by the beauty of the landscape.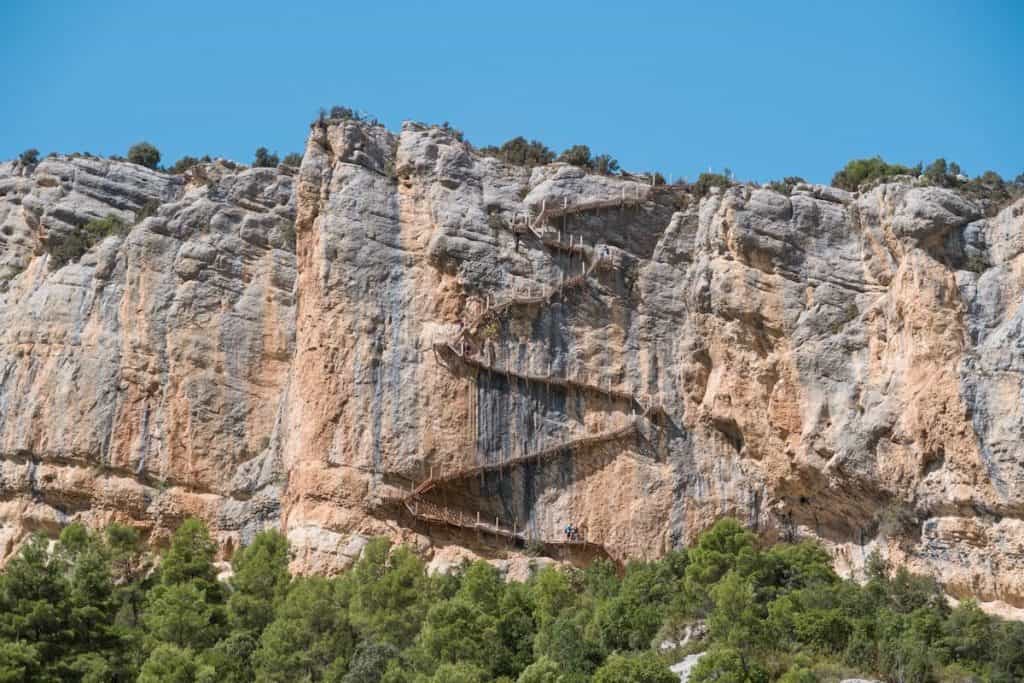 The end is close! Just a continued ascend until the Montfalcó shelter. There's a fountain on this section, which is great to refill the water bottles and keep yourself hydrated. When we arrived at Montfalcó's shelter, we quickly grabbed a cold beer and enjoyed the flavour of satisfaction. Please do the same; you'll totally deserve it!
Long story short, the whole route is 16.8 km, so it's perfect for an all-day trip. As it's not a circular route, you can go back whenever you want. If you don't want to walk that much, turning around at the first staircase system is an excellent option as you'll see the best parts of the gorge just by walking 9.8 km.
🧭 Wikiloc track
Here's the Wikiloc track of this hike so that you can use it as a guide.
Kayaking the gorge of Mont-Rebei
If you want to feel like Chris McCandless in the movie "Into the wild", rent a kayak and dip your paddles into the crystal-clear emerald waters of the gorge. Be prepared to discover Mont-Rebei in a completely different way.
Kayaking gives you the freedom to stop wherever you like, either for a swim (essential in the summertime) or just to relax your arms and take a break. There's the possibility to rent individual or tandem kayaks. A tandem kayak was our choice because we wanted to prove our synchrony, and even though you need some level of coordination, it's so much fun!
You can also choose to paddle either for 9 km and return walking or by boat (Option 1) or paddling a total of 14 km across the gorge back and forth (Option 2). We did the whole 14 km, and we recommend it. It looks pretty long, but in fact, when you're there, you don't want it to end.
We rented the kayaks from the company Montsec Activa, and they were excellent. They recommended several routes and did a short briefing of the area and the kayaks. Click here to book a kayak with them.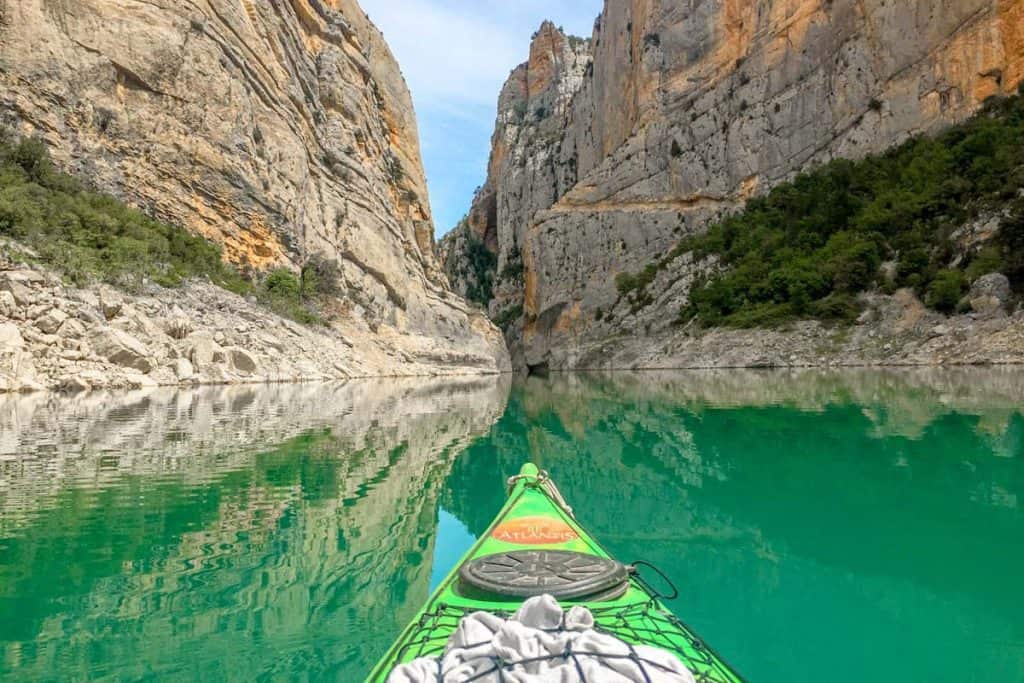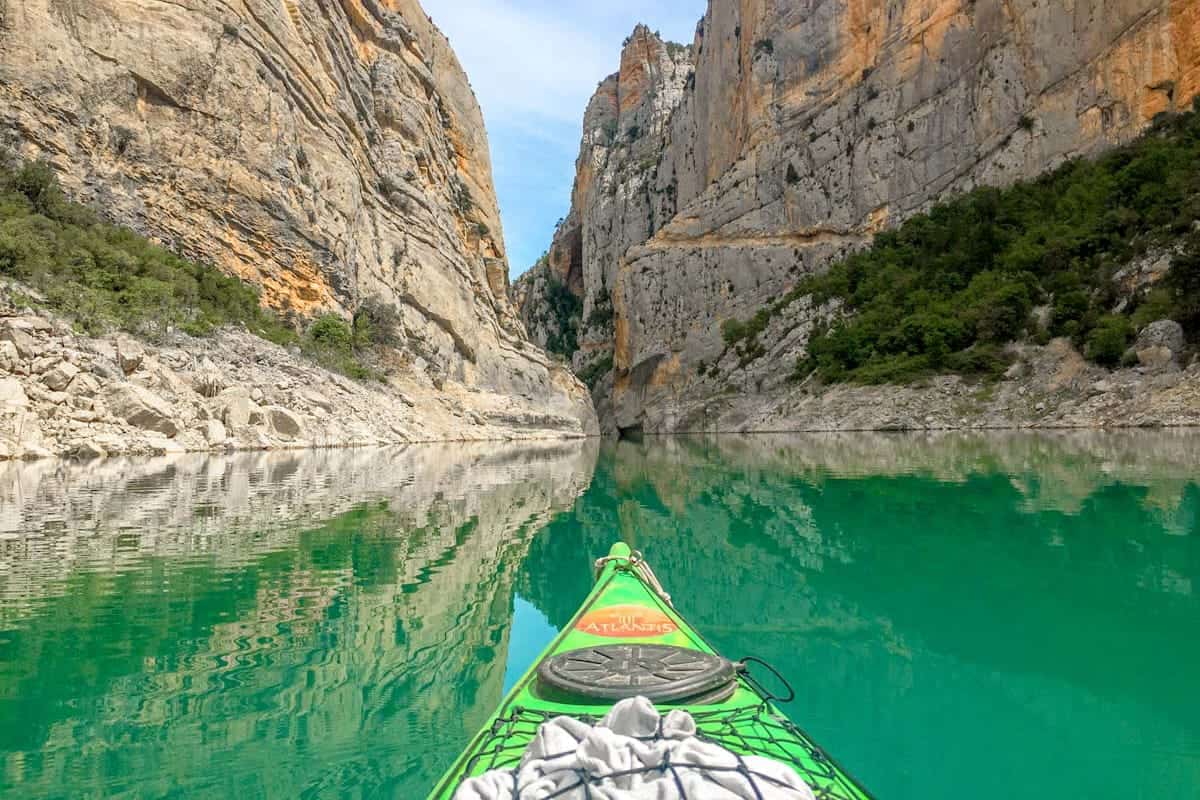 Where to sleep near the gorge of Mont-Rebei
As we did both activities, we decided to spend a night in the area, and we stayed at Hotel Terradets. The location is fantastic as there's a lake just in front of the hotel, perfect for enjoying a glass of wine with lovely views. Also, you can relax your muscles in the swimming pool after an exhausting but gratifying day. The hotel breakfast is ideal for trying some of the typical Catalan products such as local fuet, bread with tomato or serrano ham. It was delicious!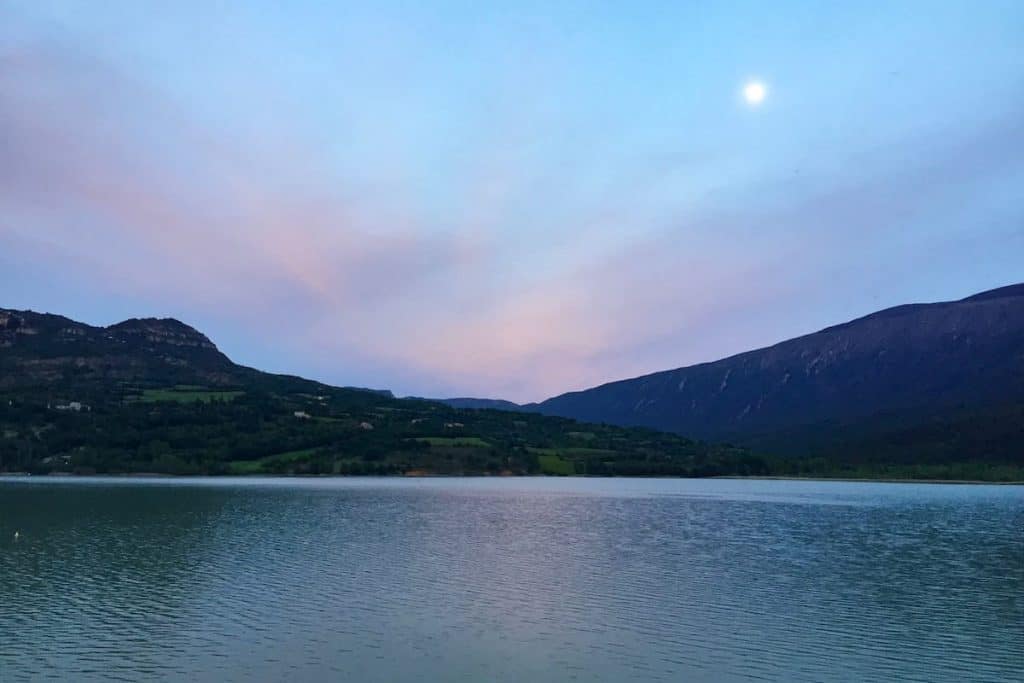 If you're looking for something cheaper, a budget option is Camping Montsec. They have bungalows and apartments, or you can bring your tent and pay for the parcel. It's a tranquil and beautiful place.
Where to eat near the gorge of Mont-Rebei
For lunch, we recommend you bring your own food to the gorge, as the first place you're going to encounter for eating is the Montflacó's hostel (8 km from the start). If you plan in advance and get to Montfalcó's hostel between 1 pm and 3:30 pm, you can eat there. They served homemade and local food.
For dinner, Hotel Terradets offers a buffet menu made with local products for 14 € (weekdays) or 17.50 € (weekends and all days of August). Some other options are the restaurant Can Quel (serving traditional Catalan dishes), the Berraco (vegan bar), Trattoria dal Gianni (if you're craving Italian food), the restaurant Cal Jou (delicious Catalan food), or the Restaurant de Gurp (serving typical Catalan dishes).
For the second day, you have several options:
You can ask the hotel if they prepare picnics.
You can go to the supermarket to buy something for lunch. There are local shops to buy groceries in Àger (called Cal Negre and Servi Martí).
If you do the kayak early and finish in time for lunch, you can head to one of the restaurants mentioned before.
⚠️ Attention!
Remember that on Sundays most supermarkets and shops are closed.
When is the best time to visit Mont-Rebei?
The weather in Catalonia varies a lot from one region to another. In the case of Mont-Rebei, the weather is pretty extreme, with scorching summers and cold winters.
During peak season, July and August, the accommodation prices are usually higher, the place is more crowded, and it's sweltering to go hiking. On the other hand, as Mont-Rebei is located in the mountains, winter wouldn't be an option for kayaking because it's too cold.
We recommend visiting Mont-Rebei either in spring (April, May and June) or autumn (September and October). The weather is usually lovely and warm, and it's also an excellent time to avoid the crowds.
If you have the chance, it's even better to go during the week than the weekends as it's quieter. However, Mont-Rebei is truly a beautiful place, so if you only have few days in summer to visit it, our best advice is to get there early to be as alone as possible.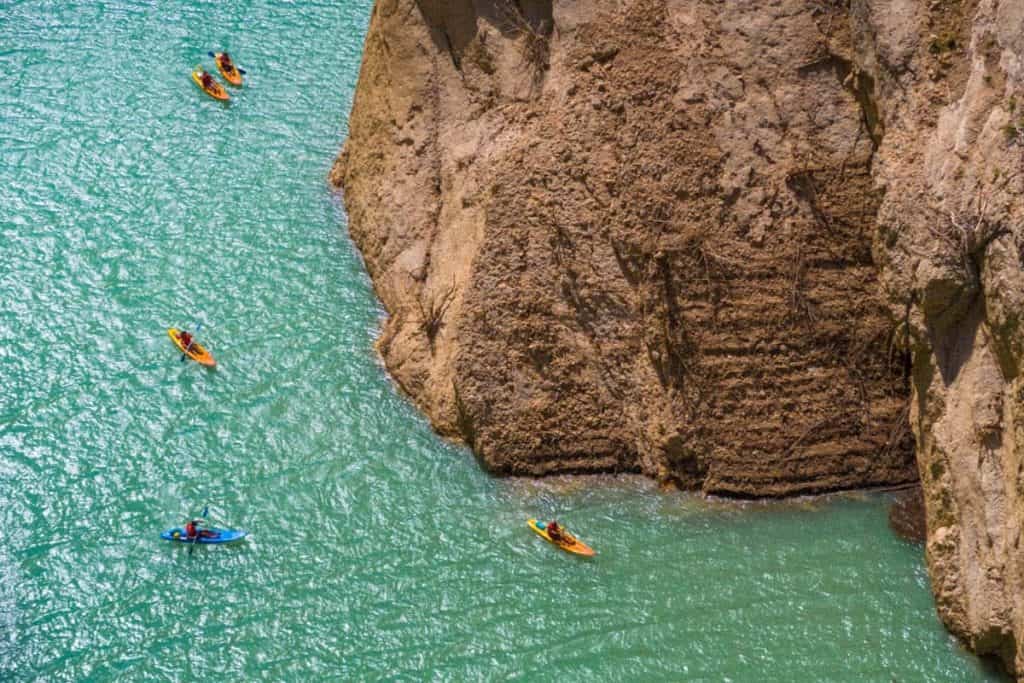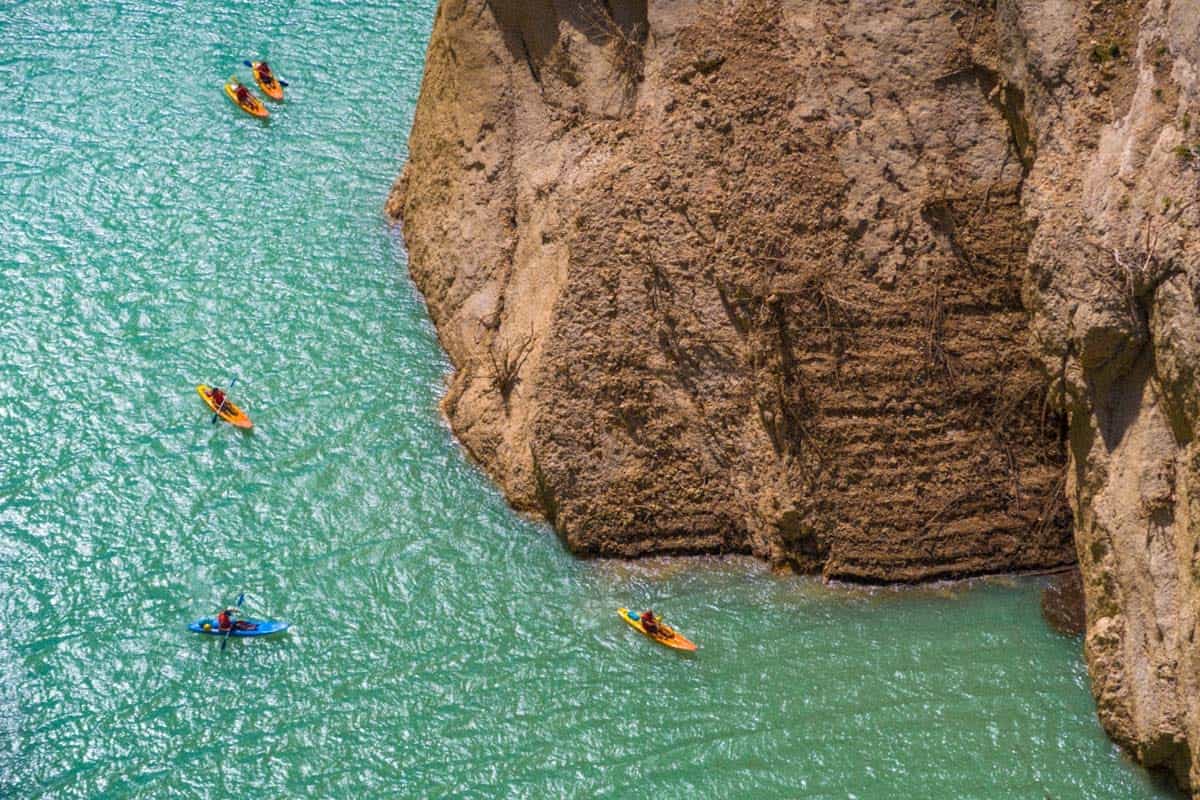 How to get to Mont-Rebei
Mont-Rebei is quite an isolated place. It can't be reached by public transport, so the only option is to go by car. If you rent a car, always remember that in Catalonia we drive on the right side.
If you go from Barcelona, it's approximately a 3-hour drive. The best option is to follow the A-2 until Lleida and then take the N-230 until Puente de Montaña, where you'll have to turn right to the C-1311 road that leads directly to the car park La Masieta. We recommend you park the car at the car park, where you can start the hike that we've mentioned before. During the summer months, the car park can be full. Go there early to secure a spot!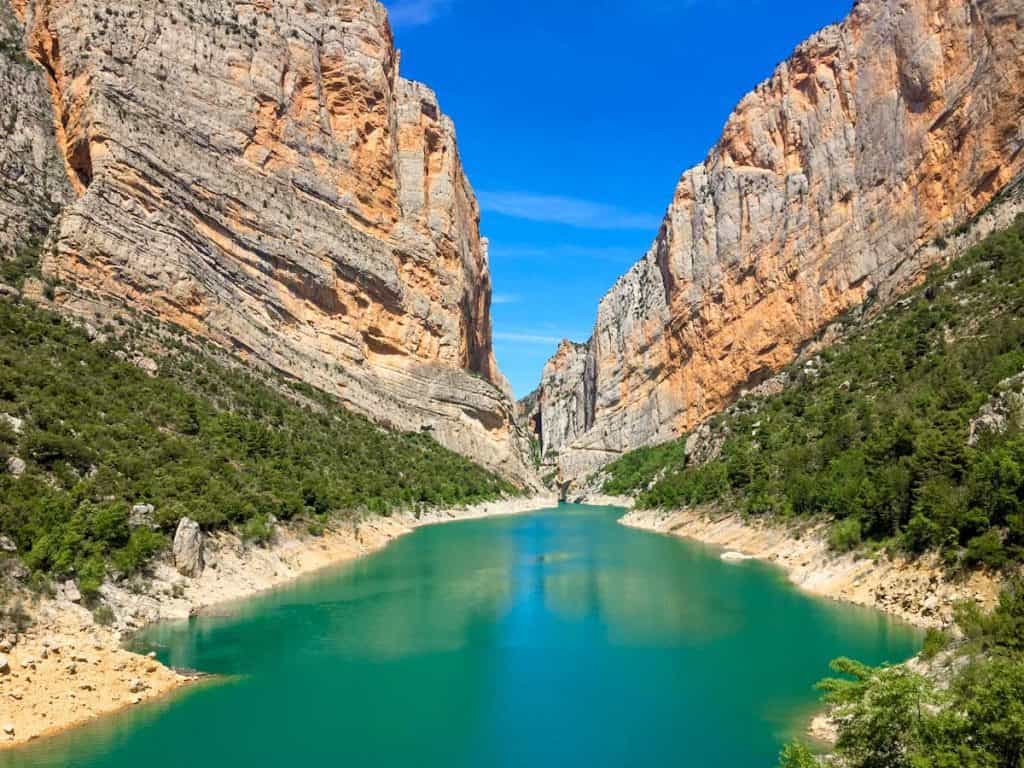 We hope this guide helps you spend one or two days discovering the beautiful region of Mont-Rebei. If you do visit it, let us know your experience in the comments! 🙂