When you want to soak in nature, forget the crowds, but still be close to a village and many activities, then Mas Sant Marc is your place. We're talking about a rustic hotel in an old-world-style Catalan masia in the calm outskirts of the village of Puigcerdà. There, it's all about original country-style decor that fuses with the stone walls and wooden floors.
We fell in love when we visited it and we decided to share here everything you need to know about Mas Sant Marc. Keep scrolling to discover more!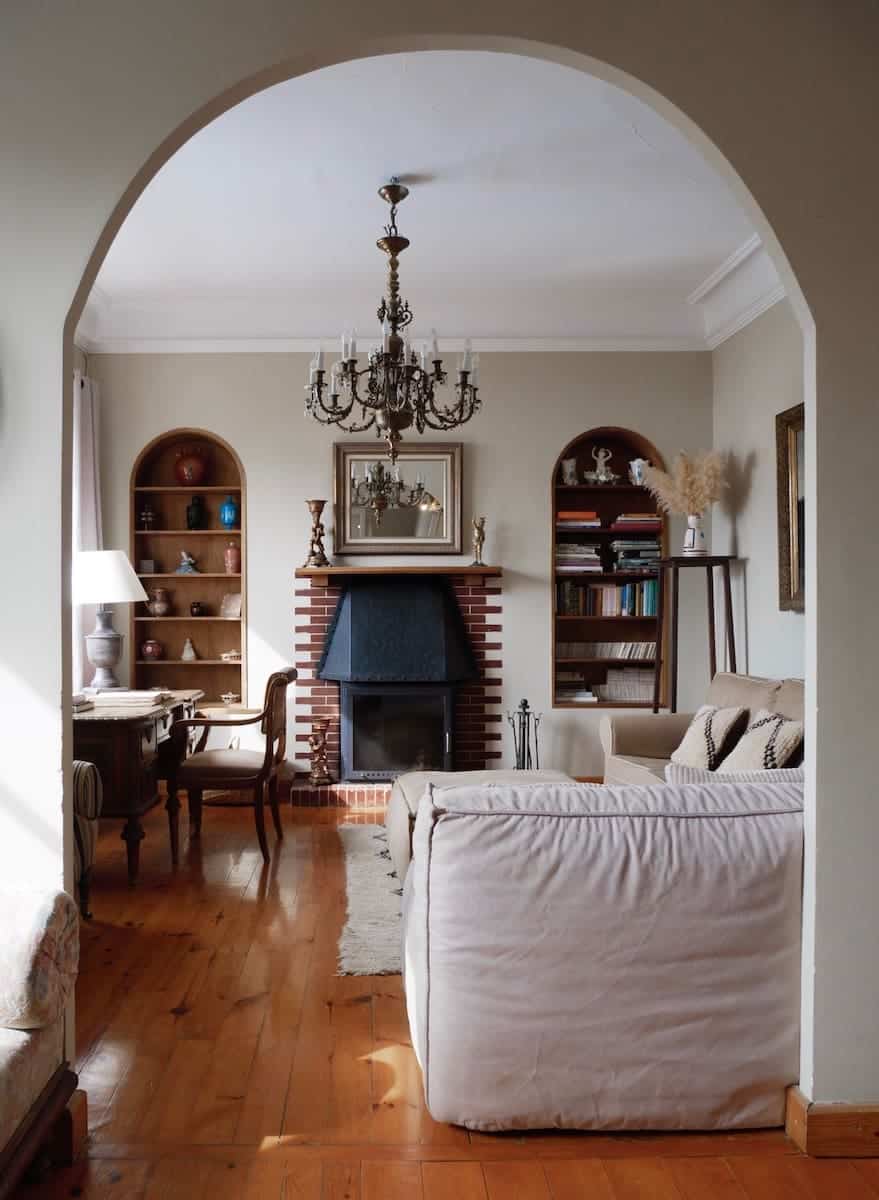 Everything you need to know about Mas Sant Marc
Mas Sant Marc is so calm and relaxing, and it's little known amongst travellers, so it feels like you have discovered a little secret you almost want to keep to yourself! It's usually frequented by locals (mainly from Barcelona) who seek to get out of the capital for a ski break or a close-to-nature getaway.
The history of this charming country house started in 1880. By then, a doctor from Barcelona named Ivo Morer bought the house and the farm surrounding it, as a place to escape from the big city and relax in the countryside. At that time, Mas Sant Marc was just a family home that welcomed the doctor's family during their summer and winter getaways.
It wasn't until 1994 that the daughter of Ivo decided to turn the family home into a little family-run hotel. This is how Mas Sant Marc became the first accommodation to officially obtain the tourism license in Girona and the seventh to obtain it in Catalonia.
Nowadays, its current owner is the third generation of the Catalan family Morer to run the business.
The house has been beautifully restored with modern comforts throughout the years, and it looks absolutely gorgeous! We loved how the place still maintains its character and charm despite the renovations and you can clearly see the attention to design in every detail.
Staying there was like a feast for our eyes: every colour was perfectly picked and every object perfectly place. And it seemed to be have been done in such a casual way!
The masia
In case you've never heard the word masia before (which is totally understandable since it's a specific word of Catalonia), add it to your vocabulary! It's a common word used here to refer to a building in a rural environment that is (or was) related to farming.
In the old days, Mas Sant Marc was a cattle farm. Nowadays, the masia is where most of the services and rooms are. There, you'll find a living room to chill by a cosy fireplace, a self-service bar, a desk to work with your computer, toilets, and the reception.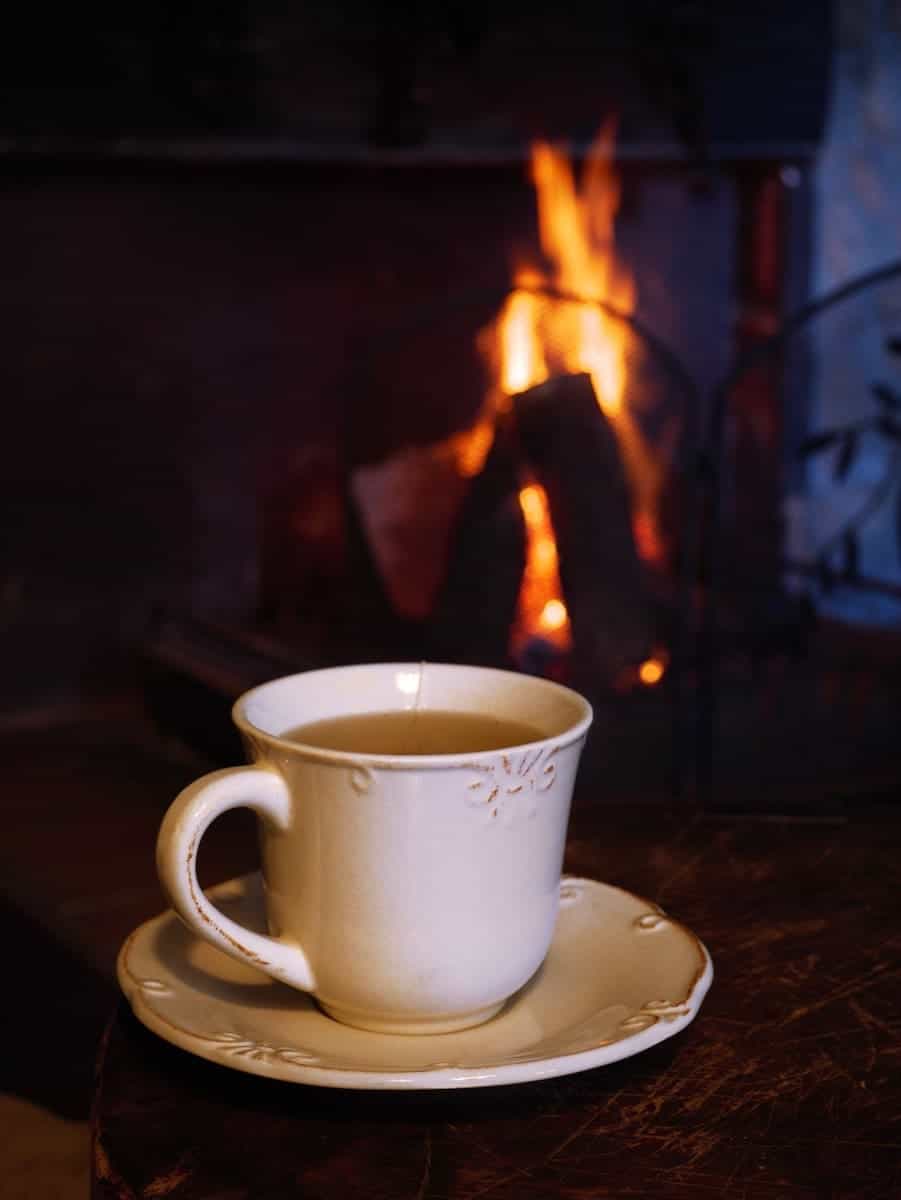 The food
The masia is also where the restaurant is located. They offer typical dishes from La Cerdanya, like trinxat or local cheese, cooked using fresh and local foods.
The lovely breakfast, also made with items from local producers, was the best way to start our day! Cured meats, croissants, bread, fruit, jams, orange juice, tea, coffee, you name it. Oh, and eggs, whichever way you like them! The eggs couldn't be fresher as they come from the hens of the house itself.
⚠️ Important!
Keep in mind that breakfast is not included, and has to be booked at the time of making the reservation.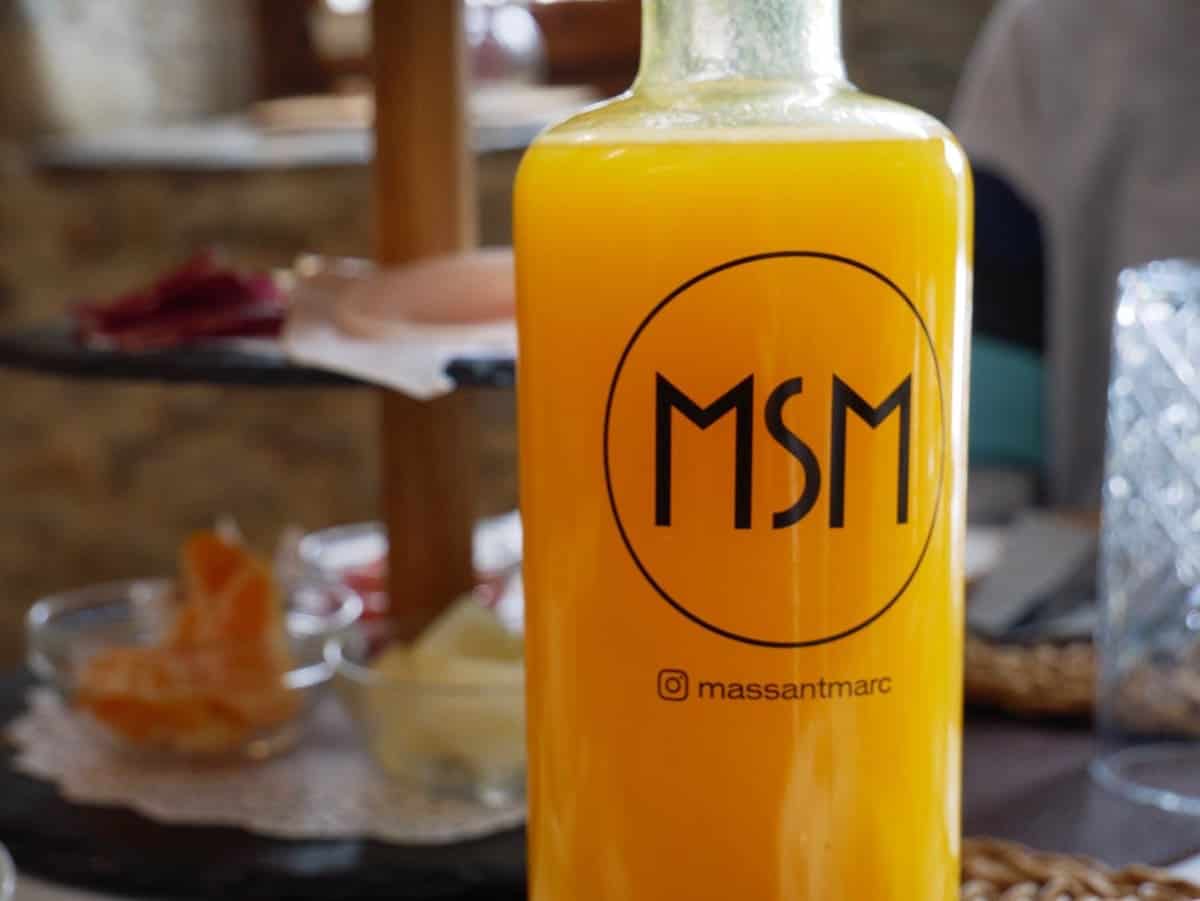 The rooms
The rooms all have so many beautiful details. What enchanted us is that no two rooms are the same, so each time you stay in the hotel, it feels like a different experience.
Each room has its own personalised decoration, and the views also vary from room to room. You can either have a front-row seat to the impressive Pyrenees mountains, the beautiful garden, or the outdoor pool.
Another difference is the number of people that can stay in a room. Some of them can accommodate two people while others can accommodate up to four.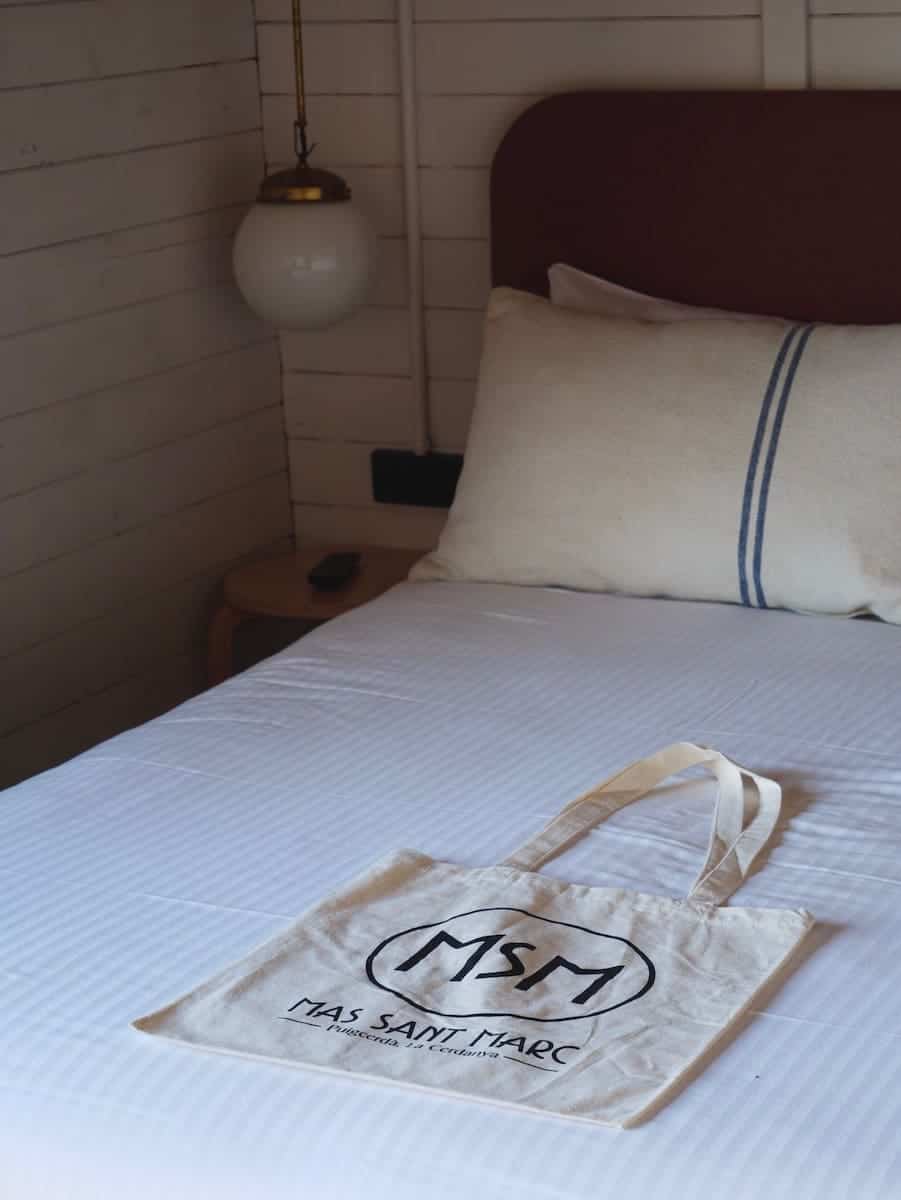 If you prefer a more secluded experience, there's also the option to stay in the bungalow. It's an independent tiny house, some meters aways from the masia, giving you absolute privacy.
We were astonished with the views from the bungalow and waking up surrounded by horses felt like living in a fantasy.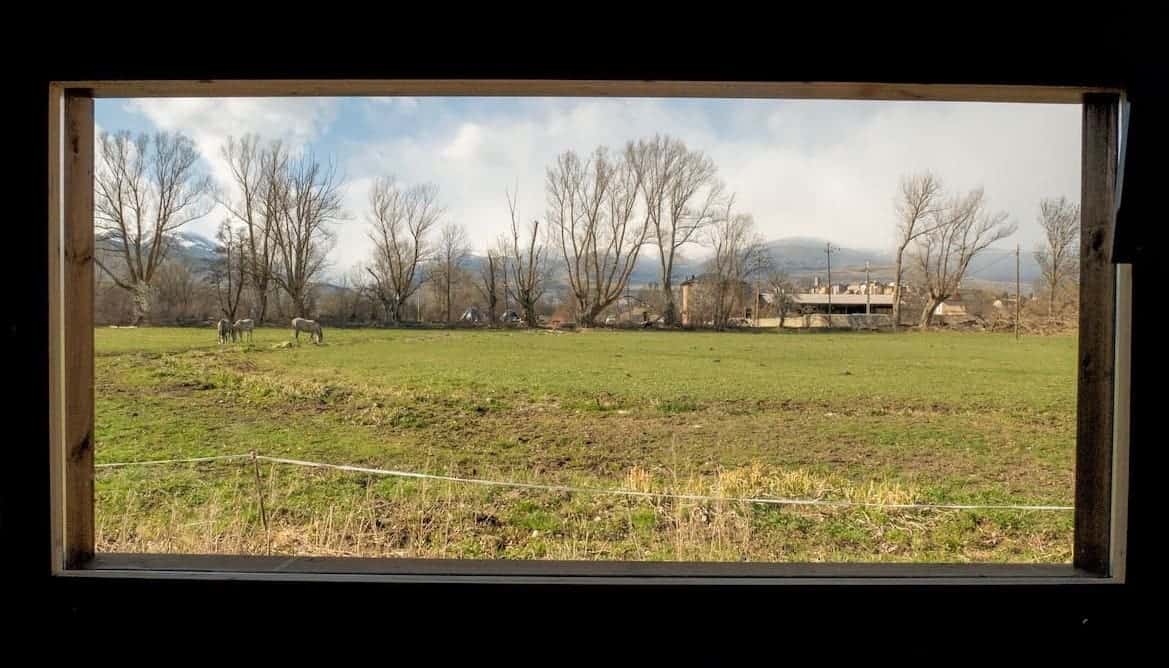 The bungalow has a kitchenette and a private terrace, the perfect place to relax, enjoy a wine, and soak up the views.
For big groups, up to 12 people, there's also the option of booking an independent countryside house next to the masia. We visited the house and we really wouldn't mind spending a weekend or more here with our families or friends!
Same as with the masia, the villa stands out for its thoughtful decor, and it has a beautiful private garden. We could quickly picture ourselves enjoying an al fresco dinner or a vermouth under the sun!
Plan your trip to Mas Sant Marc
Best time to go to Mas Sant Marc
You can stay at Mas Sant Marc all year round. The surroundings are at their greenest during spring and summer, whereas you might find them covered in snow in winter! Summer is an ideal time to enjoy cycling and hiking, while winter is the perfect season for ski lovers.
If your dates are flexible, we recommend you book midweek. The price is lower during the week, so you'll save some money and find fewer people. We highly recommend planning your stay and booking in advance, as it can get fully booked quickly.
👌🏼 Our tip
Don't back out if the weather forecast predicts terrible weather when you're planning your stay! We would give it a try anyway. Most times, the weather tends to be much better than what they anticipated.
How to get to Mas Sant Marc?
You will find this beautiful masia on the outskirts of the village of Puigcerdà, in the north centre of Catalunya.
It takes about 1 h and 50 min drive from Barcelona to get there, whereas it's approx 2 hours from Girona and Lleida.
There are parking premises on the property, so parking the car is not a problem.
If you're not planning on renting a car, you can also reach Puigcerdà by public transport. From Barcelona, both buses and trains take 3 h to get there. Once in Puigcerdà, the only way to get to the hotel is walking (26 min) or by taxi.
What's included in the price?
The price varies depending on the room type, and the day of the week you book, starting at 81 € per night.
You can use all the facilities in the main house and the swimming pool (from June to October). The price also includes a yoga mat for your use during the stay, a map of the area, bikes, and Pukka tea (our favourite tea brand🤤)!
There're many add-ons to choose from, including the organic and local breakfast, a massage session, or horse rides.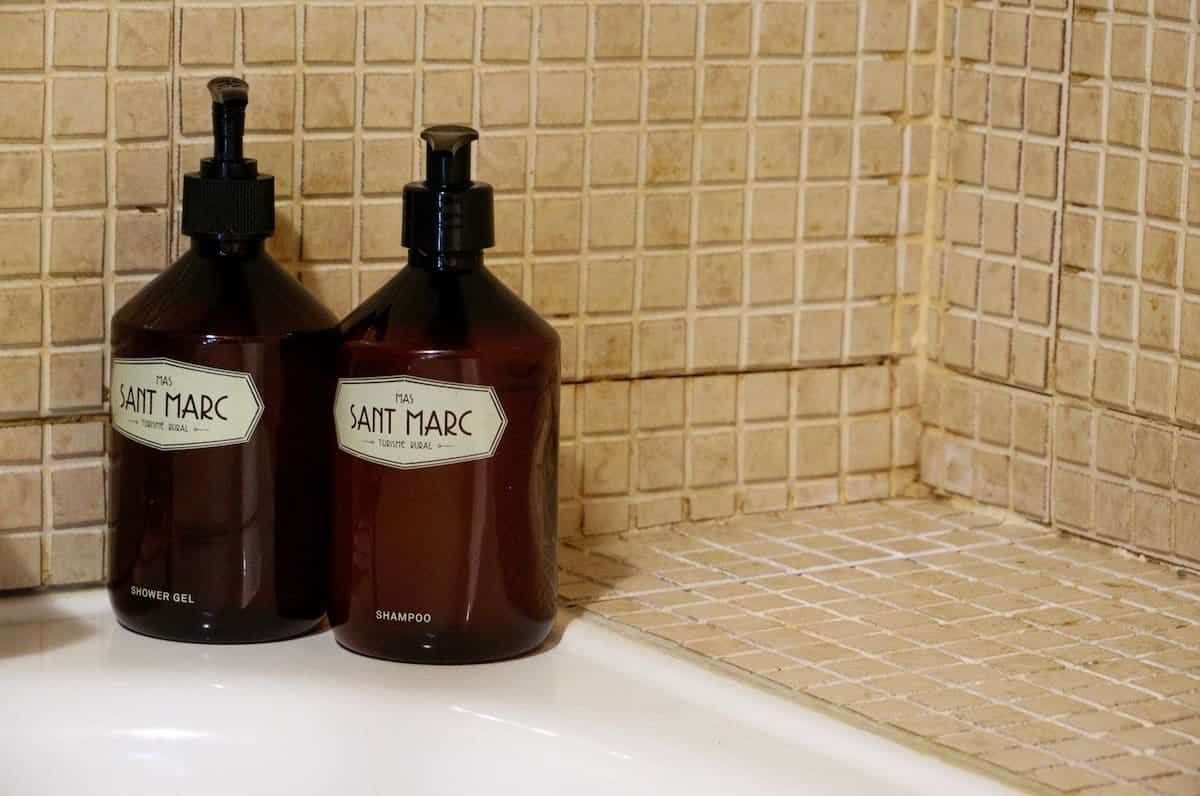 What to do in Mas Sant Marc
Just chill
Do nothing! Relax under the trees in the garden, read a book by the fireplace, nap, or listen to the birds while sipping your favourite drink. The options are endless! Just enjoy; it's a feeling we don't get to experience too often!
If doing nothing for a couple of days is too much for you, keep reading! There are plenty of other options.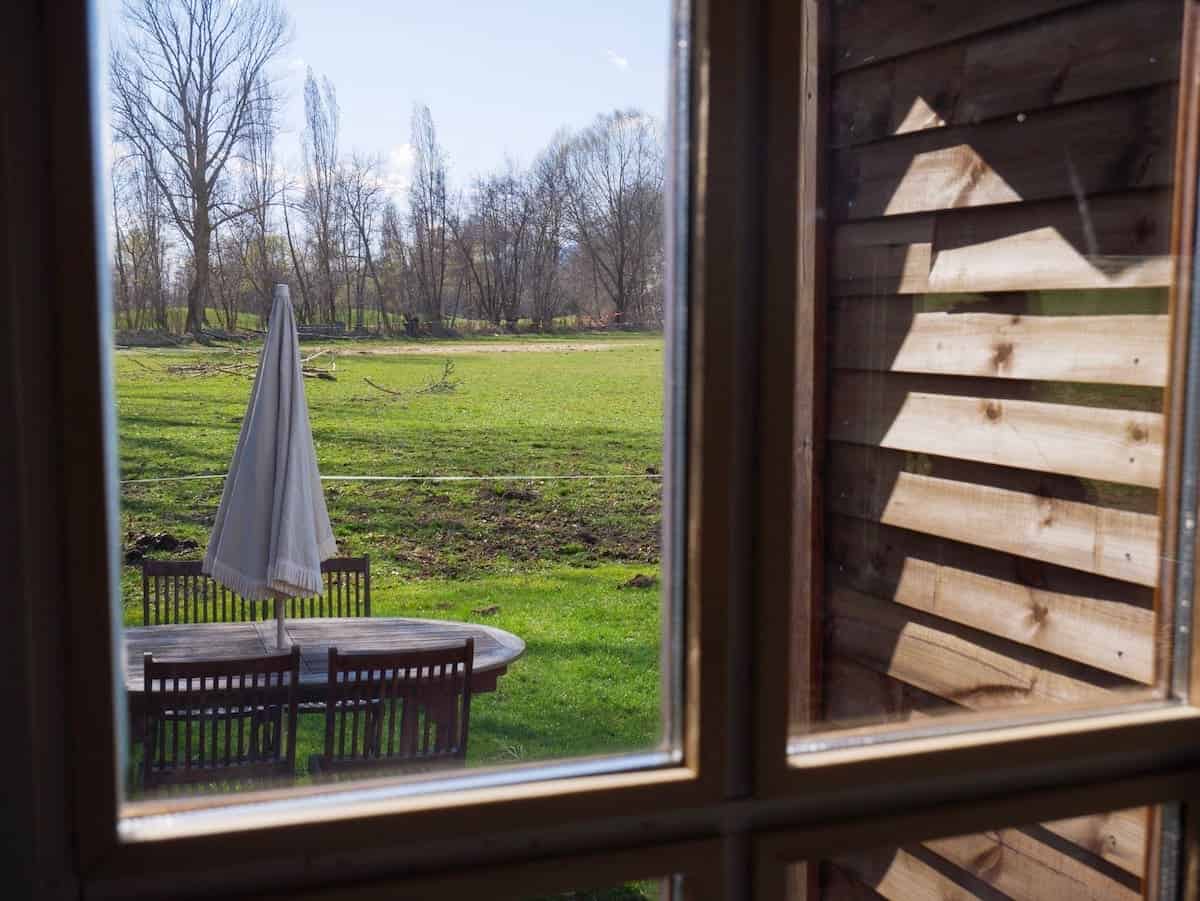 Plunge into the pool
Mas Sant Marc has a swimming pool included in the night price, which is open from June to October. Perfect for refreshing, practising your swimming skills or sunbathing.
Further relax with a massage
If you want to give yourself a treat, you can book a private massage session with a physiotherapist. The sessions are held in the rooms. It might be the perfect way to end a ski or hiking day.
Exercise with a morning yoga class
After a good night's sleep, yoga can be an excellent way to start your day with energy and stretch the whole body before a tasty breakfast. You'll find a yoga mat in each room, so you can open YouTube, find a class you like and hit the play button! If you need some inspiration, our favourite yoga channels are Alo Yoga, Sean Vigue Fitness, and Yoga With Adriene.
If you come in the summertime, you won't have to do the yoga class alone. Mas Sant Marc organises yoga classes in front of the swimming pool, free for the hotel guests.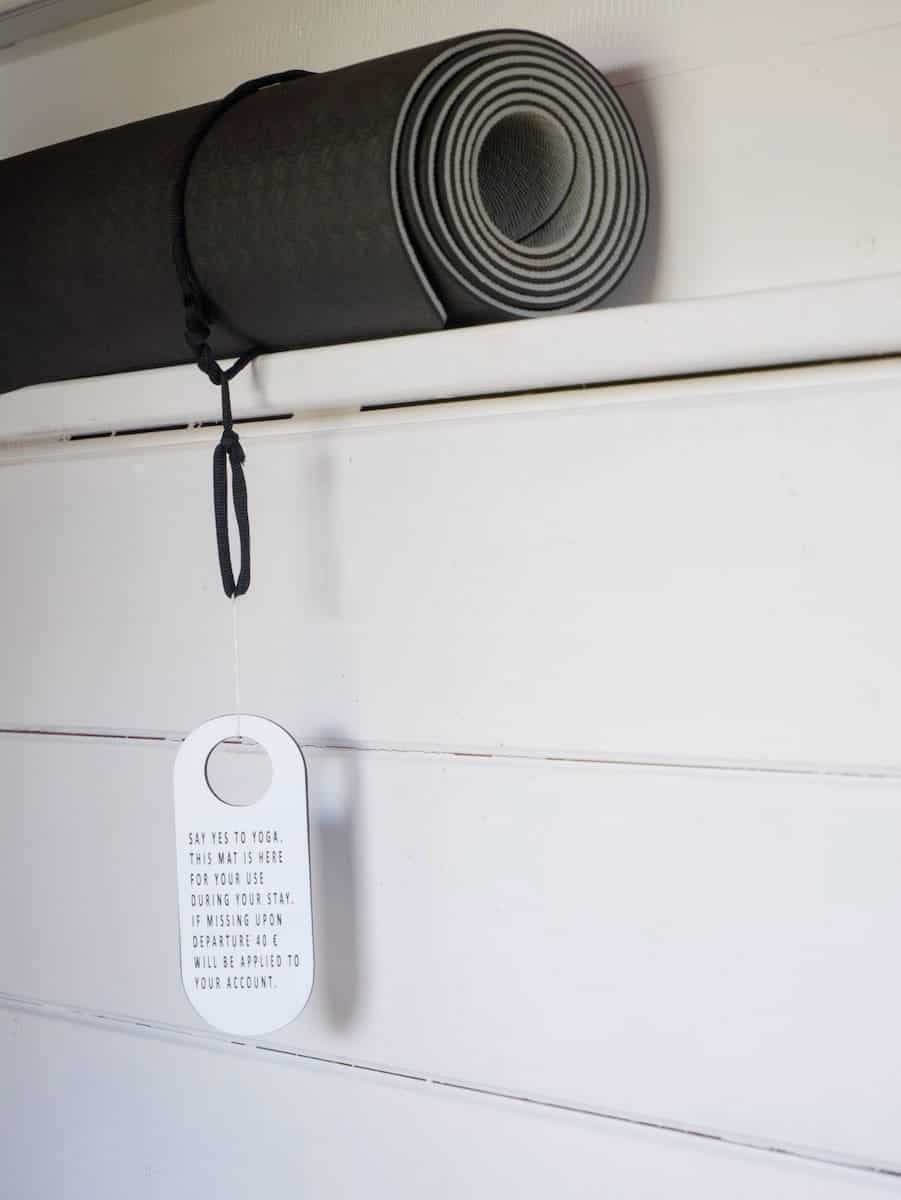 Enjoy a vermouth under the sun
One of the parts we liked the most of Mas Sant Marc was the spacious garden. On it, there's a beautiful outdoor sitting area, perfect for enjoying an aperitif under the sun before lunch.
If you want to be a true local, ask for a vermut. The word vermut in Catalan not only refers to drinking vermouth, but it's more like a ritual that takes place before lunch. When the weather is nice, people gather on a terrace and ask for a vermut, meaning a glass of vermouth usually accompanied by chips, olives, and/or cockles.
Ride a horse
A special and entertaining way to venture outside the property during your stay is to do so by horse. Mas Sant Marc is home to some horses that roam free in a vast terrain around the property (always under control!). In summer, you can book a horse ride and enjoy the beautiful surroundings of Mas Sant Marc with their own horses.
We went there in winter so we couldn't try riding a horse, but we could see them chilling in the snow as if it wasn't cold at all haha they were so beautiful!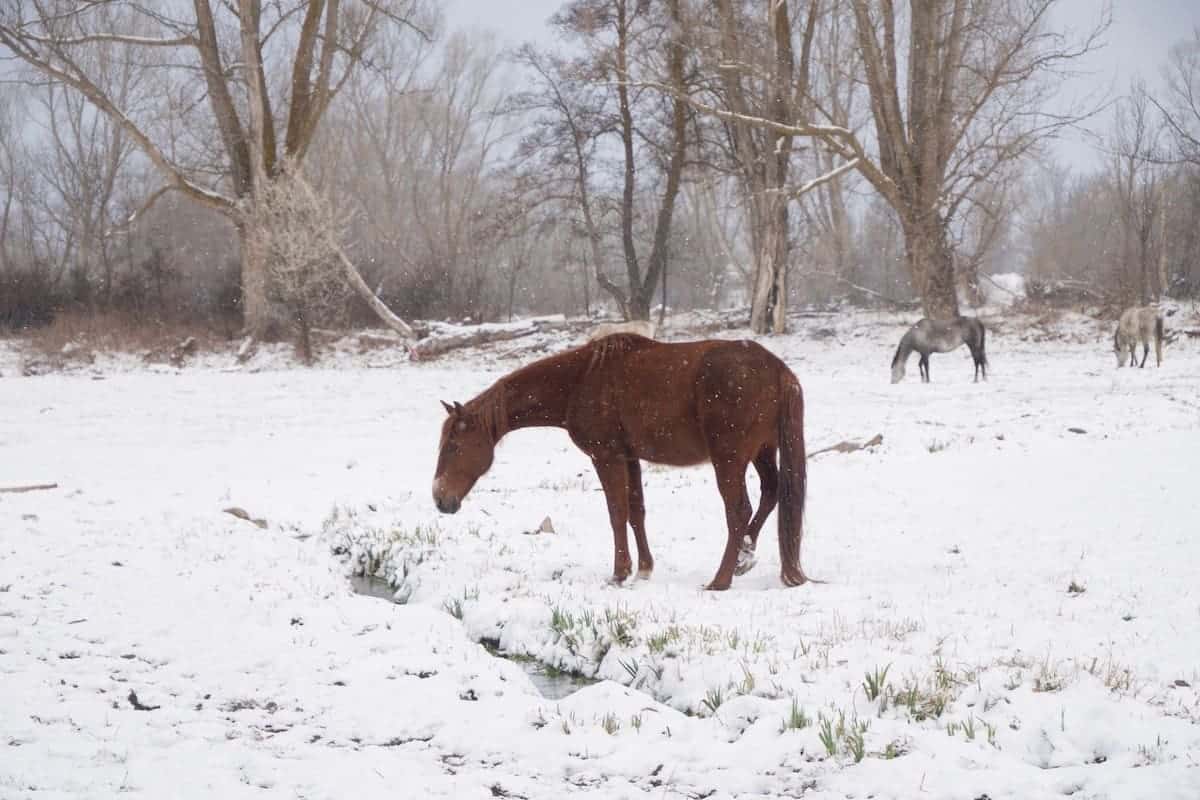 Cycle the Camí dels Enamorats (The lovers' path)
Grab one of the hotel's rental bikes (for free during your stay!) and cycle to explore Puigcerdà's surroundings.
From the village's lake starts an easy and lovely route known as the Camí dels Enamorats, which would translate as the lover's path. Whether you cycle it with your lover, family, or friends, we're sure you'll have a great time!
The Camí dels Enamorats is a circular 3 km track, ideal for families and for those who want to discover the region around Puigcerdà at a leisurely pace.
During the route, you'll have spectacular views of the mountains located in the northern part of the region. There's also a section of the track where you cycle following a ditch and are surrounded by trees. It's such a bucolic scene!
If you're looking for a longer route, ask the hotel staff. They know a lot about the region, and they'll be happy to point you toward some more challenging tracks.
Activities in the surrounding area
If you need more activities to fill up your time or want to further explore the region, here we give you some ideas of things you can do not far from Mas Sant Marc:
Stroll around the city of Puigcerdà. The area around the lake and the city centre are beautiful. If you're in Puigcerdà before lunch, we can't recommend enough to stop for a vermut and a dish of braves (fried potatoes with a spicy sauce) at Bodega Serra, one of the oldest bars in town.
Enjoy lunch or dinner at Hípica Prats i Sansor. This is the restaurant of a horse riding school (hípica in Catalan) where you can eat simple yet so delicious local food. The setting is basic but welcoming. They serve typical dishes from the region like trinxat (a dish made with cabbage and potato), embutits (cured meats), and grilled meats. Bear in mind that this is a truly local place, and the owners might not speak English, but you'll be fine as the menu isn't extensive (only 4 starters and 4 mains to choose from).
Take the car and go for a hike at the Prat del Cadí, or challenge yourself hiking the well-known Cavalls del Vent.
Relax at the thermal baths in Dorres. Treat yourself to a bath in sulphurous hot water springs while overlooking the breathtaking mountains of the La Cerdanya region.
Visit the small village of Llívia. It's nice to climb up to the castle ruins, with 360 º views of the village, Puigcerdà, and the surrounding mountains.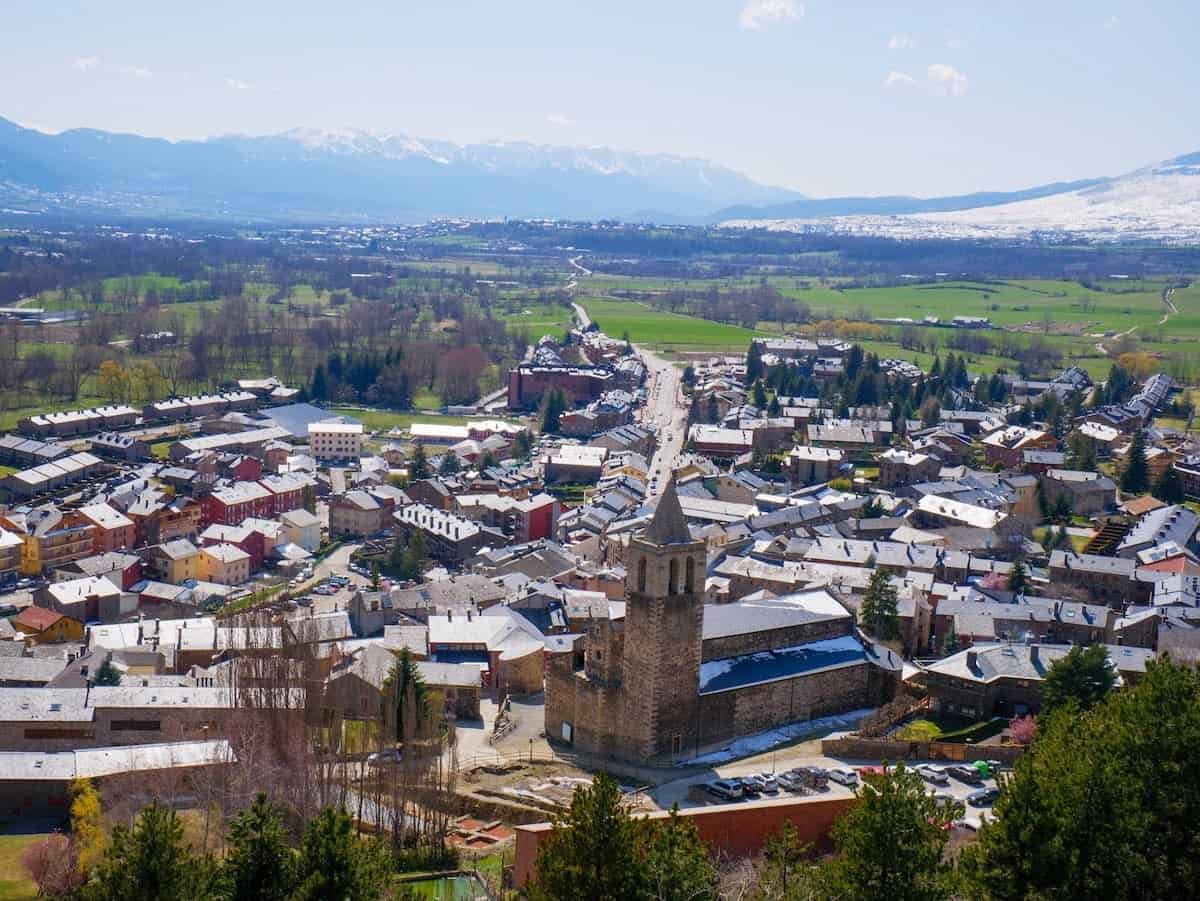 Our experience in Mas Sant Marc
We stayed one night at the bungalow, and it couldn't have been a better experience!
We went in winter, so we couldn't take advantage of the pool, but the day was lovely, so we spent some time chilling on the bungalow's terrace enjoying a cup of tea.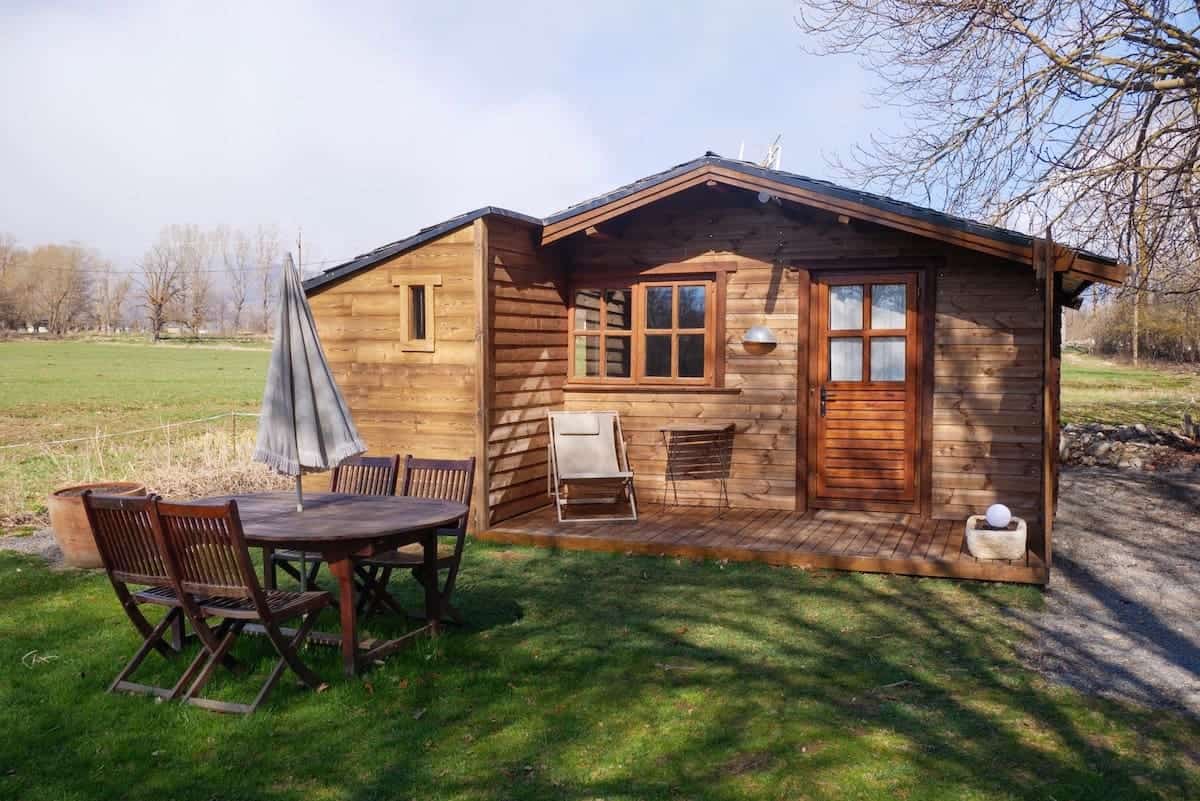 And look what happened when we woke up the next day… Snow was everywhere!
We loved getting out of bed, looking at the window, and seeing all the horses roam free in the snow. Such an unusual way to start the day!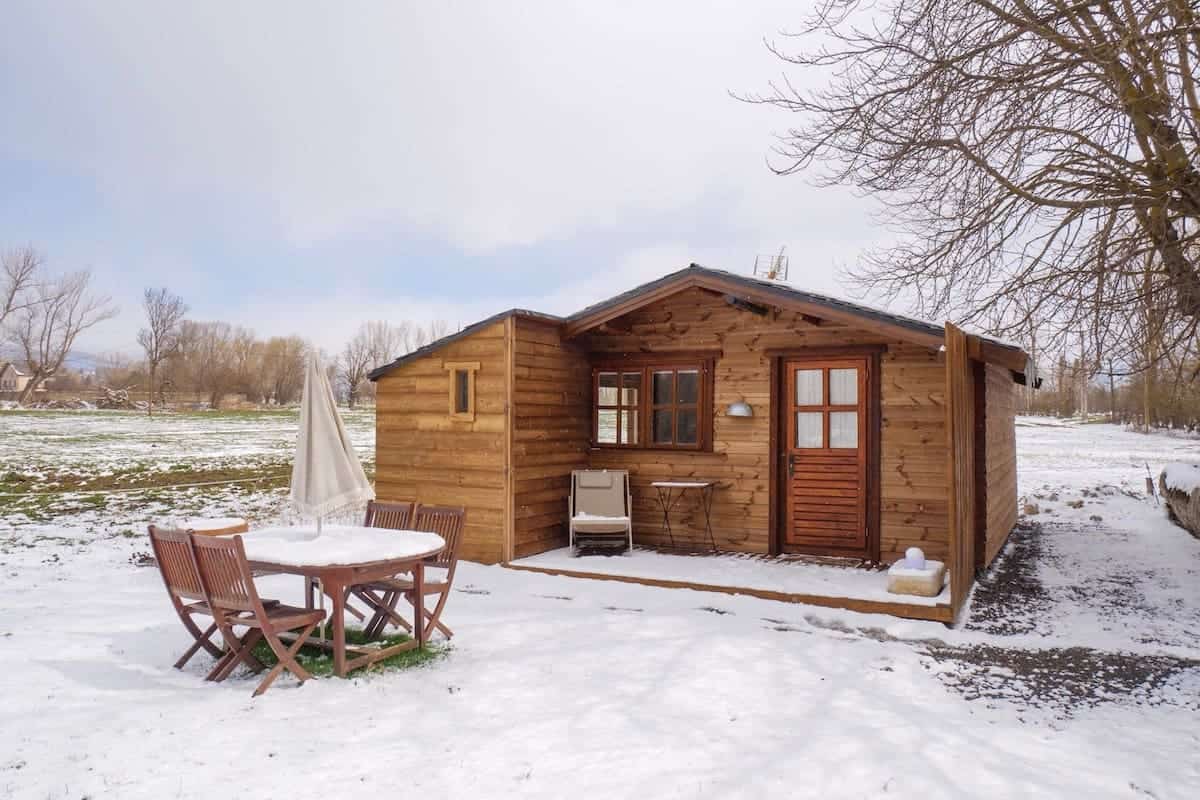 A place like this is perfect when you need a break from everyday life, and it has everything you need: a pool, great dining, cocktails, bikes, etc. We even had a great game of snooker on our visit!
The people working there took care of every detail, and our stay was remarkable. The staff were super friendly and always willing to help and share their knowledge about what to do in the surrounding area.
Mas Sant Marc is great for couples, families with kids, and fans of slow travel. Its location, decoration, and charm will surely make this stay an unforgettable one! We truly recommend this place if you like the accommodations of your trip to be unique and to be an experience themselves.