Are you coming to the Costa Daurada with your family or friends and looking for a special place to stay? We've got you covered! Ca La Raimunda, a traditional house in a calm old village of the Costa Daurada, is a wonderful base to explore the area, and it has everything you'll need for a memorable experience.
We had a wonderful time there and decided to share everything about Ca La Raimunda here. Keep scrolling to discover more!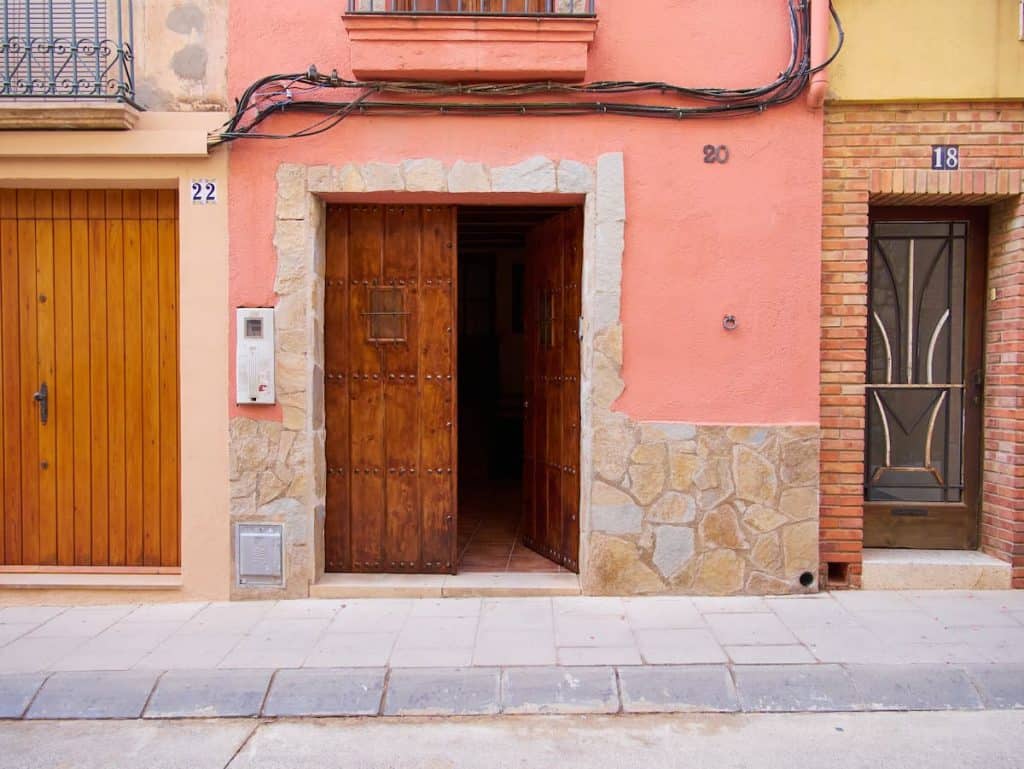 Everything you need to know about Ca La Raimunda
Ca La Raimunda is a little oasis of peace in a quiet village, Montbrió del Camp. It's the ideal place for escaping the hustle and bustle of the big cities and slowing down. But, this doesn't mean you will get bored! There are many things to do in the surroundings, and Ca La Raimunda is an ideal base to discover them. It's close to the mountains and the beach, and cycling, hiking, snorkelling, or climbing experiences are a stone's throw away from the house.
This is one of those places you fall in love from the moment you step in. Fully restored, it maintains the charm and warmth of the stone walls and wooden beams but with all the comforts of today. The owners have taken the time to take care of every detail, and the love and effort to make you feel like you're at home can be felt immediately.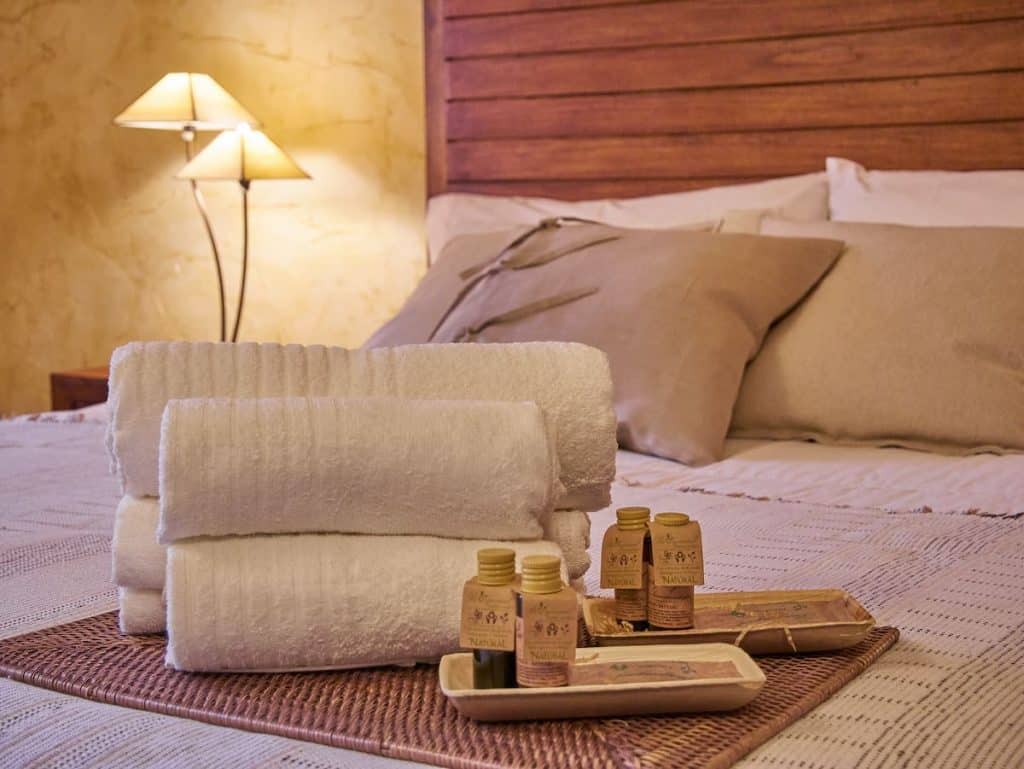 The house
The house can suit up to 6 people and has three different rooms, a huge dining room, a spacious kitchen, and two bathrooms. But, the part we loved the most were the two special areas: the beautiful big terrace, and the cosy cellar.
The whole house stands out for its thoughtful rustic decor, with light tones being the main characters.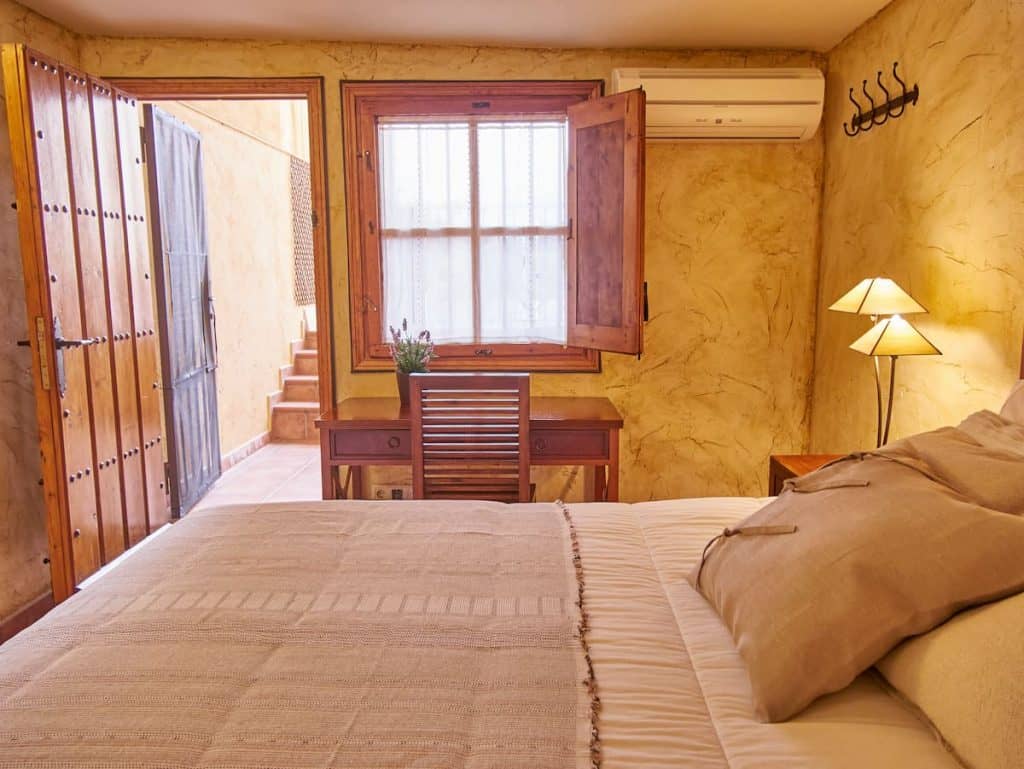 Curious facts
The name of the house has a curious story. Before the current owners, its owner was an old lady, named Raimunda, who had lived in the neighbourhood all her life. She never missed the little reunions that the neighbours did on the street when they grabbed chairs from home and sat on the street chatting for hours. Honouring her, the current owners decided that the name couldn't be no other than Ca La Raimunda, which translates to Raimunda's house.
For the ones who love art, you'll like to hear that this house has a link to a local artist. Some years ago, an artists' fair named MontbrióArt took place in the village. What was unique about this fair was that the artworks were exposed inside some of the village's houses. Ca La Raimunda decided to open its door to a local painter, and over the weekend, the owners saw how his painting came to life. Once the fair was over, he decided to give it to the current owners. Now, the painting sits right at the house's entrance.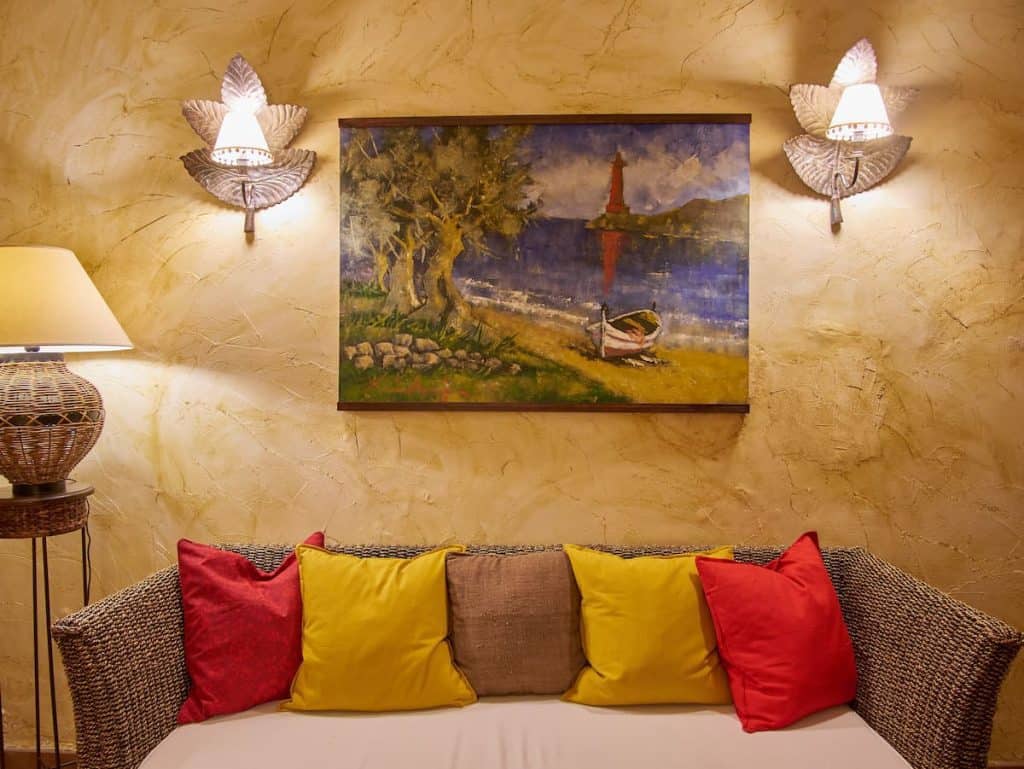 Plan your trip
Best time to go
You can stay at Ca La Raimunda all year round. Summer is an ideal time to enjoy cycling, hiking, and going to the beach, while winter is the perfect season for escaping from the cold.
We highly recommend planning your stay and booking in advance, especially in summer, as it can get booked quickly.
How to get to Ca La Raimunda?
You will find this beautiful house in the little village of Montbrió del Camp, in the south of Catalunya.
We suggest renting a get to get there, as the public transport options are limited. It takes about 1 h 30 min drive from Barcelona and Lleida to get there, whereas it's 2 h 30 min from Girona.
Also, there are parking premises close to the property (3 min walking), so parking the car is not a problem.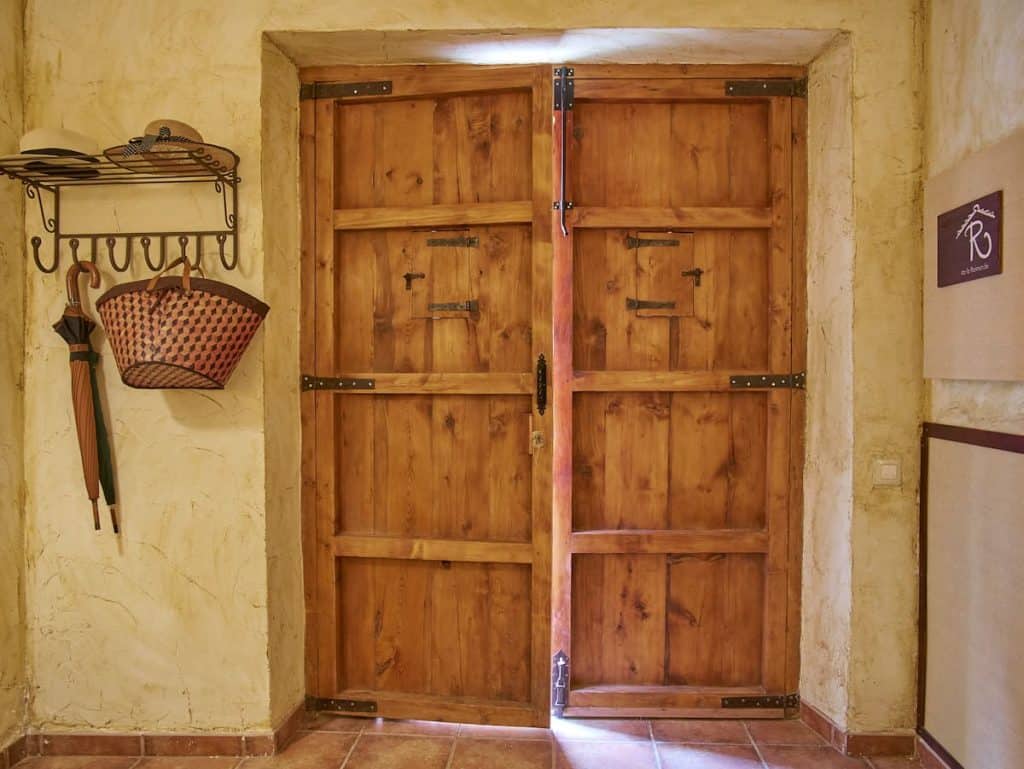 What to do in Ca La Raimunda
Just chill
Listen to the birds while sipping your favourite drink at the terrace, read a book at the sofa, or play board games. The options are endless! Just enjoy the feeling of not having to be anywhere; it's something we don't get to experience too often!
If just chilling for a couple of days is too much for you, keep reading! There are plenty of other options.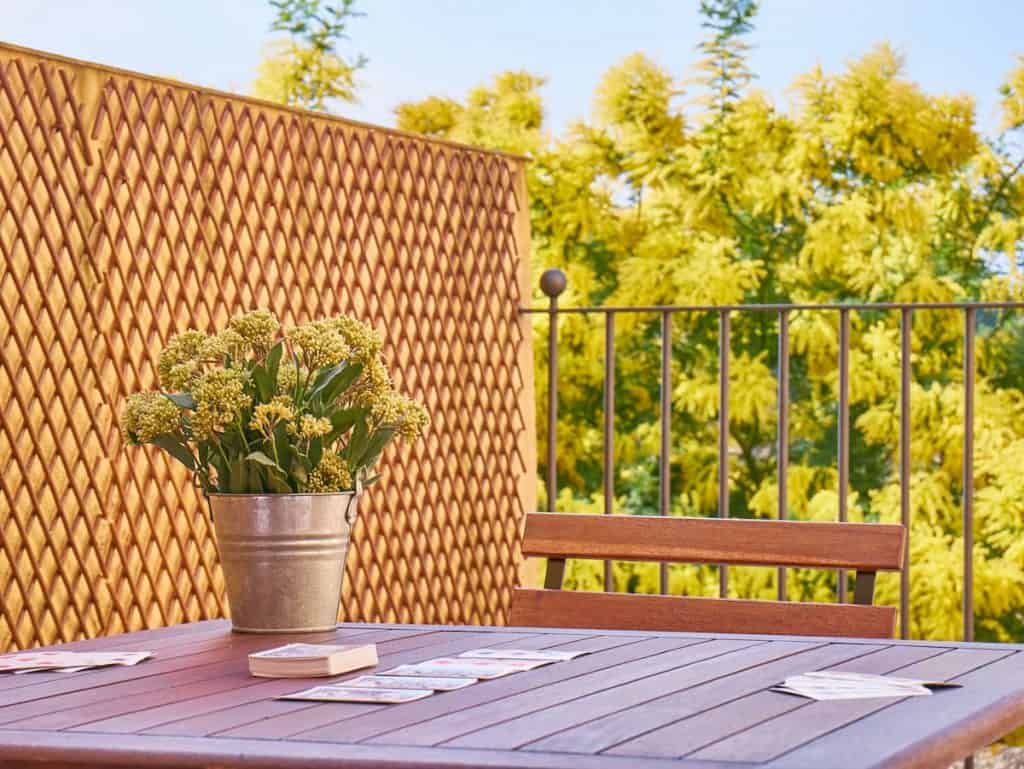 Enjoy a BBQ
One of the parts we liked the most of Ca La Raimunda was the spacious dining room. On it, there is a barbecue, perfect for grilling your favourite meat, fish, or veggies and enjoying a delicious dinner.
If you're there in February or March, we can't recommend enough to do a calçotada. This is a typical Catalan winter BBQ centred around eating calçots. And what the heck are calçots? Picture this: a kind of spring onion, much thicker and with a longer white part. Those are grilled over a hot fire and dipped in a nutty sauce called romesco. We explain how to make and eat the calçots here.
You can buy the calçots and the romesco sauce in Cooperativa Agrícola Montbrió del Camp, Cooperativa Agrícola de Cambrils, or Ca la Ramona.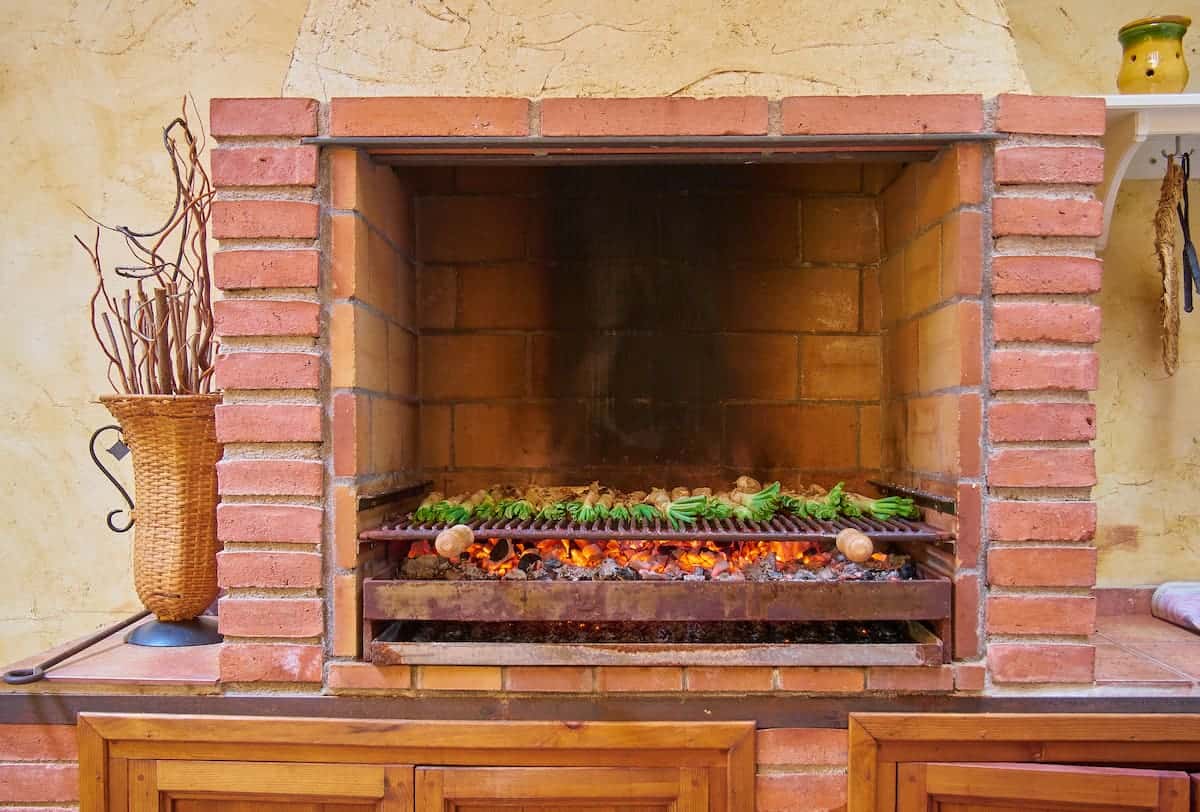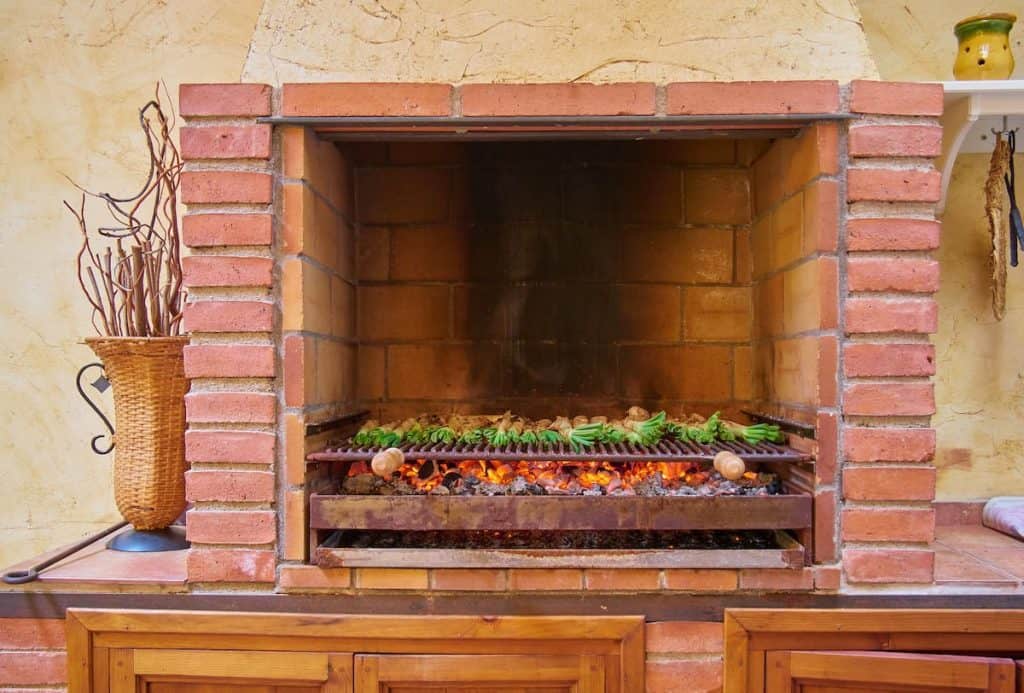 Eat breakfasts and dinners al fresco
No matter if it's summer or winter, if the temperatures are pleasant, the terrace of Ca La Raimunda is a wonderful place to enjoy your breakfast. There's nothing better to start your day than eating outdoors, with views of green trees and the sound of birds chirping.
In summer, when the sun sets and the lower temperatures give you a break from the intense heat, it's time to head to the terrace to enjoy dinner al fresco. Picture yourself cooking a delicious dinner, eating it under the stars, and enjoying a homemade cocktail once the food is over. This might be the perfect way to end your day!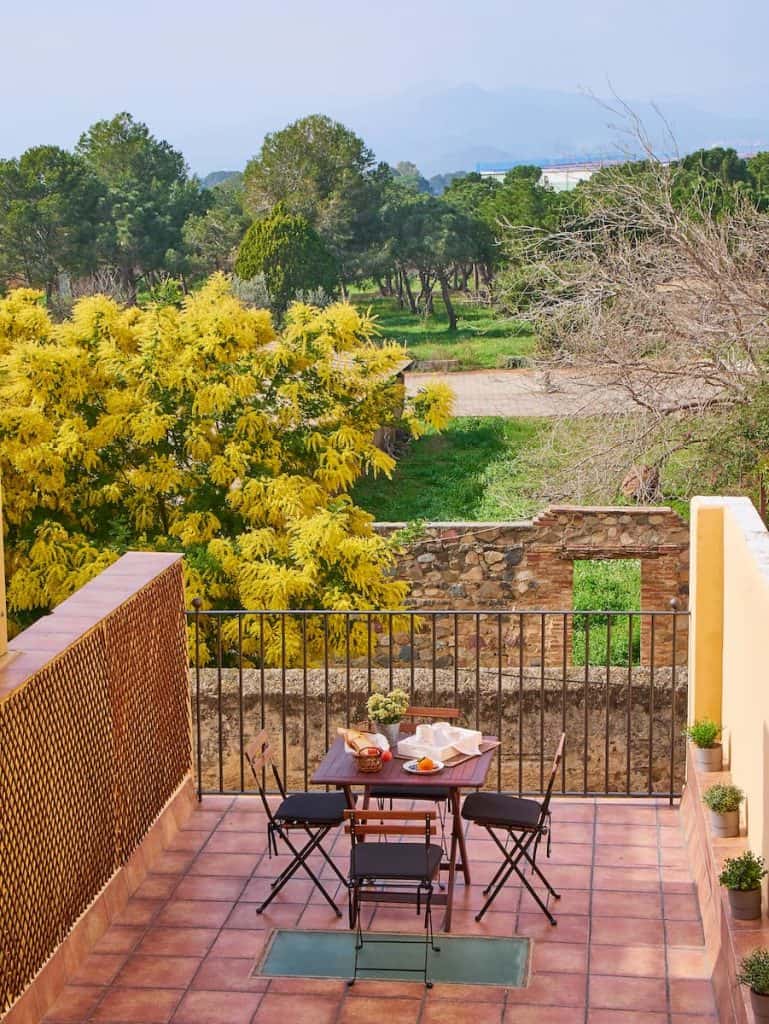 Exercise at the terrace
After a good night's sleep, exercise can be an excellent way to start your day with energy. You can head to the terrace first thing in the morning, when the air is still chilly. Open your favourite YouTube fitness channel, find a class you like and hit the play button! If you need some inspiration, our favourite channels are The Body Coach, Alo Yoga, and Sean Vigue Fitness.
Enjoy a vermouth
If you want to be a true local, prepare a vermut before lunch. It's easy:
Buy vermouth at a local store
Accompany it with chips, olives, and/or cockles
Enjoy it with your loved ones before lunch!
The Baix Camp region, where Ca La Raimunda is located, is famous for its vermouths. Some places we recommend for buying it are the Cooperativa de Cambrils (we loved the vermut Mestral), Licors Morell, or the Cooperativa Agrícola Montbrió del Camp.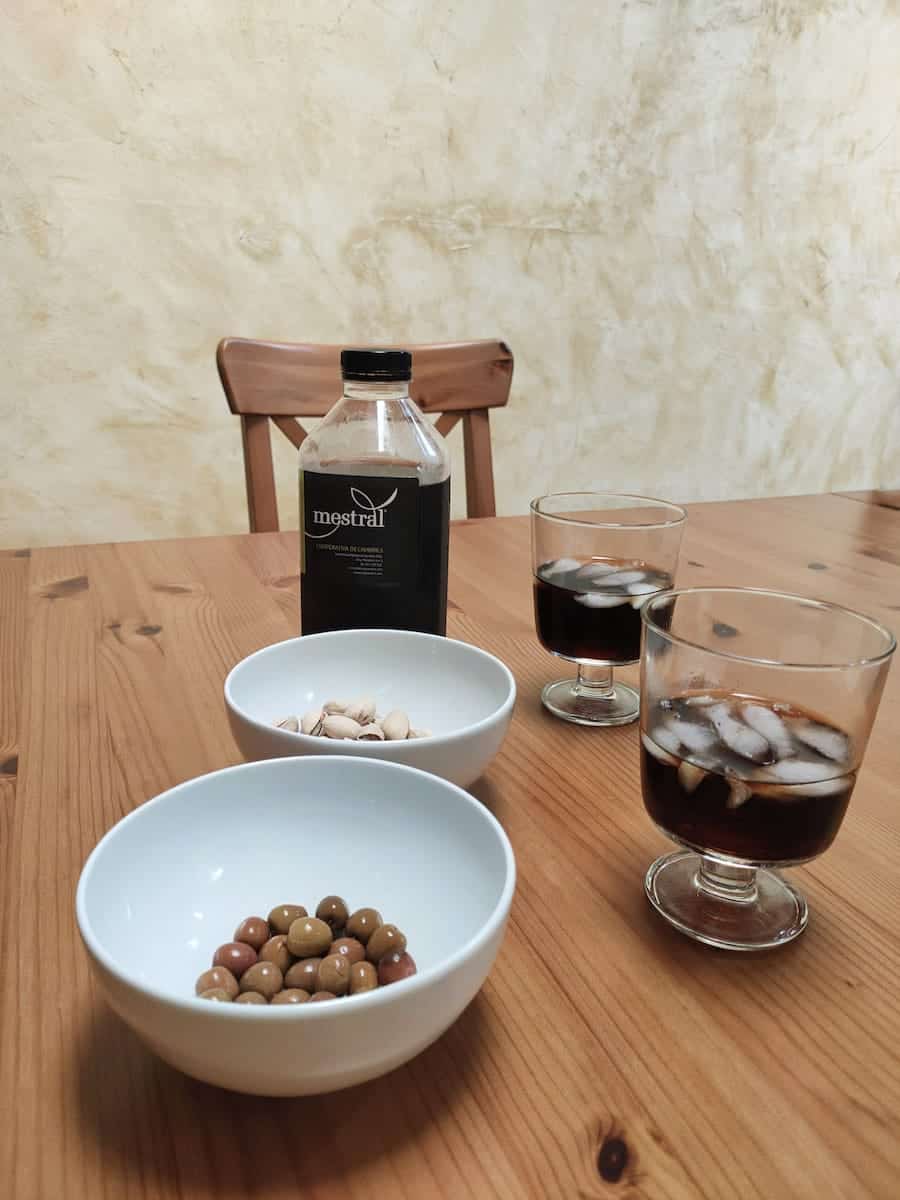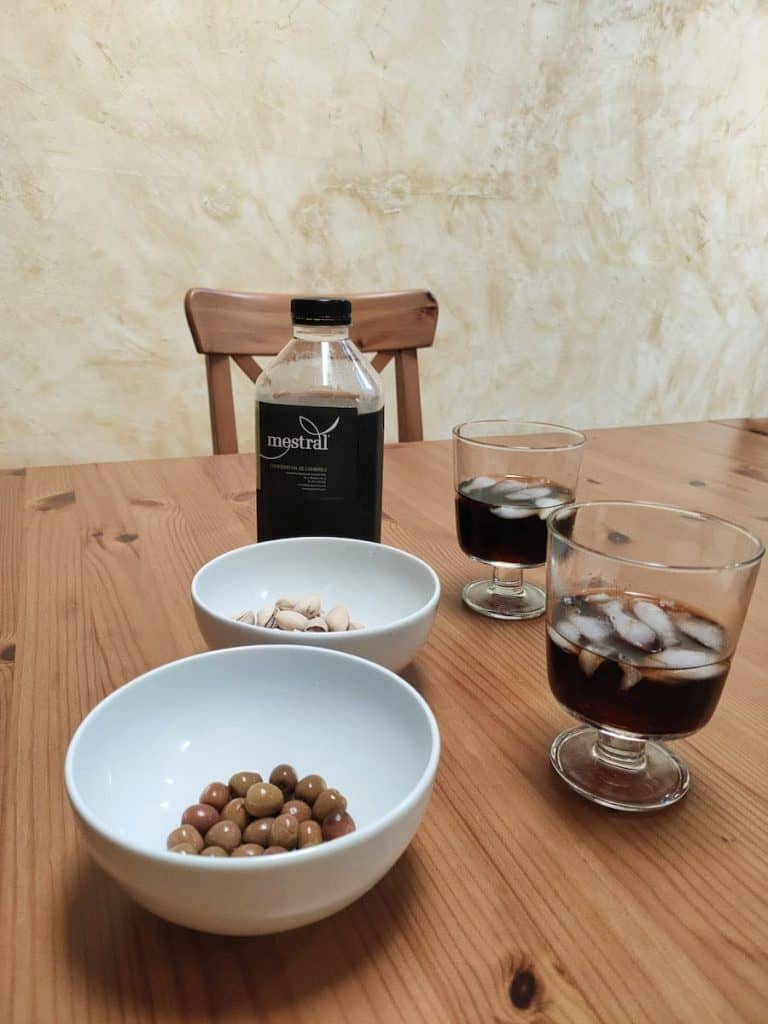 Enjoy a glass (or a bottle!) of wine in the cellar
Want to try some of the region's wines? Well, you can go to a winery or do so without moving from your accommodation! The cellar of Ca La Raimunda is the perfect place to chill out and do a homemade wine tasting. We're talking high tables with stools, stone walls, and vintage decorations. You'll think you've been teleported to a bar!
Celler ViCava in Reus, Licors Morell in Cambrils, and Cooperativa de Cambrils are good places to buy wines from the region.
Ok, the wine is covered, but what about food? Some ideas to pair wines with are local cheeses with crackers, grapes, and cured meats.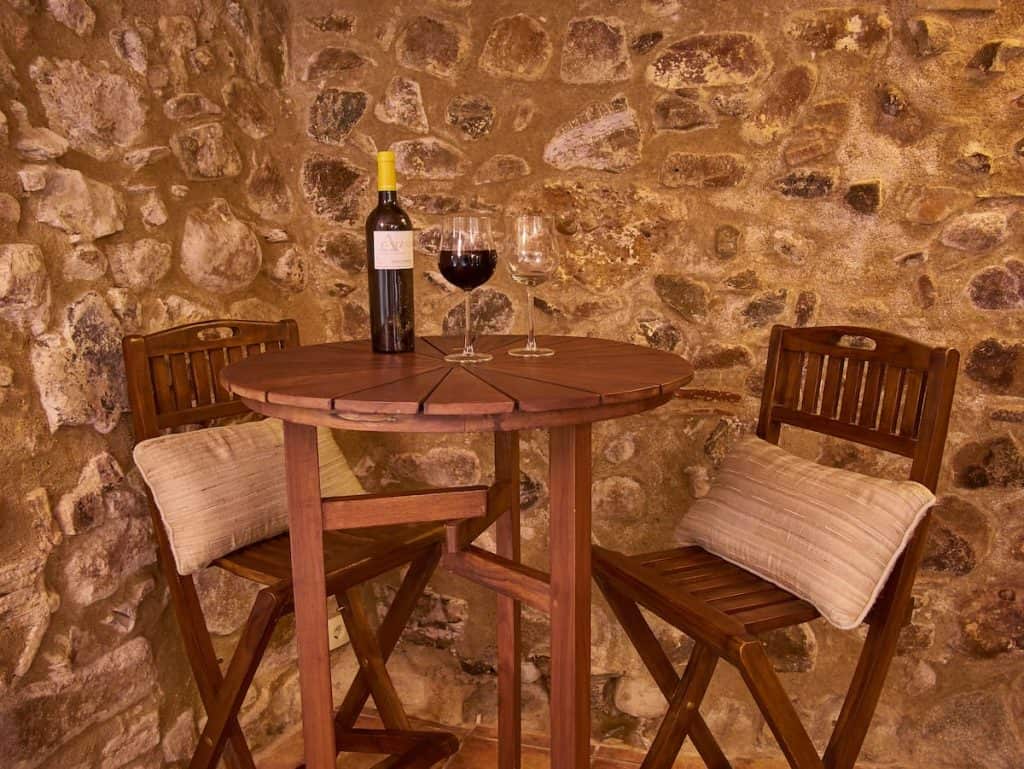 Activities in the surrounding area
If you need more activities to fill up your time or want to further explore the region, here we give you some ideas of things you can do not far from Ca La Raimunda:
Cycle the Olive Oil route
Rent a bike and immerse yourself in a landscape strongly dominated by the cultivation of olive trees. The Olive Oil route is a circular 49 km track, suitable for all bike levels, as it's mostly flat. Along the way, you can stop at cooperatives, mills, farm shops, museums and interpretation centres to learn more about olive oil, its history, and production.
Stroll around the coastal city of Cambrils
The seaside promenade and the city centre are beautiful. If you're there on a summer evening, we recommend having a drink at the Barlovento CNCB Cambrils bar. Wonderful sunset views over the harbour are guaranteed!
Eat a delicious paella
Nothing beats a tasty paella or fideuà after a morning at the beach. Our favourite restaurants to do so are Al Punt, and El Pòsit, both located in Cambrils.
Chill or snorkel (you choose!) at the beach
Treat yourself to a bath in the Mediterranean sea at one of the many beaches in the area. If you like snorkelling, we recommend the Cala de les Sierenes, Cala Misteri, and Cala Lo Ribellet. If you're looking for a long sandy beach, Platja Del Torn, Platja Cristall, or Platja de la Llosa are good options.
Go climbing
Two villages famous for their climbing spots, Siurana and Margalef, are located approx. 1 hour from Ca La Raimunda.
Find a hidden treasure
Download the app Geocaching and get ready for a treasure hunt. On the app, you'll see geocaches that people have hidden. Choose one and use the app to navigate to it. What you're looking for might be a tube, a box, a bag… Usually, there is a logbook and even some small objects you can trade! Don't forget to put the geocache back where it belongs, and move on to the next adventure!
Go for a hike
Some of the options are:
Visit the Mare de Déu de la Roca. It's nice to climb up to the historic church, with 360 º views of the surroundings, and hike the circular track passing by the Escales del Diable and the Cova Foradada.
Take the car and go for a hike in the Prades mountains.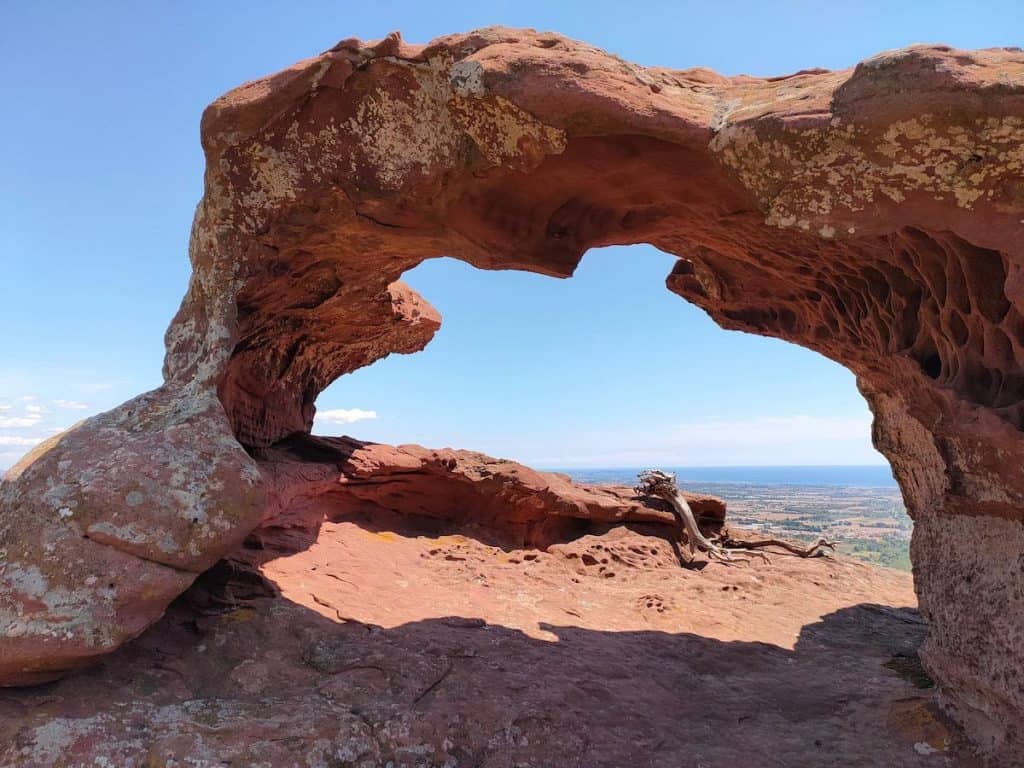 Our experience in Ca La Raimunda
We have already been to Ca La Raimunda several times with our families, and it couldn't have been a better experience! In February, we enjoyed a calçotada, while in summer, we spent days chilling at the terrace, eating outside, and exploring nearby mountains and beaches.
The owners are Superhosts on Airbnb, and our stay was remarkable. They were always willing to help and made sure that everything was perfect.
All in all, a place like this is perfect when you need a break from everyday life. We recommend it to families, fans of slow travel, and groups of friends. It's an excellent place for digital nomads too. The WiFi works like a charm! And, as soon as you finish work, you can be at the beach in 15 min!