Travellers dream of visiting the pink clouds of cherry blossoms in Japan, Stockholm, and Georgia, but we also have similar seasonal spectacles here in Catalonia. Seeing the little pink flowers is one of those blink-and-you-miss-it natural wonders, which makes it all the more magical when you do catch a glimpse of these pastel beauties.
We've put together a list of the places where you can enjoy these pink and white idyllic landscapes, as well as how to get there and the activities you can around. Grab your camera and get ready to capture the magic of one of the most awaited moments that nature offers each year!
* Post written for the first time in March 2022 and updated in February 2023.
Where to see spring blossoms in Catalonia?
Blossoms in Lleida's province
Peach blossoms in Aitona
If you would like to see endless pink landscapes, your destination is Aitona, a village located in the province of Lleida. You can get to Lleida from Barcelona by train (around 1 h on the high-speed train) or by bus (approx. 3 h). Once there, you have two options. You can rent a car (we always use DoYouSpain to search for rentals) or get to Aitona by bus.
This year's viewing blossom season is planned from the 1st of March to the 27th of March. However, this really depends on the weather. If you want to be sure to see them in full bloom, you can follow Fruiturisme on Instagram.
The majority of the fields are filled with peach, nectarines, and flat peaches trees. To a lesser extent, you'll also find cherries, apricots or figs trees.
But this area wasn't always like this. A long time ago, it was dry, and only wheat, almond and olive trees were growing. Thanks to the water extracted from the Segre river, the type of cultivation changed to irrigated land. First, people cultivated apples and pears, which now are almost non-existent, and have given way to peaches, nectarines and flat peaches, which in the bloom season dye the fields of Aitona pink.
Around 150 million kg of fruit are harvested in this area and 80% of this is for export to other European countries.
If you're wondering how to enjoy the blossom fields, we've got you covered! We have put together a list with various activities to visit the fields:
🚶🏼‍♀️ On foot
Several routes wander through the fruit tree fields. This is a perfect option to get lost in the pinkish landscape and enjoy it at your own pace. Those are some of the routes you can do:
🚴🏼‍♀️ By bike
To discover the landscape on the two wheels, you have two options. The first is to rent a bike and go on your own. You can rent the bike at Cicles Fransi, located in Lleida. We recommend the Ruta de l'Arbre Fruiter, the Camí Verd Natural Soses-Aitona and the Ruta de Serra Brisa (which needs to be done by MTB), mentioned above.
The second option is to join a guided tour. Cicles Fransi offers two cycling tours, one of 8 km and another of 25 km, at 10:30 am, 12:15 pm and 4:15 pm. Rogles Aventura also offers two cycling tours, one of 6 km and another of 13 km, suitable for everyone. The price is 17 € per person, and departures are at 10 am, 12 pm and 4 pm.
🎈 By hot air balloon
Can you imagine what the blossom fields look like from above? You can go on a hot air balloon ride above the pink landscape from the 5th to the 27th of March to discover it. On the website of Kon-Tiki, you'll find all the info you need to know about this experience.
🏃‍♀️ Trail running
If you're a trail running enthusiast, now you can practise your favourite sport surrounded by thousands of pink flowers. You can go running without a premeditated route or follow one of the last three routes on this link (7.5, 15, or 20 km).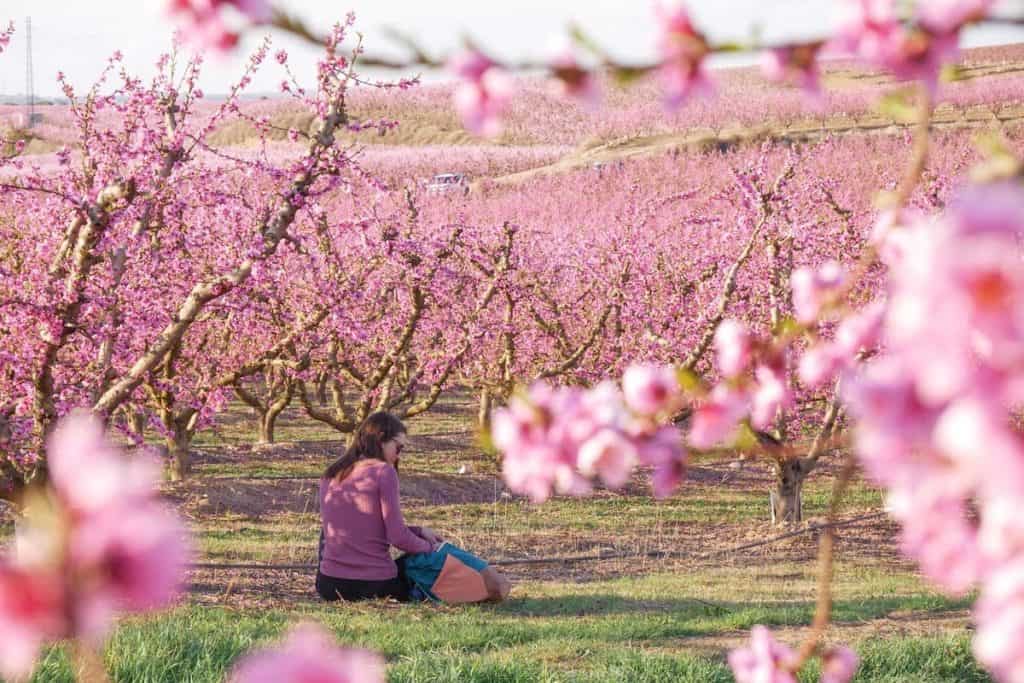 Almond blossoms in Arbeca
Another lesser-known spot to enjoy the blossoms is Arbeca, also located in the province of Lleida. Arbeca is famous for its olive (a variety known worldwide as arbequina), but also for its fields of almond trees. Those make little white and pink flowers in spring, turning the area into a colourful spectacle. To visit this bucolic landscape, we recommend checking the paved road that links Arbeca and Floresta.
Getting to Arbeca is similar to getting to Aitona. You reach Lleida from Barcelona by train (around 1 h on the high-speed train) or by bus (approx. 3 h). Once there, you have two options. The first is to rent a car (we always use DoYouSpain to search for rentals). The second is to get to Arbeca by bus (use Google Maps to see the itinerary). Due to the public transport connections, we recommend the car option.
The full bloom usually takes place on the the first and second week of March. However, it depends on the weather. To check the state of the blossoms, you can follow the hashtag #arbecaenflor on Instagram.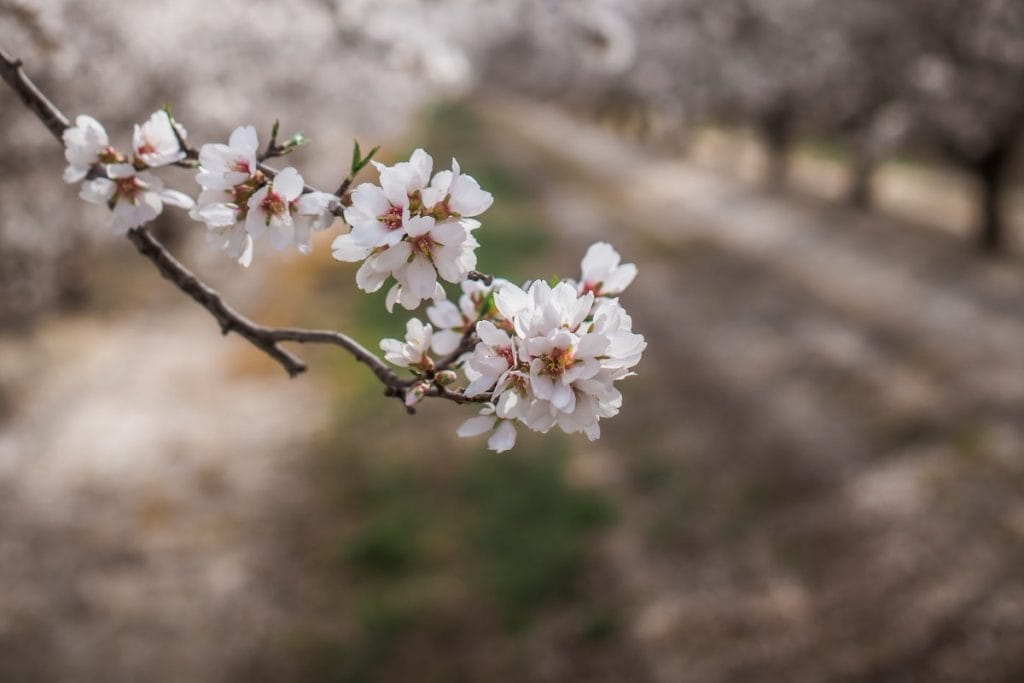 Blossoms in Barcelona's province
Peach blossoms in Subirats
Subirats is a municipality 40 min from Barcelona and it's famous for its peaches (préssecs d'Ordal). They stand out for their quality, and the landscape of the peach tree fields when they blossom is of an impressive beauty!
The blossom usually takes place during the first two weeks of March. There are five different routes that you can enjoy on foot or by bike to admire this natural phenomenon:
Another great place to admire the peach trees' beauty is following the road Carrer de Can Rovira. There are lots of fruit tree fields along the route.
To reach Ordal from Barcelona, you can use the train. It takes one hour to get there, and you have to stop at the station Lavern-Subirats. You can check the schedule of the trains to organise (enter the station in Barcelona that you prefer and write Lavern-Subirats in the destination tab).
If you plan on renting a bike, you can do so at Bikemotions. They're located at the train station Lavern-Subirats, and they rent e-bikes, MTB, and conventional ones.
Cherry blossoms in Sant Climent de Llobregat
If you're staying in Barcelona and don't want to venture too far to see the blossoms, Sant Climent de Llobregat is an excellent option. This village is located just 30 minutes from Barcelona and is one of Catalonia's most important cherry producers.
There, you will find an idyllic landscape made up of cherry trees. In early spring, usually late March, the branches burst with pretty white flowers. You can walk through the fields for free following various routes (see the map below). We really enjoyed following the dark blue trail (a circular 8-km route), which also wanders through a forest and has a viewpoint from where you can spot Barcelona.
Public transport is the easiest option to get to Sant Climent de Llobregat from Barcelona. You'll have to take a train and then a bus. Several trains and buses are getting there, so we recommend using Google Maps to check the option that better suits your schedule.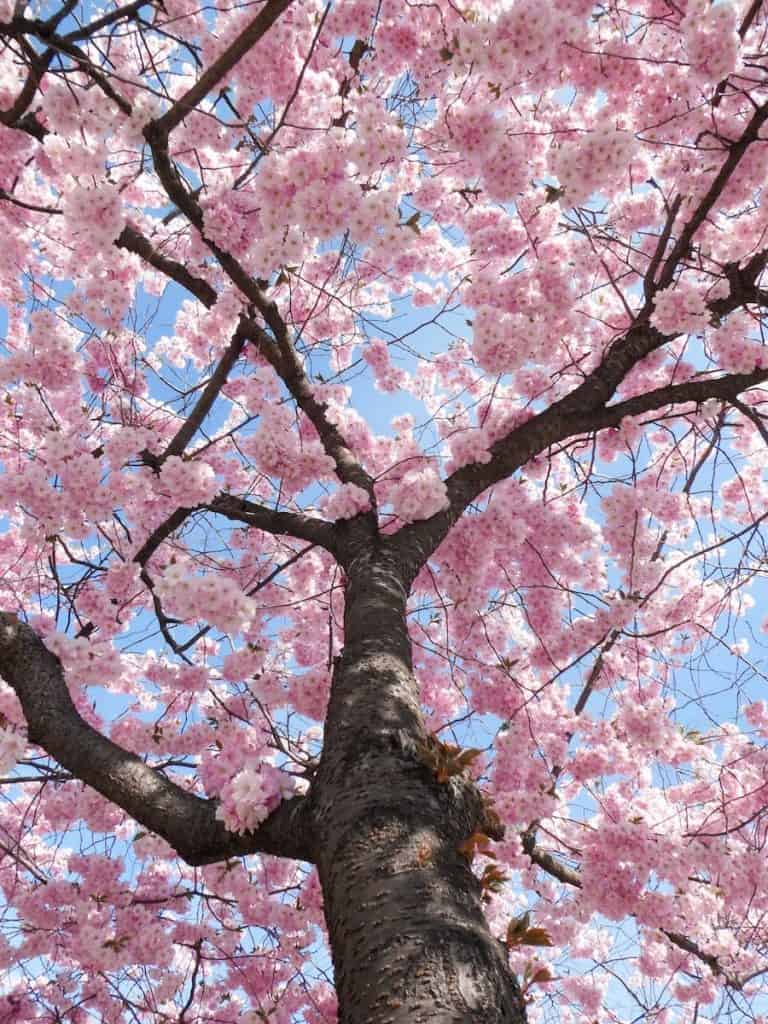 Blossoms in Tarragona's province
Almond blossoms in Terra Alta
Terra Alta is a region in the south of Catalonia where you'll find almond groves. Almond trees are the first fruit trees to bloom, so expect to see the white flowers popping up at the end of February / beginning of March. The combination of white and light pink of the flowers with the greenish and brownish tones of the land only happens once a year, and it's a picture-postcard scene.
An excellent option to admire this spectacle of nature is the stretch of road from Gandesa to Vilalba dels Arcs. It's a quiet and beautiful 10 km road, and you can also enjoy it by bike (highly recommended!). Following the same road, you can stop at the crossroad named Els Quatre Camins, where almond tree fields are abundant. From here, you can also take the secondary road that leads to Corbera d'Ebre, where you'll also see areas of almond trees.
Another possibility for walking through bloomed almond trees is the Camí de Sant Jaume de l'Ebre. You can take it from this same road or from Gandesa.
The best option to reach Gandesa from Barcelona is to drive, which takes about 2 hours. You can also take the train to Reus or Tarragona and hire a car there. To check the train schedule, use this website.
Peach, almond, and cherry blossoms in Ribera d'Ebre
Peach, almonds, and cherry trees fill the fields with white and pink in the Ribera d'Ebre region, located in the southern part of Catalonia. This is a little-known and beautiful area of our country, as the Ebre river crosses it from north to south.
During the end of February and the month of March, the region's fields turn pink and white, and there are several ways for you to enjoy this natural spectacle:
🚴🏼‍♀️ By bike
Join a guided tour and discover the pink landscapes around the village of Flix. The tour lasts 2 hours, and it's only available in March.
🚶🏼‍♀️ On foot
You have several options to discover the fruit trees of the Ribera d'Ebre region on foot, but keep in mind that the routes are not signposted. Some of the walks you can do in the area are this circular route of 11 km which starts in Miravet (part of the track is on a road) or this other beautiful walk starting in Móra d'Ebre, which is 8 km long.
🚗 By car
A good option to explore the region on your own is a road trip. You can follow the pink road on the map below to see the blooming trees. Also, you can stop at several viewpoints along the route, marked with an eye on the map. We recommend stopping at some of the villages to discover their beauty, especially Miravet, Móra d'Ebre, and Tivissa.
To check if the trees are in full bloom, follow #LaRiberaenFlor on Instagram. Remember that you can move around the main roads and tracks indicated on the map but without stepping into the flowering fields, which are private property.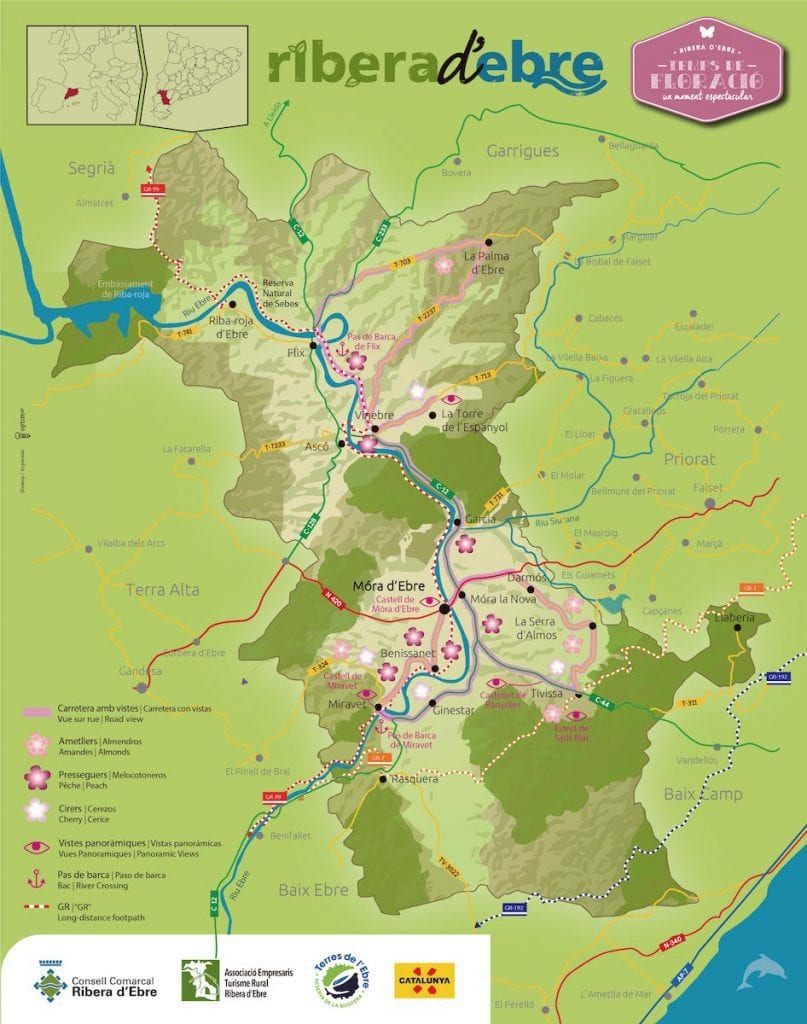 When do almond, peach, and cherry blossoms bloom in Catalonia?
Every year is different, and there are variations across the country. What's more, there are multiple varieties of fruit trees, each coming into flower at a slightly different time and lasting for a different period. Most of them stay for around two weeks. As we mentioned, the almond blooms come earlier, followed by the peach and cherry ones.
The earliest blooms tend to appear in Arbeca, Terra Alta, and Ribera d'Ebre in February. The last tend to appear at the end of March. For peak pink, early and mid-March is a good bet.
---
Planning a trip to Catalonia in February or March?
We have monthly guides with the plans happening around Catalonia to help you better plan your trip. Check the February guide or March guide and discover local experiences to enjoy during your stay.