Looking for natural spots to admire the beautiful autumn colours next to Barcelona?
From mid-October until late November, the Catalan landscape bursts into a riot of fabulous colours of red, orange, yellow, bronze and crimson. And you don't need to go far from Barcelona to admire them.
We've put together a list of natural spots to enjoy the autumn colours less than 2 hours from Barcelona and our favourite hikes and cycling routes to do in each area. Now, it's your time to lace the boots, grab the camera, and enjoy the show!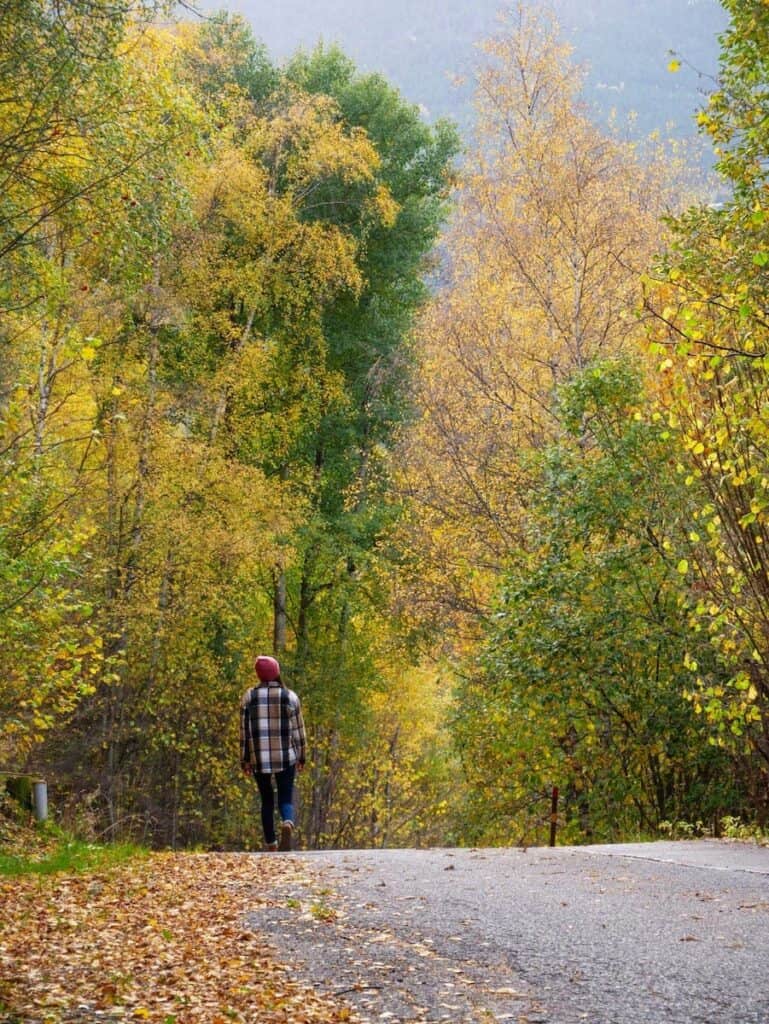 4 natural spots to enjoy the autumn colours near Barcelona
1. Montseny Natural Park
Montseny is the closest natural park to Barcelona, located only 1 hour by car and 1:30 h by public transport.
The park is beautiful all year round, but in autumn it's at its peak. The chestnut forests turn gold and the sanctuaries and little chapels scattered around the park are surrounded by colourful trees.
⚠️ Important!
Being the closest natural park to Barcelona, Montseny is pretty crowded during the autumn season, especially at weekends and public holidays (12th Oct and 1st Nov). If you can visit during the week, you'll surely enjoy a quieter and more peaceful experience!
There are many hikes and spots to admire the autumn colours in Montseny, and those are our favourites:
Turó de l'Home
Turó de l'Home, which means "Human Mountain" is the highest peak of the Montseny Massif (1,712 m). It's not a technically difficult hike and anyone with energy, motivation, and great shoes (important!) can do it.
What we love the most is that not only the views from the top are absolutely incredible, but the whole journey there is lovely.
You'll notice the beauty of the place from the first minute. As soon as you park the car in the Passavets fountain, you'll be standing on a carpet of brown and orange leaves. The path continues through a beech forest, slowly gaining altitude until you see an old meteorological observatory and an antenna. That's the peak.
Soak in the views, enjoy the fresh air, devour a snack, and time to get back to the car following this circular route.
Fageda de Santa Fe
This beech forest is a wonderful place to see a tremendous explosion of colours. The way to get the most out of it is a circular 10-km hike that goes deep into the forest, climbs two little hills which offer amazing panoramic views, and passes by a reservoir.
And if that isn't enough, there is also another hidden gem you'll find along the way: a plane that crashed in the Montseny mountains in 2000. The pilot was a 71-year-old British citizen who was driving a small plane from the south of Spain to France, and sadly, he was found dead after the crash.
Another cool thing about this hike is the three giant redwoods that you'll find in Can Cascadas, the trailhead. We felt tiny standing next to them!
⚠️ Important!
The area where this hike starts, Can Cascades, is the most visited spot in the Montseny Natural Park. This means crowds at the weekend, especially near the reservoir, so we recommend heading there mid-week if possible.
If you go during the weekend, though, don't despair! As you get further from the reservoir, you'll leave people behind, and the crowds will disappear.
There is free parking in Can Cascades, but we recommend getting there as early as possible as it fills up quickly.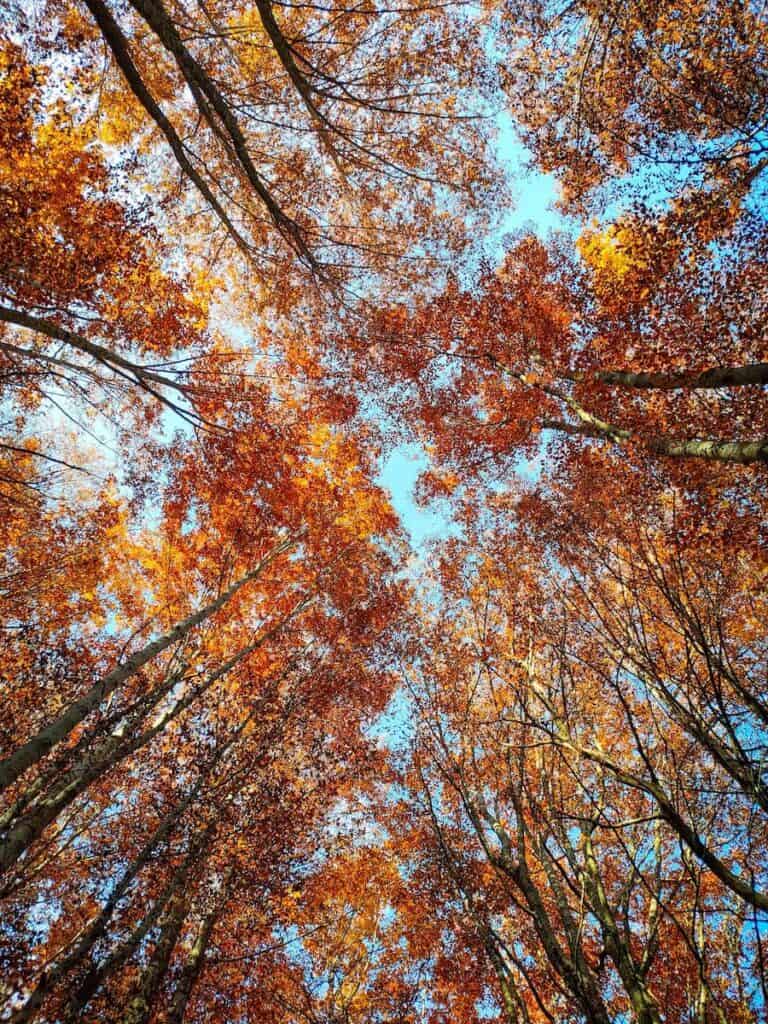 Castanyer Gros d'en Cuch
Ready to see a huge tree? Hopefully you are because this chestnut is the tree with the thickest trunk in the country, with a perimeter of more than 12 m!
Our favourite route to get to the chestnut tree is a circular 10-km hike with more or less 500 m of elevation gain. It's an easy route, ideal for spending half a day outdoors. Also, besides admiring the chestnut tree, you'll pass by two other highlights: the beautiful reservoir Pantà de Vallfornes and the Neo-Gothic church Sant Salvador de Terrades built in 1930.
👌 Our tip
Don't leave without getting inside the chestnut tree. It's a pretty cool experience!
Matagalls
Get ready for jaw-dropping views from this 1698 m high peak. It's a great place to admire the autumn colours that paint the natural park from early October to late November.
There are several routes to the top, but our favourite is the one that starts at the parking lot of the restaurant Collformic. It's an easy 8 km route (one way) with 563 m of elevation gain.
If you want to get there by public transport, the best option is to go to Viladrau (check how to get to this village here). However, keep in mind that from Viladrau, the hike is longer (see the Wikiloc track).
Check our Matagalls guide to know more about this hike, how to get there, and some things to consider when preparing for the walk.
👌 Our tip
When we finished hiking Matagalls, we went straight to Mas Estabanell. It's a restaurant serving traditional Catalan food, and the food, the service, and the place are incredible. If you want to recharge your batteries after the hike, we can't recommend this place enough! You can read more about it in this guide.
2. Osona
Osona is one of the best regions to see the autumn colours not far from Barcelona. It's around 1 hour and 30 min driving from the Catalan capital, and it's stunning in November.
There are many hikes in the area, but these are the ones we like the most in autumn:
Salt del Mir
Salt del Mir is a magnificent cathedral-like waterfall surrounded by beech forests. It's truly a magical place.
You can get to the waterfall from the village of Santa Maria de Besora (3.5 km hike one way), but we have a better option.
Drive or take the train (R3 line) from Barcelona to Sant Quirze de Besora, and follow this incredible 20 km hike – it's a long one but technically super easy. Besides admiring the waterfall, you'll also enjoy two castles (Montesquiu i Besora) and have amazing panoramic views of the area.
When we did it, we could see the Pyrenees mountains in the distance covered in snow. It had snowed the day before, and the contrast of the white with the oranges and browns was gorgeous.
Bosc de Merlí
To us, this chestnut forest seems taken straight from a fairytale. The soil is covered by a carpet of brown leaves, the shapes and dimensions of the chestnuts seem from another world, and the colours are stunning.
When we visited the area, we followed a circular 11.5-km trail that gave us a great overview of the forest. Not far from the trailhead, we stumbled across a famous chestnut tree called Castanyer de les nou branques (chestnut with nine branches), which resembles a giant candlestick.
🏕 Accommodation tip
If you want to make your adventure even better, we highly recommend staying in Cabanes als Arbes. This incredible treehouse hotel is located only 29 minutes from Viladrau, where the hike to the Bosc de Merlí starts. Check out our Cabanes als Arbres guide to find out more about the place and our experience (which was awesome!).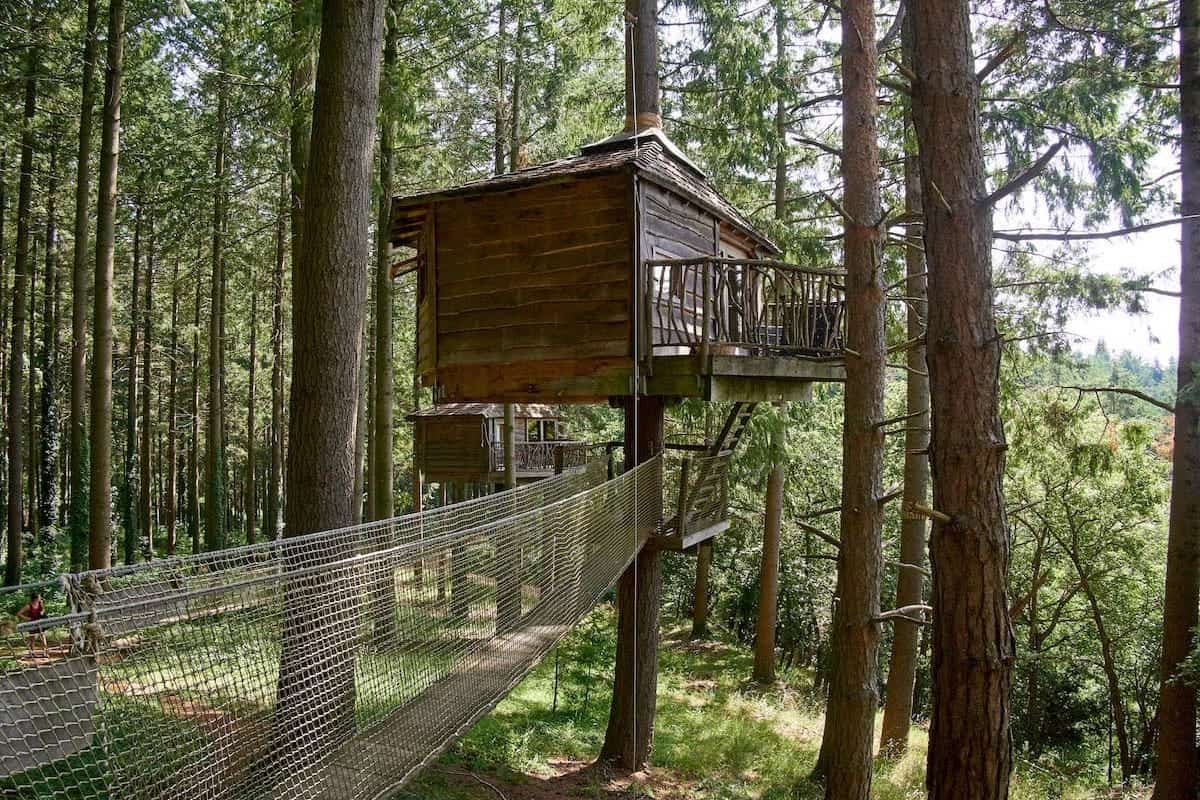 Castell de la Popa i Sauva Negra
Another favourite in the area is the 7-km hike that takes you to one of the weirdest castles we've ever seen: Castell de la Popa, also known as Castell de Castellcir.
It's a castle built entirely on top of a rock reminiscent of the stern of a ship.
The castle was first documented in 1014, although now only the remains stand in the rock. They're in an advanced state of degradation, so be careful if going inside.
Besides the castle, another highlight of this hike is the Seuva Negra, a beautiful thick beech forest.
La Fageda de la Grevolosa
La Fageda de la Grevolosa is another beech tree forest, home to enormous beech trees over 300 years old.
There's one beech tree in particular that stands out for its height, 42 m, and its crown diameter, which is an incredible 18.52 m! This tree is actually recognised as a monumental tree by the Government of Catalonia.
Besides finding beech trees, you'll also see many holly trees, known in Catalan as Boix Grèvol (hence the name of the place: Grevolosa).
To discover this place, we recommend this easy 6-km hike. It unwinds through the beech forest and passes by Sant Nazari, a little chapel from the 14th century. This is the perfect place to stop and enjoy a picnic or snack, as there are a couple of picnic tables next to the chapel.
If you're looking for something longer, follow this 10-km hike. You won't only experience the beech forest but also summit the Puig de l'Àliga, a 1.342 m high mountain with spectacular views of the most famous Catalan mountains, including Montserrat, Pedraforca, and Cadí.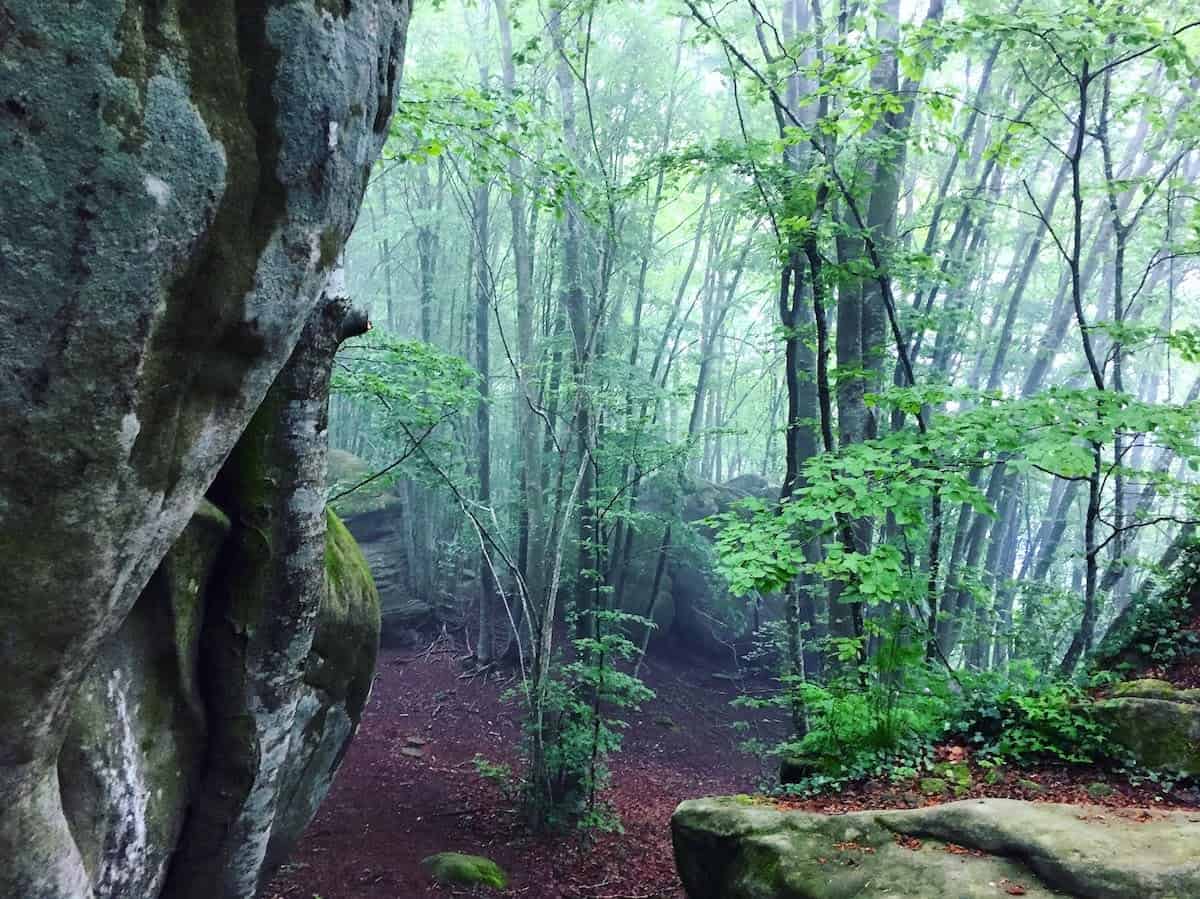 3. Cerdanya
Located in the Pyrenees, the mountain region of La Cerdanya is an ideal place for those who love to admire the autumn colours.
Hiking is an excellent way to discover the area, but so is cycling. So, for this region, we'll recommend not only a hiking route but also a cycling one!
El Abrazo de las Fronteras (The Border's Hug)
As its name implies, this route takes place close to the border between Catalonia and France, although it occurs entirely on the French side.
It's 21 km long, perfect for spending a morning outdoors and enjoying the autumn foliage, the mountains, and the charming villages of the area, with their stone houses and old chapels.
Although short, the route is demanding, as it has an elevation gain of 770 m. So, doing it with an e-bike is also a great option.
If you want to make the adventure last longer, don't forget to pack a swimsuit. The route passes through Llo, a little village famous for its thermal baths, the Bains de Llo, which are warm all year round Thanks to a natural source of sulfur. It doesn't matter how cold it's outside because you can bathe at around 35ºC, even in winter!
🧀 Our tip
If, like us, you're a cheese fan, you can't leave the region without stopping at Formatgeria Cremerie Petite. This cheese shop is located only 10 min drive from Err, and it's a true paradise for cheese lovers! We always end up buying something whenever we pass by. The cheeses are top quality, and the staff is super attentive and friendly.
Dòlmens d'Eina
This is an easy 5-km route in the French part of La Cerdanya. It's mostly flat, so it's ideal to do with kids or for a lovely stroll when you want to take it easy.
Besides being a wonderful walk to admire the yellow, red, and orange foliage, it's also a trip into the past. Along the route, there are two dolmens and one menhir.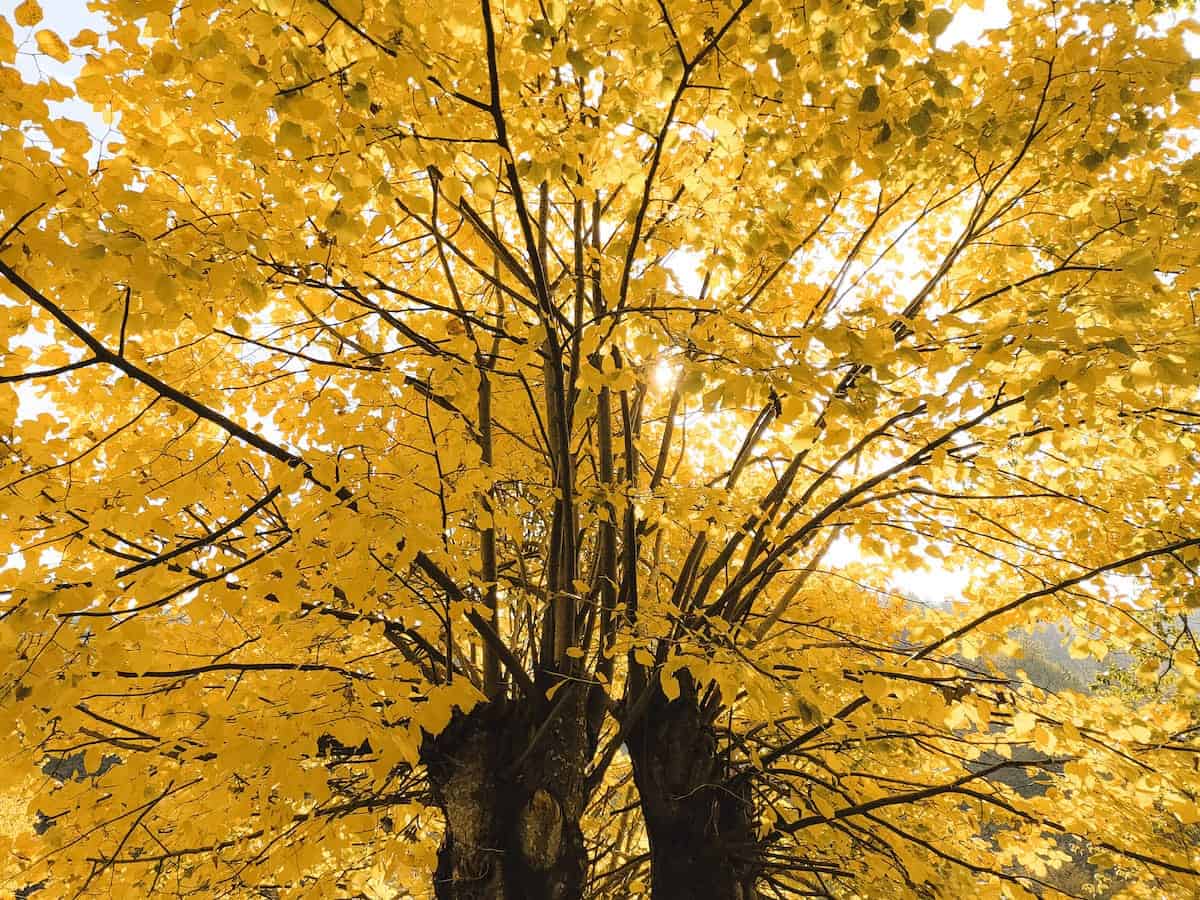 4. La Fageda d'en Jordà
This is one of the most famous spots to enjoy the autumn colours near Barcelona and for a good reason!
It's a stunning beech tree forest grown on a cooled lava field in the Garrotxa Volcanic Zone Natural Park, located 1 h 30 min drive from Barcelona.
But that's not the only thing that makes it special. The forest is surrounded by 21 volcanoes (no worries, none of them is active!) and has grown at a plateau at 550 m of altitude, something uncommon in the rest of the beech forests of Spain.
There are several sign-posted tracks to explore this stunning forest, and the one we recommend the most is this 10-km hike. By following it, you'll not only explore the Fageda d'en Jordà but also discover two volcanoes in the area: Croscat and Santa Margarida.
The Santa Margarida volcano is quite unique because there is a little chapel in its crater. If you've packed breakfast, lunch, or a snack, this is a great place to enjoy it!
⚠️ Important
In summer and autumn, the parking area is subject to payment. We recommend going early in the morning to find space.
Also, as mentioned before, Fageda d'en Jordà tends to get pretty crowded in autumn. Therefore, it's better to go on weekdays or early in the morning.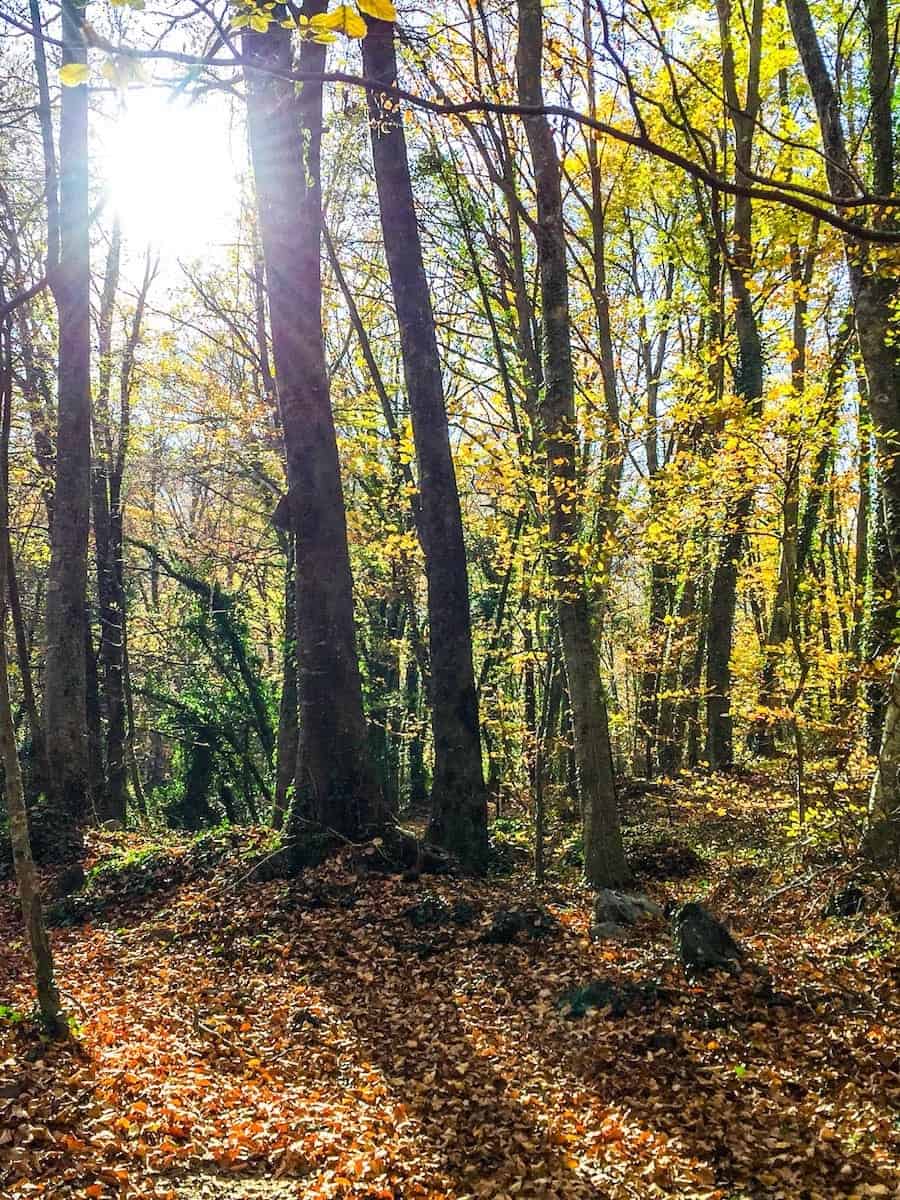 So that's a wrap! We can't recommend enough squeezing a day on your trip to Barcelona to get out of the city and enjoy Catalonia's beautiful woods and autumn colours.
Do you know any other spots to admire the autumn colours near Barcelona?