To write a comprehensive guidebook of things to do in Delta de l'Ebre is as unrealistic as it can be. The southernmost part of Catalonia is a region full of corners, magic and little secrets that must be found by exploring the land with senses open, ready to take in the sights, sounds and smells.
It's a region famous for being Catalonia's first rice producer, which yields around 10.500 tonnes per year!
Here, life is simple: delicious food, connection with nature, and slow living.
A national park since 1983, Delta de l'Ebre attracts adventurers, birdwatchers, and cyclists, but also travellers looking to slow down in the middle of nature.
In this guide, you won't find an exhaustive list of everything to see and do in Delta de l'Ebre, but 16 cherry-picked places for your first-of-many-more visits to this beautiful area.
Delta de l'Ebre classics
Hike to Far del Fangar lighthouse
This 4-km hike is a beautiful way to know one of the most iconic buildings in Delta de l'Ebre: the lighthouse Far del Fangar.
This red and white lighthouse is located on a remote spit of land and can only be reached by foot or bike. The route starts at Platja de la Marquesa's parking lot. On your right side, you'll see the blue of the Mediterranean Sea, while on the left, you'll enjoy pretty views of the green (or brown) rice fields.
After an hour's walk along the beach, you'll reach the red and white lighthouse Far del Fangar. This lighthouse was built in 1972, replacing an old lighthouse built in 1864 that burned down during the Spanish Civil War.
As you'll see, the 20-m high Far del Fangar stands out amongst its arid surroundings. If it weren't for the sea, the dune landscape would make you feel like you're in the desert, seeing the lighthouse you never get to as a mirage.
On your way back, you can walk inland instead of on the beach. This way, you'll be able to admire the dune formations in the area, the best-preserved ones on the Catalan coast.
The area is so cool that it was picked by location scouts to shoot the film Sahara, with Penélope Cruz and Mathew McConaway, and the video clip for U2 Vertigo.
⚠️ Important!
Summers in Delta de l'Ebre tend to be hot, so we recommend hiking early in the morning or late in the afternoon.
Grab plenty of water and sunscreen, and take a refreshing bath on the sea to fight the high temperatures!
Also, don't forget to pick a windstopper jacket in case the wind picks up.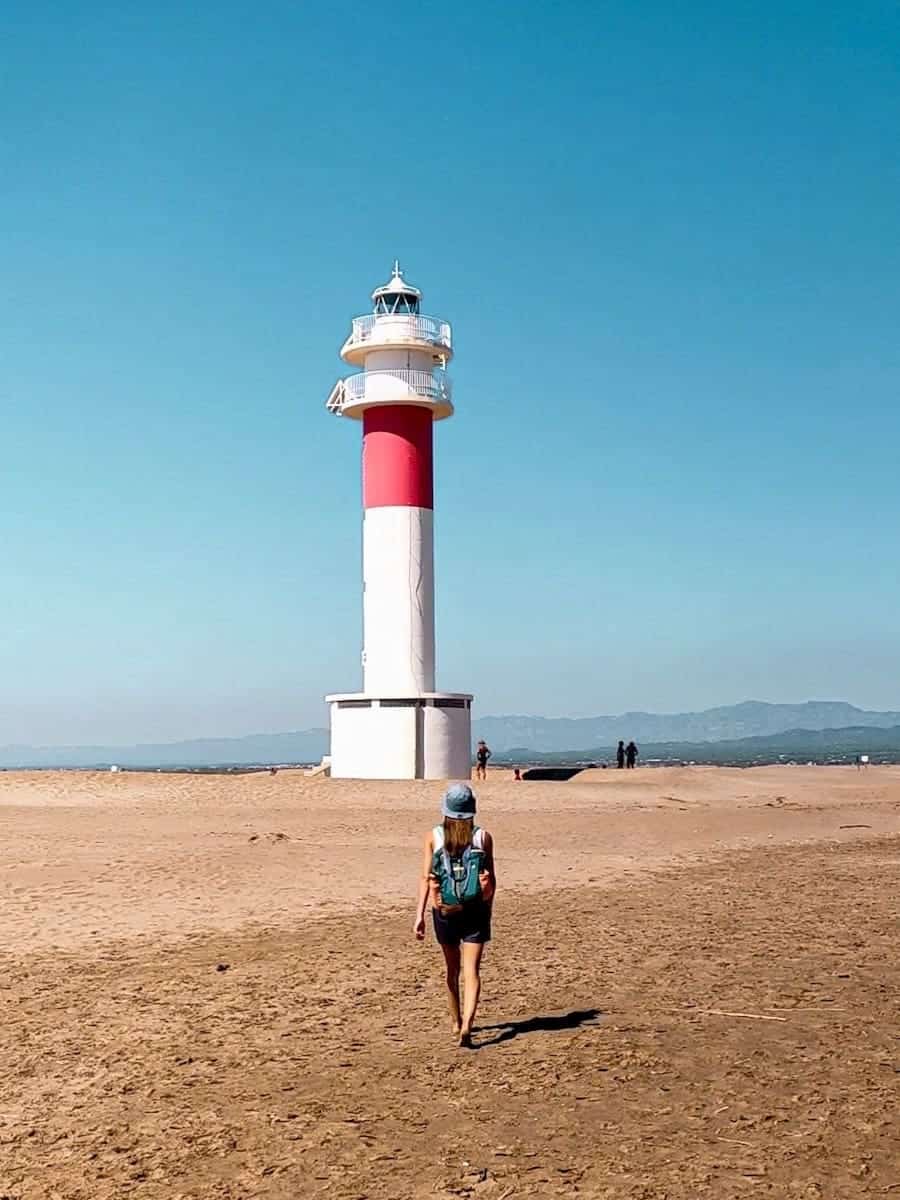 Admire lots of flamingos
Flamingos are the star birds of the Delta! In fact, this region has one of the largest fixed colonies of flamingos in Europe.
Head to L'Encanyissada or La Tancada lakes to see them close by. There are several lookouts around the area from where you can spot them without disturbing them. It's truly fascinating to see so many of them together!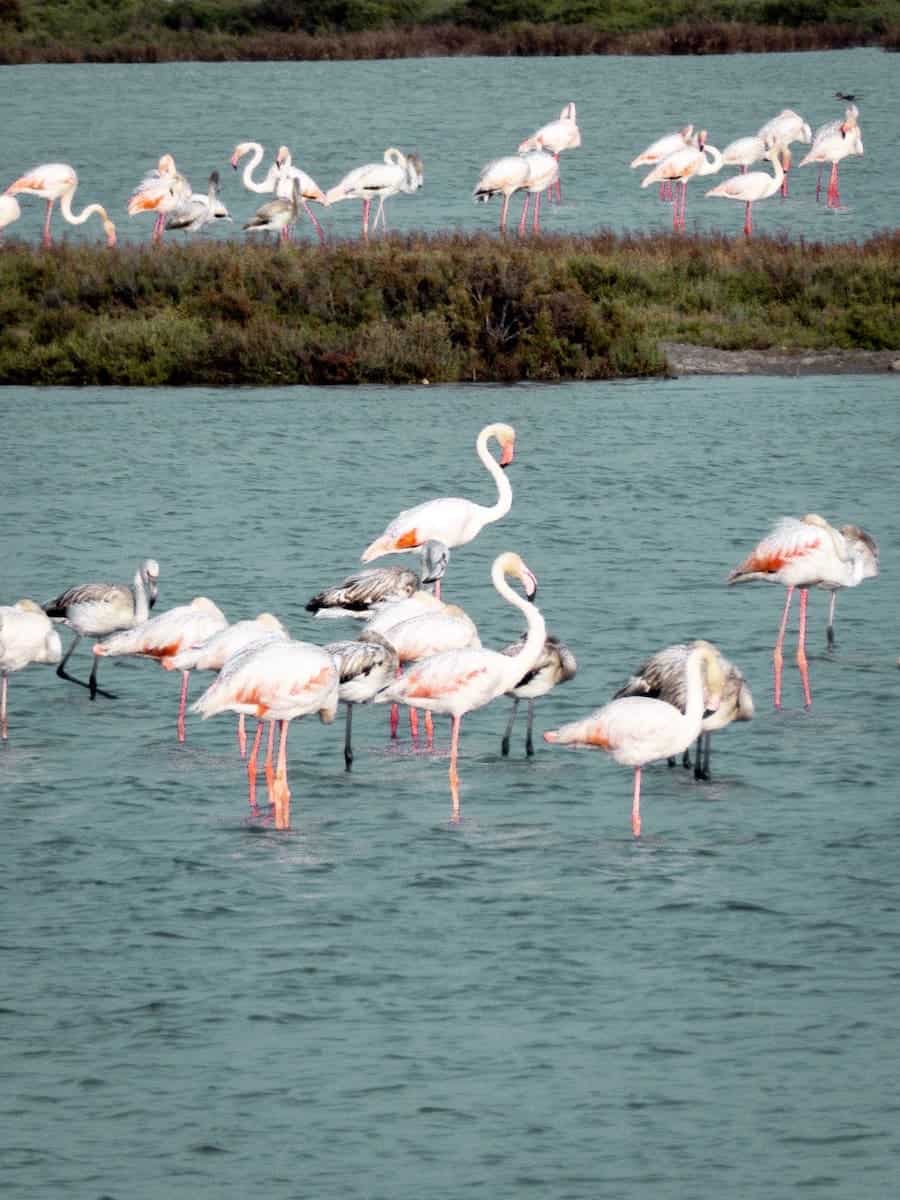 Enjoy a boat ride along the Ebre river
Cruising the Ebre river –the longest and mightiest in Spain– by boat is absolutely necessary to enjoy a unique view of the region and introduce yourself to the Delta's landscape and way of life.
It's actually the best way to witness an unusual landscape: the river mouth, where the wide Ebre river flows into the Mediterranean Sea.
If you're up for a boat ride, forget the big touristic ones and pick a local instead. We recommend Xàrter Nàutic Eli, run by local skipper Eli. We did a boat tour aboard 'La Skipper Black' (her boat) and loved it. Eli was born there, and her passion and knowledge of the land were impressive. We could learn about the authentic Delta, its many great things, and also, the dangers the region faces.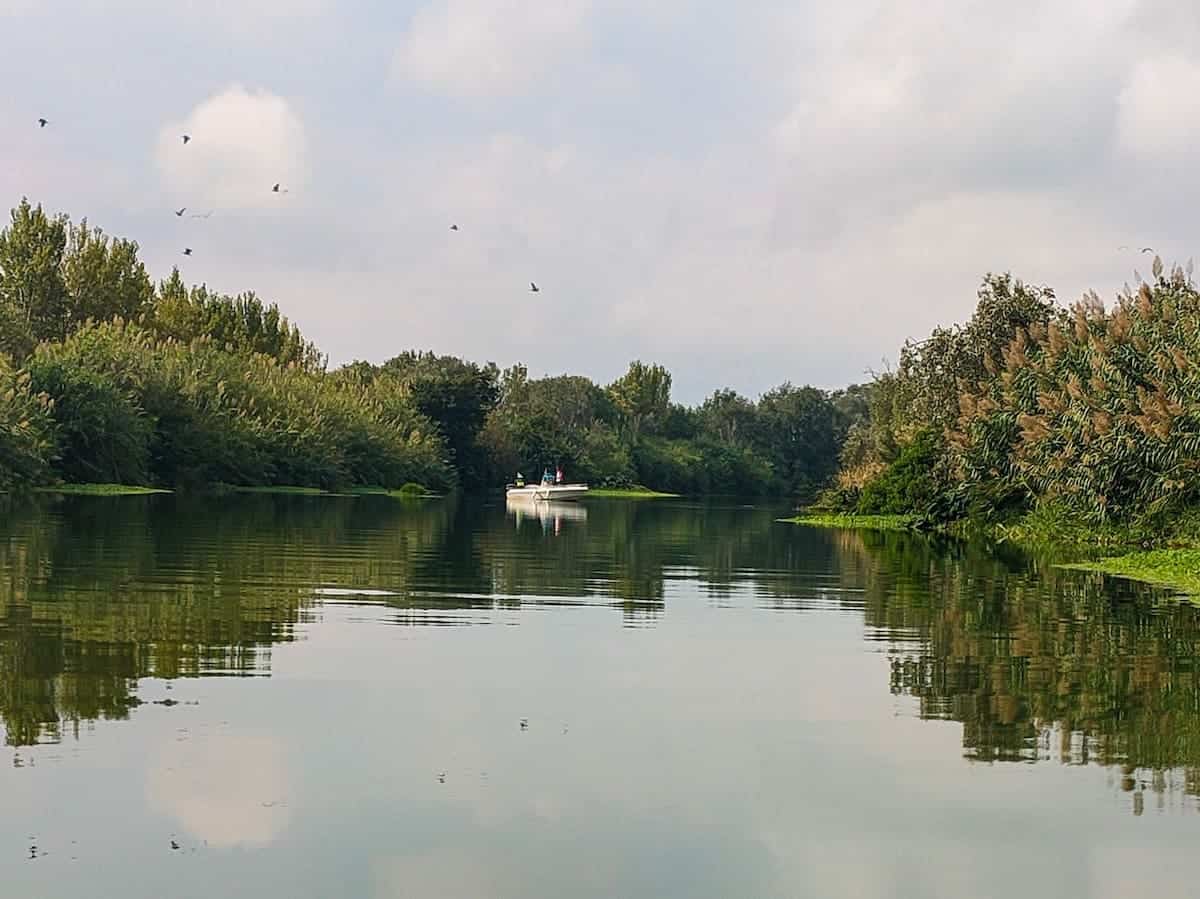 Taste local mussels and oysters
Two of the most famous foods of Delta de l'Ebre are mussels and oysters. They both grow in farms located in the two main bays of the area: the Alfacs and Fangar bays.
If you're a foodie, we can't recommend you enough the experience of visiting a mussel farm and enjoying a tasting of fresh mussels and oysters in the middle of the sea.
There are several farms in the area, but our favourite is MiradorBadia. They offer several experiences, all including a boat ride to the farm, an explanation about the seafood cultivation process, and a tasting.
What is the best month to taste oysters and mussels? Towards the beginning of June for trying oysters and towards the end for mussels. This is when the product is freshest. Pair the tasting with a glass of white wine or cava and enjoy the Delta at its best!
Walk through a stretch of sand with the sea on both sides
We're talking about the Platja del Trabucador, nothing less than 14 km of natural and wild beach with the Mediterranean Sea on both sides.
The part of the sea overlooking Alfaques Bay is perfect for kitesurfing and children, as the waters are shallow and warm. The part overlooking the open sea is ideal for those who like playing with waves and chilling at the beach. Even in summer, the person closest to you will not be less than two or three meters away!
We can't recommend walking through this beach enough and maybe even reaching Punta de la Banya. Platja del Trabucador unites Delta de l'Ebre with Punta de la Banya, a peninsula that's the largest natural area in the region. This peninsula can only be accessed on foot after a long but beautiful stroll along the beach.
And once there, you'll find a wild place that has been little modified by humanity. The only buildings are a lighthouse and the Salinas de la Trinidad. More than 25.000 tons of salt are extracted annually at this salt extraction facility.
By the way, sunsets at Platja del Trabucador are spectacular!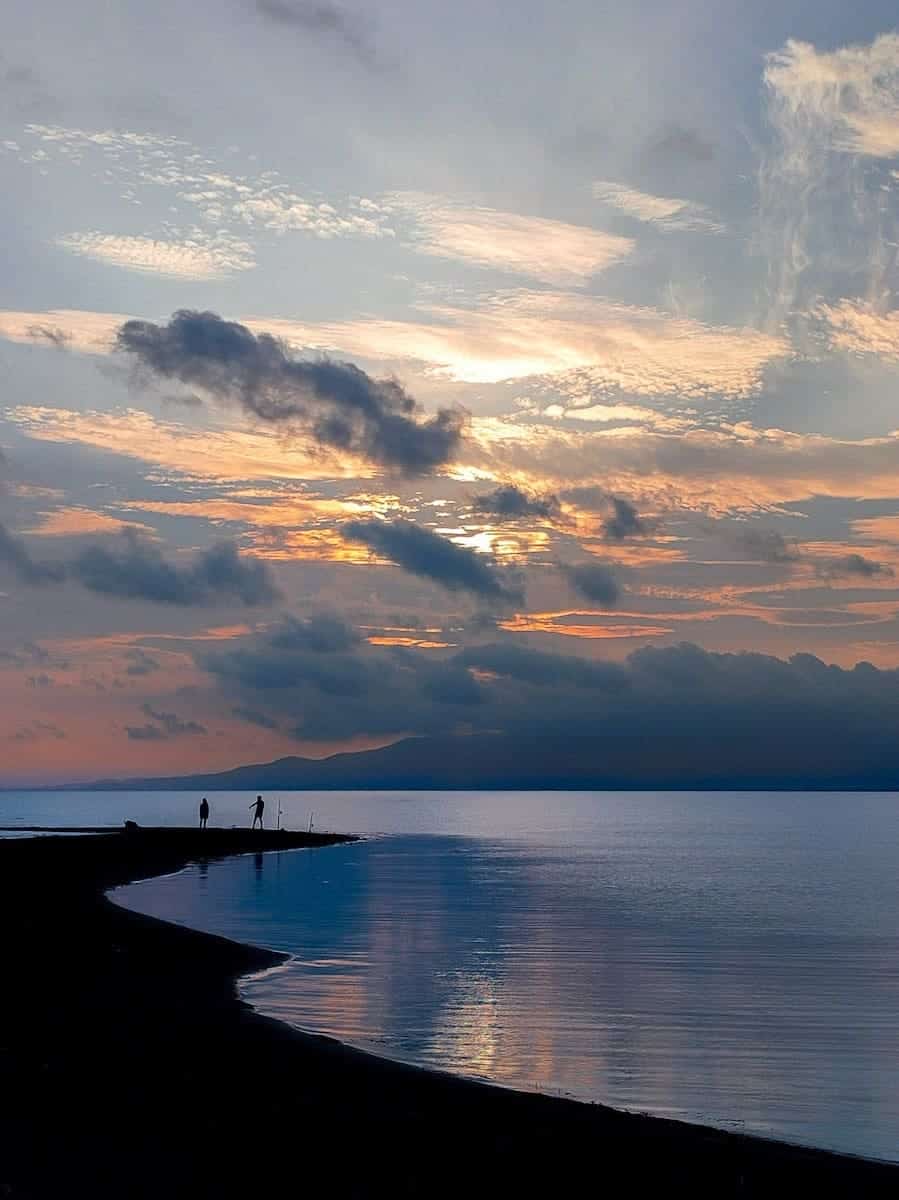 Adventure in Delta de l'Ebre
Learn to kitesurf
Delta de l'Ebre is the Catalan mecca for kitesurf. Thanks to its shallow and warm waters, Platja del Trabucador is an excellent place to practise this sport, whether you're a pro kitesurfer or want to try it for the first time.
As soon as the wind starts blowing, kitesurfers gather at Platja del Trabucador and get ready for all kinds of tricks. As a spectator, seeing so many colourful kites dancing from one side of the beach to the other is beautiful!
We tried kitesurfing for the first time there, and the experience was a blast! Challenging, for sure, but we had so much fun! We did a 2-day course with Naturalkite, and by the second day, Marc was already up and riding!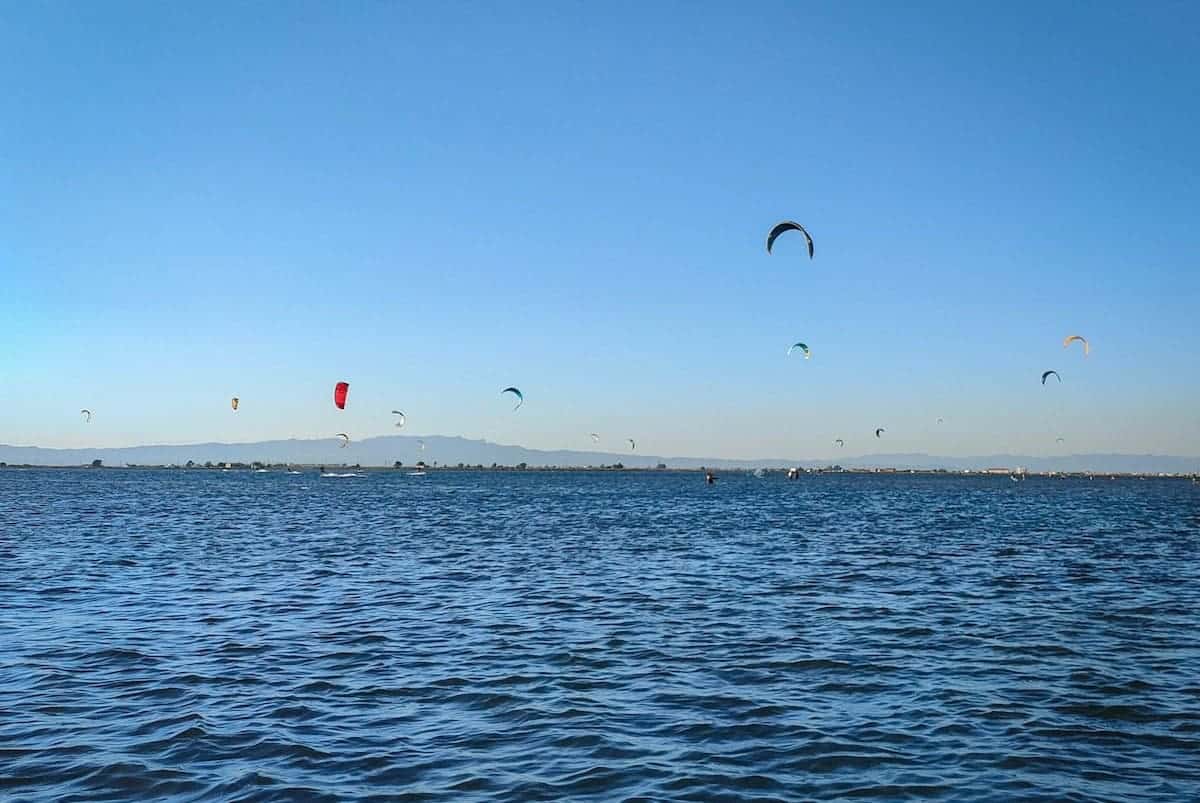 Cycle amongst rice fields and beaches
The Delta is a great region to be explored by bike. It's mostly flat, allowing you to travel longer distances and discover the region's diverse landscapes.
The most characteristic one is the rice fields. The Delta region is home to 22,000 hectares dedicated only to the cultivation of this crop! But the cycling routes in the area will also take you across sandy beaches, around lakes with flamingos, and enjoy a stop at one of the Delta's lookouts to see the typical landscape featuring rice fields, lagoons, and the Mediterranean Sea.
Don't have a bike with you? You can rent one at Deltacleta. On their page, you can also find guided and thematic cycling routes.
Kayak along the longest river in Spain
Up for an adventure "Into the Wild" style? Rent a kayak and get ready to paddle along the calm waters of the Ebre river, the longest in Spain. There are several routes you can choose from, depending on your preferences. Still, wild vegetation, birdwatching, and marine wildlife are guaranteed in all of them!
Do you prefer to join a guided kayak tour? Riu a l'Ebre offers four guided kayak experiences in the area, including one that involves mussels tasting or another one happening at sunset.
Delta de l'Ebre like a local
Watch sunrise above the sea
Up for a magical to start your day? Set the alarm early and head out in the dark to watch the first sun rays appear on the sea. Sunrises in Delta de l'Ebre are guaranteed to be spectacular!
Great places to admire the sunrise in Delta de l'Ebre are El Goleró and Cementiri de Barques (an abandoned harbour with many sunken boats).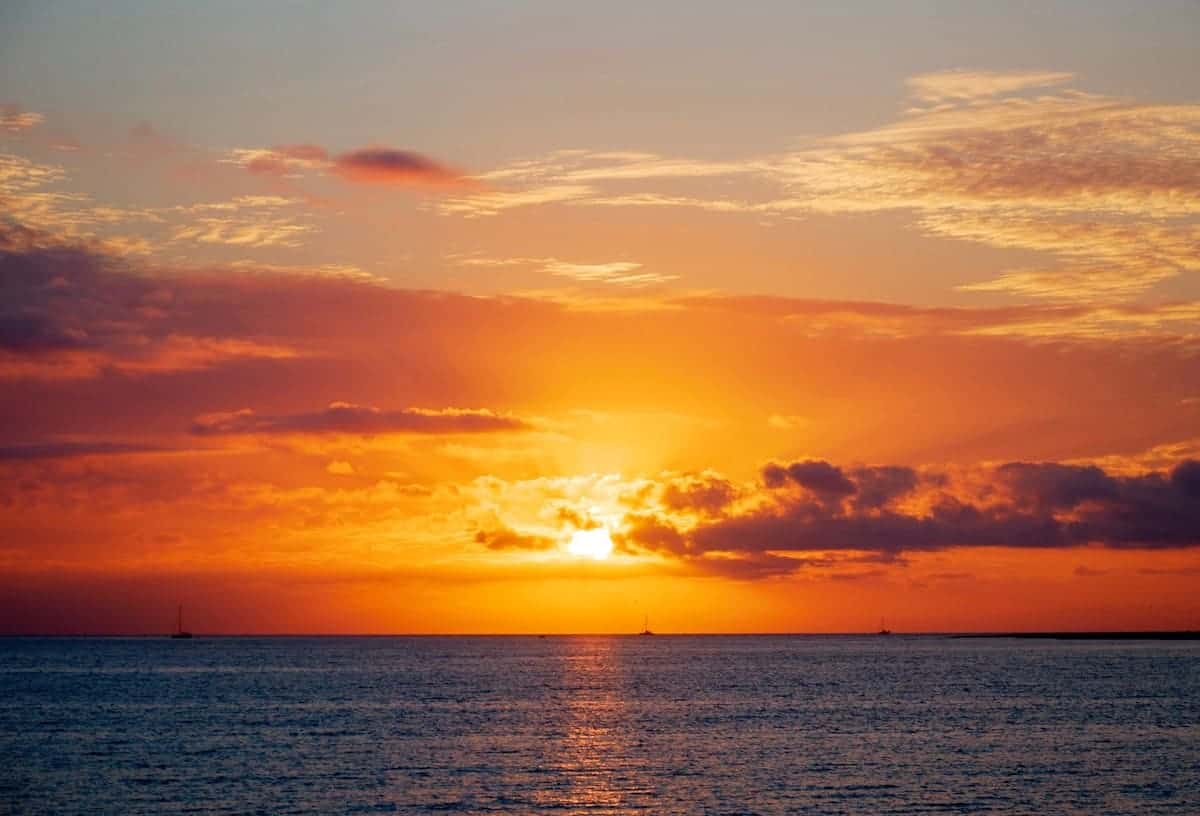 Eat local delicatessens
Delta de l'Ebre's cuisine is renowned for its high quality and variety of local products. The Delta enjoys a privileged location for growing excellent food: being a coastal region means fresh seafood and fish, while its wetlands and lagoons are an excellent source of rice and birds.
Up for trying some exquisite food? Local foods/dishes to try are:
Arròs de cranc blau: Blue crab rice.
Duck (ànec): The region's main autochthonous meat. You can try it together with rice or as a main dish.
Eels (angules): The most selected product of the area. In old times, people used to eat them every day, but nowayads, there's little quantity of this product, making it pricier and more selected.
Mussels (musclos): There are two ways of eating them, a la marinera, which is cooked with a tomato sauce, or al vapor, which means they are steamed in white wine. Both are exquisite!
Oysters (ostres): A typical starter in the restaurants around Delta de l'Ebre.
Bluefin tuna (tonyina vermella): This type of tuna, characterised by its dark red meat, has more fat and flavour than other varieties. It's served in most restaurants as a main dish.
Pastissets: If you have a sweet tooth, you'll probably love pastissets, one of the typical desserts of the Delta. It has the shape of a pie, and it's filled with either sweet potato or cabell d'àngel (a jam made from pumpkin pulp and white sugar).
And where can you try those dishes? Our favourite restaurants in the area are Lo MUT, which will delight you with delicious local products and tasteful rice dishes in a beautiful setting, and La Barraca del Delta, where you can sample traditional rice dishes, delicious seafood, and homemade desserts made with local products.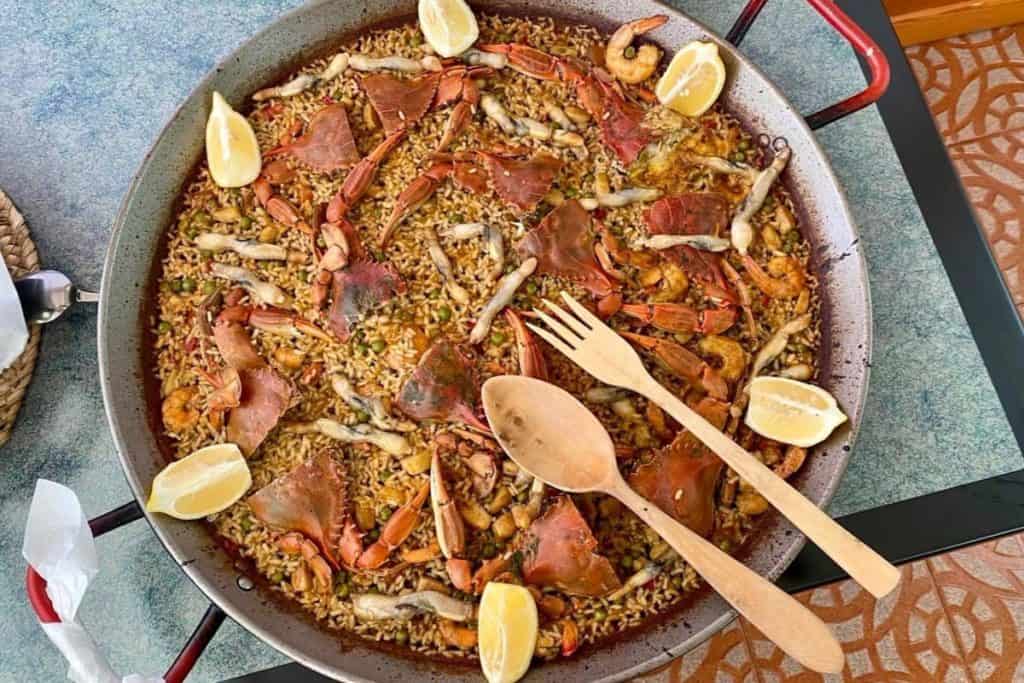 Enjoy a glass of wine in a beautiful terrace
If you want to slow down, chill, and enjoy a nice cup of wine, we have the perfect place for you!
Head to Hostal Cling 43 terrace, a beautiful little oasis in the back of a hotel. Llúcia, the owner, is super friendly. She is a sommelier and can advise on the perfect local wine for your taste!
Culture in Delta de l'Ebre
Run after the Bou capllaçat
During August, the popular festes majors take place in most towns and villages in Catalonia, and the ones in Delta de l'Ebre are no exception. A festa major is the main street festival celebrated in a town or village and usually involves concerts, dinner parties, and other activities.
The ones celebrated in Delta de l'Ebre have their own peculiar traditions, the most famous one being the bou capllaçat. Imagine an ox tied by the horns by a rope held by runners. The runners' mission is to walk the ox through the village streets (without anyone getting injured!) while people cheer up like crazy and run nearby.
The knot that the ox wears on its horns is what locals call cap llaçat, hence the name of this event.
Buy fresh food at one of the local markets
Today, there are ten active markets in Delta de l'Ebre, frequented by the inhabitants for purchases of fruits, vegetables, meat, fish, bread and spices. They're buzzing meeting points and transit intersections, where locals go to find the region's freshest products at fair prices.
Those are the best ones:
Magic experiences in Delta de l'Ebre
Experience the magical Illa de Buda
Imagine an island with rice fields, a long beach, lush vegetation, and several lagoons. Wild horses roam free, and there's no one around. It's the perfect place to slow down and enjoy nature with your loved ones.
Well, you can stop imagining because this place exists! Illa de Buda is the biggest island in Catalonia, with over a thousand hectares of surface and about 5 km long. Part of the island is private property and has belonged to the same family since 1924.
What makes this place so special is that its entrance is restricted, and authorization is required to access it. As you can imagine, this has helped preserve the nature and wilderness of the island.
The question that pops up then is, how can you access the island?
Renting the rural accommodation on the island. Spend a few nights on one of the only buildings in Illa de Buda, a large family house from the 19th century. The house is enormous; it can accommodate up to 26 people and has a garage for up to five vehicles!
Sleep in between rice fields
Up for a magical stay in a barraca, the traditional houses from the Delta?
Those houses are made with natural materials, such as reeds, wood, and clay, and traditionally, these were the fishermen's refuges. As the Delta area is flat and there're no caves, fishermen were forced to build shelters to protect themselves.
Later on, when there was a boom in rice cultivation, the barraques were built and used by rice farmers. Cultivating rice was laborious work, so farmers built their houses in the same rice fields where they worked.
Currently, 35 barraques in the Delta are built following the traditional methods, most used to promote sustainable accommodation.
We stayed in one of them, Barraca El Molinet, and the experience was fantastic! It was a perfect base, close to all the area's highlights but in a quiet spot, ideal for disconnecting from the hustle and bustle of everyday life.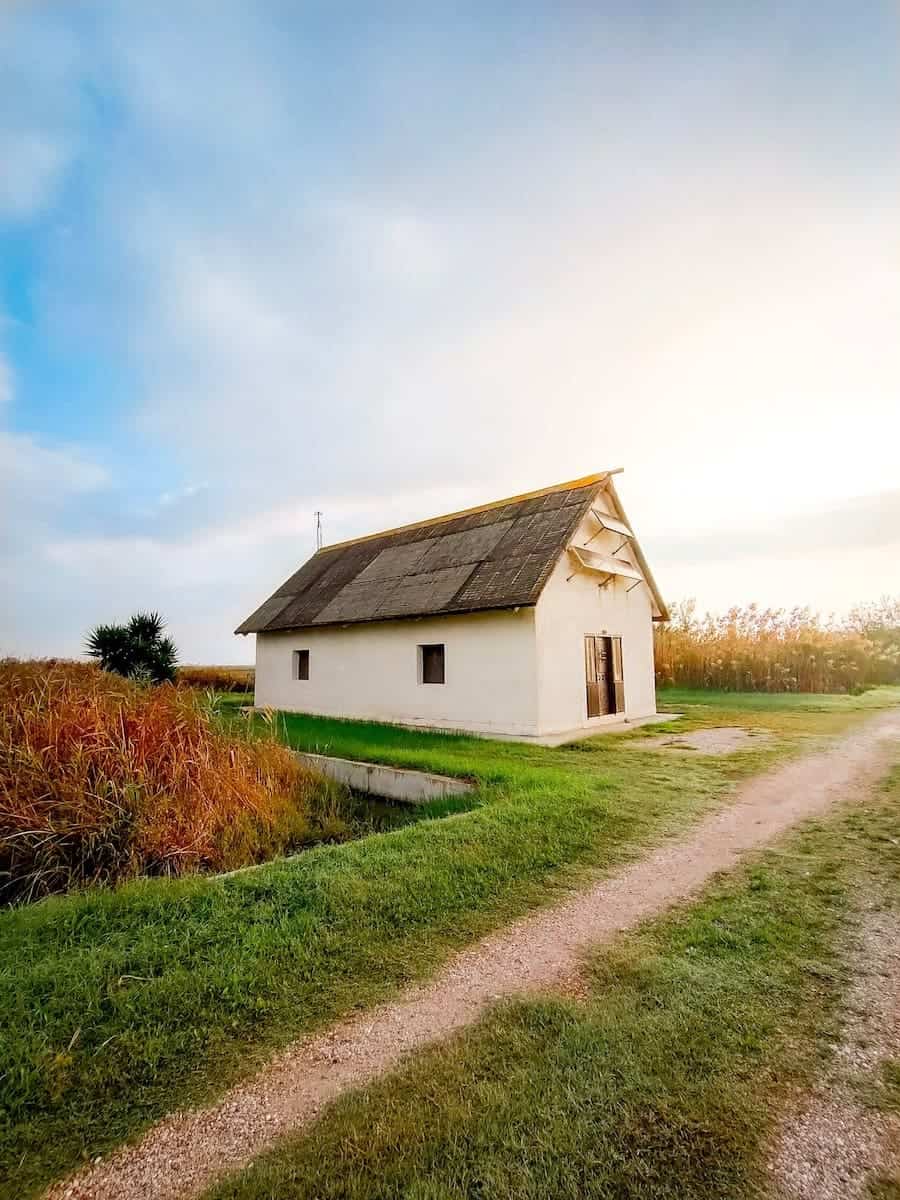 Enjoy the Delta de l'Ebre from the heights
Up for exploring Delta de l'Ebre from a different perspective?
Sign up for a hot air balloon ride and fly over vast extensions of rice fields, sandy beaches, and the blue Mediterranean Sea. We haven't tried it yet but can't wait to do it soon. We bet contemplating such a spectacular setting with a bird's-eye view must be magical!
The total duration of the experience is 3 h, including watching the balloon inflation and the return to the departure point by 4×4.
---
Looking for more things to do in Delta de l'Ebre and its surroundings?
We've got you covered! Check out our Terres de l'Ebre section. On it, we cover things to do and places to stay in the southernmost region of Catalonia.