For this itinerary, we'll be travelling to the southern part of Catalonia, a region famous for being Catalonia's first producer of rice, that yields around 10.500 tonnes per year!
Our itinerary idea in the Delta de l'Ebre includes a bike route, a hike along a long sandy beach, and plenty of exquisite food, so you can enjoy a bit of everything!
Suggested itinerary in the Delta de l'Ebre
Morning day 1 🌊
Start exploring the Delta de l'Ebre (a.k.a. "Delta") on the coast, where the rice fields meet the sea.
The route we suggest starts at the Platja de la Marquesa's parking lot. On your right side, you'll see the blue of the Mediterranean sea, while on the left, you'll enjoy pretty views of the green (or brown) rice fields.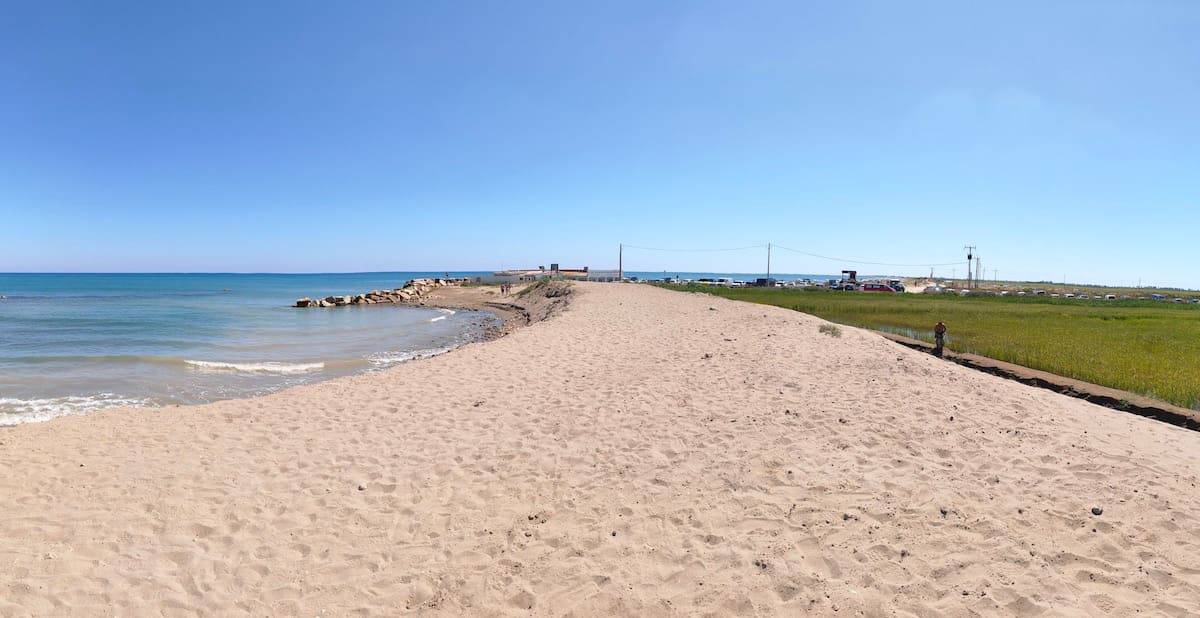 Ditch your shoes and walk barefoot along the beach. There's no better feeling than the sand and the water on your feet!
After an hour's walk, you'll reach the red and white lighthouse Far del Fangar. This lighthouse was built in 1972 and is one of the region's most iconic buildings.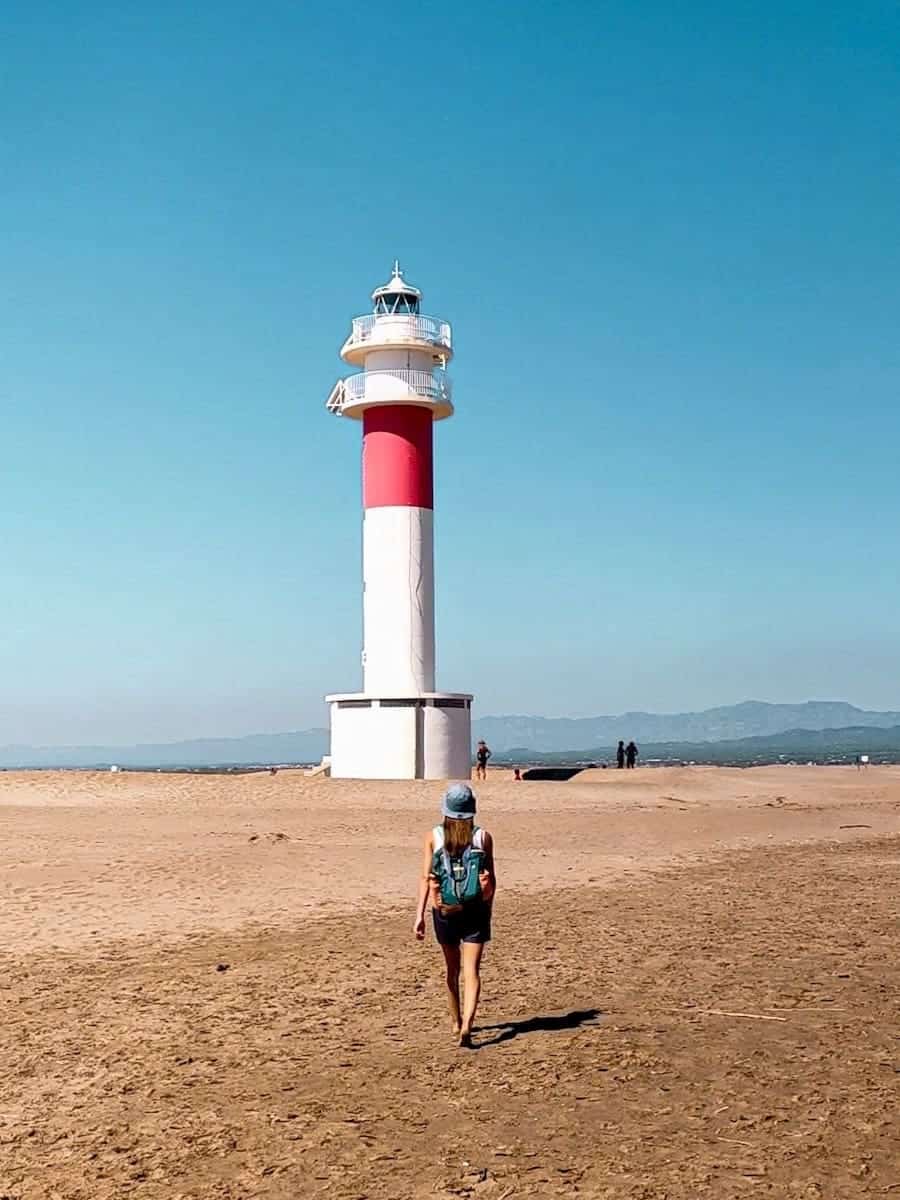 Don't forget to take a dip in the sea to stay fresh on your way back!
You can walk back the same way, or you can do a circular walk (Wikiloc track here), in which you can see the sand dunes that are characteristic of this area.
Lunch day 1 🥘
We bet you'll be pretty hungry once you reach the car. Luckily, this is easy to fix! An exquisite meal will be waiting for you after an 18 min drive.
But before that, let's make a quick stop nearby to grab some food you'll need to make dinner. Yes, you're cooking tonight!
At La Botiga de l'Ebre, you'll find local and gourmet products to prepare an excellent dinner. Make sure to get there before 1:30 pm, or else you'll find it closed.
We suggest two regional rice recipes: rice with duck and rice with eel. The recipes are explained in Catalan, but if you can't understand a word, Google translate will do the work for you!
As a dessert, we can't recommend enough buying a bottle of licor d'arròs (rice liquor).
And now, yes, time for lunch! Your next destination, the restaurant Lo MUT, will delight you with delicious local products and tasteful rice dishes in a beautiful setting.
Afternoon day 1 🌾
Once your belly is full (and happy!) and the feeling of laziness and sleepiness kicks in, it's time for a well-deserved siesta!
Next destination? The Barraca El Molinet, where you'll spend the night.
The barraques are primitive and simple houses made with natural materials: reeds, wood, and clay. They don't need any foundations as they're built directly above the previously levelled ground.
Traditionally, these were the fishermen's refuges. As the Delta area is entirely flat and there're no caves, fishermen were forced to build shelters to protect themselves.
Later on, when there was a boom in rice cultivation, the barraques were built and used by rice farmers. Cultivating rice was laborious work, so farmers decided to build their houses in the same rice fields where they were working.
Currently, 35 barraques in the Delta are built following the traditional methods. Most are used to promote sustainable accommodation, and you'll sleep in one of them!
Spend the afternoon chilling at the house or exploring the rice fields around.
Dinner day 1 👩🏼‍🍳
It's time to bring out your inner chef and impress your family, friends, or partner with your cooking skills!
After dinner, we recommend going for a walk. See if you can spot any black and red lobsters walking around the fields or swimming in the irrigation canals.
Also, don't forget to look up! It's pretty dark in the house's surroundings, making it a good stargazing spot.
Morning day 2 🚲
Had a good sleep? Great, let's start the second day with some exercise!
Grab the bike and explore the most characteristic landscape of the Delta de l'Ebre: the rice fields. The Delta region is home to 22,000 hectares dedicated to the cultivation of this crop, but the cycling route we suggest will allow you to discover much more than that.
You will also cycle across the shore of a large sandy beach (how cool is that?!), and you'll stop at one of the delta's lookouts to see the typical landscape featuring rice fields, lagoons, and the Mediterranean sea.
The route's distance is 26 km and it'll take you around two hours to complete. You'll find more info and the track in our Wikiloc.
Also, if you don't have a bike with you, you can rent one at Deltacleta.
Lunch day 2 🐟
After sweating a bit, it's time for a well-deserved lunch!
The next stop is only 10 min by car from where the route ends: La Barraca del Delta. Get ready to try traditional rice dishes, delicious seafood, and homemade desserts made with local products.
We can't recommend enough the arròs de cranc blau (blue crab rice), the calamars a la romana (fried squid rings), and the torrades d'anguila fumada (smoked eel toasts).
The portions are big, and you have to save some space for their amazing desserts; they are also to die for!
If you have leftovers, ask the waiters to put them in a food container, and you'll have the dinner sorted!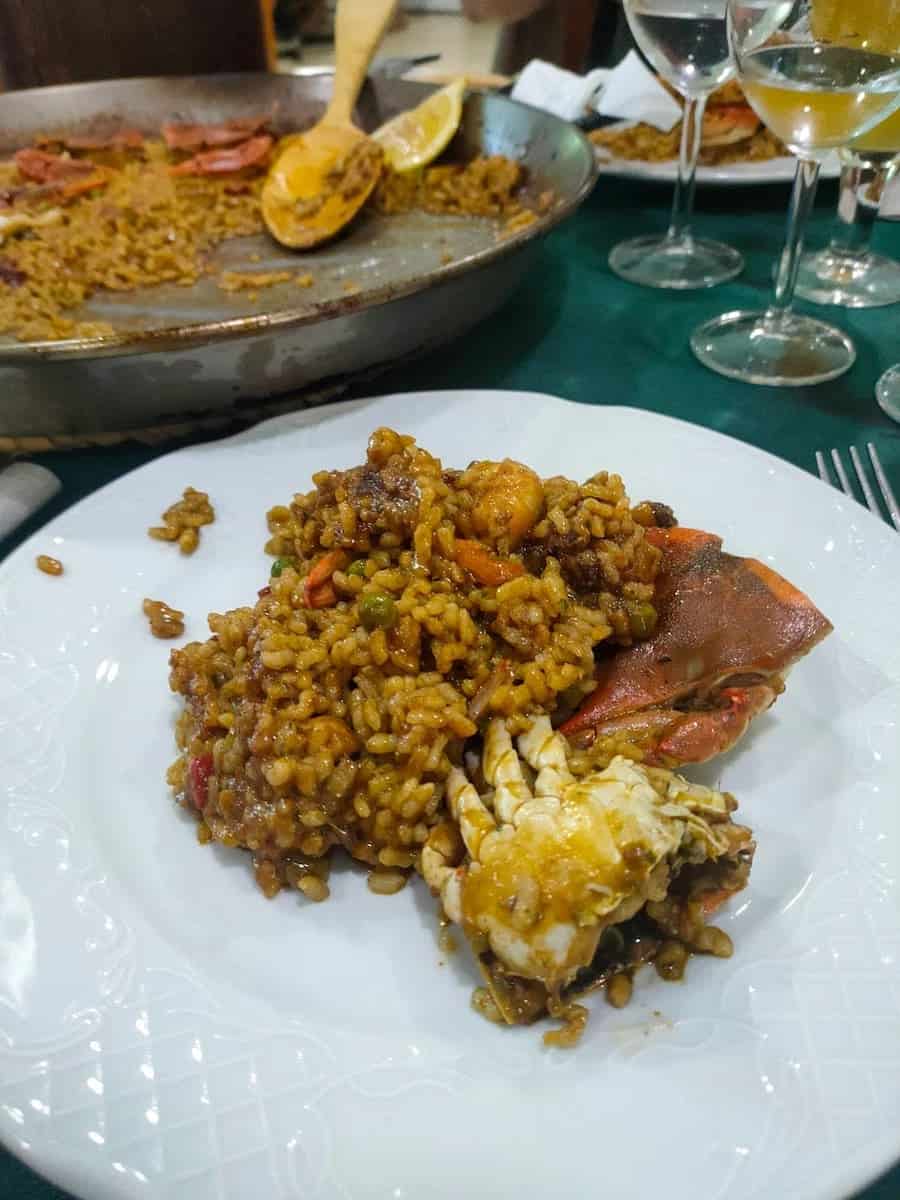 Time to pack, continue your trip to other parts of Catalonia, or keep enjoying the wonderful Delta de l'Ebre regions for some more days. Whatever your decision, we hope you have a great time!
If you follow this itinerary, we'd love you to leave a comment and let us know how your experience was.