Casa Llobera is an oasis of peace in Western Catalonia's countryside. Nestled in a picturesque rural village surrounded by vineyards and olive tree fields, this historic house from the 18th century is an ideal place to disconnect and recharge.
After being renovated, the house has hit the perfect balance between old-world charm and modern vibrancy. But besides its stunning design and thoughtful décor, what makes this place truly incredible is its owners.
We had a lovely time when we stayed there and decided to share everything about Casa Llobera here. Keep scrolling to discover more!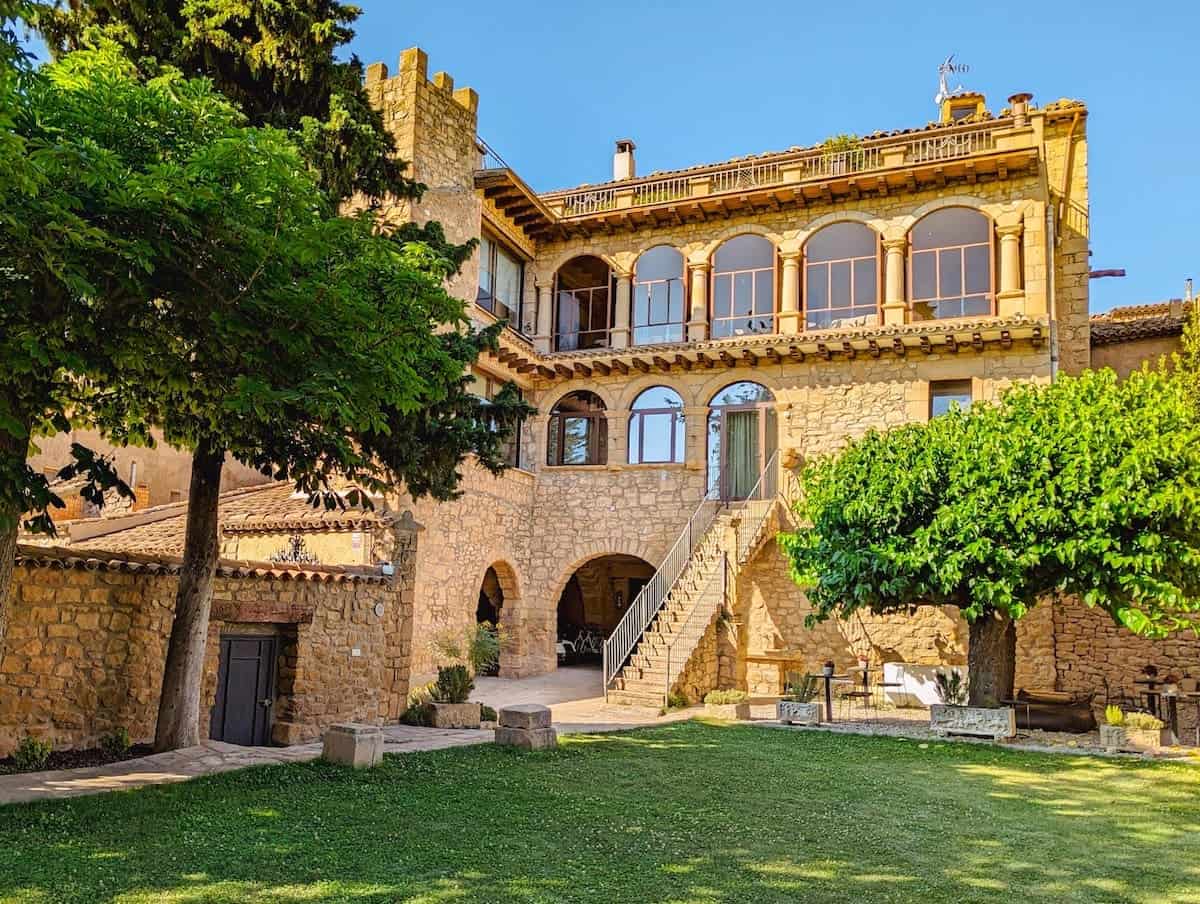 Everything you need to know about Casa Llobera
As you set foot through the main entrance door, nothing would make you think of a hotel lobby. Rather, you soon realise that you have entered an elegant home where you are greeted like friends.
The décor is luxurious and tasteful, but never excessive. We loved how the design is inspired by nature, with Earthly tones and natural materials.
Every detail has been thought of, and the house maintains its own rustic spirit, which blends with the modern touches added during the renovation.
The history of this house is a curious one. It was built in 1792 as a private home for the family Llobera. They generated their richness by producing wine and olive, and they did so in the house itself! Nowadays, you can still see a large vat and old wine barrels in the cellar, which has been turned into a wine bar.
Years later, the family left the house and it became first a school and then…the Village Council!
It wasn't until 2018 that the current owner, Jaime, bought the house and little by little, he turned Casa Llobera into what it is today, a family-run boutique hotel.
The house
From the entrance, located on the village's main street, it's impossible to appreciate the majesty of the place. It looks just like a 3-floor historic building tucked in between other houses. What you can't imagine is that, on the other side, the house boasts a big garden and looks straight out of a medieval movie.
Casa Llobera is divided into the owners' home and the hotel. The latest includes 7 rooms and the common areas free for guests to use during their stay: the cellar, the living room, the terrace, and the dining room.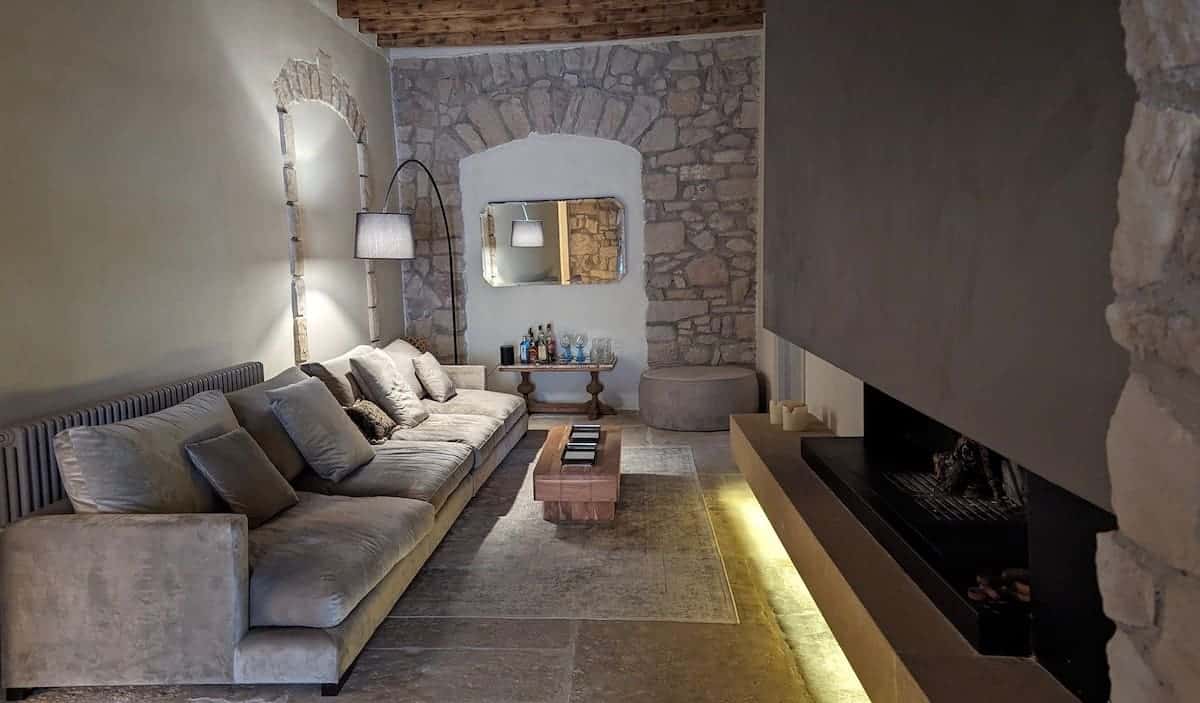 The rooms
As with the rest of the house, the rooms have a relaxing atmosphere inspired by Earthly tones. The décor is minimal yet feels luxurious and comfortable.
What we loved is that the rooms vary in size, view, and features, so each time you stay in the hotel, it feels like a different experience.
You can sip some wine while admiring the mountains from your private terrace in room 7, open your curtains on the village's main street in room 3, fall asleep in a King size bed in room 1, and read a book in the hot tub in room 2.
All rooms are super spacious and can accommodate two people.
The food
The hotel's main floor is where you can enjoy the meals in an intimate setting. The restaurant has no more than 5 tables, and the atmosphere is great: soft lights and cosy ambience music.
The dinner menu is small yet varied. We had soup, truffle ravioli, and dessert; everything was delicious. They also serve charcuterie and cheese boards that looked amazing!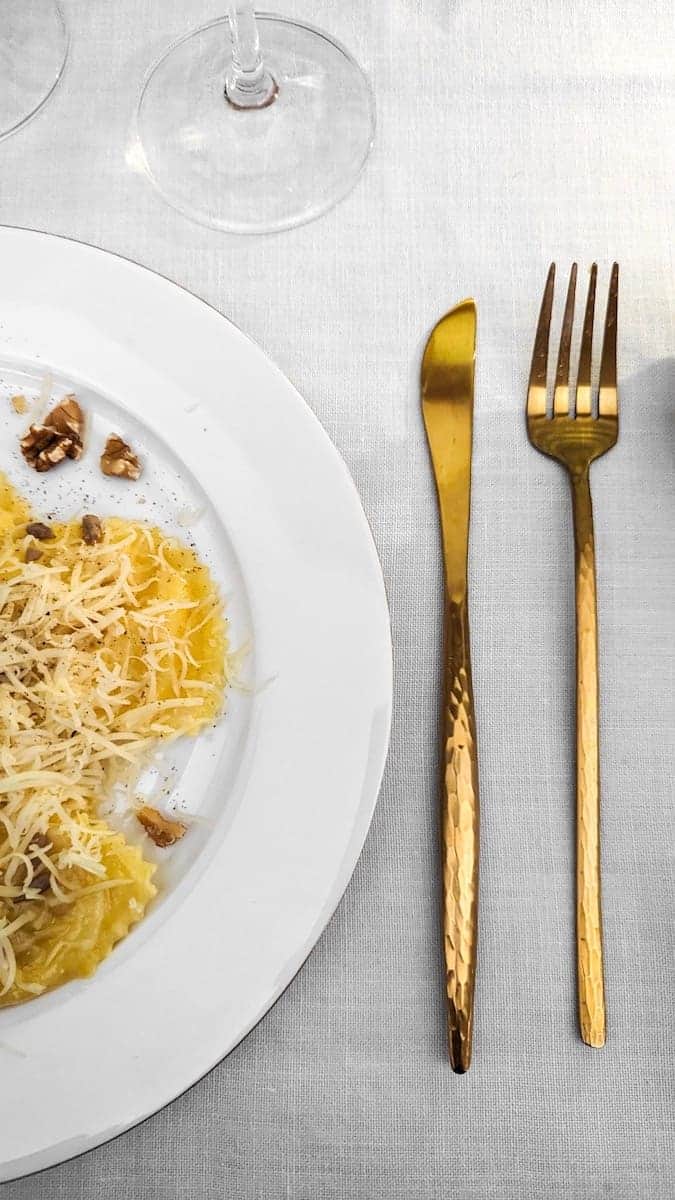 The breakfast is pretty mind-blowing: you get a bowl of fruit, a cheese and charcuterie board, homemade sponge cakes (made by Jaime's wife), fresh bread, eggs any way you wish, coffee, tea, and fresh orange juice. It's a pretty nice way to start the day!
Plan your trip to Casa Llobera
Best time to stay in Casa Llobera
Casa Llobera is a perfect stay all year round. The village isn't touristy, so you won't find crowds even if you go there in summer.
Temperatures in the area are excellent in spring and autumn, the ideal seasons for cycling, hiking, and climbing.
Summers are hot, but the beach is only 1 hour away. A night (or more!) in Casa Llobera is a beautiful addition if you're traveling in the Costa Daurada or making a road trip around Catalonia.
Although the hotel is close to the mountains, temperatures don't tend to drop below zero in winter. Staying in Casa Llobera in winter means reading next to the fireplace, enjoying a cup of wine at sunset, and relaxing in a warm bathtub while temperatures outside are chilly.
No matter when you're going, we highly recommend planning your stay and booking in advance, as it can get fully booked quickly.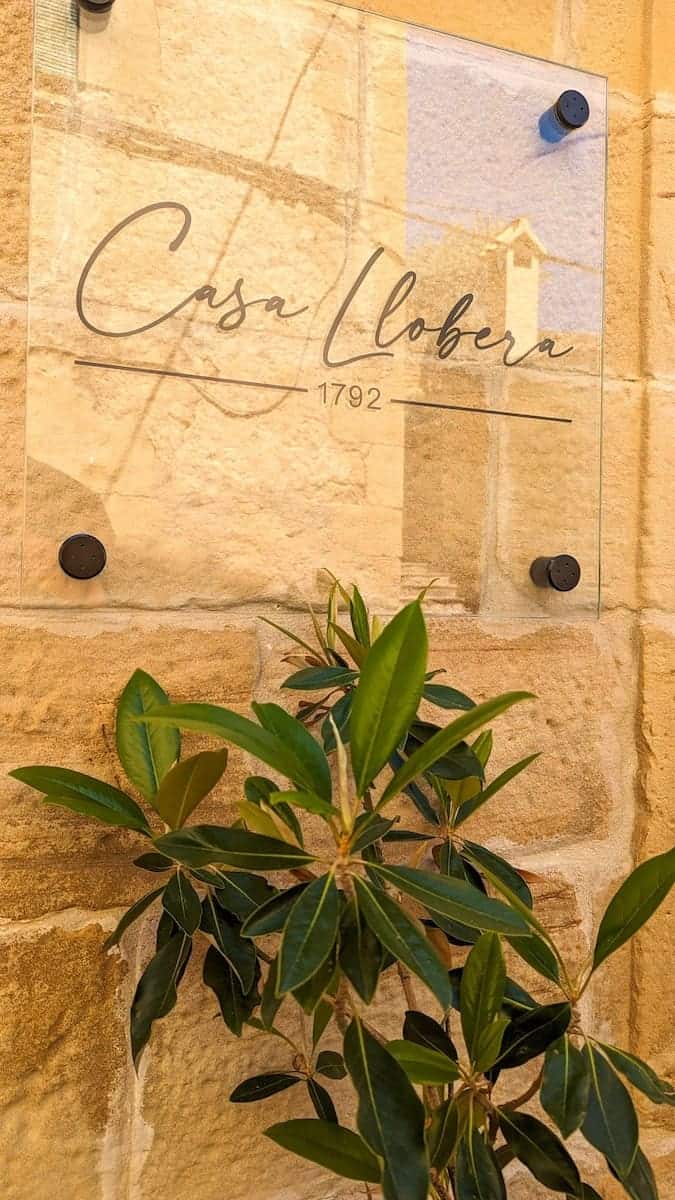 How to get to Casa Llobera?
The easiest and fastest way to reach La Pobla de Cérvoles is by car. The village is located 1 h 40 min from Barcelona, 1 h from Tarragona, and only 45 min from Lleida.
You can also reach La Pobla de Cérvoles from Barcelona by public transport, although it requires some more time. The journey includes train and bus and it takes in total around 3 h.
What's included in the price?
The price varies depending on the room type and the season you book, starting at 199 € per night.
You can use all the facilities in the house and the garden, with its swimming pool. The price also includes bikes and fast and efficient service available all time for whatever you need.
Dinner and breakfast are charged apart.
What to do in Casa Llobera
Disconnect and chill
Nap under the trees in the garden, read a book by the fireplace, watch the sunset from the terrace, or listen to the birds while sipping your favourite drink. Just enjoy; it's a feeling we don't experience too often!
If doing nothing for 24 h is too much for you, keep reading! There are plenty of other options around.
Refresh in the little pool
The house's pool is a little treasure, as it was once the laundry room. The water comes straight from a well, so even in summer, it's cool (which is much appreciated!).
It's the ideal place to sit and immerse in your favourite book, have an interesting conversation, or listen to the birds while your feet cool off in the water.
Enjoy a glass (or a bottle!) of wine
Want to try some of the region's wines? Well, you can go to a winery or do so without moving from your accommodation!
In Casa Llobera, you'll find a great selection of wines from the area, grouped under the PDO Penedès.
Jaime will advise you so you can find the perfect wine for your liking. The easy part comes next: grab the glass and enjoy it where you like the most! Maybe it's the cellar with wine barrels from the 18th century? Or the terrace from where you can overlook the starred sky?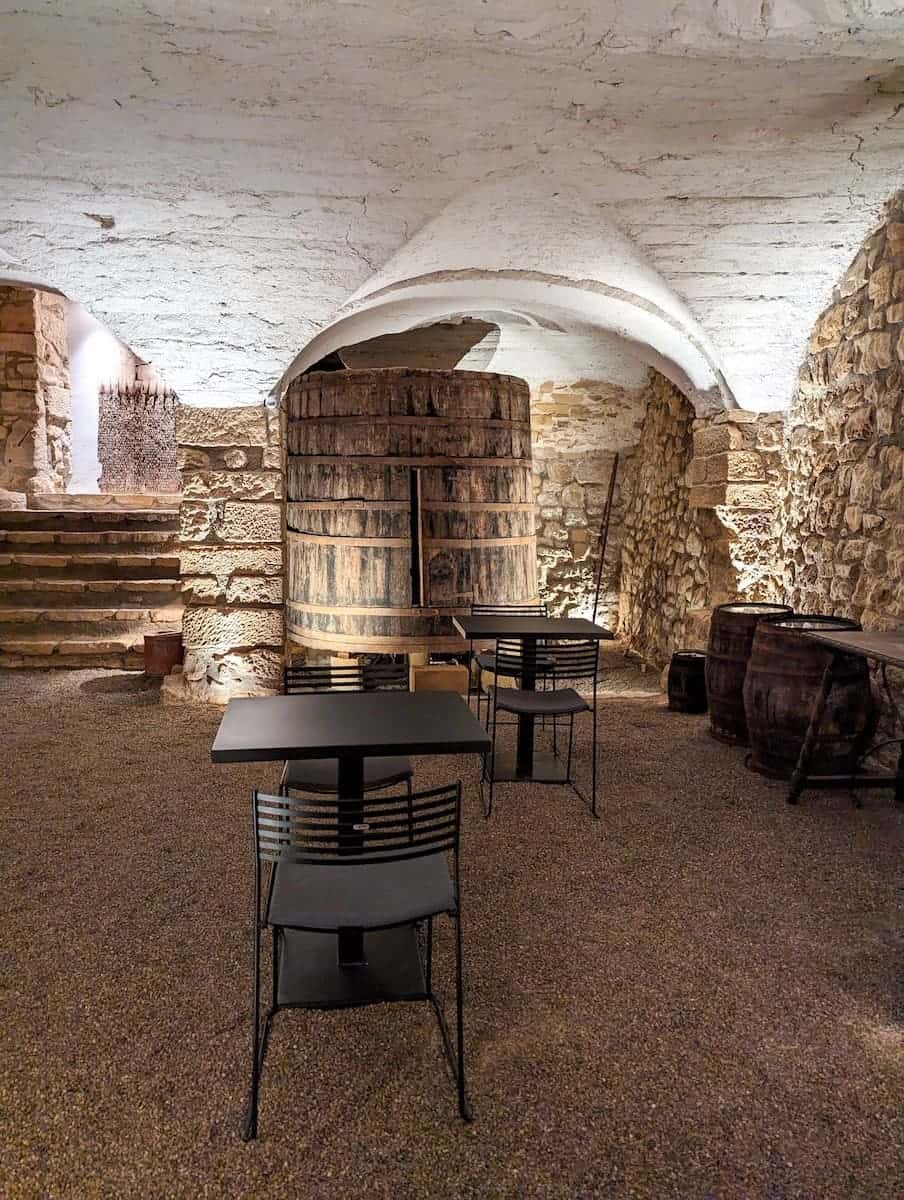 Activities in the surrounding area
If you need more activities to fill up your time or want to further explore the region, here we give you some ideas of things you can do not far from Casa Llobera:
Go wine tasting
Five minutes by foot from Casa Llobera, you have two excellent vineyards.
One is the Cérvoles Celler, which has been making premium wines since 1997. If you want to visit it, you must book in advance by email or phone.
Mas Blanch i Jové is the other cellar in the village, which you can visit on Saturdays and Sundays (and most holidays) from 10 am to 2 pm. They offer wine tastings (they also make incredible wines!), breakfasts at the winery, and picnics in the vineyards.
The cool thing about Mas Blanch i Jové is that it's home to The Artists' Vineyard, an open-air art gallery amidst the vineyards and olive tree fields. Along the marked route, you'll find sculptures and large-scale installations from national and international artists. Walking the route is free and you can do it even if you don't participate in a wine tasting.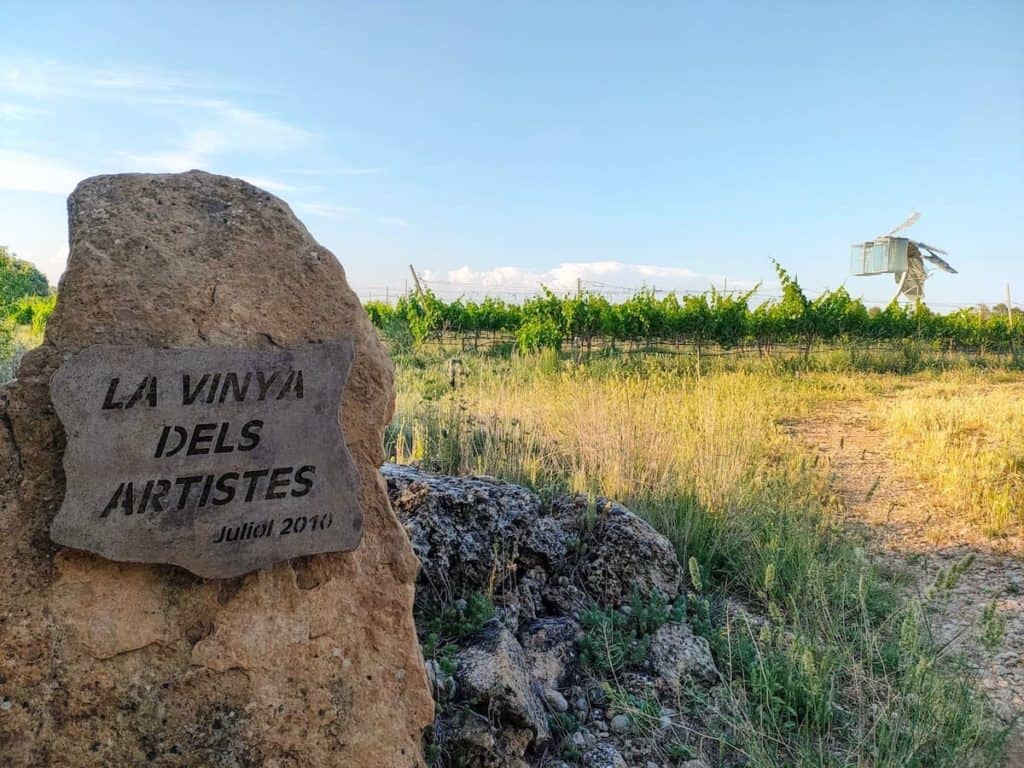 Taste local olive oil and other food delicacies
Western Catalonia is the region par excellence of olive oil, fruit tree fields, and traditional bakeries, so foodies will love it!
If you want to discover the most delicious side of the region, we recommend getting in touch with Olea Soul. They organise all kinds of tailor-made experiences related to food: olive oil and wine tastings, guided tours with local farmers, harvesting activities, and gourmet meals, amongst many others.
Cycle through rural landscapes
The surroundings of Casa Llobera are a wonderful area to be explored on two wheels, with road bike and mountain bike routes passing by rural villages, small churches, and natural landscapes.
Go for a hike
Muntanyes de Prades is a mountain massif located 30-min by car from Casa Llobera. It has hidden coves and large, rounded rocky peaks that hikers and adventurers will undoubtedly love to explore!
A great stop in those mountains is the village of Capafonts for a hike to the Cova de Les Gralles. To get to this cave, you go up and down a rocky path, passing by emerald-green ponds. The cave entrance is a rock hole you pass by, and once you emerge on the other side…wow! You're face to face with a vast cave that feels somewhat impossible to be so well hidden.
Two other highlights of Muntanyes de Prades are the Gorgs de la Febró and Avencs de la Febró. The first is a large cold pool in the middle of the forest, ideal for swimming and enjoying a picnic. The second is an open crack in a cliff with a cave inside, used long ago as a hiding place by smugglers. If you're going there in summer, we only recommend hiking to those two places on weekdays. On weekends it's too crowded and loses all its magic!
A bit further, 45-min by car, there's another incredible mountain range known as Serra del Montsant. Highlights of the area are Congost de Fraguerau, a beautiful gorge with rocky walls; and Roca Corbatera, a 1.163 m high peak with incredible views of the surrounding mountains.
If you'd rather not use the car, there are plenty of hiking routes that start from La Pobla de Cérvoles.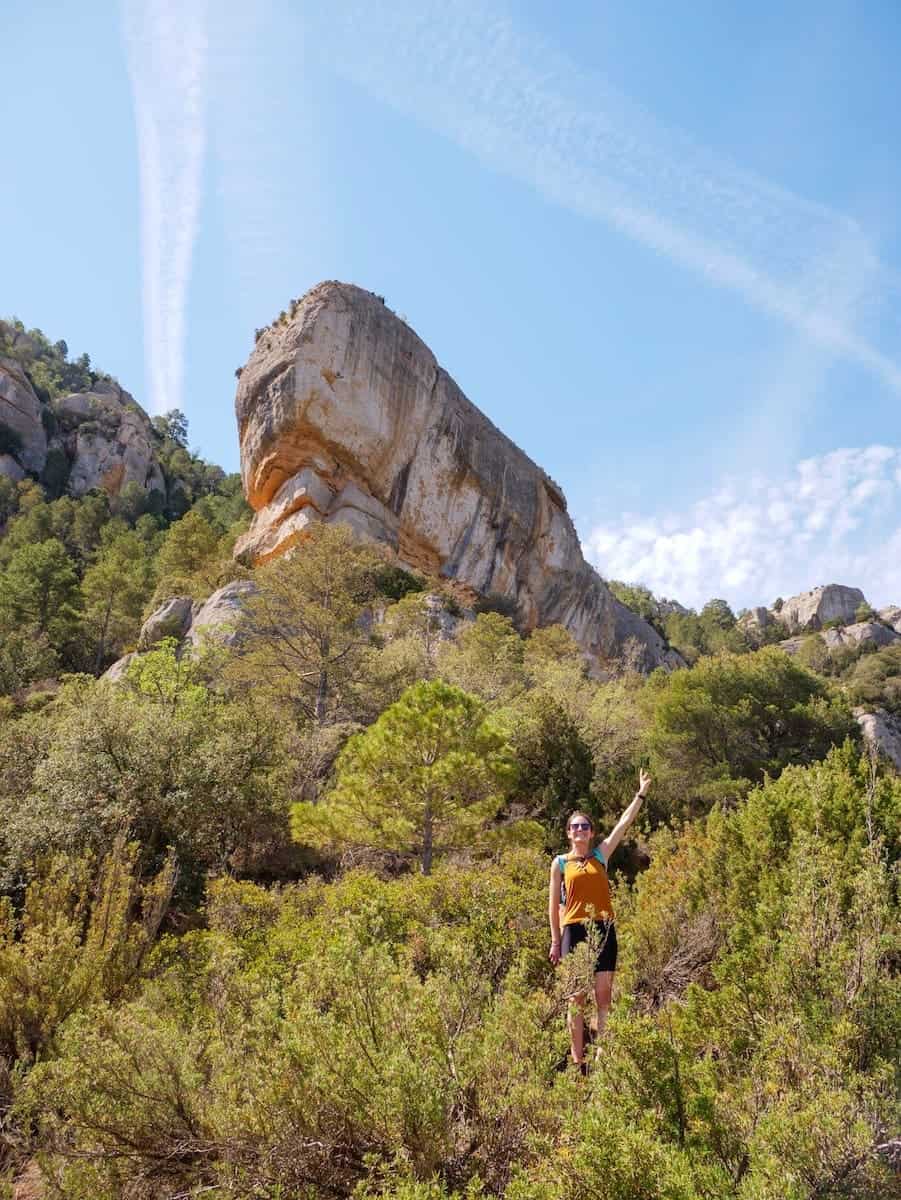 Climb in some of the world's best spots
If you're a rock climbing fan, you can't miss Margalef, an internationally renowned climbing spot with more than 400 routes.
Not far from Casa Llobera, there's another iconic climbing spot: Siurana. Climbers will delight at its limestone walls, which attract enthusiasts from all over the world.
After climbing, this charming little village surrounded by cliffs is the perfect place to slow down and soak up the beauty of its streets and surroundings.
Our experience in Casa Llobera
As soon as we stepped into Casa Llobera, we were immediately enveloped by a feeling of peace, quiet, and relaxation.
Jaime, the owner, greeted us and showed us around. He is truly involved in making this place special: greeting guests, making you feel at home, and taking care of every corner. He was super attentive during the whole stay but not intrusive to maintain the desired privacy.
We spent our stay chilling in the garden, hiking, soaking in the tub, and eating delicious food. It couldn't have been a better experience!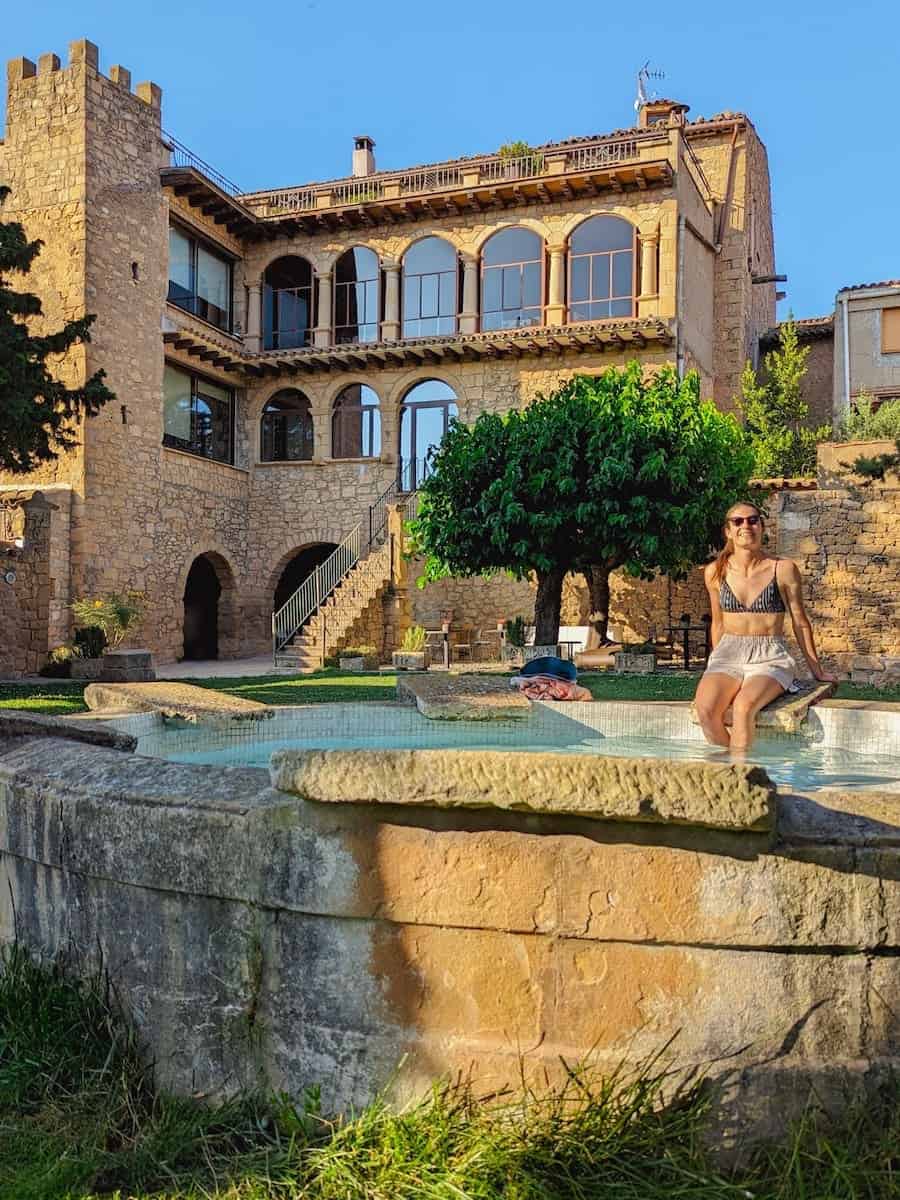 Casa Llobera is a unique location for those looking for extraordinary service, understated luxury, and the privacy only a home can provide.
All in all, this is a place where you'll be able to experience the Catalan countryside lifestyle, hosted by an owner that holds the values of hospitality to their highest standards!