For this month's itinerary, we'll be travelling to Catalonia's largest protected natural area, the Alt Pirineu Natural Park.
It's a region famous for its many outdoor adventure opportunities, charming villages, and high peaks. Also, it's the perfect destination to escape the boiling temperatures from the Catalan coast and interior regions.
Expect to see green wherever you look, and enjoy the real Pyrenees rural vibe.
The itinerary includes many adventures but also time to relax and plenty of exquisite food, so you can enjoy a bit of everything!
Suggested itinerary in Costa Daurada
Morning day 1 💦
Start the day sliding into a wetsuit, strapping your boots, and putting on a helmet. You're going canyoning!
The Estaron Canyon is one of the easiest canyons in the area, perfect for those who want to get introduced to this sport.
It has funny slides and exciting jumps, like a water park but natural. And we won't make any spoilers, but the canyon ends in a pretty epic way!
We know it can be a bit scary to jump or rappel sometimes, but you'll feel completely safe with a guide on your side at all times.
Afternoon day 1 🔥
After more or less 3 hours of canyoning, we bet you'll be pretty hungry!
How about a BBQ to boost your energy levels?
On your way to the accommodation, which features a BBQ area, stop at Cal Joanet and Embotits Casolans Vall Cardós to buy everything you need.
The first is a little shop where you'll find a bit of everything (veggies, fruit, chocolate,…), but the real deal here is the homemade lactic products. Their cheesecake, yoghurts, and mató are to die for!
The second shop is a local butcher, where you can find all kinds of meat to grill.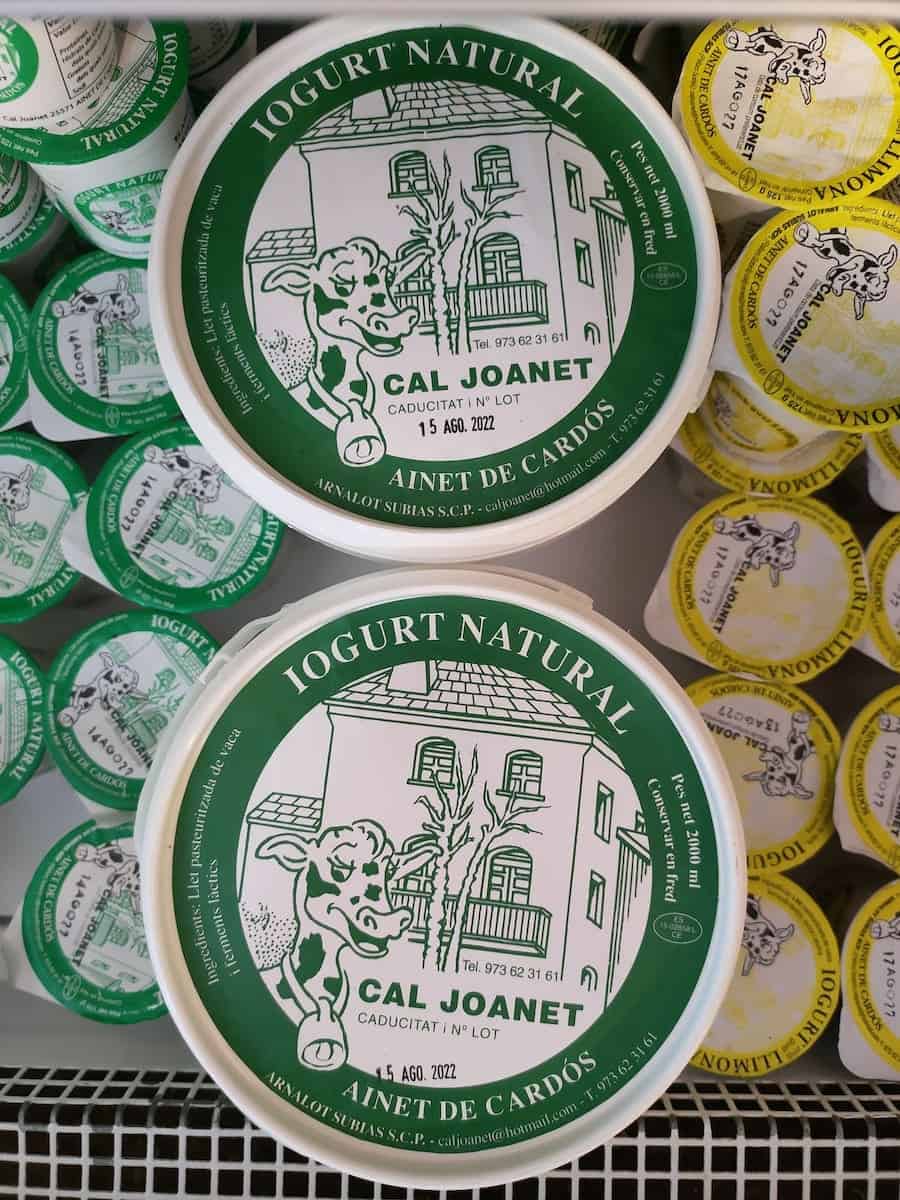 All right. Now you've got the food. The next step is to check in at Camping Serra, light a fire, and enjoy the much-deserved BBQ!
Camping Serra is a gorgeous family-run campsite that we're sure you'll fall in love with from the moment you step in.
Thousands of colourful flowers decorate its entrance, welcoming you to a quiet and lovely paradise between mountains.
Everything there is well-taken care of and clean. The staff is friendly, and the atmosphere is excellent.
If you have a tent, you can rent a pitch and enjoy camping in its purest form. You can stay at one of the bungalows, caravans, or wooden houses if you prefer more comfort.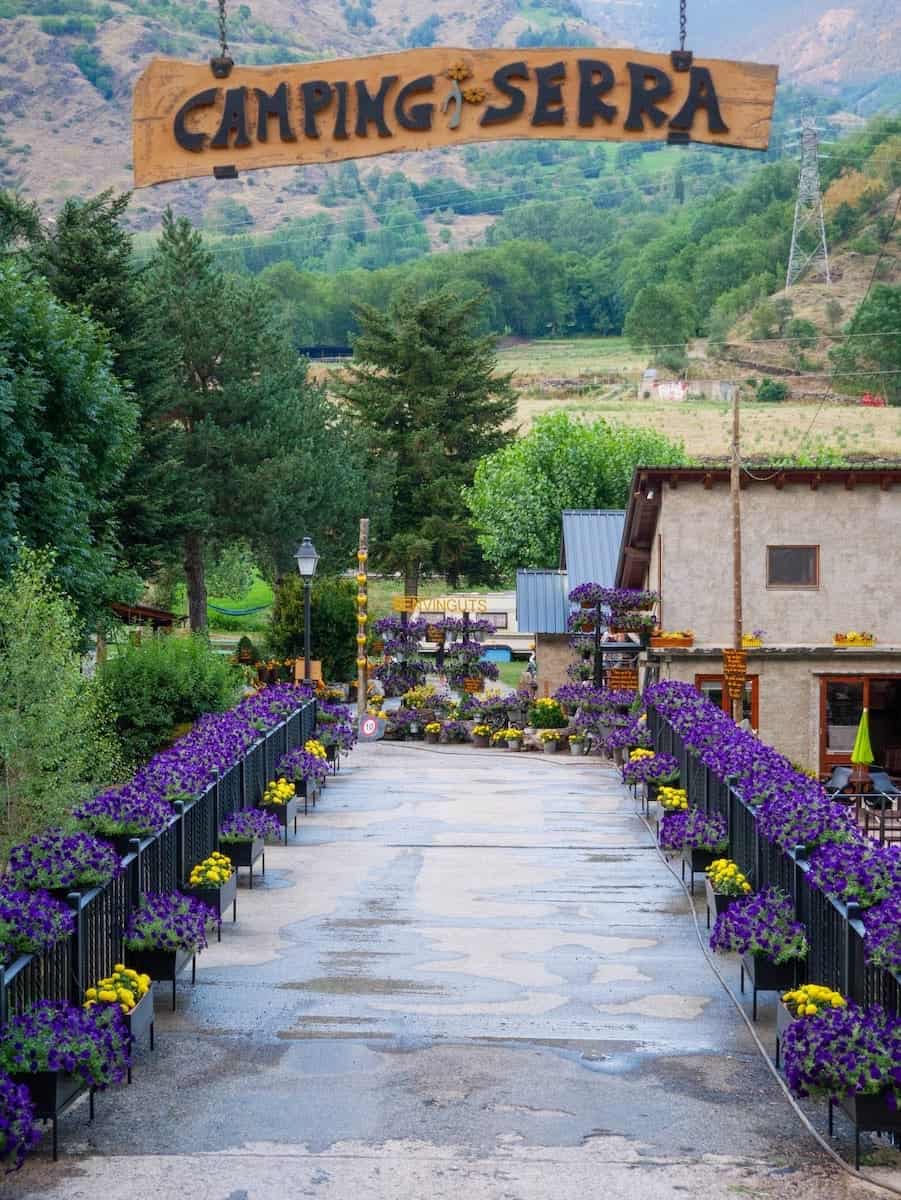 Spend the rest of the afternoon reading, chilling, playing board games, or maybe taking a siesta!
Another option (a refreshing one!) is changing into your swimsuit and taking a dip in the pool.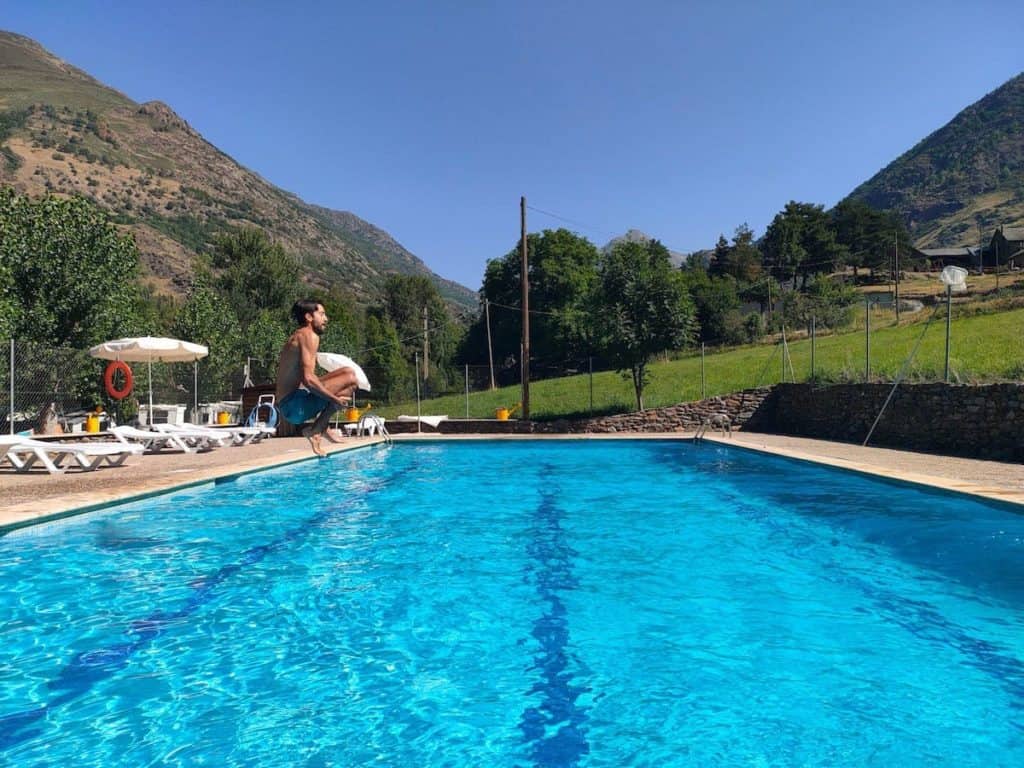 Evening day 1 🍷
If you fancy something to eat or drink, head to El Forn, located 7 min drive from the campsite.
Although forn in Catalan means bakery, here you won't find croissants or pain au chocolat.
El Forn is actually a slow-food restaurant and a really good one! You'll find homemade tapas, charcuterie boards, artisanal beers, and local wines. Not to mention the retro decor, great advice, and the incredibly welcoming staff!
Morning day 2 🥾
Had a good sleep? Great, let's start the second day with a good breakfast to prepare for the day ahead!
You can buy breakfast at the campsite's little shop or order it in the bar. You'll also need to buy a picnic or sandwich for lunch.
Once finished, it's time to pack and say goodbye to the Camping Serra. But the adventures haven't ended yet!
Park in this parking lot, put on your hiking boots and get ready to discover the Pla de Boavi. The hike unwinds next to the river, passing by meadows, pine, beech, and fir forests and ending in a waterfall.
It's mostly flat, except for the last part, and the landscape is spectacular! You can download the Wikiloc track here to follow it during the hike, although getting lost is difficult.
Once you get hungry, find a nice spot nearby the river, and enjoy a picnic. If it's hot, we can't recommend enough to go for a dip. The water is usually pretty cold, but it feels so good!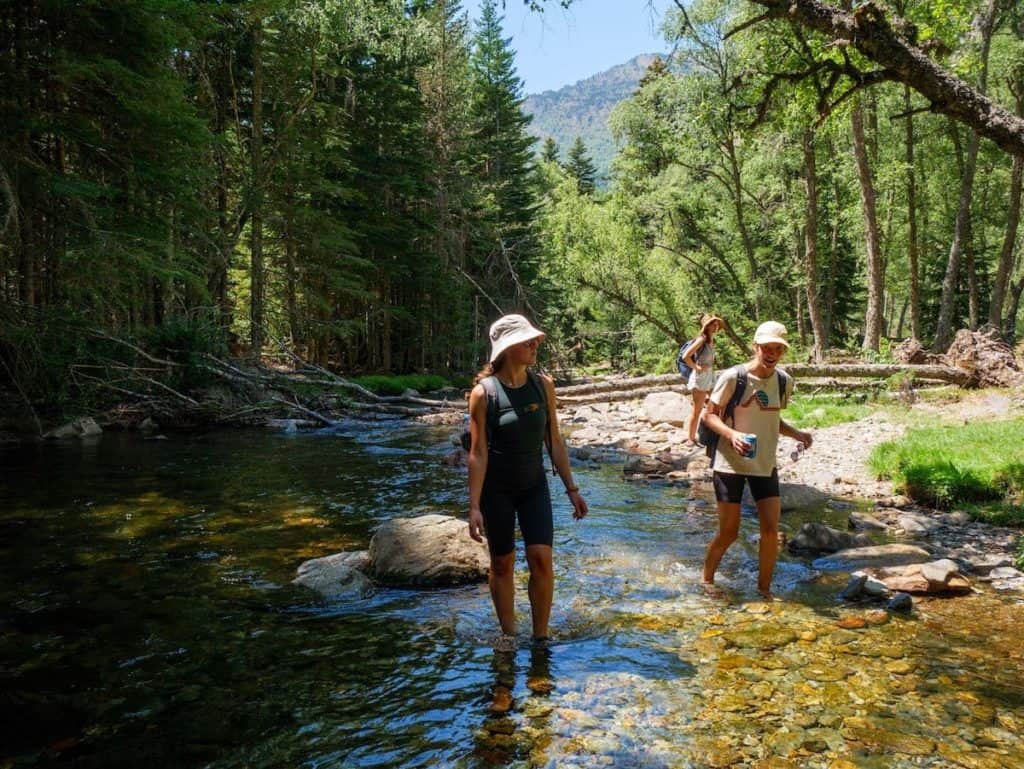 Once back, stop in Tavascan and explore the charming village.
Tavascan is tiny, so the visit won't take you more than 10 min, but it's well worth it.
Afternoon day 2 🧗🏻‍♀️
As summer days are long and there are plenty of light hours, you still have time for a final stop.
30 min driving from Tavascan, there is another little mountain village: Alins.
Stroll around its narrow streets and discover its historic buildings. One treasure of this village is NaturaLlibres, a lovely bookshop where you'll find books about nature, mountains, and foraging. Besides, it's also a hidden cafeteria, so don't hesitate to grab a coffee, order a sweet treat, or enjoy their wide selection of teas.
However, the real reason to go to Alins is to experience the last adventure of this escape: the via ferrata Salt del Botanal, one of the bests we've done so far!
It's an intermediate via ferrata, with two difficult sections that can be skipped if you don't feel comfortable. One is an imposing 50 m Nepalese bridge, unsuitable for the faint-hearted!
The village views during the whole via ferrata are breathtaking, and there's a little surprise (a goat's skull bolted into the mountain's wall!) in the middle of the route.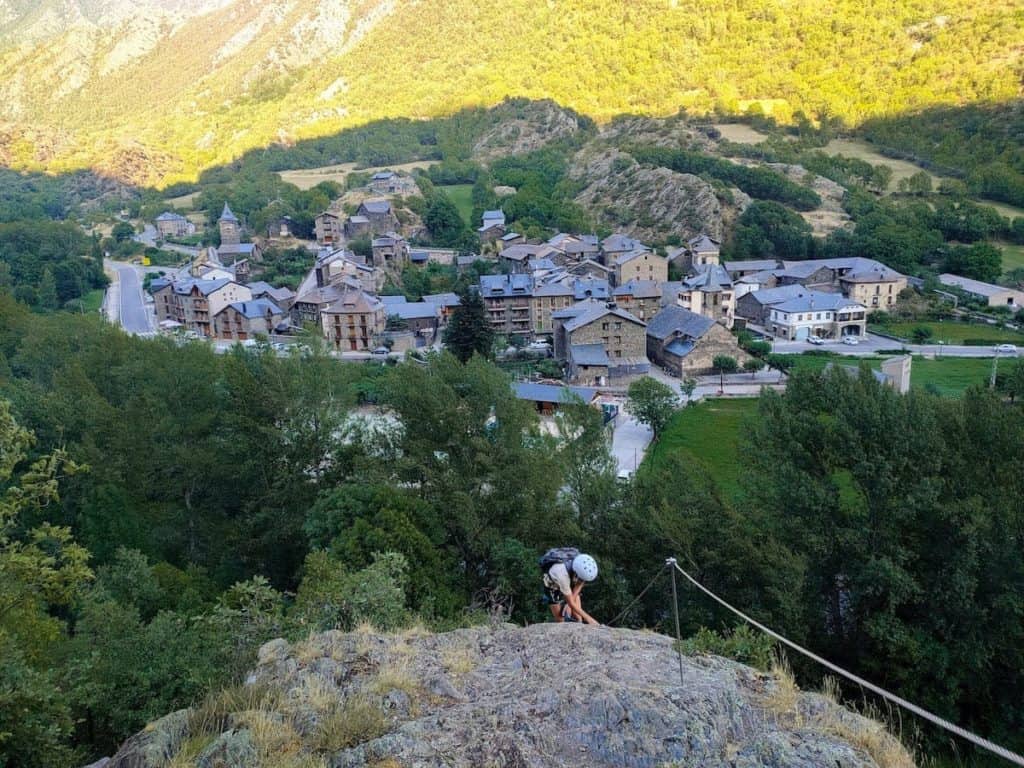 Hungry afterwards? Treat yourself to a pizza, a burger, or tapas at Bar d'en Roger.
Now, it's time to continue your trip to other parts of Catalonia, or keep enjoying the wonderful Alt Pirineu Natural Park for some more days. There are still thousand of adventures you could do in this mountain paradise.
If you follow this itinerary, we'd love you to leave a comment and let us know how your experience was.